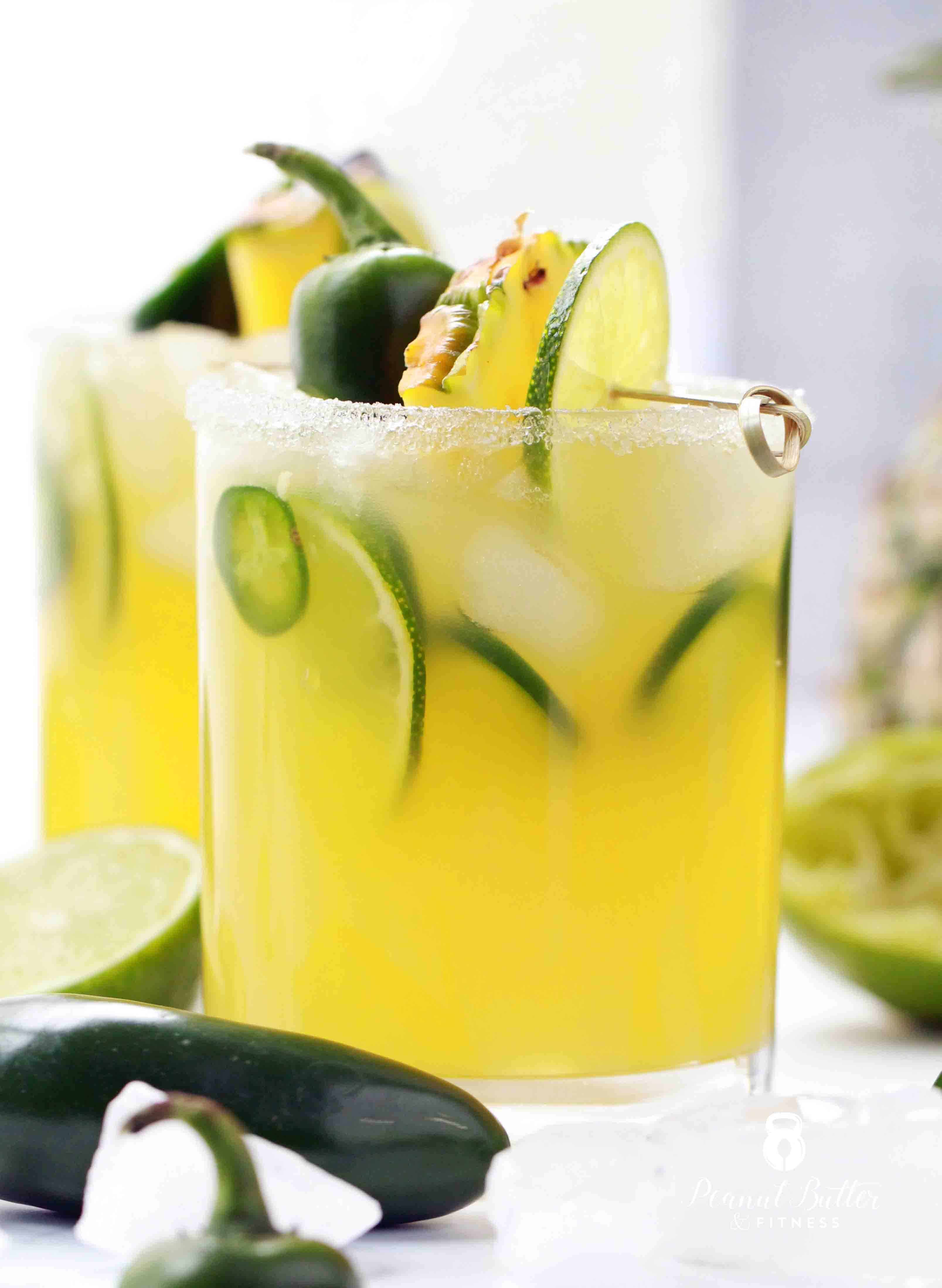 Eventually we are all going to be released from isolation (some of us even before Cinco de Mayo?!?) and you're going to thank me for this party drink: Big Batch Pineapple Jalapeño Margaritas. I've made these for a few parties in the past and I never seemed to get the spice level quite right…they were always a little too weak. I think I was afraid of the heat at first, but now I really enjoy a spicy cocktail…so I've finally perfected it!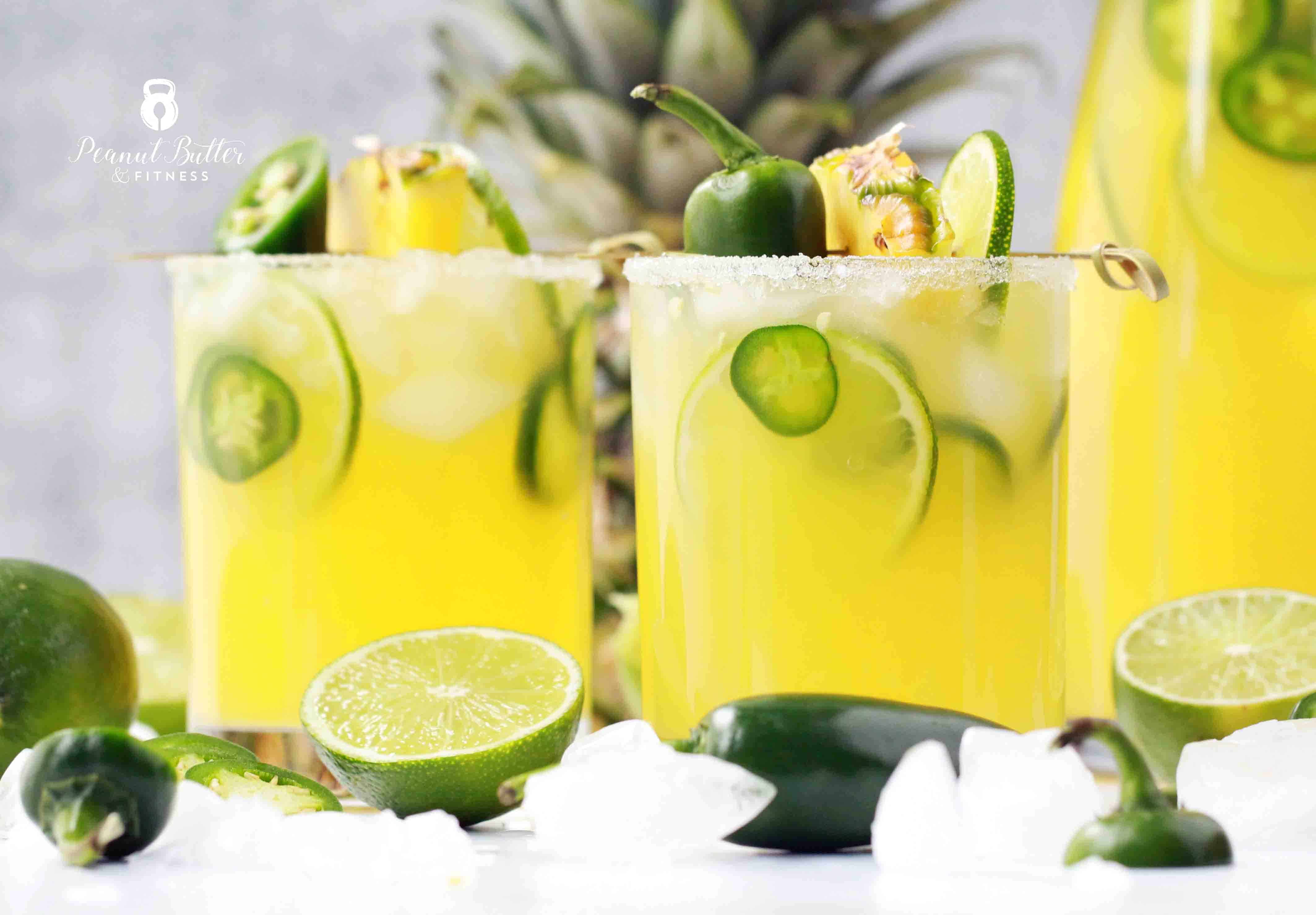 First, you have to make sure you get enough jalapeños in the simple syrup to get the heat to come through. Second, you need to slice up an extra pepper or two to stick in the pitcher. You'll get the most heat from letting the peppers soak in the tequila overnight. If you overdo it, you can always cool things down with more pineapple juice (and tequila). Or you can keep the heat more mild in the first place by just using some sliced jalapeño in the pitcher for a few hours before serving. I personally used 2 sliced peppers in the pitcher for about 3 hours before serving it up, but I also liked what happened to the leftovers after sitting overnight. The spice hits you a little in the back of the throat but doesn't punch you in the face – just the way I like a spicy drink!
Ingredients and Substitutions
Pineapple juice – This is the number one mixer in these margaritas, so be sure to get one you actually like! It doesn't really matter if it's the kind in a can, in a carton, or in a jug…just be sure to get one that doesn't have added sugar because you won't need it when you also have jalapeño simple syrup joining the fiesta!
Tequila – Because this is a big batch cocktail, I usually go for a bottle of tequila in the $20-$25 range. Of course you can treat your guests to a much nicer tequila if you prefer, but that's totally up to you! I've only ever tried this recipe with blanco/silver tequila, but I bet it would be tasty with a reposado too.
Topo Chico – Because you aren't shaking these margaritas up individually, you need help getting a bit of dilution before these margs go over ice in a serving glass. Any unflavored sparkling water or mineral water would work here, but I prefer the taste and carbonation of Topo Chico! It is simply the best! That said, I used to make this recipe with Italian sparkling mineral water before I discovered Topo Chico during my time living in San Antonio and it was still perfectly delicious.
Jalapeño simple syrup – I use a really basic simple syrup recipe here. Just equal parts sugar and water, plus a few halved jalapeños thrown in to get some spiciness. Now, fair warning: the baseline spice in this cocktail is meant to be approachable for a crowd. With the simple syrup alone, your spicy cocktail lovers are going to be left wanting more spice…be sure to give them sliced jalapeños to serve up with the drink! Or if you know you'll have a crowd of spice lovers, add plenty of sliced jalapeño to the serving pitcher and let it "marinate" for at least a few hours before serving. Muddle them up before adding liquid to the pitcher for even more spice!
Lime juice – I don't think you can have a margarita without lime, amirite?! You can certainly juice your limes fresh, but when I'm making a big batch cocktail like this, I like to use the cold pressed lime juice that you can find in the produce section of the grocery store. If your grocery store doesn't sell that and only has the kind in the room temp juice aisle or those little lime shaped squeeze bottles…please pleaseee use freshly squeezed limes instead! The flavor of that preserved stuff just doesn't compare and will throw off the flavor of your margarita, making it taste cheap.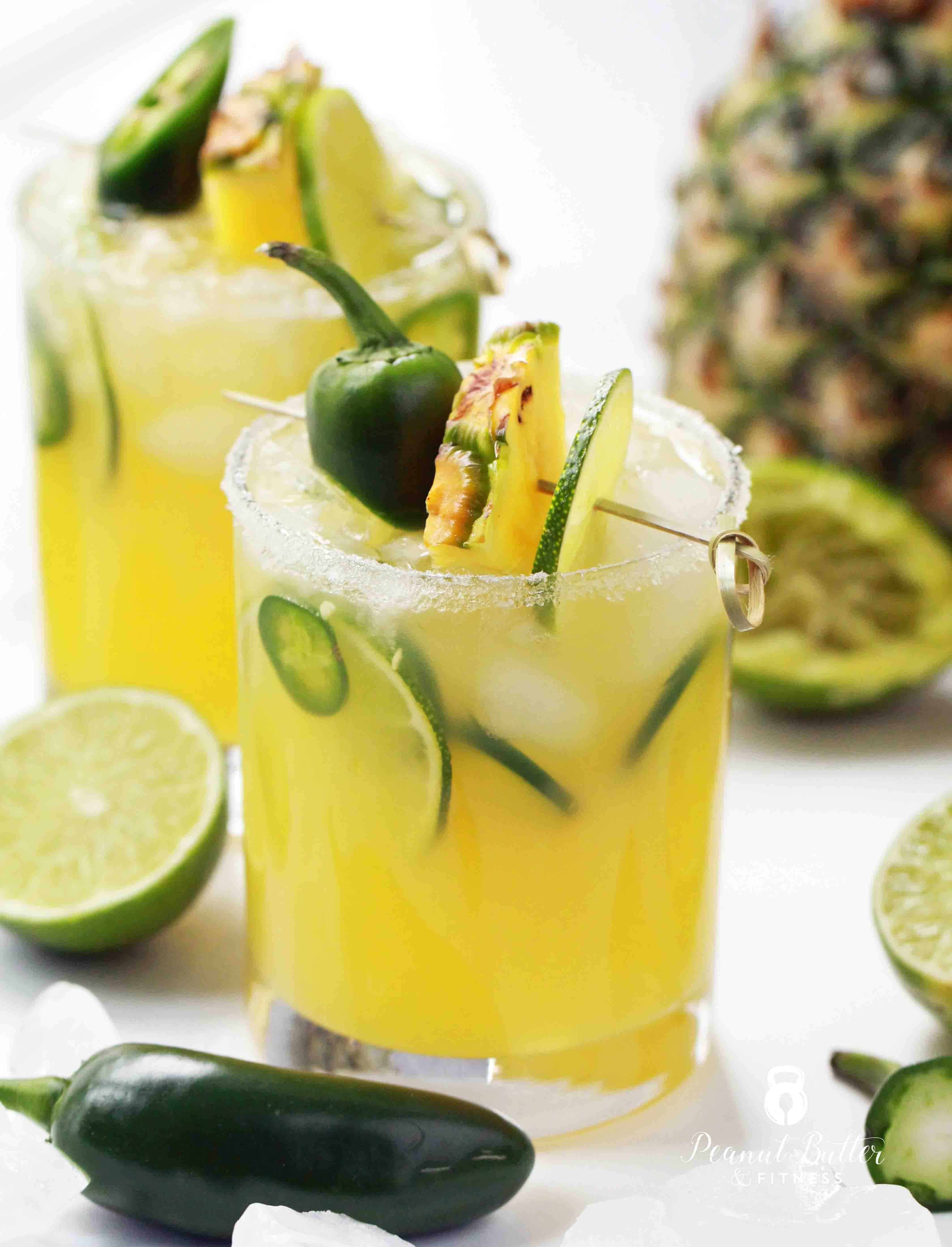 Shop for this Recipe
Here are some items I used to help make this recipe a success. Note: these are Amazon Affiliate links.
Cheers!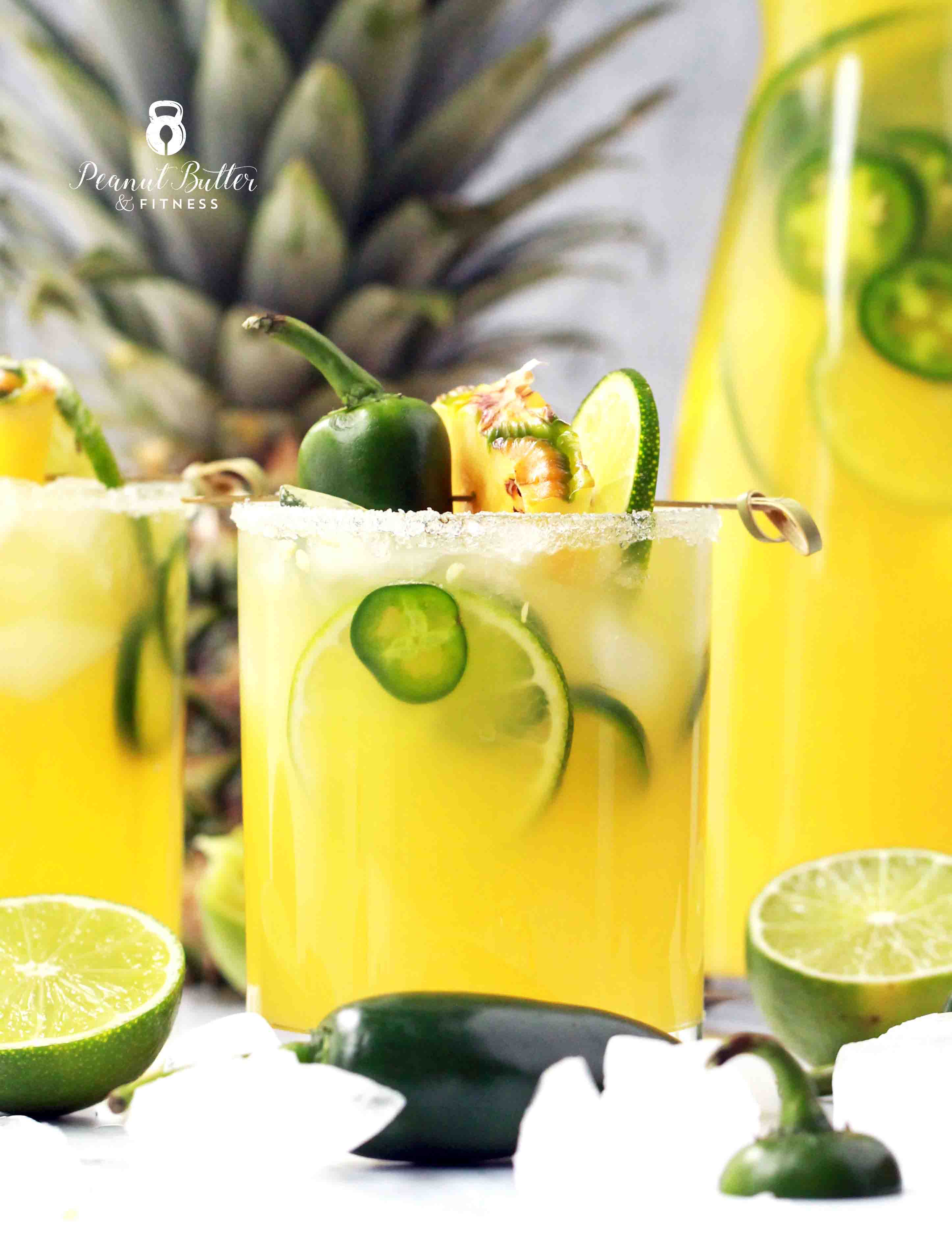 Recipe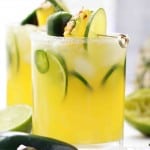 Big Batch Pineapple Jalapeño Margaritas
Prep Time 10 minutes
Cook Time 5 minutes
Total Time 15 minutes
Servings 11 servings (~6 oz each)
Calories per serving 143 kcal
Ingredients
4 1/2 cups pineapple juice (36 fl oz)
1 1/2 cups tequila (12 fl oz)
1 cup Topo Chico (8 fl oz)
1/2 cup jalapeño simple syrup (4 fl oz)
1/2 cup lime juice (4 fl oz)
Optional: additional sliced jalapeños
Instructions
Add pineapple juice, tequila, simple syrup, lime juice, and extra sliced jalapeños to a pitcher and stir. Top with Topo Chico and stir before serving over plenty of ice.
Nutrition Facts
Big Batch Pineapple Jalapeño Margaritas
Amount Per Serving
Calories 143
% Daily Value*
Sodium 2mg0%
Potassium 148mg4%
Carbohydrates 19g6%
Sugar 17g19%
* Percent Daily Values are based on a 2000 calorie diet.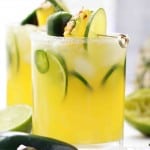 Jalapeño Simple Syrup
Cook Time 10 minutes
Total Time 10 minutes
Servings 12 servings (1/2 oz per serving)
Ingredients
1/2 cup granulated sugar (100 grams)
1/2 cup water (4 oz)
3 jalapeños, halved for more spiciness
Instructions
Add water, sugar, and jalapeños to a small sauce pan. Bring to a boil over medium-high heat and stir to dissolve the sugar. Remove from heat and continue to steep the peppers for 10-15 minutes. Allow to cool.