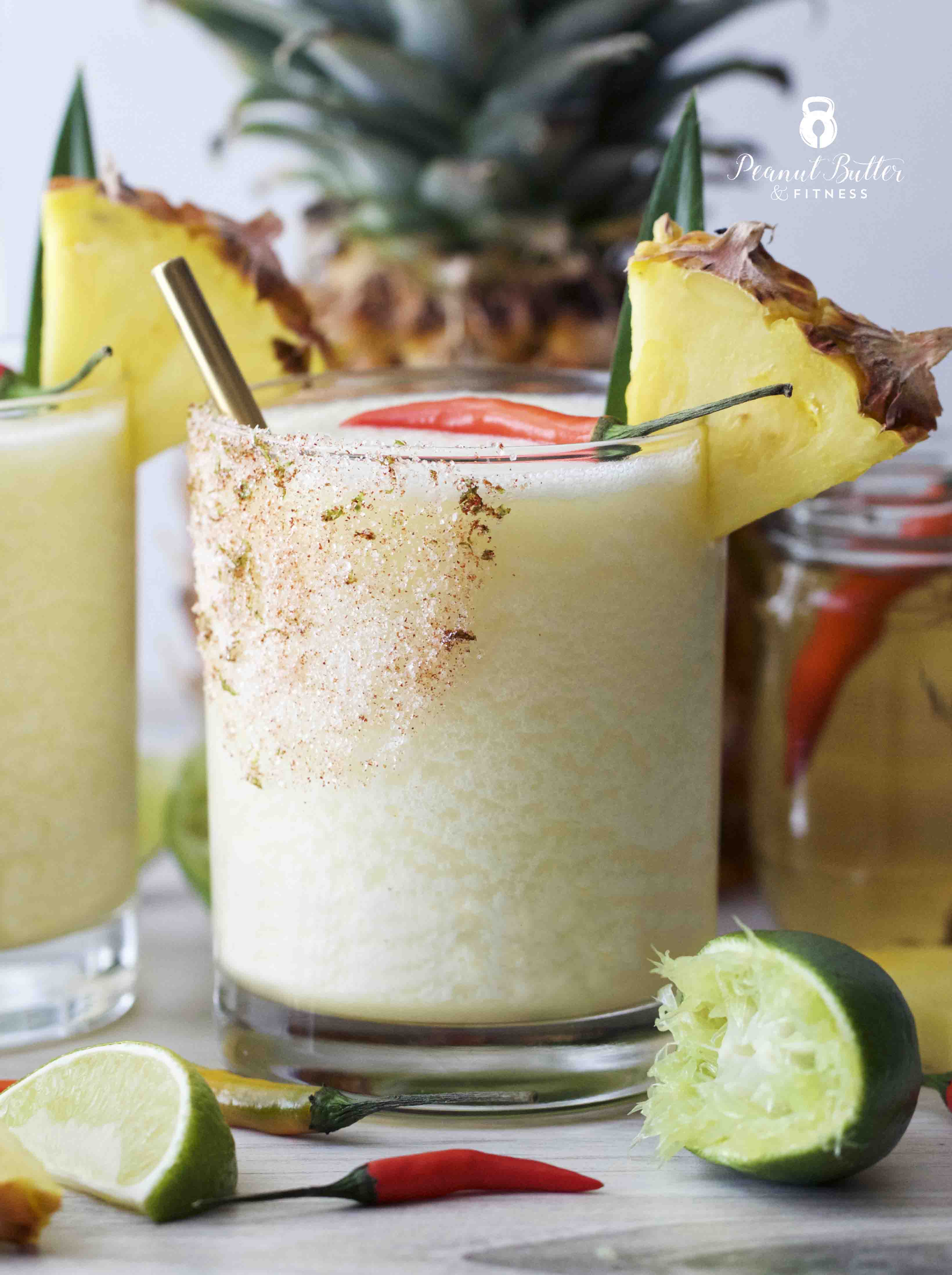 Happy Cocktail Friday, ya'll! This week, I'm bringing you a Frozen Thai Margarita. Having been to Thailand, I absolutely recognize that this really isn't an authentic Thai drink. I mean, come on – it's a margarita after all! BUT it does incorporate some typical Thai flavors, including a little spicy kick from Thai chili infused simple syrup.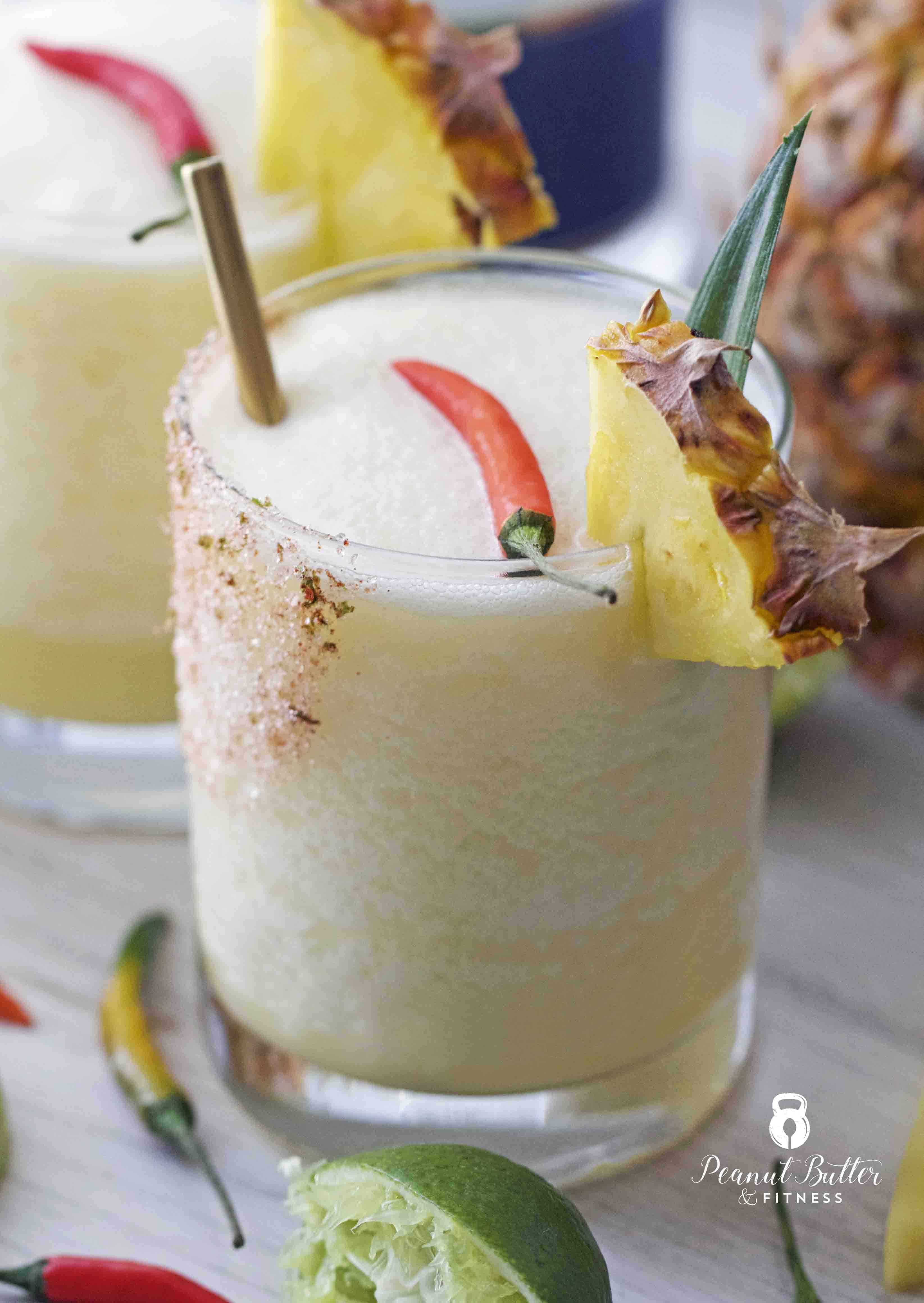 The thing that I love about Thai food is that it brings some heat, but it's usually paired up with a little something sweet and a little something creamy to balance things out. And that's exactly what I tried to recreate with this cocktail! Pineapple and a splash of coconut milk lead you off with a cool and sweet piña colada-esque flavor, but then the Thai chili simple syrup creeps up on you with a spicy kick as you get hit with the classic margarita flavors of lime, tequila, and triple sec.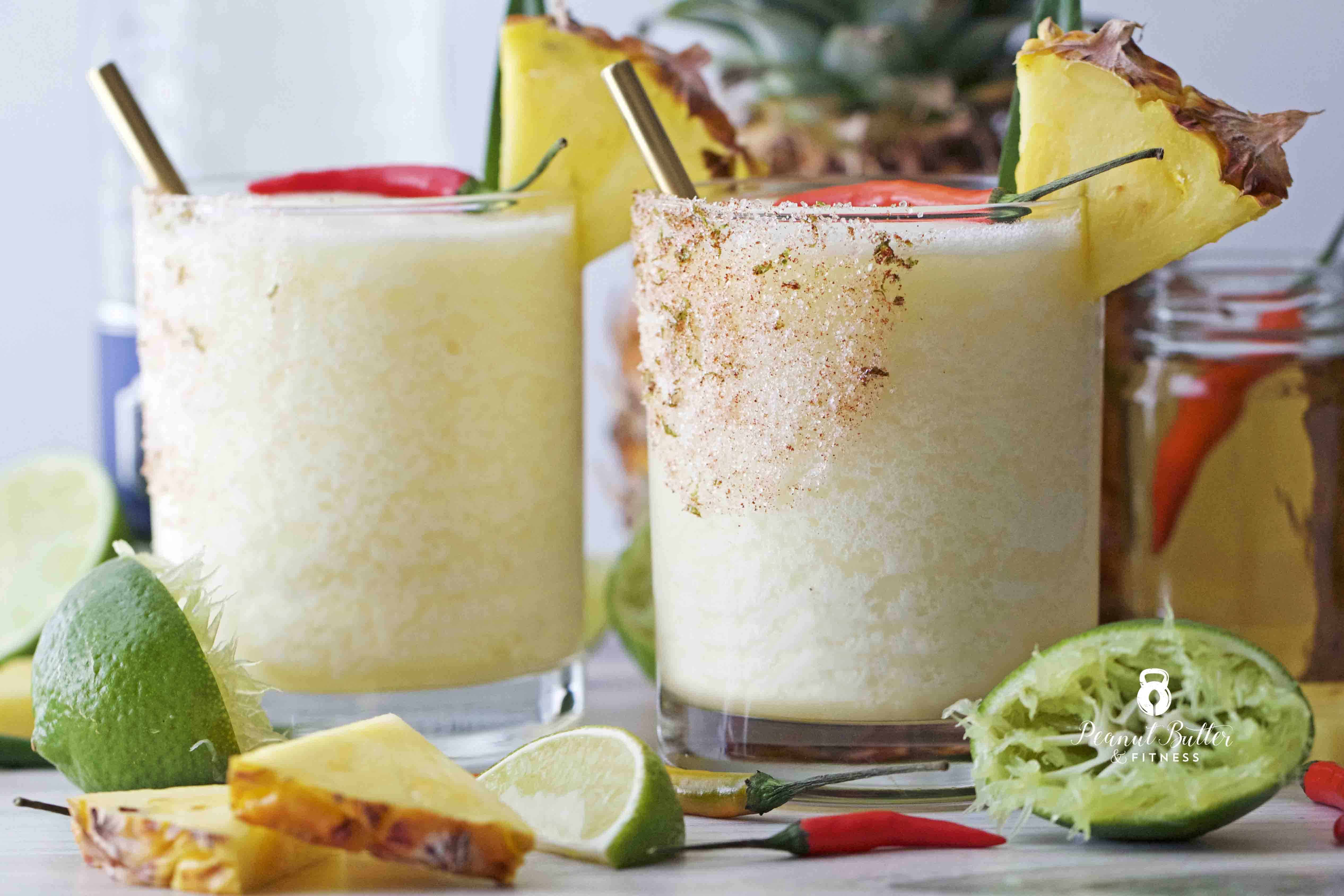 The more chilis you add to the simple syrup, the spicier it will be! I went conservative with mine the first time around (only 2-3 chilis), but the spiciness got lost in the drink – I'd recommend no less than 4-5 chilis in the syrup. Cut them in half (hot dog style) to help bring out the heat! If you haven't noticed from all my cocktail adventures over the last year or so, I love a good twist on a simple syrup. Spicy syrups can be a challenge to get the heat jusssssst right for your own tastes, but when you do…it's perfection!
Cheers!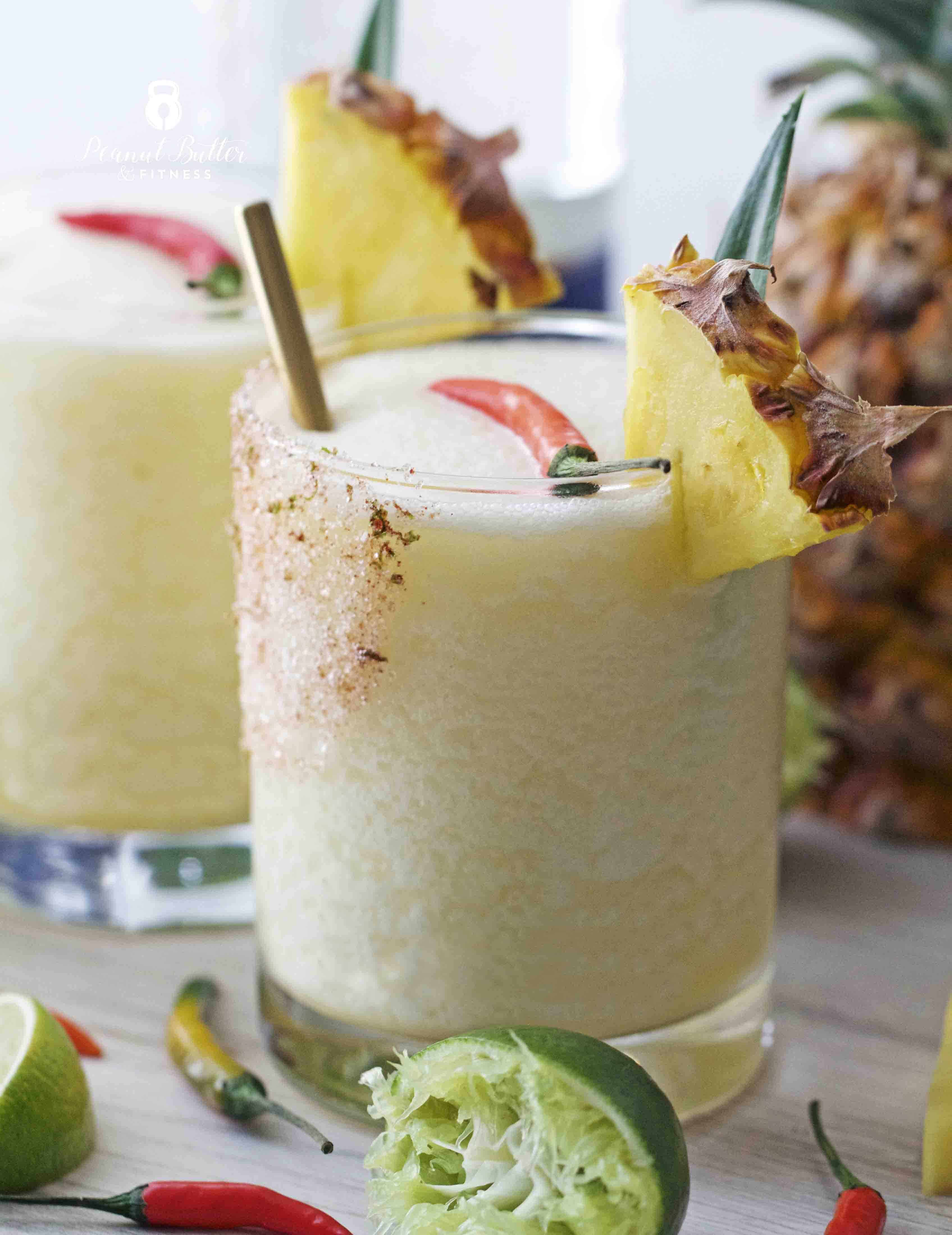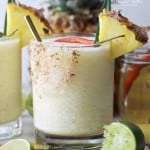 Frozen Thai Margarita
Prep Time 10 minutes
Cook Time 10 minutes
Total Time 20 minutes
Servings 2 servings
Calories per serving 230 kcal
Ingredients
4 oz pineapple juice
3 oz tequila
2 oz lime juice
1 oz triple sec
1 oz coconut milk
1 oz Thai chili simple syrup (see recipe below)
15-20 large ice cubes
Instructions
If desired, rim the serving glasses with lime juice, then dip in a mixture of salt, lime zest, and chili powder.

Add all ingredients to a blender and blend until smooth. Pour into 2 serving glasses and garnish with a fresh Thai chili.
Nutrition Facts
Frozen Thai Margarita
Amount Per Serving
Calories 230 Calories from Fat 27
% Daily Value*
Fat 3g5%
Sodium 14mg1%
Potassium 166mg5%
Carbohydrates 21g7%
Fiber 1g4%
Sugar 17g19%
Protein 1g2%
* Percent Daily Values are based on a 2000 calorie diet.
For my macro trackers out there, I wasn't able to create a My Fitness Pal barcode for this recipe since I would have had to decide for you whether to put the alcohol calories in as carbs or fats – that's up to you!  The 21 grams of carbs listed here are just for the sugar in the juices, simple syrup, and triple sec.  For my non-macro trackers, here's more info on what I'm talking about.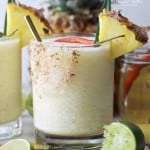 Thai Chili Simple Syrup
Cook Time 10 minutes
Total Time 10 minutes
Servings 12 servings (1/2 oz per serving)
Ingredients
1/2 cup granulated sugar (100 grams)
1/2 cup water (4 oz)
5 Thai chilis, halved for more spiciness
Instructions
Add water, sugar, and chilis to a small sauce pan. Bring to a boil over medium-high heat and stir to dissolve the sugar. Remove from heat and continue to steep the chilis for 10-15 minutes. Allow to cool.
PSA: Be a friend to the environment and pick up a pack of reusable metal (or silicone) straws! You can use them at home or even take them in your purse/pocket to the bar so you can skip the plastic straws. Here are some good options: