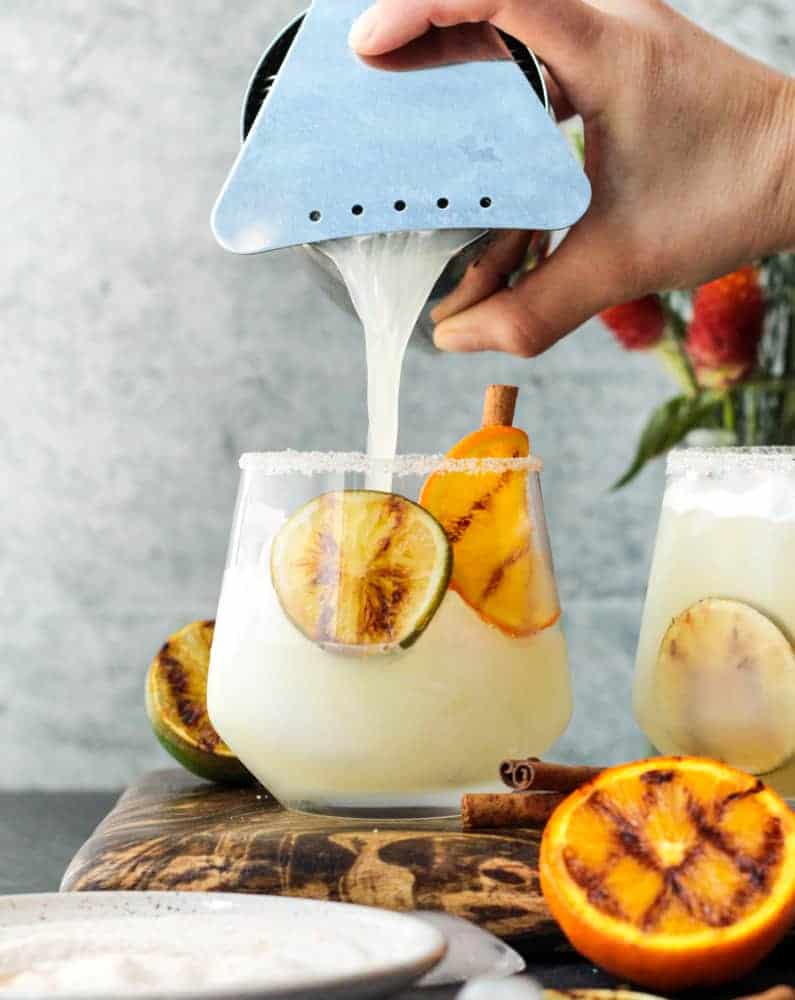 The irony is not lost on me that I'm sharing this "Kiss of Smoke" Mezcal Margarita at the end of a week where it seems like most of the west coast is on fire or blanketed in thick smoke. But hey, it's Mezcal Week and I'm sure we could all use a drink (or mocktail) today, perhaps some more than others. If you're interested in donating to wildfire relief funds, here are a few places to get more info: California, Oregon, Washington.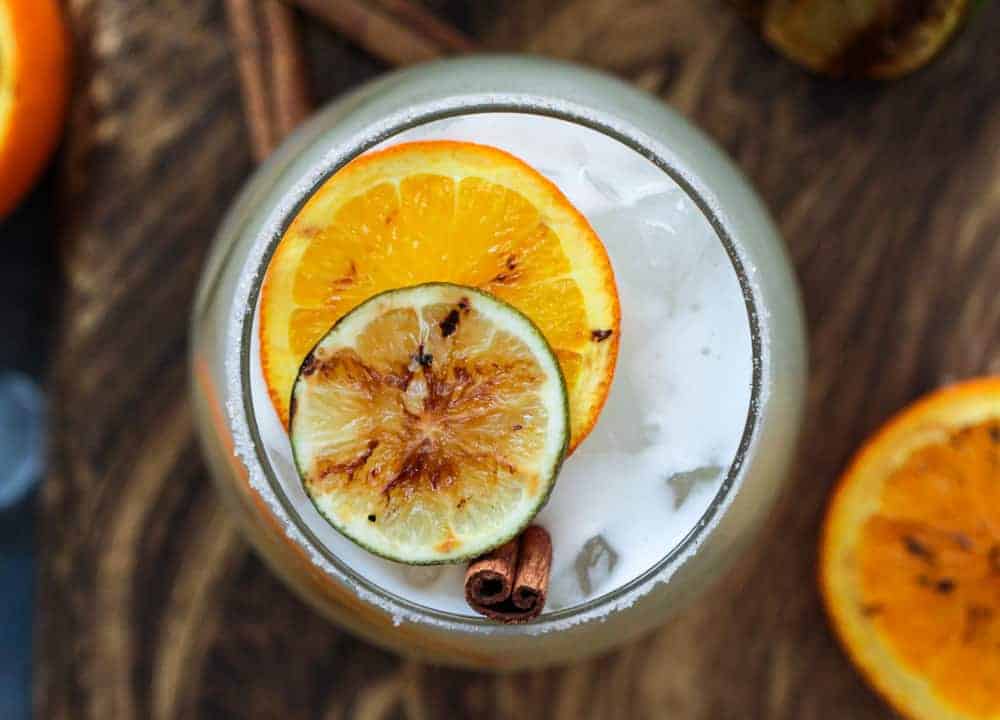 For some people, replacing the tequila in a margarita with mezcal is like a dream come true. For me, it's just too much smoke and not super enjoyable. I enjoy mezcal, but only in small amounts – I find that too much of the mezcal smokiness can be a bit abrasive.
So when I saw the idea on The Kitchen to use mostly tequila with only a little bit of mezcal in a margarita, I knew I had to try it at home! They also used egg white in their recipe, which is another way to help smooth things out and get the great mouthfeel that comes with a fizzy egg white drink. There isn't so much egg white in this cocktail that you get a big fizzy head on top of your drink, but it's just enough to get a little bit of creaminess. Of course, you can completely skip it if egg whites in a drink freak you out…but I enjoyed it and definitely encourage you to give it a try.
Cheers!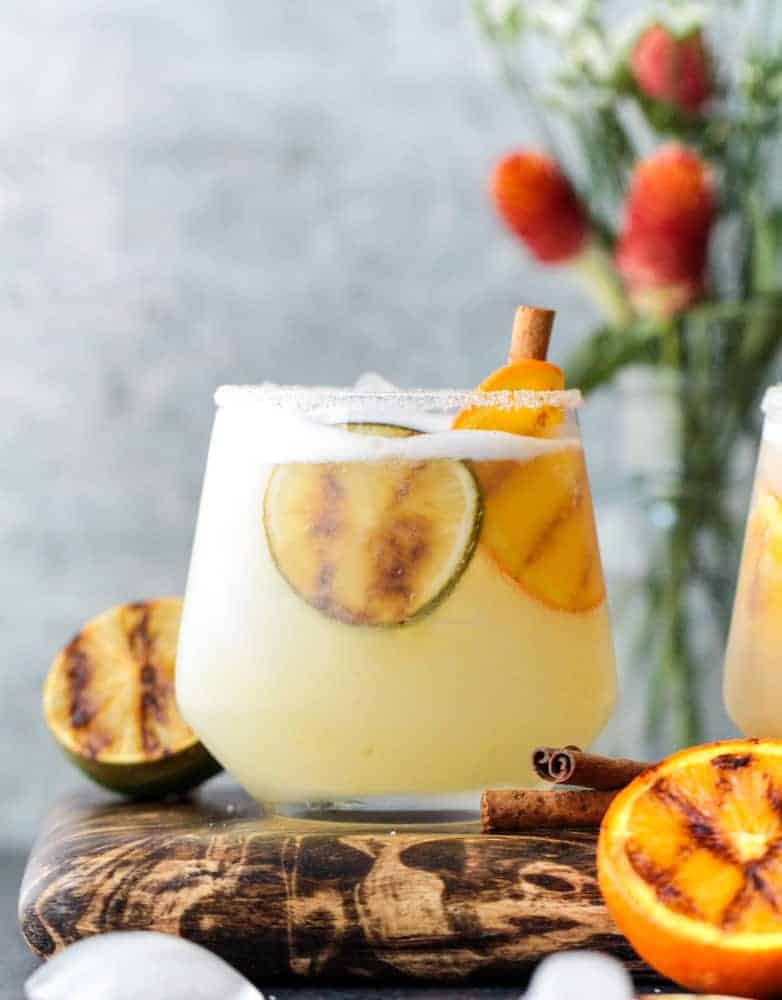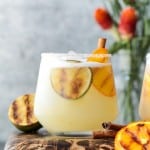 Kiss of Smoke Mezcal Margarita
Servings 2 servings
Calories per serving 250 kcal
Ingredients
3 oz lime juice
2 oz silver or blanco tequila
2 oz orange cinnamon simple syrup (recipe below)
1 oz mezcal
1 oz triple sec
1 oz egg white
Instructions
If desired, rim two rocks or lowball glasses with a cinnamon/salt mixture. Fill glasses with ice cubes and set aside.

Add all ingredients to a shaker with a handful of ice cubes. Shake for 10-15 seconds, then strain into serving glasses.
Nutrition Facts
Kiss of Smoke Mezcal Margarita
Amount Per Serving
Calories 250
% Daily Value*
Sodium 31mg1%
Potassium 79mg2%
Carbohydrates 28g9%
Sugar 25g28%
Protein 2g4%
* Percent Daily Values are based on a 2000 calorie diet.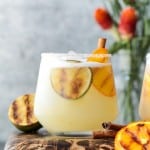 Orange Cinnamon Simple Syrup
Prep Time 2 minutes
Cook Time 10 minutes
Servings 12 servings (1/2 oz per serving)
Calories per serving 32 kcal
Ingredients
1/2 cup sugar (100 grams)
1/2 cup water (4 oz)
1/2 orange, sliced
3 cinnamon sticks
Instructions
Add sugar, water, orange slices, and cinnamon sticks to a small pan and bring to a boil over medium-high heat. Stir to ensure all sugar has dissolved, then remove from heat and cover. Allow to steep for about 10 minutes.
Nutrition Facts
Orange Cinnamon Simple Syrup
Amount Per Serving (0.5 oz)
Calories 32
% Daily Value*
Carbohydrates 8g3%
Sugar 8g9%
* Percent Daily Values are based on a 2000 calorie diet.