Cheers to the weekend, y'all! This Yuzu Royale cocktail was inspired by a drink I really enjoyed at one of Chef Jose Andres' restaurants in DC (Jaleo). It was on a special Cherry Blossom Festival cocktail menu so it's perfect for spring or even Mother's Day! This drink is bright and refreshing, with some nice zing from an easy homemade ginger syrup and contrasted with just a touch of mezcal for an added layer of flavor complexity. You're going to love this one!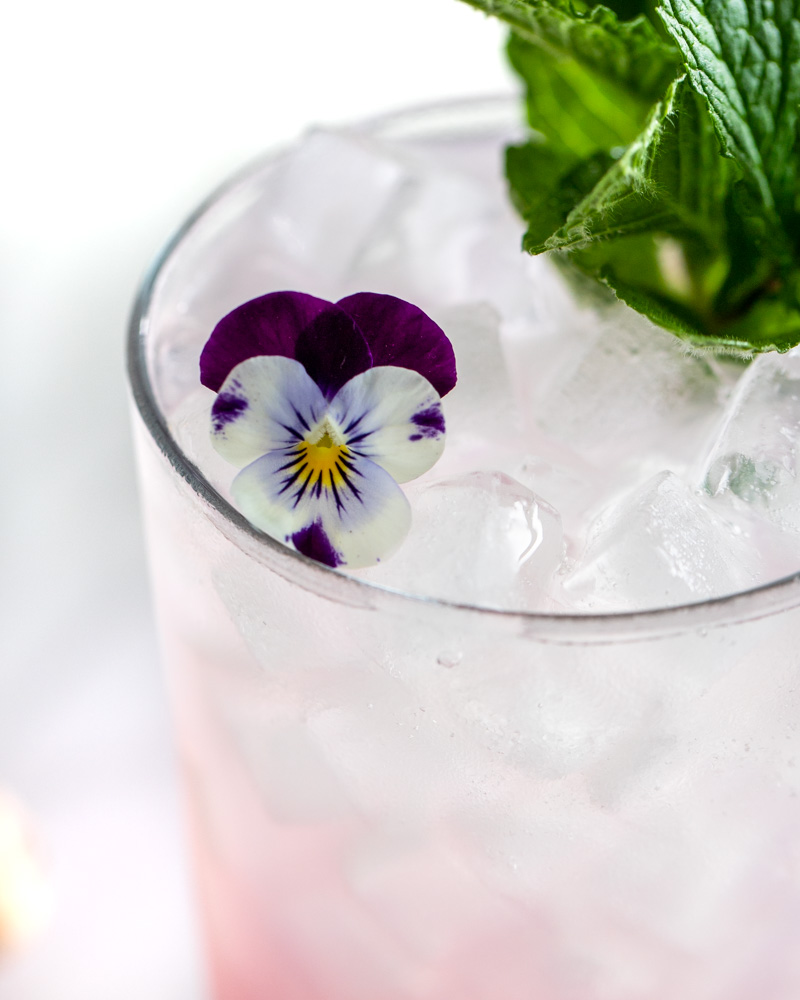 Ingredients and Substitutions
Fever Tree Sparkling Lime and Yuzu – If you can't find Yuzu juice, this mixer will still help you achieve that yuzu flavor! The Fever Tree version is pretty easy to find, but there are some other brands out there that offer a yuzu or yuzu and lime flavored sparkling water. Sanzo Yuzu with Ginger is available at Target or Whole Foods and Avec Yuzu and Lime is available through Drizly or Amazon.
Empress 1908 Gin – This is the gorgeous gin you've seen on your IG feed! It's infused with butterfly pea flowers, which give it that incredible blue hue. Whenever it mixes with acid (like citrus juice), it changes color. Luckily it's not just gorgeous, it's also a really tasty mild gin. Use regular gin if you must, but go for one that's not overly botanical.
Yuzu juice – Yuzu is an Asian fruit, mostly associated with Japanese cuisine, that's kind of like a cross between a sour lemon, grapefruit, and orange. It also has floral notes. It can be hard to find in stores in the US, so use a lime or lemon if you must. You can also try to find a little bottle of yuzu juice to give it a try that way – look for it in an Asian market like H-Mart or the Asian section of an American grocery store.
Ginger syrup – Sounds complicated, but it's incredibly simple. Just add water, sugar, and peeled ginger slices to a pan and bring to a boil, then simmer to get that ginger flavor really going. After that I used an immersion blender to squeeze out every last bit of ginger juice and get a really spicy syrup, then strained it with a fine strainer. I don't recommend using ground ginger as a substitute here. You might be able to get away with that pre-grated ginger you find in the produce section of the grocery store, but I can't promise you'll get enough spice going that route.
Mezcal – You really want just a touch of mezcal in this cocktail to add some depth and flavor complexity. You shouldn't taste smoke in your face when you drink it, but you should just barely get a hint of it as you sip. When I first tried this drink in the restaurant, I didn't notice it, but once I looked at the ingredients list, I realized that in fact I could taste it and I loved how it balanced out the mostly bright flavors of the other ingredients. If you don't have mezcal, give tequila a try or skip it altogether.
Orange bitters – If you're an overachiever and you can actually find fresh yuzu fruit where you live, you could make your own yuzu bitters and use those instead of orange. But alas, orange bitters are super easy to find and will do the trick of adding some seasoning to the cocktail. If you don't like bitters, you can always just skip them.
Shop for this Recipe
Here are some items I used to make this recipe a success. Note: these are Amazon Affiliate links.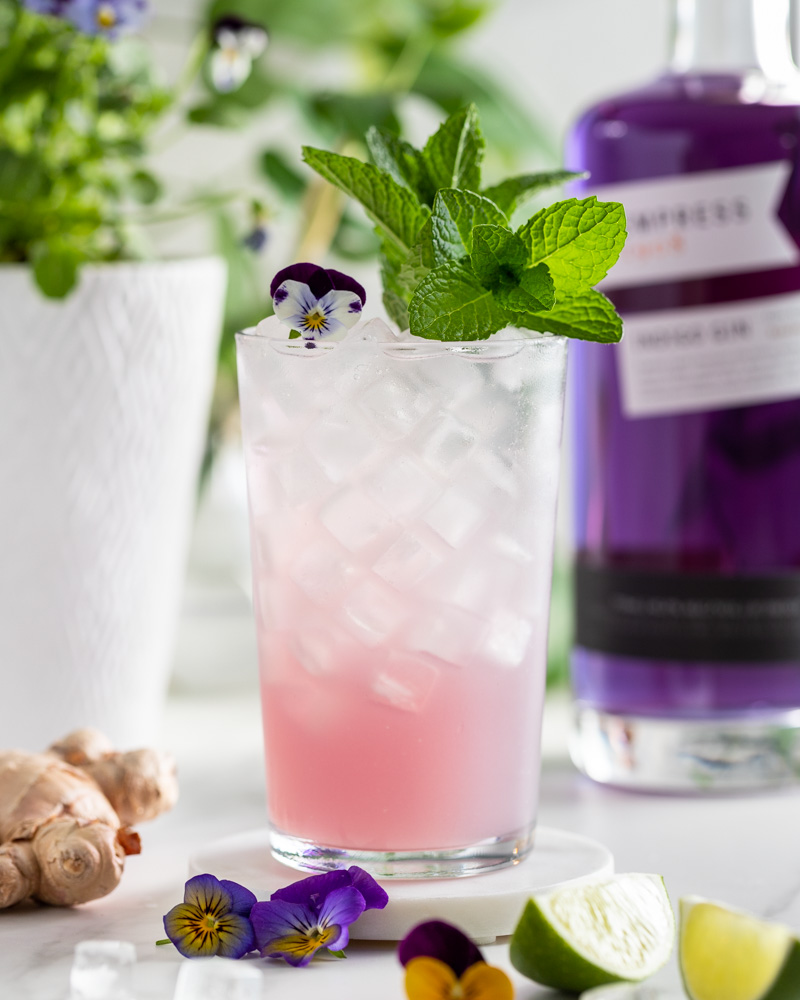 Recipe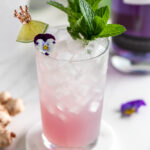 Yuzu Royale
Prep Time 5 minutes
Cook Time 15 minutes
Total Time 20 minutes
Servings 1 serving
Calories per serving 185 kcal
Ingredients
2 fl oz Fever Tree Sparkling Lime and Yuzu
1 1/2 fl oz Empress 1908 Gin
3/4 fl oz yuzu or lime juice
3/4 fl oz ginger syrup (recipe below)
1/4 fl oz mezcal
3 dashes orange bitters
Instructions
Add gin, yuzu juice, ginger syrup, mezcal, and orange bitters to a shaker over ice. Shake for 5-10 seconds or until shaker is chilled.

Pour over ice in a highball glass. Top with Fever Tree Sparkling Lime and Yuzu. Garnish with fresh mint and a lime wedge, if desired.
Nutrition Facts
Yuzu Royale
Amount Per Serving
Calories 185
% Daily Value*
Carbohydrates 18g6%
Sugar 16g18%
* Percent Daily Values are based on a 2000 calorie diet.
For my macro trackers out there, I wasn't able to create a My Fitness Pal barcode for this recipe since I would have had to decide for you whether to put the alcohol calories in as carbs or fats – that's up to you! The 16 grams of carbs listed here are just for the sugar in the ginger syrup and juice. For my non-macro trackers, here's more info on what I'm talking about.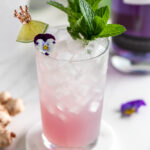 Ginger Simple Syrup
Prep Time 5 minutes
Cook Time 15 minutes
Total Time 20 minutes
Ingredients
1/2 cup water (4 fl oz)
1/2 cup granulated sugar
3" chunk fresh ginger, peeled and sliced thinly
Instructions
Add all ingredients to a small pan and bring to a boil over medium-high heat. Once boiling, reduce heat and simmer for 15 minutes. Remove from heat.

Use an immersion blender to blend the ginger slices into the syrup, then strain out remaining bits with a fine mesh strainer. Set aside to cool, then store in the refrigerator.
Recipe Notes
Yield = 5 fl oz