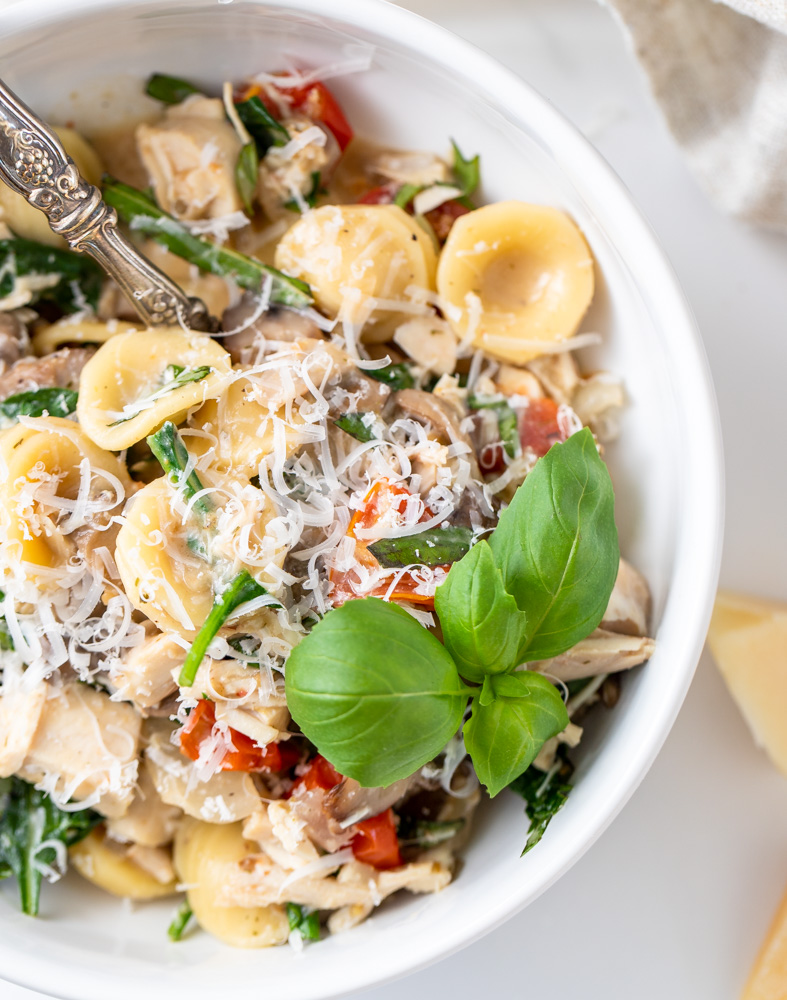 ***Photos and recipe updated December 2022***
How about an easy weeknight meal to help get you through hump day?!  I have to pat my own back a little bit with this recipe…it is seriously so delicious.  I'm calling this Easy Mushroom and Spinach Chicken Pasta.  Part of what makes this recipe so easy is that you really only need one pot, a cutting board, and a foil lined baking sheet (no cleanup!). The pasta is cooked right in the sauce, so there's no need for that extra step of boiling and straining pasta – plus it makes the sauce super creamy since all the starches from boiling the pasta stay put.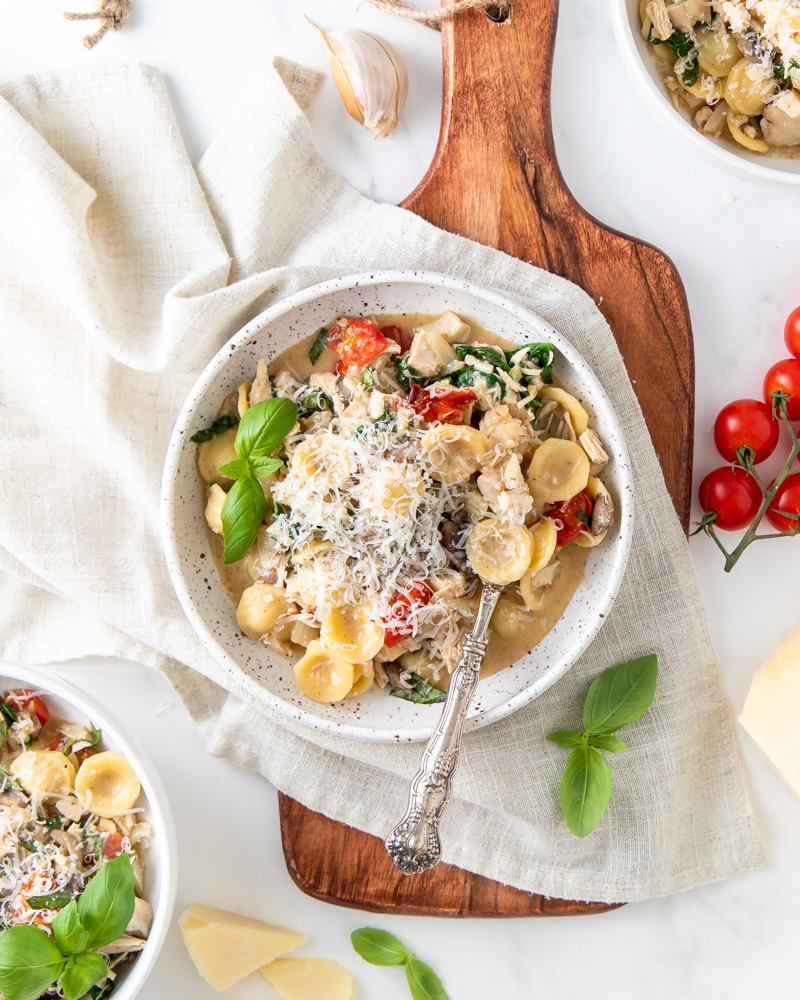 I also used a rotisserie chicken instead of cooking the chicken in the sauce here. I was all about easy when it came to this recipe, but you could totally use 1 lb of raw chicken tenderloin and add them along with the coconut milk (you can sear/brown the outside of them first if you want).
As for the flavors here, I'm loving the creaminess that the coconut milk adds along with the brightness of the wine and lemon juice. I've really come to love the earthiness of mushrooms too, especially when they're contrasted with bright pops of flavor like the roasted tomatoes. By cooking the pasta right in the sauce, it thickens up beautifully without adding flour or heavy cream. Enjoy!
Ingredients and Substitutions
Pasta – I made this with orecchiette pasta, which I really like because it holds sauce in those little bowl shapes. You could really use any small pasta you like, you just need to adjust the cooking time accordingly. So if you wanted to use something like orzo, you probably need to 3-5 minutes off the pasta cooking time. I recommend staying away from pasta substitutes like chickpea pasta in this recipe – they will likely turn to mush and no one wants that!
Rotisserie chicken – Part of what makes this recipe so easy is that it calls for pre-cooked rotisserie chicken. No need to worry about making sure it's cooked just right, all you have to do is clean and chop the store-bought rotisserie. Delicious! If you'd rather make your own chicken, I'd recommend searing off some chicken tenderloins or thighs in oil to get some browning, then add them into the simmering sauce to finish cooking along with the pasta. I haven't tried this myself to check the timing, so you'll need to keep an eye on the chicken to make sure it doesn't overcook.
Baby spinach – Baby spinach is a neutral, sort of sweet green that's easy to wilt right in the hot pasta without needing to sauté it first. Something like dinosaur (lacinato) kale would taste good in this recipe, but I'd rather not do the extra work. If you want to use frozen spinach, be sure to thaw and squeeze out any excess juices before throwing it in the pasta.
Cherry tomatoes – Roast these up with olive oil, garlic, and seasoning for an incredible addition of complex flavor! Once roasted, they will be fragile and fall apart a bit, but that's totally okay and ensures you get a bit of tomato flavor in every bite.
Baby Bella mushrooms – I used to hate mushrooms in my food, but now I love the earthy complexity they add to a dish, especially pasta! Skip them or chop them up finely if you're not a fan, but I think you're missing out! I like baby Bellas because I think they have more flavor than your average white mushroom, but white mushrooms will work in a pinch.
Onion and garlic – Sautéed in olive oil, these are the building blocks of "oooh it smells good in here!" They're also the foundation of flavor in this pasta, but you can of course skip it if you're sensitive to them.
Basil – Fresh basil stirred into the pasta after cooking is one of the ingredients that keeps things nice and bright instead of falling flat. If you have a hard time finding fresh basil in the winter, I highly recommend getting a plant and growing it on your windowsill throughout the colder months. It's so easy to just grab a few leafs here and there to add freshness and flavor to your cooking!
Lemon – The first time I made this recipe I skipped the lemon, but you really do need that extra punch of acidity and brightness that the lemon juice and lemon zest bring to the table. Fresh is best when it comes to lemon juice – that preserved stuff in lemon shaped bottles just doesn't taste as good!
Chicken stock – Swanson Chicken Cooking Stock is my recommendation for this recipe and it's an America's Test Kitchen taste test winner. In a pinch you could use water or chicken bouillon.
Coconut milk – This is a dairy free alternative to something like half and half, but don't worry – it won't make the pasta taste like coconut! Half and half, whole milk, or even heavy cream would work here depending on how rich you want your pasta to be.
White wine – Similar to the lemon, the wine adds some nice acidity and a punch of flavor. The alcohol cooks off while the pasta boils, so it's perfectly kid-friendly. If you can't or don't want to cook with wine, use chicken stock instead and add a couple tablespoons of extra lemon juice.
Parmesan cheese – Parmesan is the baseline of the hard cheeses you can grate and use in this recipe. Just be sure to use the fresh stuff, not the shelf stable powdered "parmesan cheese" you find at some pizza joints. If you want to up the cheesy flavor, try pecorino Romano or parmigiano reggiano instead! I personally love a blend of both.
Shop for this Recipe
Here are some items I used to make this recipe a success. Note: these are Amazon Affiliate links.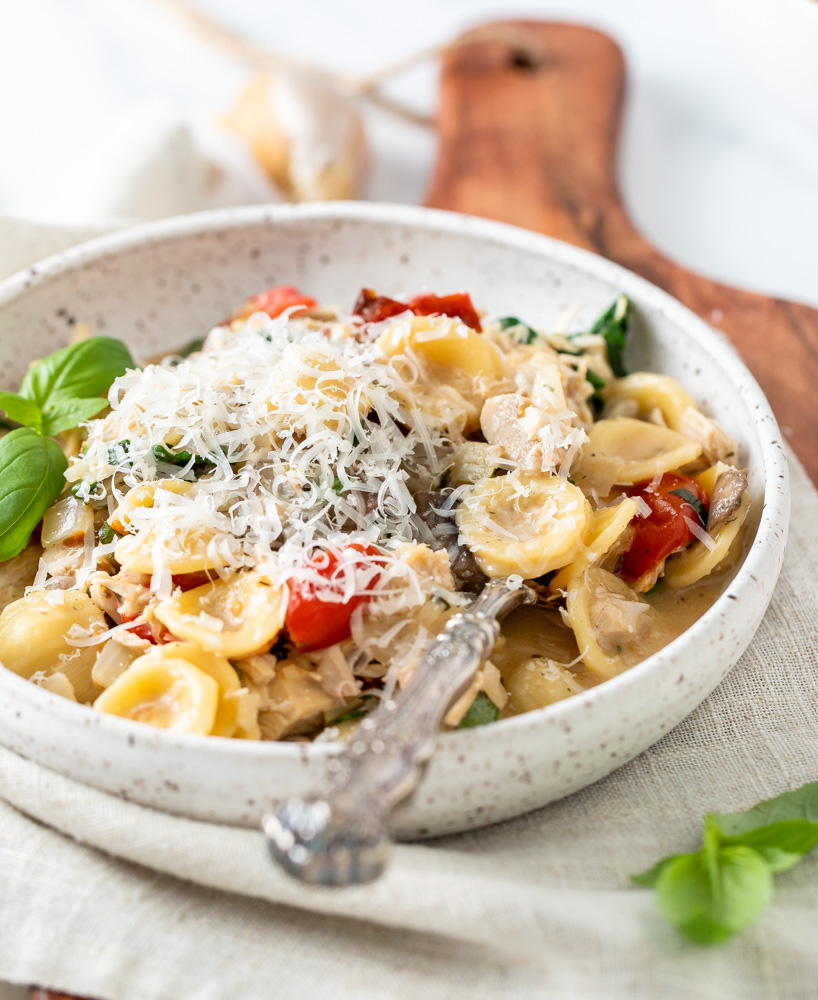 Recipe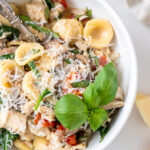 Easy Mushroom and Spinach Chicken Pasta
Prep Time 15 minutes
Cook Time 30 minutes
Total Time 45 minutes
Servings 6 servings
Calories per serving 460 kcal
Ingredients
1 small to medium rotisserie chicken, skin and bones removed (600 grams)
3 cups baby spinach, roughly chopped (90 grams)
2 cups small pasta like orecchiette (210 grams)
12 oz rainbow cherry tomatoes, halved (340 grams)
8 oz sliced Baby Bella mushrooms
1/2 medium onion, chopped (160 gram)
1 lemon, juiced and zested
1/3 cup fresh basil, chopped
5 cloves garlic, minced and divided (20 grams)
1 13.5 fl oz can light coconut milk
1 3/4 cup Swanson Chicken Cooking Stock (14 fl oz)
3/4 cup dry white wine like Sauvignon Blanc (6 fl oz)
3/4 cup grated parmesan cheese (75 grams)
1 tbsp butter (14 grams)
1/2 tbsp olive oil (8 grams)
Salt and pepper to taste
Instructions
Pre-heat oven to 450 degrees. Line a small baking sheet with aluminum foil.

Toss halved tomatoes with olive oil and half of the garlic. Arrange in a single layer on lined baking sheet. Bake for 20 minutes and set aside.

Heat a large pot over medium-high heat.  Add butter and melt, then add onion and garlic.  Sauté for 1-2 minutes, then add mushrooms and continue to sauté for another 3 minutes.

Add coconut milk, chicken stock, wine, and Oh My Spice seasoning.  Cover and bring to a boil, then add pasta, salt and pepper.  Stir until pasta is covered, then lower heat to a simmer for 10-12 minutes. Note: cooking time will vary depending on the size/shape of your pasta. Remove it from the heat when it is very al dente since it will continue cooking in the sauce after.

Remove pot from heat and stir in chicken, spinach, roasted tomatoes, basil, lemon juice, lemon zest, and parmesan cheese.  Cover and allow to rest for about 5 minutes or until chicken is heated through, pasta is cooked al dente, and spinach is wilted.

Serve with fresh lemon zest, basil, and more parmesan cheese, if desired.
Recipe Notes
Click here or scan the barcode below to log this food in My Fitness Pal.
Nutrition Facts
Easy Mushroom and Spinach Chicken Pasta
Amount Per Serving
Calories 460 Calories from Fat 162
% Daily Value*
Fat 18g28%
Cholesterol 86mg29%
Sodium 465mg20%
Potassium 570mg16%
Carbohydrates 37g12%
Fiber 3g13%
Sugar 7g8%
Protein 36g72%
* Percent Daily Values are based on a 2000 calorie diet.
SaveSaveSaveSave