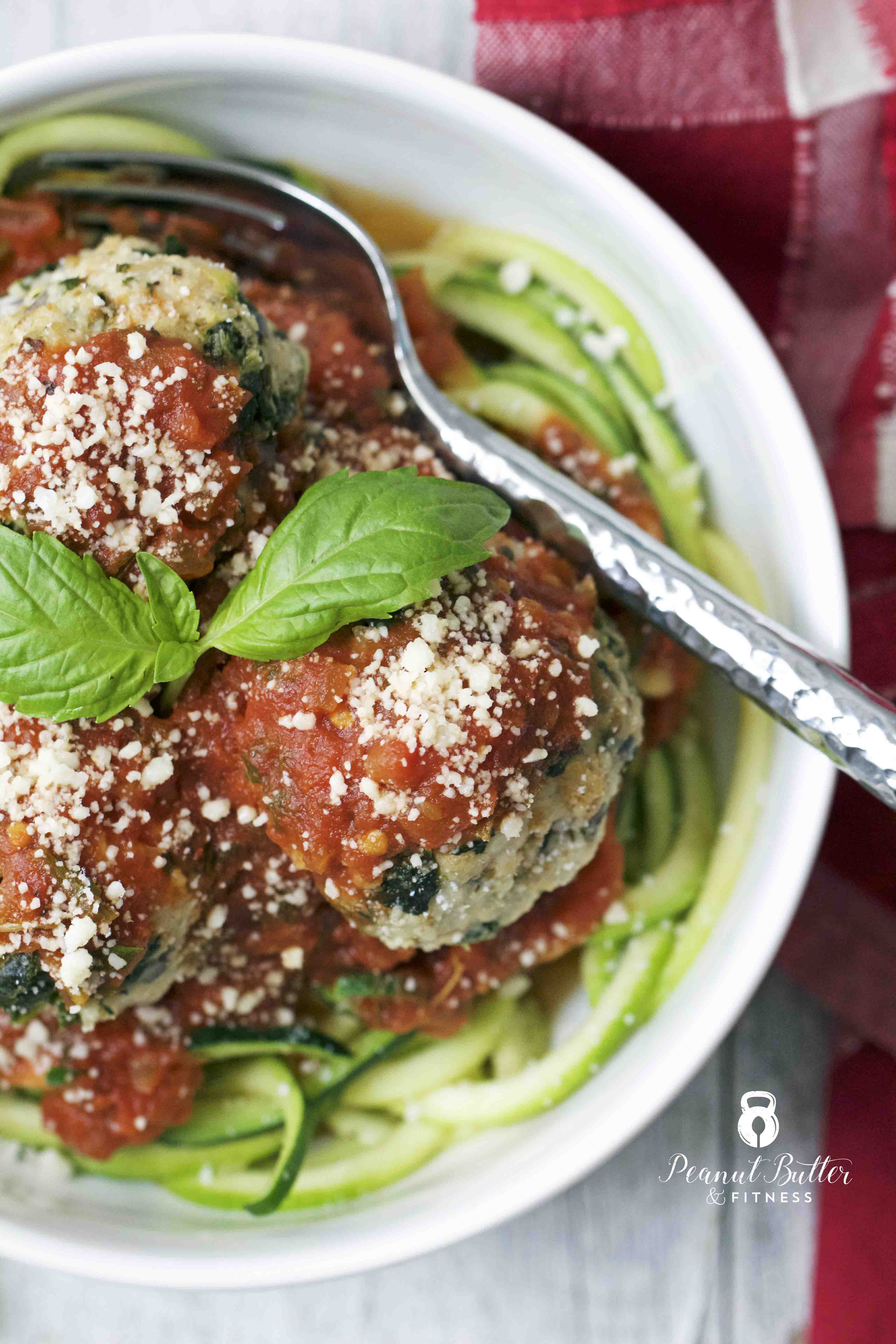 ***Updated March 18th, 2019***
Jump to Recipe
If you haven't tried zucchini noodles in place of pasta yet, you absolutely need to! I don't miss the pasta when I make this. They're incredibly easy to do (as long as you have the right Julienne peeler, that is) and it's a great way to cut calories and fit more veggies into your meal. I didn't get my peeler until after my near thumb-cutting-off experience trying to make these noodles with a mandolin cutter. Eek. It nearly ruined my dinner when that happened.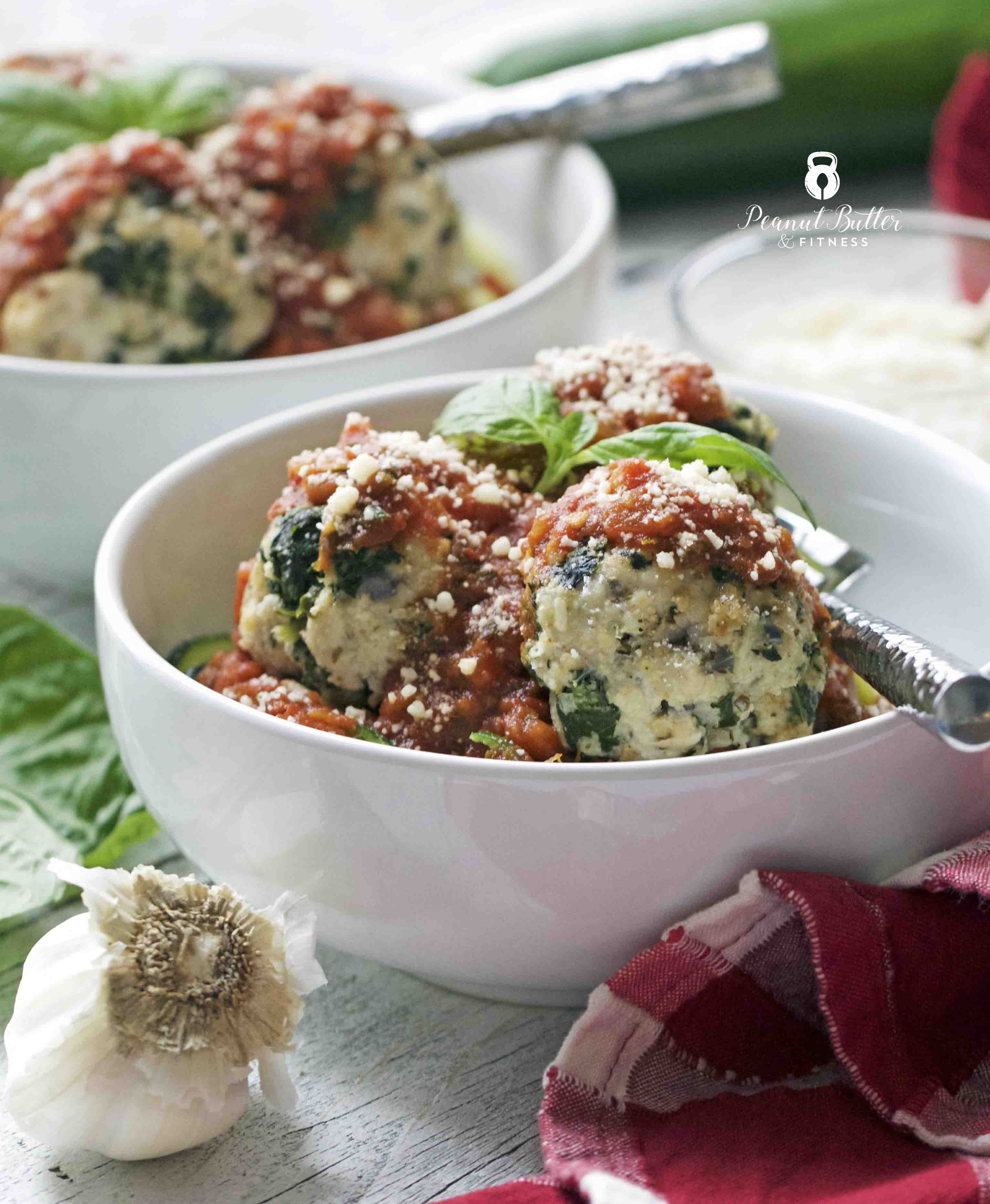 Just kidding! This is too good to not eat, whether or not you've got a massive bandage wrapped around your thumb. There are a lot of different spiralizers on the market now – I like to use this one, but if cabinet space is an issue, you could use a stand mixer attachment or a stainless steel Kuhn Rikon peeler instead.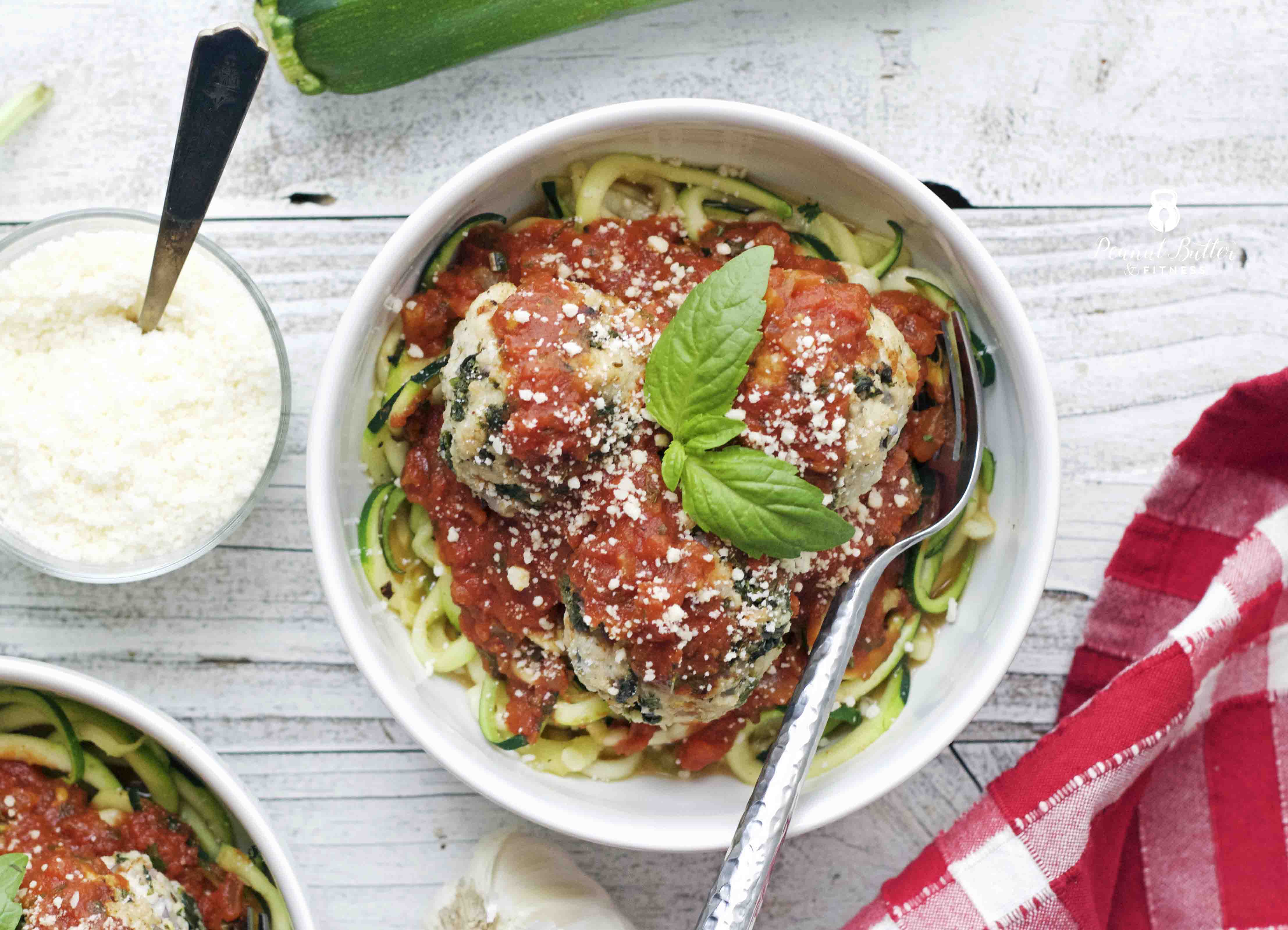 One of the best parts about this recipe is how well it works for meal prep. You can also freeze the meatballs for a quick an easy dinner some other time – I just wrap them up in foil and throw them in a Ziploc freezer bag in that case.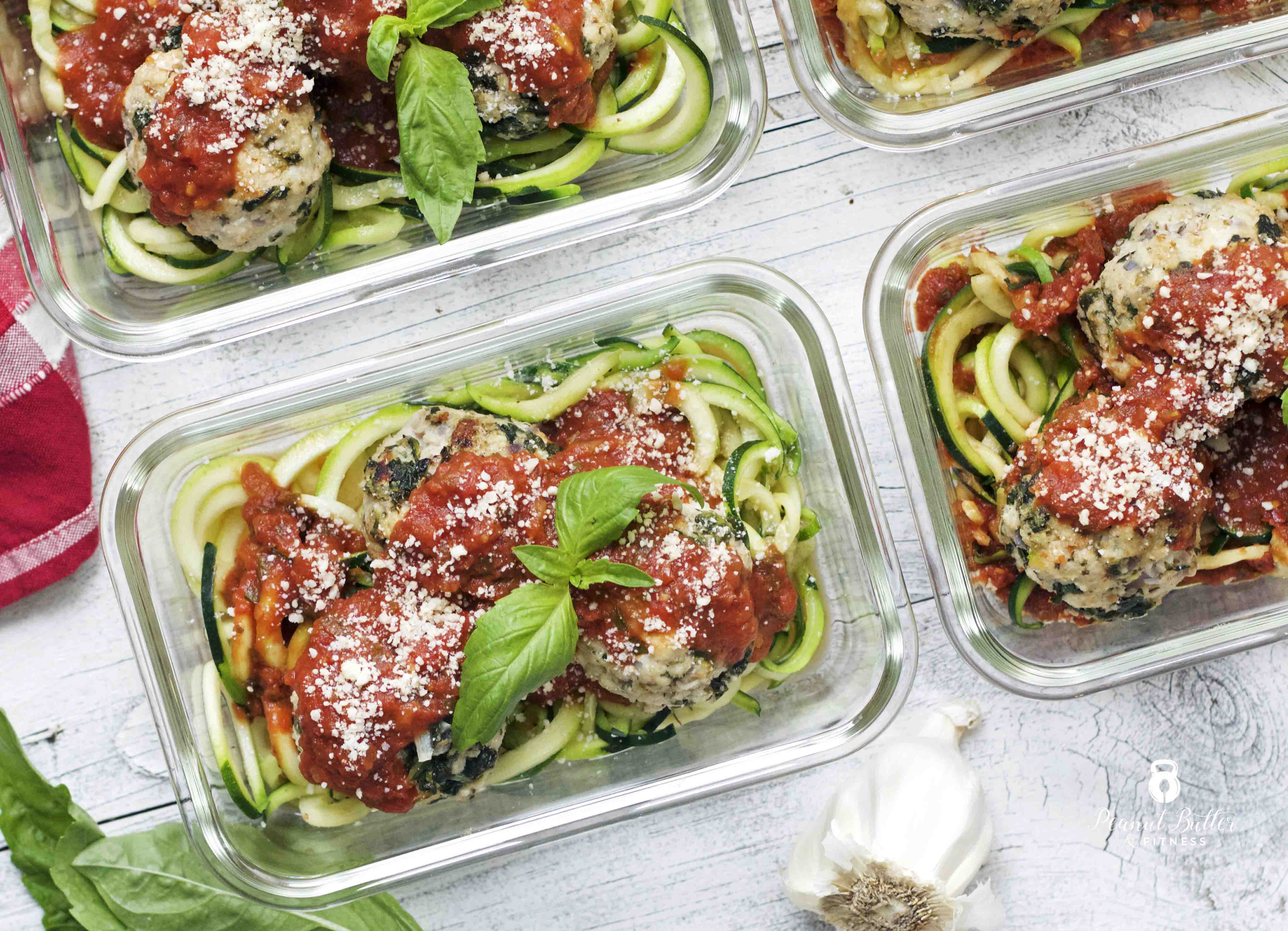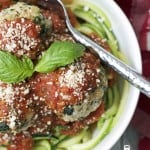 Turkey Spinach Meatballs with Zucchini Noodles and Arrabiata Sauce
Prep Time 25 minutes
Cook Time 20 minutes
Total Time 45 minutes
Servings 5 servings
Calories per serving 315 kcal
Ingredients
1 1/4 lb 99% extra lean ground turkey (20 oz)
10 oz frozen chopped spinach, thawed and drained
1 large egg
1 tsp oregano
1/2 cup finely chopped onion (80 grams)
1/2 cup whole wheat Italian breadcrumbs (60 grams)
4 cloves garlic, minced (16 grams)
1/4 cup grated parmesan cheese (25 grams)
4 small zucchini, ends trimmed
1 24 oz jar Nonna's Nature's Way Arrabiata Sauce
Instructions
Preheat oven to 400 degrees and line a baking sheet with SILPAT.

Dump thawed and drained spinach onto two sheets of paper towel. Gather the paper towel around the spinach and squeeze out excess moisture over the sink.

Add ground turkey and drained spinach to a large bowl, breaking apart spinach as it is added. Add egg, spices, onion, breadcrumbs, garlic gloves and parmesan cheese. Mix with your hands until ingredients are just combined (do not overwork the meat).

Roll the mixture into balls, about 1.5 inches in diameter, and place onto lined baking sheet.

Lightly spray some olive oil or non-stick cooking spray on top of the meatballs. Bake for 20 minutes or until cooked through.

Spiralize zucchini into noodles and place into a microwavable bowl. Microwave the zucchini noodles, covered with a damp paper towel, for 2 minutes (alternatively, you can sauté them with a bit of olive oil).

Heat marinara sauce to desired temperature before serving over zucchini noodles and meatballs. Garnish with fresh chopped basil, if desired.
Nutrition Facts
Turkey Spinach Meatballs with Zucchini Noodles and Arrabiata Sauce
Amount Per Serving
Calories 315 Calories from Fat 81
% Daily Value*
Fat 9g14%
Cholesterol 59mg20%
Sodium 746mg32%
Potassium 626mg18%
Carbohydrates 28g9%
Fiber 6g25%
Sugar 8g9%
Protein 37g74%
* Percent Daily Values are based on a 2000 calorie diet.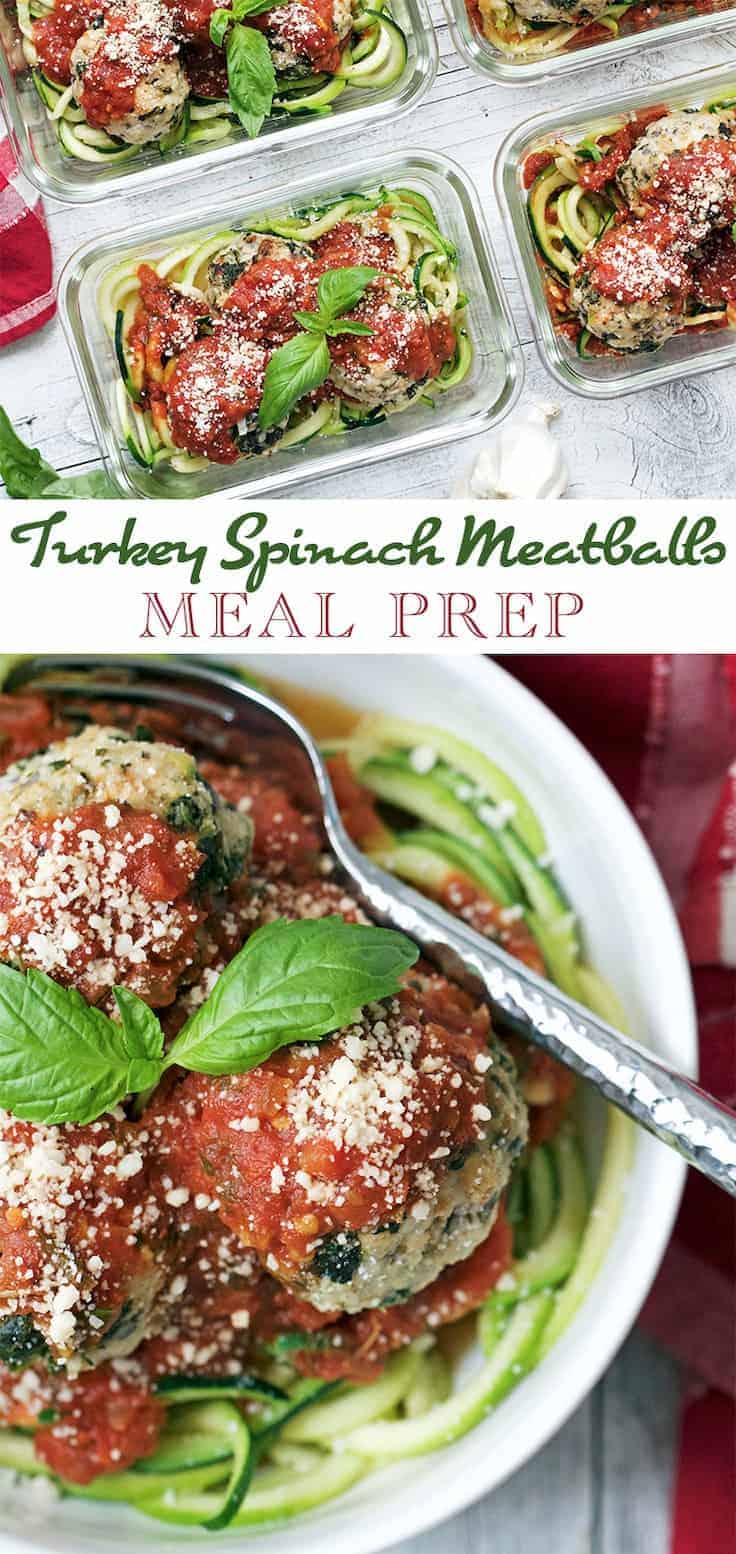 I decided it was time to give this recipe and these old photos an update, because the pictures really didn't do it justice! But just for fun, here are a couple of the old ones 😉 This was one of my first recipes on PBF and it's still a regular in my meal preps!