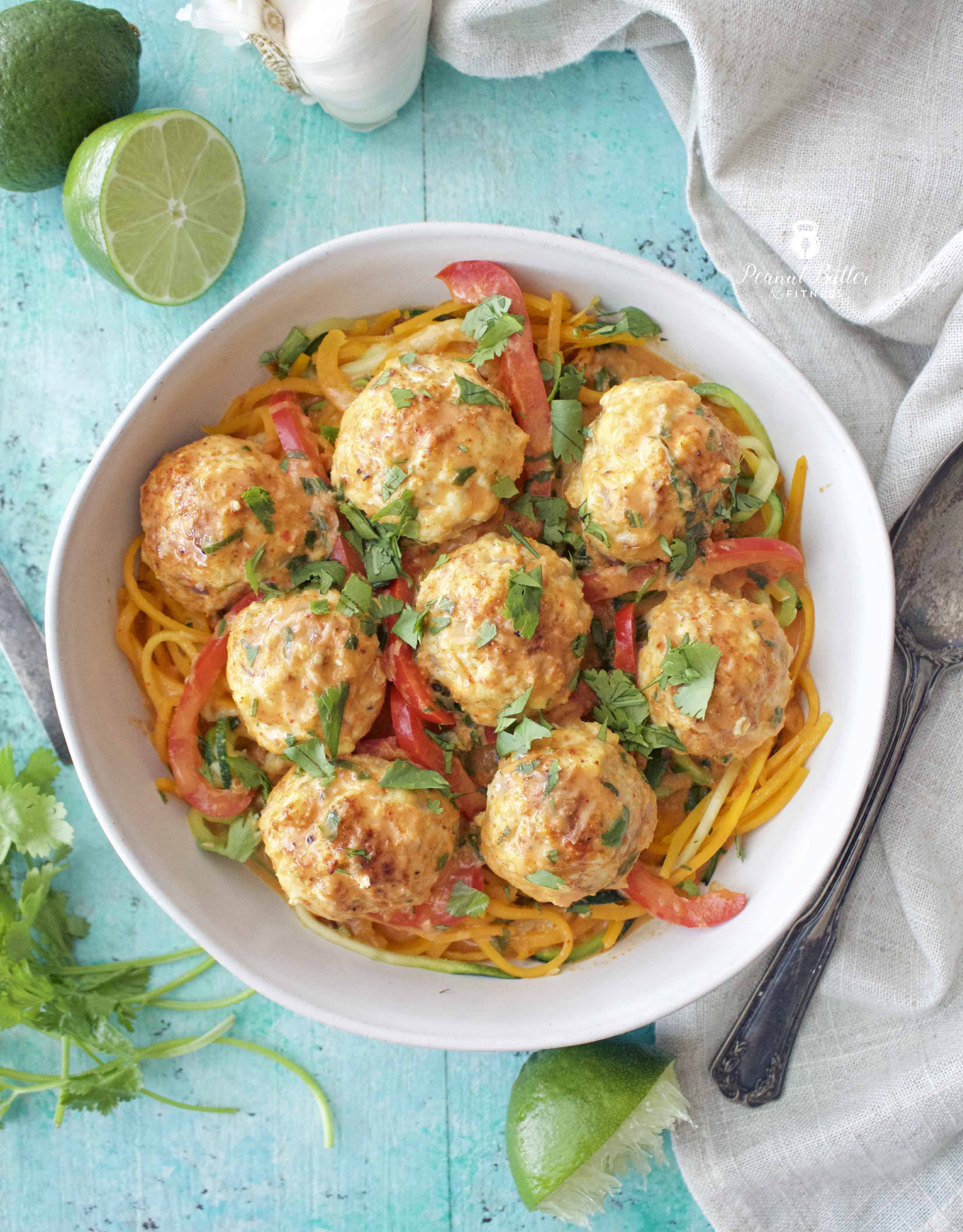 I hope you all had a wonderful 4th of July! Many of you probably know by now that I'm a big fan of Thai flavors (see here, here, and here for just a few examples). Because I love that Thai red curry flavor so much, I decided to make meatballs with it. Yeah, I said it. THAI MEATBALLS. And this whole meal is gluten free and paleo.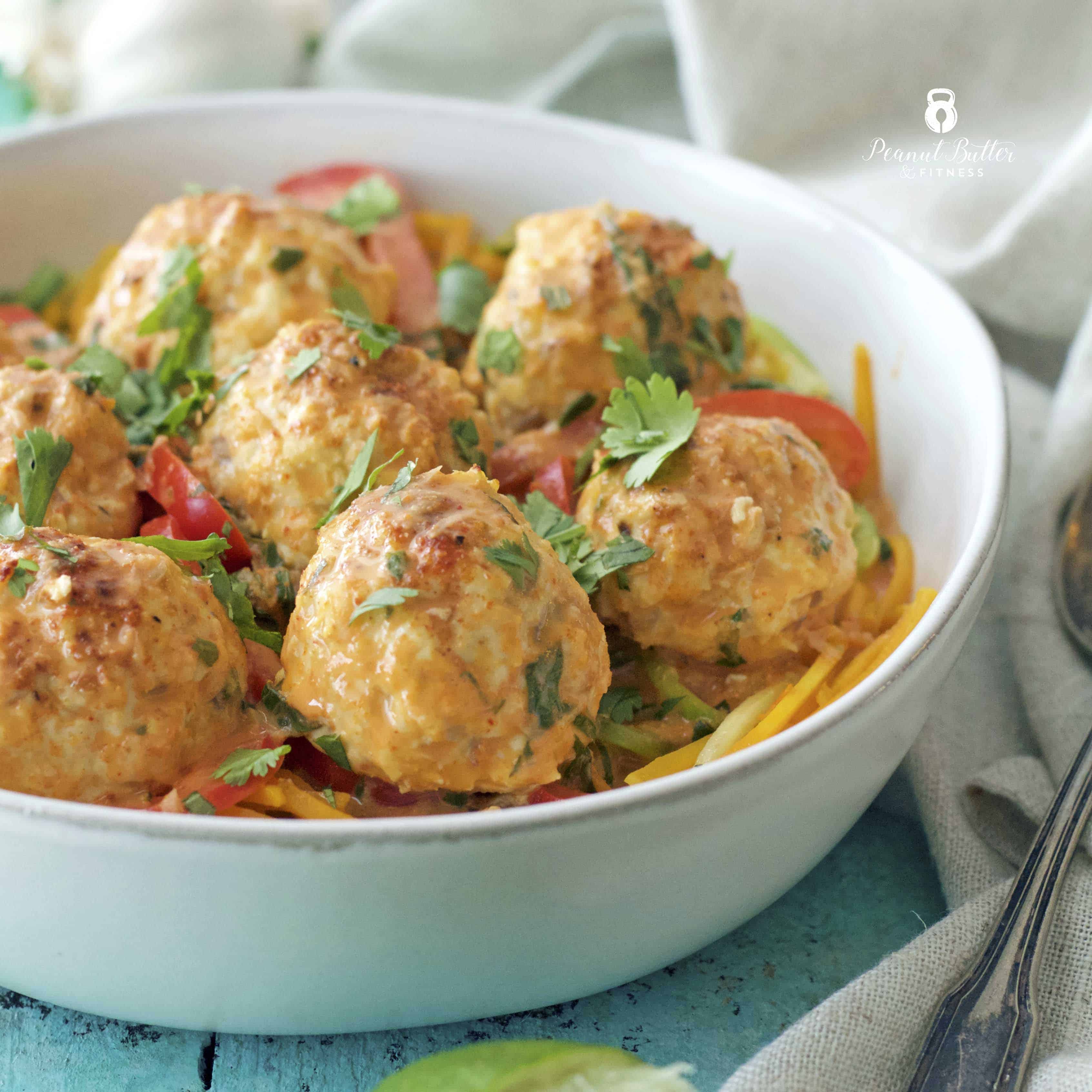 One thing I love about meatballs is that they are so easy. Just chop up a few things, get your hands dirty, pop them in the oven, and BAM…delicious little flavor and protein bombs at your fingertips. I served them over a bed of butternut squash and zucchini noodles, but rice noodles would work really well too.
And the sauce…oh the sauce. It's an easy but creamy, dreamy, coconut milk concoction with some red curry paste and a few other ingredients. If you like it spicy, you'll want to add more curry paste and maybe some sriracha and/or red pepper flakes. It's easy enough to adjust the flavor as you go, just be sure to give it a taste and make sure it's the right spiciness for you.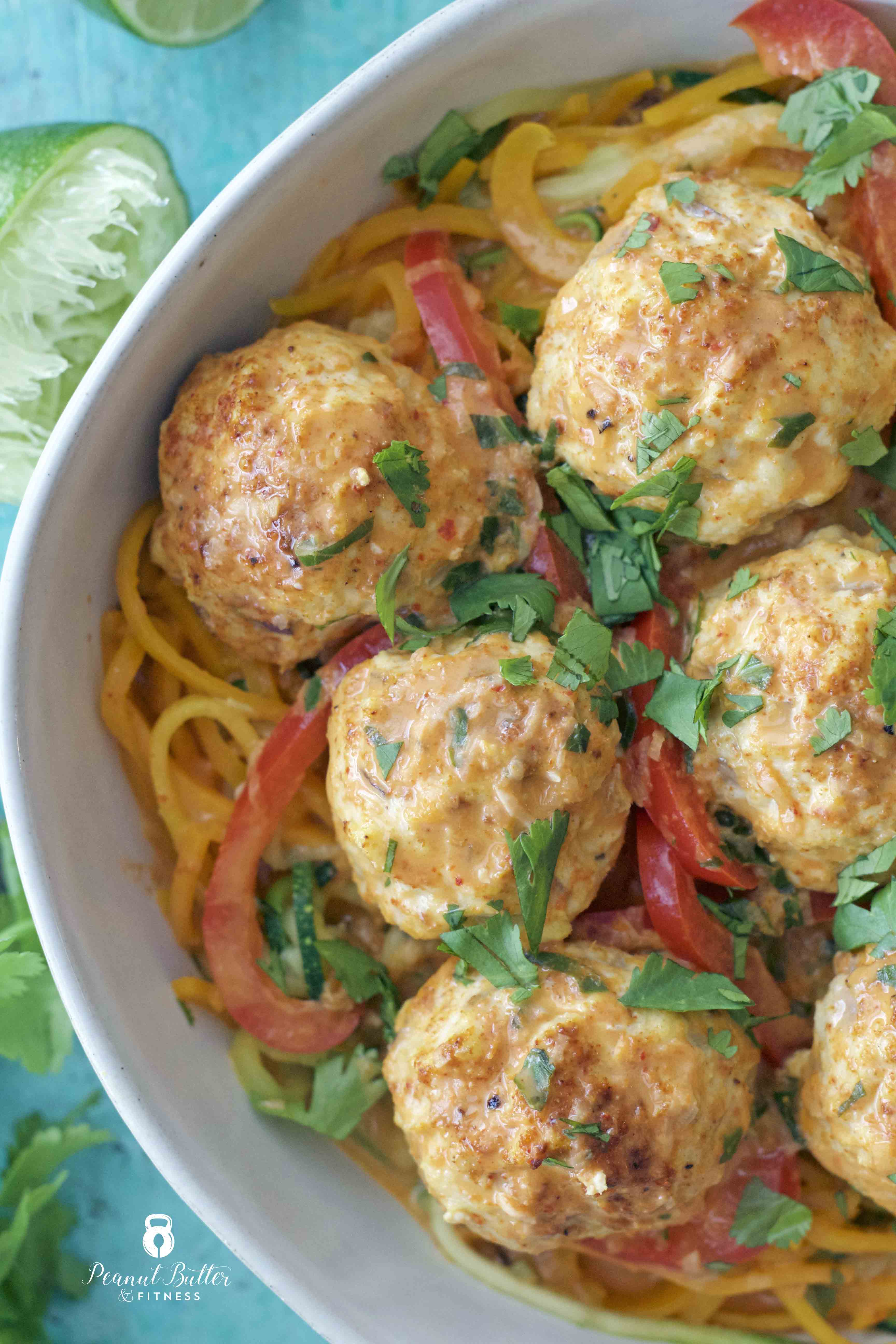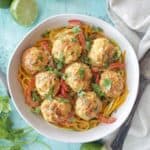 Thai Curry Chicken Meatballs
Prep Time 20 minutes
Cook Time 20 minutes
Total Time 40 minutes
Servings 4 servings
Calories per serving 325 kcal
Ingredients
Meatballs
1 lb ground chicken
1 egg
1/4 cup red onion chopped
1/4 cup grated carrots
2 tbsp almond flour (or breadcrumbs)
2 cloves garlic minced
1/2 tbsp ginger paste
1/4 tsp red chili flakes
Sauce
13.5 oz light coconut milk
3 tbsp Thai Kitchen red curry paste
1 lime juiced
2 tbsp thai basil chopped
2 cloves garlic minced
1 tsp arrowroot flour
Other
1 medium red bell pepper, sliced (120 grams)
10.7 oz butternut squash spirals (307 grams)
10.7 oz zucchini spirals (307 grams)
2 tsp olive oil
Chopped cilantro for garnish
Instructions
Pre-heat oven to 400 degrees. Line a baking sheet with SILPAT or aluminum foil.

Add all meatball ingredients to a bowl and mix until just combined. Roll into approximately 1" to 1 1/2" meatballs and arrange on baking sheet. Mist the top of the meatballs with olive oil or coconut oil. Bake for 20 minutes or until cooked through.

Heat 1 tsp olive oil in a large skillet over medium-high heat. Add garlic and sliced bell pepper and sauté for about 2-3 minutes until pepper has slightly softened and garlic is fragrant.

Add curry paste, lime juice, and all but 1/4 cup of the coconut milk. Bring to a boil, then lower heat to a simmer for 10 minutes.


Whisk remaining coconut milk with arrowroot flour, then slowly pour into sauce while continuously stirring sauce. Return sauce to a boil, then remove from heat and mix in Thai basil and cooked meatballs. Set aside.

Heat remaining 1 tsp of olive oil in a large pan over medium-high heat. Add zucchini and butternut squash spirals and toss with olive oil. Sauté noodles until they reach desired tenderness (mine took about 5 minutes).

Divide noodles evenly into 4 serving dishes. Top with meatballs and sauce. Garnish with cilantro before serving.

Nutrition Facts
Thai Curry Chicken Meatballs
Amount Per Serving
Calories 325 Calories from Fat 126
% Daily Value*
Fat 14g22%
Cholesterol 122mg41%
Sodium 398mg17%
Potassium 600mg17%
Carbohydrates 26g9%
Fiber 7g29%
Sugar 11g12%
Protein 27g54%
* Percent Daily Values are based on a 2000 calorie diet.
SaveSave
SaveSave
SaveSave
SaveSave
SaveSave
SaveSave