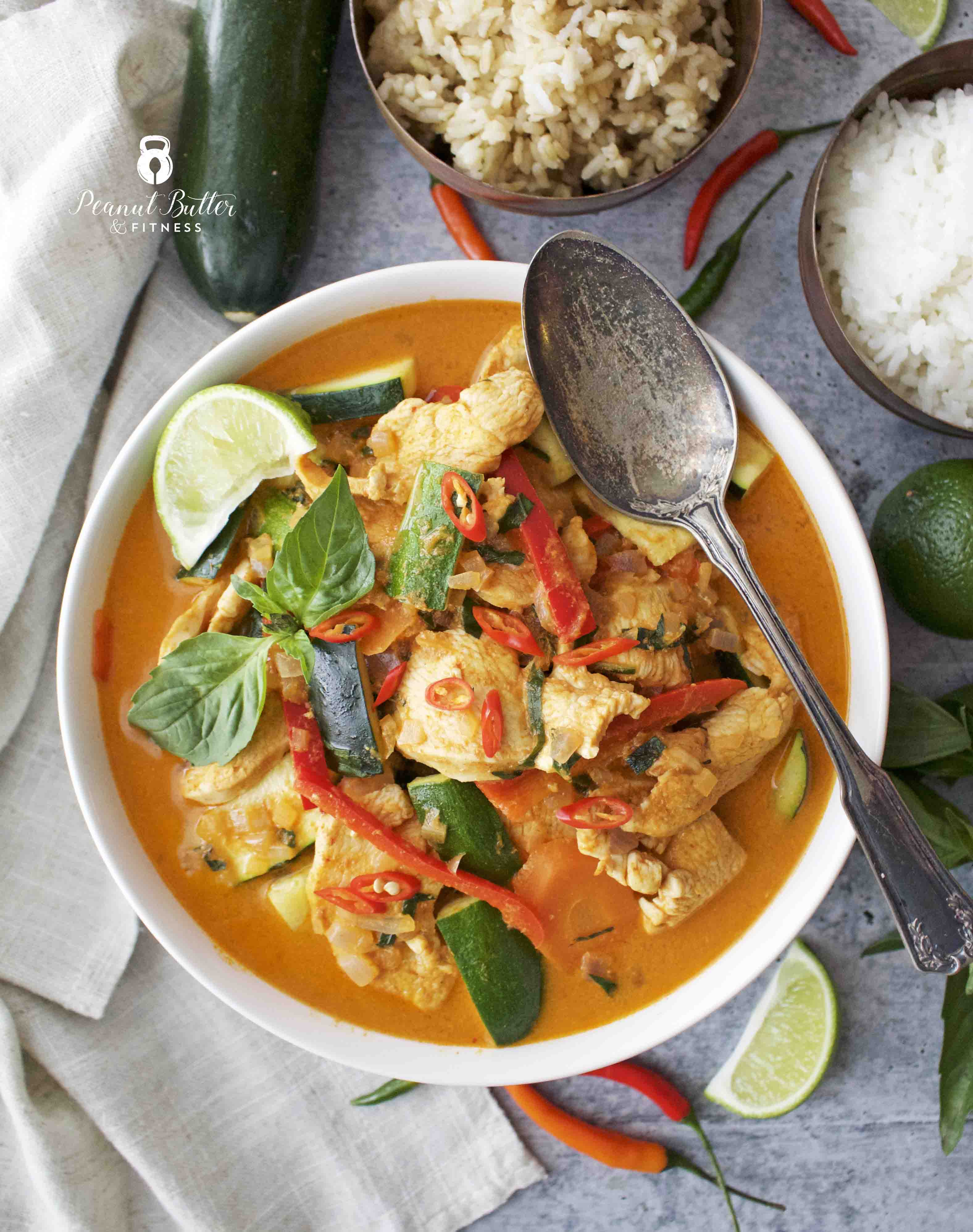 Jump to Recipe
***Updated March 31st, 2019***
I did things a little backwards this week and now I'm bringing you the featured recipes from my meal prep that I posted yesterday. This one is a simple but delicious Red Thai Curry that I currently can't get enough of 🙂 Curries are great for meal prep because the meat sits there in the curry sauce for however long it's in your refrigerator and the sauce keeps it from drying out, plus it stays just as tasty (if not more tasty) as it was the day you made it.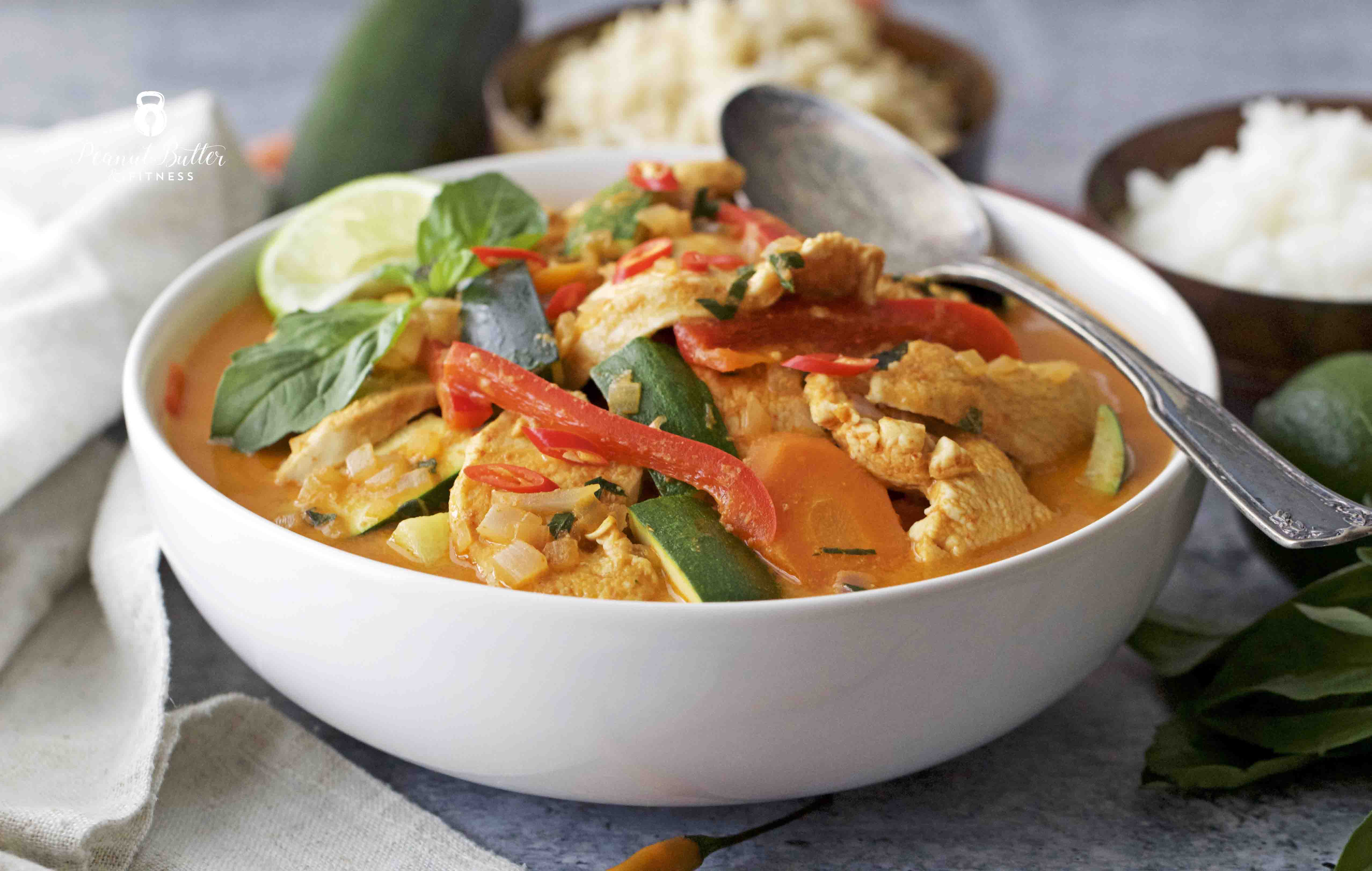 Fun fact: I used to detest all curry because of a bad experience I had at an Indian restaurant in college. I still have yet to try the yellow Indian curry again, but I'm sure I'll get there some day. Thai curry though…that's my jam. Green, red, yellow – doesn't matter, I love it all. I was lucky enough to go get some of the real thing in Thailand a couple years ago and IT. WAS. AMAZING. I remember riding back to the hotel at night and seeing all the fresh produce getting delivered to the markets late at night…bushels upon bushels of lemongrass and morning glory ("water spinach") all over the street. And eating at a "street restaurant" where someone's grandma was cooking in an open air kitchen on one side of the alley and we got served the food at a little table on the other side. Ahhh, memories.
Here are some obligatory meal prep glamour shots: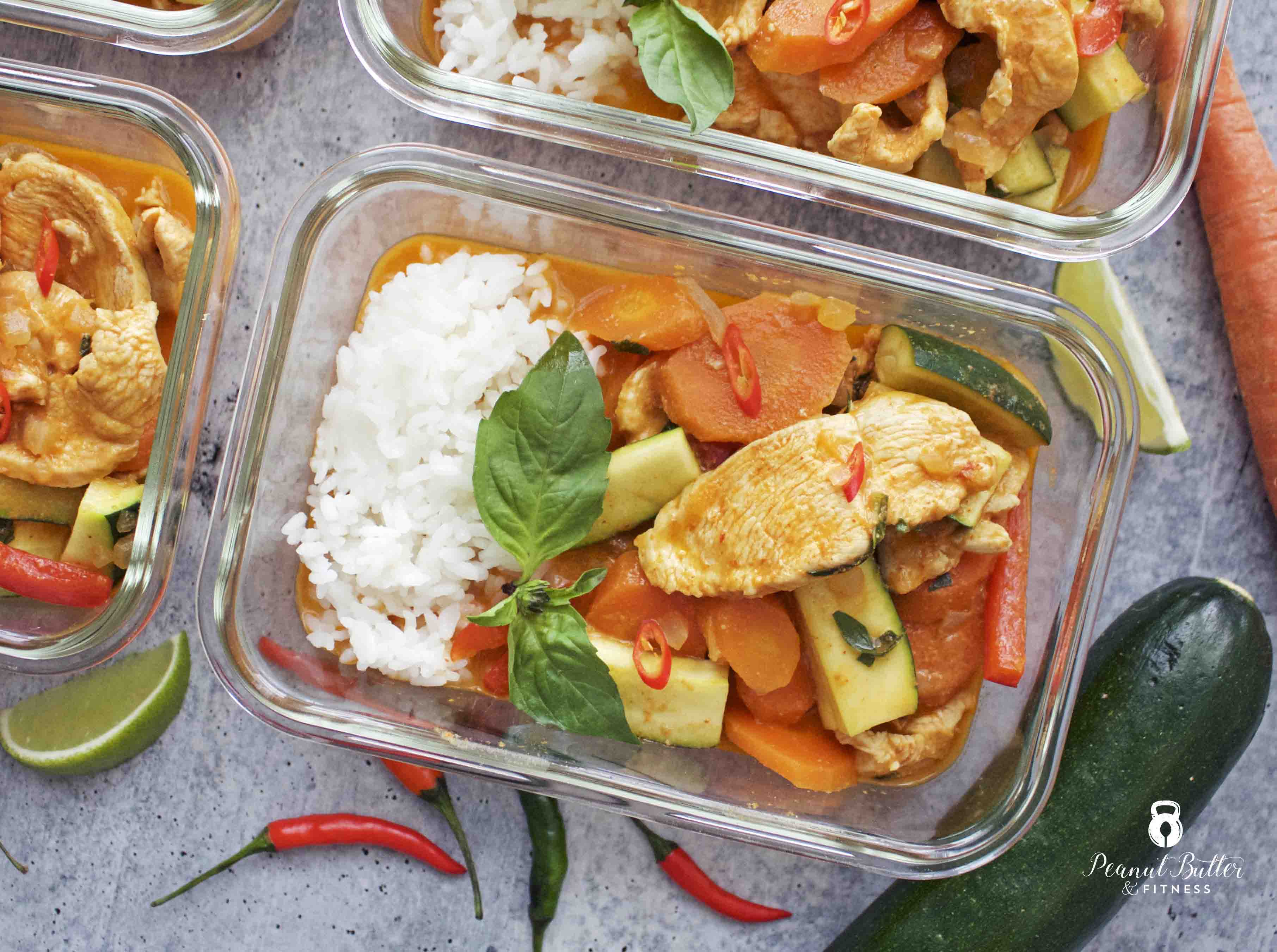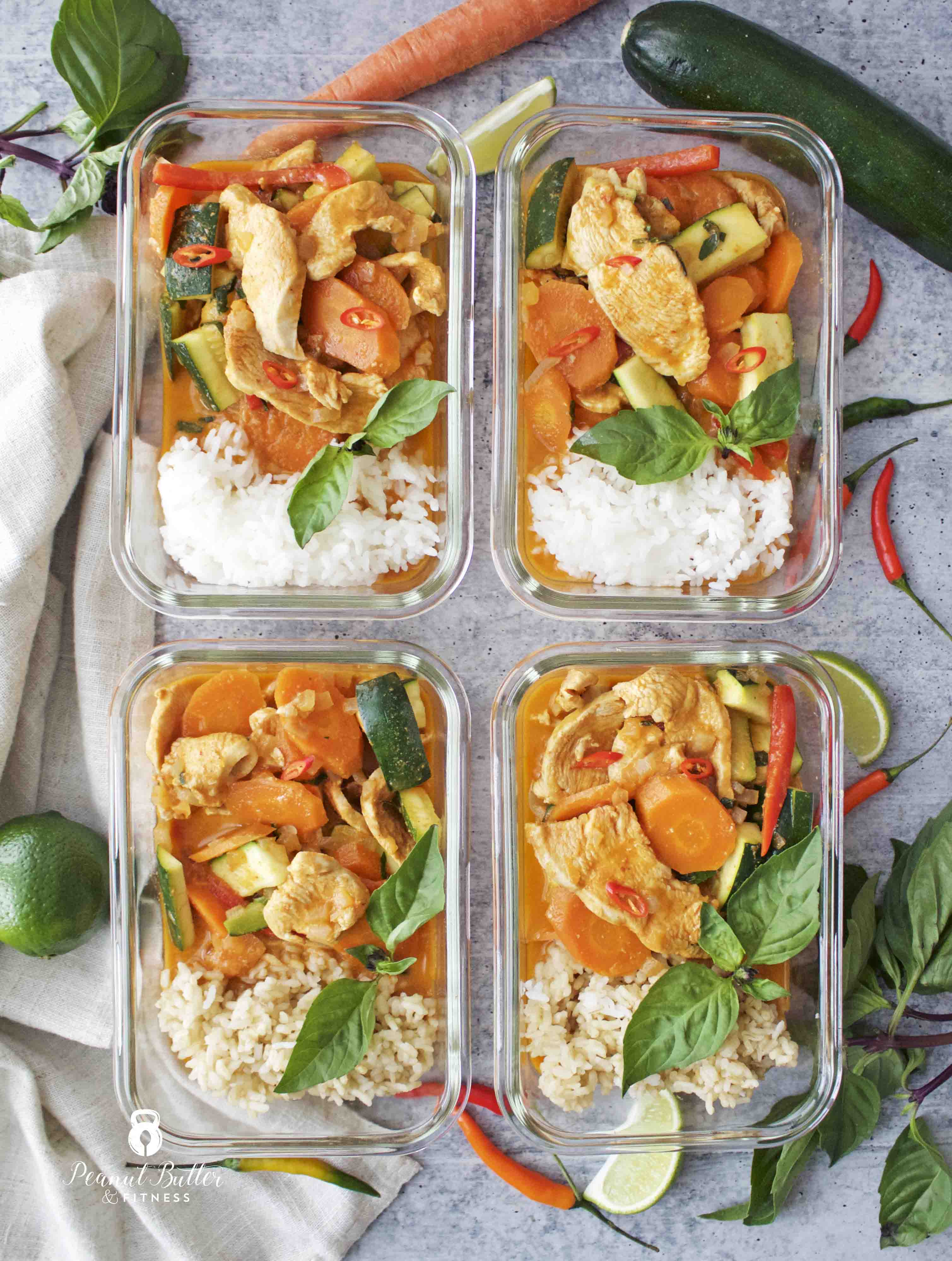 Oh, hey – cash me on YouTube, how bow dah?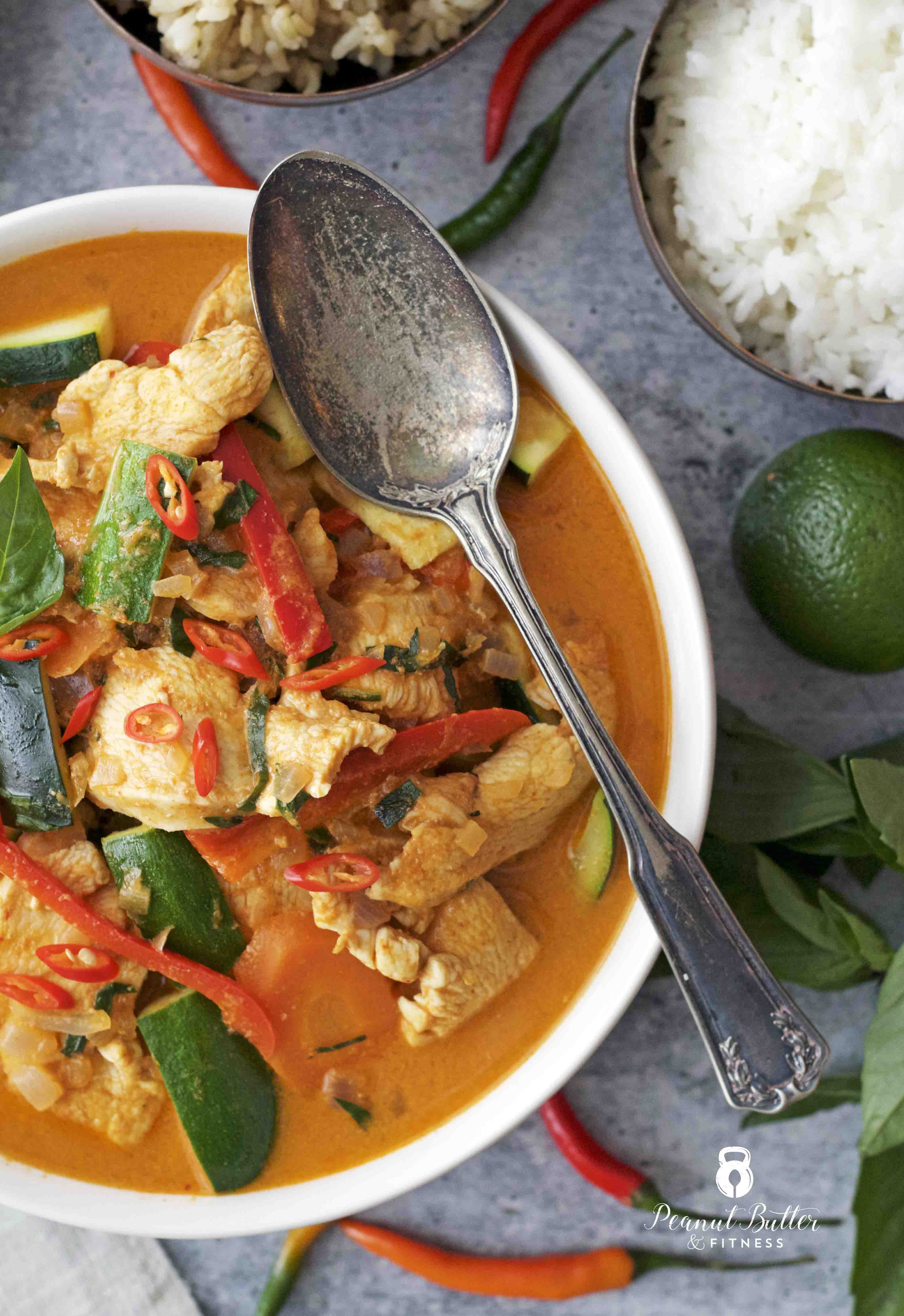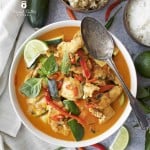 Red Thai Curry
Prep Time 20 minutes
Cook Time 20 minutes
Total Time 40 minutes
Servings 4 servings
Calories per serving 391 kcal
Ingredients
1 lb chicken breast, thinly sliced
2 large carrots, sliced (150 grams)
1 medium zucchini, sliced (120 grams)
1/2 red bell pepper, sliced (90 grams)
1/2 medium onion, chopped (50 grams)
1 cup coconut milk (add more for a saucier curry)
1/2 cup low sodium chicken broth (4 oz)
3 tbsp Thai red curry paste (1.5 oz)
1/2 tbsp fish sauce (0.25 oz)
1/2 tbsp olive oil (0.25 oz)
1/2 tbsp coconut sugar (6 grams)
1/2 tbsp arrowroot flour (4.5 grams)
1/4 cup Thai basil leaves, chopped
2/3 cup Lundberg Organics Brown Jasmine Rice (120 grams)
Instructions
Cook rice according to package directions.

Heat olive oil in a large skillet or pot with flat sides over medium-high heat. Add onion and sauté until fragrant and tender. Add red curry and mix to coat onions.

Add sliced chicken breast and mix, then add carrot slices. Sauté for 3-4 minutes or until chicken is partly cooked through, then add ¾ cup coconut milk and chicken broth. Bring to a boil.

While mixture is coming to a boil, whisk the remaining ¼ cup coconut milk with arrowroot flour. Pour into the skillet and mix well. Lower heat to a simmer for 5 minutes.

Add zucchini, pepper, fish sauce, coconut sugar and basil leaves. Simmer for another 5 minutes and remove from heat. The residual heat will continue to soften the vegetables before serving over rice.
Recipe Notes
Nutrition Facts
Red Thai Curry
Amount Per Serving
Calories 391 Calories from Fat 126
% Daily Value*
Fat 14g22%
Cholesterol 65mg22%
Sodium 584mg25%
Potassium 318mg9%
Carbohydrates 37g12%
Fiber 4g17%
Sugar 7g8%
Protein 32g64%
* Percent Daily Values are based on a 2000 calorie diet.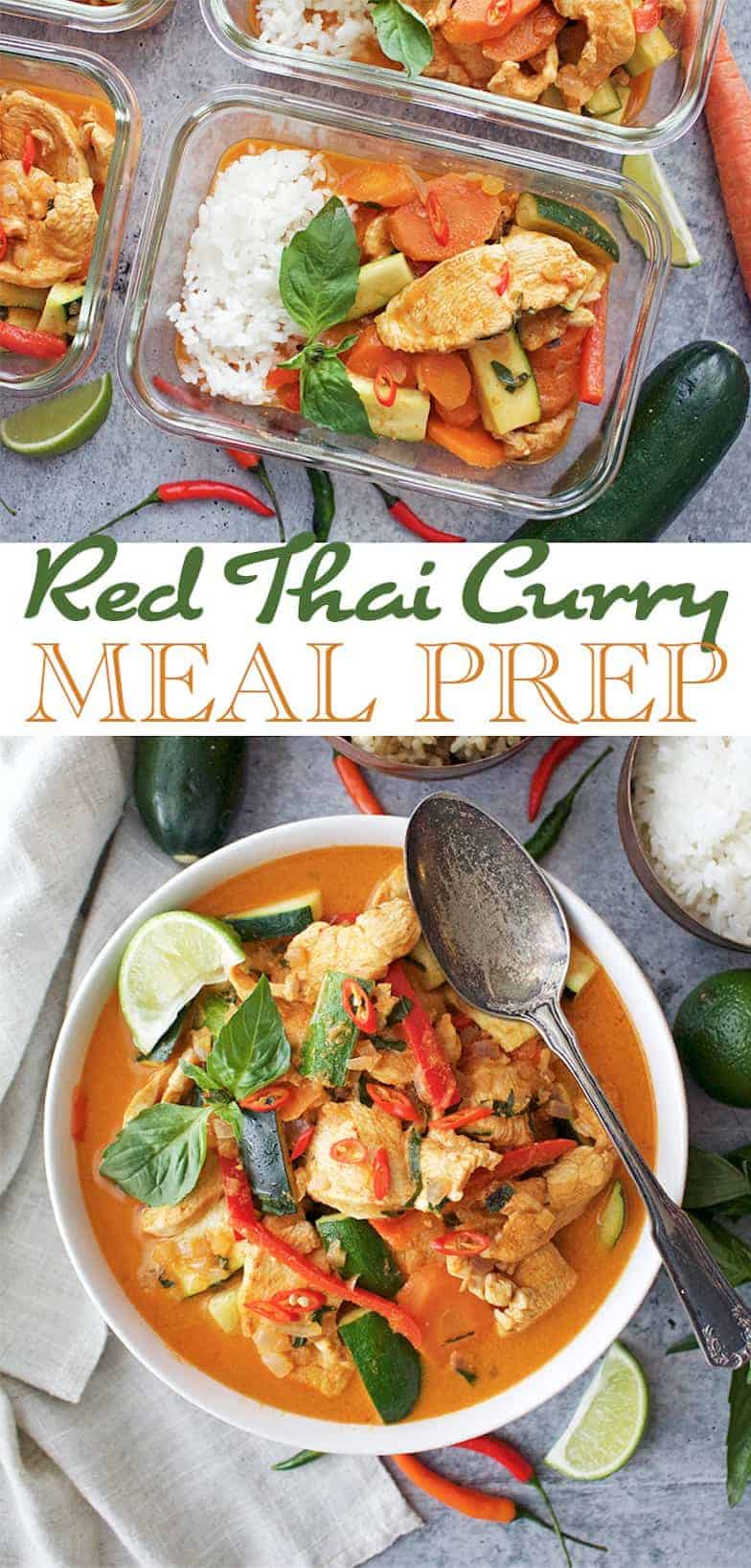 I updated the pictures for this recipe because I didn't think they were doing it justice…so for fun, here are some of the old pics 😉