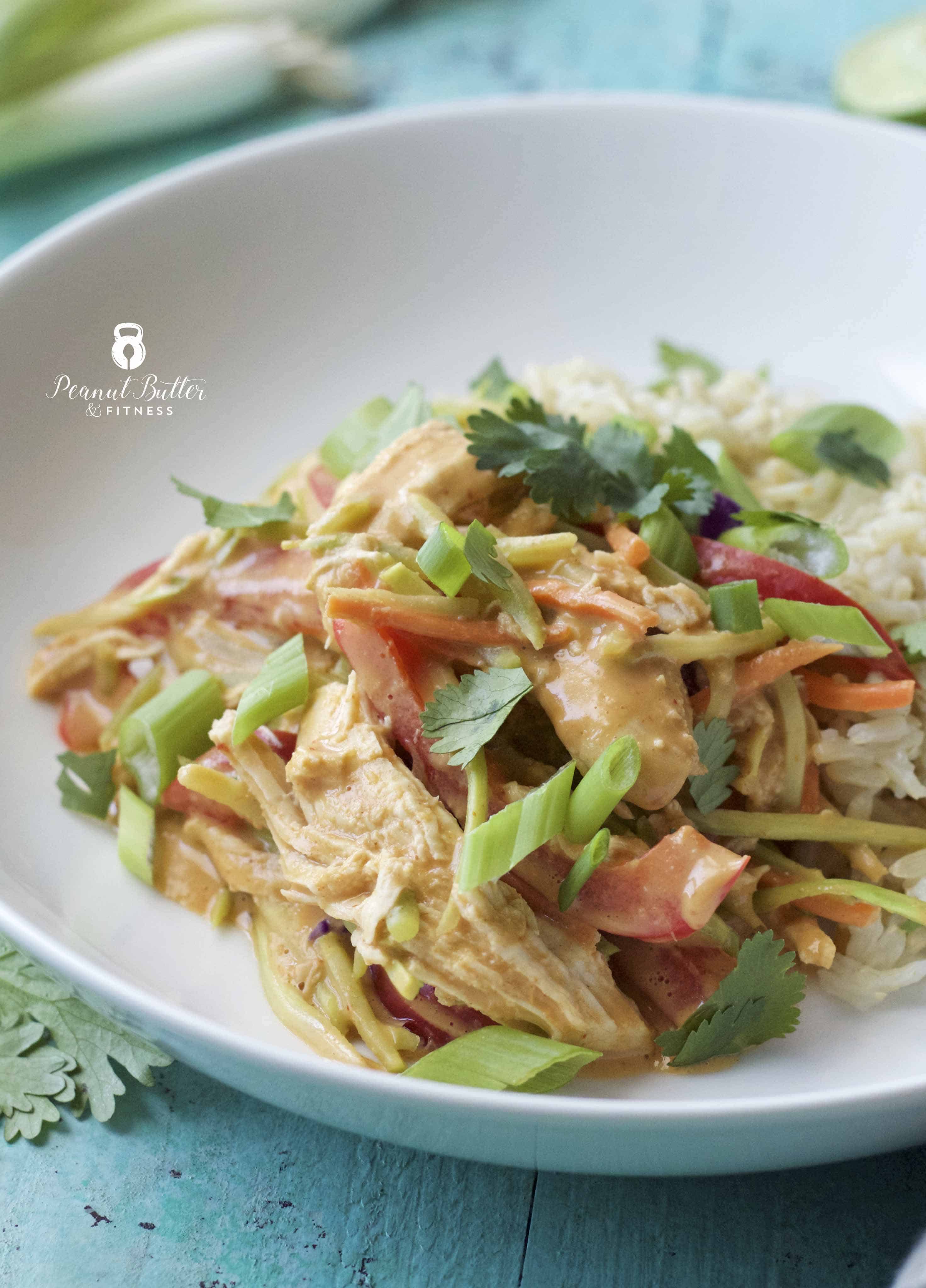 Hey guys! Here's a quick and easy mid-week recipe for you. I love using my Instant Pot to bust out tender chicken in under 30 minutes (or any ingredient, really). You could totally use a slow cooker for this recipe too, but then you'd have to wait for way longer to enjoy the creamy deliciousness that is this Thai Peanut Chicken.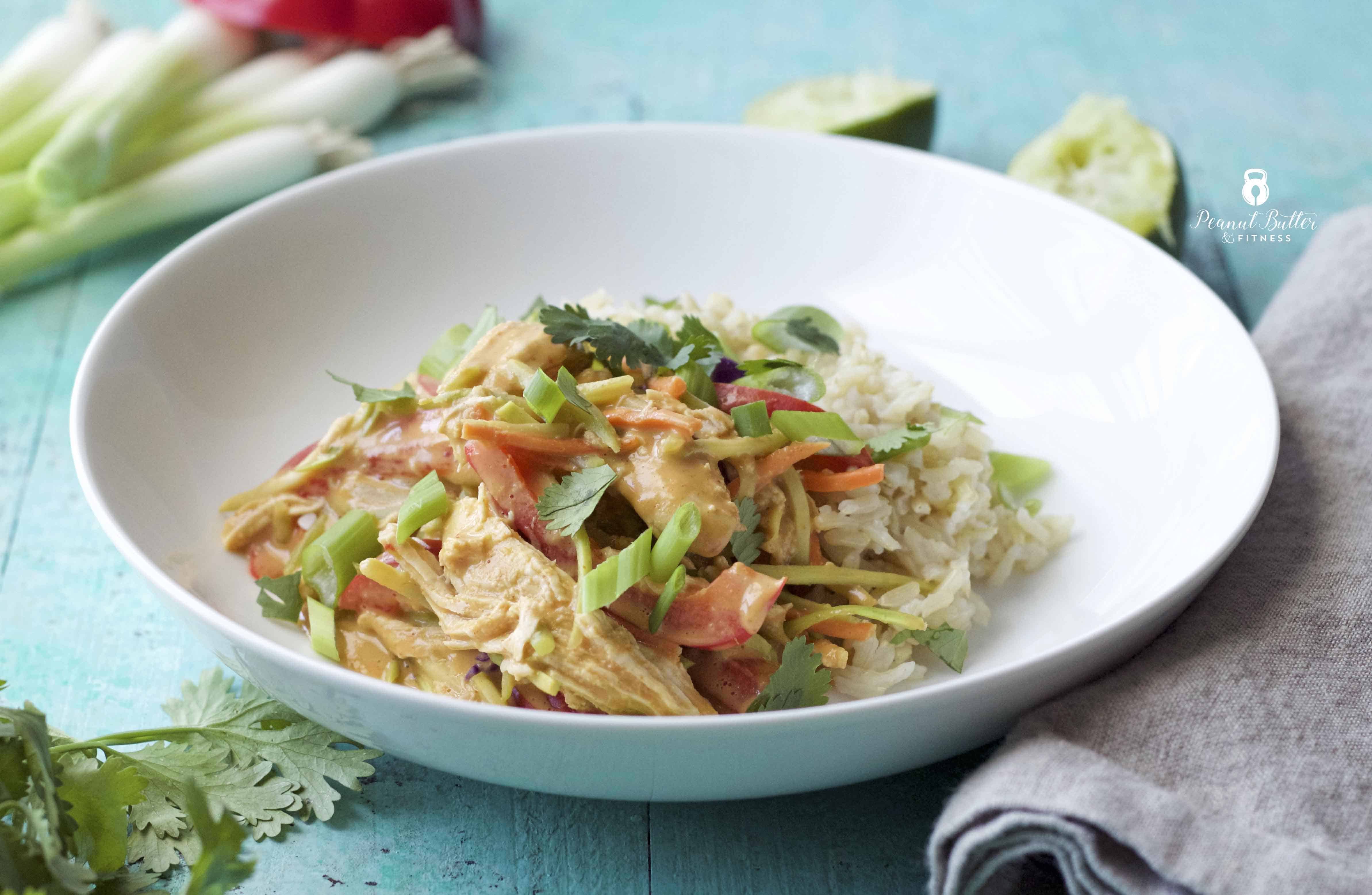 I tossed the bell pepper and broccoli slaw in for a quick sauté for just a few minutes because I like to preserve the tender-crispness of them. You could certainly sauté them for longer if you like your Thai veggies to be a little softer. And yeah, broccoli slaw is totally not Thai, but it is totally the right veggie combo for this dish. Trust me. Enjoy the rest of your week and happy hump day!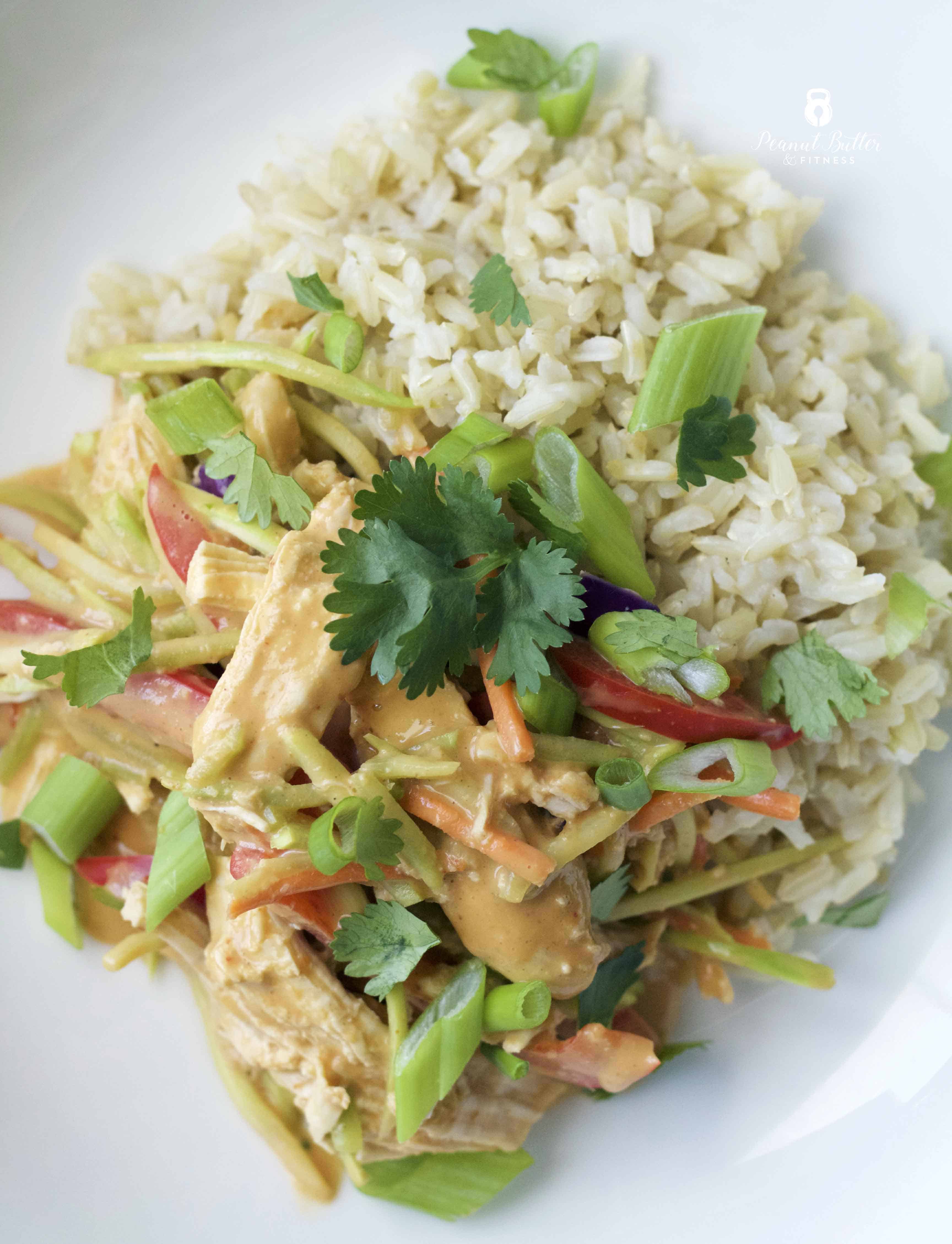 The Recipe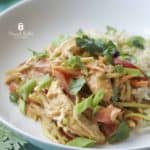 Instant-Pot Thai Peanut Chicken
Prep Time 30 minutes
Cook Time 20 minutes
Total Time 50 minutes
Servings 5 servings
Calories per serving 390 kcal
Ingredients
1 1/4 lb raw chicken breast
1 medium red bell pepper, sliced (130 grams)
4 cups HEB broccoli slaw (340 grams)
1 cup Lundberg Organic Brown Jasmine Rice, cooked according to package directions (180 grams dry measure)
1/3 cup green onions, chopped
2 tbsp fresh cilantro, chopped
Optional: 1/4 cup crushed peanuts
Sauce
1 cup light coconut milk (8 fl oz)
1/3 cup PB2 powdered peanut butter (32 grams)
3 cloves garlic, minced (12 grams)
2 tbsp Skippy Natural Creamy Peanut Butter (32 grams)
2 tbsp low sodium soy sauce (1 fl oz)
1 tbsp rice vinegar (1/2 fl oz)
1 tbsp Thai Kitchen red curry paste (15 grams)
1 tbsp ginger paste (9 grams)
1 lime, juiced
Instructions
In a small bowl, whisk all sauce ingredients except PB2 and peanut butter (they will burn if you put them in before cooking).  Pour 1/2 of the sauce into the bottom of the Instant Pot.  Add chicken, then add remaining sauce.

Set Instant Pot to high pressure for 12-14 minutes (do 14 mins for thicker pieces of chicken), followed by manual release.  Remove chicken, shred, and set aside. Pour the sauce into a bowl and whisk in PB2 and peanut butter.

Set Instant Pot to sauté and add bell pepper and broccoli slaw. Sauté for 5 minutes or until pepper begins to soften slightly. Return sauce to the Instant Pot and mix.

Return chicken to mixture and stir to coat. Add a little chicken stock if the sauce is too thick.


Serve chicken mixture over a bed of rice and top with fresh cilantro, green onions, and peanuts (if desired).
Recipe Notes
Click here to log this meal in My Fitness Pal WITH RICE. Click here to log it WITHOUT RICE.
Nutrition Facts
Instant-Pot Thai Peanut Chicken
Amount Per Serving
Calories 390 Calories from Fat 81
% Daily Value*
Fat 9g14%
Cholesterol 66mg22%
Sodium 473mg21%
Potassium 451mg13%
Carbohydrates 41g14%
Fiber 4g17%
Sugar 6g7%
Protein 36g72%
* Percent Daily Values are based on a 2000 calorie diet.
SaveSave