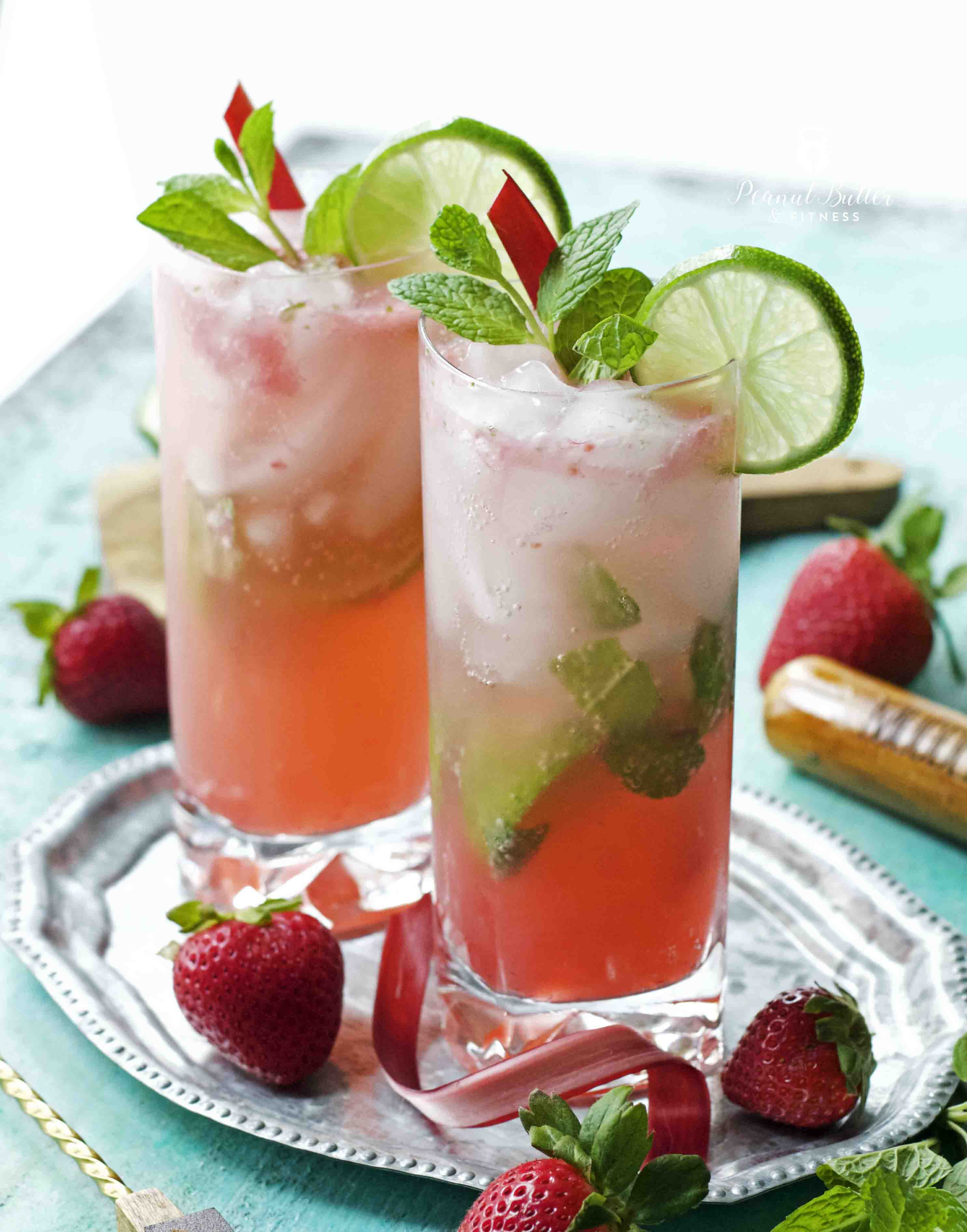 Cocktail Friday has come to play a day early because (drumroll, please)…it's National Mojito Day! I love a good mojito and have been lucky enough to enjoy some really incredible ones – as in, these are mojitos that I still remember til this day. This Strawberry Rhubarb Mojito is an American summer twist on an incredible strawberry mojito that I had in Curaçao, of all places. And then there's the classic mojito that I remember drinking at a Cuban bar in Cozumel forever ago. I think that's when I got hooked on mojitos.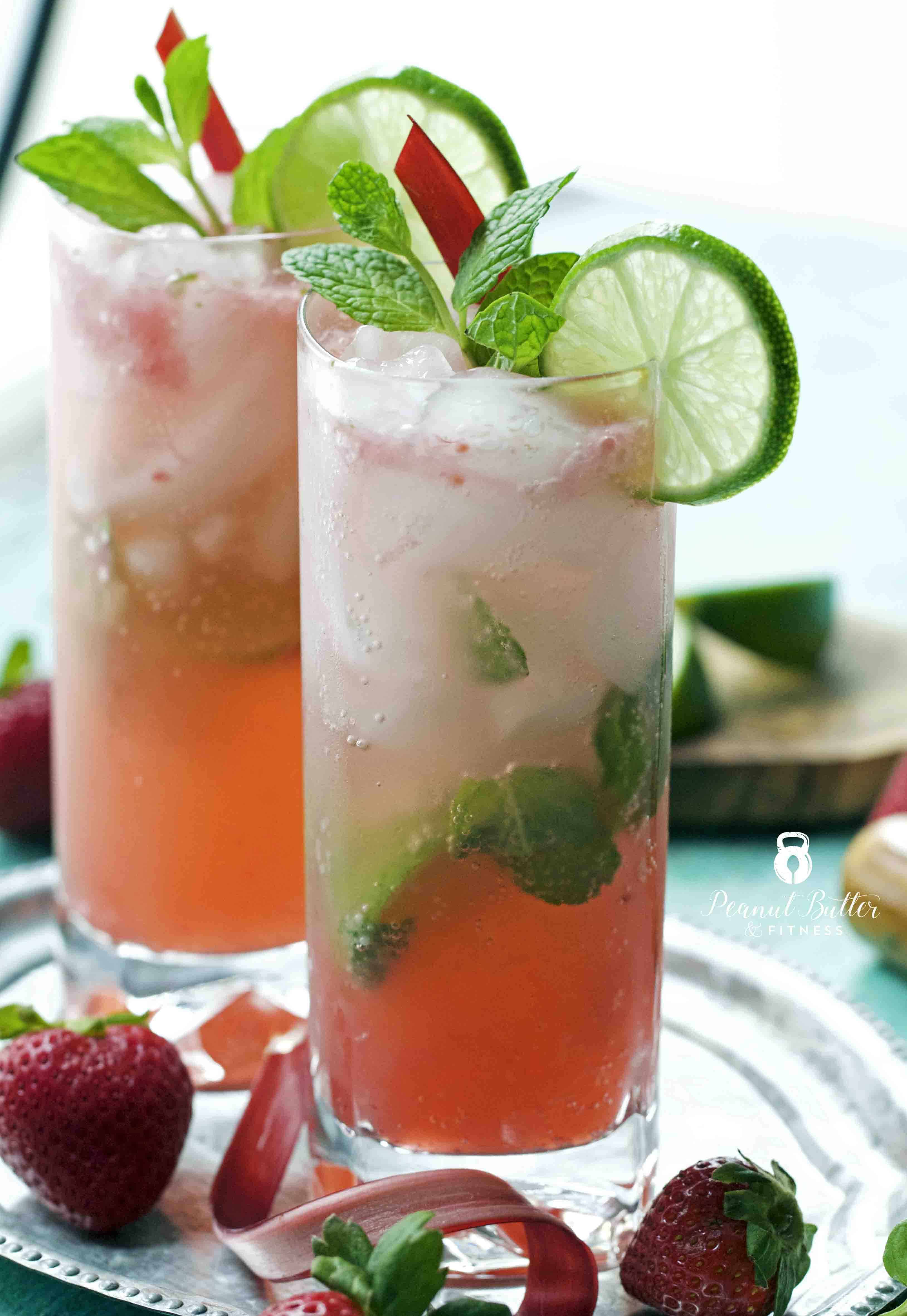 For this recipe, I added the strawberry rhubarb compote to the shaker and strained out all the "pulp" of the strawberries and rhubarb when I poured it into the serving glasses. You can do that OR you can just add the compote straight into the serving glass to bump up the strawberry rhubarb flavor – just be warned that you'll be sucking up little fruit chunks as you sip the mojito. That's a good problem to have in my book 😉 Cheers!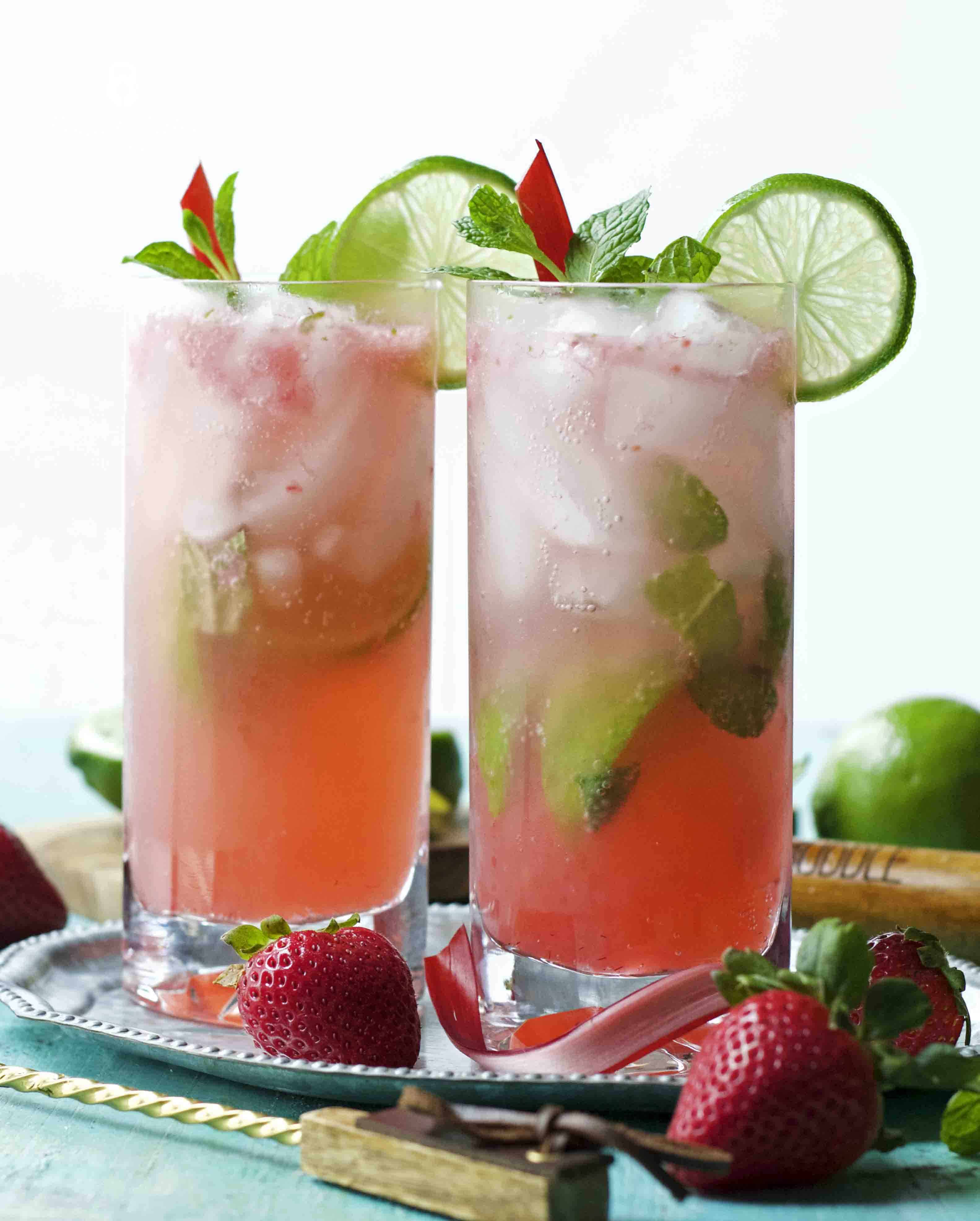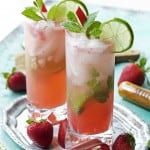 Strawberry Rhubarb Mojito
Servings 2 servings
Calories per serving 145 kcal
Ingredients
12 oz club soda
3 oz white rum
3 oz strawberry rhubarb compote (see recipe below)
8 mint leaves, plus more for garnish
1 small lime, cut into wedges
1 tbsp granulated sugar (12 grams)
Instructions
Add mint leaves, sugar and lime wedges to the bottom of a shaker. Muddle until mint oils have released and lime wedges are juiced. Add ice, rum, and strawberry rhubarb compote and shake for 5-10 seconds.

Strain mixture into a highball glass over ice and top with club soda. Garnish with additional mint leaves, lime wedges, and strawberries, if desired.
Nutrition Facts
Strawberry Rhubarb Mojito
Amount Per Serving
Calories 145
% Daily Value*
Sodium 39mg2%
Potassium 100mg3%
Carbohydrates 13g4%
Fiber 1g4%
Sugar 10g11%
* Percent Daily Values are based on a 2000 calorie diet.
For my macro trackers out there, I wasn't able to create a My Fitness Pal barcode for this recipe since I would have had to decide for you whether to put the alcohol calories in as carbs or fats – that's up to you!  The 13 grams of carbs listed here are just for the sugar in the compote, lime juice, and sugar.  For my non-macro trackers, here's more info on what I'm talking about.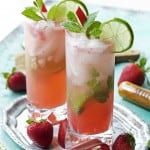 Strawberry Rhubarb Compote
Prep Time 5 minutes
Cook Time 10 minutes
Total Time 15 minutes
Servings 8 servings (1/4 cup per serving)
Ingredients
1 cup chopped strawberries (140 grams)
1 cup chopped rhubarb (100 grams)
2 tbsp honey (42 grams)
Instructions
Add ingredients to a small pot and bring to a boil over medium heat, stirring occasionally. Continue to cook until rhubarb has broken down and strawberries are very soft, about 5-10 minutes. Set aside to cool.