Jump to Recipe
Happy National Donut Day! I made these Healthier Cookies & Cream Donuts a few weeks back without knowing what the state of the world would be on this day. Making a black and white donut to share this week seems like an unfortunate (or fortunate?) coincidence. Race and racism have dominated the news this week in the U.S., and rightfully so. I picked up the book "White Fragility" and started reading it this week in hopes of educating myself about how I can do better as a white American. I hope my readers will consider ways they can start doing better too – here's a list of resources to help you get started.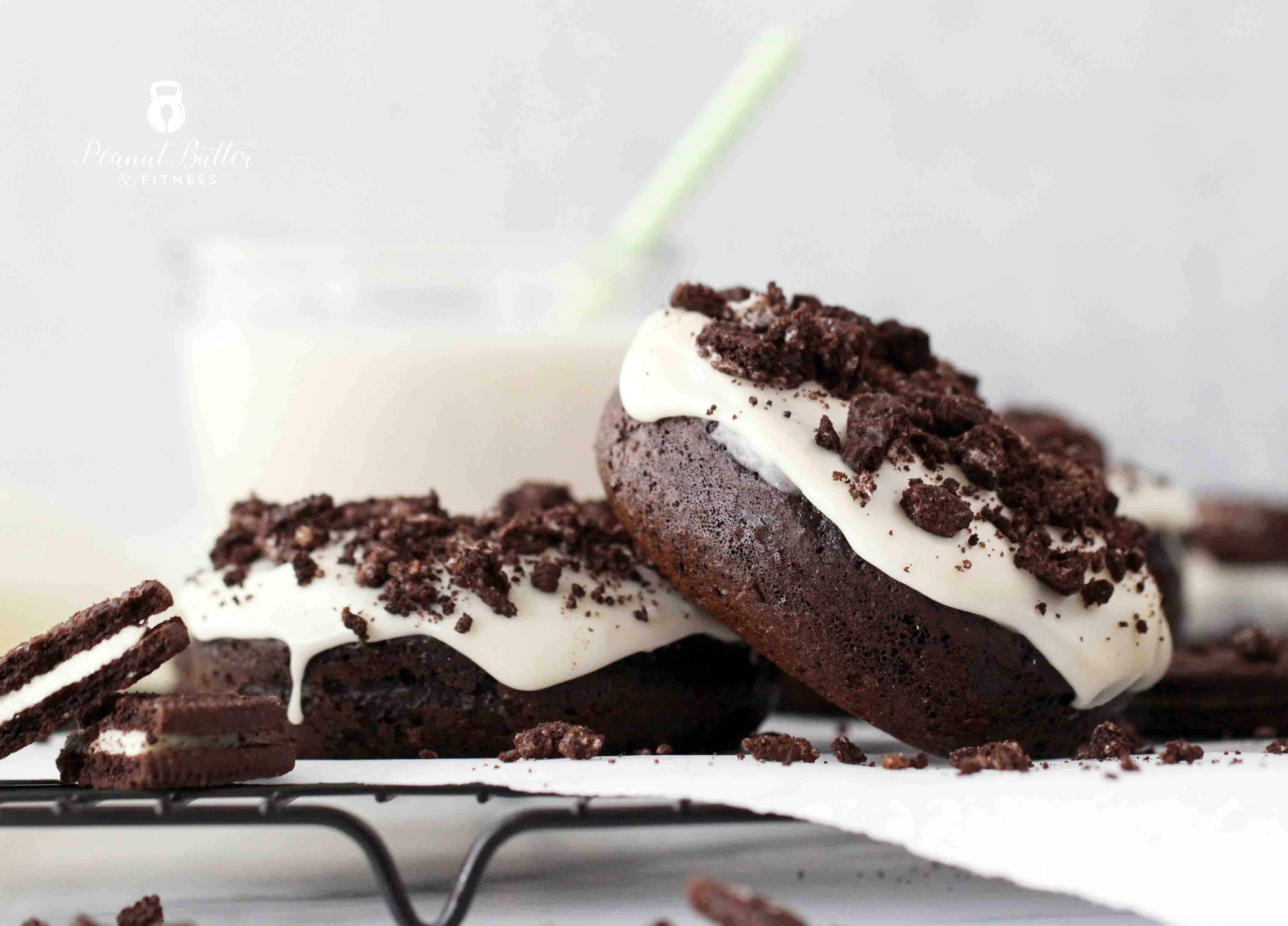 Now, let's talk about these donuts. I'm calling them "healthier." I wanted to be able to call them protein donuts, but really, I just made a few tweaks to your average baked donut to make them healthier. I added protein, left out some of the sugar, lowered the fat content, etc. But at the end of the day, they're still a donut and they taste like the decadent treat that they are! That's thanks in large part to the cream cheese frosting and crushed Oreo's on top.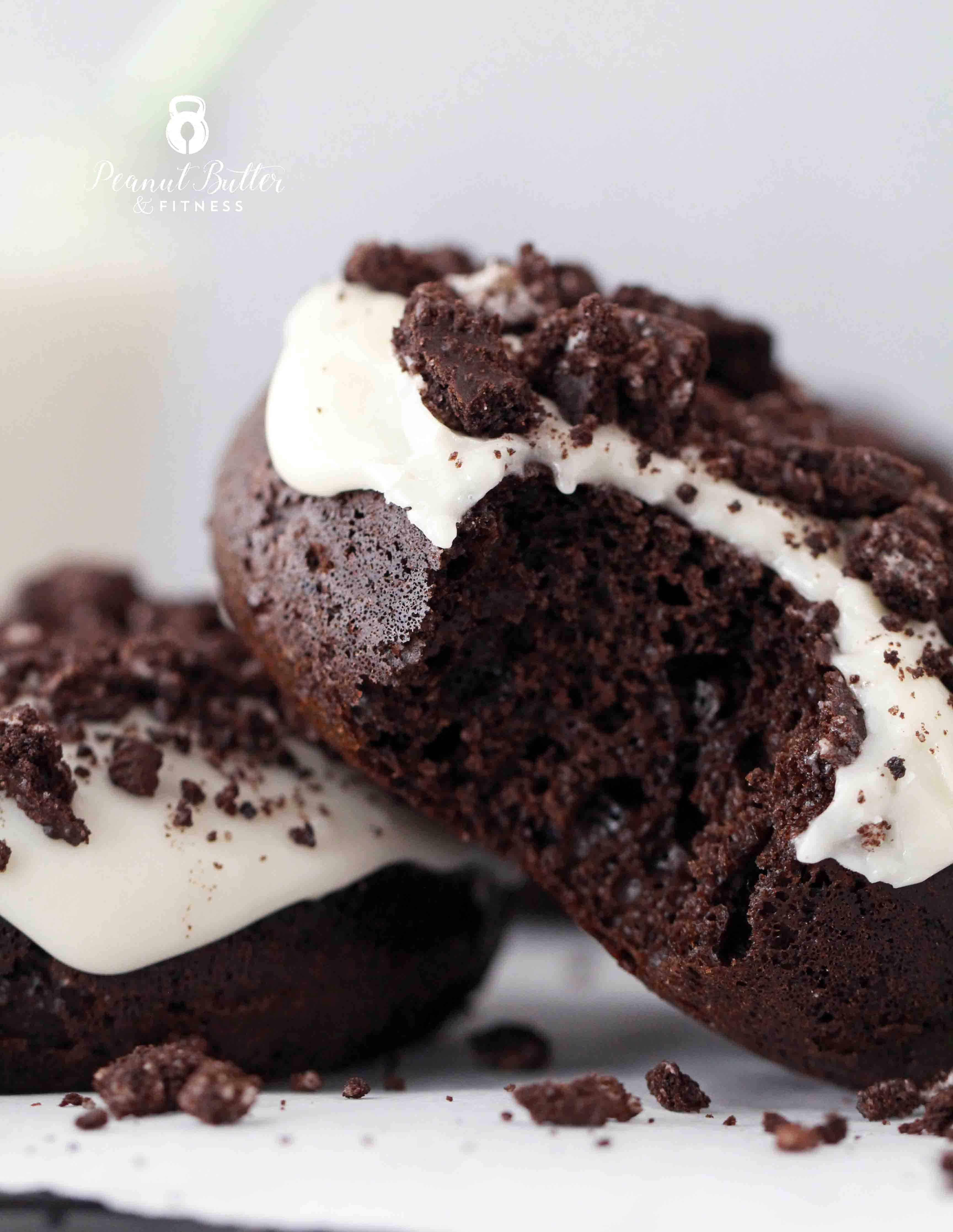 You'll notice that the donut batter calls for 2 tsp of instant coffee – don't skip it!! The coffee really helps bring out the depth of the chocolate flavor in these donuts. I also used about 1/2 tbsp of black cocoa powder, which is what gives Oreo's their very dark appearance. You don't have to use it, but it helps these donuts look the part. Here's what mine looked like before they went to the oven: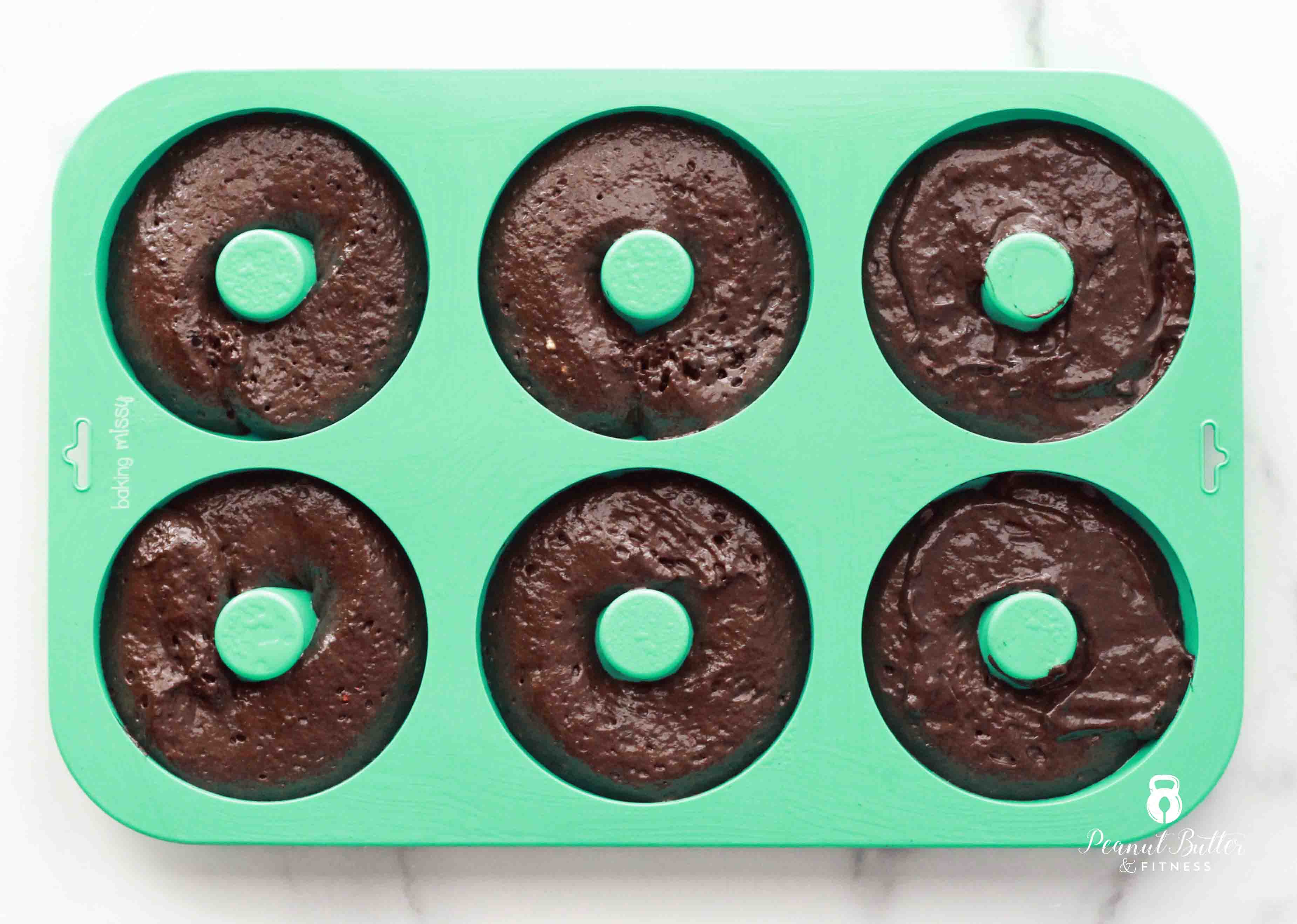 I also tried these out in the air fryer using mini-silicone donut molds. They turned out awesome! They rise like crazy in the air fryer, so be careful not to overfill the molds if you go that route. I included air fryer directions in the recipe notes.
Enjoy!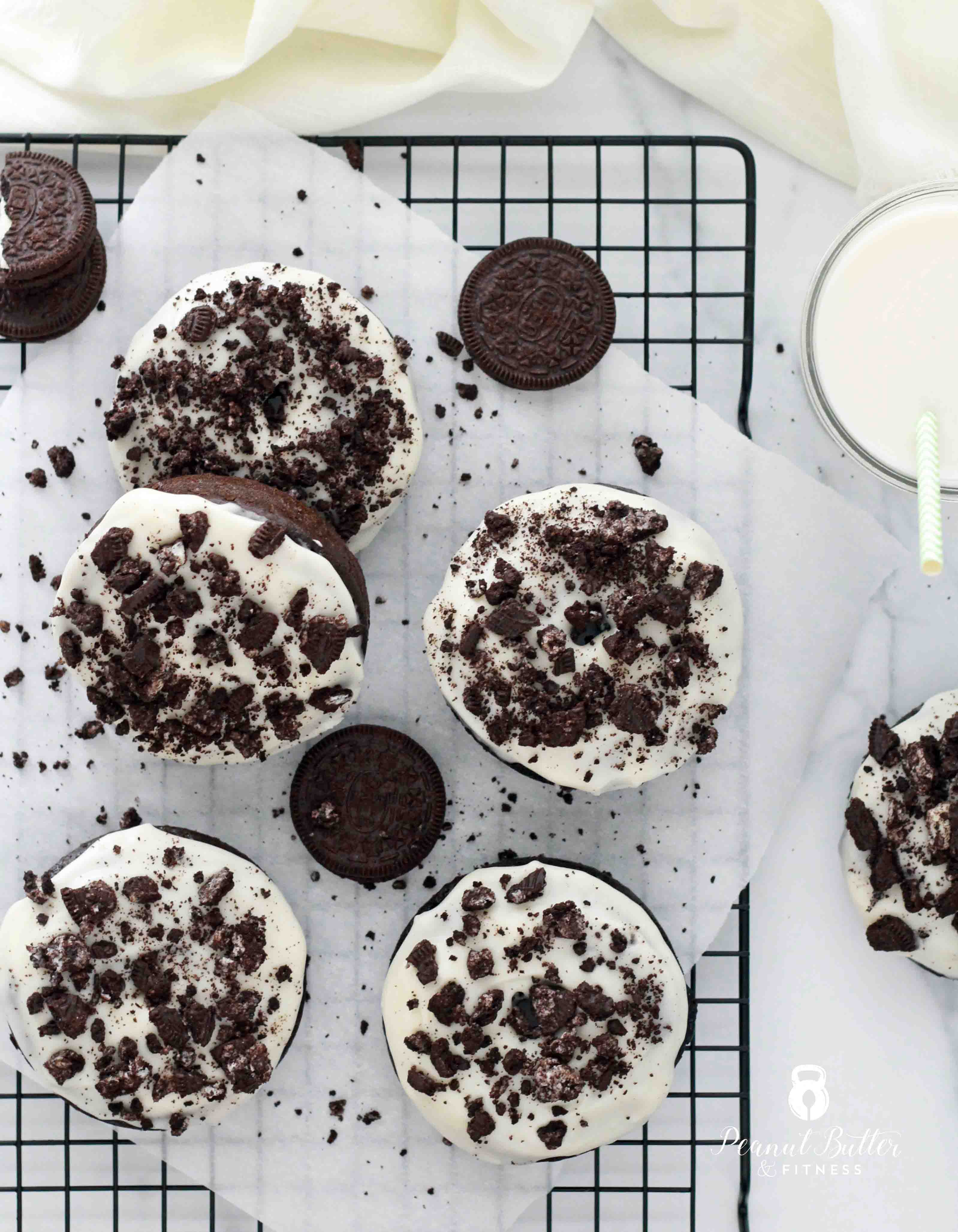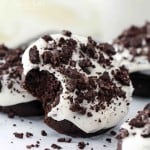 Healthier Cookies 'n Cream Donuts
Prep Time 15 minutes
Cook Time 18 minutes
Total Time 33 minutes
Servings 6 donuts
Calories per serving 274 kcal
Ingredients
Donuts
3/4 cup King Arthur White Whole Wheat Flour (90 grams)
1 scoop Cellucor Molten Chocolate Whey Protein (32 grams)
3 tbsp light brown sugar (36 grams)
3 tbsp dutch cocoa powder (18 grams) *see note
2 tsp instant coffee
1/2 tsp baking powder
1/2 tsp baking soda
1/4 tsp salt
1/4 cup unsweetened vanilla almond milk (2 fl oz)
1/4 cup Dannon Light and Fit Vanilla Greek Yogurt (2 fl oz)
1 egg
2 tbsp unsalted butter, melted (1 oz)
Frosting
1 cup powdered sugar (120 grams)
1 oz cream cheese, softened at room temp (31 grams)
2 tsp unsweetened vanilla almond milk
3 Oreos, crushed
Instructions
Pre-heat oven to 350 degrees.

Mix all dry donut ingredients, then add wet ingredients and mix until just combined.

Scoop donut batter into a piping bag or Ziploc bag and cut off the tip of the bag so you get about a 3/4" opening. Pipe the batter into a silicone donut mold, filling the mold about 3/4 of the way to the top.

Bake for 18 minutes or until a toothpick inserted into the thickest part of the donut comes out clean. Remove donuts from the silicone mold and place on a cooling rack.

While the donuts bake, prepare the frosting. Whisk very soft cream cheese, powdered sugar, and almond milk (start with just 1 tsp almond milk and add more if needed) until smooth. You want the frosting to still be thick enough that it holds some of it's form as you remove the fork (or whisk) from it – you don't want it to be runny and glaze-like.

After the donuts have cooled, dip them into the frosting. You may need to help this process along with a spatula. Sprinkle crushed Oreos on top of wet frosting. Allow the frosting to set up for 30 minutes to an hour – you can speed it along by putting the donuts in the refrigerator.
Recipe Notes
To achieve that classic dark cocoa color of Oreos, sub out 1/2 tbsp of the dutch cocoa with 1/2 tbsp of black cocoa.
You can also make these as mini-donuts in an air-fryer: put the batter into these molds and air fry them at 350 degrees for 7 minutes.
Nutrition Facts
Healthier Cookies 'n Cream Donuts
Amount Per Serving
Calories 274 Calories from Fat 72
% Daily Value*
Fat 8g12%
Cholesterol 51mg17%
Sodium 97mg4%
Potassium 98mg3%
Carbohydrates 44g15%
Fiber 3g13%
Sugar 31g34%
Protein 9g18%
* Percent Daily Values are based on a 2000 calorie diet.