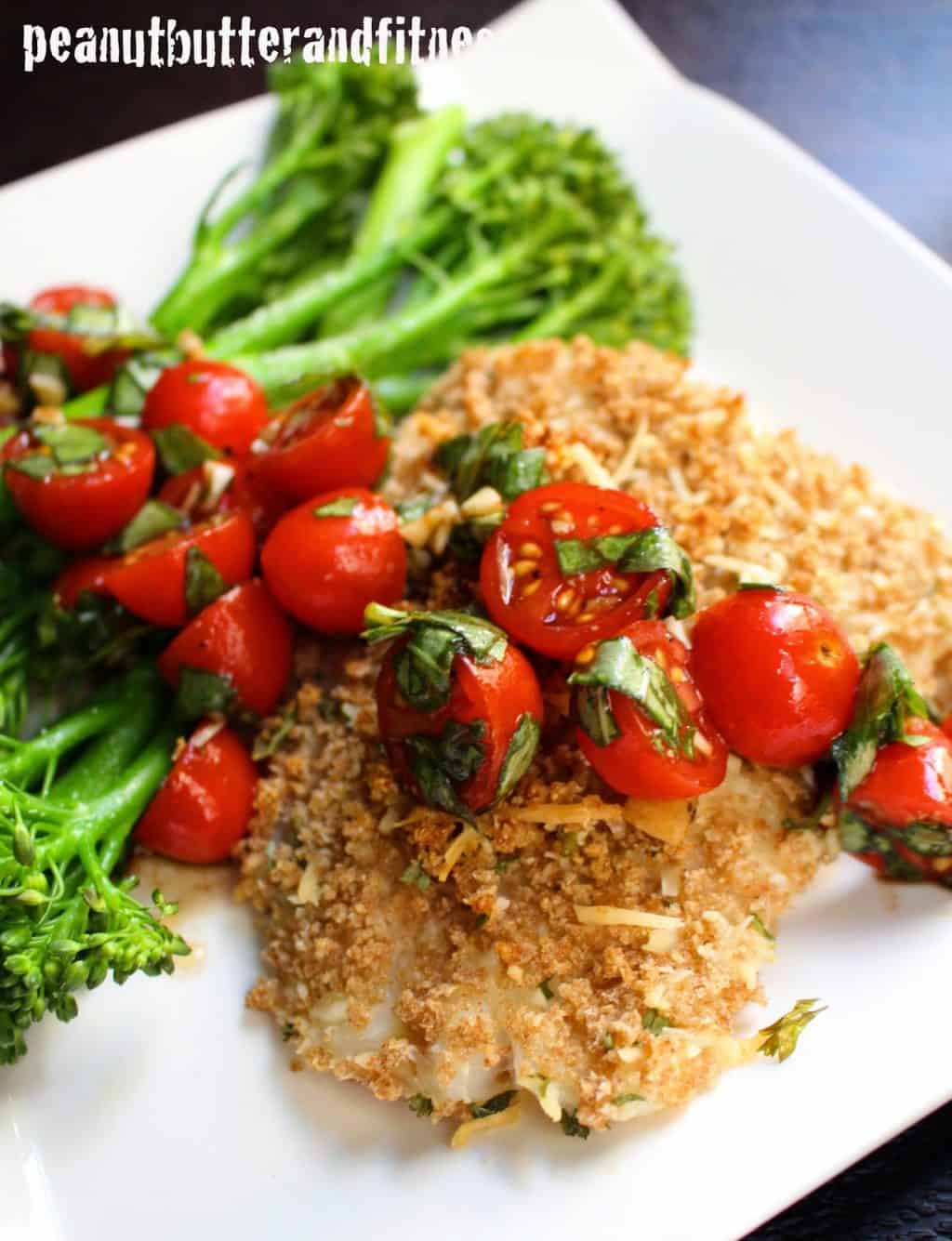 First off, let me just say – YUM.  I'm ecstatic with how this little creation of mine turned out.  When I was planning my meals for this week, I really wanted to try something new.  Usually when I make fish, it's baked or grilled with nothing but some salt and pepper and then topped with a fruit salsa (if anything) and served with some steamed green beans.  Not that I don't love it done that way, I just wanted something new.  And here we are – crunchy panko crusted cod with the rich Italian flavor that bruschetta brings to the table.
This is my first time trying broccolini too – and it's awesome!  It's more delicate and less bitter than regular broccoli, so it pairs well with fish.  Add in the bruschetta and it's a winner – the balsamic in there complements the slight sweetness of the broccolini really well.  I just roasted mine with some garlic and onion powder and spritzed with olive oil – 400 degrees for 12-15 minutes on a baking sheet loosely covered with foil.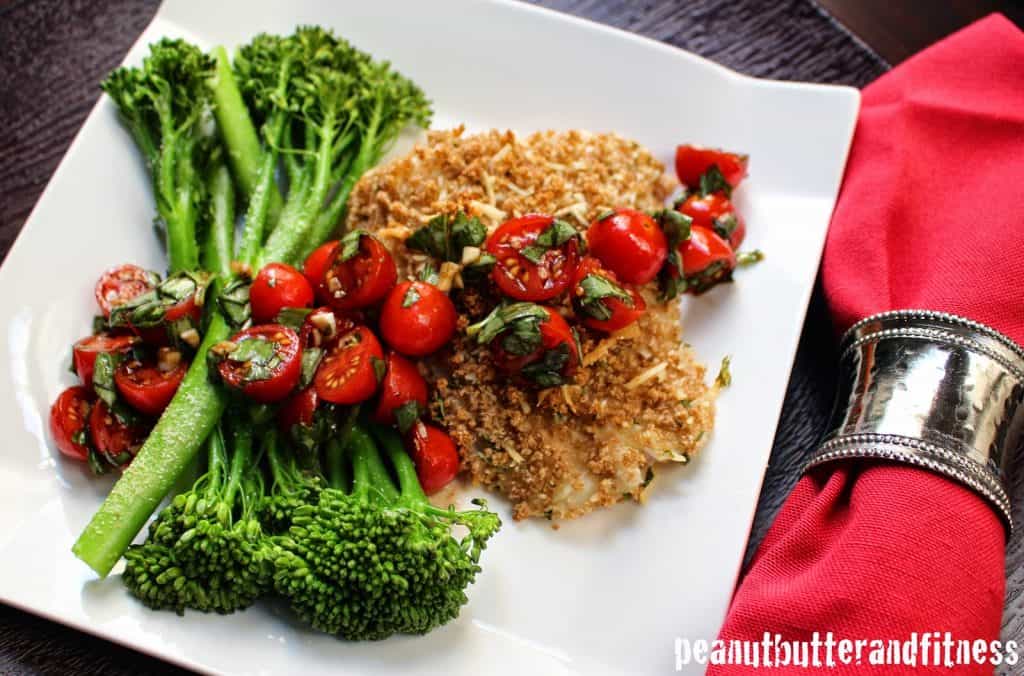 As for the fish – any of the white, lean and firm fish would work well here (i.e. halibut, pollock, haddock, grouper, etc).  As long as it's not too flaky or fatty, it should work just fine.  When I was making this, I kept thinking "this is too much flavor for fish – bruschetta should go with chicken. Maybe I should make chicken instead."  But I ignored those thoughts and I'm so glad that I did 🙂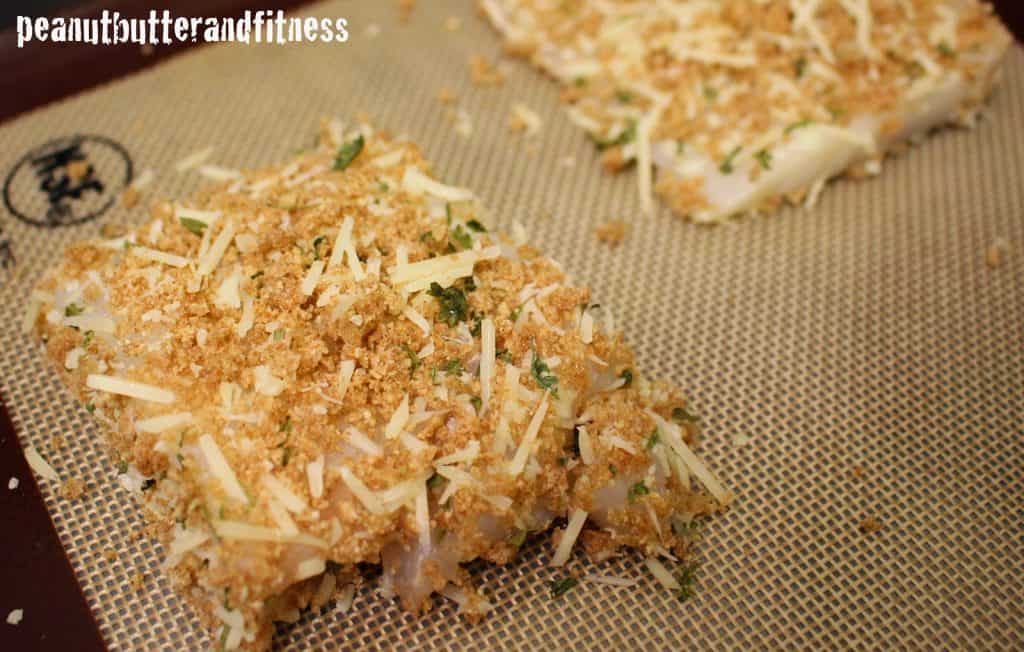 Mmm, look at that parmesan 🙂 Oh and if you don't have a silicone baking mat yet, go get one.  Seriously, they're worth it – non-stick without the mess of a spray, dishwasher safe (mine is anyways), and helps food bake evenly.  Here you go.
Check out the end of the post for my weekly meal prep ideas!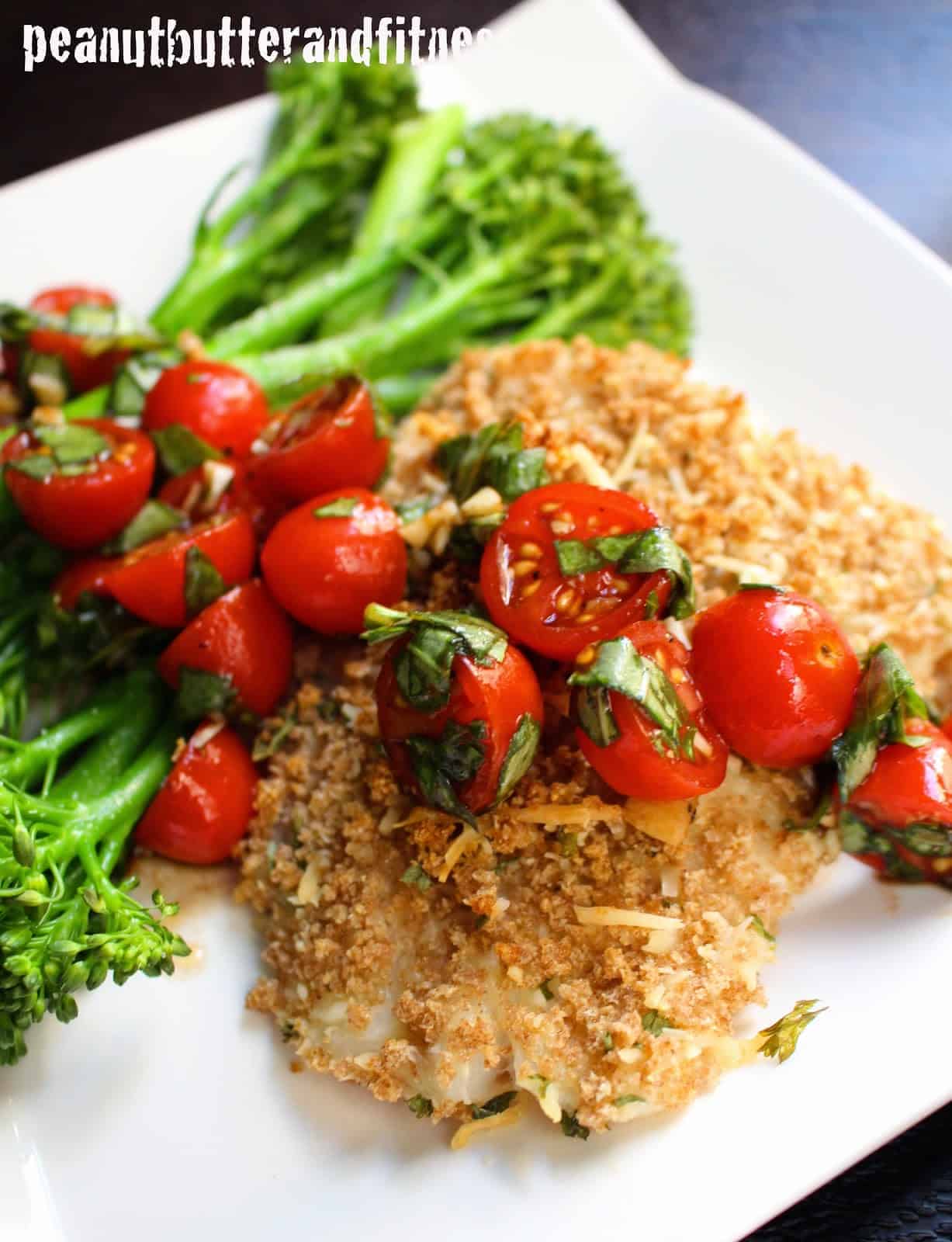 Panko Parmesan Crusted Cod with Bruschetta
Ingredients
4

cod fillets

,

(4 oz each)

1/2

cup

Ian's whole wheat panko bread crumbs

1/4

cup

shredded Parmesan cheese

1

egg

,

lightly beaten

Splash of milk

1/2

tsp

garlic powder

1

tsp

parsley

1 1/2

cups

cherry tomatoes

,

halved

1/4

cup

fresh basil

,

chopped

2

cloves

garlic

,

minced

1/2

tbsp

balsamic vinegar

2

tsp

olive oil

Salt and pepper to taste
Instructions
Combine cherry tomatoes, basil, garlic, balsamic vinegar and olive oil.  Refrigerate for at least 30 minutes.

Pre-heat oven to 400 degrees.  Line a baking sheet with a silicone baking mat.

Place egg in a shallow bowl or plate and add a splash of milk.  In another shallow bowl or plate, combine panko bread crumbs, Parmesan cheese, garlic powder and parsley.

Dredge cod fillets in egg, then the panko mix until well coated.  Place on baking sheet.

Bake at 400 degrees for 12-14 minutes or until cooked through and fish flakes easily.  Then broil for a few minutes to brown the bread crumbs, watching carefully so it doesn't burn.

Serve fish with bruschetta and broccolini.
Nutrition Information
Calories:
200
kcal
(10%)
,
Carbohydrates:
13
g
(4%)
,
Protein:
23
g
(46%)
,
Fat:
6
g
(9%)
,
Cholesterol:
98
mg
(33%)
,
Sodium:
205
mg
(9%)
,
Fiber:
3
g
(13%)
,
Sugar:
1
g
(1%)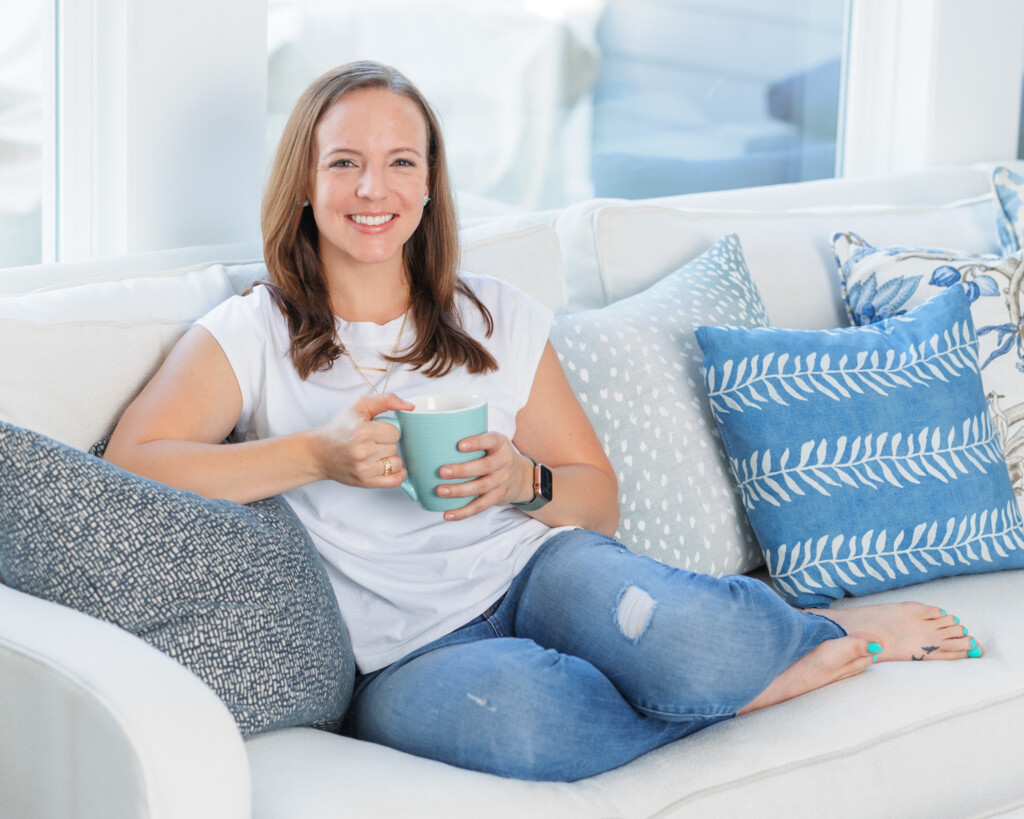 About Erin
Erin is the author behind Peanut Butter and Fitness. She started this website in 2013 as a way to keep track of her favorite healthier kitchen creations and meal preps. Today, she still loves playing with her food and camera while helping others strike a balance between indulgence and well-being.