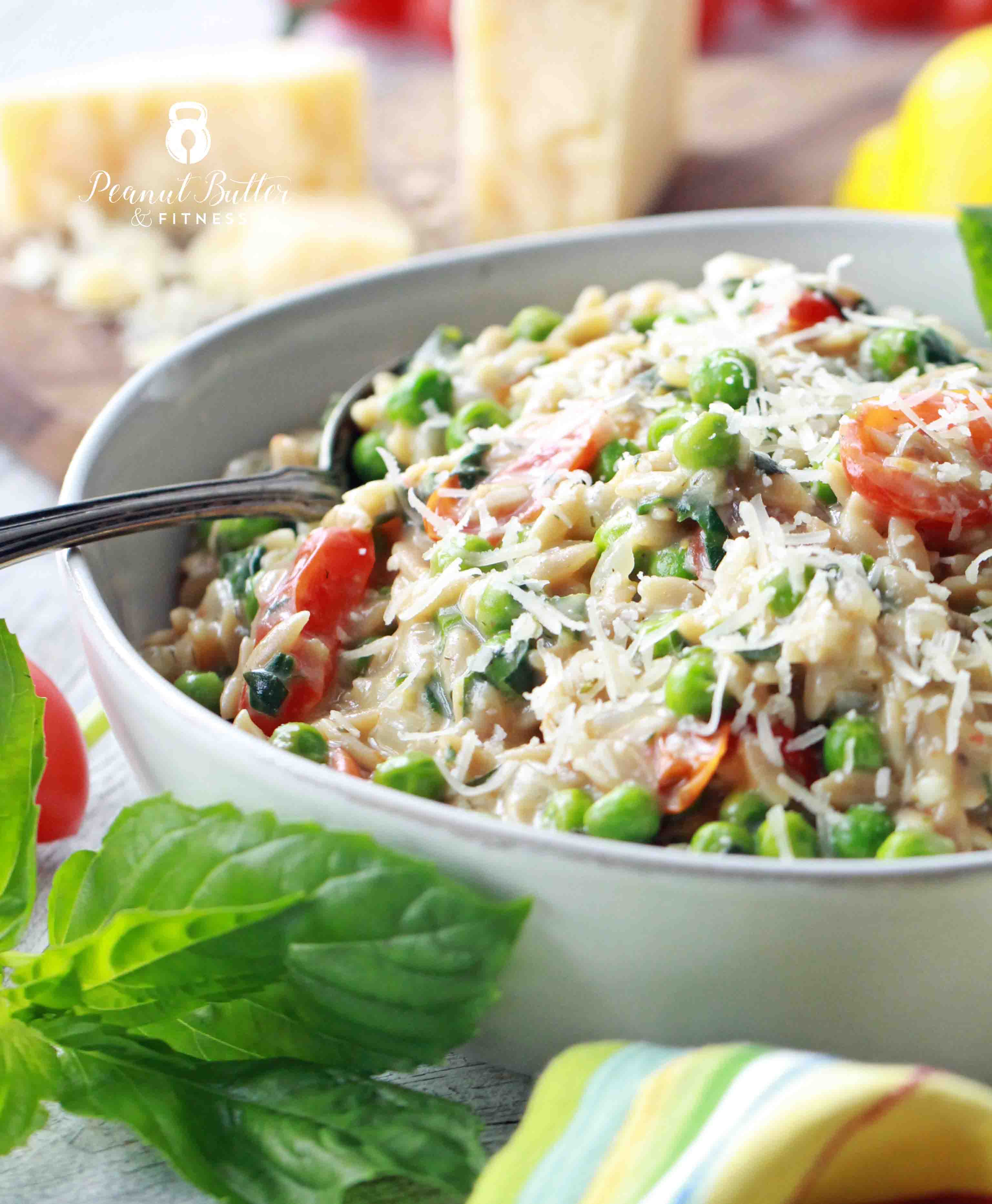 Jump to Recipe
Alright ya'll, we finally made it to April. I hope you're all staying healthy and strong out there. Here's an easy (and yummy!) quarantine side dish for ya: Creamy Orzo with Garlic Roasted Tomatoes. What I love about this dish is that 1) it's easy. And 2) it perfectly straddles the line of rich and decadent while also being light and fresh. My friends can attest to it 🙂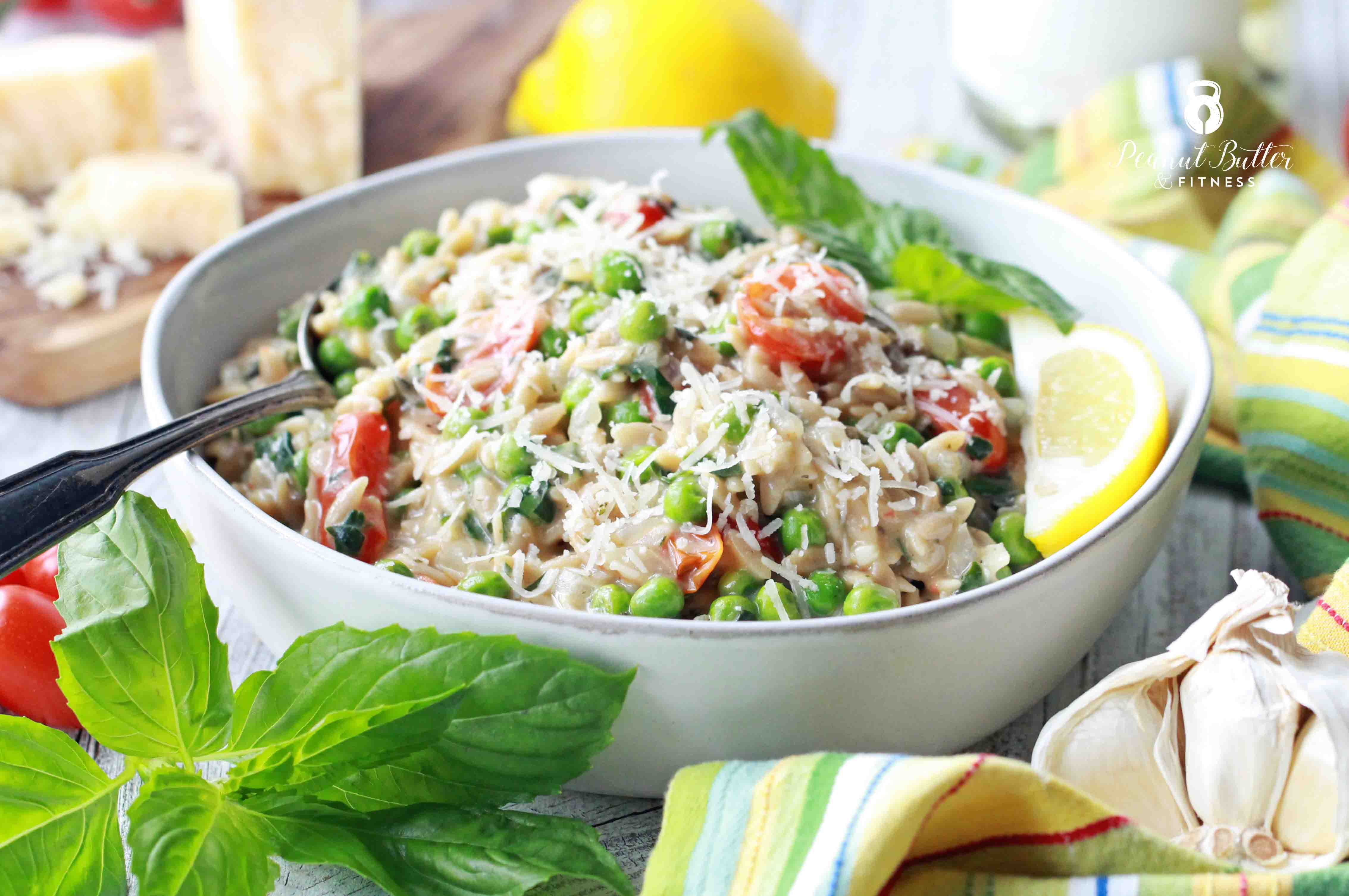 I originally made this recipe as a full meal in a pot with chicken (see here) but one night found myself needing to throw together a side dish last minute for a dinner with friends. I didn't have much in my fridge but I did have some fresh basil and cherry tomatoes, which I think are the star of the dish. A quick check of my pantry and freezer led me to canned cream of mushroom soup instead of fresh mushrooms combined with coconut milk, plus frozen peas because I didn't have anything else green to use. I added the frozen spinach here for an extra kick of green, but you could leave out the peas or spinach (don't skip both) and still have an amazing side dish!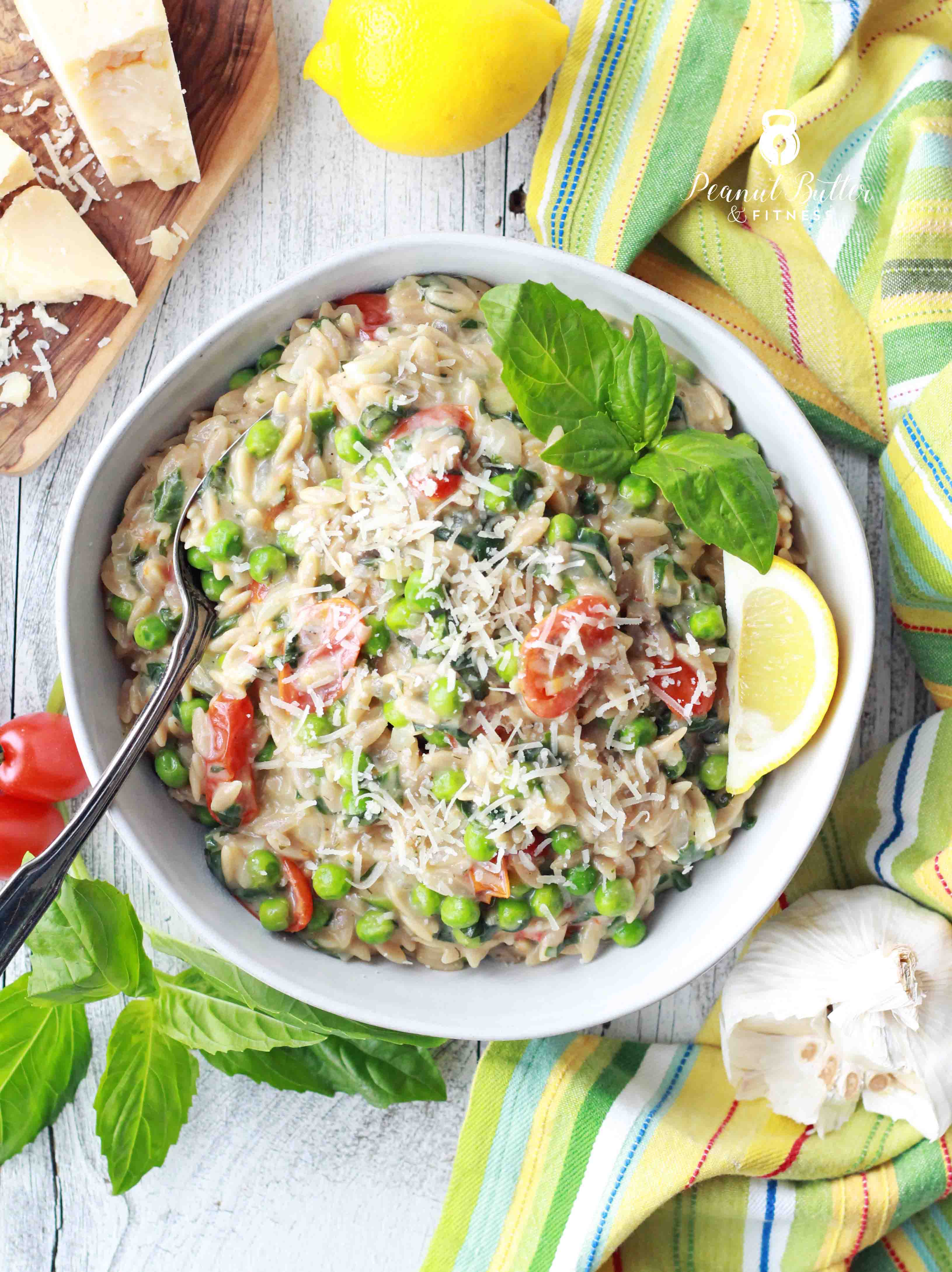 Of course you knew I had to turn this into a meal prep. Creamy orzo and veggies with perfectly air fried chicken breast? Count me in.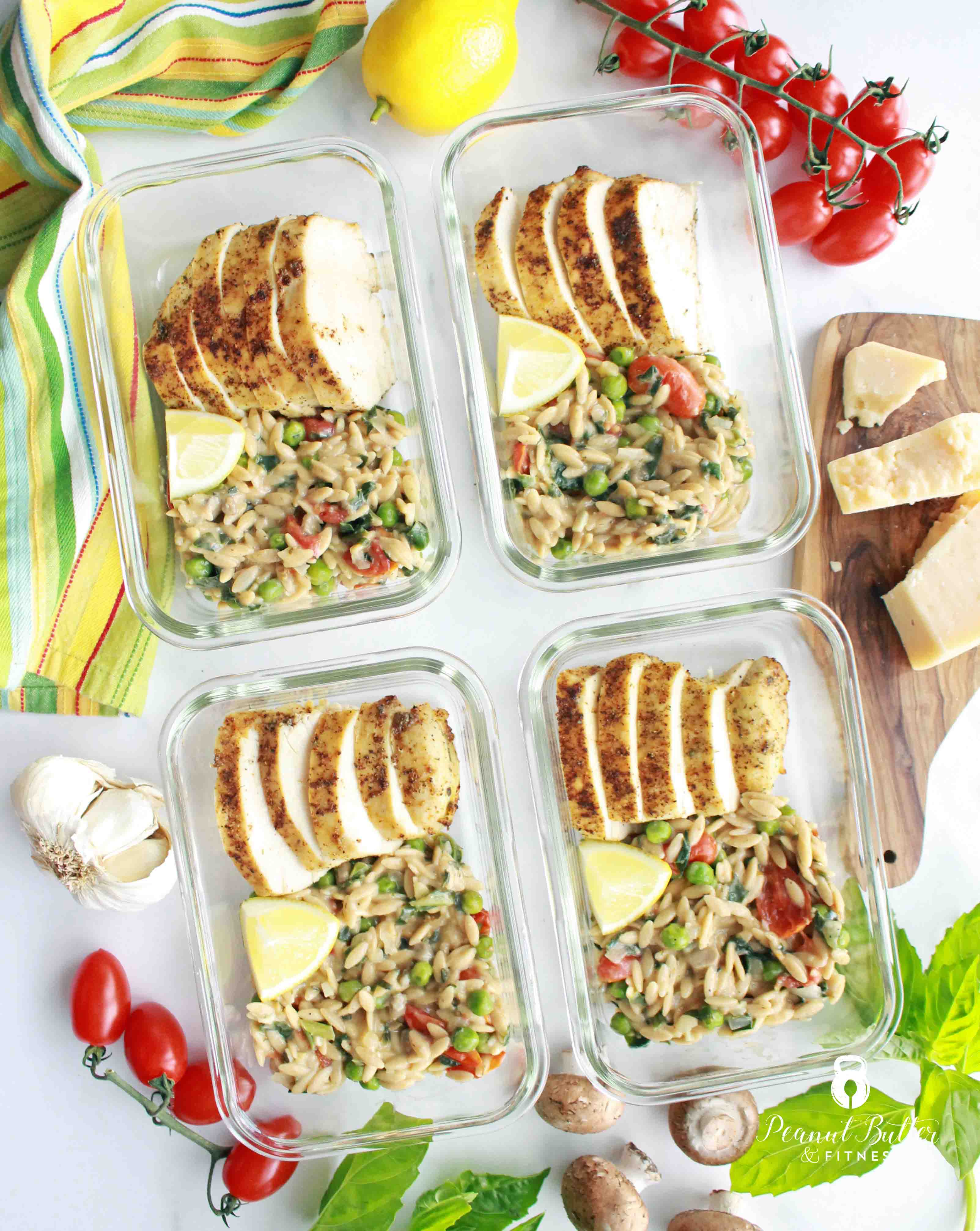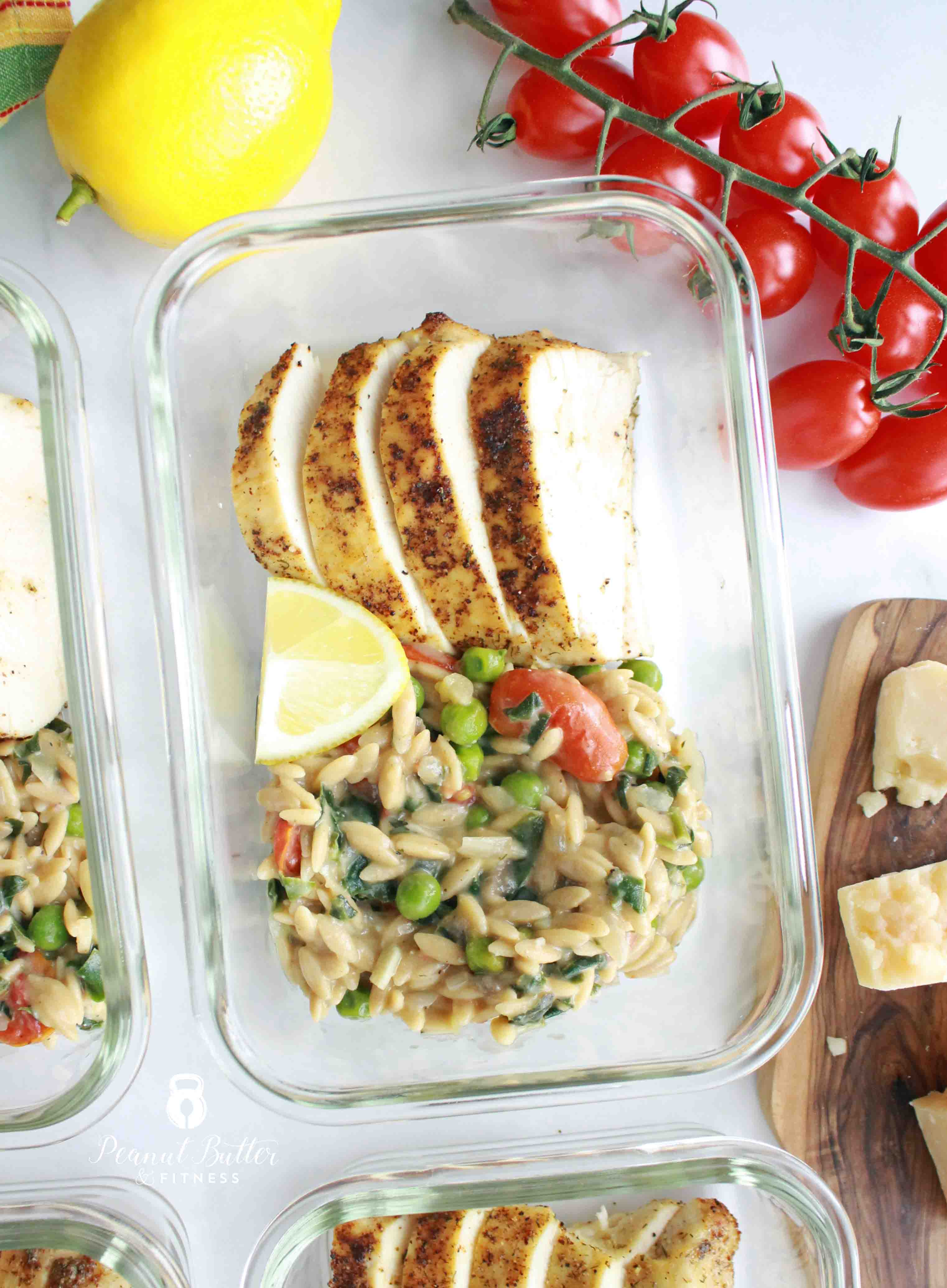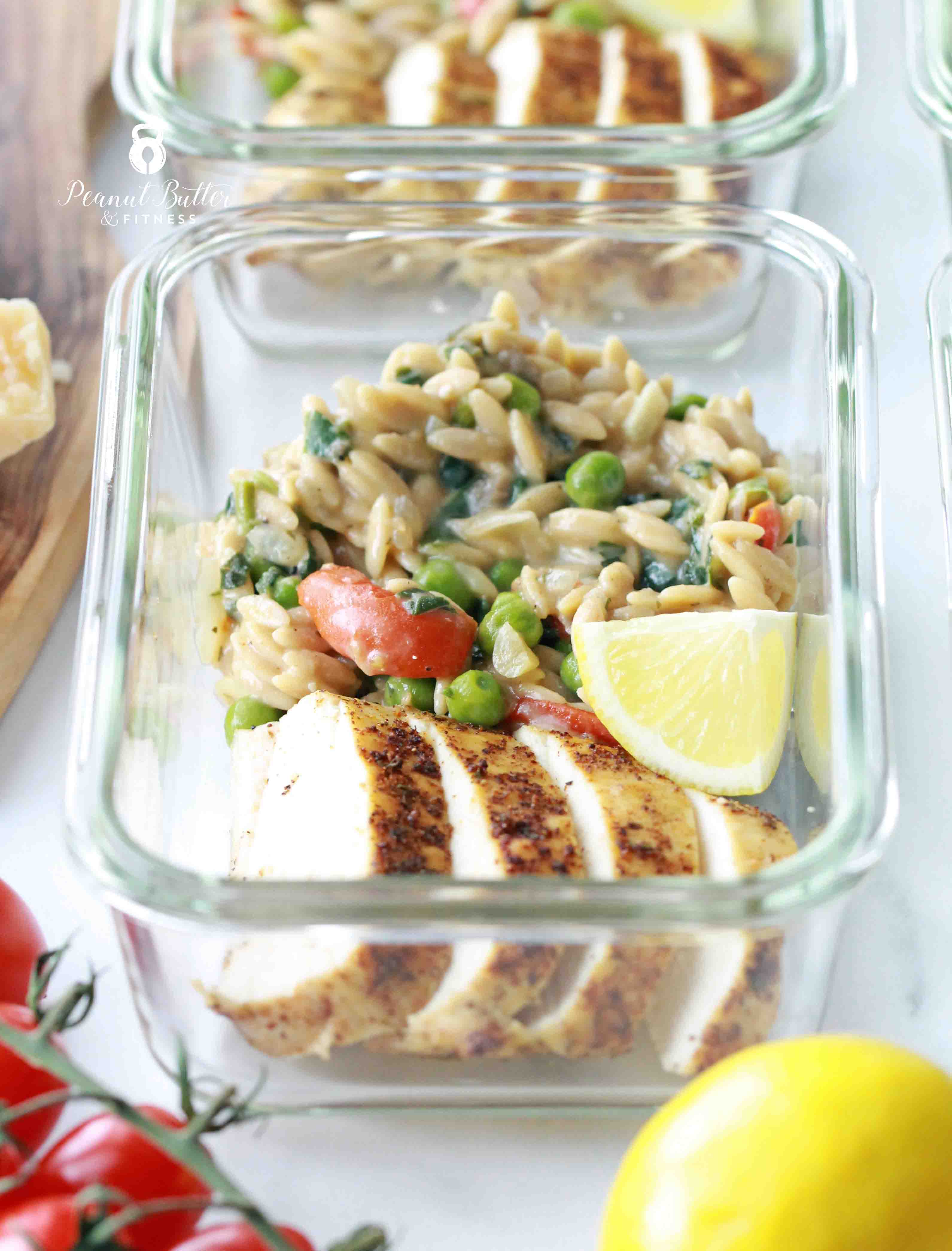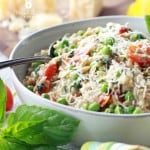 Creamy Orzo with Garlic Roasted Tomatoes
Prep Time 15 minutes
Cook Time 20 minutes
Servings 6 servings
Calories per serving 225 kcal
Ingredients
1 cup whole wheat orzo (168 grams)
1 cup cherry tomatoes, halved (150 grams)
1 cup frozen green peas (143 grams)
5 oz frozen spinach
1/2 cup onion, chopped (80 grams)
1/2 cup parmesan cheese (50 grams)
1/4 cup fresh basil, chopped
4 cloves garlic, minced (16 grams)
1 tsp Oh My Spice! Lemon Pepper Seasoning, divided
3/4 cup no salt added chicken stock (6 oz)
3/4 cup low sodium cream of mushroom soup (170 grams)
1/2 cup white wine (4 oz)
1 tbsp unsalted butter (1/2 oz)
1 tsp olive oil
Instructions
Pre-heat oven to 450 degrees. Line a small baking sheet with aluminum foil. Toss halved tomatoes with olive oil and half of the garlic.  Arrange in a single layer on lined baking sheet.  Bake for 20 minutes and set aside.

Heat a large pot over medium-high heat.  Add butter and melt, then add onion and garlic.  Sauté for 1-2 minutes until fragrant and tender.

Add cream of mushroom soup, chicken stock, wine, and Oh My Spice seasoning.  Cover and bring to a boil, then add orzo, salt and pepper.  Stir until orzo is covered, then lower heat to a simmer for 7 minutes.

Remove pot from heat and stir in peas, spinach, roasted tomatoes, basil, and parmesan cheese.  Cover and allow to rest for about 5 minutes or until orzo is cooked al dente and cheese is melted.

Serve with fresh lemon zest, basil, and more parmesan cheese, if desired.
Nutrition Facts
Creamy Orzo with Garlic Roasted Tomatoes
Amount Per Serving (143 g)
Calories 225 Calories from Fat 54
% Daily Value*
Fat 6g9%
Cholesterol 14mg5%
Sodium 207mg9%
Potassium 146mg4%
Carbohydrates 29g10%
Fiber 6g25%
Sugar 3g3%
Protein 8g16%
* Percent Daily Values are based on a 2000 calorie diet.