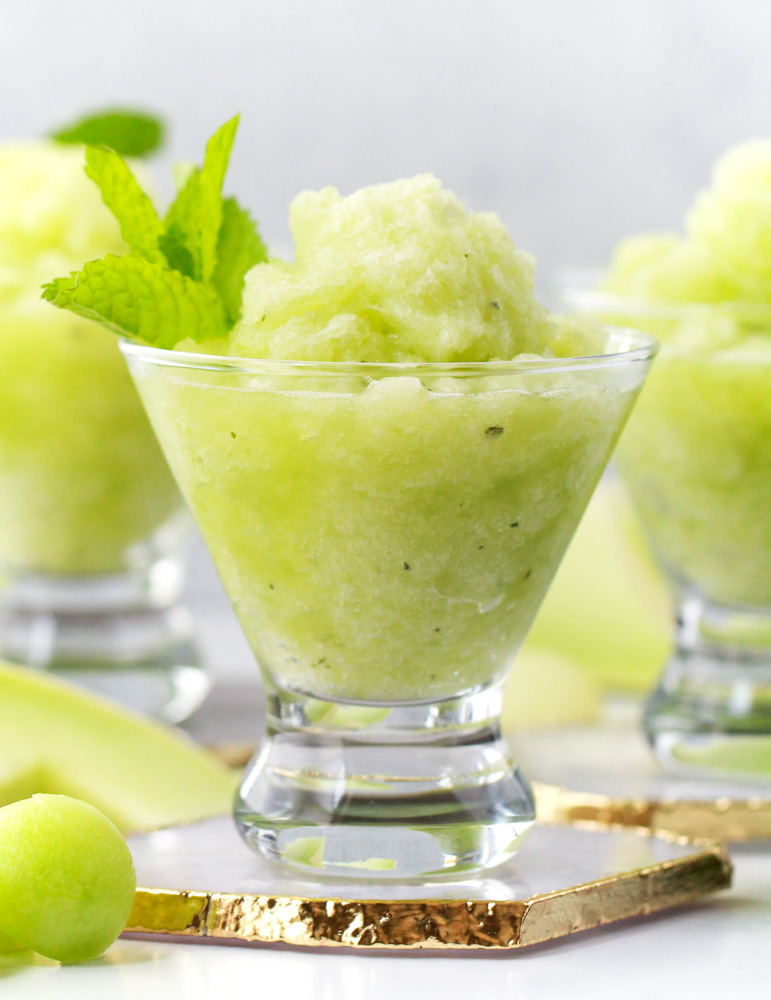 Happy Friday, friends! It's been a minute since I've done a #CocktailFriday post. Admittedly these Melon & Mint Slushies aren't particularly boozy, but hey – it's more about the cool, refreshing treat and less about the vodka here. Low ABV drinks are totally a thing right now, so let's just put these slushies right into that category. Enough about the booze though…let's talk about the MELON! I'm a big fan of honeydew, especially when it's juicy and sweet like this one was. I combined that juicy sweetness with a bit of minty simple syrup, fresh mint leaves, and lime juice to really play up that cool, fresh flavor.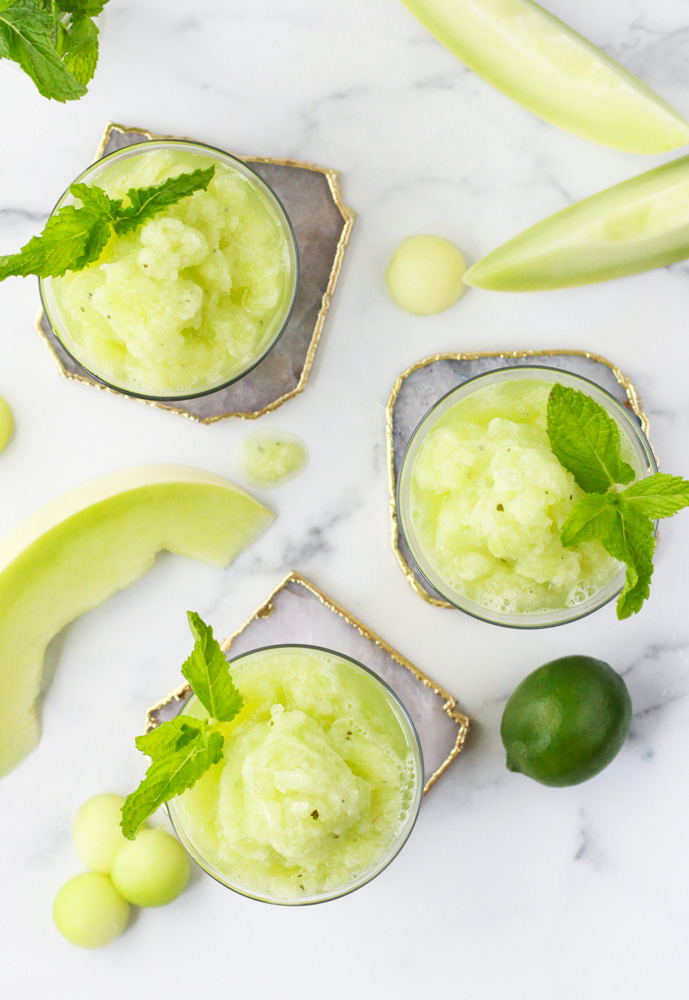 I've tried this recipe both as a granita and as a slushie (like you see here). I personally preferred the slushie version because it's easier and more fun to slurp down. You can totally make it as a granita by cutting 1 oz of vodka from the recipe and scraping it down more often during the freezing process to make it nice and fluffy. If you don't scrape it down enough using a fork or spoon, you'll end up with big icy chunks instead of fluffy, spoonable bits of melon ice.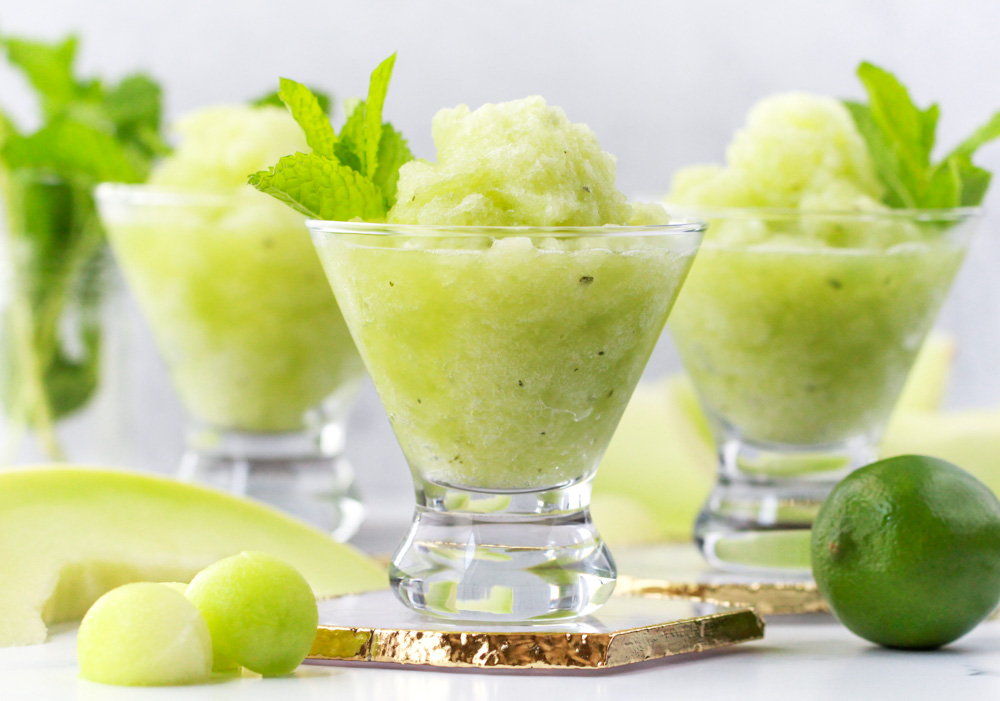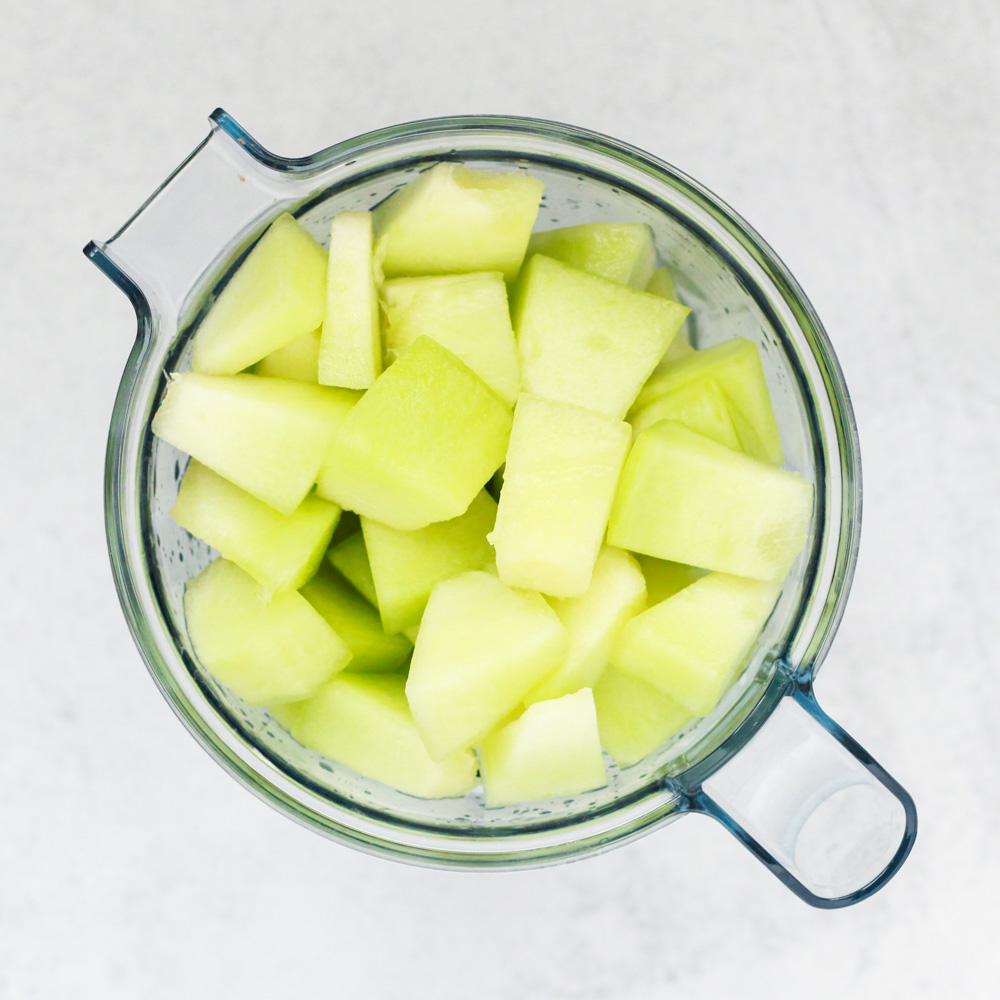 Note: These are Amazon Affiliate links.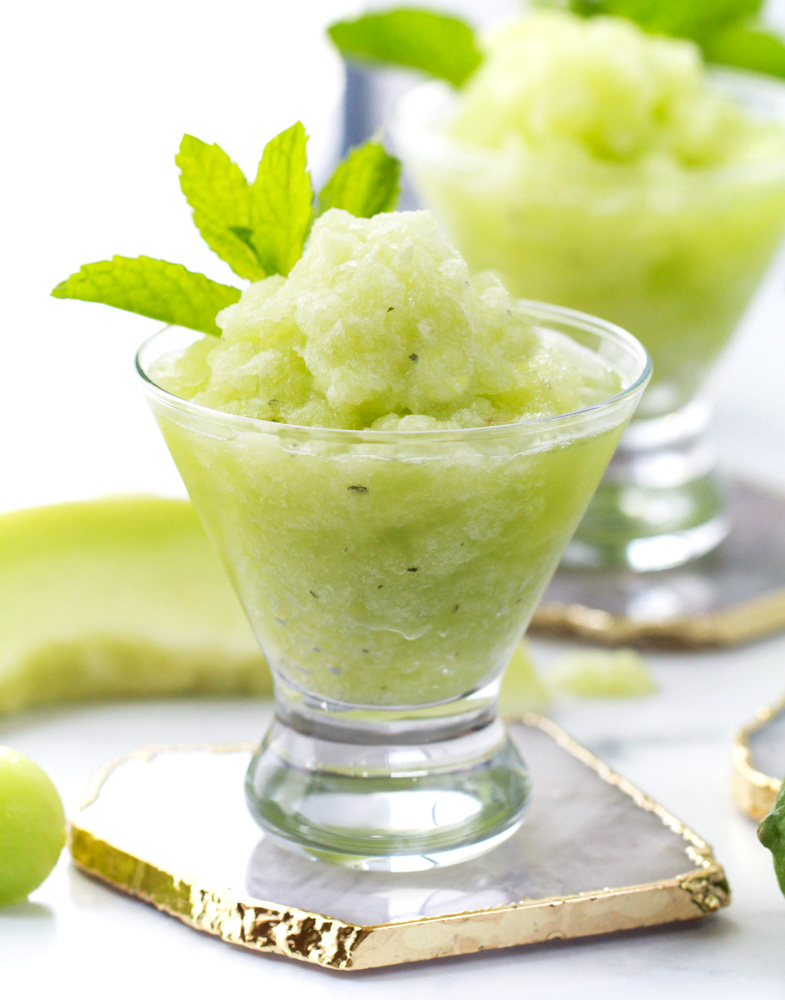 Recipe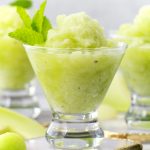 Melon & Mint Slushie
Prep Time 15 minutes
Freeze Time 2 hours
Total Time 2 hours 15 minutes
Servings 8 servings
Calories per serving 127 kcal
Ingredients
7 cups honeydew, chopped (1,190 grams)
5 oz vodka
1/3 cup sugar
1/3 cup water
2 oz lime juice
6 sprigs fresh mint
Instructions
Add water and sugar to a small pan and bring to a boil over medium heat. Stir until sugar is dissolved, then remove from heat, add 4 of the mint sprigs, and cover for 10 minutes. After 10 minutes, remove the mint sprigs and discard.

Add honeydew, simple syrup, lime juice, and fresh mint leaves from 2 remaining mint sprigs to a high speed blender.  Blend until smooth, then pour into a baking sheet and freeze for 1 hour.

After 1 hour, remove from freezer and scrape using a fork or spoon.  Spread evenly into pan and freeze for another hour.

Scrape the mixture again using a fork or spoon, then scoop into serving glasses. Serve immediately.
Recipe Notes
For a more granita-like consistency, decrease the amount of vodka to 4 oz and scrape the melon mixture every 30 minutes while freezing.
These can be made kid friendly, just skip the vodka.  Be sure you use a touch of honey in its place to help keep the granita from freezing solid.
Nutrition Facts
Melon & Mint Slushie
Amount Per Serving (8 oz)
Calories 127
% Daily Value*
Sodium 27mg1%
Potassium 348mg10%
Carbohydrates 22g7%
Fiber 1g4%
Sugar 20g22%
* Percent Daily Values are based on a 2000 calorie diet.
For my macro trackers out there, I wasn't able to create a My Fitness Pal barcode for this recipe since I would have had to decide for you whether to put the alcohol calories in as carbs or fats – that's up to you! The 22 carbs listed here are just for the sugars in the simple syrup, lime juice, and melon. For my non-macro trackers, here's more info on what I'm talking about.