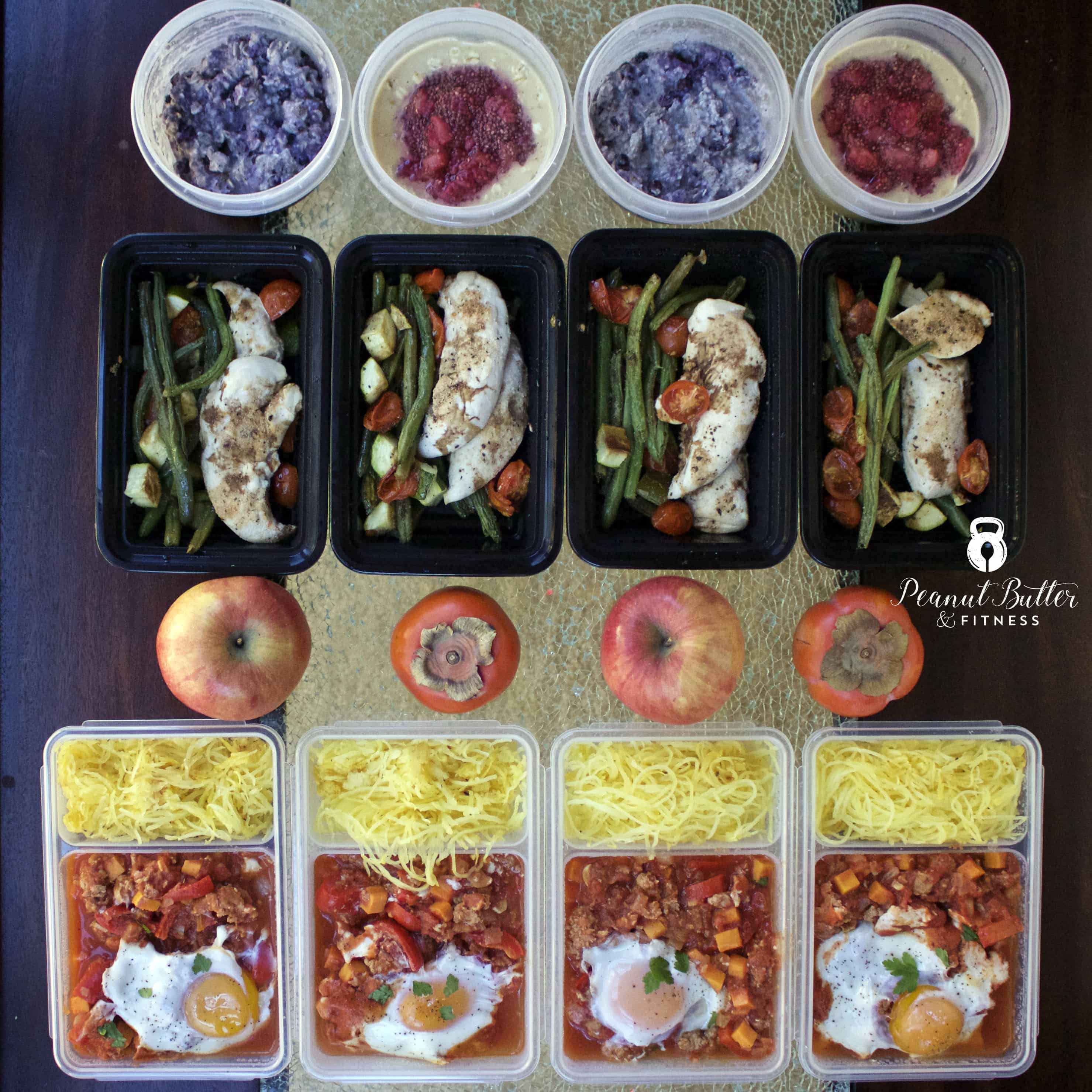 Just because this week is Christmas doesn't mean I won't meal prep 😛 It's a short week, so not a lot of food, but I want to make sure I at least start the week off right before the holiday feasts begin!
You may notice that it looks like I've got 8 breakfasts here, but you'd be wrong(ish).  Although I will eat breakfast for dinner at any opportunity, this here Shakshuka is actually meant to be for dinner on my menu this week.  Yes, sure, it's a breakfast dish normally, but I added sweet potato, sausage and spaghetti squash to make it hearty enough for post-gym grub.  You can have it for brunch if you'd like 🙂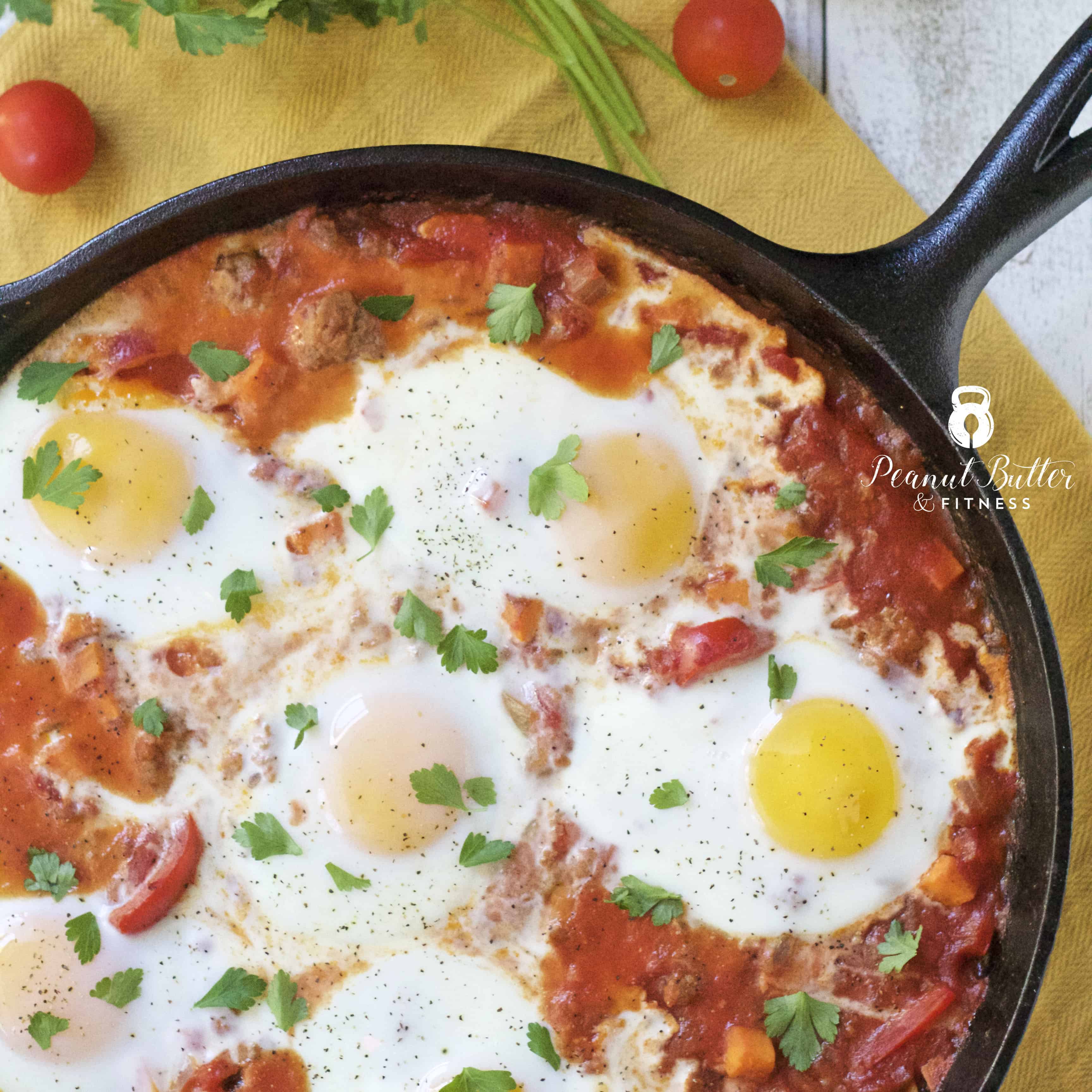 Okay, here's what's on the menu for the week!
Day 1:
Day 2:
Day 3:
Day 4:
---
Blueberry Coconut Overnight Oats (recipe in eBook)
Calories per serving: 317 • Fat: 11 g • Protein: 14 g • Carbs: 39 g • Fiber: 7 g • Sugar: 13 g • Sodium: 109 mg • Cholesterol: 1 mg
---
Peanut Butter and Jelly Overnight Oats
Calories per serving: 324 • Fat: 11 g • Protein: 22 g • Carbs: 38 g • Fiber: 10 g • Sugar: 8 g • Sodium: 232 mg • Cholesterol: 10 mg
---
Hearty Sausage and Sweet Potato Shakshuka
Yield: 6 servings • Calories per serving: 297 • Fat: 14 g • Protein: 21 g • Carbs: 23 g • Fiber: 4 g • Sugar: 1 g • Sodium: 724 mg • Cholesterol: 226 mg
---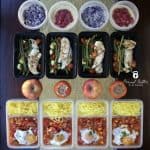 One Pan Balsamic Chicken and Veggies
Servings 4
Calories per serving 179 kcal
Ingredients
1 lb chicken tenderloins
4 cups green beans
1 medium zucchini , chopped
1 cup cherry tomatoes , halved
2 tbsp balsamic vinegar
1 tbsp olive oil
1/2 tbsp Flavor God Garlic Lover's Seasoning
Instructions
Pre-heat oven to 400 degrees. Line a baking sheet with foil and set aside.

Toss green beans, zucchini and cherry tomatoes with 2 tsp olive oil and 1 tbsp balsamic vinegar. Arrange on one end of a baking sheet.

On the other end of the baking sheet, arrange chicken tenderloins in a single layer. Drizzle with remaining olive oil and balsamic vinegar (you can also marinate the chicken in advance for more flavor).

Sprinkle chicken and veggies with Flavor God Seasoning.

Bake at 400 degrees for 18-20 minutes until chicken is cooked through.
Nutrition Facts
One Pan Balsamic Chicken and Veggies
Amount Per Serving
Calories 179 Calories from Fat 45
% Daily Value*
Fat 5g8%
Cholesterol 55mg18%
Sodium 160mg7%
Carbohydrates 12g4%
Fiber 4g17%
Sugar 5g6%
Protein 27g54%
* Percent Daily Values are based on a 2000 calorie diet.