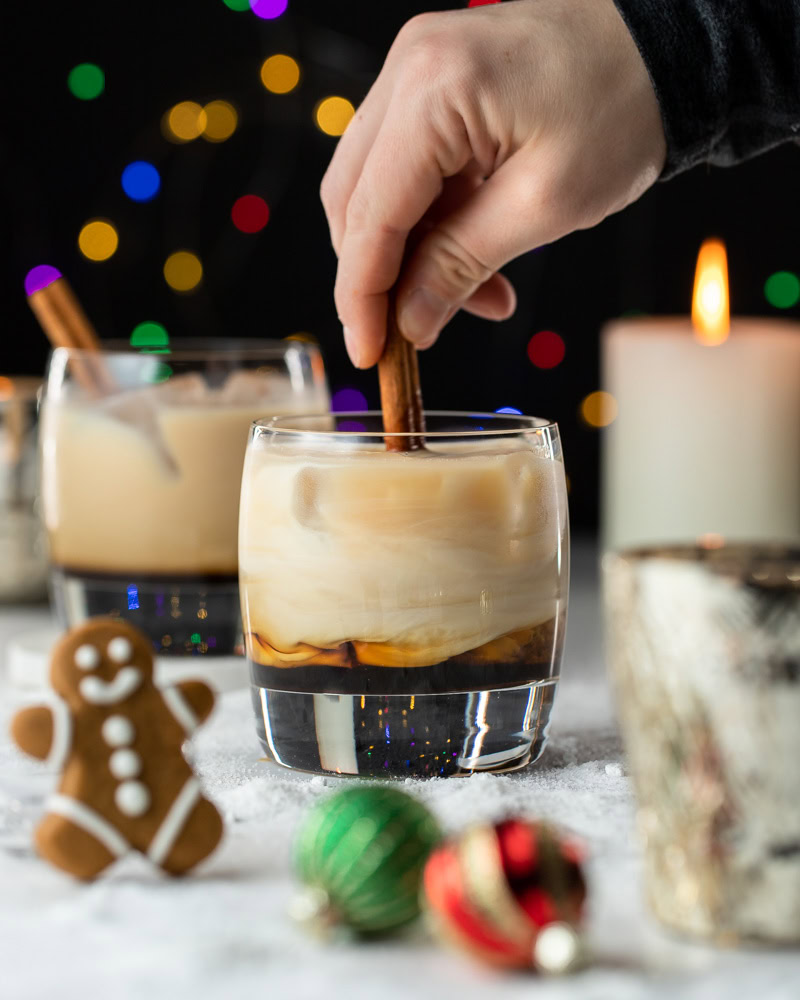 Happy holidays, friends! This Gingerbread White Russian is a fun holiday twist on a classic cocktail. A quick and easy homemade gingerbread syrup brings the spices to the party and will have your house smelling like fresh baked gingerbread, minus the cookies! Make a big batch of the syrup to add to lattes, oatmeal, or even an old fashioned.
Ingredients and Substitutions
Coffee or Espresso Liqueur – I think people are most familiar with White Russians being made with Kahlua, but my personal favorite is Caffe del Fuego, with St. George NOLA Coffee Liqueur coming in close second. Unfortunately Caffe del Fuego is someone of a local booze in Texas and being able to pick up a bottle whenever I wanted is one of the many things I miss about living in San Antonio. In my opinion Kahlua is too sweet, so I usually opt for the less well known brands that focus more on the quality and coffee flavor.
Vodka – I prefer Tito's vodka, but really any unflavored vodka will do!
Gingerbread Syrup – Okay, I know this isn't technically a single ingredient, but please don't let this one scare you off! This homemade syrup is super simple to make and requires just a few ingredients – molasses, sugar, water, and spices. For the molasses, use the regular variety instead of robust or blackstrap versions, which are less sweet and more bitter. I really like to use whole spices like cinnamon sticks, nutmeg, cloves, and ginger, but you can also use ground spices if that's what you have on hand.
Whole Milk – A classic White Russian recipe calls for cream, but I lightened things up a bit with whole milk here. You can really use any kind of milk you'd like, but I'd stay away from strong tasting plant-based milks like oat milk. Half and half would be my next choice after whole milk.
Shop for this Recipe
Here are some items I used to help make this recipe a success. Note: these are Amazon Affiliate links.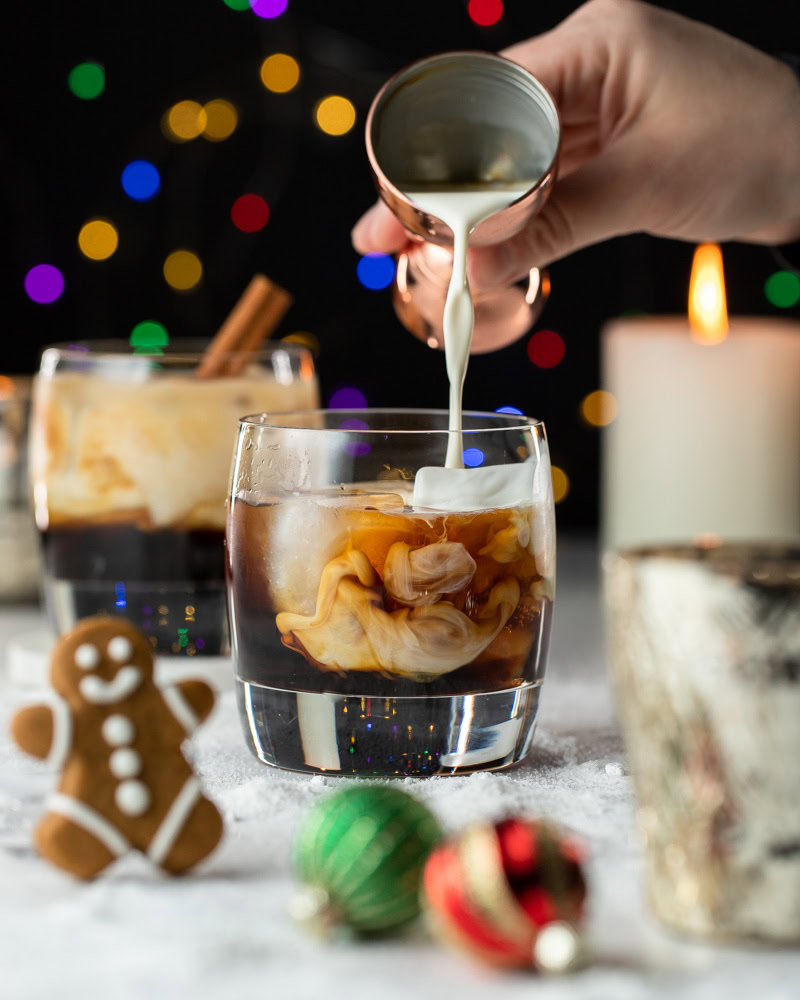 Recipe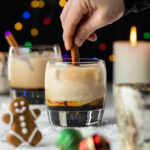 Gingerbread White Russian
Prep Time 5 minutes
Total Time 5 minutes
Servings 1 serving
Calories per serving 302 kcal
Ingredients
1 1/2 oz whole milk
1 1/2 fl oz coffee or espresso flavored liqueur, like Kahlua or Mr. Black Cold Brew Coffee Liqueur
1 fl oz vodka
3/4 fl oz gingerbread syrup (recipe follows)
Instructions
Add medium to large cubed ice to a low ball glass. Pour gingerbread syrup, coffee liqueur, and vodka over the ice, then top with whole milk. Stir, garnish with a cinnamon stick, and serve.
Nutrition Facts
Gingerbread White Russian
Amount Per Serving
Calories 302 Calories from Fat 18
% Daily Value*
Fat 2g3%
Cholesterol 5mg2%
Sodium 20mg1%
Potassium 61mg2%
Carbohydrates 35g12%
Sugar 34g38%
Protein 2g4%
* Percent Daily Values are based on a 2000 calorie diet.
For my macro trackers out there, I wasn't able to create a My Fitness Pal barcode for this recipe since I would have had to decide for you whether to put the alcohol calories in as carbs or fats – that's up to you! The 35 grams of carbs listed here are just for the sugar in the syrup, milk, and coffee liqueur. For my non-macro trackers, here's more info on what I'm talking about.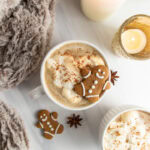 Gingerbread Syrup
Cook Time 20 minutes
Total Time 20 minutes
Servings 14 1/2 oz servings
Calories per serving 48 kcal
Ingredients
1/2 cup molasses (regular works better than blackstrap) (4 oz)
1/4 cup water (2 oz)
1/4 cup granulated sugar (50 grams)
2 cinnamon sticks (or 1/2 tsp ground)
2 whole cloves (or 1/8 tsp ground)
1 whole nutmeg (or 1/8 tsp ground)
1″ knuckle fresh ginger, peeled and roughly chopped (or 1 tsp ground)
Instructions
Add all ingredients to a small pan and bring to a boil over medium heat. Lower heat to low and simmer for 20 minutes.

Strain out spices (if using whole spices instead of ground) and allow to cool.
Recipe Notes
Click here or scan the barcode below to log this food in My Fitness Pal.
Nutrition Facts
Gingerbread Syrup
Amount Per Serving (0.5 oz)
Calories 48
% Daily Value*
Sodium 3mg0%
Potassium 116mg3%
Carbohydrates 14g5%
Fiber 1g4%
Sugar 13g14%
* Percent Daily Values are based on a 2000 calorie diet.