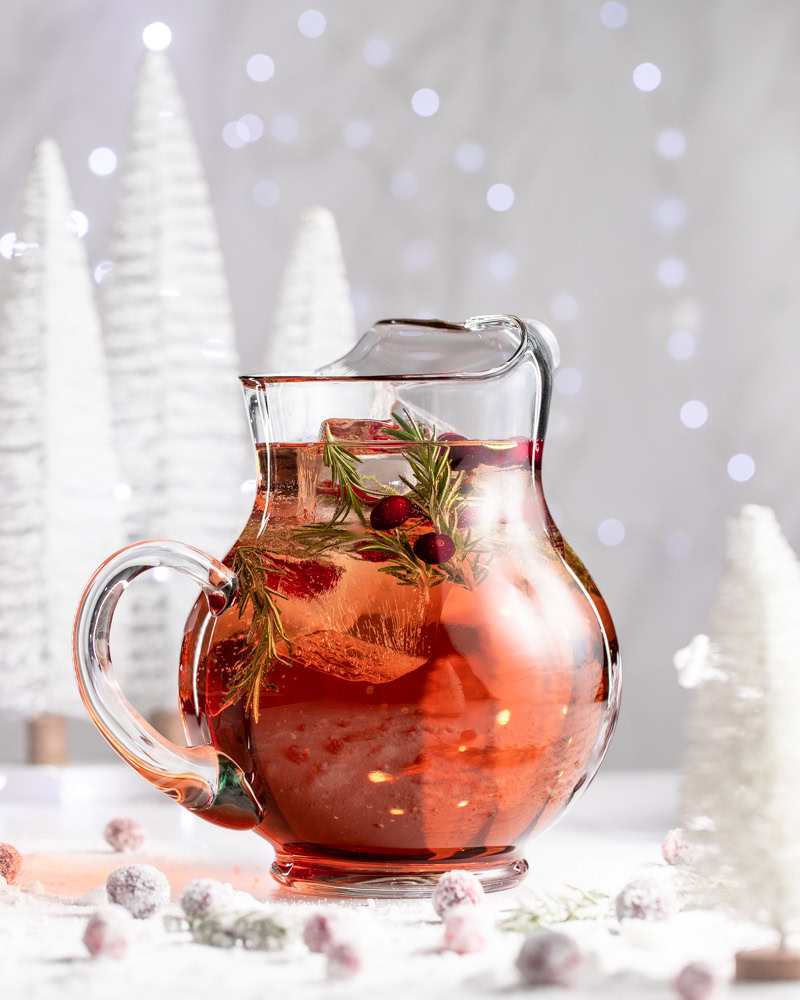 Celebrate the holidays with a super easy cocktail made for a crowd! Kris Kringle's Jingle is a big batch cocktail that comes together in no time – all you'll need is sparkling rosé wine, cranberry juice, Sprite, and gin (or vodka, depending on your taste). It's not overly sweet, with lightly tart cranberry complemented by the citrus and juniper notes in the gin. You can also easily adjust it to your own taste by swapping gin for vodka or adding simple syrup for more sweetness. It also has a lovely effervescence thanks to the sparkling rosé and soda.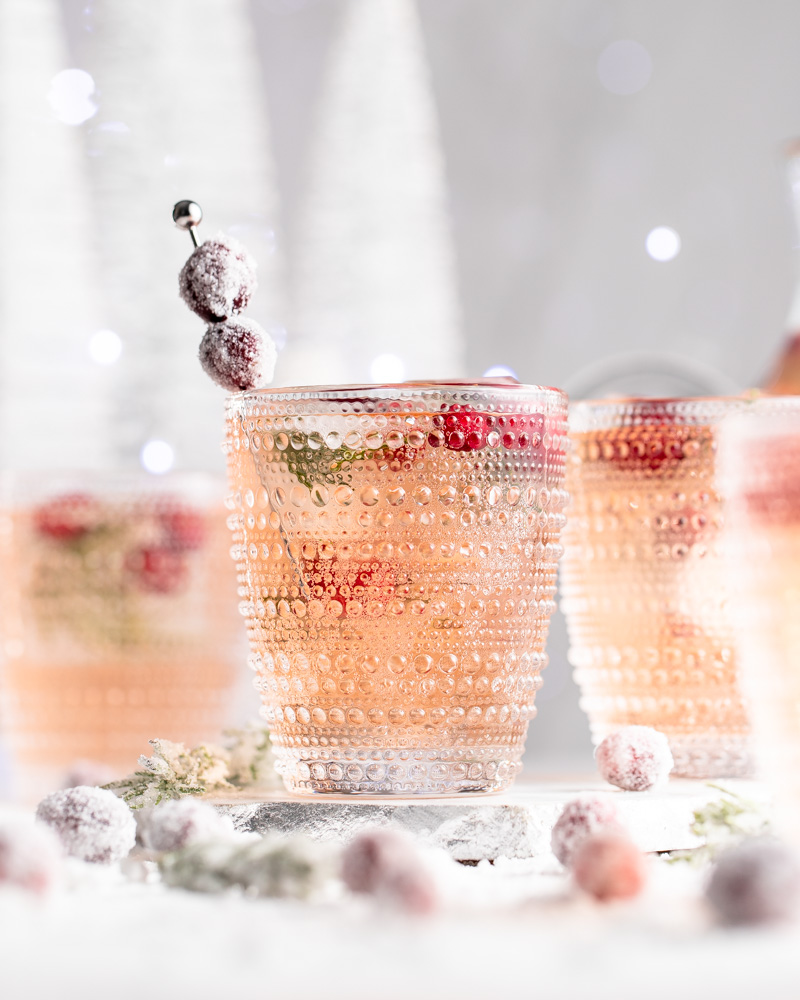 I love the look of ice cubes with cranberries and rosemary frozen right in them! I used this clear ice maker to make sure you could see the goodies easily inside the cubes (plus this ice maker just makes really nice square cubes). It's also great to have the cranberries and herbs inside the ice cubes because unlike if you were to just add fresh cranberries and rosemary sprigs right in the drink, having them stuck in the ice cubes mean they will be distributed down into the drink instead of floating right at the top. As the cubes melt, some cranberries will get free, but you still end up with a prettier look like this if you ask me.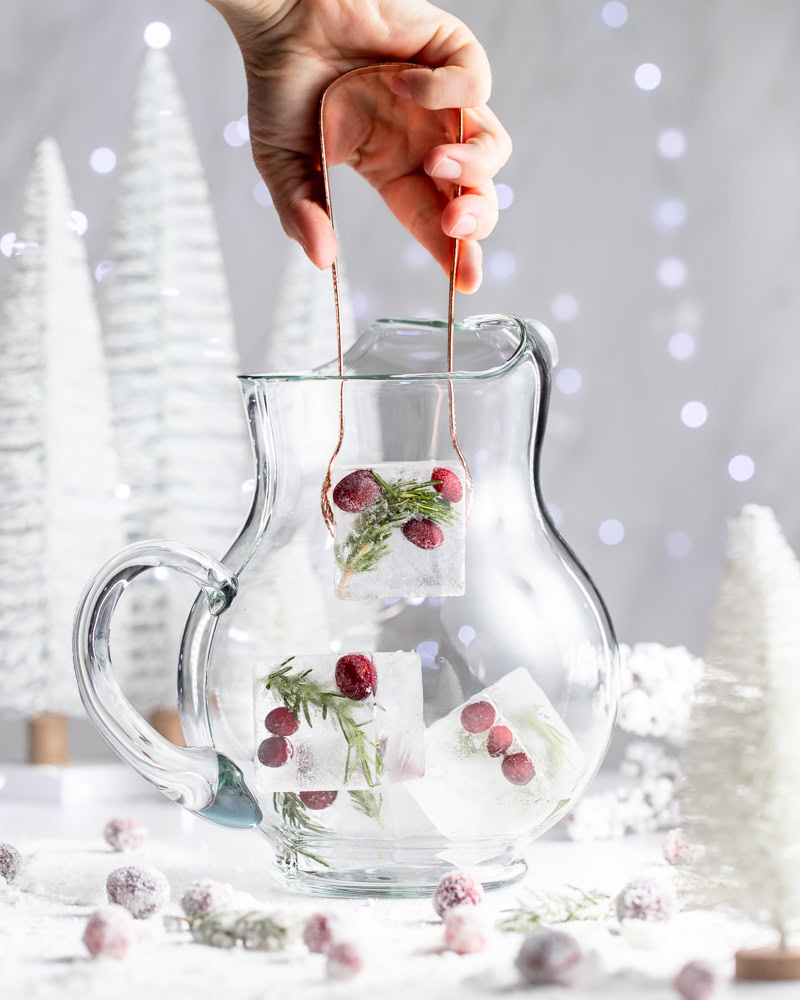 Ingredients and Substitutions
Gin – I'm a big fan of gin, although I used to really dislike it because I thought it was too bitter. Now I love the complexity of the herbs and botanicals and how much those add to a cocktail. This big batch cocktail is no different! I used The Botanist Islay Dry Gin and if you go look at the tasting notes, it just screams winter cocktails to me. Here's a summary: pine-forward juniper on the nose, citrus and sweet spices on the palate, and "warm juniper late with echoes of vanilla cream finish." Mmmm <3
If you're not a gin fan, just opt for vodka instead. I won't judge, I promise 😉
Cranberry Juice – I used Ocean Spray's 100% cranberry juice here, but cranberry "cocktail" juice will work too. I would stay away from any "zero sugar" varieties of cranberry juice in case any of your guests are sensitive to artificial sweetener (no sugar added varieties are fine though!).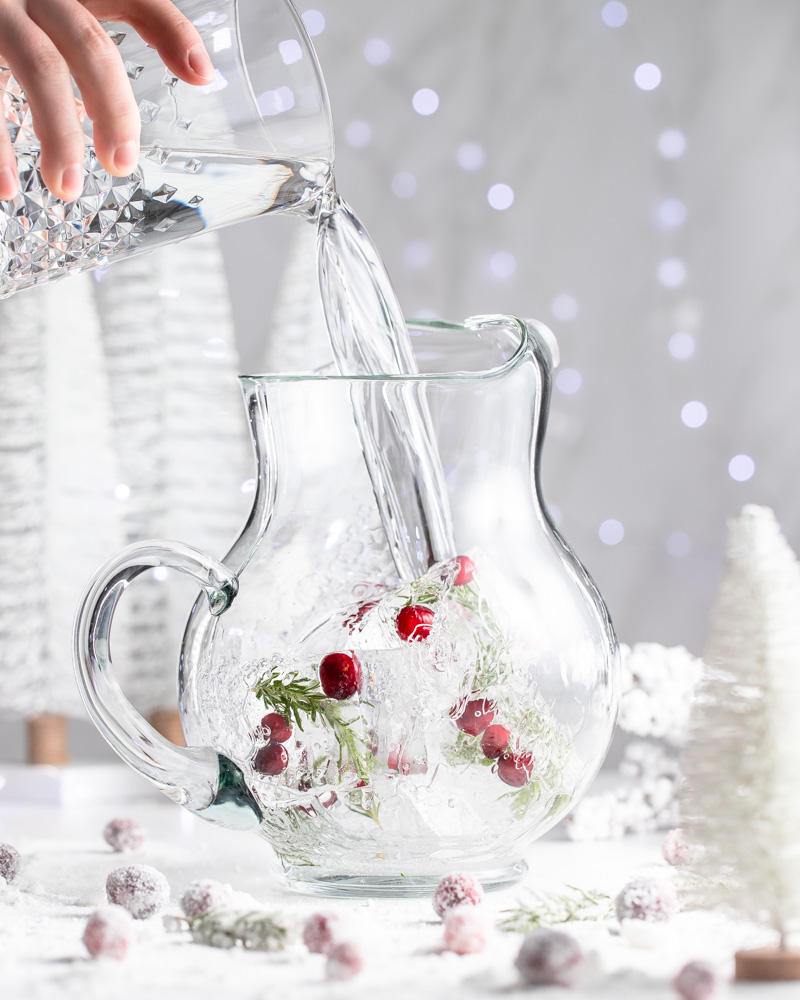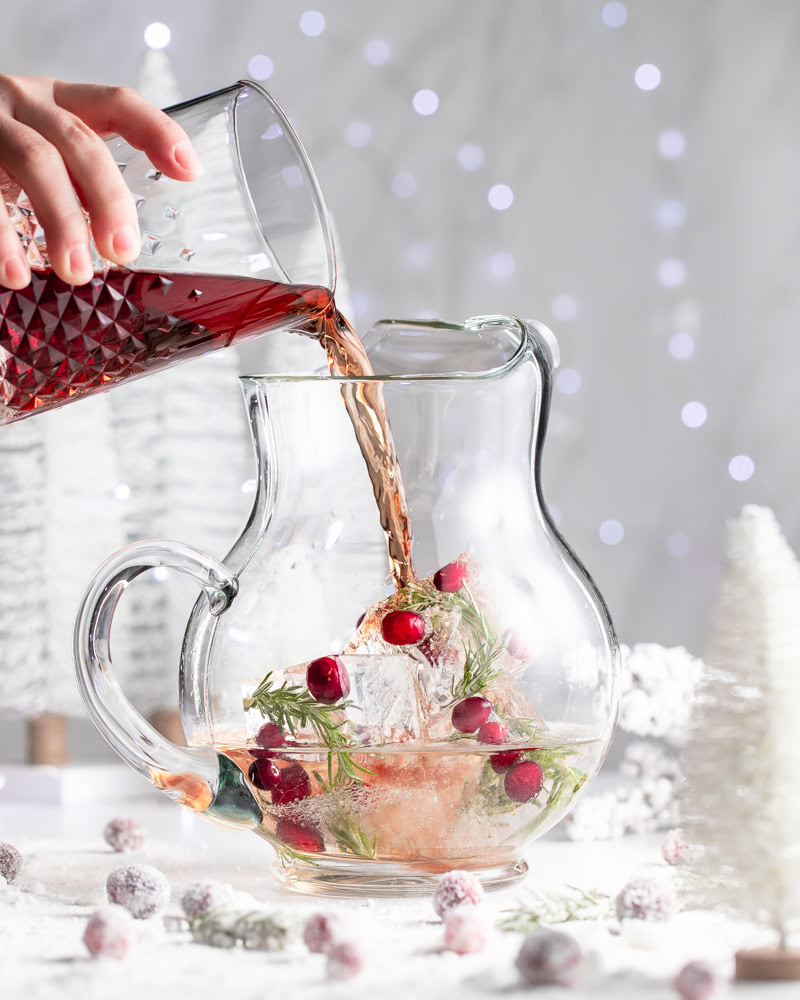 Sparkling Rosé Wine – Use any kind of sparkling rosé that you like, whether that's champagne or Prosecco. I recommend picking one that's not too dry though – a little sweetness helps balance out the botanicals in the gin and seems to lend more flavor to the cocktail. I love using a sparkling rosé to make sure each drink has plenty of effervescent bubbles, but you can use a regular rosé instead if you prefer.
Winter Spiced Cranberry Sprite – This is a seasonal delicacy that I found among the refrigerated personal sized sodas. Some places also sell it in cans or 2 liter bottles. It tastes mostly like regular sprite, but with an added spiced flavor complexity that complements the cranberry juice perfectly! The cranberry flavor isn't super obvious in this soda if you're worried about that. Definitely worth a try, but if you can't find it, regular Sprite will work just fine!
Simple Syrup – This is a totally optional ingredient depending on your taste in drinks. I really liked this without the simple syrup, but I know a lot of people like their drinks on the sweeter side. I'd recommend mixing up the drink without the simple syrup first, then taste test, and decide whether or not you think it needs a bit of extra sweetness to match your palate!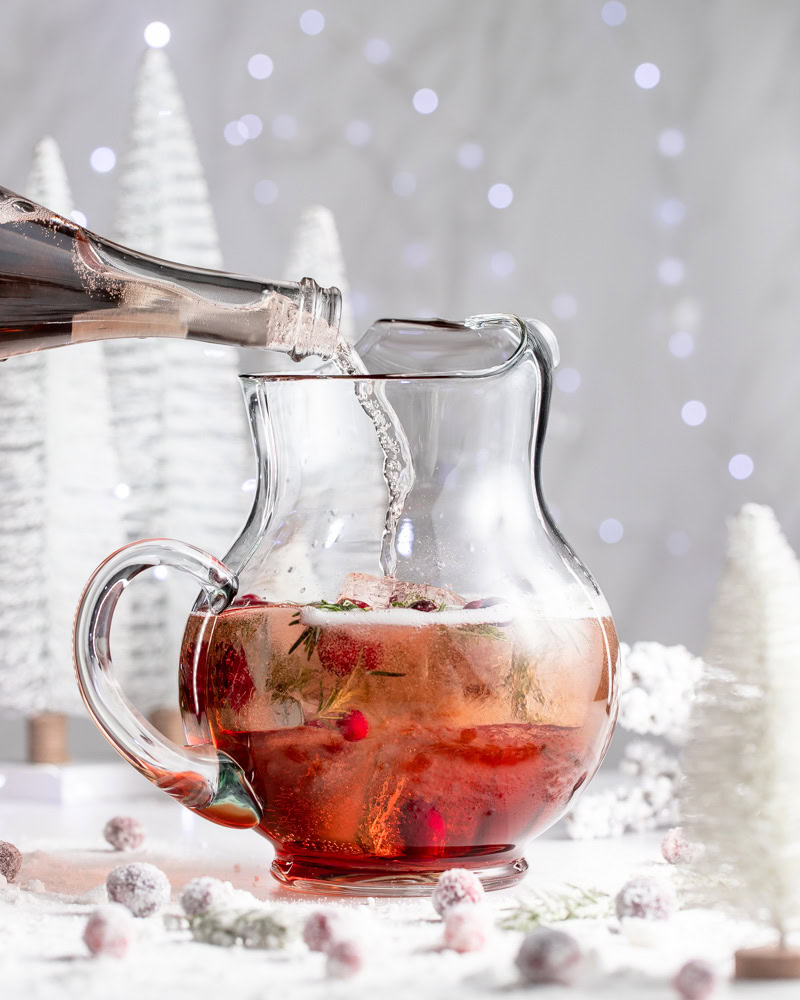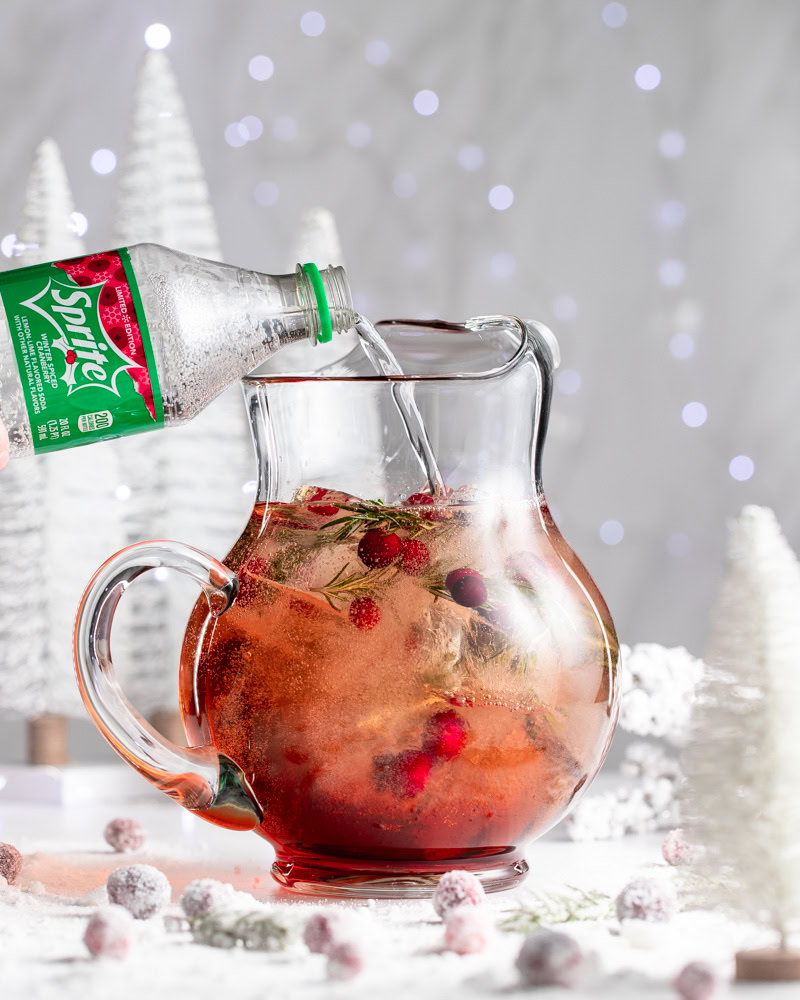 Once all the ingredients are added to your pitcher, give it a quick stir and you're ready to serve!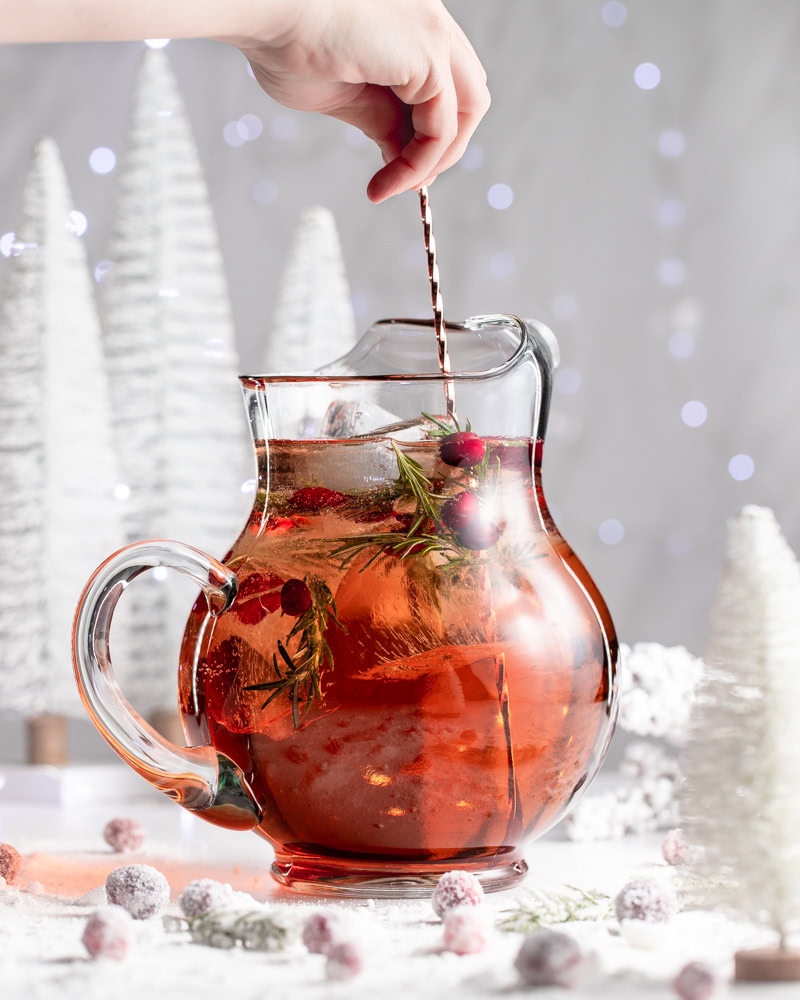 Shop for this Recipe
Here are some items I used to make this recipe a success. Note: these are Amazon Affiliate links.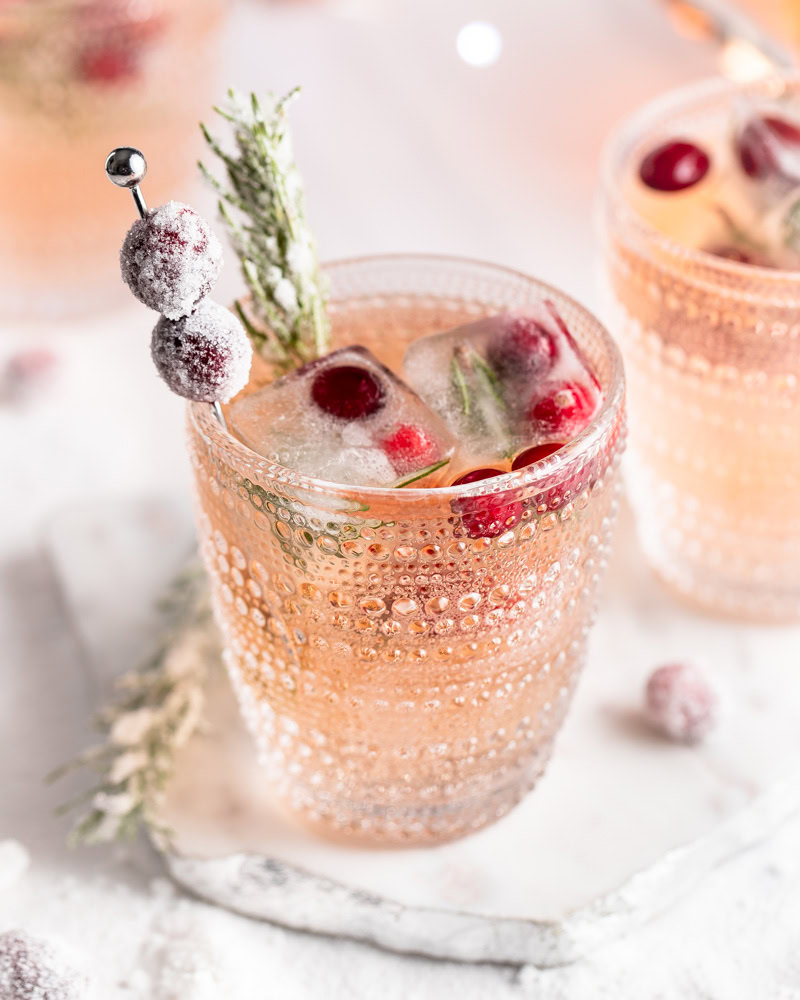 Recipe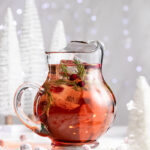 Kris Kringle's Jingle Big Batch Cocktail
Prep Time 10 minutes
Total Time 10 minutes
Servings 9 servings
Calories per serving 198 kcal
Ingredients
750 mL sparkling rosé wine (1 standard bottle)
20 fl oz Winter Spiced Cranberry Sprite
20 fl oz cranberry juice
12 fl oz gin or vodka
Optional to taste: 4 fl oz simple syrup
Instructions
Add all ingredients to a pitcher and stir. Serve over ice.
Nutrition Facts
Kris Kringle's Jingle Big Batch Cocktail
Amount Per Serving (8.5 fl oz)
Calories 198
% Daily Value*
Sodium 14mg1%
Potassium 13mg0%
Carbohydrates 16g5%
Sugar 15g17%
* Percent Daily Values are based on a 2000 calorie diet.
For my macro trackers out there, I wasn't able to create a My Fitness Pal barcode for this recipe since I would have had to decide for you whether to put the alcohol calories in as carbs or fats – that's up to you! The 16 grams of carbs listed here are just for the sugar in the soda and juice. For my non-macro trackers, here's more info on what I'm talking about.