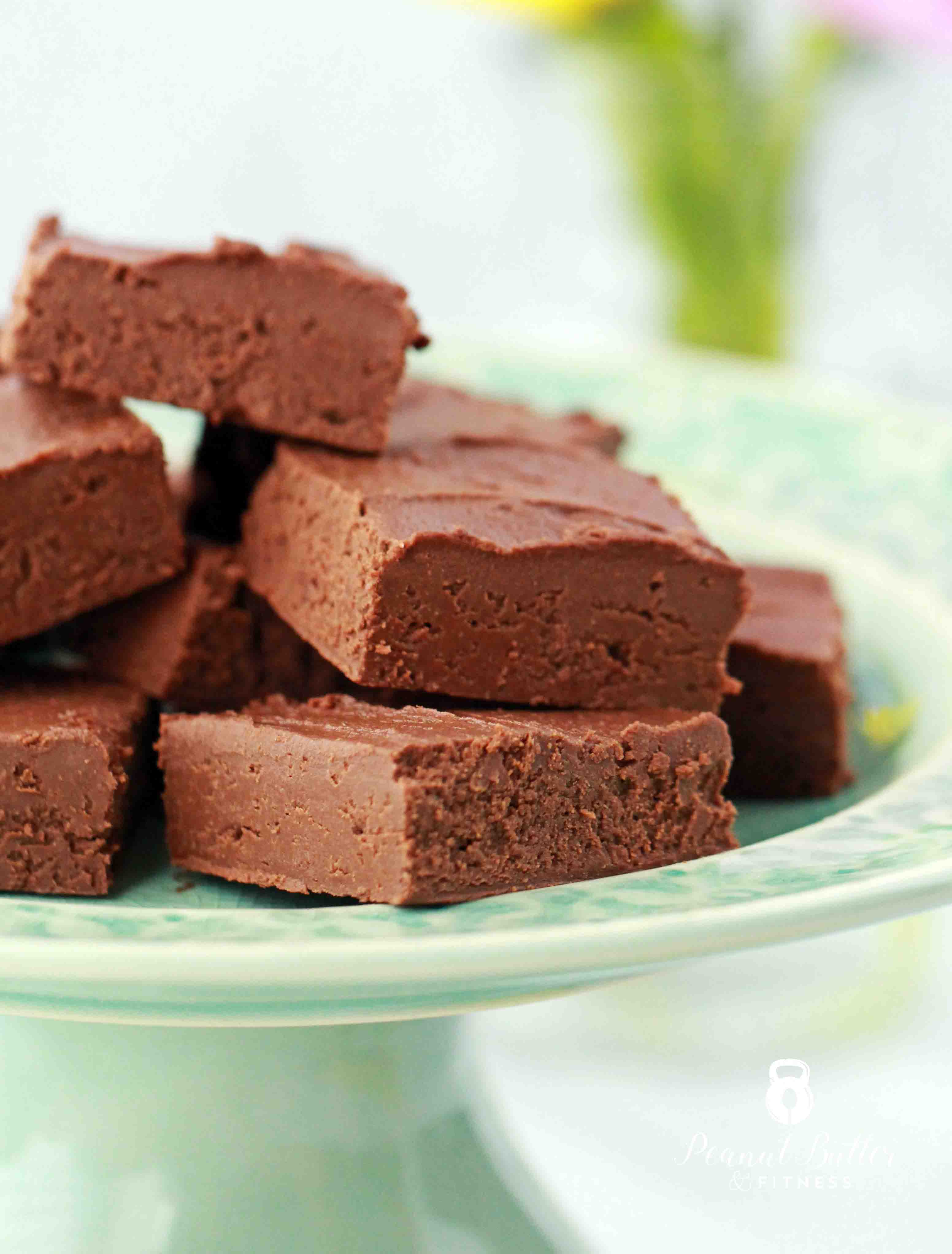 Helllooooooo fudge 🙂 I made this recipe last week for the first time, and after a few tweaks I happily present to you…chocolate peanut butter protein fudge! You'll never believe what's in this fudge (aside from the chocolate and peanut butter). And at only 50 calories a piece with 3 grams of protein, you don't have to feel bad about indulging your sweet tooth.
Oh, and it only takes about 10 minutes total to make this melt-in-your-mouth protein fudge. Give it a try, you won't be sorry 🙂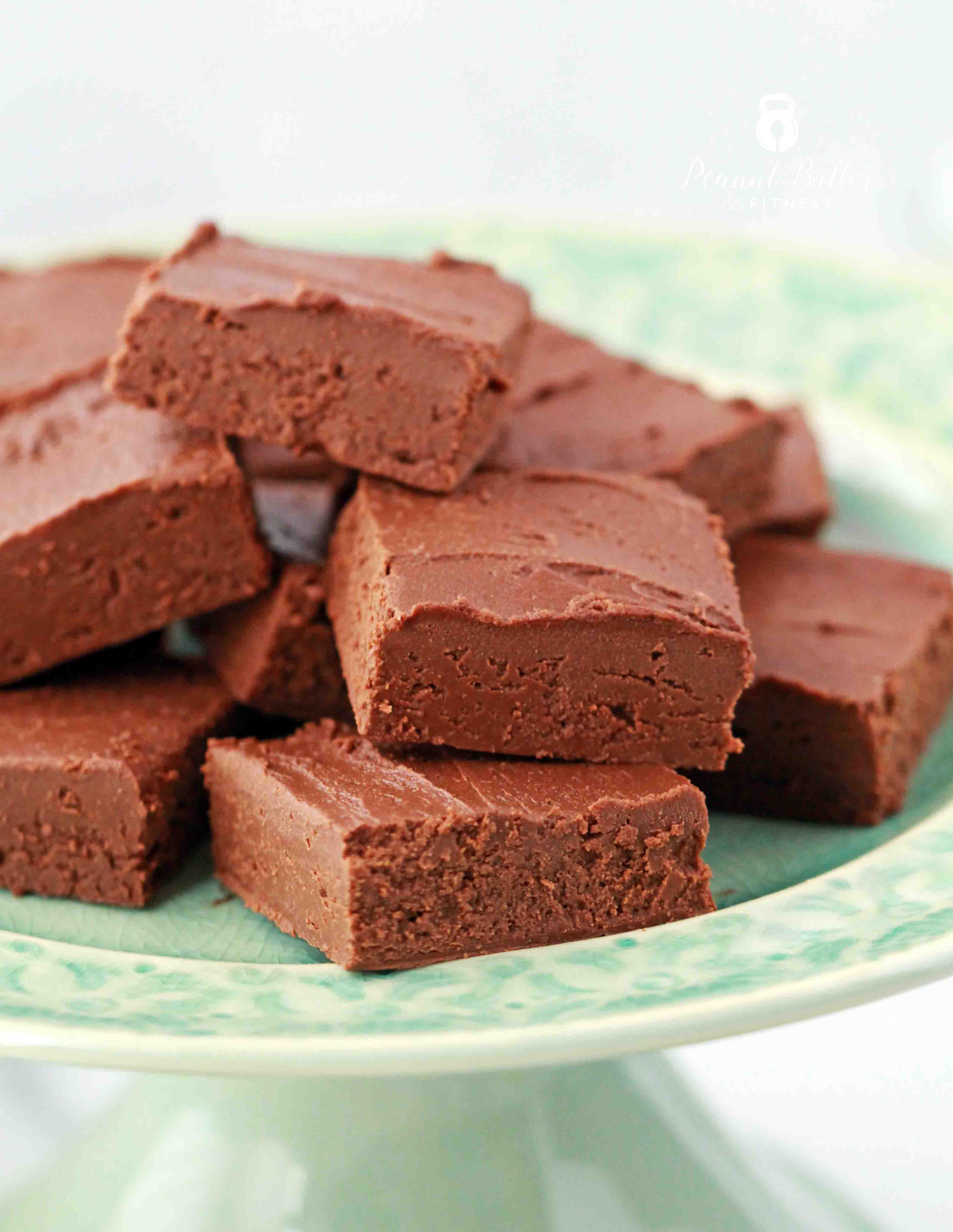 Isn't it a beautiful thing? Chocolate and peanut butter and meltiness and swirliness 🙂 I've gotta tell you, this fudge was inspired by one of my not-so-guilty pleasures that I make myself when I've got a craving for something sweet but don't want to put a lot of effort into making something. I just melt 1/2 tbsp peanut butter with about 8 dark chocolate chips in the microwave, then I stir in about 1/4 cup Greek yogurt. It made this delicious "sludge" that inspired my fudge recipe you see here. I think the key to the amazing velvety texture is mixing the cold Greek yogurt into the hot peanut butter/chocolate. So that's what I did here too…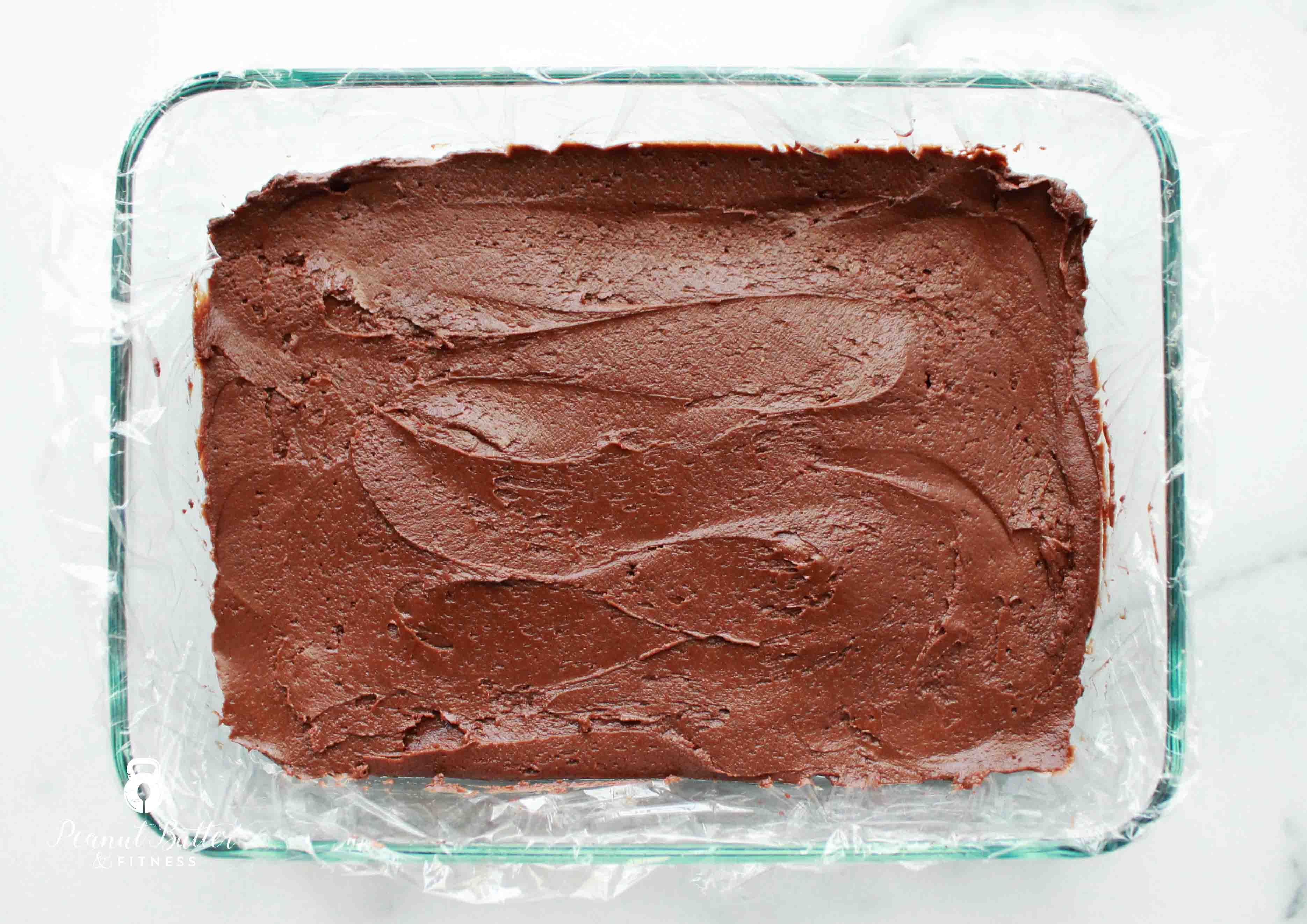 Since I'm not a big fan of complicated clean up, I lined my baking dish with Saran wrap. It also makes it really easy to get the fudge pieces out after you cut it! All you have to do is lift the plastic and there you have your fudge piece, no mess or fuss. If you want thicker fudge, use a smaller dish or double the recipe. I thought the pieces I made here were the perfect size…not too much to handle, but enough to satisfy my sweet tooth.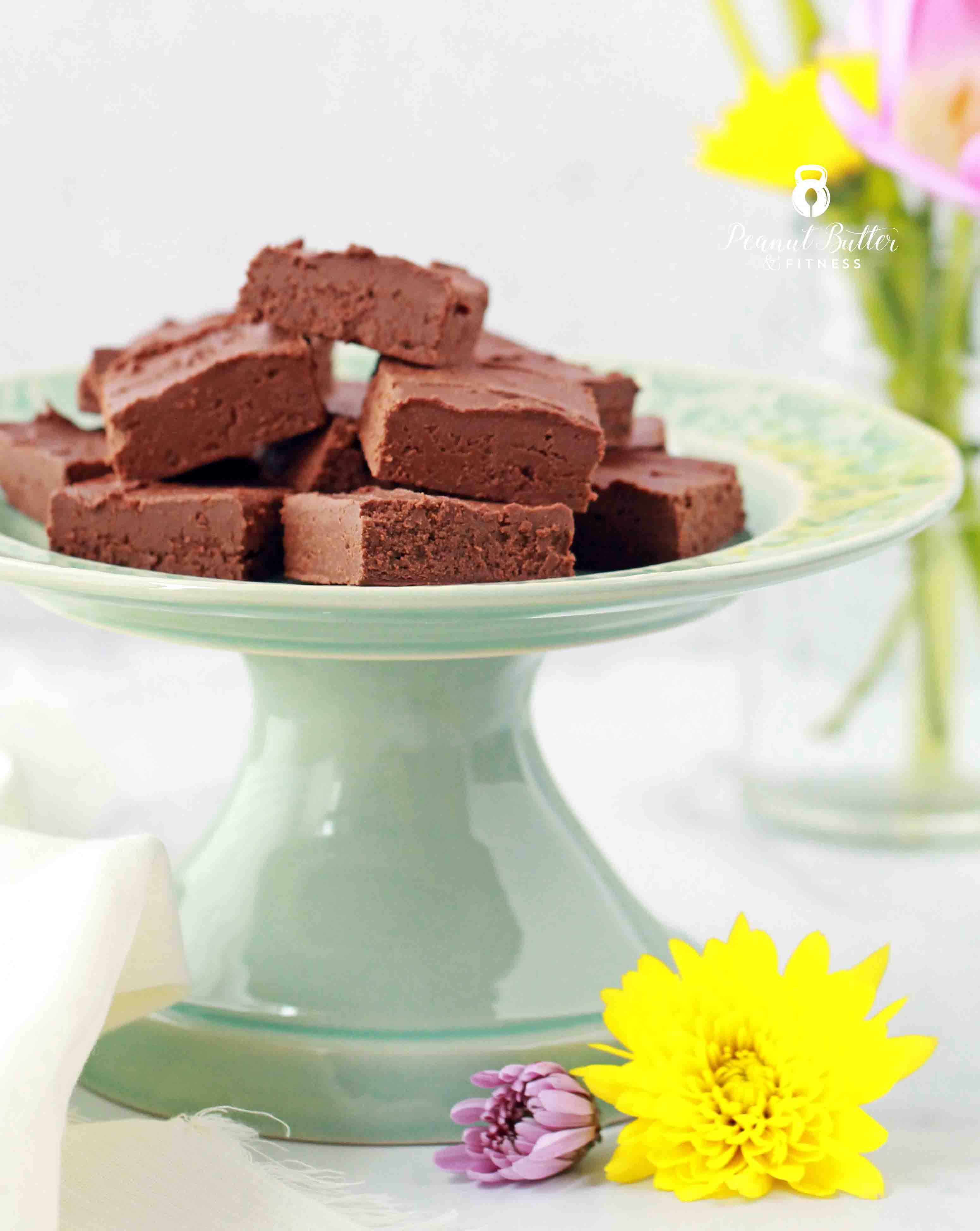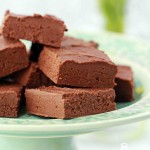 Healthier Chocolate Peanut Butter Fudge
Prep Time 15 minutes
Total Time 15 minutes
Servings 12 squares
Calories per serving 62 kcal
Ingredients
1/2 cup Dannon Light and Fit Vanilla Greek Yogurt (4 oz)
1/4 cup Ghirardelli 60% Dark Chocolate Chips (56 grams)
3 tbsp Simply Jif peanut butter (48 grams)
1/2 scoop Cellucor Peanut Butter & Marshmallow Whey Protein (16 grams)
1 tbsp dutch cocoa powder (6 grams)
90 mg pure stevia
1/4 tsp vanilla extract
Instructions
(Optional) Line a 5 x 7 inch dish with Saran wrap.  Set aside.

Mix yogurt, protein powder, cocoa powder, stevia and vanilla extract until smooth.  Set aside in refrigerator.

In a small, microwave safe bowl, melt peanut butter and chocolate chips for about 30 seconds.  Remove from microwave and stir until smooth.

Add yogurt mixture to melted peanut butter and chocolate.  Mix until smooth.  Spoon into lined dish and smooth until evenly spread.

Refrigerate uncovered overnight.  Cover dish after allowing to set overnight if not serving immediately.  Cut and serve.
Nutrition Facts
Healthier Chocolate Peanut Butter Fudge
Amount Per Serving (1 slice)
Calories 62 Calories from Fat 36
% Daily Value*
Fat 4g6%
Cholesterol 2mg1%
Sodium 46mg2%
Potassium 35mg1%
Carbohydrates 6g2%
Fiber 1g4%
Sugar 5g6%
Protein 3g6%
* Percent Daily Values are based on a 2000 calorie diet.