Jump to Recipe
Happy Sunday, friends! I'm so excited to finally bring you the recipe for the best ever Buttermilk Protein Pancakes!!! Seriously, I'm in love with these pancakes. They're fluffy, tender, and delicious. I tested the heck out of this recipe to make sure of it and I'm so pumped about the final product – I know you'll love them too! And ya know what? They are so easy to meal prep too! Keep scrolling and I'll tell you all about it…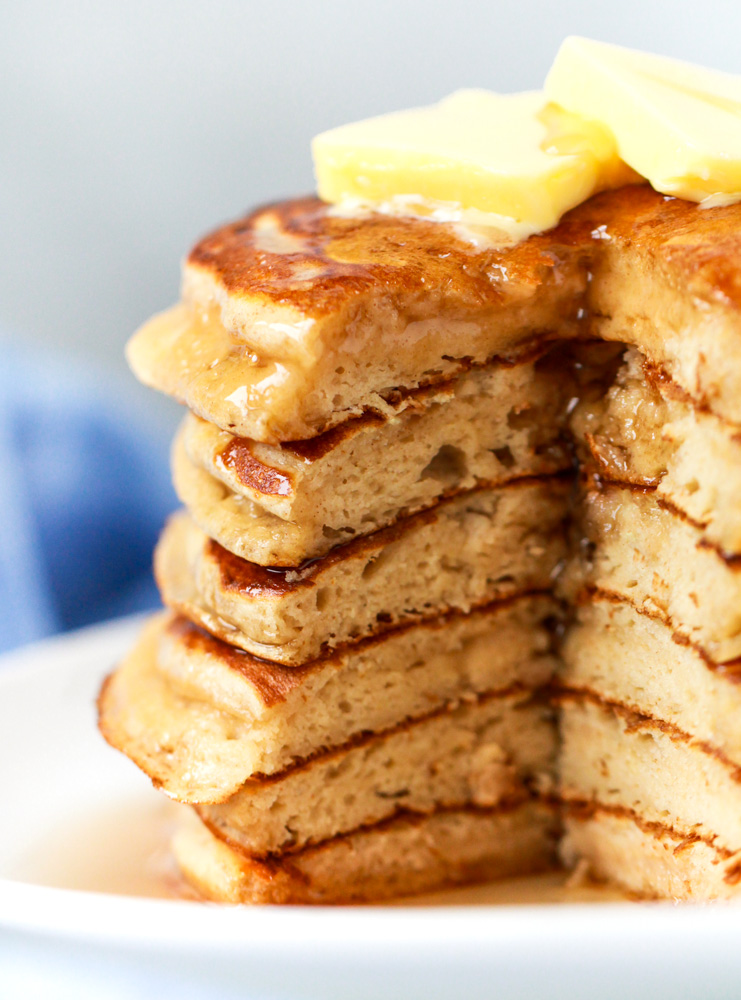 But first…let's admire the fluffy insides of these beauts. Can you believe these have 18 grams of protein per serving?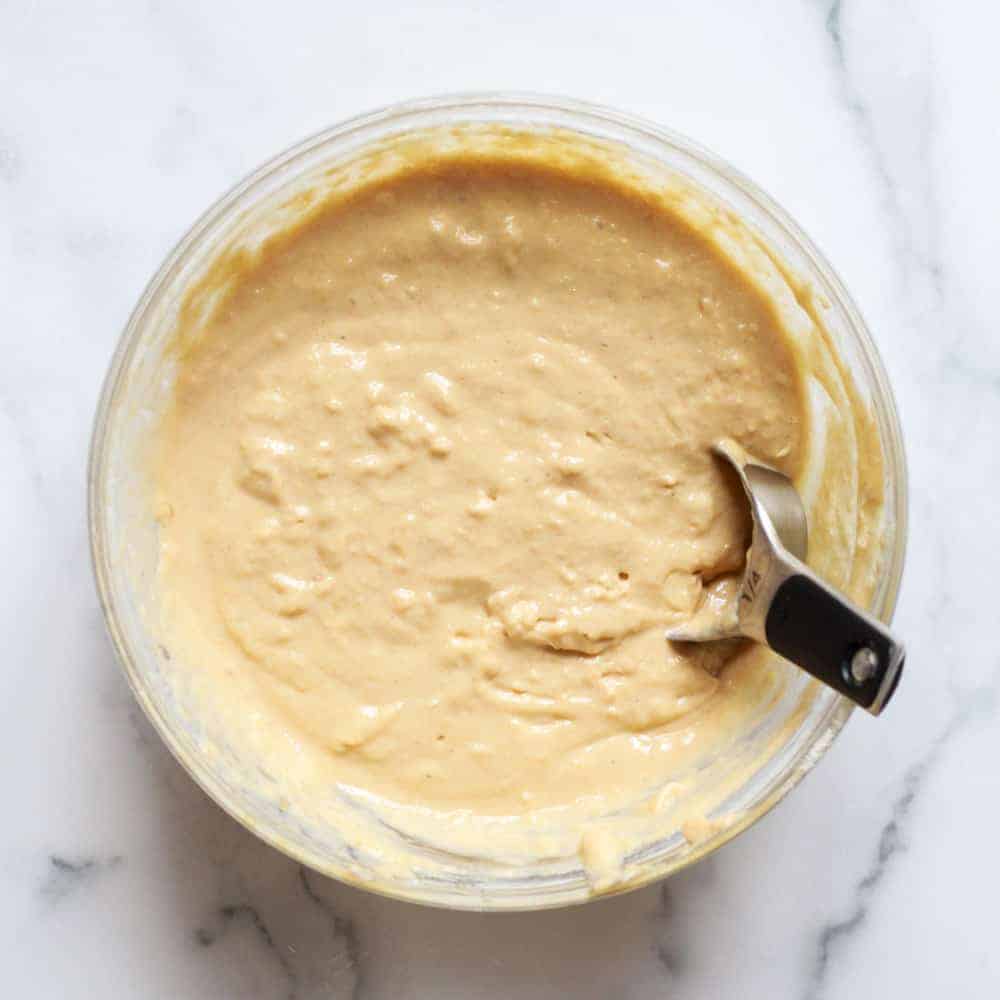 Oh and let's talk batter for a second too…this batter will be thicker than the pancake mixes you're probably used to. It's totally cool (preferred, even) if it's still a bit lumpy after whisking it together. You don't want to overmix it or you'll risk having tough pancakes!
Now, let's get to the meal prep part…
Meal Prepping Pancakes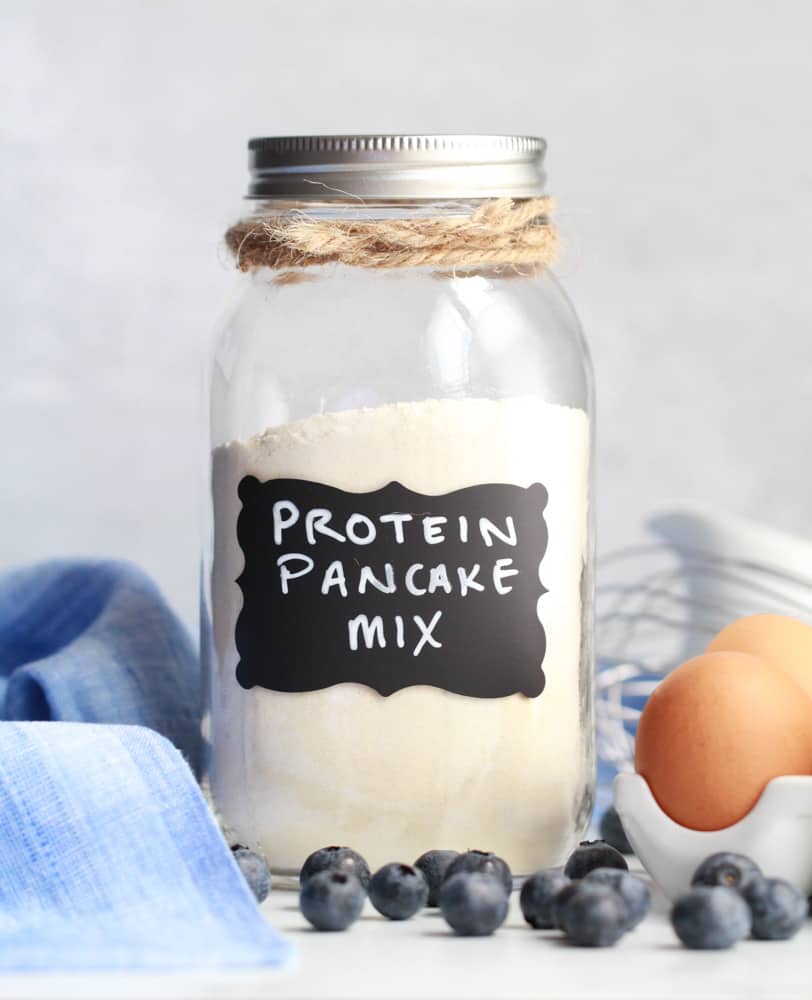 There are a few different ways to prep pancakes ahead to save yourself some time in the morning when you're ready to chow down. The first option is to make the dry pancake mix ahead and store it in a jar. Unlike the pre-made mixes you buy in the store, you'll need to add more than just milk or water to bring them to life, but having the dry ingredients pre-measured and ready to go will certainly save you some time!
The other option (my favorite) is to make a big batch of pancakes and store them in the refrigerator or freezer until you're ready to eat!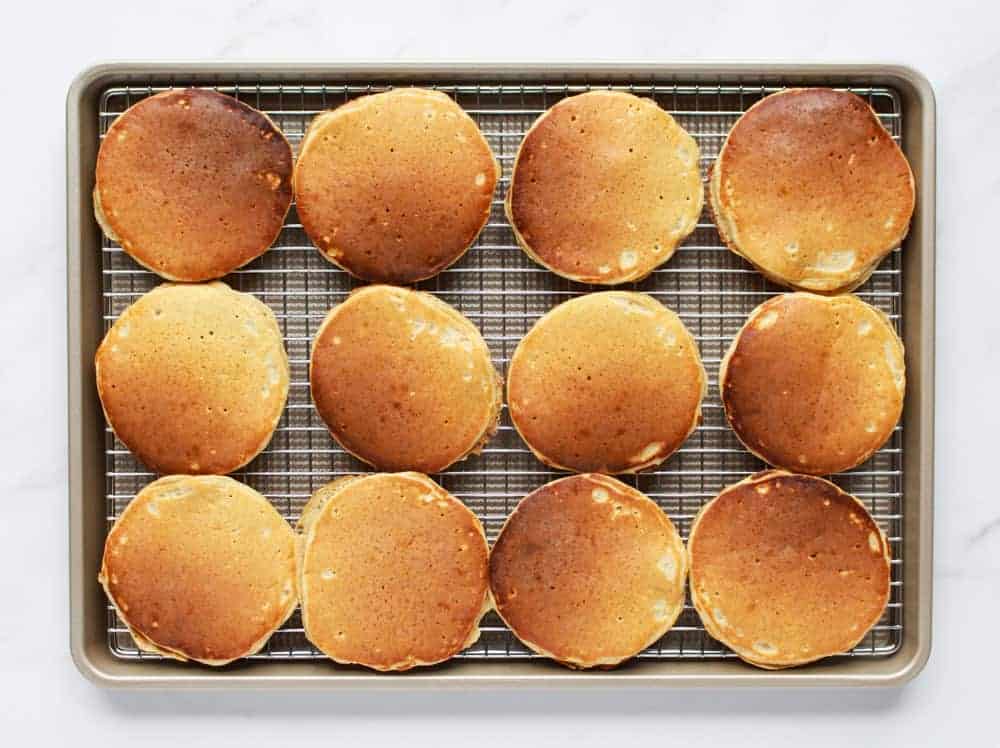 Pancakes do exceptionally well in the freezer. You don't even have to pre-freeze them to keep from sticking together – though you still can if you want to play it extra safe. All of these pancakes went into re-usable bags once they were completely cooled. See the picture above for how I cooled them in a single layer on a wire rack. You can stick them all in one big bag or divide them into serving sizes in sandwich size bags for easier grab-and-go in the mornings. Whichever way works best with your lifestyle is the right way to do it!
If you want to store these in the freezer for more than a few weeks, I'd recommend pre-freezing them on a baking sheet or wire rack like you see above, then stick them into Food Saver bags and vacuum seal them. Otherwise you'll end up getting more ice on your pancakes than is ideal for reheating. I didn't find it necessary to do this because mine disappeared too quickly for much ice to accumulate in the bags 😉 Don't worry if you do see a little ice in the bags after freezing, that's totally normal and won't affect them during reheating.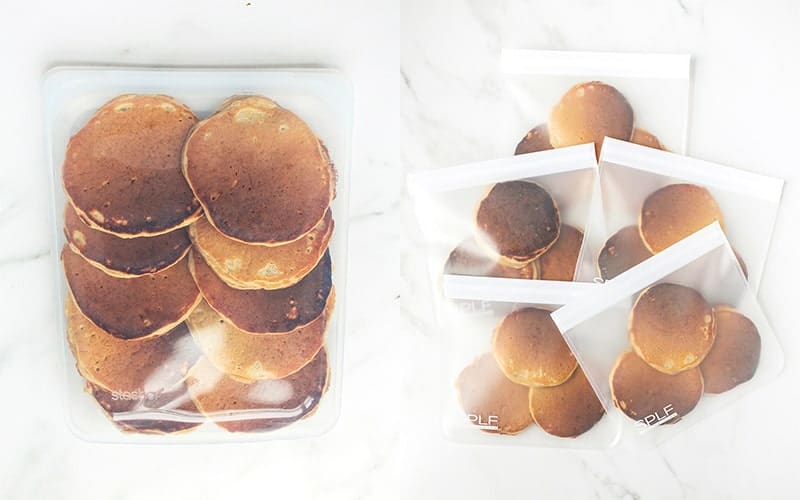 Here's some of my favorite pancake prepping gear! Note: these are Amazon Affiliate links.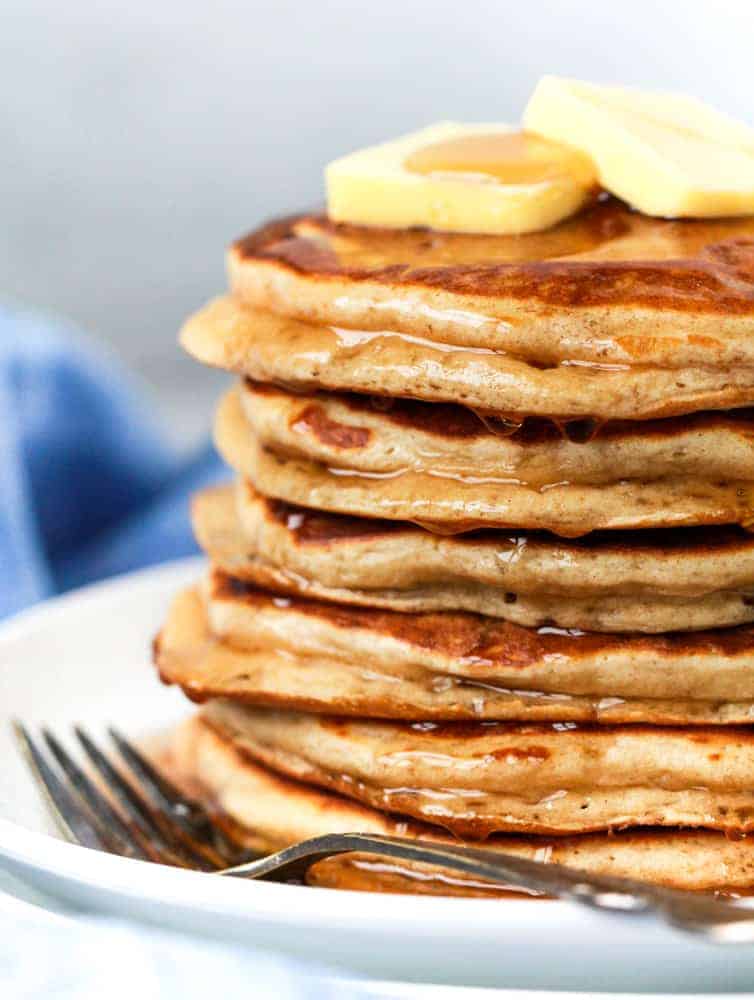 Buttermilk Protein Pancakes
Prep Time 10 minutes
Cook Time 15 minutes
Servings 6 servings (3 pancakes per serving)
Calories per serving 264 kcal
Ingredients
Wet Ingredients
1 1/4 cup 1% lowfat buttermilk – be sure to shake it well! (10 fl oz)
1/2 cup liquid egg whites (or about 4 egg whites) (4 fl oz)
1/3 cup unsweetened applesauce (2.66 fl oz)
2 large eggs
2 tbsp unsalted butter, melted (1 oz)
2 tbsp light brown sugar (24 grams)
1 tsp vanilla extract
Instructions
Add dry ingredients to a large bowl and mix until evenly combined. Set aside.

To a smaller bowl, add eggs and egg whites and whisk until yolks are evenly incorporated. Add buttermilk, applesauce, brown sugar, and vanilla extract and whisk together. While continuing to whisk, slowly drizzle in the hot melted butter.

Add wet mixture into the dry mixture and whisk until just combined (I found that a large whisk works much better here than a fork, spoon, or spatula). It's okay if the mixture has lumps, so long as you can't see spots of powdery flour. Don't overmix it! This should be thicker than your average pancake batter. Allow the batter to rest for about 5 minutes while the griddle heats.

Pre-heat a griddle or griddle pan to medium-high heat (7 out of 10). You want it to be nice and hot before the first batch of pancakes goes down, then you'll turn it down slightly to medium heat (about a 5 or 6 out of 10).

Spray pre-heated griddle with non-stick cooking spray if needed (I didn't need it since my griddle was non-stick anyway). Using a 1/4 cup dry measuring cup, drop batter onto hot griddle to form 3-4" round pancakes. Once the pancake is bubbling on top and golden brown on the bottom, about 2-3 minutes, flip to cook on the other side. If you're planning to freeze the pancakes, set the cooked ones aside in a single layer on a cooling rack.

Once you've cooked the first batch of pancakes, turn the heat to medium (about 5 or 6 out of 10) and continue process until all batter is used up.
Recipe Notes
Reheating from frozen: For best results, toast on medium-low until heated through (this may take more than one toast cycle). You can also microwave them for 30 seconds to 1 minute.
Click here or scan the barcode below to log this food in My Fitness Pal.
Nutrition Facts
Buttermilk Protein Pancakes
Amount Per Serving (140 g)
Calories 264 Calories from Fat 54
% Daily Value*
Fat 6g9%
Cholesterol 83mg28%
Sodium 426mg19%
Potassium 190mg5%
Carbohydrates 34g11%
Sugar 7g8%
Protein 18g36%
* Percent Daily Values are based on a 2000 calorie diet.