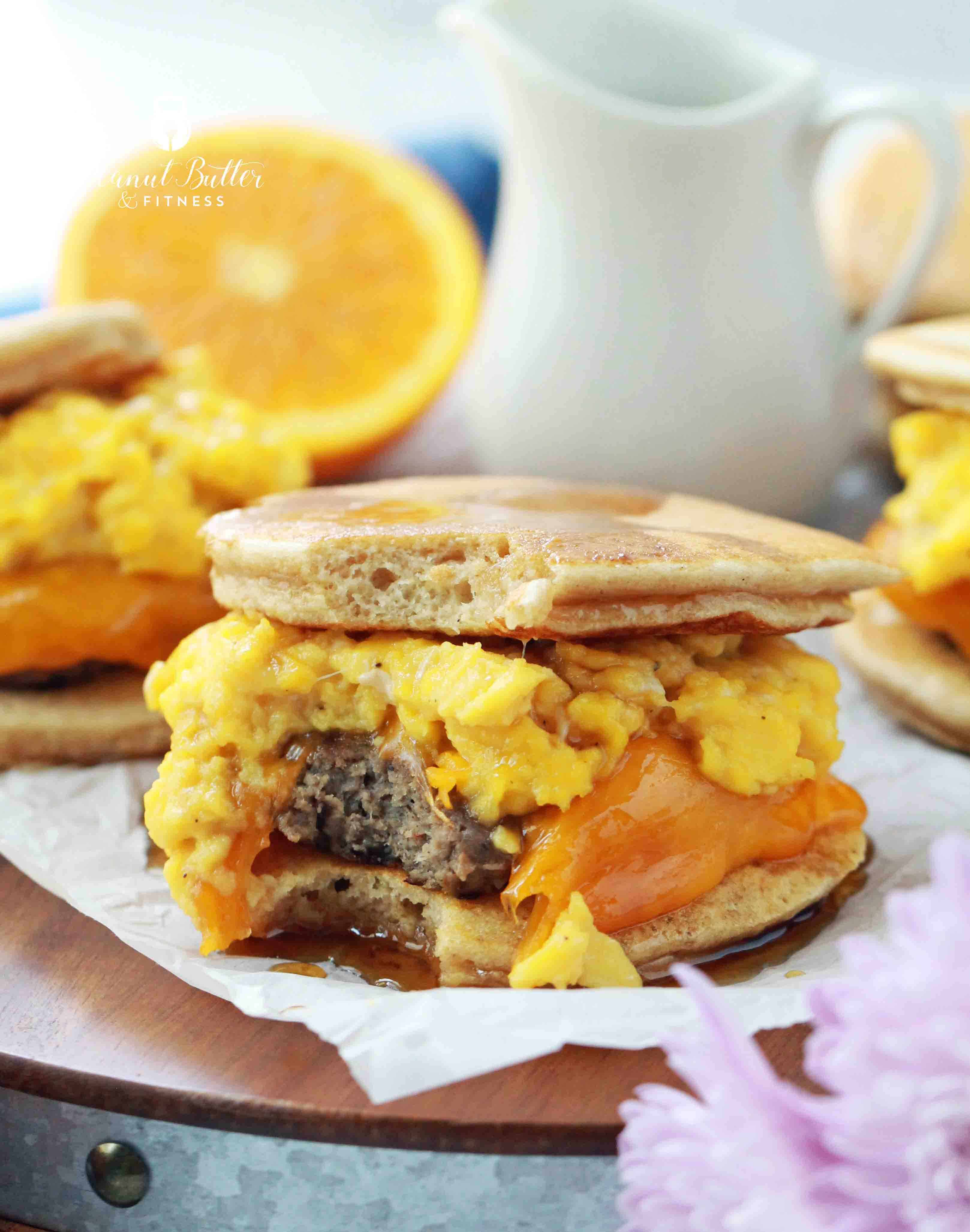 Jump to Recipe
Nom. Nom nom nom. Nom nom. Happy Fat Tuesday.
So the first time I ever had this kind of sweet and savory breakfast sandwich was at a Jack in the Box in Reno, Nevada just before hitting the slopes before a day of snowboarding. I was so obsessed with it that I nearly turned back on the drive up the mountain after scarfing down the first one…honestly, it's probably a good thing I didn't because the first one made me a little sick. I'm not used to eating greasy fast food for breakfast but damn…it was tasty. Now it's two or three years later, and I've finally recreated that masterpiece with healthier ingredients and an extra boost of protein (of course).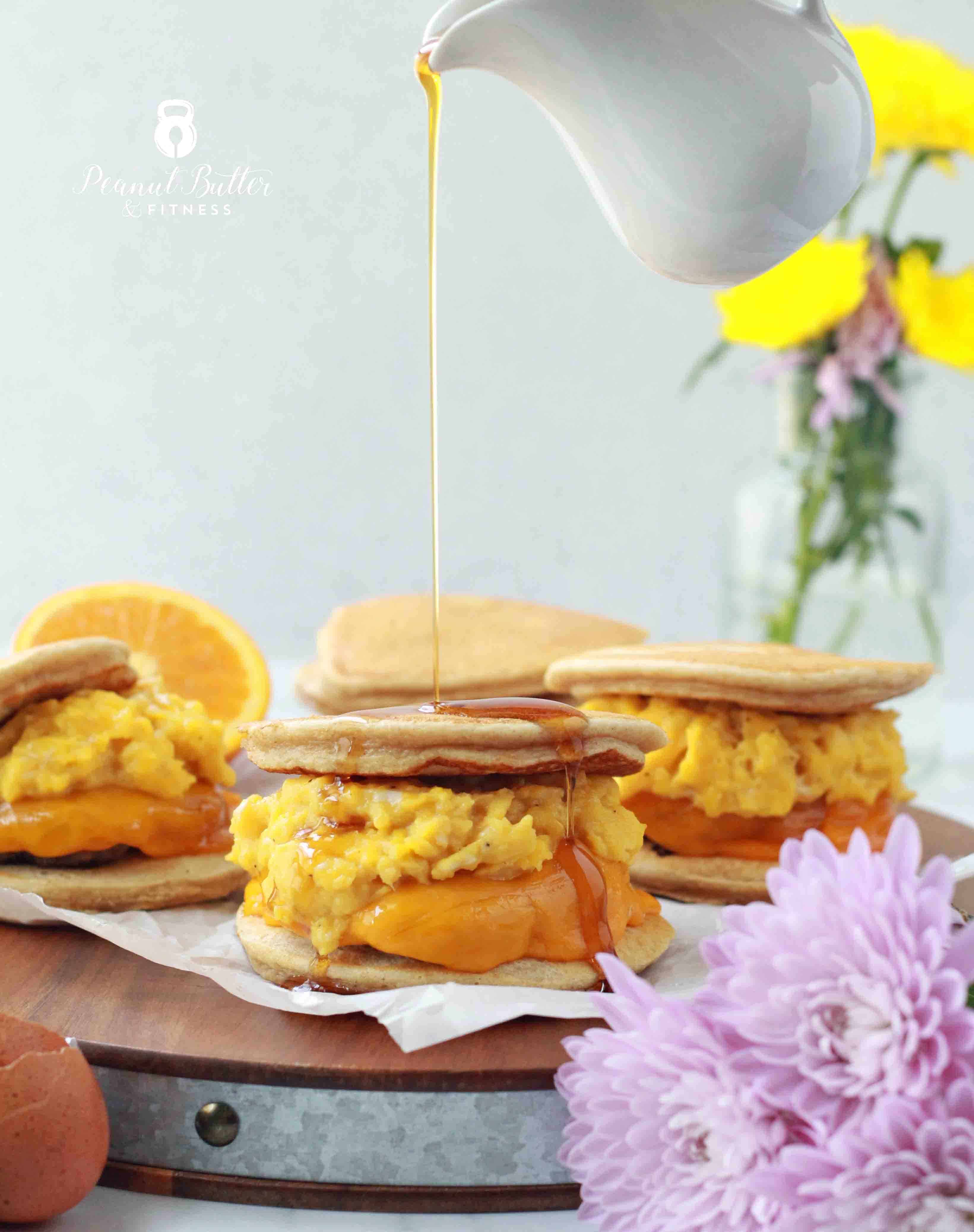 Don't mind the fact that my sausage patty is slightly too small for this breakfast sandwich…you can make your own breakfast sausage using recipes like this one from PaleOMG or this one from Skinny Ms. I bought my Turkey Breakfast Sausages right out of the freezer section at the grocery store thanks to some guy named Jimmy Dean, knowing full-well that there were some not-so-appealing ingredients in them. They taste good, but if you want a healthier, more natural option, check out these Applegate turkey breakfast sausages. Okay, okay…enough about sausages. Let's talk about the sandwich as a whole!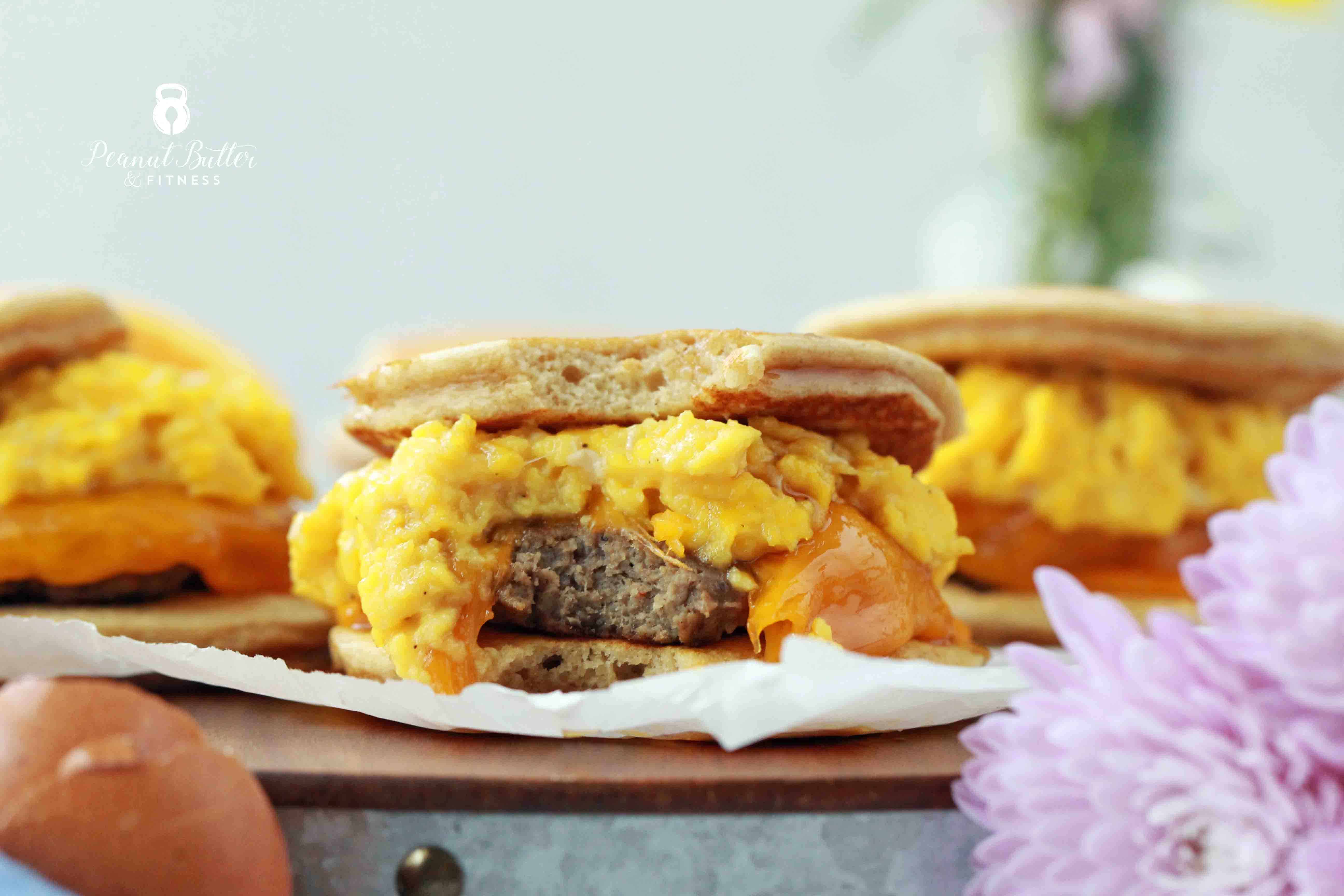 Look how fluffy those pancakes are! This is my favorite simple protein pancake recipe…they taste so good on their own and soak up the maple syrup like a champ. I added on a slice of Sergento Ultra Thin Sharp Cheddar for good measure. You can make yours more melty than this, I just thought it looked kinda cool hanging out the way it was. And the final layer…the egg. Cook it however you like! I got a little fancy with mine and used some egg rings to get that nice round shape.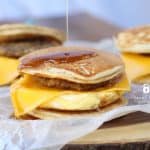 Pancake Breakfast Sandwich Griddlers
Prep Time 15 minutes
Cook Time 15 minutes
Total Time 30 minutes
Servings 6 sandwiches
Calories per serving 279 kcal
Ingredients
Other Ingredients
6 Jimmy Dean Turkey Breakfast Sausage Patties (204 grams)
6 egg whites (360 grams)
2 egg (100 grams)
6 slices Sargento Ultra Thin Sharp Cheddar Cheese (64 grams)
Instructions
Mix all dry pancake ingredients, then add wet ingredients and mix until combined. Heat a pan or griddle over medium-high heat and spray with non-stick cooking oil.

Pour pancake batter onto griddle to form six 3-inch round pancakes (you may need to do it in 2 or 3 batches). Once top of pancakes begin to bubble and pop, flip and cook other side until cooked through. Set aside on a plate and cover with foil to keep warm.

Heat turkey sausage patties on griddle or pan until hot (or cooked through, if you are using raw sausage). Set aside.

Cook eggs as desired – I whisked mine and poured them into egg rings in the hot pan.

Once eggs are almost completely cooked, remove egg ring and add slices of cheese on top to melt.

Assemble breakfast sandwiches with a pancake, egg, cheese, sausage and another pancake. Top with maple syrup before serving (not included in nutrition info).
Recipe Notes
I recently redid the photos for this recipe and used soft scrambled eggs instead of the egg white mixture.  The nutrition info here reflects the original recipe, not the soft scrambled eggs. Recipe for soft scrambled eggs follows.
Click here or scan the barcode below to log this food in My Fitness Pal.
Nutrition Facts
Pancake Breakfast Sandwich Griddlers
Amount Per Serving (1 sandwich)
Calories 279 Calories from Fat 99
% Daily Value*
Fat 11g17%
Cholesterol 100mg33%
Sodium 579mg25%
Potassium 284mg8%
Carbohydrates 12g4%
Fiber 2g8%
Sugar 2g2%
Protein 32g64%
* Percent Daily Values are based on a 2000 calorie diet.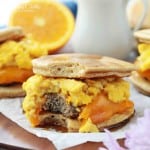 Soft Scrambled Eggs
Servings 6 servings
Calories per serving 104 kcal
Ingredients
6 eggs (300 grams)
3 egg whites (90 grams)
1 1/2 tbsp butter (0.75 oz)
salt and pepper to taste
Instructions
Add eggs and egg whites into a cold skillet. Add butter, place on stove burner, and turn heat to medium-low.

Using a soft spatula (rubber or silicone works best), break the yolks and ensure the eggs are mixed together.

Keep the eggs moving continuously using broad sweeping motions, pushing eggs all the way around the circumference of the skillet, then across the bottom. Continue to push eggs around and across skillet until fluffy and barely set, about 4-5 minutes; they should still look soft and a little runny. Season with salt and pepper in the last minute of cooking.

Remove from heat and add to sandwiches or a serving dish.
Nutrition Facts
Soft Scrambled Eggs
Amount Per Serving
Calories 104 Calories from Fat 72
% Daily Value*
Fat 8g12%
Cholesterol 194mg65%
Sodium 96mg4%
Potassium 94mg3%
Protein 8g16%
* Percent Daily Values are based on a 2000 calorie diet.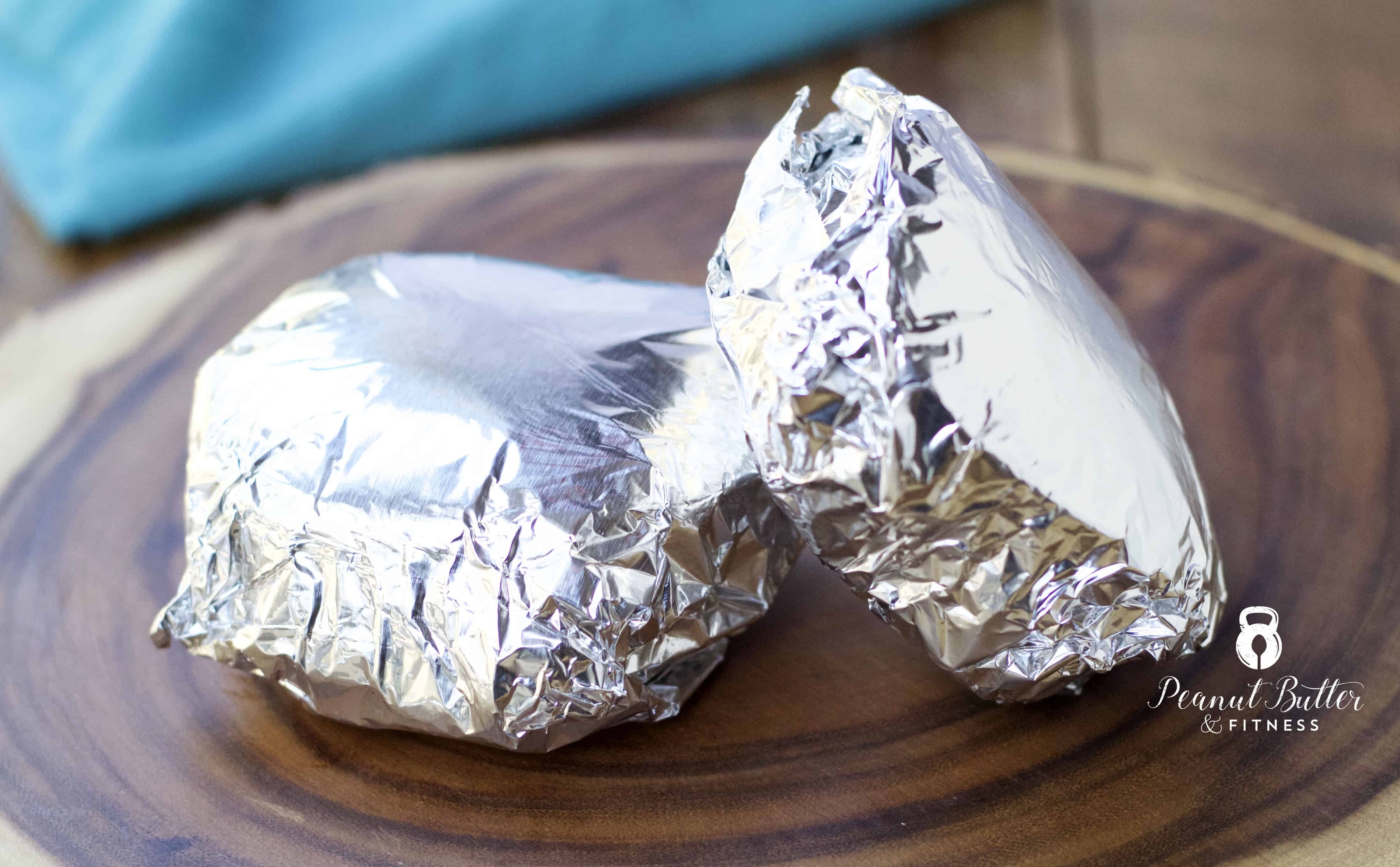 You can even throw any leftovers in the freezer! I just wrapped them up tightly in foil (sans maple syrup) and then stuck them in a sealable plastic bag with all the air sucked out. Heat 'em up in the microwave (or skillet) when you're ready to eat.
SaveSave
SaveSave
SaveSave