Yum. Yum. Oh, and more yum.  So I saw these sprinkles at the grocery store last week and I knew I had to have them.  It's almost Halloween, so why don't I have any Halloween themed recipes on my blog?!  I bought the sprinkles and then had no idea what to do with them…so I made these truffles to go with the sprinkles 🙂 Isn't that kind of backwards?  Whatever.  The sprinkles are awesome and the truffles are too!  Oh, and they're totally decadent and only 100 calories each!
While I was trying to come up with a recipe to go with these sprinkles, I decided to go for some cookies and cream style truffles since I just got my sample pack of Cellucor Cookies and Cream protein powder!  So then I went out and got some (cover your ears for this part)…Oreos!  Eeeeeek.  I don't buy Oreos.  Like, ever.  They're dangerous and really, just not good for you.  I did it anyways.  But don't worry, if you want to make these healthy (sans Oreos) but you still want to have a little bit of a cookie crunch to them, I've got a solution for you 🙂  Replace the Oreos with 3 tbsp unsweetened cacao nibs – but make sure to break them up a bit before whipping them into the batter since they're really crunchy.  Either option has about the same number of calories, but here's the real difference:

4 Oreos = Calories: 213 • Fat: 9.3 g • Sat. Fat: 2.6 g • Protein: 1.3 g • Carbs: 33 g • Fiber:  1.3 g • Sugar: 18.6 g • Sodium: 213 mg

3 tbsp unsweetened cacao nibs = Calories: 195 • Fat: 18 g • Sat. Fat: 10.5 g • Protein: 6 g • Carbs: 15 g • Fiber: 13.5 g • Sugar: 0 g • Sodium: 0 mg

The macros of the two are completely different even though they're less than 20 calories apart.  Again, this is just an option for anyone who is dead set against using Oreos in their truffles since it's not "real" food.  I used the Oreos anyway 🙂
Okay, okay, I totally got off track with that Oreos train of thought…back to the cookies and cream dilemma.  As you can see, I totally went for that theme.  And then I tasted some of this batter and was like, "holy cow, it's brownie batter.  That's what I'm eating, right?"  So there you have it – brownie batter black bean protein truffles!  Let me tell you…the batter is quite sticky and thick.  Which is what makes it perfect for truffles!  Wet your hands a little bit when you're rolling them so they don't stick to your hands as much.
Here was my set up for dipping these little balls of deliciousness.  Check out more details on it below!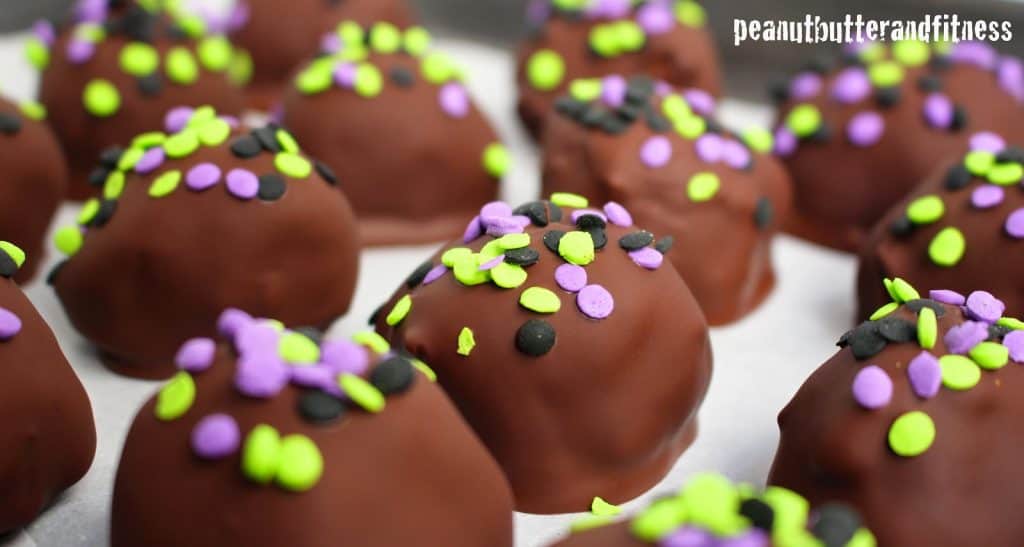 I left these in the freezer over night until I was ready to dip them and that didn't seem to affect them at all! I just pulled the tray out of the freezer for a few minutes and stuck toothpicks in them just far enough that they would hold and then stuck them back in the freezer while I melted the chocolate.
I kept the tray of batter balls in the freezer as I dipped them…just take one out at a time to dip and then grab another when you're ready.  That way the chocolate doesn't melt them too much when you're dipping.
I've never seen this chocolate outside of San Francisco, but I recommend something with 60% or higher cacao content. 
Enjoy!