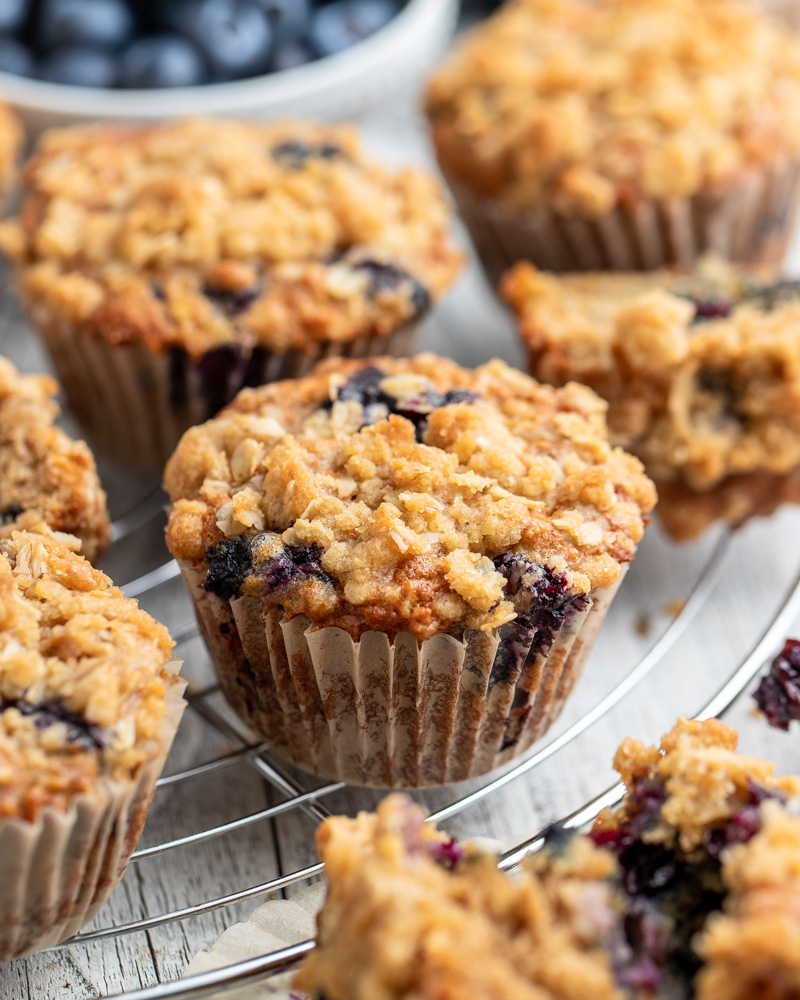 Let's make the most of the remainder of those fresh summer blueberries with these Blueberry Oat Crumble Muffins! I love how tender these muffins are, and the crumble topping is the perfect burst of sweetness and texture on top. Even though they're made with rolled oats baked right into the batter, you can hardly tell. Thanks to an easy trick, they blend right in with the all purpose flour, and although they're hard to find in the baked muffins, they still deliver the whole grain goodness you're looking for! Did I mention the added boost of protein?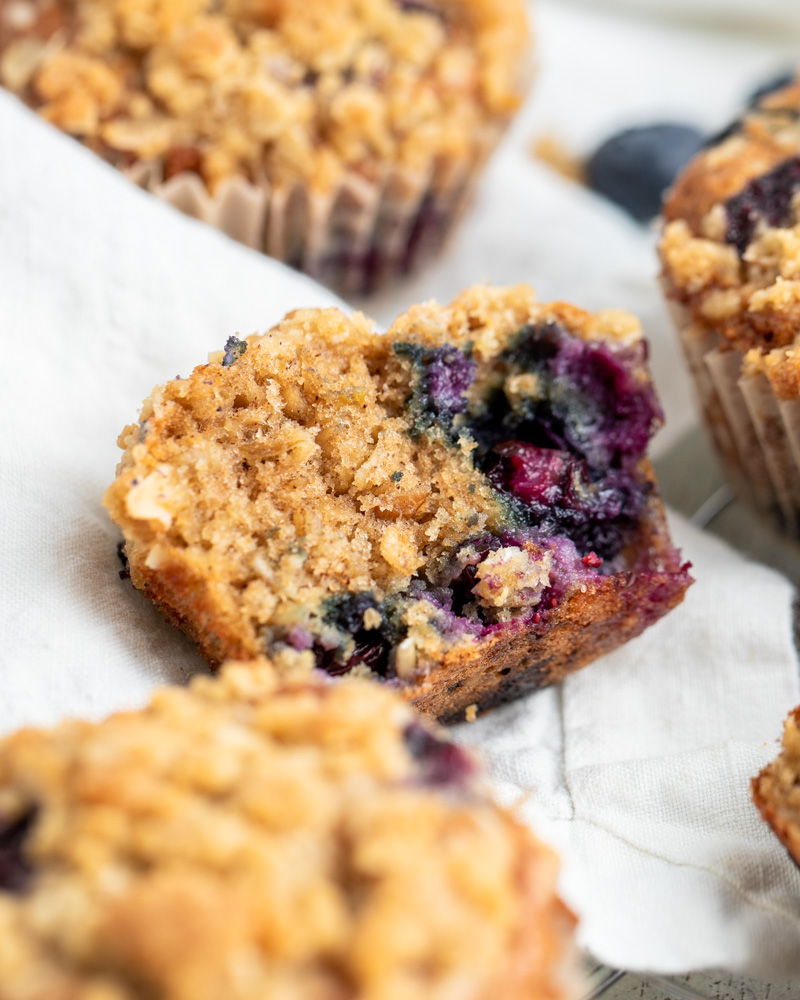 Now I do feel like I have to put a disclaimer out there for my PBF regulars – these oat muffins are NOT to be confused with my typical oatmeal muffin recipes which are essentially oatmeal baked into muffin form. Those ones are meant to be hearty and more dense than what you'd normally expect from a muffin. But these muffins…just check out that texture! So tender and delicious, bursting with blueberries throughout.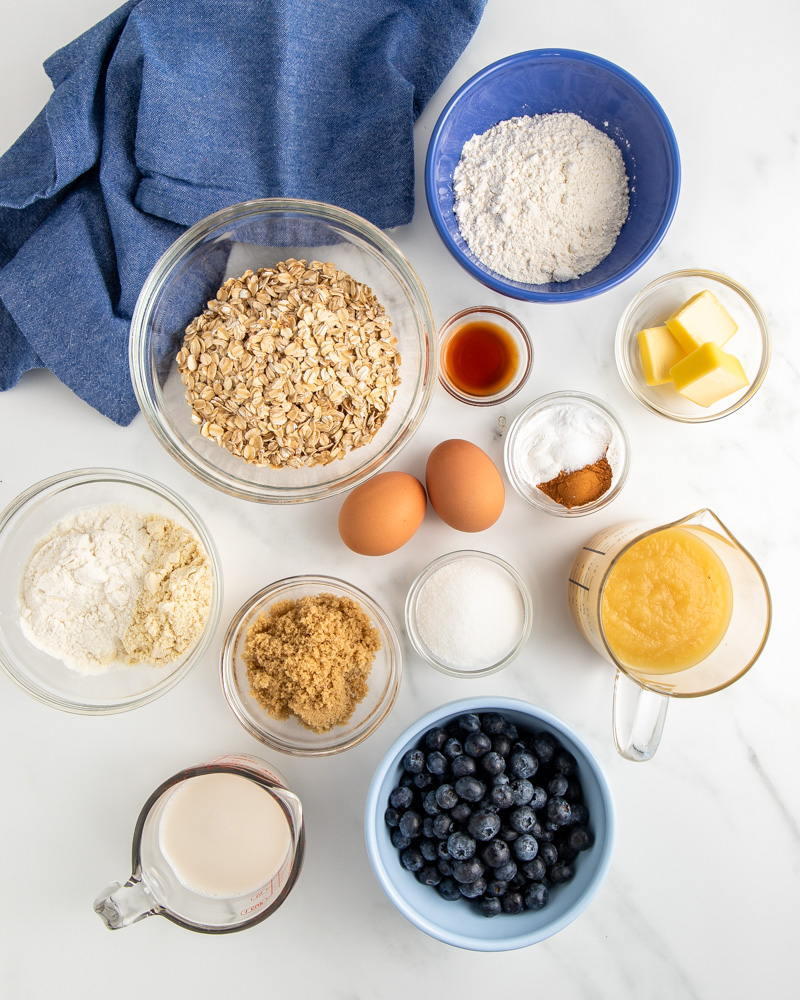 Ingredients & Substitutions
Here's what you'll need to make this recipe. Just a note, the photo of the ingredients you see above includes applesauce, which I ended up swapping out for coconut oil in the final version of the recipe. You can read more about why below!
Rolled oats – Because these oats are soaked in milk before being added to the muffin batter, you can hardly tell there are whole oats in the baked muffins! If you look closely you can see them, but otherwise they meld oh so perfectly with the flour. Other types of oats like quick oats or steel cut oats will behave differently, so I don't recommend swapping this ingredient.
All purpose flour – AP flour helps build baked goods that are light and airy, which is great for tender muffins!
Protein powder – I recommend using a whey/casein blend in this recipe. Whey alone tends to yield a chewy baked product that doesn't rise nearly as much, but it's okay to use in a pinch. Casein alone will suck up too much moisture and result in dry muffins that aren't as tender. You can buy pre-mixed whey/casein blends or just make your own mix.
Baking powder – This gives the muffins a good rise as they cook. They also help make sure they aren't too dense.
Baking soda – Just a little bit helps increase the lift and browning on top of the muffins.
Cinnamon – A little spice and everything nice.
Milk – Use whatever neutral tasting milk you prefer! I used almond milk, which doesn't have a strong flavor. Some non-dairy milks have a really strong flavor or are overly sweet – I'd stay away from those in this recipe.
Eggs – These are the glue that bring the dough together and add a bit of protein too.
Light brown sugar – adds the needed sweetness to the batter with a bit of extra flavor compared to white sugar. It really helps to use sugar here instead of a liquid sweetener to help keep the muffins tender and light.
Butter – By taking the extra time to cream together the softened butter and sugar, you really end up with a great muffin texture. Tender, buttery, and delicious!
Coconut oil – it seems like adding oil would weight the muffins down, but it helps keep them from drying out. You could replace it with applesauce or Greek yogurt, but either one will definitely make the muffins more dense and lead to less rise as they bake. If you don't care about that, give it a whirl!
Vanilla extract – Like salt in a savory dish, vanilla tends to enhance the flavors of a sweet recipe.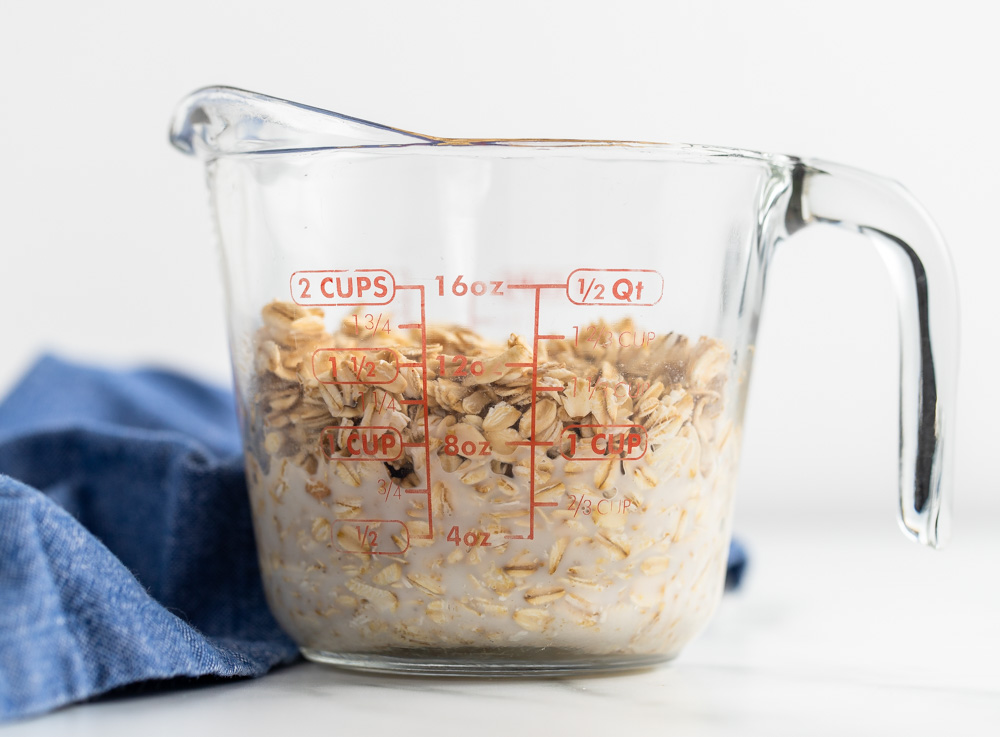 Tips for Success
1. Use softened butter and room temperature eggs in the batter. This will help ensure the ingredients cream together smoothly with no clumping.
2. Take the time to actually cream together the butter and brown sugar with a hand mixer or stand mixer. Tender baked goods starts by beating up on the butter and sugar. It should look creamy, not grainy, when you're done with them.
3. To get the best rise out of these muffins, be sure to soak your oats before adding them to the batter! This helps them absorb moisture and better incorporate into the batter so that you end up with a lighter, more tender muffin. You'd be surprised there are even whole oats in the muffins after they're baked – you can barely see them!
4. The muffin batter should be very thick – much more so than what you might expect! Don't be alarmed. This is another factor that helps make them rise and get a rounded top. That said, if it's looking like cookie dough, add a tablespoon or two of almond milk to loosen it up just a bit.
5. Fill the muffin cups almost all the way to the top – just leave a little room to be able to add the crumb topping without it spilling everywhere.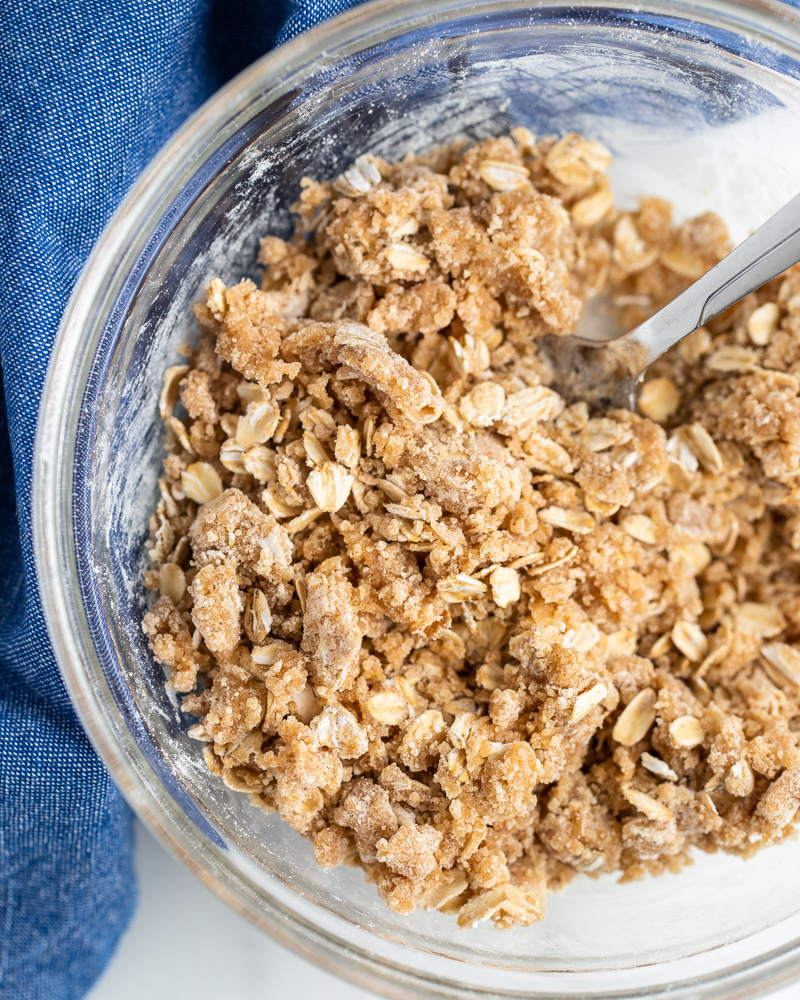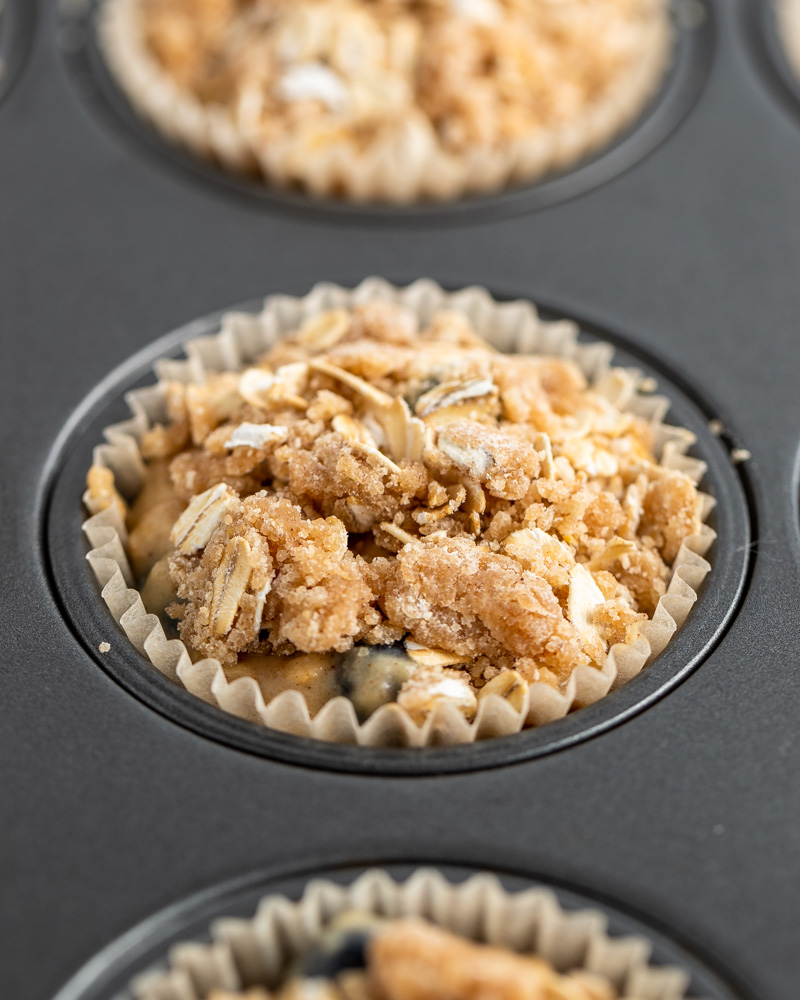 Crumble Topping
I'll be honest, I tried to figure out if the topping I made for these muffins was actually a streusel or a crumble. But that involved math and really just didn't seem worth it. Apparently the only difference between the two is the ratio of fat to flour and sugar. Who knew?! Regardless of what it's called, it's delicious and serves as the proverbial cherry on top of these tender muffins.
I like to mix it together with my hands and then use a spoon to help me get it on top of the muffins. Be sure not to overmix – you want the crumbles to still be in tact! Press the crumbs and crumbles down lightly into the muffin batter so it sticks. Here's what you'll need to make it:
Rolled oats – it's great to see the whole oats on top of the muffins, plus a nice texture to complement the crumbles!
All purpose flour – helps hold the butter, sugar, and oats in little balls of deliciousness that crisp up beautifully in the oven.
Butter – be sure to start out with cold butter! It will take a little more time to cut it in with the rest of the ingredients but it will help ensure you end up with a crisp crumble instead of a melty mess on top of your muffins.
Light brown sugar – You need the sweetness, plus the sugar helps crisp up the crumble so it's a delight to bite into.
Cinnamon – add a little warmth and pop of flavor right when you bite into the muffins.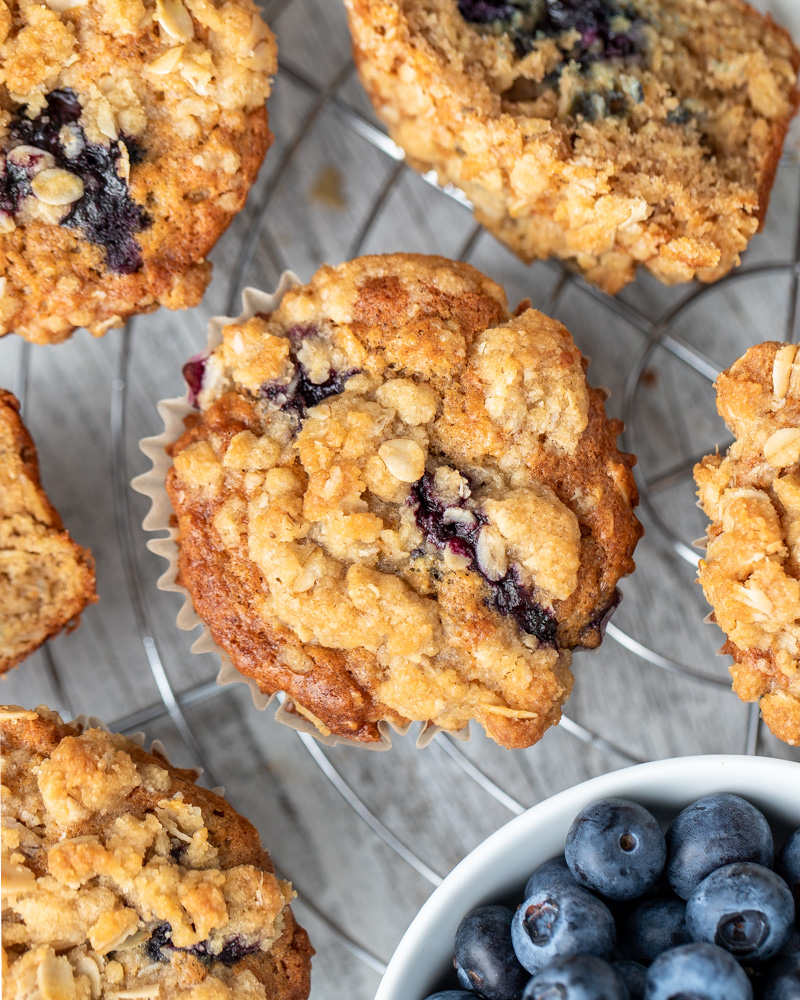 Storage
These muffins will keep their incredible texture for 2-3 days covered on the counter. You can make them last longer (5-7 days) by storing them in the refrigerator. Just be sure to warm them up in the microwave for about 10 seconds before serving so they soften up a bit. You could also leave them to warm to room temperature on the counter before serving.
I haven't tried freezing them myself, but they should freeze well – just remove as much air from their storage container as possible (without crushing the muffins). Thaw them in the refrigerator at room temperature or on the counter before serving.
Shop for this Recipe
Here are some items I used to help make this recipe a success. Note: these are Amazon Affiliate links.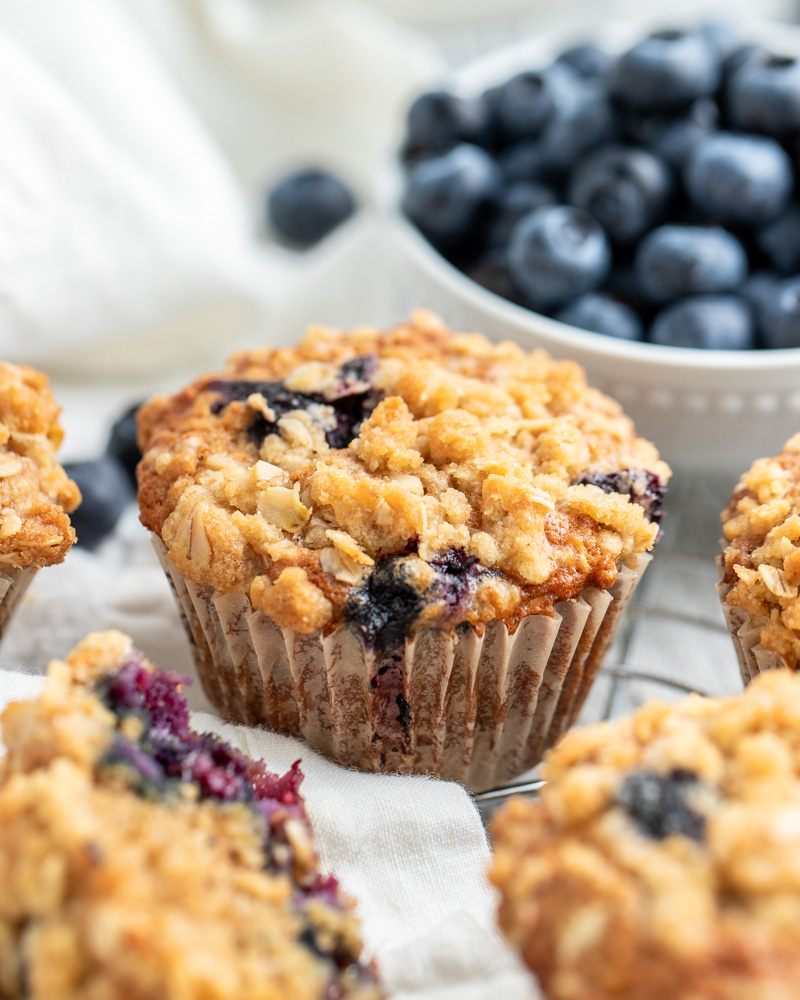 Recipe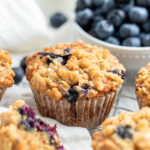 Blueberry Oat Crumble Muffins
Prep Time 20 minutes
Cook Time 20 minutes
Total Time 40 minutes
Servings 14 muffins
Calories per serving 211 kcal
Ingredients
Muffins
1 1/2 cups rolled oats (120 grams)
2/3 cups all purpose flour (84 grams)
1/2 scoop Dymatize Elite Vanilla Casein Protein Powder (17 grams)
1/2 scoop Cellucor Whipped Vanilla whey protein powder (15 grams)
1 tsp cinnamon
1 1/2 tsp baking powder
1/4 tsp baking soda
1/4 tsp salt
1 cup blueberries (160 grams)
1/2 cup unsweetened vanilla almond milk (4 fl oz)
1/3 cup light brown sugar (67 grams)
1/4 cup coconut oil, melted (2 fl oz)
3 tbsp unsalted butter, softened
2 eggs, room temperature (100 grams)
1 tsp vanilla extract
Crumb Topping
1/3 cup brown sugar (67 grams)
3 tbsp unsalted butter, cold (45 grams)
1/3 cup all purpose flour (42 grams)
1/3 cup rolled oats (27 grams)
1/2 tsp cinnamon
Instructions
Make the crumb topping: Add all ingredients to a medium bowl and cut the butter into the mixture using your fingers or a fork. It will take a few minutes for everything to come together, but be patient because it's worth it! Keep the mixture as large crumbles and do not over-mix. Set aside.

Make the muffin batter: Pour almond milk over rolled oats and set aside.

Mix all remaining dry muffin ingredients together and set aside.

Using a handheld or stand mixer fitted with a paddle attachment, beat the butter and brown sugar together on high speed until smooth and creamy, about 2 minutes. Add eggs, one at a time and beat until well combined. Then, with the mixer set to low, slowly add coconut oil until well combined.

Add wet ingredients to dry mixture and mix until just combined. Fold in blueberries, then divide evenly into 14 non-stick baking cups.

Add crumbles to muffins: Using your hand or a spoon, divide the topping among the 16 muffins and gently press into the tops of the muffins so it sticks.

Bake: Bake at 425° for 5 minutes, then lower heat to 350° and bake for 20 minutes or until tops of muffins begin to brown slightly and a toothpick inserted in the center of a muffin comes out clean.
Recipe Notes
Click here or scan the barcode below to log this food in My Fitness Pal.
Nutrition Facts
Blueberry Oat Crumble Muffins
Amount Per Serving (80 g)
Calories 211 Calories from Fat 90
% Daily Value*
Fat 10g15%
Cholesterol 42mg14%
Sodium 63mg3%
Potassium 72mg2%
Carbohydrates 26g9%
Fiber 2g8%
Sugar 11g12%
Protein 5g10%
* Percent Daily Values are based on a 2000 calorie diet.