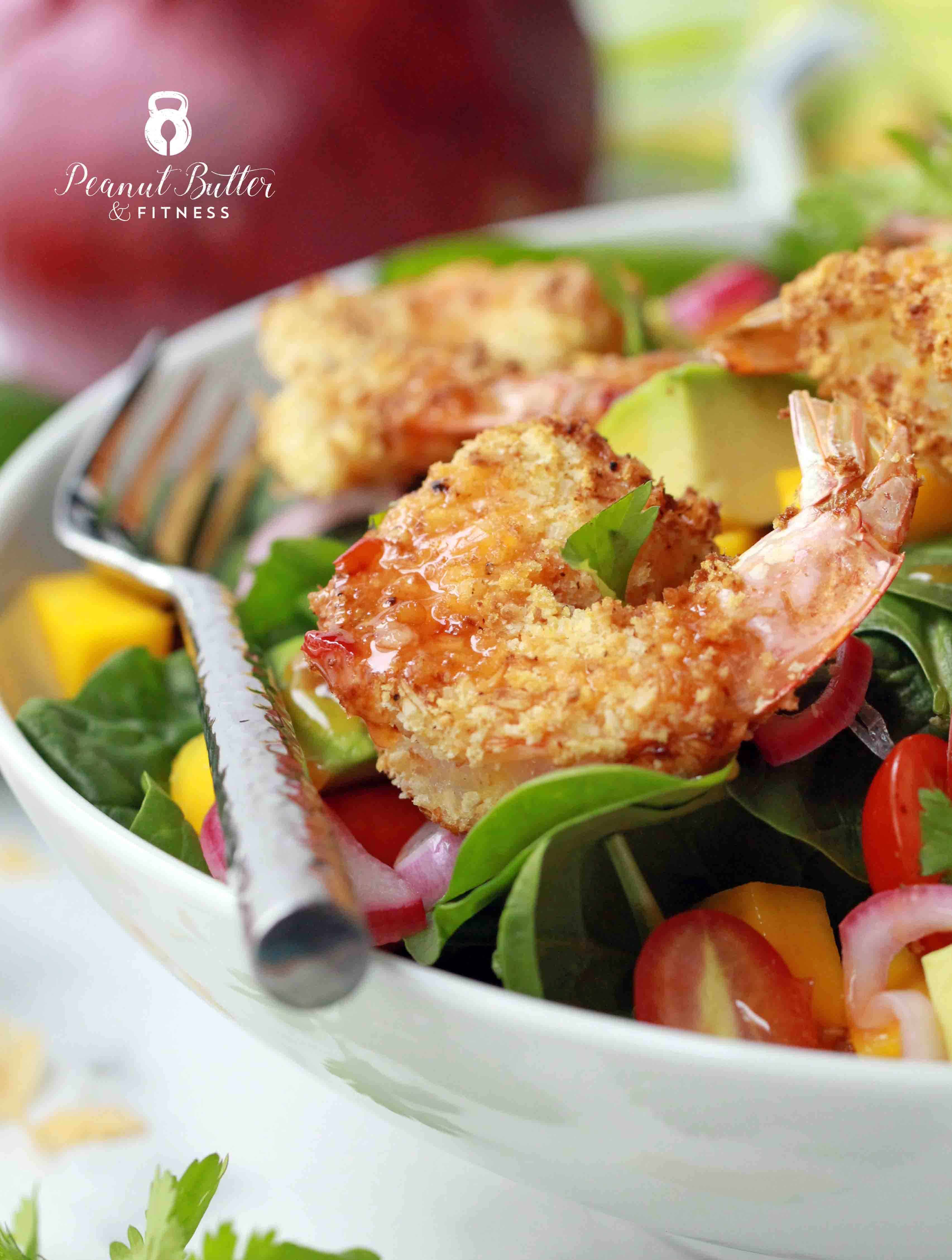 Jump to Recipe
Happy hump day! I'm on a huge summer salad kick lately, and this Air Fryer Coconut Shrimp Salad hits all the high points…fruit? check. Tropical flavors? Check. Fresh to death? Check. And the dressing is both sweet and spicy with an Asian twist thanks to the sweet Thai chili sauce.
I've had a lot of people ask me if getting an air fryer is worth it. To be honest with you, mine sat on my counter hardly used for about a year. But then I decided it was time to make it more than a paperweight and now I can't get enough! I use it to meal prep chicken every week (so juicy), and it's perfect for other fun stuff like these shrimp. The air fryer I use isn't on Amazon anymore, but this one is comparable and highly rated (it's big enough for a whole family…or a big meal prepper like me).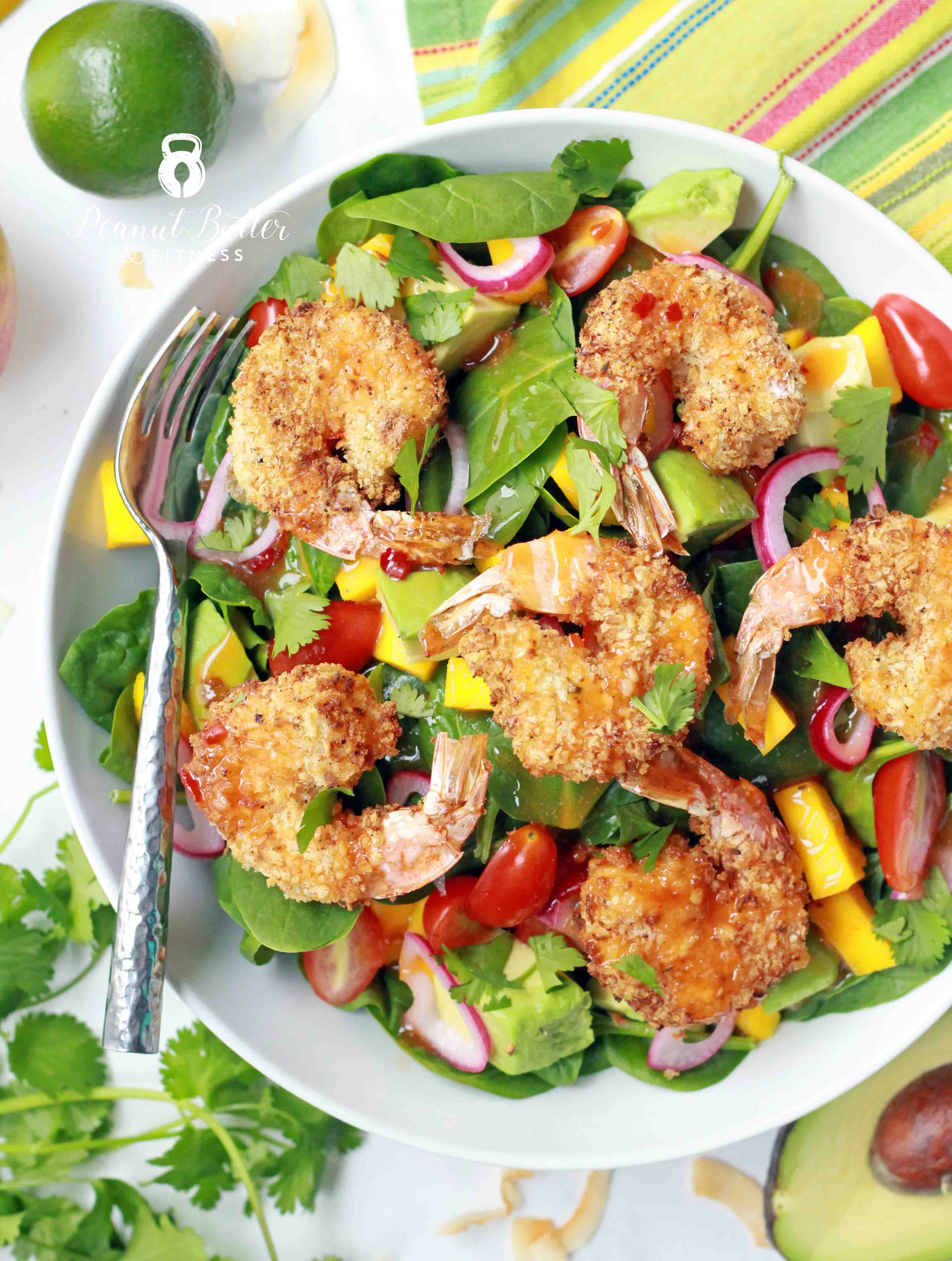 The shrimp come out perfectly crispy and golden brown delicious. Just be sure not to overcrowd them in the air fryer to ensure they get enough air circulating around them. Enjoy!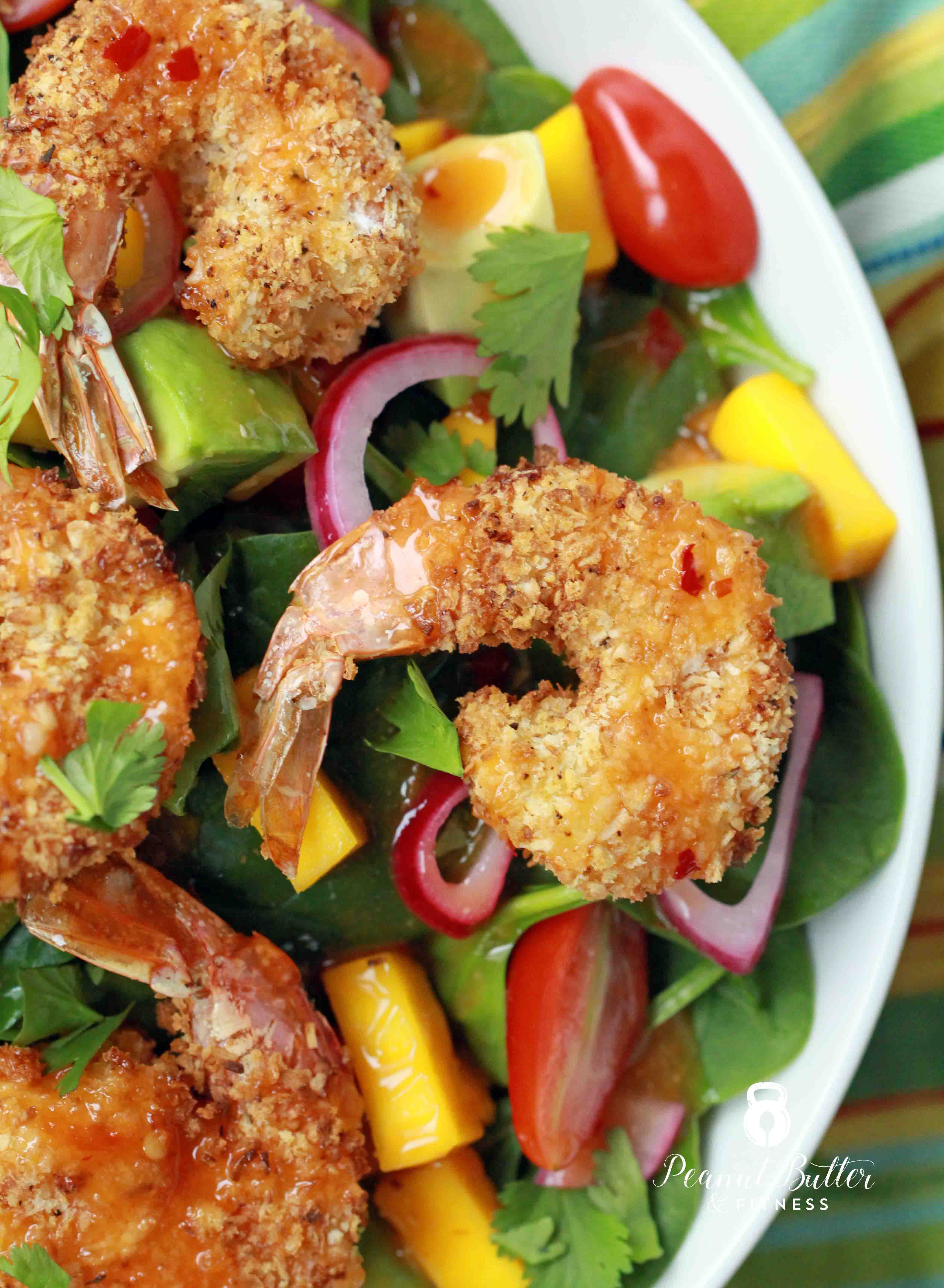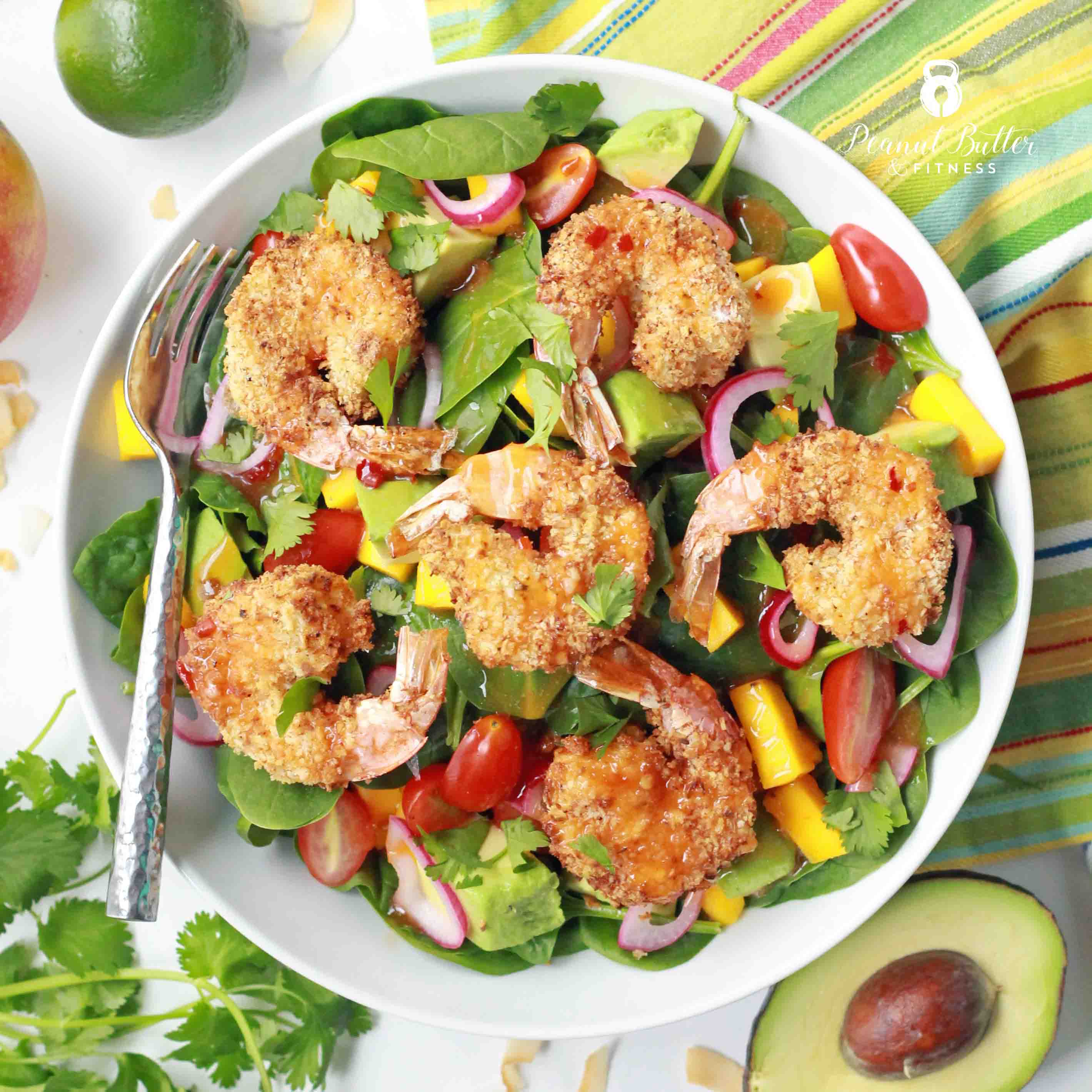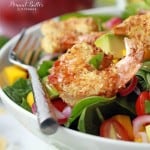 Air Fryer Coconut Shrimp Salad
Prep Time 30 minutes
Cook Time 30 minutes
Servings 6 servings
Calories per serving 402 kcal
Ingredients
Coconut Shrimp
2 lbs extra large shrimp (13-15 per lb), peeled, tail-on
1 cup panko bread crumbs* (56 grams)
1/2 cup finely shreded sweetened coconut* (40 grams)
1/2 cup white whole wheat flour* (60 grams)
2 eggs
1/2 tsp each: salt and pepper
Salad
10 cups baby spinach (325 grams)
2 medium mangos, peeled and chopped (650 grams)
2 small avocados, peeled and chopped (225 grams)
1 1/2 cups cherry tomatoes, halved (225 grams)
1/3 cup pickled red onion – recipe below (45 grams)
1/4 cup cilantro, chopped (5 grams)
Sweet Chili Dressing
1/4 cup sweet Thai chili sauce (2 oz)
2 tbsp lime juice (1 oz)
2 tbsp coconut milk (1 oz)
Instructions
Whisk dressing ingredients until combined, set aside.

Assemble base of salad with spinach, mango, avocado, tomatoes, pickled red onion, and cilantro. Set aside in refrigerator while prepping the shrimp.

Add coconut and breadcrumbs to a bowl and mix until combined. Set aside.

Add flour, salt, and pepper to a separate bowl and mix. Set aside.

Add eggs to a third bowl and whisk. Set aside.

Rinse and dry shrimp on a paper towel, then dip them one at a time into flour, then eggs, then breadcrumb mixture, coating the shrimp completely.

Air fry shrimp at 380 degrees for 7-8 minutes or until breading is golden brown and shrimp is cooked through.

Top salad base with shrimp and dressing and serve.
Recipe Notes
*The nutrition info is calculated using the amount of flour, bread crumbs, and coconut I actually needed to coat the shrimp (30 grams flour, 20 grams coconut, 16 grams bread crumbs), BUT you want to have more than this in the bowls to make breading the shrimp easier.
Nutrition Facts
Air Fryer Coconut Shrimp Salad
Amount Per Serving
Calories 402 Calories from Fat 108
% Daily Value*
Fat 12g18%
Cholesterol 289mg96%
Sodium 431mg19%
Potassium 797mg23%
Carbohydrates 37g12%
Fiber 6g25%
Sugar 22g24%
Protein 37g74%
* Percent Daily Values are based on a 2000 calorie diet.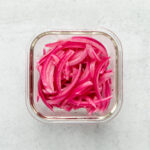 Pickled Red Onion
Prep Time 10 minutes
Total Time 10 minutes
Ingredients
1/2 medium red onion, sliced (100 grams)
1 cup water (8 oz)
1/2 cup apple cider vinegar (4 oz)
2 tbsp sugar (24 grams)
2 tsp salt (10 grams)
Instructions
Microwave water in a microwave safe dish until almost boiling, about 1-2 minutes.

Add sugar and salt to hot water and stir until completely dissolved. Add apple cider vinegar and stir.

Place onion slices in a resealable glass jar and pour pickling liquid over top until onions are covered in liquid.

Refrigerate at least 3 hours or overnight before serving.