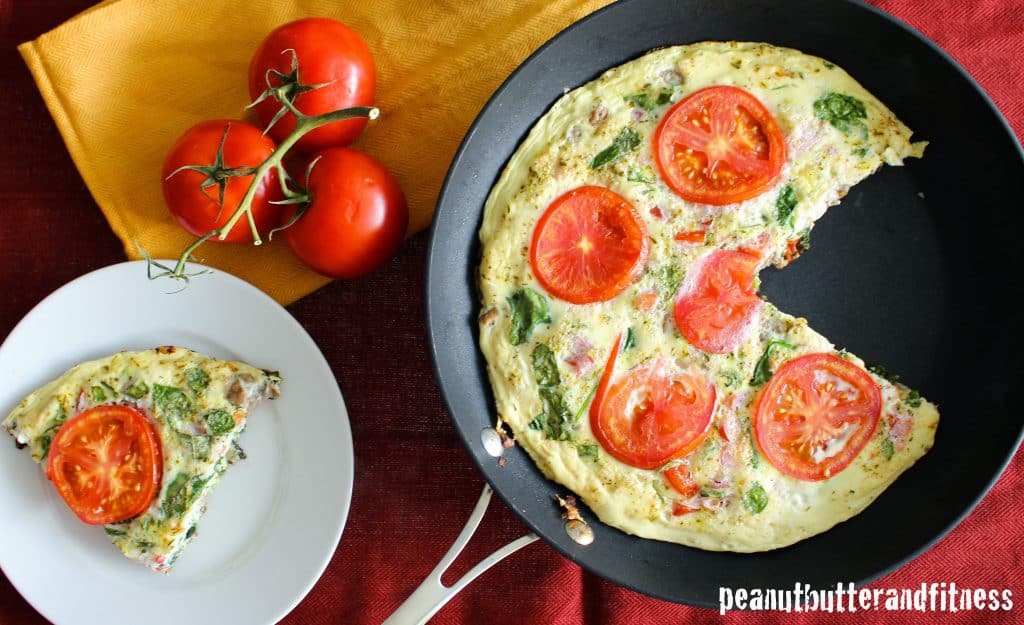 Yay for breakfast! And for breakfasts that look like Pac-Man?
This is a really easy one that you can whip up while you're meal prepping or you can stick it right on the table for brunch.  There's enough turkey sausage in there that you get some in every bite (my favorite part of the frittata).  The basil in there adds some great flavor and it's a nice change of pace for breakfast flavors.  And if you're meal prepping it, all you have to do is throw a slice in the microwave to heat it up, eat and run!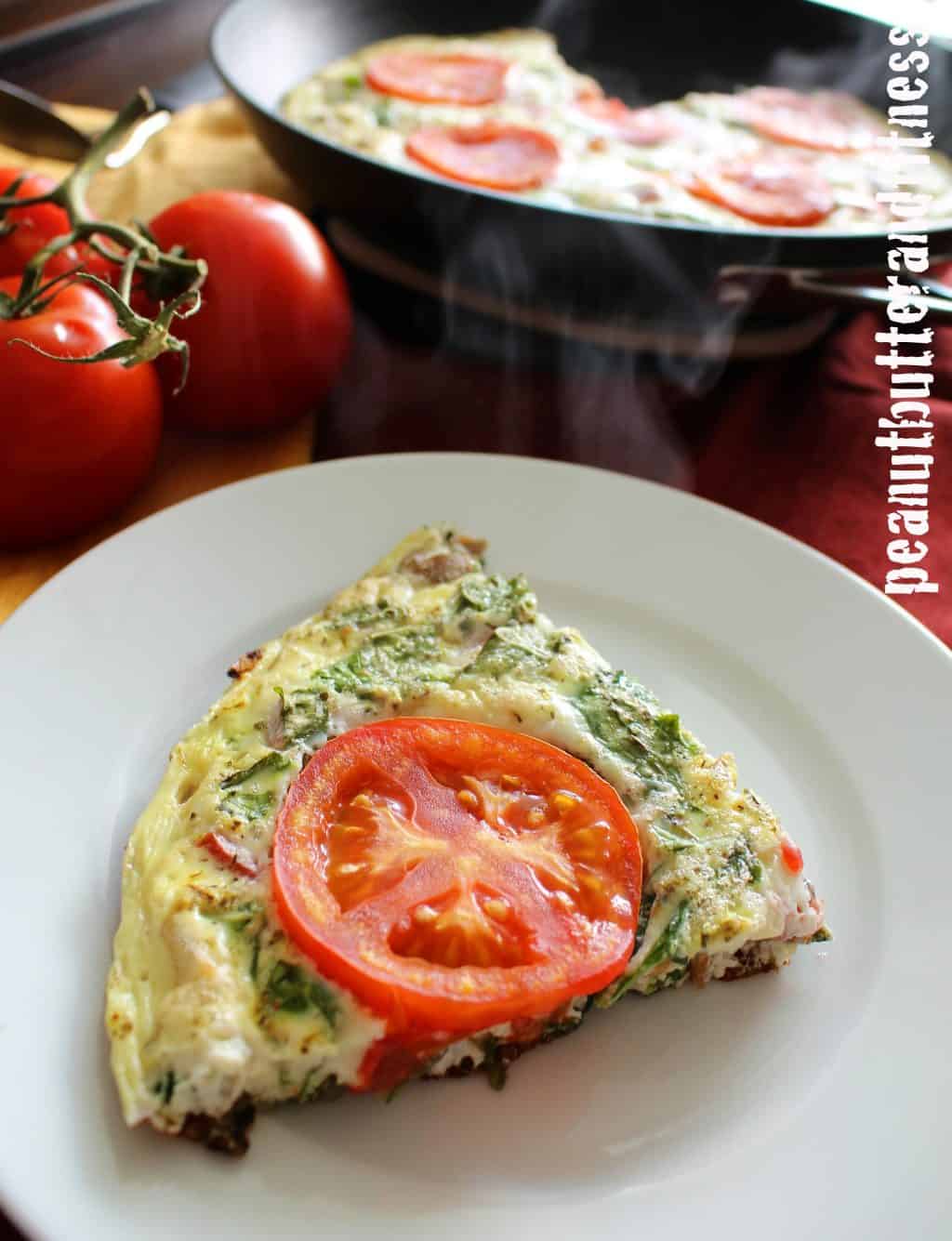 Look at that beautiful steam! Makes me want to eat more…the tomatoes on top might have been overkill, but they look pretty if nothing else.  If you've gotta have cheese on your frittata, my bet is that some buffalo mozzarella would be amazing on here.  Just mix it in or put some slices on top before you put it in the oven.
I cooked mine just a little bit longer than what you see here before putting it in the oven to bake.  Just the very top was still runny at that point.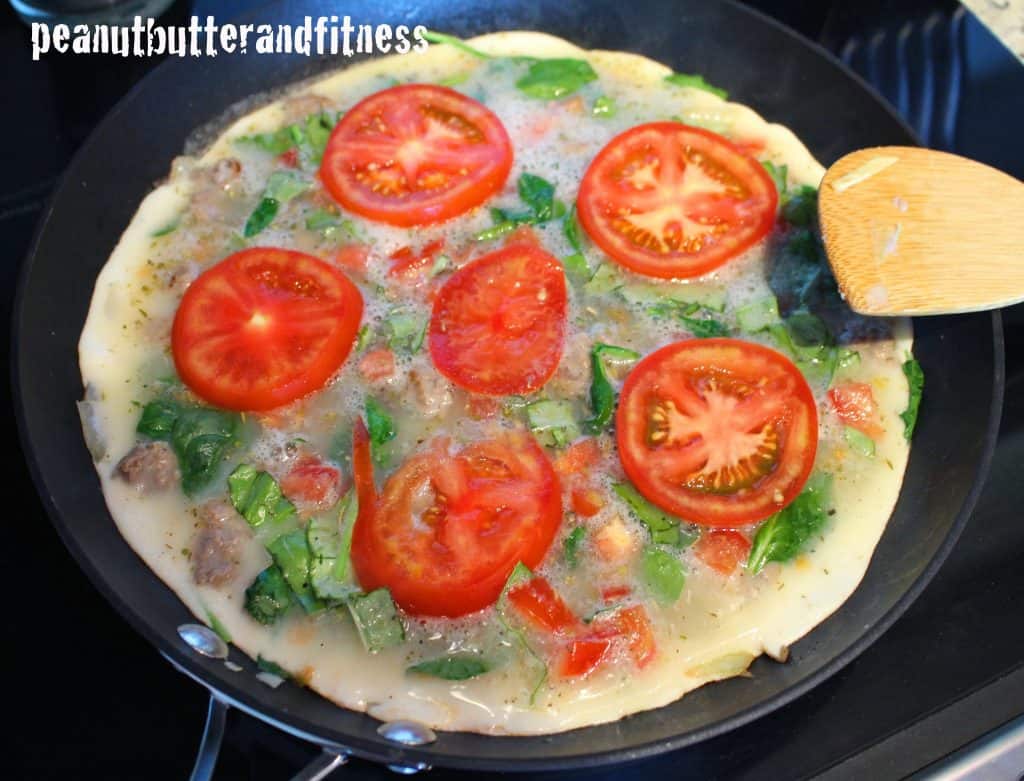 Tomato, Basil and Spinach Egg White Frittata
Servings: 5 • Calories: 131 • Fat: 5 g • Protein: 17 g • Carbs: 6 g • Fiber: 1 g • Sugar: 1 g • Sodium: 404 mg • Cholesterol: 28 mg
Ingredients:
1.5 cups Egg Beaters egg whites
8 Jennie-O breakfast turkey sausage links, casings removed
2 medium tomatoes, 1 sliced and 1 chopped
2 cups baby spinach
1/2 cup chopped onion
1/4 cup chopped basil
1/2 tsp oregano
1 tsp olive oil
Salt and black pepper to taste
Directions:
Whisk egg whites with black pepper, salt and oregano.  Mix in diced tomato and chopped basil.  Set aside.
Pre-heat oven to 400 degrees.
Heat a 10 inch oven safe skillet over medium-high heat.  Add olive oil, then sauté onion for 1-2 minutes until fragrant.  Crumble turkey sausage over onions and continue cooking until sausage is cooked through.  Mix in spinach until it is just wilted.
Lower heat to medium-low.  Ensure sausage, onions and spinach are spread evenly in the skillet, then pour egg mixture over top.
Once the edges of the eggs begin to set, add tomato slices on top.  Continue cooking for 6-8 minutes until edges are set and the top is slightly runny.
Bake on 400 degrees for 8-10 minutes or until frittata is completely set and cooked through.