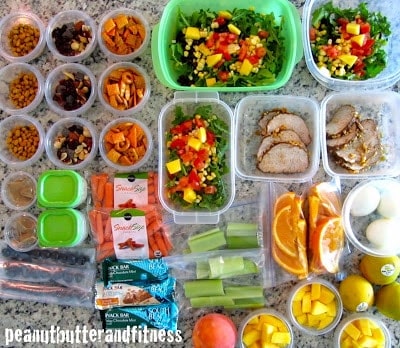 So last night I made my overcooked Island Pork Tenderloin and arugula salad. I wasn't planning on having leftovers, but since it was flooding all over downtown Miami/Brickell, my friends couldn't make it over without kayaks. Which they couldn't fit in their apartments in the first place. Maybe it was for the best since it was overcooked and I had an appetizer fail 🙁 Oy. Anyway, I couldn't let the leftovers go to waste, so meal prep here I come!


What I've got here:
4 slices pork tenderloin (x2)

Arugula salad with black beans, corn, tomato, and mango (x3). I'll add the avocado at work.

I've got some chicken breast with Mango Jerk seasoning leftover at work (not pictured, obvi)

Cheddar Chex Mix

Trail mix

Barbeque soy nuts – OMG these are awesome

Carrots and fat-free ranch dressing

Celery and peanut butter

South Beach Diet snack bars

Mango

Orange slices

Peach

Mango-nectarines

Hard boiled eggs

Brookside Dark Chocolate covered acai/blueberry
Like I said before, working nights is all about curbing cravings for me. Hence the snacks, not all of which are exactly healthy, but I gotta do what I gotta do. Now, time for me to go off the grid for 3 days!