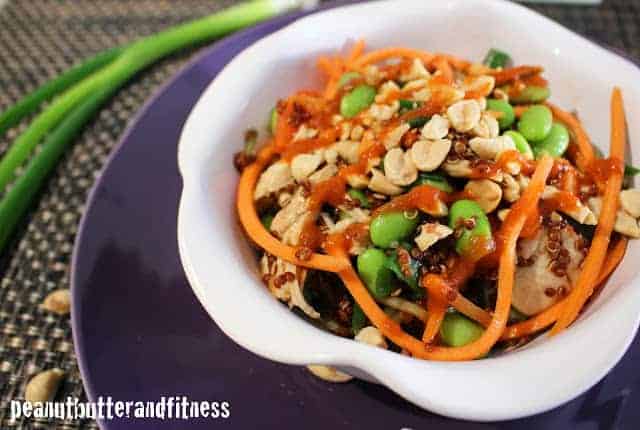 Here's a quick and easy dinner…I got the inspiration for this from the ladies over at Busy Girls Eat Clean, they've got some great stuff on Instagram. I stole the recipe for their sauce but put the ingredients I wanted into the bowl. I've been feeling like I'm dragging a bit lately no matter how much sleep I manage to get 🙁 This bowl is full of nutrition and has a good kick at the end with some Sriracha, so here's to some energy!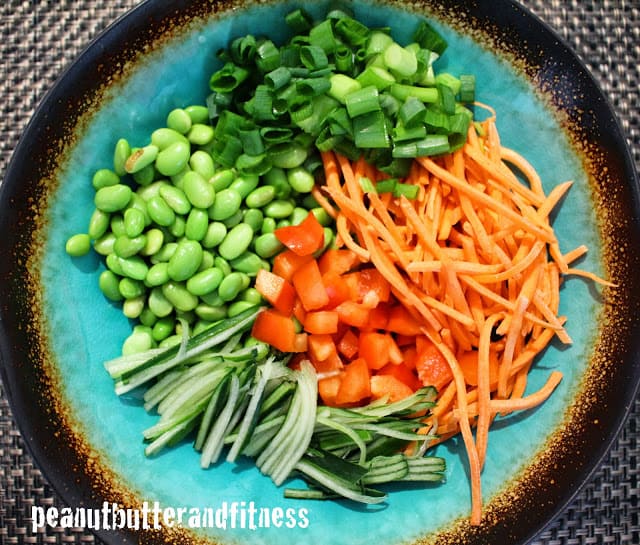 Thai Chicken Power Bowl
Yield: 3 servings • Calories per serving: 310 • Fat: 8 g • Protein: 35 g • Carbs: 25 g • Fiber: 5 g • Sugar: 7 g • Sodium: 676 mg • Cholesterol: 66 mg
Ingredients:
1 1/2 pounds thin sliced chicken breast
1/4 cup diced red bell pepper
1/2 cup edamame
1/2 cup matchstick carrots
1/4 cup julienned cucumber
1/4 cup chopped green onion
1/4 cup dry red quinoa, cooked according to package directions
2 tbsp seasoned rice vinegar
2 tbsp low sodium soy sauce
1 tbsp PB2
2 packets Truvia
1/4 cup crushed peanuts
1 tsp Sriracha sauce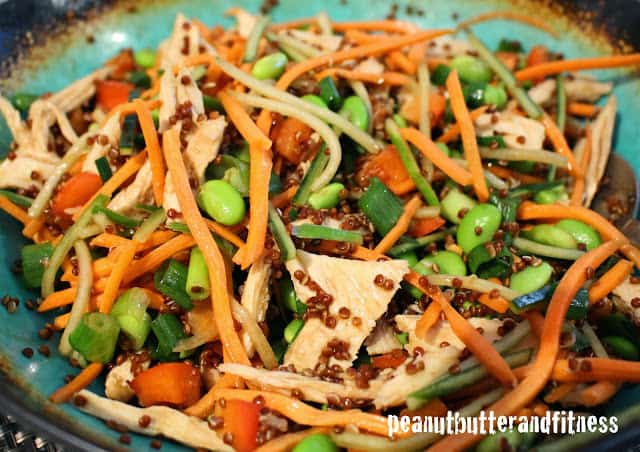 Directions:
Cook quinoa according to package directions. Set aside.
Grill and shred the chicken breasts. Set aside.
Toss the red bell pepper, edamame, matchstick carrots, cucumber, green onion, quinoa and chicken in a large bowl.
In a sauce pan, whisk together rice vinegar, soy sauce, PB2 and Splenda over medium heat for 4-5 minutes.
Pour the sauce over the other ingredients and toss.
Top with Sriracha sauce and crushed peanuts.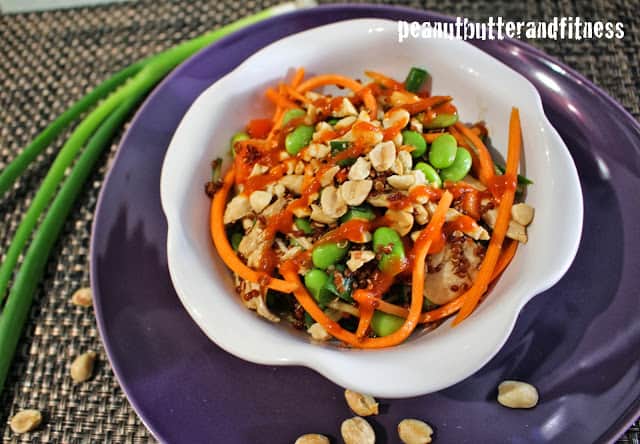 I usually find edamame in the Asian salad section (with the alfalfa sprouts and tofu) but they were all out of fresh this time, so I just thawed some frozen edamame and stuck it in the microwave for about 45 seconds. As for the cucumber, you could dice it up instead of julienned but I'm a big texture person and I can't stand big chunks of cucumber! Now, time for my pre-night shift nap…