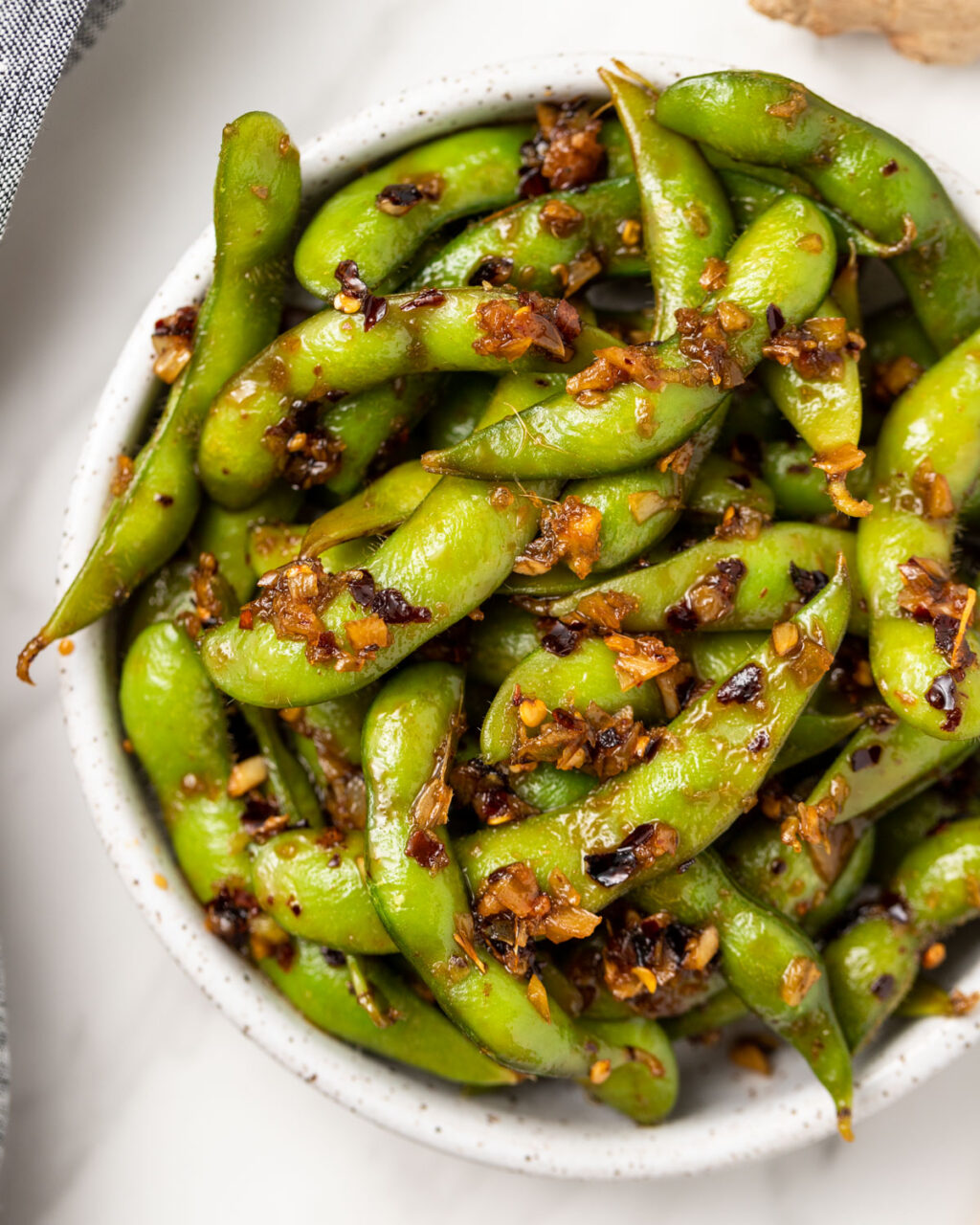 Over here at PBF, I've been working hard on a high protein snack roundup and this Sweet & Spicy Garlic Edamame has definitely earned a spot at my table! I'm always a sucker for an edamame appetizer at restaurants, but for some reason I always forget how easy it is to make at home. It's one of those apps that's a fun experience to eat, rather than just something to shove in my mouth to hold me over until dinner. I highly recommend enjoying this one with family and friends…they'll be raving about it for weeks to come 😉
Ingredients and Substitutions
Here's what you'll need to make this Sweet & Spicy Garlic Edamame at home:
Frozen edamame – Be sure to get the kind that's still in their shells! I'm specifying frozen edamame here because 1) it's super easy to find, and 2) it's already partially cooked and really just needs to be heated up. I stuck mine in boiling water for about 5 minutes to do that, then drained them really well before sticking them in the sauce. Be sure to drain them well so that the sauce doesn't just slide right off – the heat from boiling them will help and you can even stick them back in the hot (dried out) pot and toss them around to evaporate the water more quickly.
Garlic – I know some of you are going to look at the number of garlic cloves versus edamame and say "that's not enough!" You do you, but I personally didn't want the garlic to completely overpower the other flavors here. Either way, be sure to mince it up finely for even distribution on the edamame pods.
Ginger – Not absolutely necessary in this recipe, but I added a touch to help build the flavor and push it into the Asian inspired realm a bit more.
Light brown sugar – You don't need a ton of sugar to get a hint of sweet on the edamame, but you do need enough to make things a little bit sticky! I prefer brown sugar in this recipe to alternatives like honey or maple syrup because it does stay pretty sticky even when hot – and you need that to help keep the red pepper flakes and garlic sticking to the edamame shells. You can definitely use honey or maple syrup as alternatives, but you might want to also whip up a little corn starch slurry to achieve optimal stickiness 😉 Dark brown sugar will also work, but I was looking for less of the molasses flavor than that would lend.
Soy sauce – Soy sauce helps you achieve a couple things in this recipe: first, it has a deep flavor that brings both umami and salt content to the beans; and second, the way it's used in the recipe actually helps to melt the brown sugar. Some of the water content will boil off, leaving you with an even more concentrated and yes, sticky sauce.
Oil – I used a combination of olive oil and sesame oil here. I didn't want to use all sesame oil because the flavor can be really strong and overpowering, but I did want at least a touch of it. The second oil can be whatever you usually cook with (as long is it's relatively neutral tasting!), whether that's vegetable oil, avocado oil, coconut oil, etc.
Red pepper flakes – Obviously the red pepper flakes are what bring the spice to the party. By sizzling the flakes off in hot oil, you help cut down the heat in the flakes themselves and spread it out into the oil so that you get a more even spice throughout the edamame eating experience. I'd describe the spice level as the recipe is written as medium…you can definitely add more spice if you love the heat, or take a little away if you don't want them to be too hot.
Salt – Although the soy sauce does bring a bit of salt to the recipe, you do need more for serving to really make those flavors pop. Don't be shy about adjusting the level of seasoning to your taste!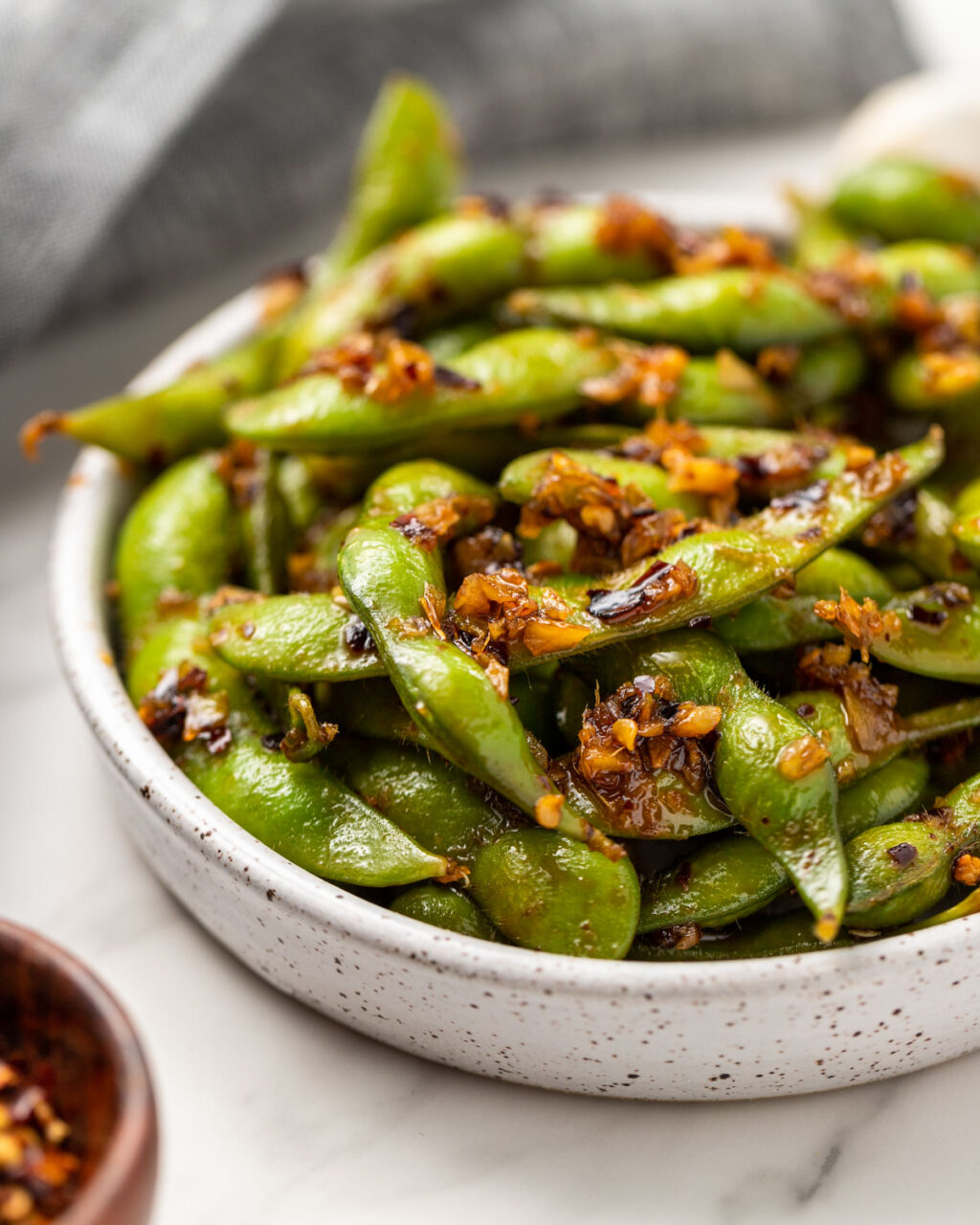 Shop for this Recipe
Here are some items I used to help make this recipe a success. Note: these are Amazon Affiliate links.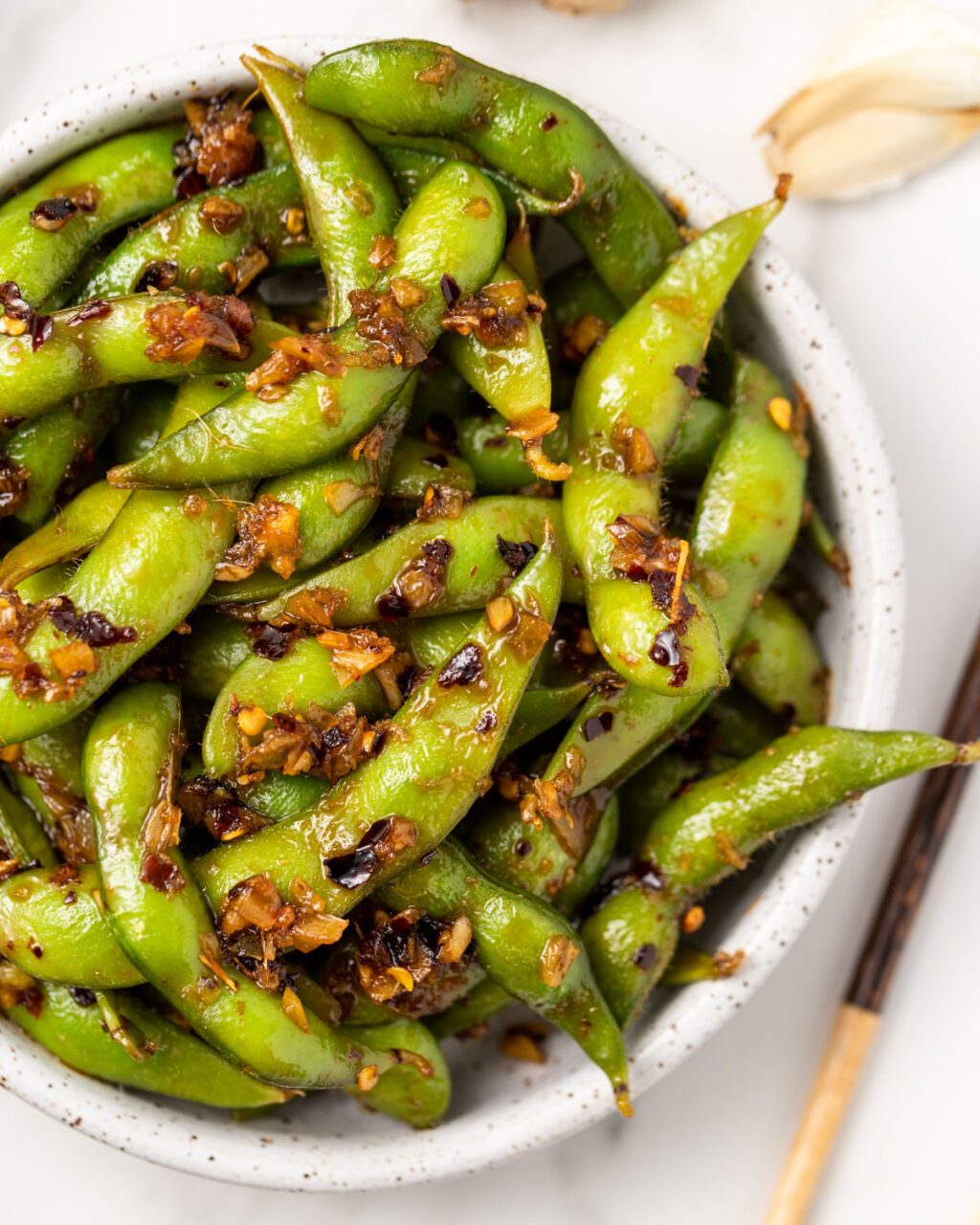 Sweet & Spicy Garlic Edamame Recipe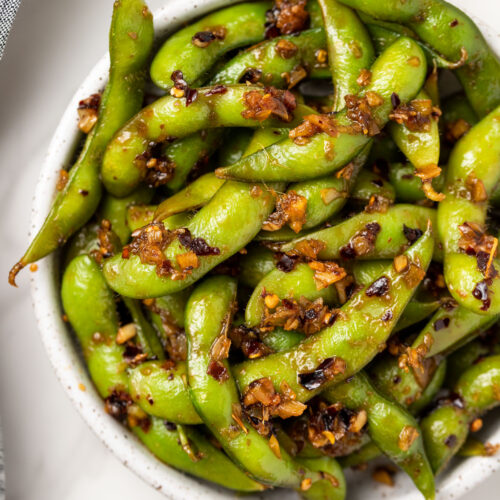 Sweet & Spicy Garlic Edamame
Servings:
servings (1/2 cup per serving)
Ingredients
16

oz

frozen edamame in shells

4

cloves

garlic, minced

,

(16 grams)

2

tbsp

light brown sugar

,

(24 grams)

2

tbsp

low sodium soy sauce

,

(1 fl oz)

1

tbsp

fresh grated ginger

1/2

tbsp

olive oil

1

tsp

sesame oil

1

tsp

red pepper flakes

1/2

tsp

salt
Instructions
Cook edamame according to package directions. I boiled mine in salted water for about 5 minutes (2-3 minutes less than the directions called for) before draining. Set aside.

Heat a sauté pan over medium heat, then add olive oil and sesame oil until shimmery and hot. Add garlic and red pepper flakes, sautéing until fragrant, about 1-2 minutes. Add brown sugar, soy sauce, and ginger, whisking until the sugar is melted.

Add cooked edamame to the pan and toss until coated. Season generously with salt to taste.

Serve immediately. Refrigerate any leftovers in a covered container for up to 2-3 days.
Tips & Tricks
Click here or scan the barcode below to log this food in My Fitness Pal.
Nutrition Information
Calories:
119
kcal
(6%)
,
Carbohydrates:
11
g
(4%)
,
Protein:
8
g
(16%)
,
Fat:
5
g
(8%)
,
Sodium:
386
mg
(17%)
,
Potassium:
372
mg
(11%)
,
Fiber:
4
g
(17%)
,
Sugar:
6
g
(7%)