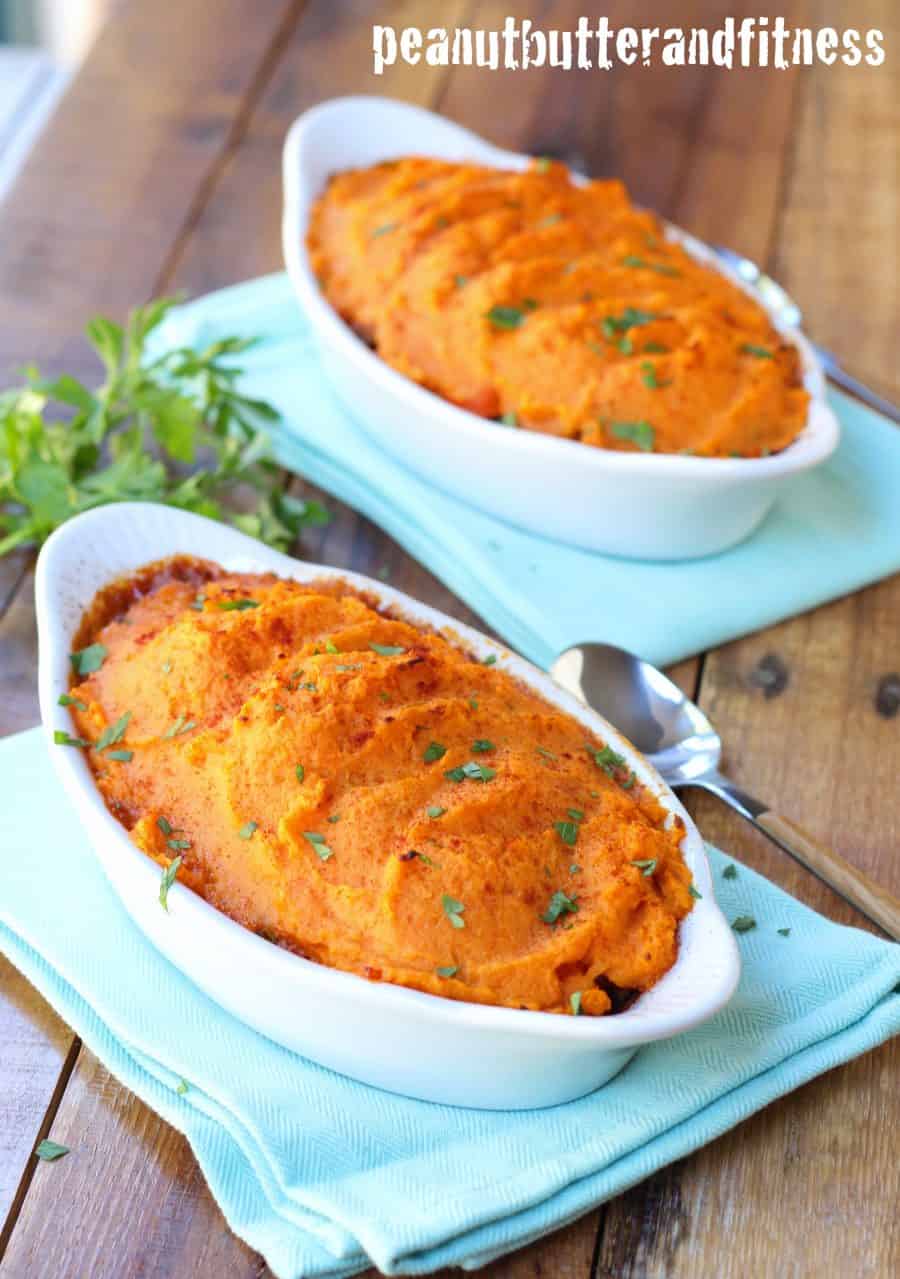 I love me some shepherd's pie…so cozy and delicious, plus you can't beat one dish meals.  I swapped out white potatoes for sweet potatoes for an added nutrition kick and limited the butter and salt to make this classic dish a little healthier.  You could even use ground turkey instead of beef if you want to cut out even more fat and cholesterol.  If you're one of those primal eaters and have something agains peas and corn, just sub them with chopped bell pepper and celery or some other veggie of your choice.  So easy and just in time for cooler weather.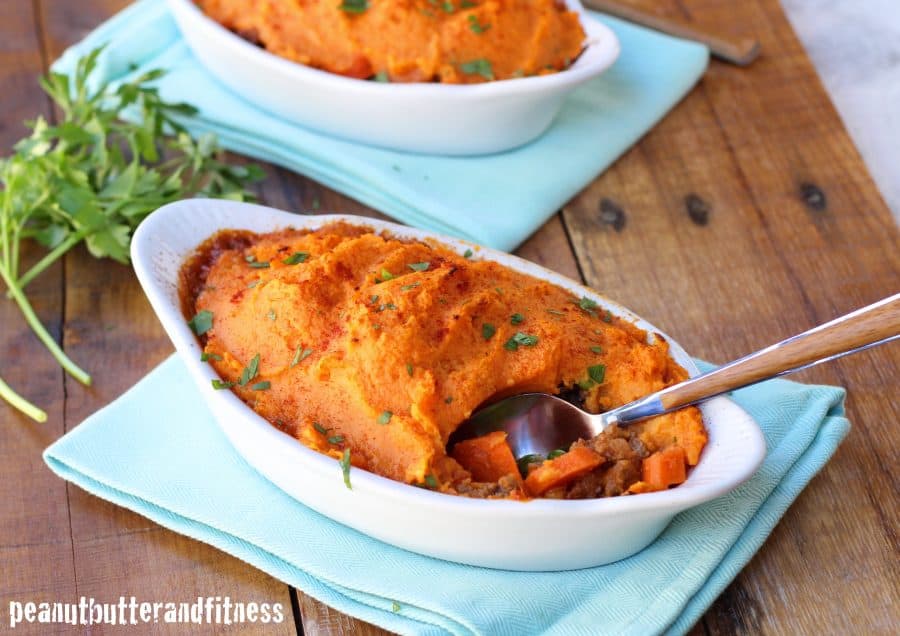 I found these cute little baking dishes and spoons at Cost Plus World Market, but if you don't have one around or can't find something similar, you could splurge on 6×4″ Pillivuyt dishes, Fiesta mini-casserole dishes or just use some classic ramekins like these.  Individually baked servings make meals more fun and then everyone gets to enjoy the crusty bits around the edges of the dish (which I happen to love when it comes to casseroles).
Sweet Potato Shepherd's Pie
Yield: 4 servings • Calories per serving: 357 • Fat: 12 g • Protein: 28 g • Carbs: 34 g • Fiber: 6 g • Sugar: 11 g • Sodium: 257 mg • Cholesterol: 70 mg
Ingredients:
1 lb grass fed 93/7 ground beef
3 medium sweet potatoes, peeled and cubed
3 medium carrots, chopped
2/3 cup frozen corn kernels
2/3 cup frozen peas
1/2 medium onion
1 cup low sodium beef stock
3 tbsp no salt added tomato paste
1 tbsp ghee, divided
1 tbsp Worcestershire sauce
1/2 tbsp arrowroot flour (or cornstarch)
1 tsp garlic powder
1/2 tsp chili powder
Salt and pepper to taste
Fresh parsley for garnish
Directions:
Bring potatoes to a boil in salted water and continue to boil for 10-12 minutes or until very tender.  Drain water and mash potatoes until smooth, using some almond milk or coconut milk to help mash if needed.  Set aside.
In a large pan with sides at least 2″ high, melt 1/2 tbsp ghee over medium-high heat.  Sauté onion until fragrant, then add beef and season with salt and pepper as desired.  Break beef apart with wooden spoon as it cooks.  After 2-3 minutes of cooking the beef, add carrots, tomato paste, Worcestershire sauce and spices.  Once beef is nearly cooked through, turn heat to medium low.
In a small pan, melt remaining ghee over medium high heat and bring it to a bubbling boil.  Add arrowroot flour slowly while whisking the butter.  Once the roux is smooth, slowly add beef stock while continuing to whisk.  Pour entire mixture into the large pan with the beef and stir to combine.
Bring the mixture barely to a slow boil, then simmer for 3-5 minutes or until liquid begins to thicken.  Remove from heat and pour into 4 individual, greased ramekins or 1 large baking dish.  Top beef mixture with mashed potatoes and smooth out evenly.  Season with smoked paprika if desired.
Pre-heat oven to broil.  Arrange ramekins or baking dish on a larger baking sheet to catch any drippings, then broil for 5-7 minutes or until potatoes begin to brown.
Serve with chopped fresh parsley to garnish.