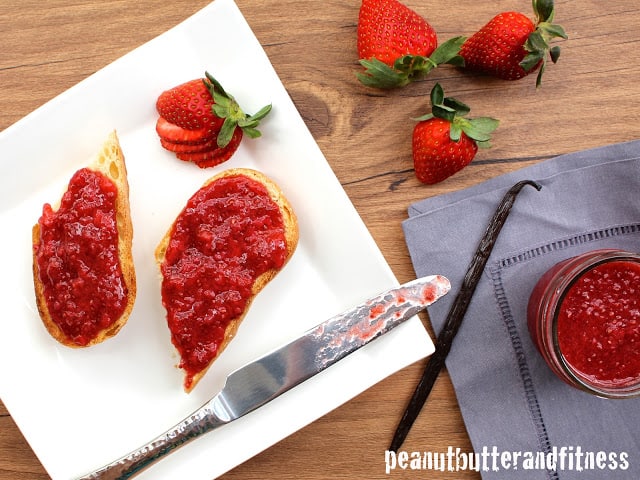 First of all, let me just say that this is not your everyday strawberry jam…I may have even described this jam to someone as "slap yo mama good" (sorry Mom!).  It's just really good and the vanilla beans add an amazing flavor complexity that complements the strawberries perfectly.  It's sweet, but not overly sweet and best of all…it's healthy and all natural!
If you want to compare, how much healthier this is versus your average store brand, here's how it stacks up to Smucker's Strawberry Jam (Strawberry Preserves have the same nutrition info):
Smuckers – 2 tbsp serving = 100 cals, 26 g carbs, 24 g sugar
Smuckers low sugar – 2 tbsp serving = 50 cals, 12 g carbs, 10 g sugar
Mine – 2 tbsp serving = 29 cals, 7 g carbs, 5 g sugar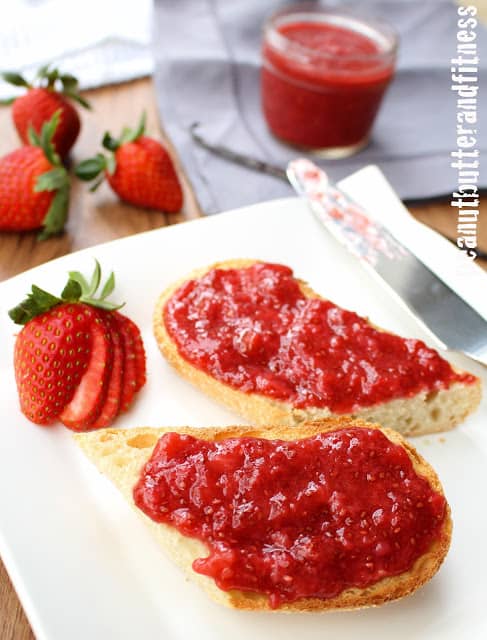 So recently I decided that I needed to finally try out real vanilla beans in my recipes.  If you've ever seen them in the store, you probably had sticker shock and just moved right along and instead bought vanilla extract (or the worst of them all, imitation vanilla).  I'm here to tell you, they are actually really awesome, totally worth it and a little bit of vanilla beans go a long way (plus you can use the bean pods to add flavor even after they're empty!).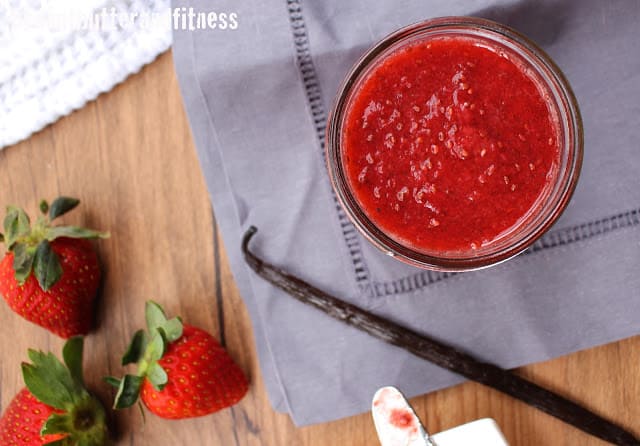 Anywho, I bought my vanilla beans on
Amazon
 (10 beans for $16.95) because the Safeway I usually go to doesn't exactly specialize in cool foods like vanilla beans.  If you're a Whole Food-er, you probably should just get your vanilla beans there.  Either way, be sure to get beans that are moist-looking and pliable (I can vouch for the ones in the Amazon link), otherwise getting the beans out of them will be a bitch and the flavor will not be what it should.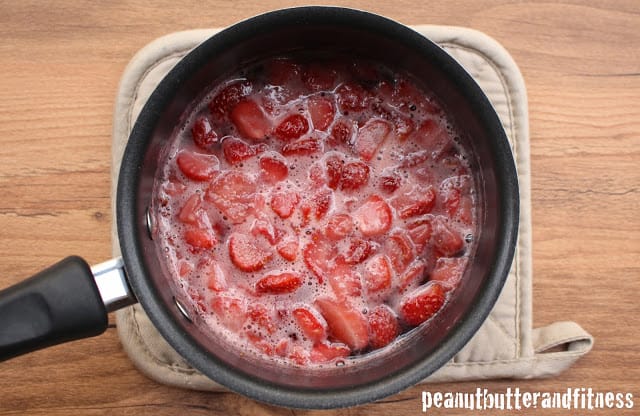 I used a mixture of frozen whole strawberries and chopped fresh strawberries in my jam…partly because fresh strawberries are not cheap and partly because when frozen, unsweetened strawberries thaw out they already are broken down a little bit – perfect for jam.
Strawberry Vanilla Chia Jam
Yield: 2 cups / 16 servings • Serving size: 2 tbsp • Calories per serving: 29 • Fat: 0 g • Protein: 0 g • Carbs: 7 g • Fiber: 1 g • Sugar: 5 g • Sodium: 1 mg • Cholesterol: 0 mg
Ingredients:
1 cup frozen unsweetened whole strawberries, thawed (measured after thawing)
1 cup chopped fresh strawberries
1/4 cup honey
2 1/2 tbsp water
4 tsp chia seeds
Vanilla beans from 2″ section of a vanilla bean
Directions:
Add strawberries, honey, water, vanilla beans and an empty vanilla bean to a medium saucepan.  Bring to a boil, then lower heat and simmer for 5-7 minutes.
Allow to cool slightly, then add strawberry mixture to a food processor.  Blend until strawberries reach desired consistency.
Mix in chia seeds and refrigerate overnight before serving.