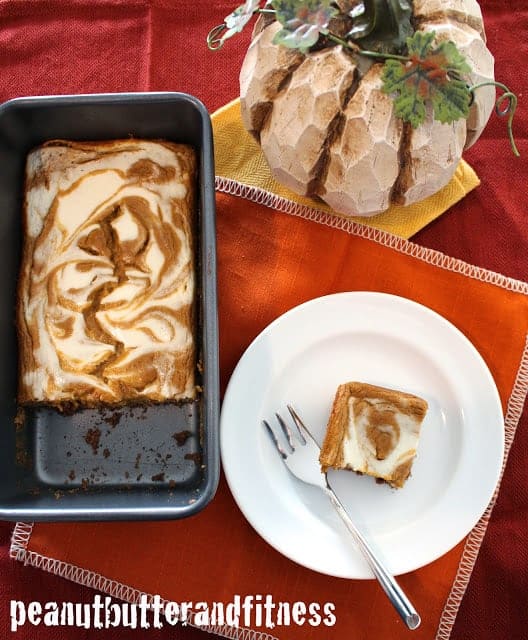 I know, I know…Thanksgiving is over and I'm putting up a pumpkin recipe.  But hey, who says you can't eat pumpkin when Christmas songs are playing on the radio?  Speaking of Christmas, I just got my itty bitty tree out of storage and I'm pretty excited to string some lights around my apartment.  Plus I have an awesome board of Elf movie quotes to hang up, courtesy of my friend Rory.
Ok, back to the pumpkin.  These started out as an experiment to come up with some healthy mini pumpkin cheesecakes but it kind of evolved into these pumpkin pie bars.  Still delicious and I kept the marbled cheesecake top on it, which makes these bars so pretty.  I used pecans for the crust on these and I think it turned out awesome, but you could probably try it out with almonds or walnuts if you prefer those.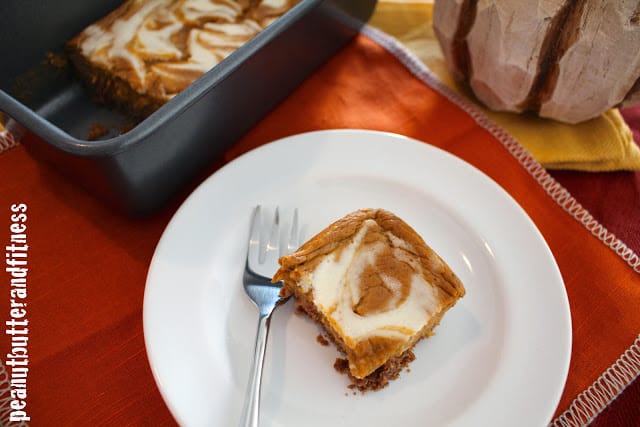 Skinny Pumpkin Pie Bars
Makes 8 bars


Crust Ingredients:
5 tbsp rolled oats
1/2 cup unsalted pecans
1 tbsp pure maple syrup
1 tbsp unsweetened applesauce
1 tsp cinnamon
1/2 tsp McCormick's vanilla and nut butter flavor
1 tsp Splenda baking blend sugar
Pinch of salt
Filling Ingredients:
2/3 cup pumpkin puree
1/4 cup fat free cottage cheese
1 tbsp plain non-fat Greek yogurt
1 1/4 tsp pumpkin pie spice
Pinch of nutmeg, ginger and cinnamon
3 tbsp Splenda baking blend sugar
1 tbsp vanilla protein powder
3 tbsp oat flour (I just milled 1/4 cup of rolled oats for this)
1 tsp vanilla extract
2 egg whites
3/4 tsp baking powder
Topping Ingredients:
2 tbsp plain non-fat Greek yogurt
1/2 tbsp Splenda baking blend sugar
1/2 egg white
1/8 tsp vanilla extract
Preheat oven to 325 degrees.
In a food processor or Nutribullet, blend rolled oats and pecans for crust until smooth.  Add remaining crust ingredients and mix.
Grease a small baking pan with coconut oil (I used a 8.5″x4.5″ bread pan) and spread crust mixture into bottom.  Set aside.
In a food processor or Nutribullet, blend cottage cheese, pumpkin puree and 1 tbsp Greek yogurt until smooth.  Add remaining filling ingredients and blend until well mixed.  Pour filling on top of crust and smooth top.
In a small bowl, whisk all topping ingredients.  Spoon topping over pumpkin mixture and swirl around with a knife to create a marbled cheesecake look.
Bake at 325 degrees for 1 hour, then increase heat to 350 degrees and bake for about 15 more minutes, being careful not to over-brown the topping.  Allow to cool completely and refrigerate overnight to set before cutting into bars and serving.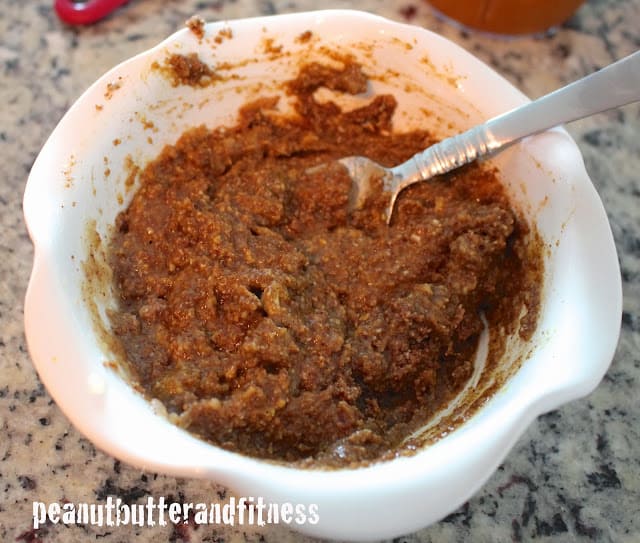 The crust is pretty sticky when you mix it up, I would recommend using a spatula that's been greased with some coconut oil to spread it out in the pan.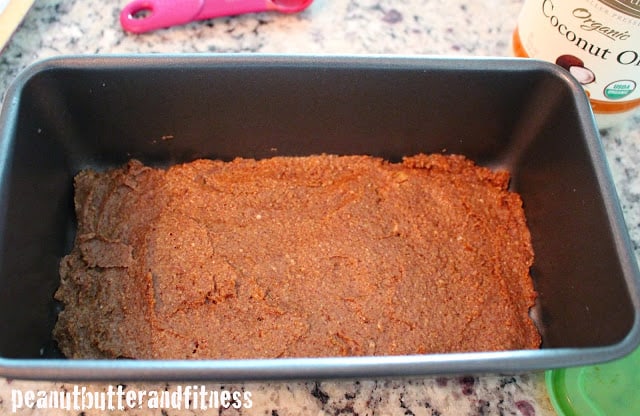 For Turkey Day itself, I made a double batch and put it in an 8×8″ pan.  I actually really like the crusty edges on this so I prefer the smaller pan since every piece gets crusty edges 🙂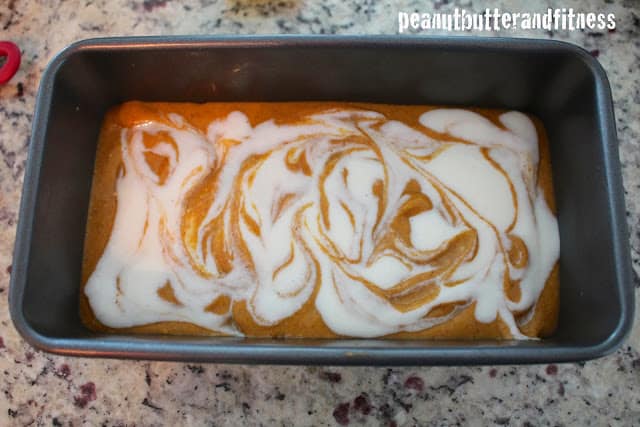 Don't worry if it's not totally smooth after you make the marble swirls with the knife.  It evens out in the oven.  The pictures up top where the top is cracked was from one of my earlier attempts at this recipe, the final version didn't crack like that on top.  I probably should have taken pictures of that one.  Whoops!  Enjoy!