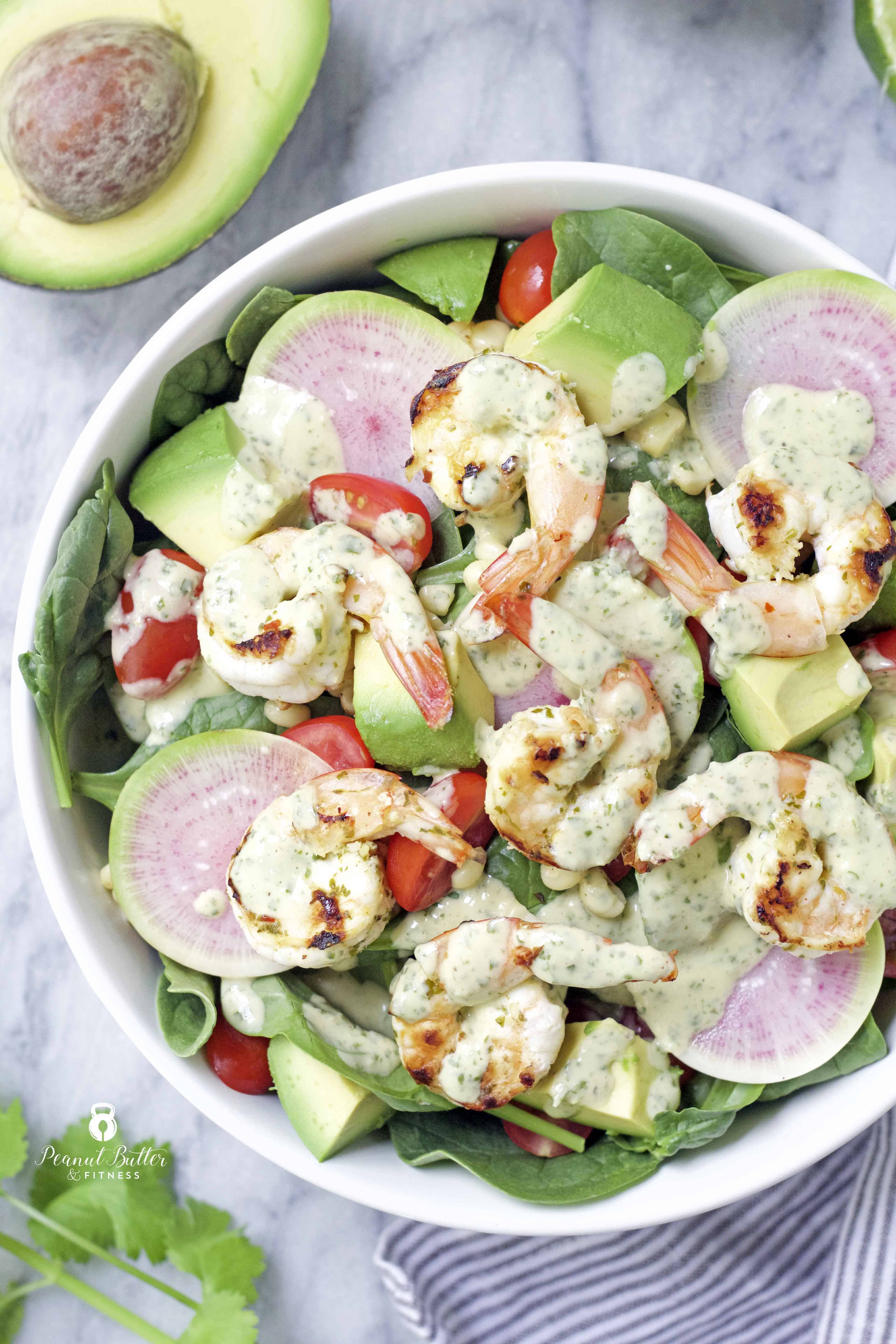 Happy Sunday y'all! I've been a busy bee settling into my new home in San Antonio, so expect to hear me say "y'all" a lot more often. The weather is much warmer here than in San Francisco, so I thought this fresh-to-death salad was perfect. And watermelon radishes are just so pretty that I couldn't help but adding them on top! Besides, they add a nice crunch here and contrast well with the creamy cilantro lime dressing and avocado.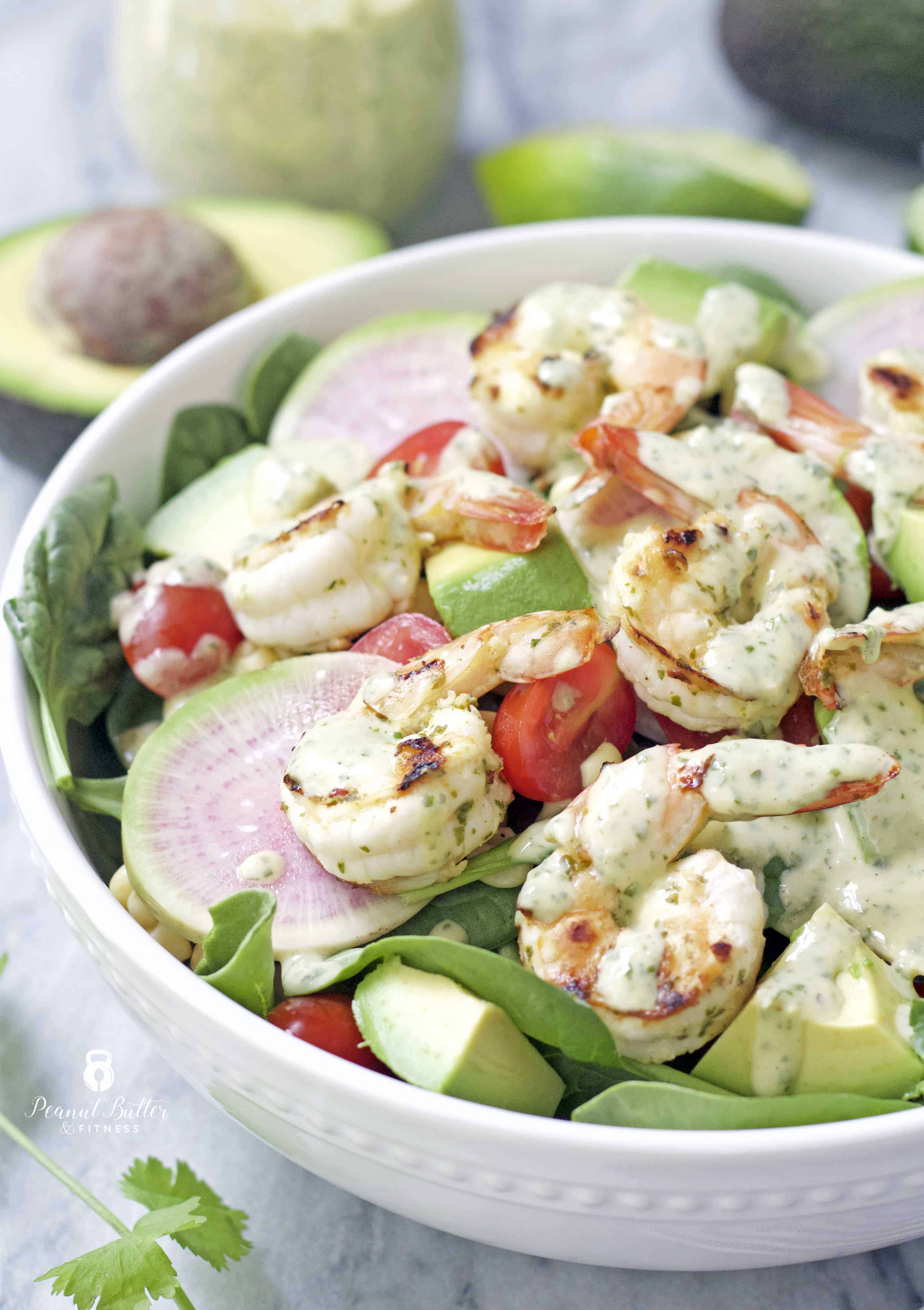 I cooked up my shrimp in a skillet but you can easily toss them on some skewers and grill them along with some corn on the cob (which got a little buried under all the other good stuff). If you're using a skillet, be sure to pat your shrimp dry after you take them out of the marinade so they get a nice sear in the hot pan!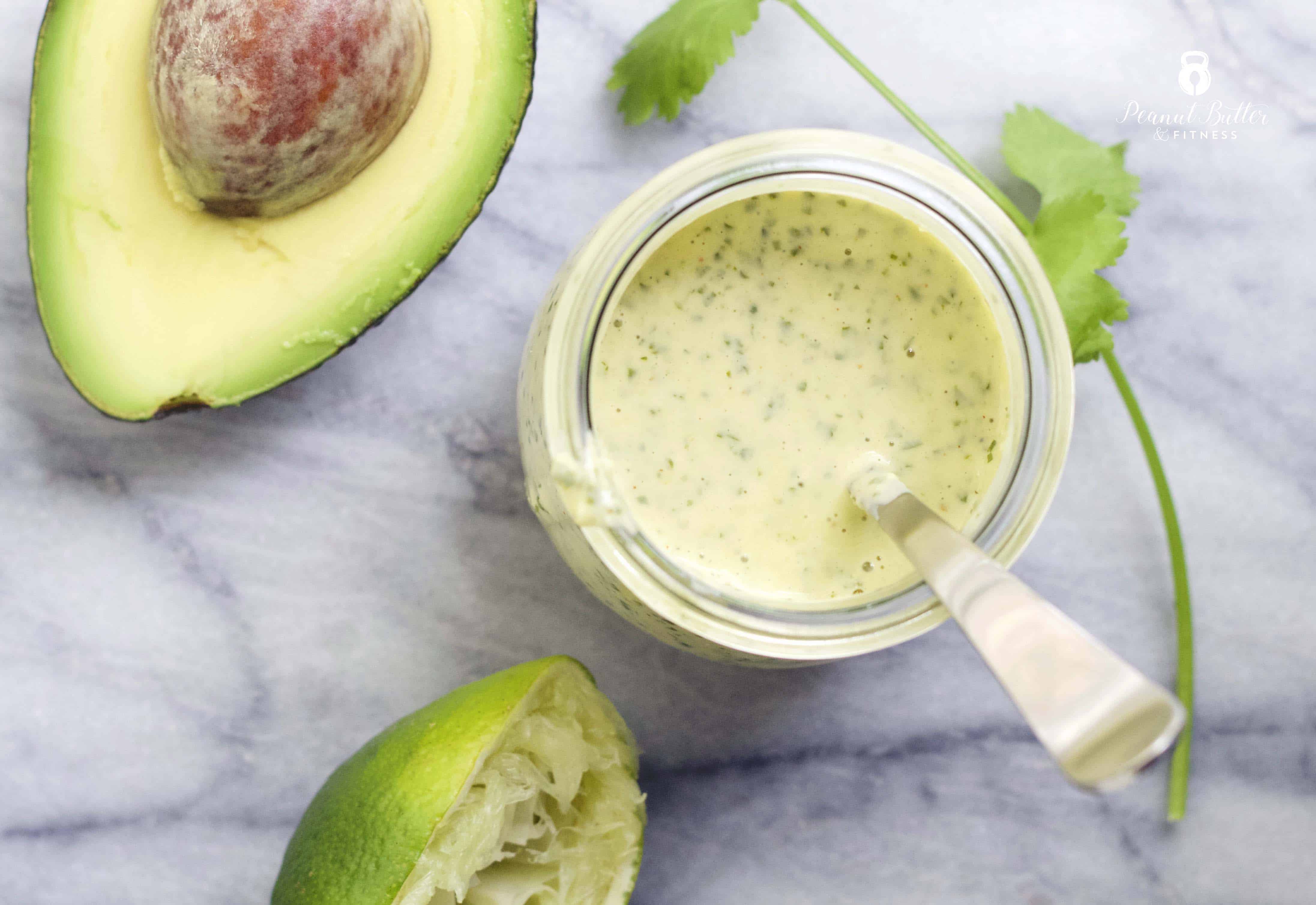 I wanted this recipe to be as un-complicated as possible, so the dressing does double duty as a shrimp marinade – you just add some Greek yogurt and honey to half of the marinade to end up with that creamy-dreamy dressing you see here.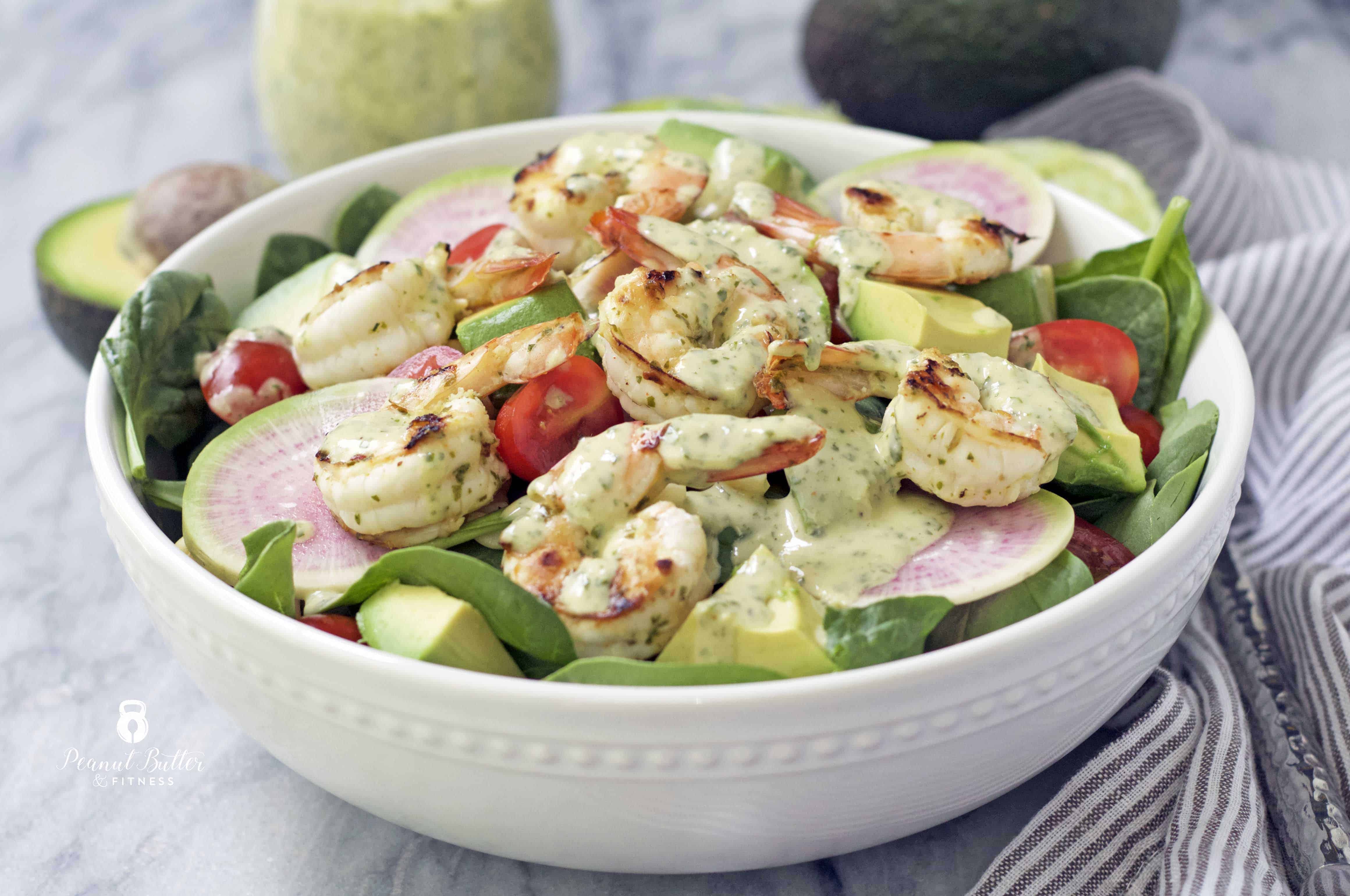 I hope you're all enjoying some sunshine this weekend! I have yet to really see the sunshine here, but I think it'll poke out from behind the rain clouds soon 🙂
Recipe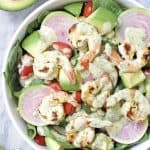 Shrimp and Avocado Salad
Prep Time 31 minutes
Cook Time 10 minutes
Total Time 41 minutes
Servings 4 servings
Calories per serving 354 kcal
Ingredients
1 lb raw shrimp peeled and deveined, tail on
6 cups baby spinach
2 small avocados sliced
1 cup corn
1 cup cherry tomatoes halved
1 cup cilantro loosely packed
2 tbsp olive oil
1/2 tbsp honey
4 cloves garlic
1/4 cup fat free plain Greek yogurt
Optional: watermelon radishes sliced
Instructions
Combine cilantro, juice of 2 limes, olive oil, Flavor God seasoning, and garlic in a blender. Blend until mostly smooth.

Pour half of the cilantro mixture over shrimp in a resealable container and marinate for no more than 30 minutes.

Add Greek yogurt and honey to the reserved cilantro mixture and blend. Set aside to use as dressing.

Layer spinach, corn, tomatoes and avocado in a serving dish.

Grill or pan sear shrimp until cooked through. Add on top of assembled salad ingredients and top with dressing before serving.
Recipe Notes
To get a nice sear on the shrimp in a pan, rinse and dry them before marinating, then lay them out on a paper towel lined plate after removing them from the marinade.  Lightly pat them dry before adding them to a dry, hot pan over medium-high heat.  Don't overcrowd the pan or move them around, except for flipping them once.
Nutrition Facts
Shrimp and Avocado Salad
Amount Per Serving
Calories 354 Calories from Fat 171
% Daily Value*
Fat 19g29%
Cholesterol 166mg55%
Sodium 297mg13%
Potassium 515mg15%
Carbohydrates 26g9%
Fiber 10g42%
Sugar 6g7%
Protein 25g50%
* Percent Daily Values are based on a 2000 calorie diet.