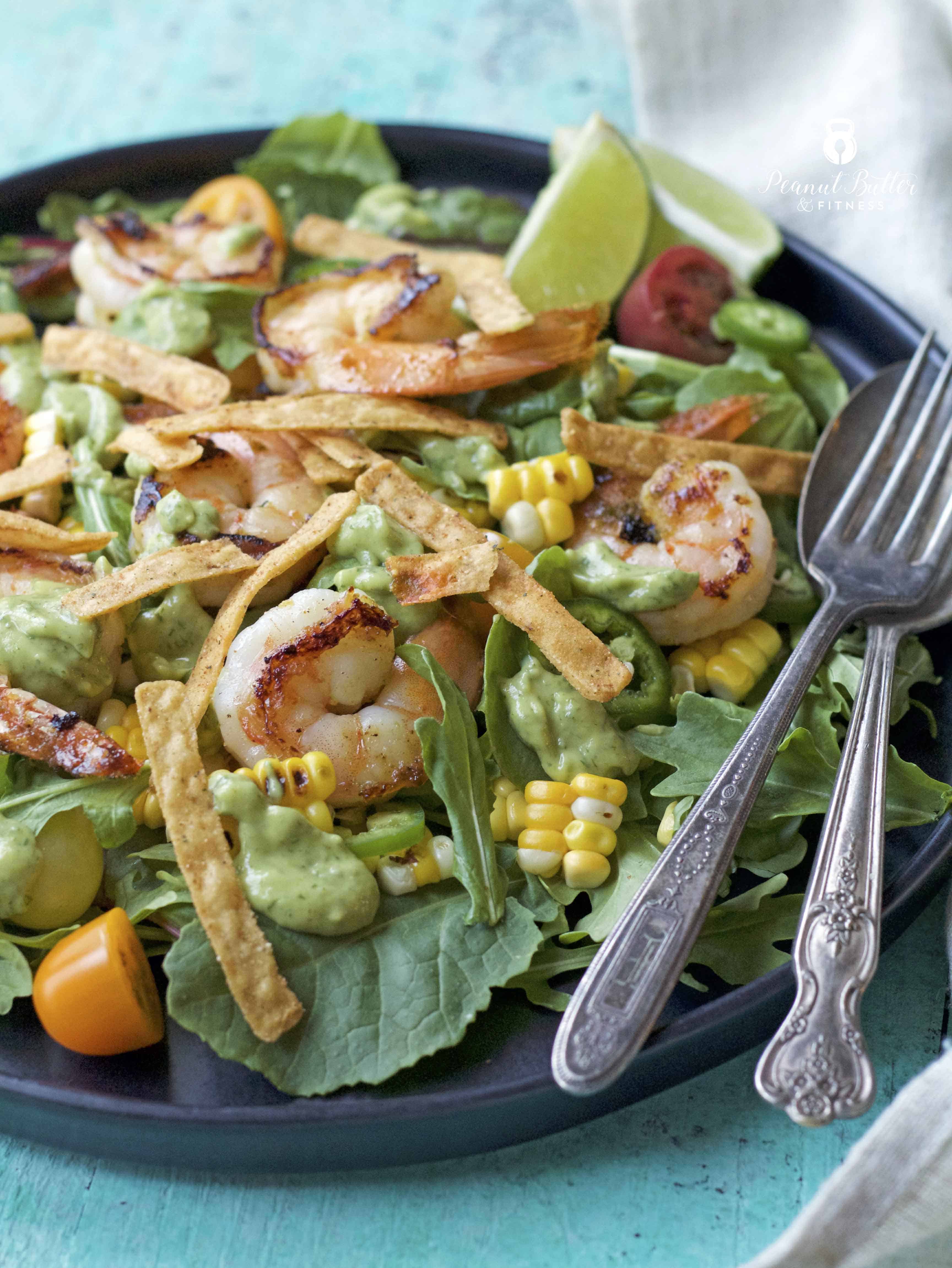 The end of summer is upon us (-ish), so let's celebrate all those fresh flavors one last time with this simple Roasted Corn and Shrimp Salad with Avocado Cilantro Dressing.  I added some beautiful baby heirloom tomatoes in there and rested all of it on top of a bed of baby mixed greens and arugula.
If you're firing up your grill for Labor Day, go ahead and skewer all of those shrimp for grilling purposes and throw the corn right on the grill to roast too.  Otherwise, you can do it all indoors with a skillet.  That's what I did because it's approximately one million degrees down at the grill on my pool deck.  And the bite-y bugs…I don't actually think they're mosquitoes but they bite they heck out of my legs when I grill down there.  I'll just hermit inside with my skillet instead, thanks.
Happy end of summer!  Enjoy 🙂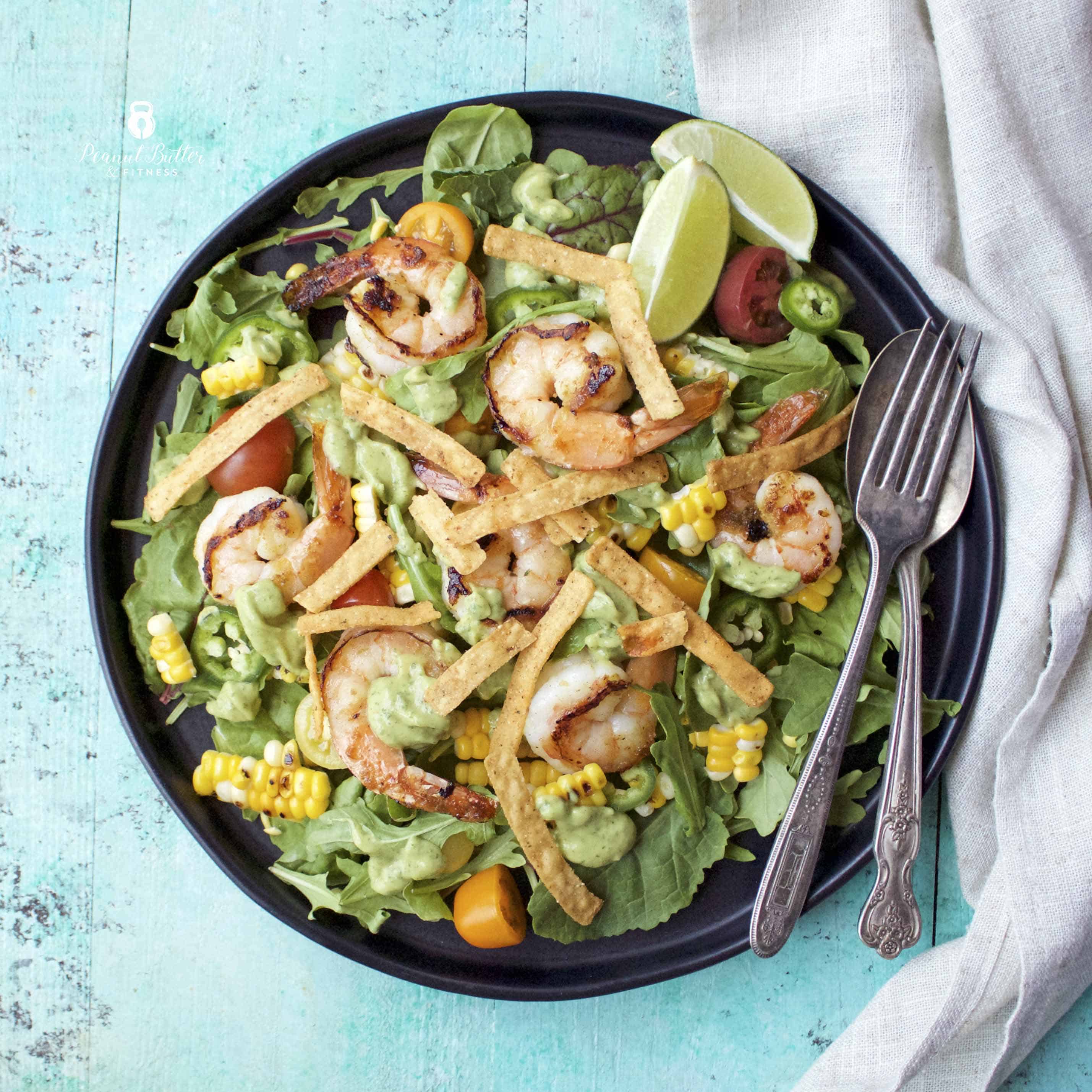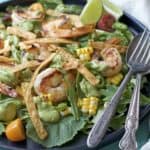 Roasted Corn and Shrimp Salad with Avocado Cilantro Dressing
Prep Time 20 minutes
Cook Time 10 minutes
Total Time 30 minutes
Servings 4 servings
Calories per serving 309 kcal
Ingredients
1 1/4 lb large shrimp, peeled and deveined, tail on rinsed and patted dry
8 cups mixed greens
3 ears corn on the cob (220 grams kernels)
1 cup baby heirloom tomatoes, halved (150 grams)
1/2 cup Mrs. Cubbison's Southwest Flavor tortilla strips
Shrimp Marinade
1 tbsp olive oil
1 tsp honey
Zest of 1 lime
Salt and pepper to taste
Avocado Cilantro Dressing
1 small avocado (100 grams)
1/2 cup cilantro leaves, loosely packed
2 tbsp light coconut milk
Juice of 1 lime
1 tbsp apple cider vinegar
Instructions
Whisk all marinade ingredients and pour over shrimp. Marinate in refrigerator for at least 1 hour.

Add all dressing ingredients to a blender and pulse until it reaches desired consistency. Set aside in refrigerator.

Heat a large skillet over medium-high heat. Add corn and continue turning corn until all sides are roasted, about 5-7 minutes. Cut corn off the cob and set aside.

In the same skillet over medium-high heat, add shrimp in a single layer, being careful not to overcrowd the skillet. Sear for 1-2 minutes on one side, then flip and continue to cook until shrimp are opaque and cooked through.

Divide mixed greens into 4 serving dishes and top with tomatoes, corn, shrimp, tortilla strips, and dressing.
Nutrition Facts
Roasted Corn and Shrimp Salad with Avocado Cilantro Dressing
Amount Per Serving
Calories 309 Calories from Fat 108
% Daily Value*
Fat 12g18%
Cholesterol 206mg69%
Sodium 349mg15%
Potassium 362mg10%
Carbohydrates 25g8%
Fiber 5g21%
Sugar 6g7%
Protein 26g52%
* Percent Daily Values are based on a 2000 calorie diet.