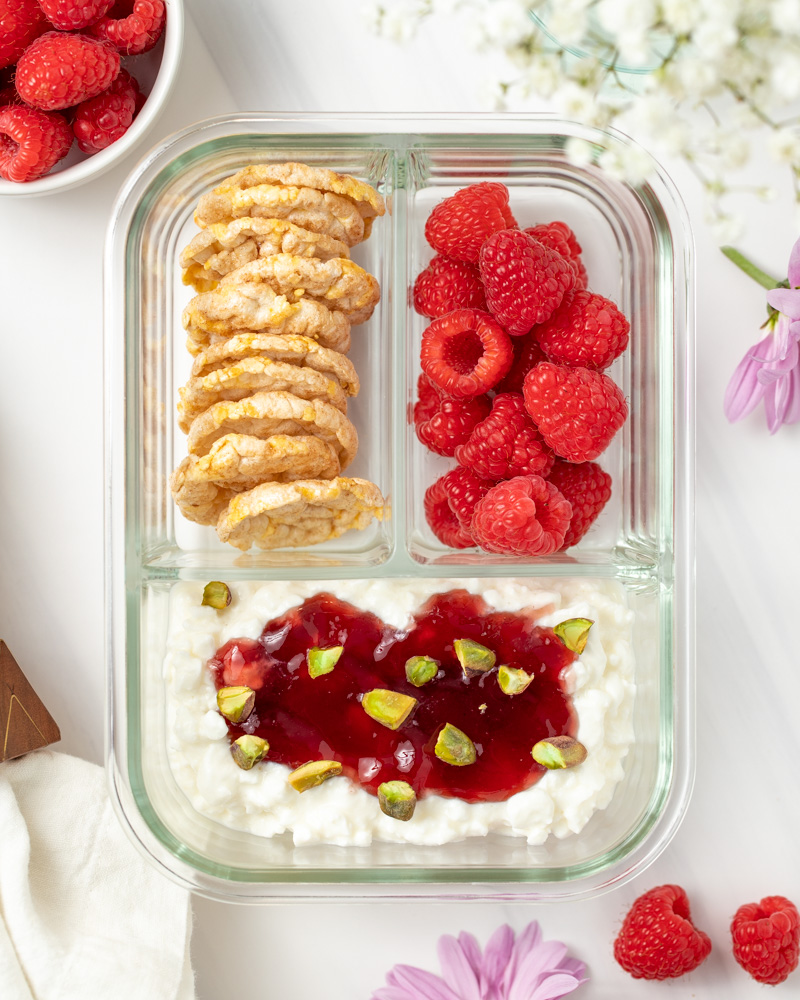 I'm coming at ya today with a ridiculously simple recipe that I honestly am still not even sure deserves it's own post: behold, the Raspberry Cottage Cheese Snack Bowl! Cottage cheese has made a comeback lately and suddenly it's cool to eat again, but honestly except for that little stint where I ate no dairy products at all (hi, #gutprobs!), I never actually stopped eating it. It's such a great high protein snack! When I was tracking macros hard, I used to prep little containers of cottage cheese topped with sugar free strawberry or blueberry jam. YUM!
This version of the snack looks a little more grown up, but that's just because I styled it fancier for the photos. At it's heart, this is still the same old little cottage cheese bowls with jam that I've loved for years. So if you're looking for a super easy protein snack that will stand the [taste] test of time, I've got you covered.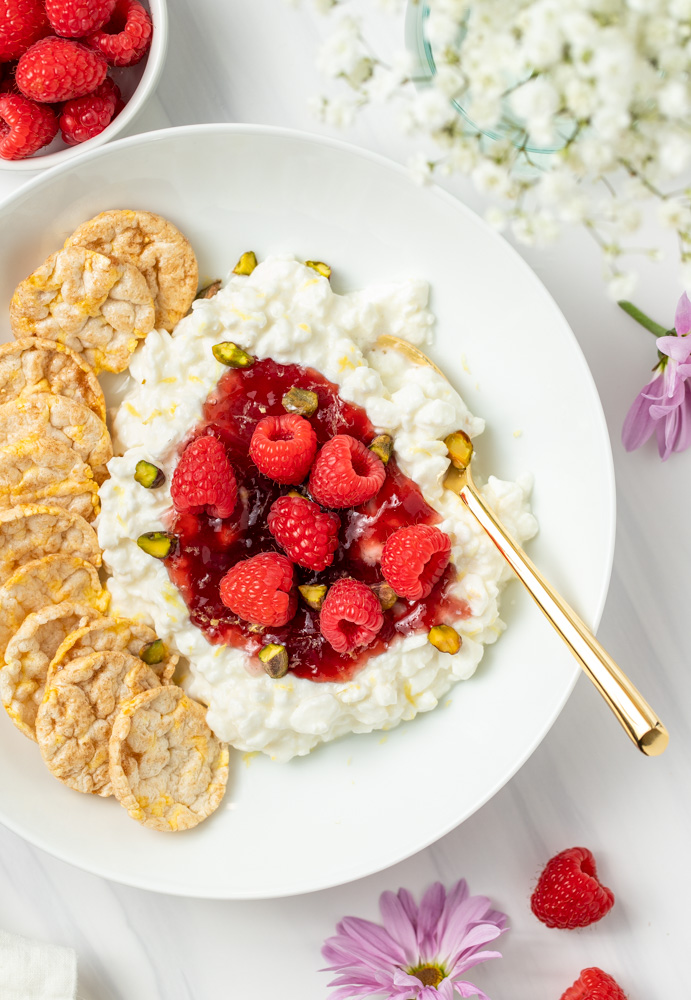 Ingredients and Substitutions
At the core of this recipe, all you really need is cottage cheese and jam, but here are the deets and optional toppings/accoutrements to take it to the next level!
Cottage cheese – I prefer the fat free version, but if you want something richer, then by all means grab what makes your heart happy. This would also be great with Greek yogurt instead!
Raspberry jam – Of course you can use whatever flavor of jam you like – strawberry and blackberry are other favorites of mine – but the tartness of the raspberry jam really helps brighten up the cottage cheese. I recently found this Polaner fruit spread that's sweetened only with fruit juice and has no added sugar OR artificial sweetener. I'm a big fan so far!
Raspberries – Here's where things start to get optional. Throw whatever fresh berries or fruit you like on top of the cottage cheese and jam to bring a tasty pop of freshness. Frozen berries will work just fine too!
Rice cakes – I used the mini Quaker apple cinnamon rice cakes, but any cracker that leans toward the sweet side of the spectrum will work just fine. I bet Ritz would be tasty. Or you can skip them all together and keep it lower carb.
Lemon zest – A totally optional topping that helps fancy up the appearance and flavor of this snack bowl. Raspberry and lemon are a match made in heaven, and that pairs perfectly with the slight saltiness of the cottage cheese.
Shop for this Recipe
Here are some items I used to make this recipe a success. Note: these are Amazon Affiliate links.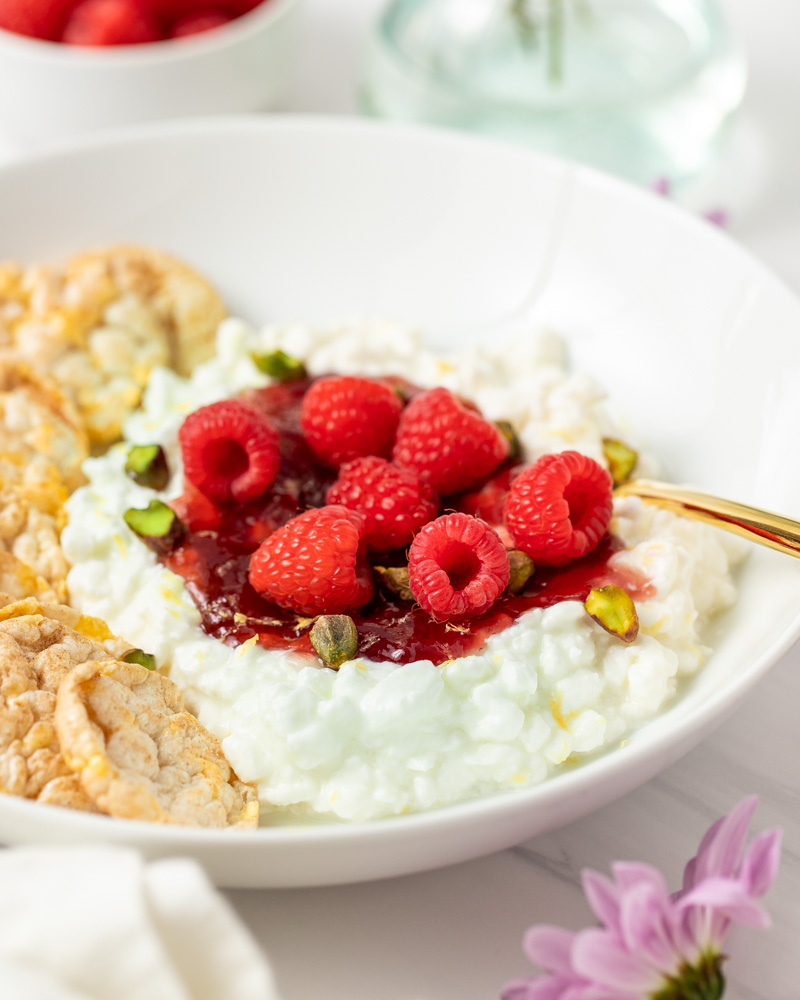 Recipe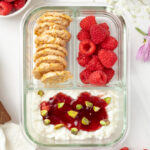 Raspberry Cottage Cheese Snack Bowl
Prep Time 5 minutes
Total Time 5 minutes
Servings 1 serving
Calories per serving 254 kcal
Ingredients
2/3 cup fat free cottage cheese
1 1/2 tbsp Polaner All Fruit Raspberry Spreadable Fruit (27 grams)
1 tsp lemon zest
10 Quaker Apple Cinnamon Rice Crisps (23 grams)
1/3 cup raspberries (50 grams)
Optional: chopped pistachios
Instructions
Spoon fruit spread over cottage cheese, then top with lemon zest and raspberries. Serve along side rice crisps.
Recipe Notes
Click here or scan the barcode below to log this food in My Fitness Pal.
Nutrition Facts
Raspberry Cottage Cheese Snack Bowl
Amount Per Serving
Calories 254 Calories from Fat 9
% Daily Value*
Fat 1g2%
Cholesterol 13mg4%
Sodium 585mg25%
Potassium 288mg8%
Carbohydrates 42g14%
Fiber 4g17%
Sugar 23g26%
Protein 21g42%
* Percent Daily Values are based on a 2000 calorie diet.