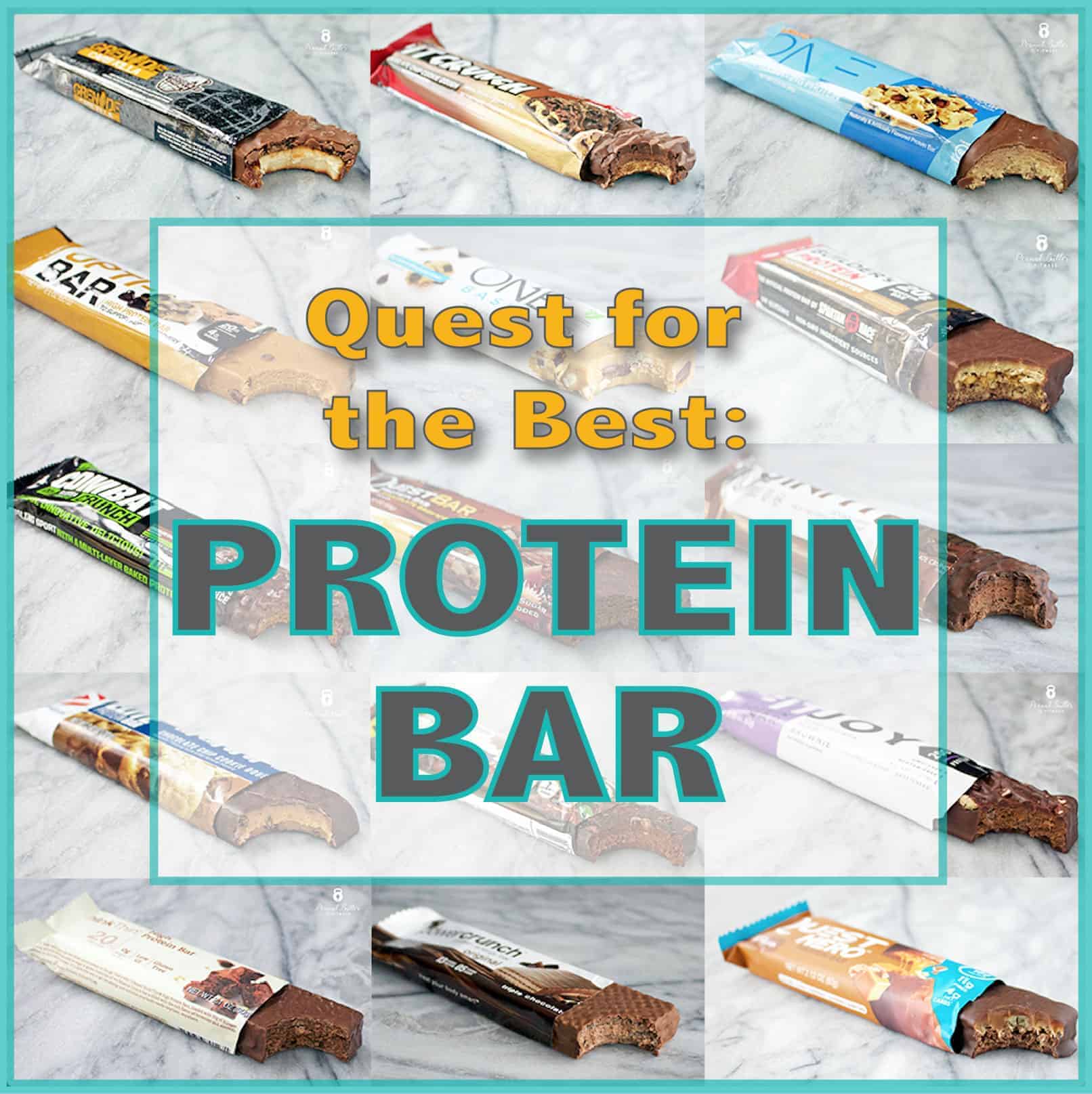 ***Updated January 5th, 2021***
Click this link below to view the full comparison chart or keep scrolling down to view the individual bar reviews!
I've been toying with the idea of doing this post for a while now, but have struggled with the sheer volume of protein bars available on the market. I mean, how could I possibly narrow down the crowded multi-billion dollar U.S. protein bar market into just a handful of brands, and then go ahead and pick one as a winner? (I'm up to THIRTY-NINE brands now, btw!) Anyway, here's how I gave it a go: the first thing I did was eliminate a few categories…I wasn't looking for the best granola bar, cereal bar, or meal replacement bar. Second, I decided that I really needed to break this down into a two-part series – for this post, I'm just focusing on your run of the mill protein bars. Natural/organic/paleo options are covered in the second part of this Quest for the Best series because they don't always compete in the same market or on the same criteria as the ones below.
Next, I tried to focus on the most popular brands and widely available options that were targeted at your everyday consumer. Maybe a bodybuilder would eat these, but so would a soccer mom looking for an easy, on-the-go, protein-packed snack*. Many are widely available at grocery stores or pharmacies, some are easier to find in a sports or nutrition shop. Either way, I like to think I am at least somewhat up to speed on what's happening in the sports nutrition world, and most of these picks are "hot" right now.
For the sake of a sound comparison, I tried to taste test the same or similar flavors from every brand. Chocolate in some form is pretty much the industry standard, so that's what I went with. Some of them forced me to venture into cookie dough or chocolate peanut butter varieties, but they're still somewhere close to that chocolate baseline.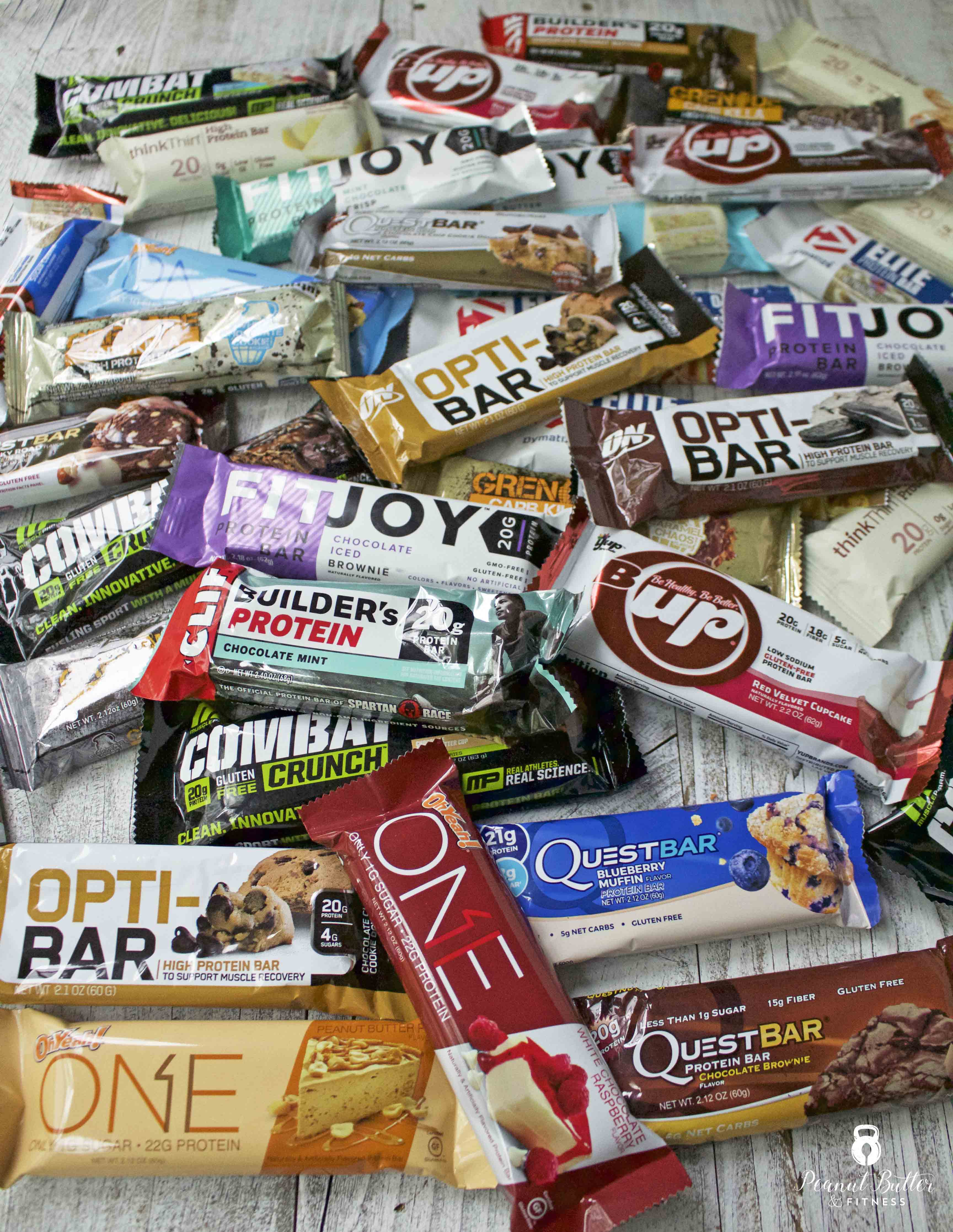 *These bars are convenient to eat but in my opinion should be reserved for those times when you really do need a shelf stable protein snack that you can grab-and-go. Real food is generally cheaper and better for you than a bar, but I totally understand that it can be challenging to find/eat healthy food if you're traveling or just really busy. #FoodForThought
Quick rundown of different colors you'll see in the chart below:
Yellow (on the macro ratio) indicates carb content.
Blue (on the macro ratio) indicates protein content.
Green (on the macro ratio) indicates fat content.
SaveSave
Here's that link again to the full spreadsheet!
1.Bodybuilding.com Signature Protein Bar – Cookies and Cream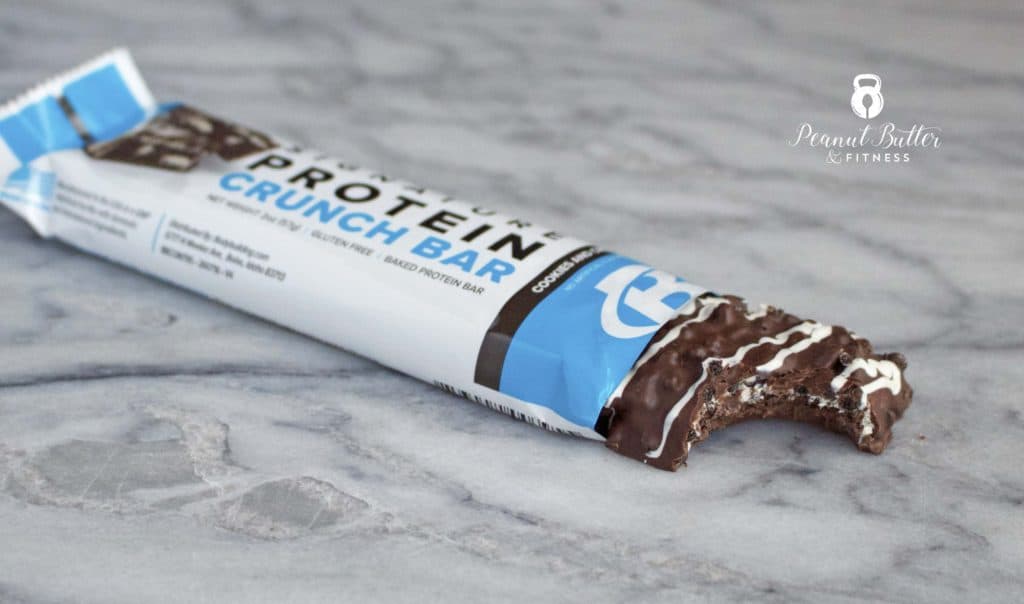 2. Clif Bar Builder's Protein Bar – Chocolate Peanut Butter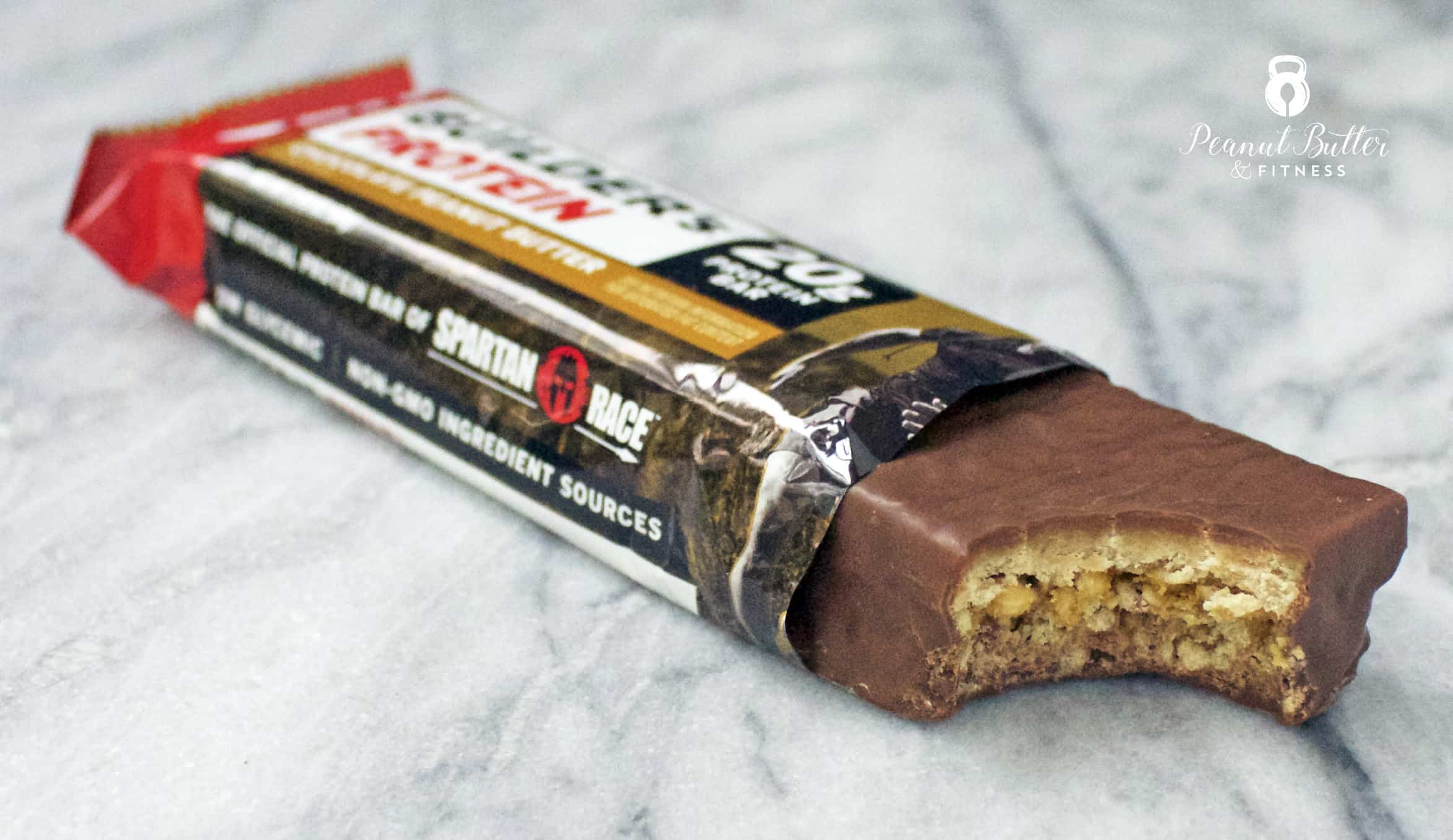 3. The Best Protein Bar Ever – S'mores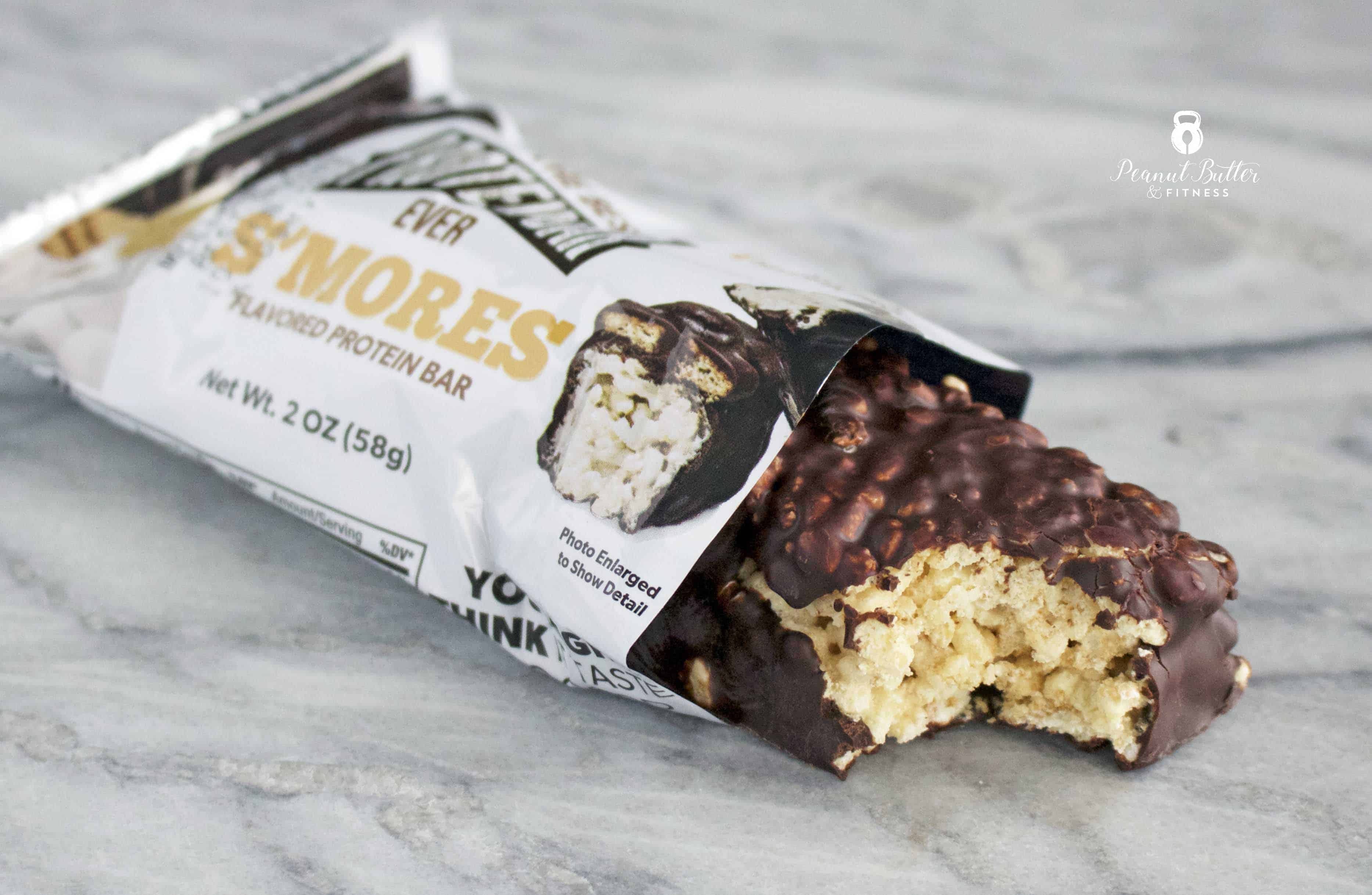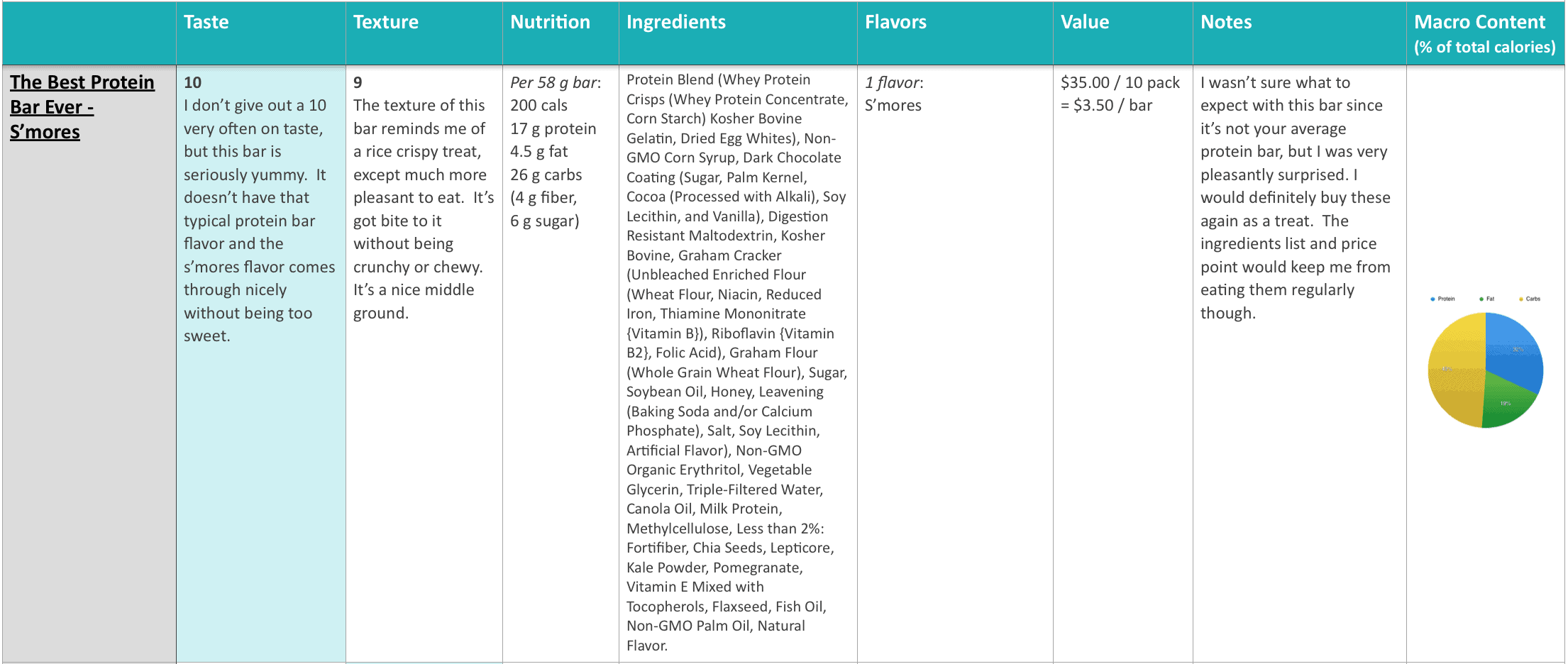 4. PROBAR BASE Protein Bar – Cookie Dough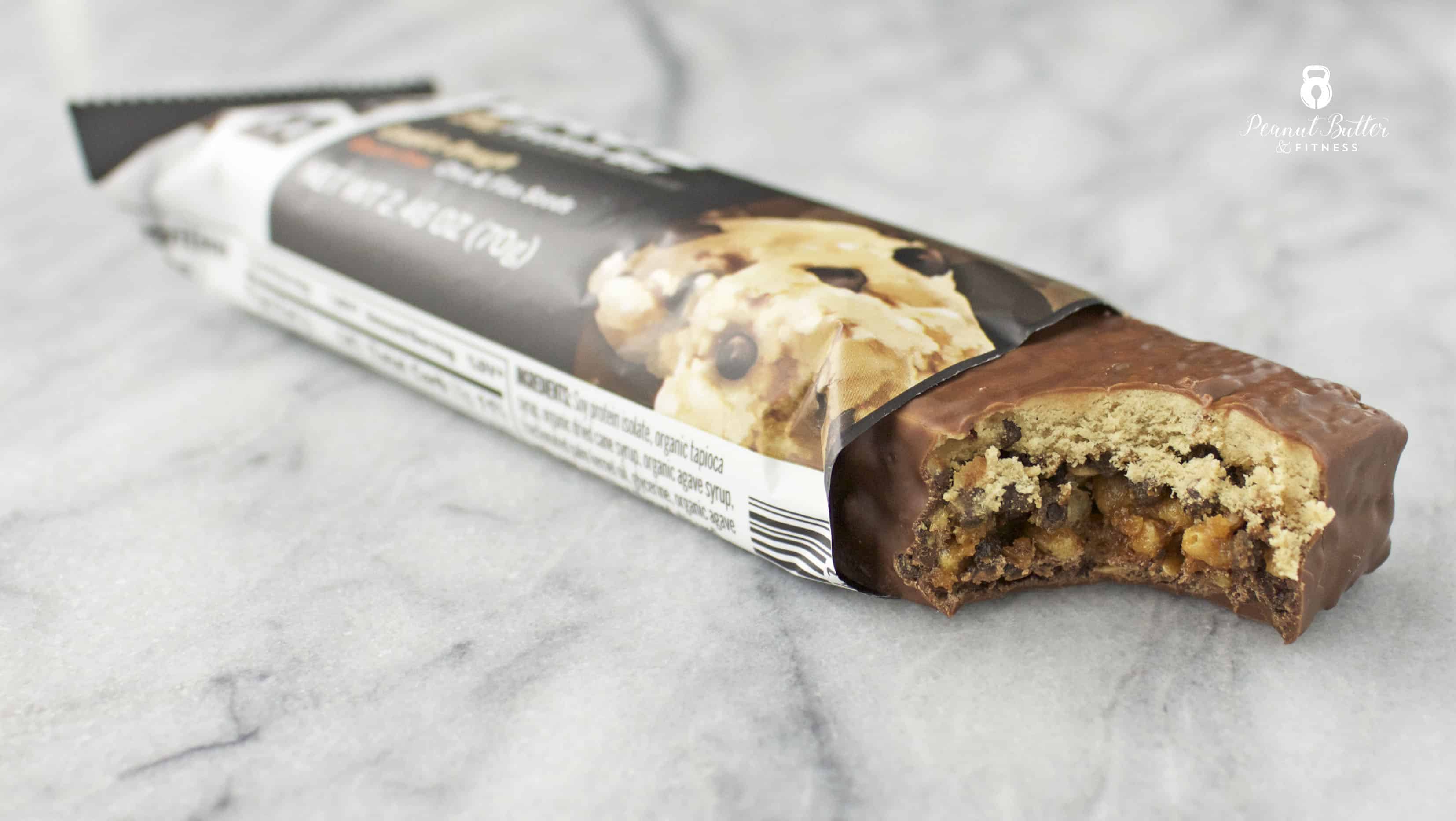 5. Grenade Carb Killa – Chocolate Cream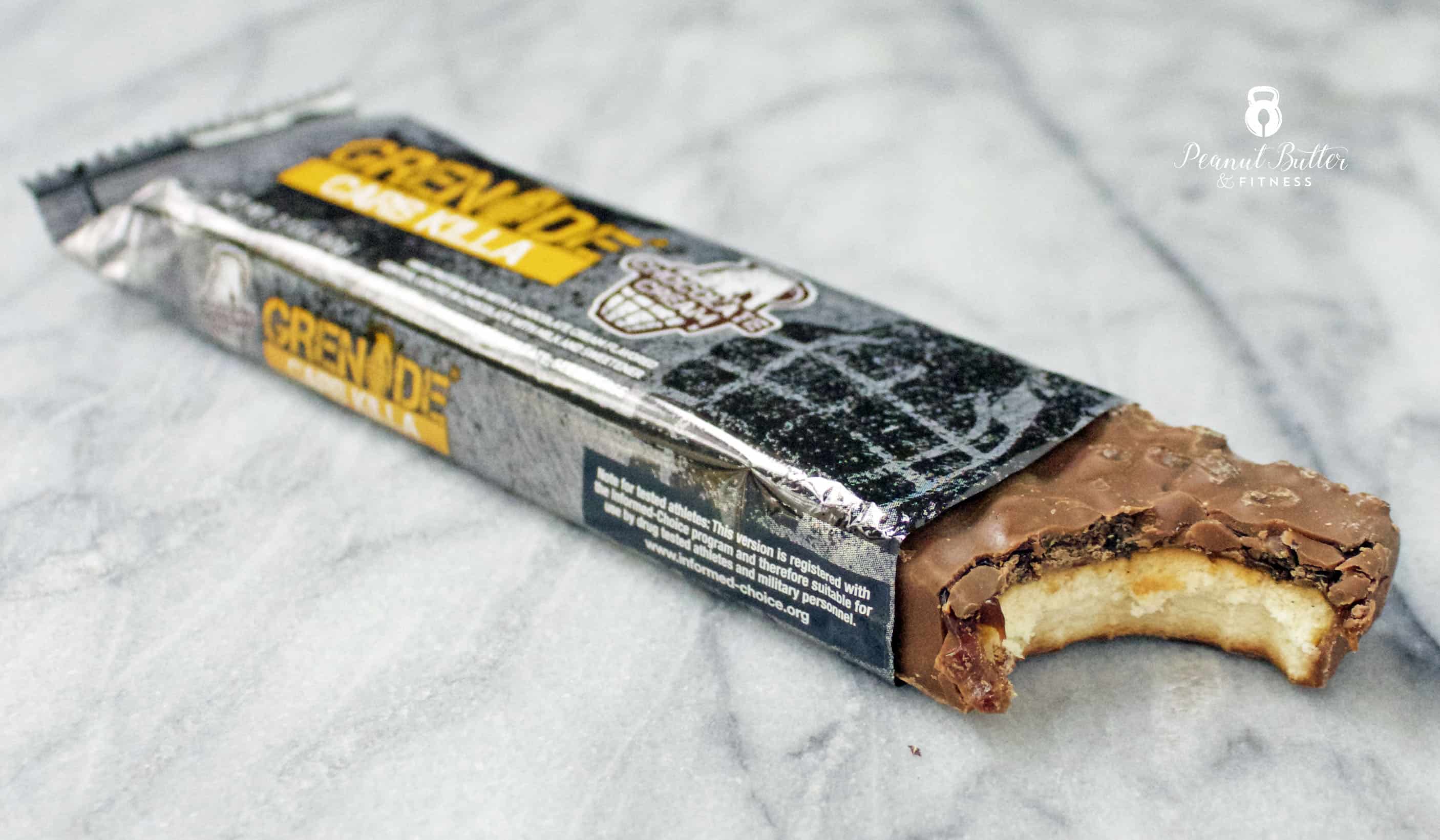 6. REDCON MRE Bar – Crunchy Peanut Butter Cup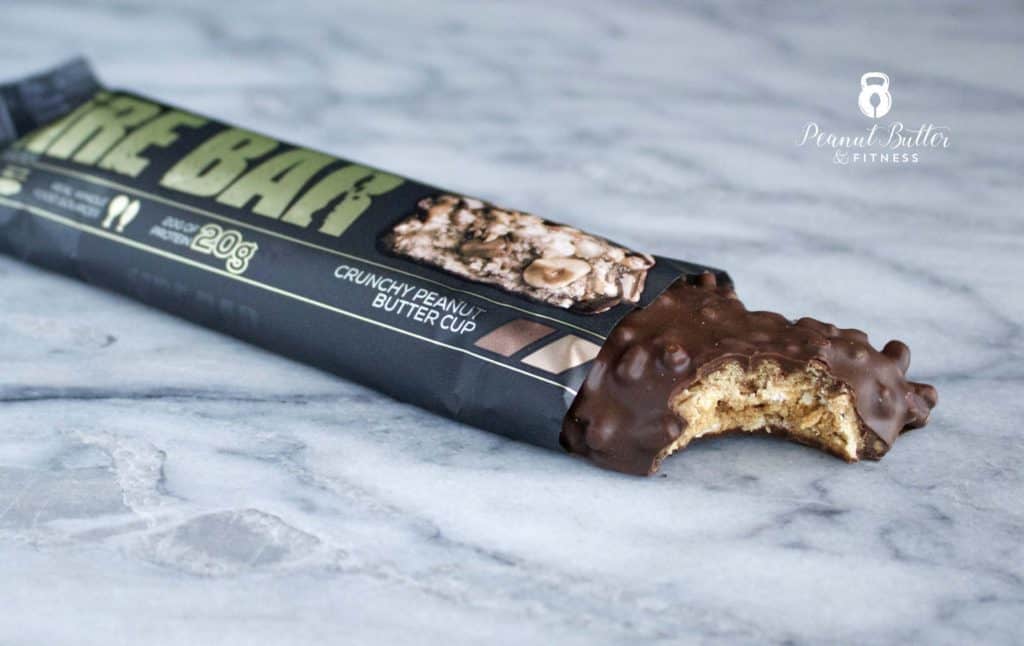 7. thinkThin High Protein Bars – Brownie Crunch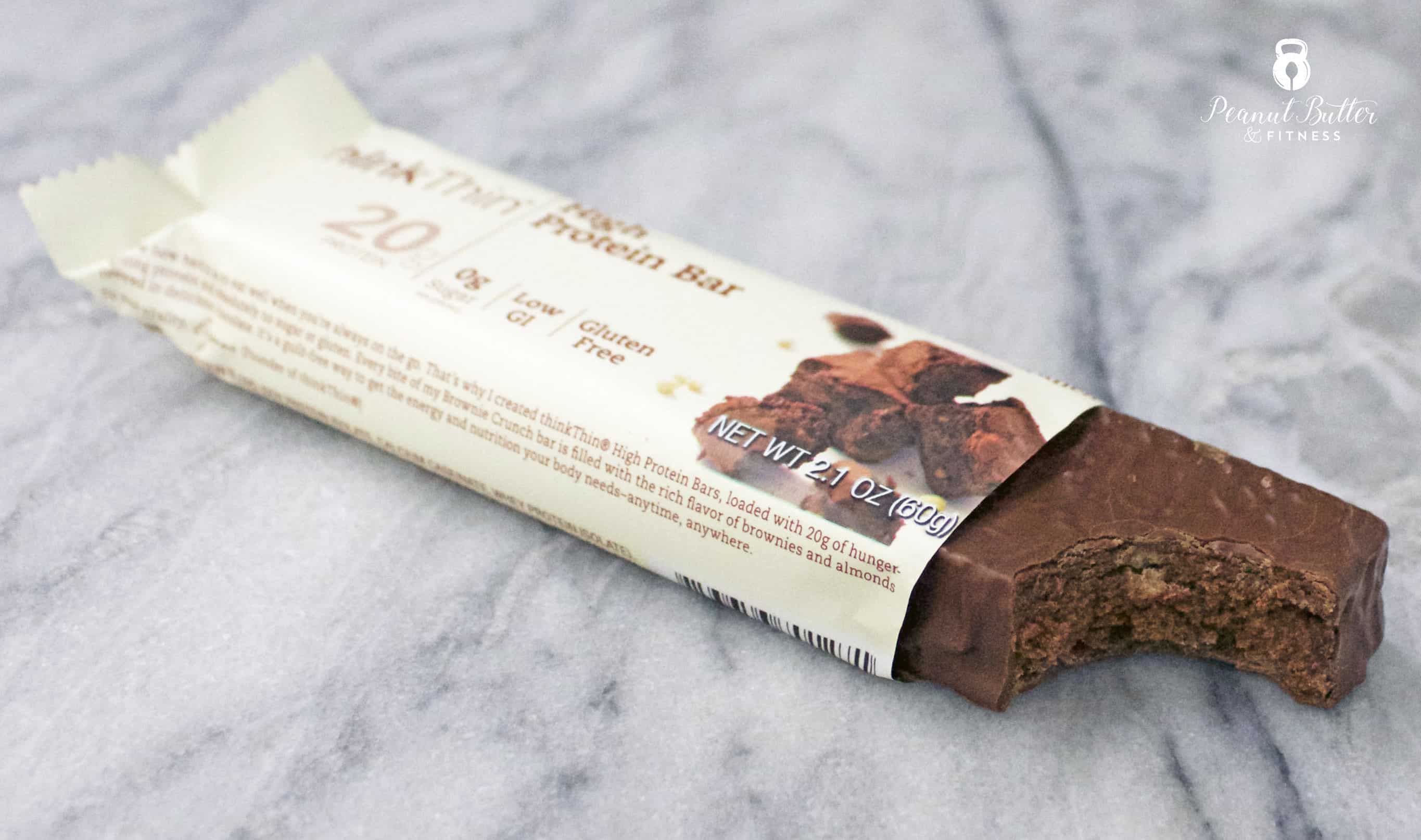 8. ProSupps MyBar – Ice Cream Cookie Crunch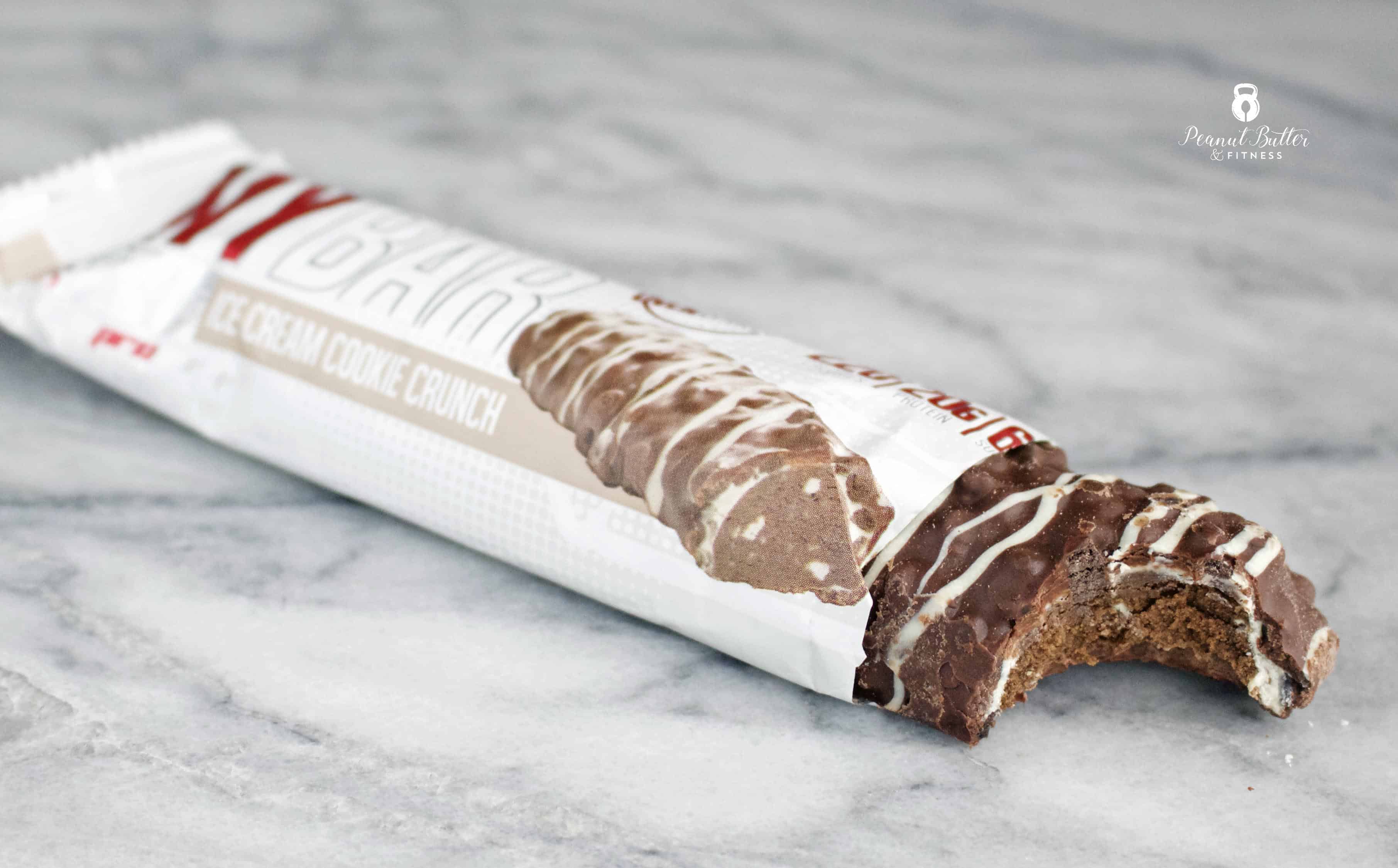 9. Dive Bar Nutrition Protein Energy Bar – Trash Can Cookie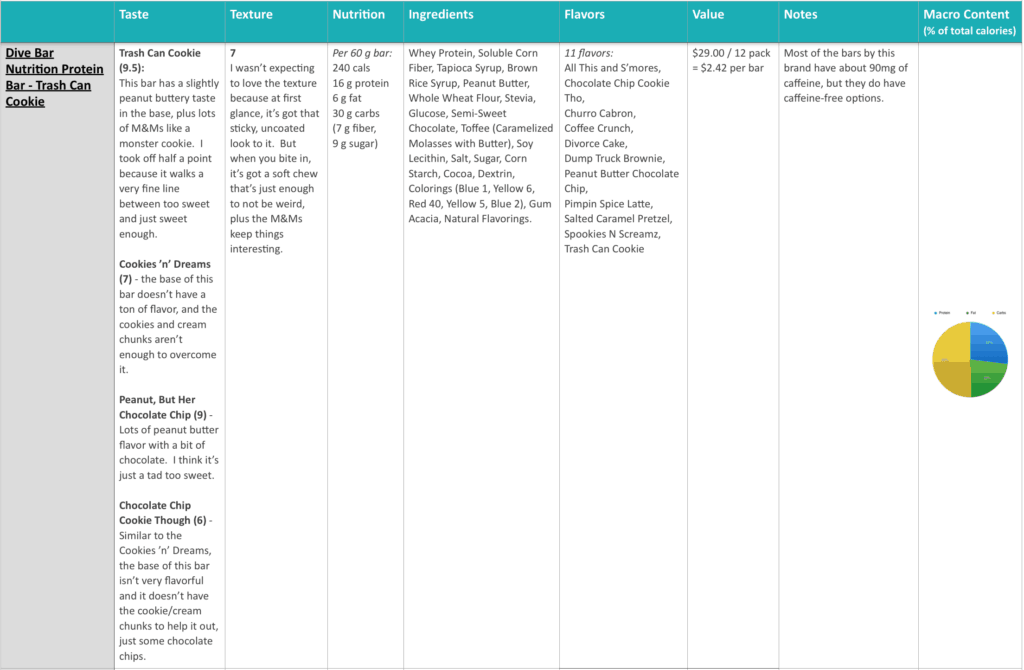 10. MusclePharm Combat Crunch – Chocolate Cake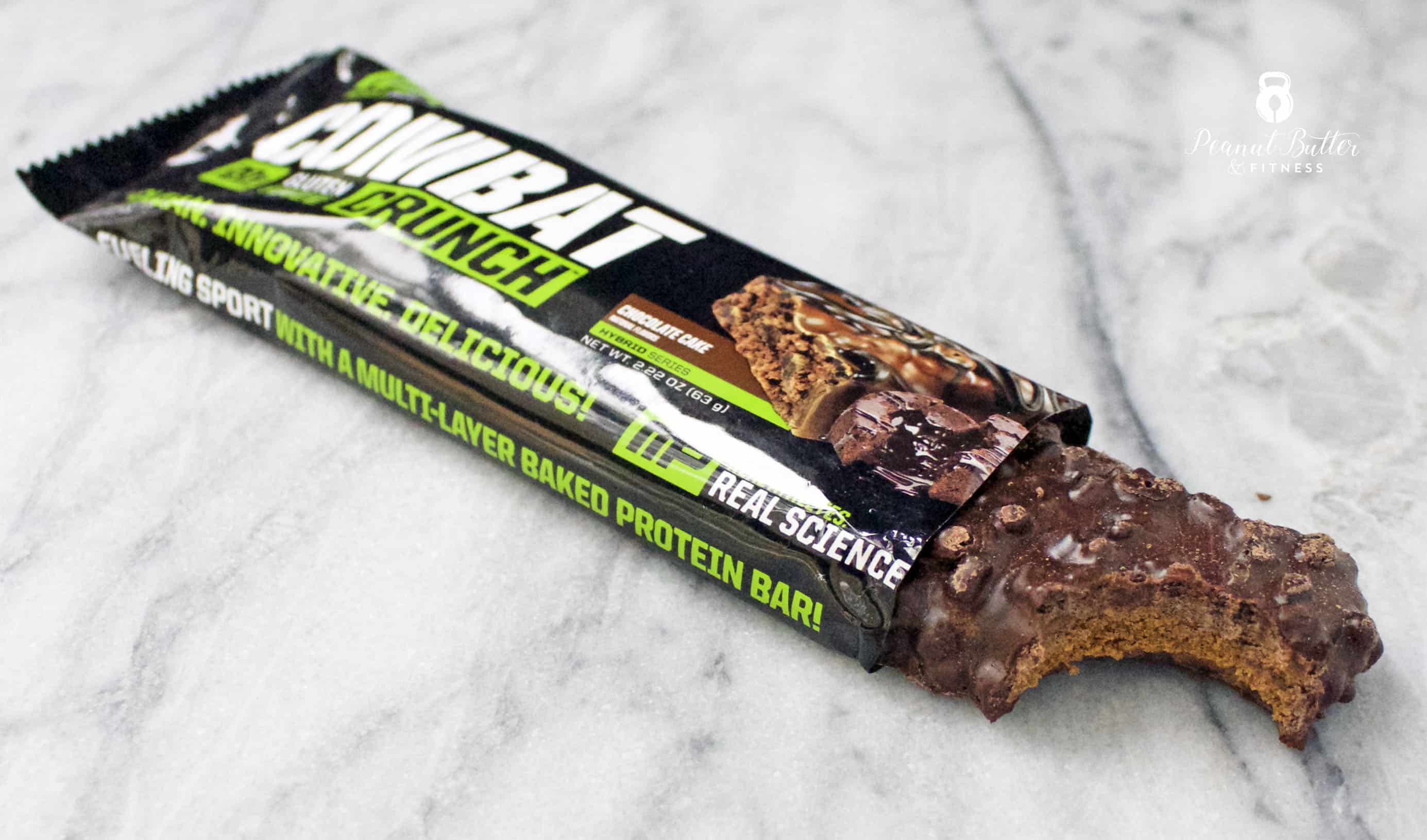 11. Quest Nutrition Hero Bar – Chocolate Caramel Pecan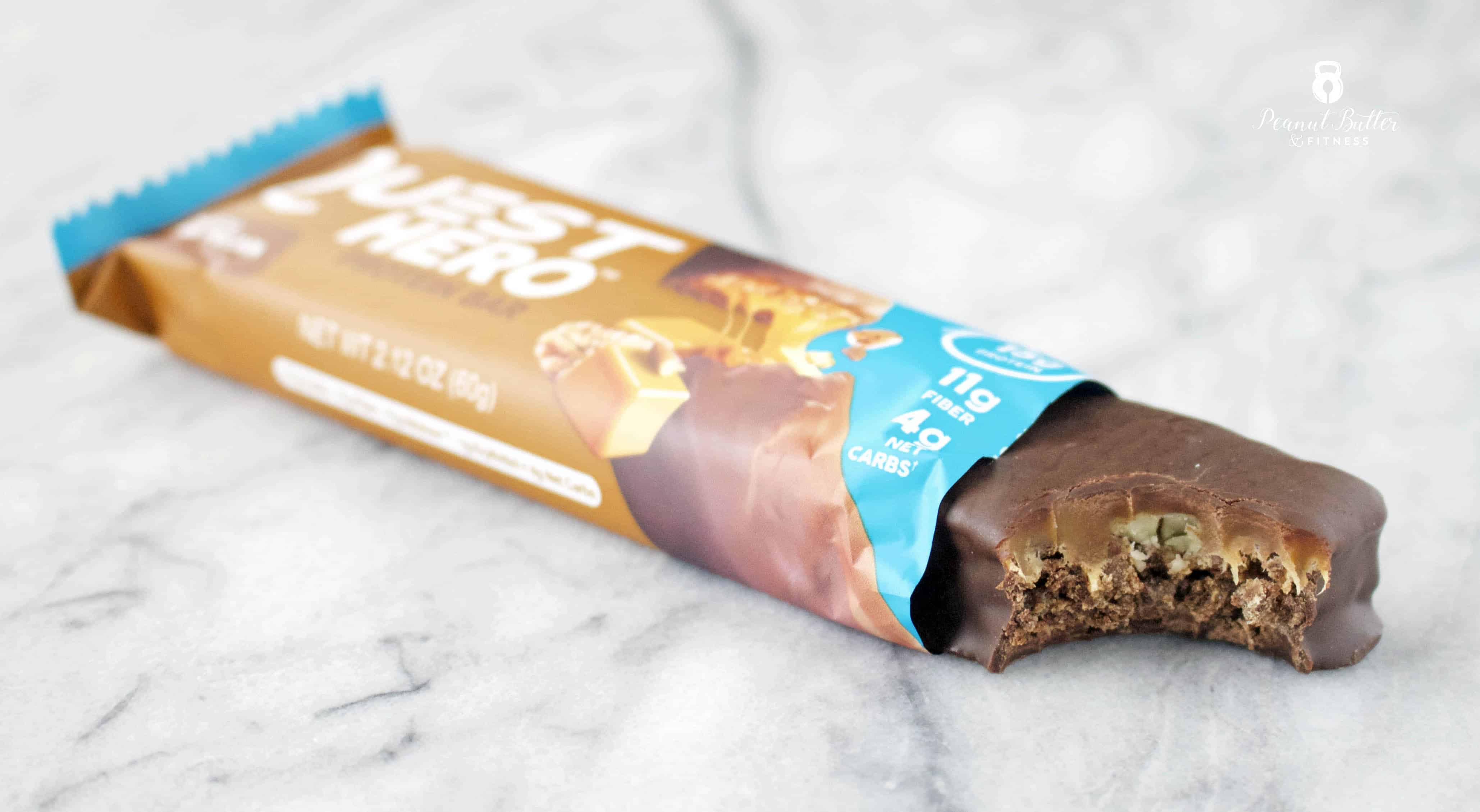 12. Met-RX Big 100 Colossal Protein Bars – Super Cookie Crunch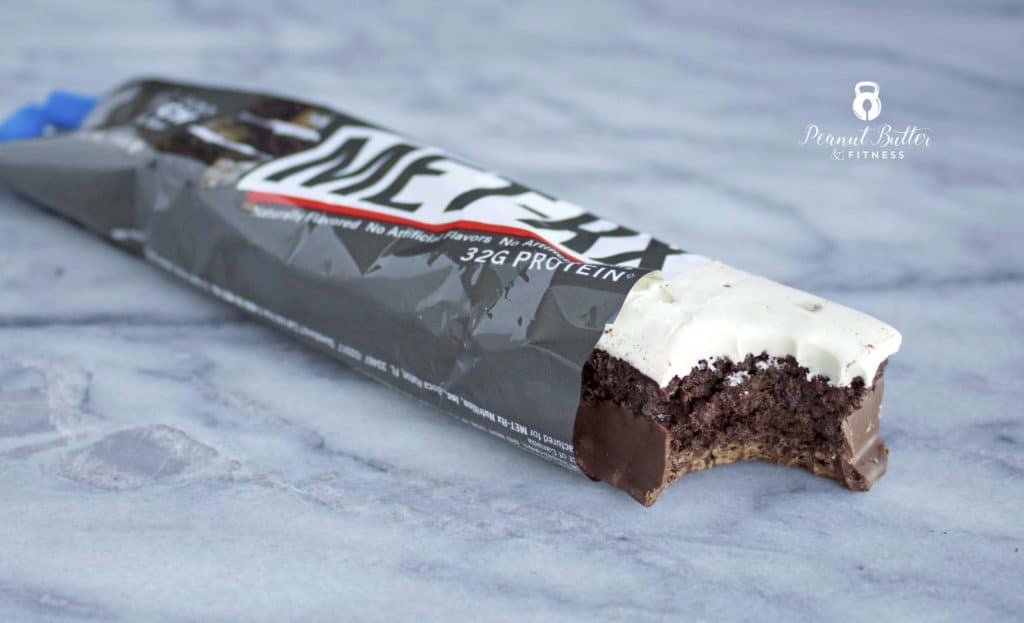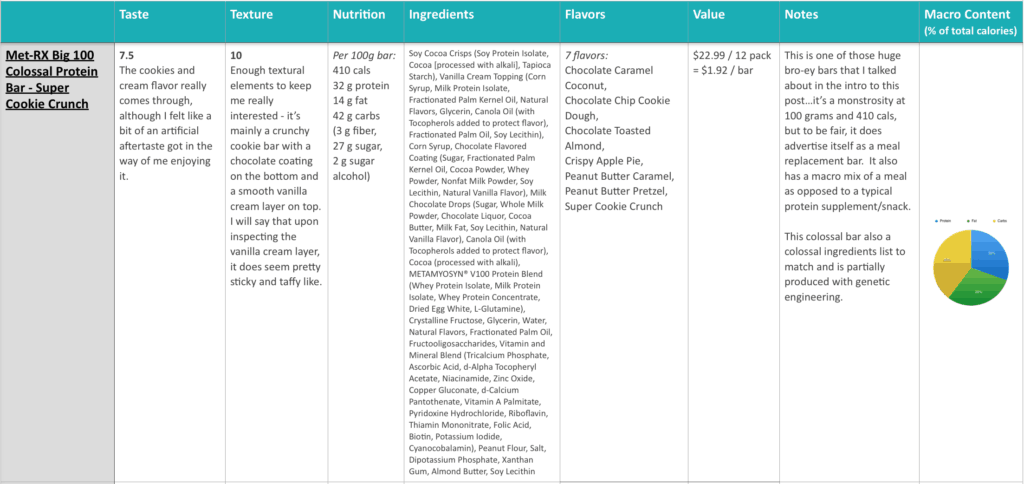 13. Sin Fit Crunch Bar – Chocolate Crunch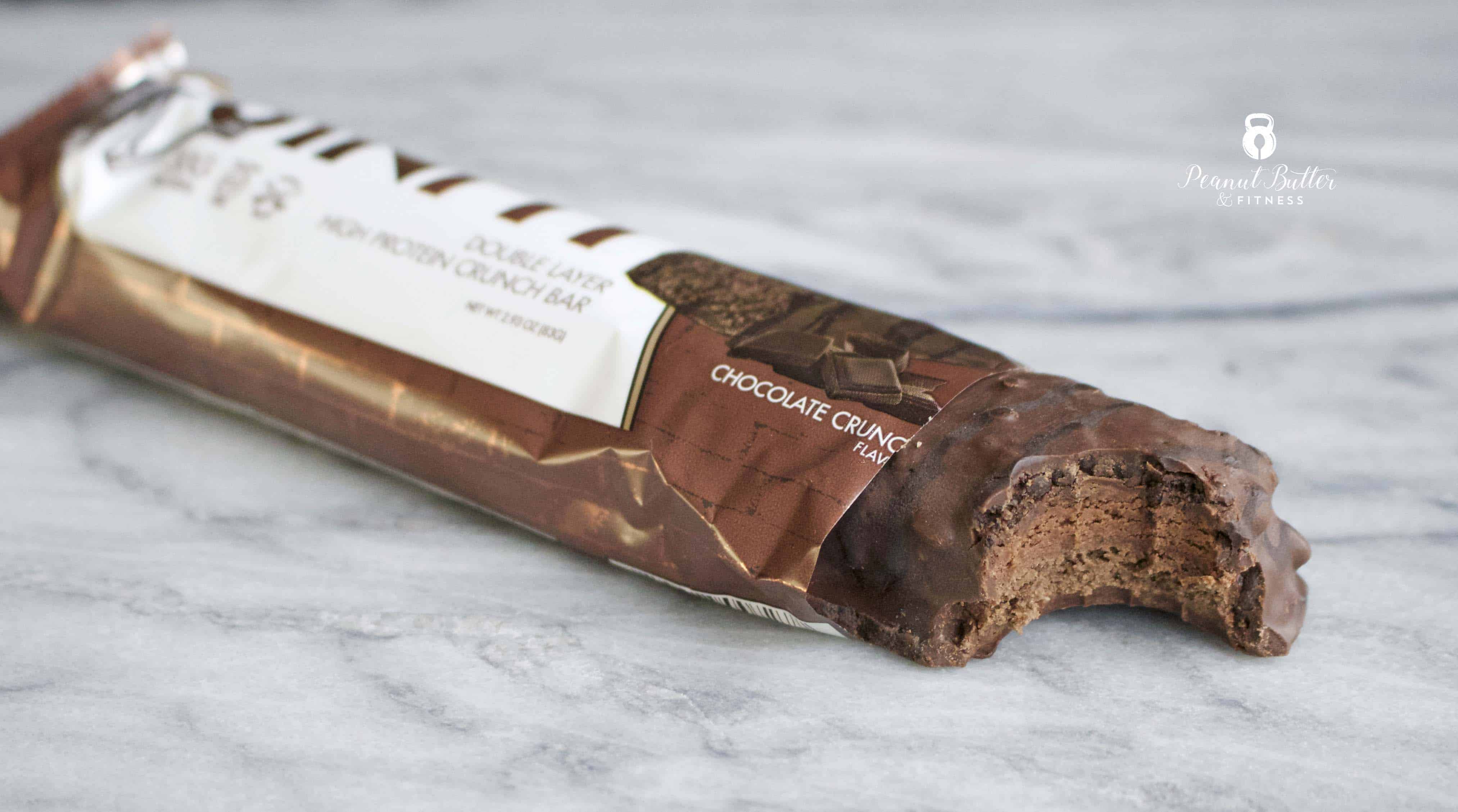 14. Alani Nu Fit Snacks Protein Bar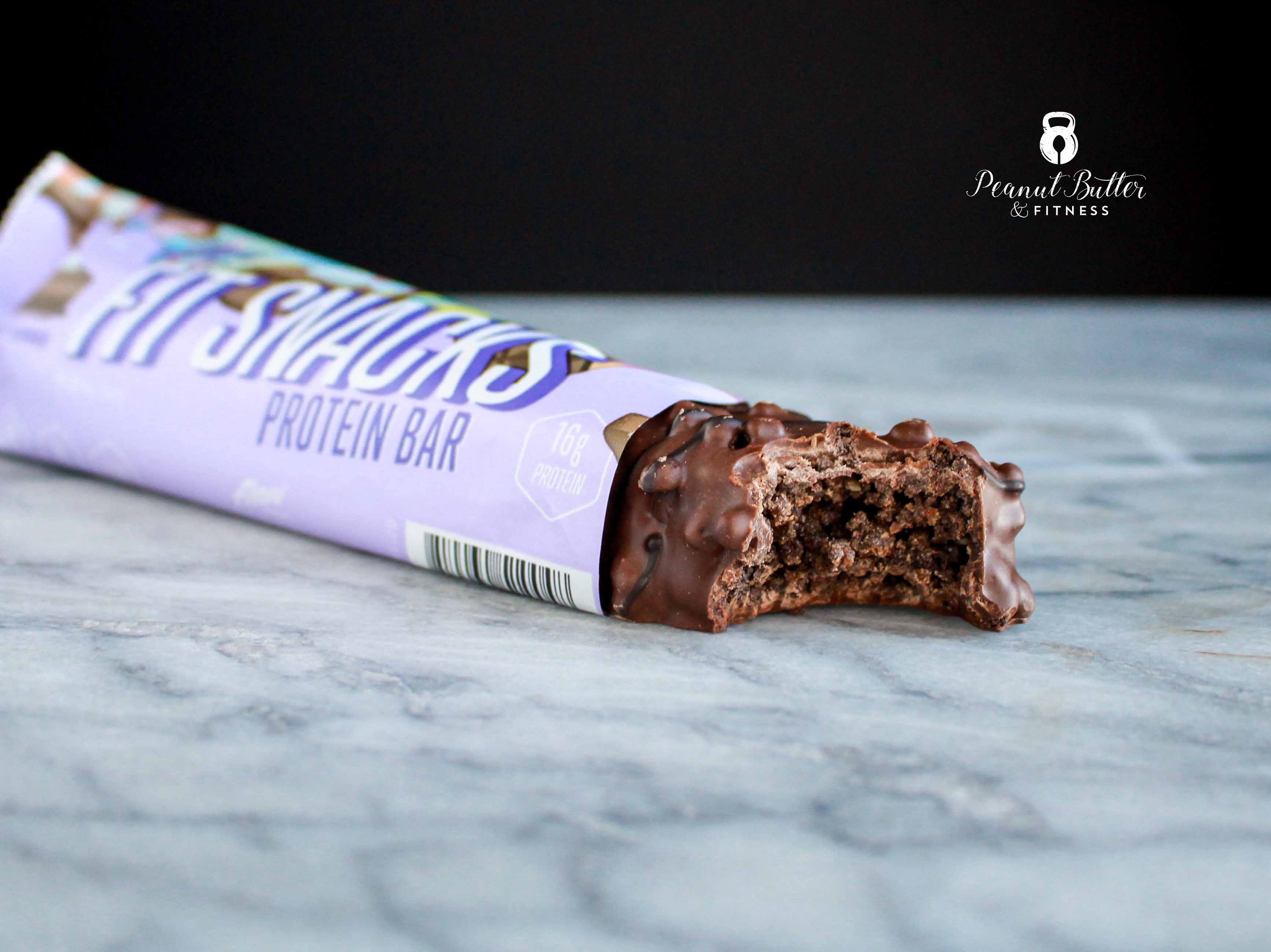 15. PowerCrunch Protein Energy Bar – Triple Chocolate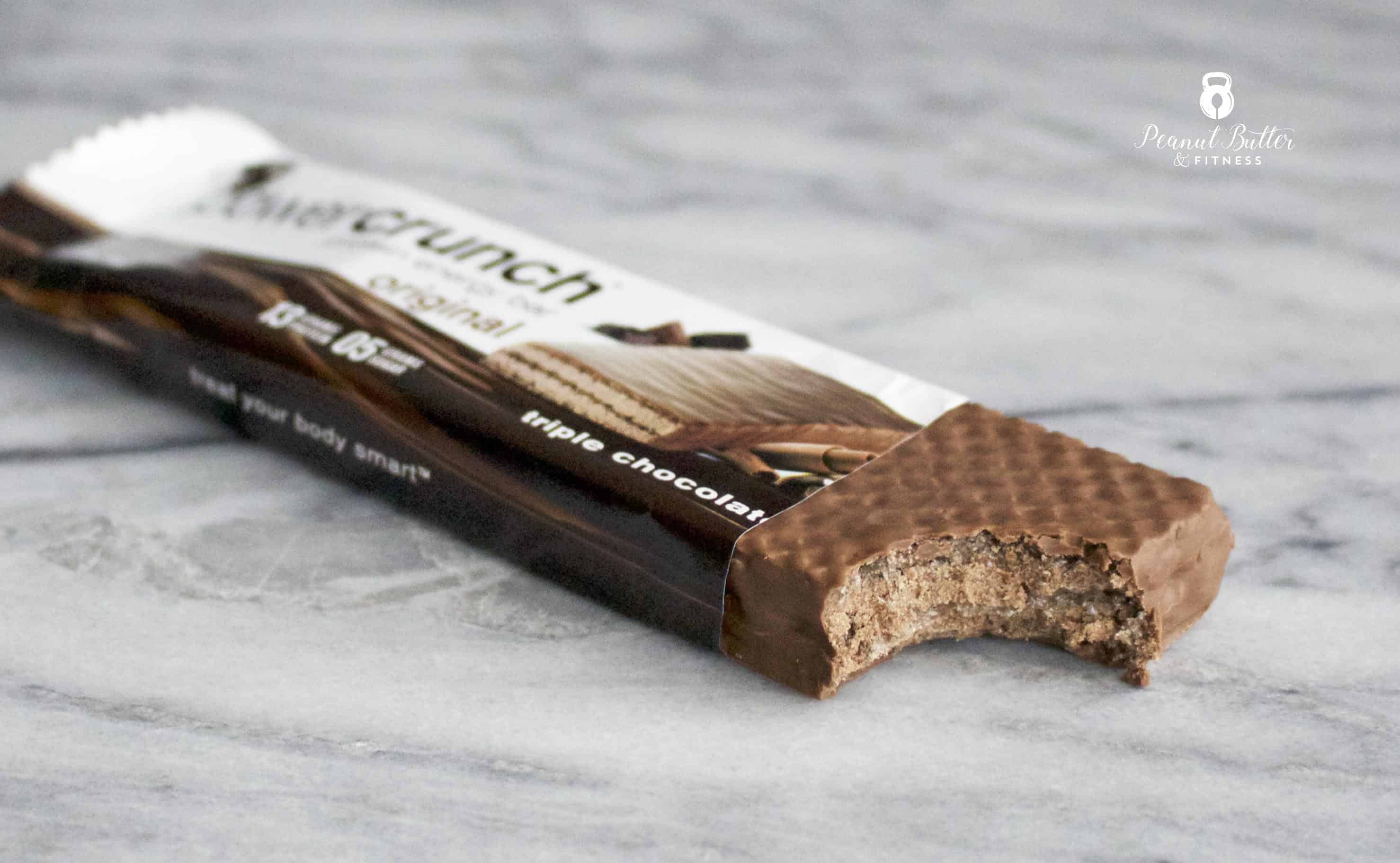 16. Muscle Milk Protein Bar – Chocolate Peanut Butter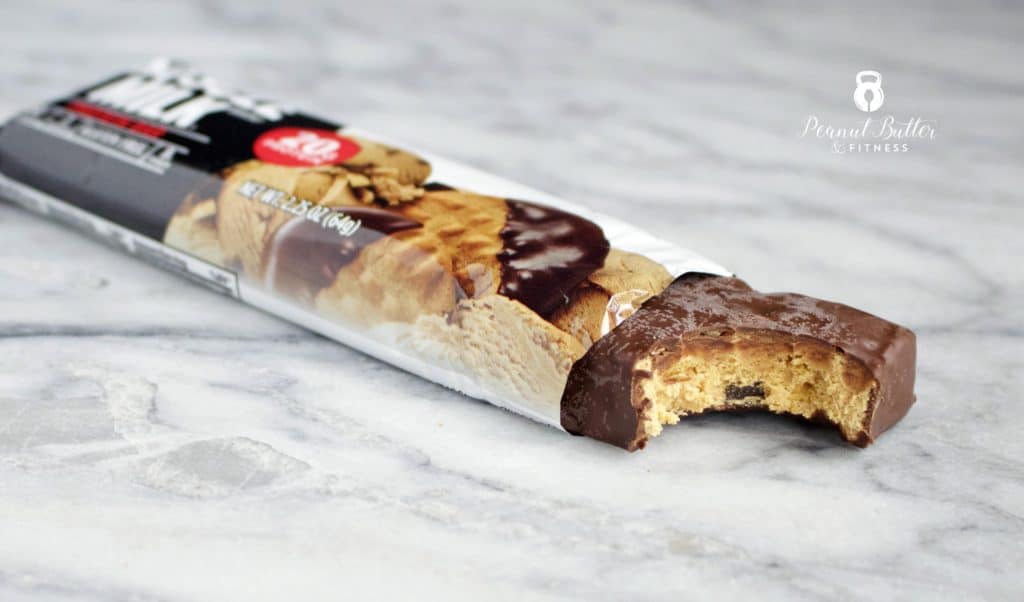 17. think! Protein+ 150 Calorie Bar – S'mores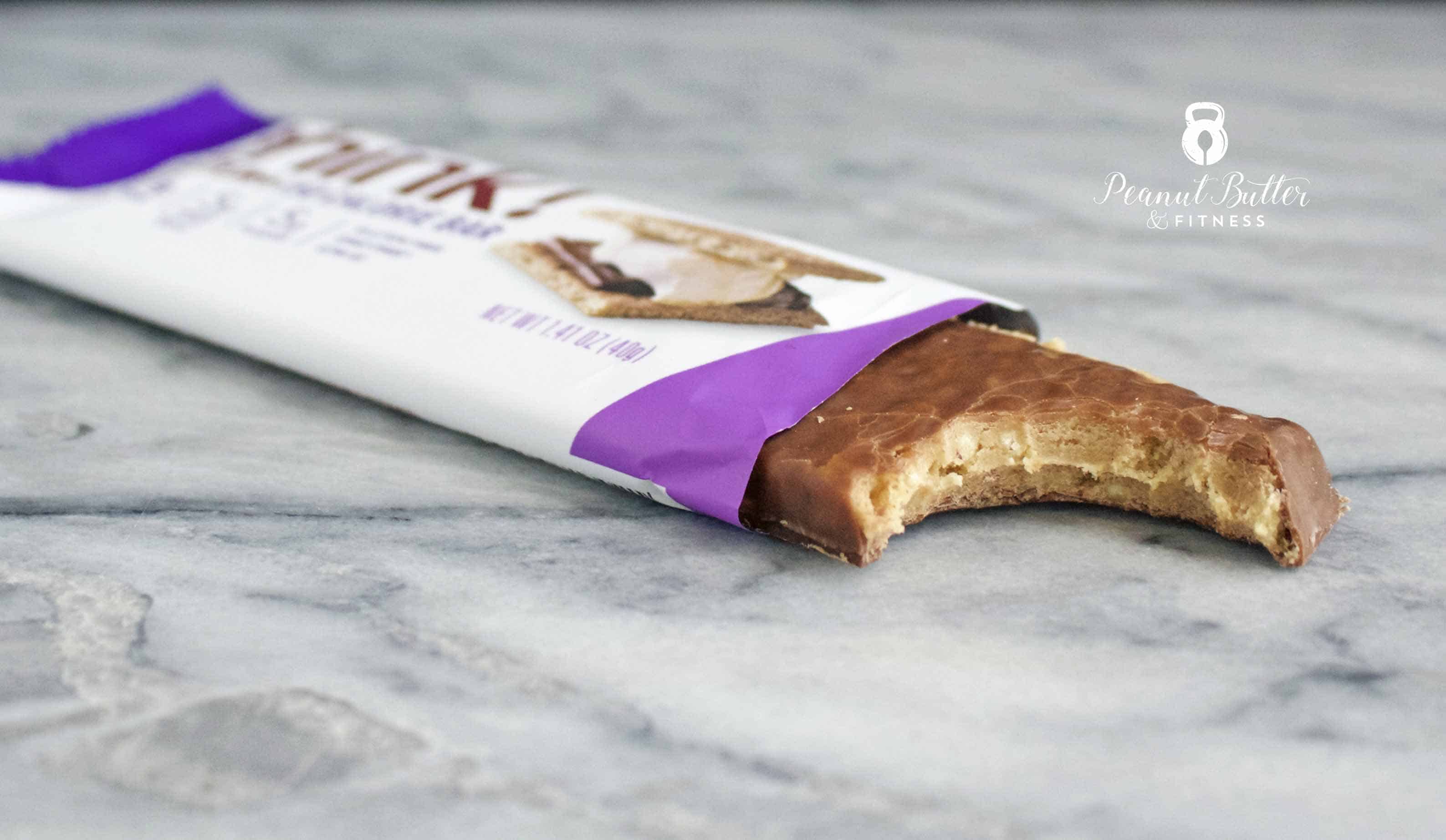 18. Protein Bonk Breaker – Cookies & Cream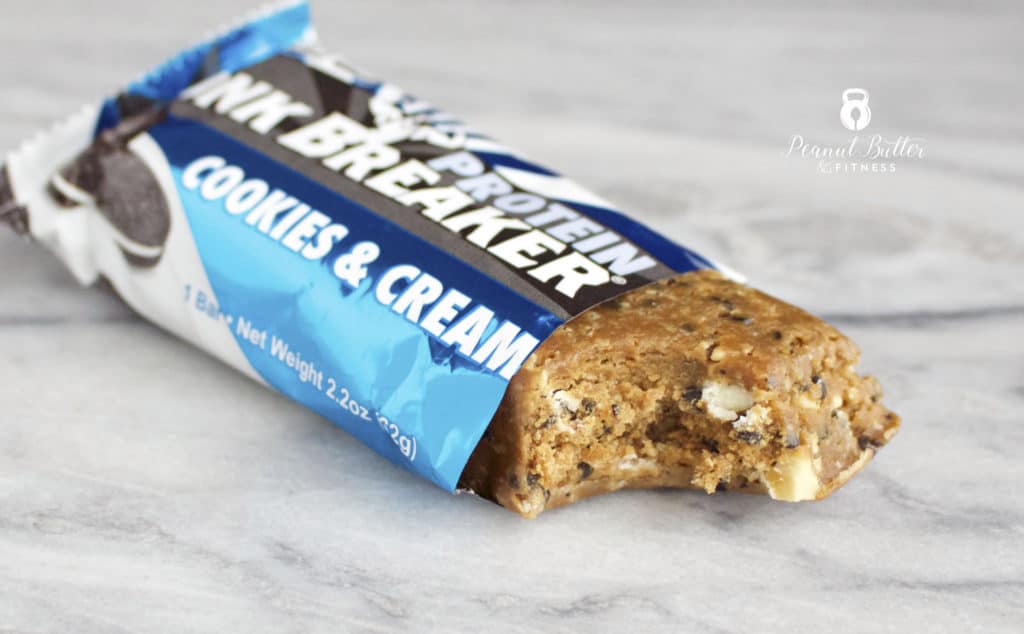 19. OhYeah! Nutrition ONE Bar – Chocolate Chip Cookie Dough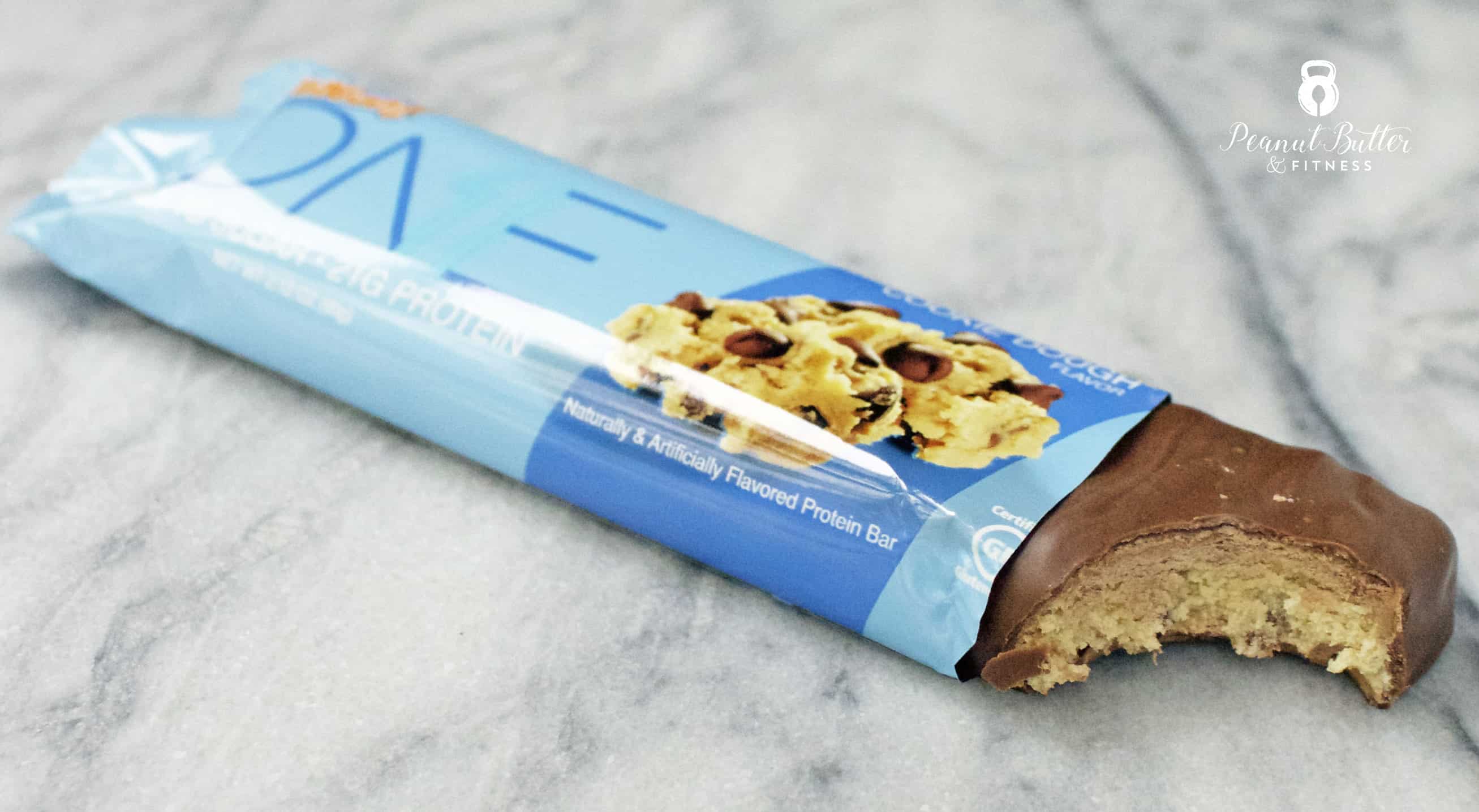 20. Fit Crunch – Chocolate Chip Cookie Dough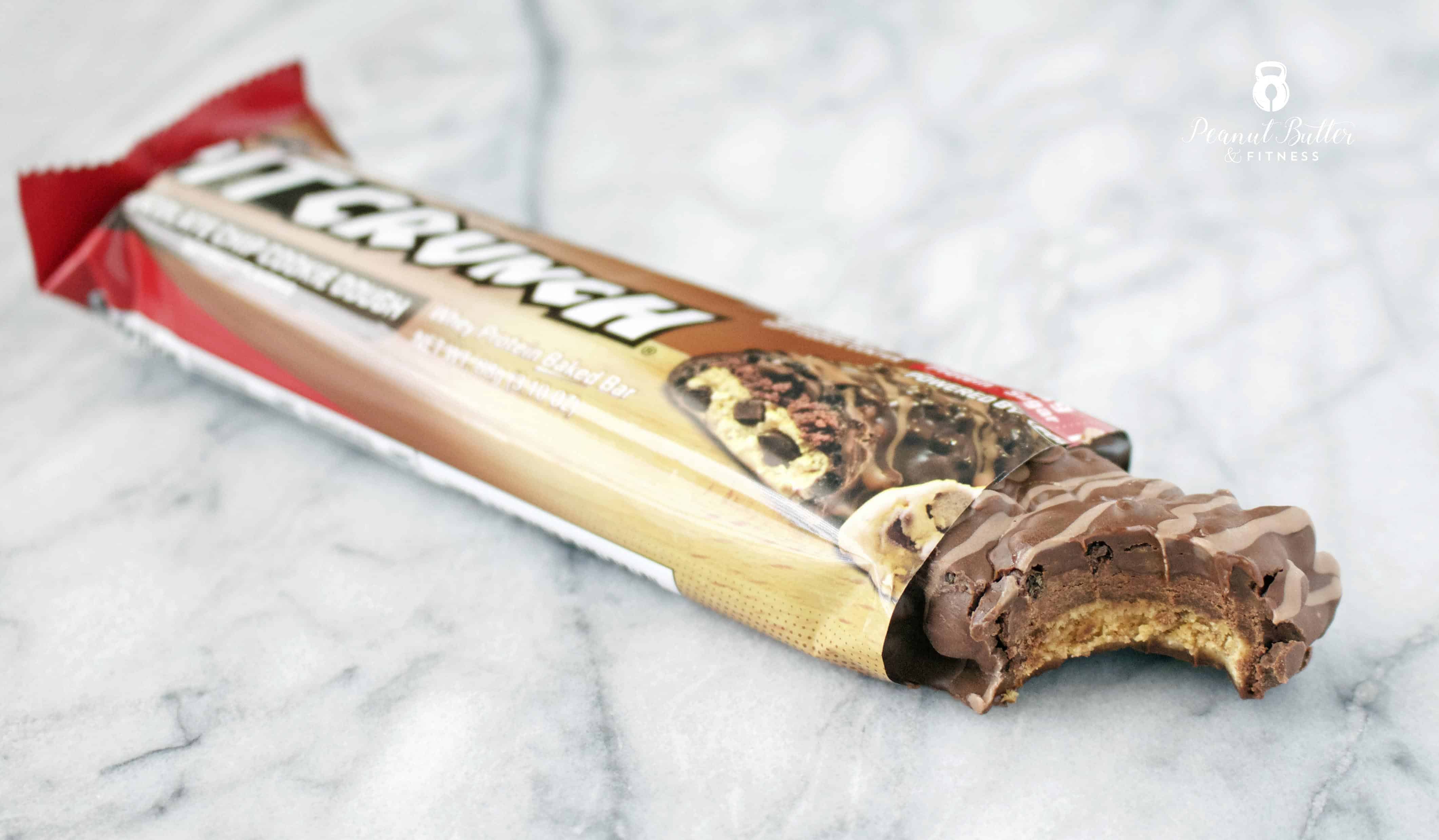 21. BSN Syntha-6 Protein Crisp Protein Bar – Chocolate Crunch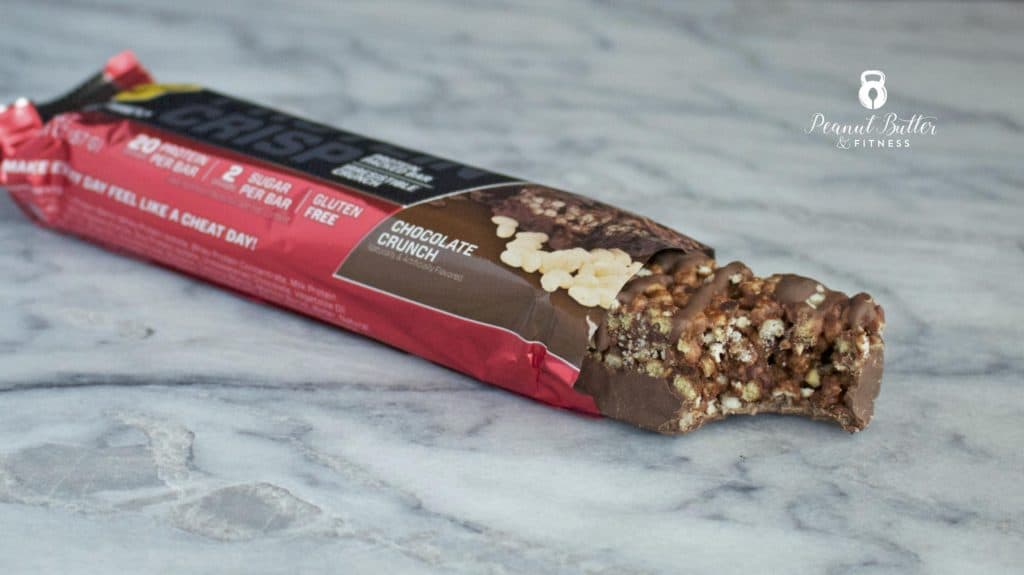 22. Luna Protein Bars – Chocolate Chip Cookie Dough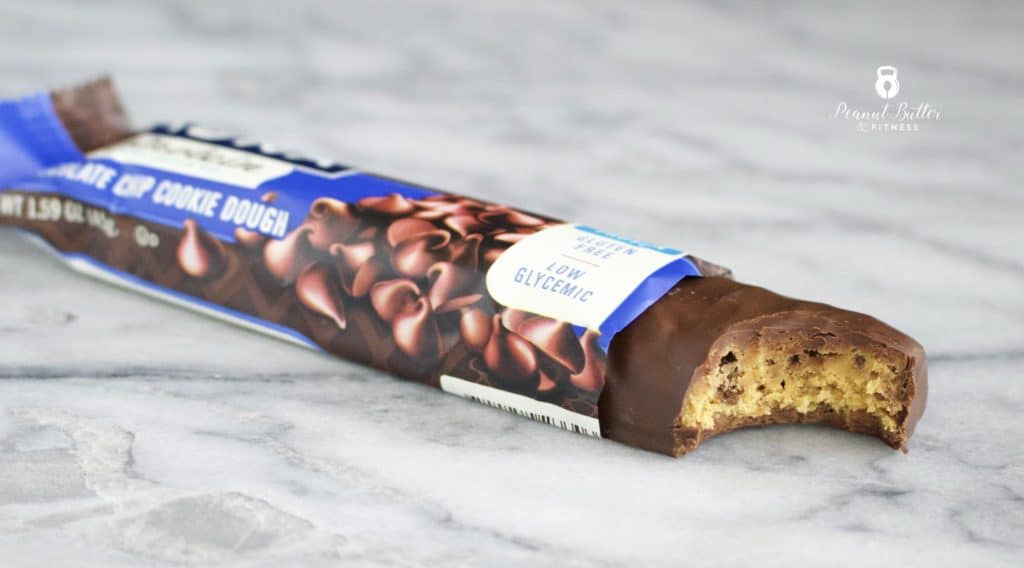 23. Grenade Carb Killa Brownie – Fudge Brownie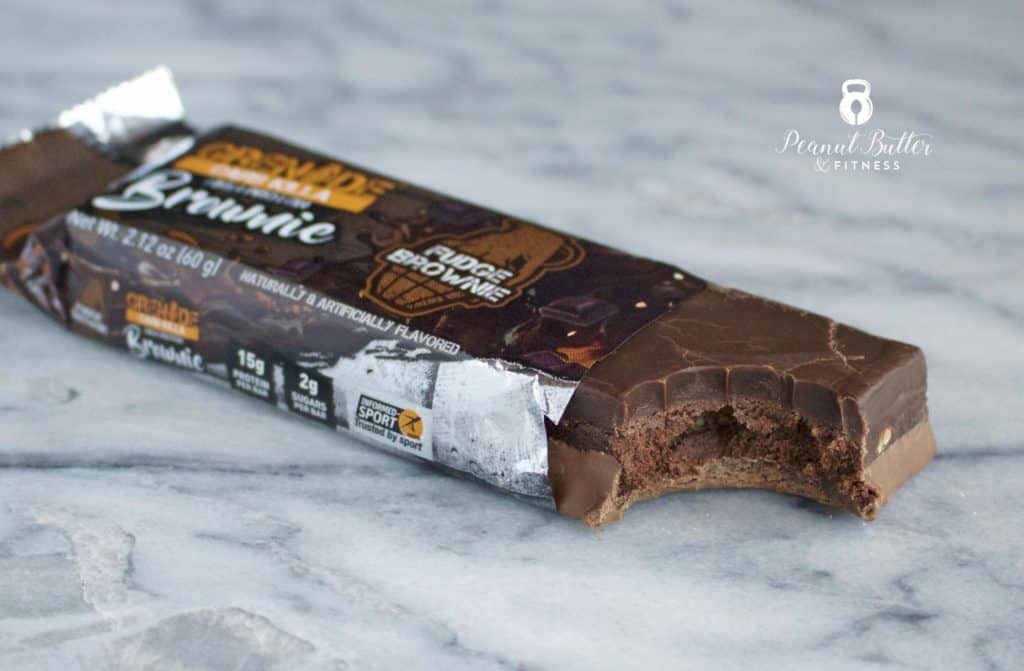 24. Olly Protein Bar – Peanut Butter Chocolate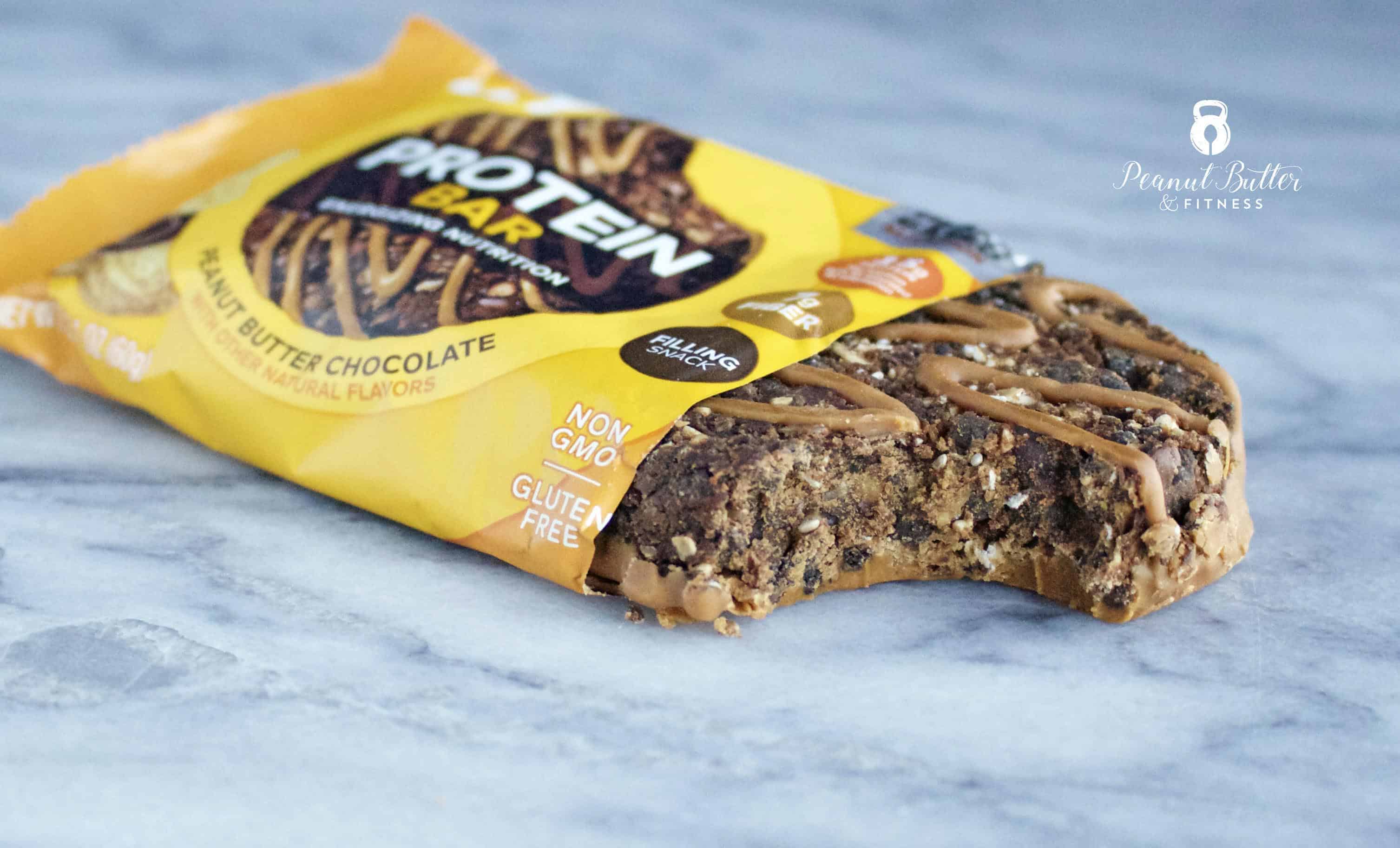 25. FitJoy Bars – Chocolate Iced Brownie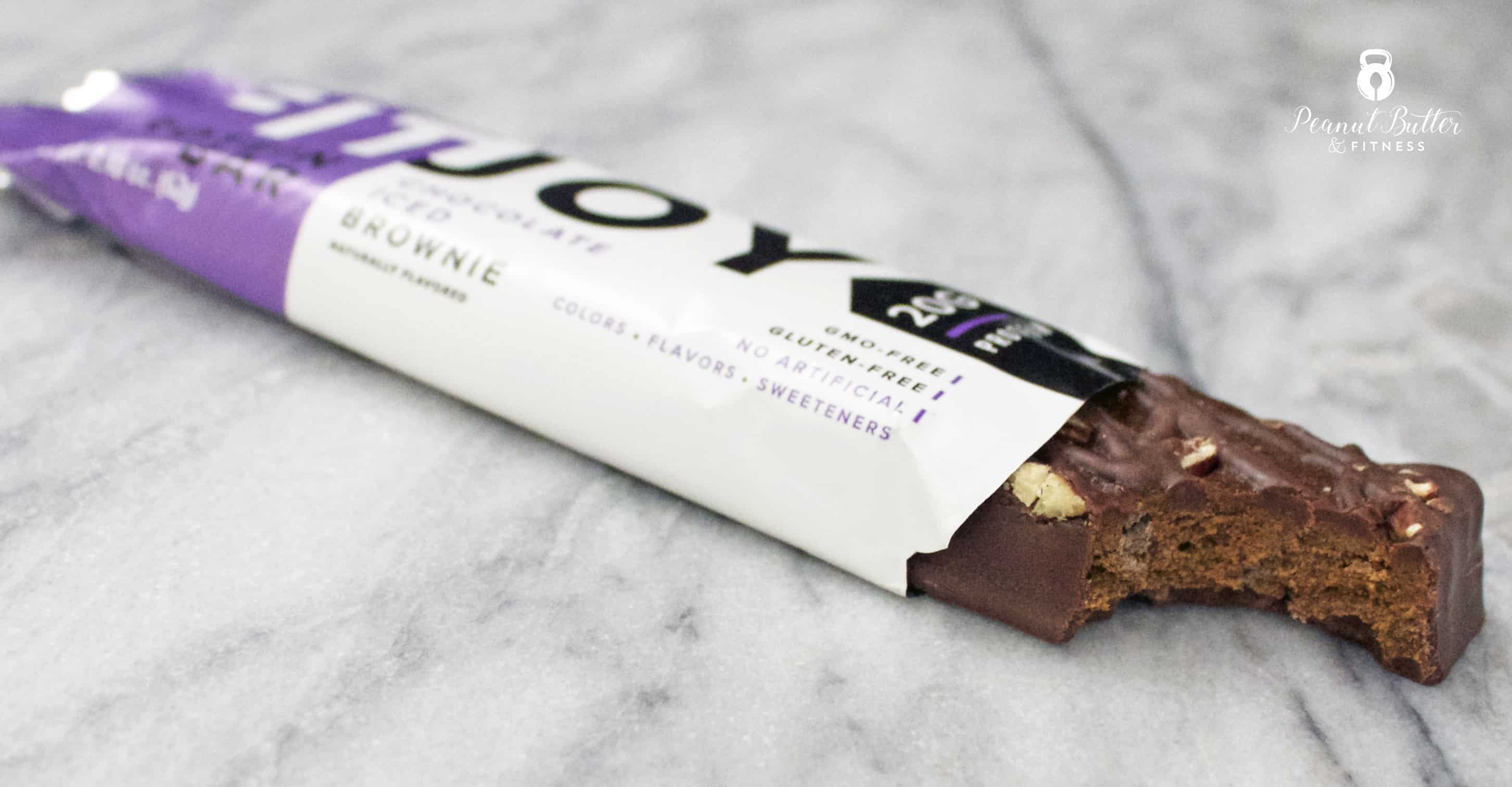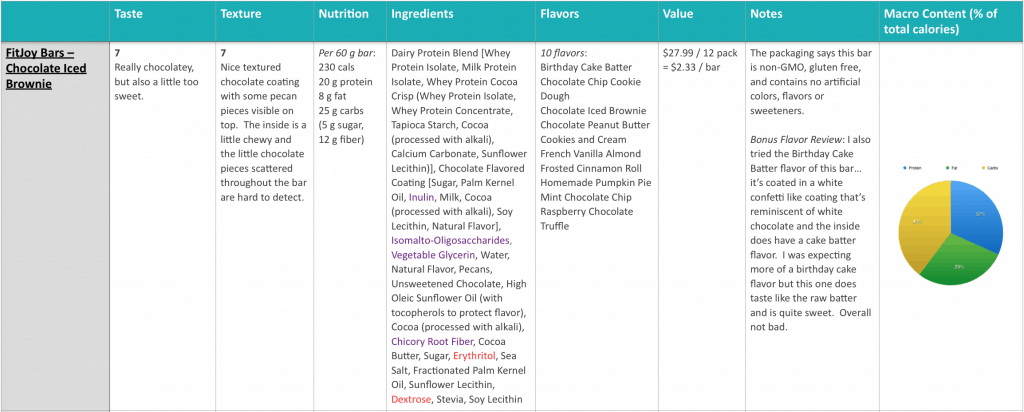 26. Lenny & Larry's Muscle Brownie – Cookies 'n Cream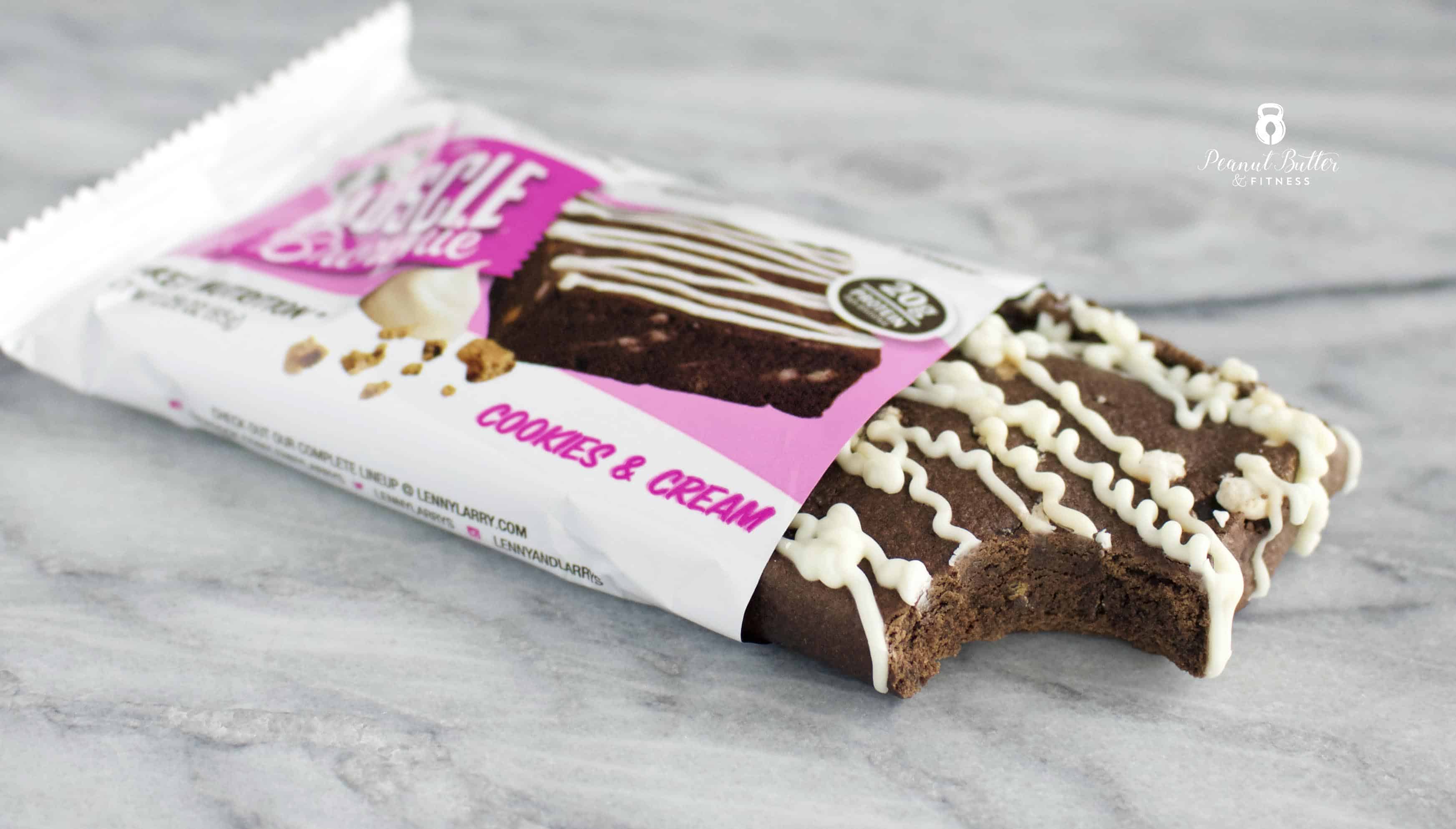 27. Quest Nutrition Quest Bars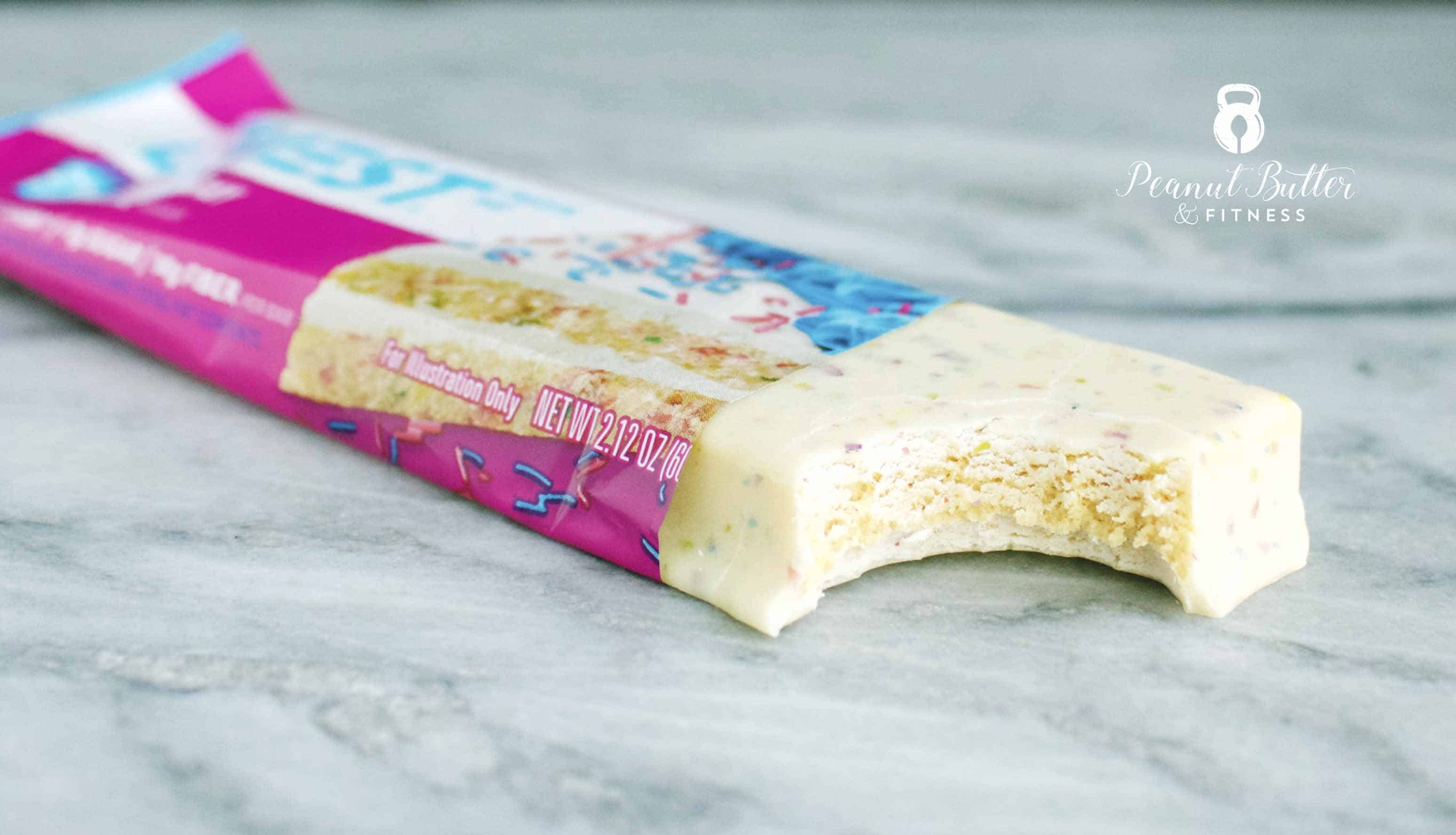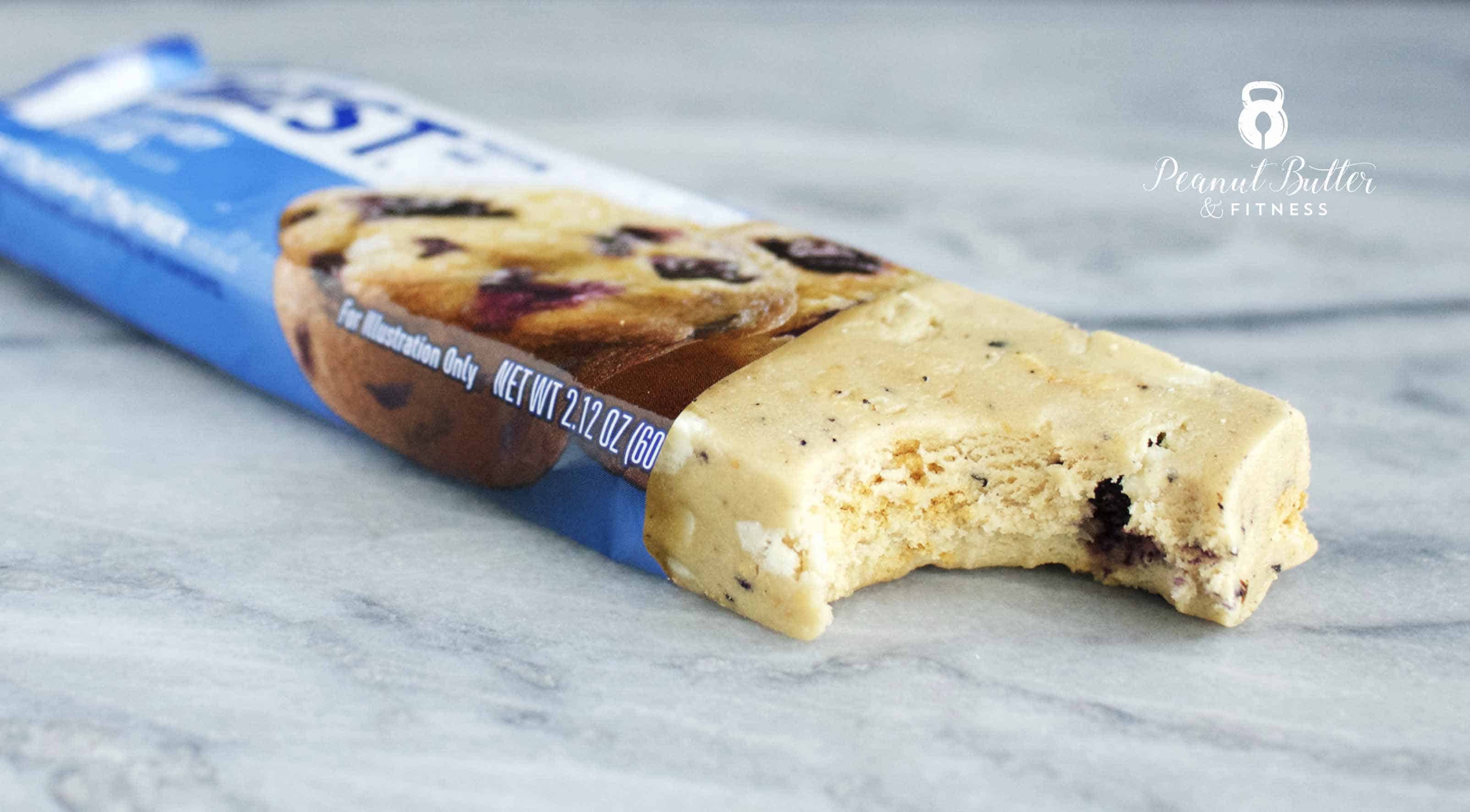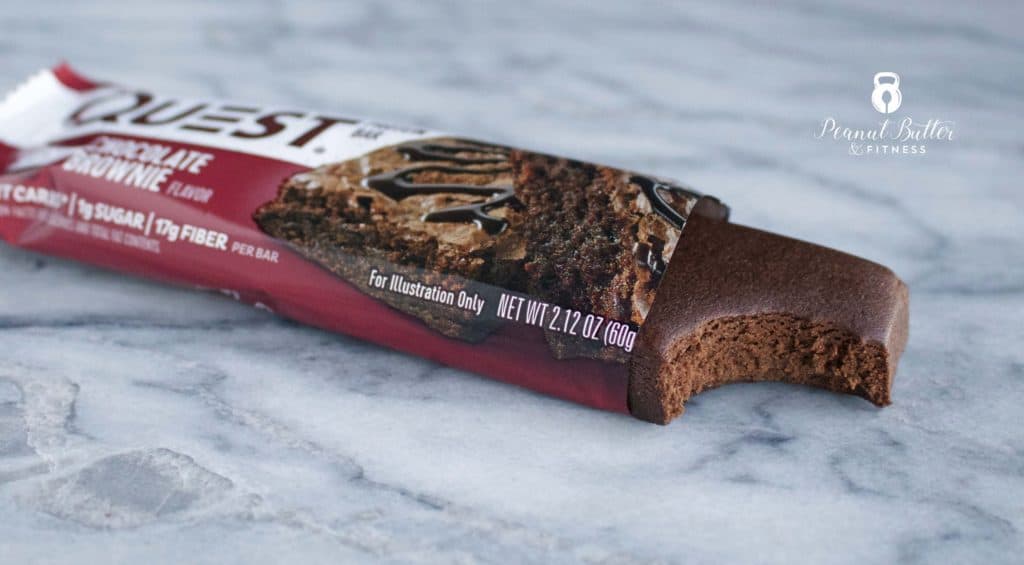 28. Truth Bar Prebiotic + Probiotic – Chocolate Toasted Marshmallow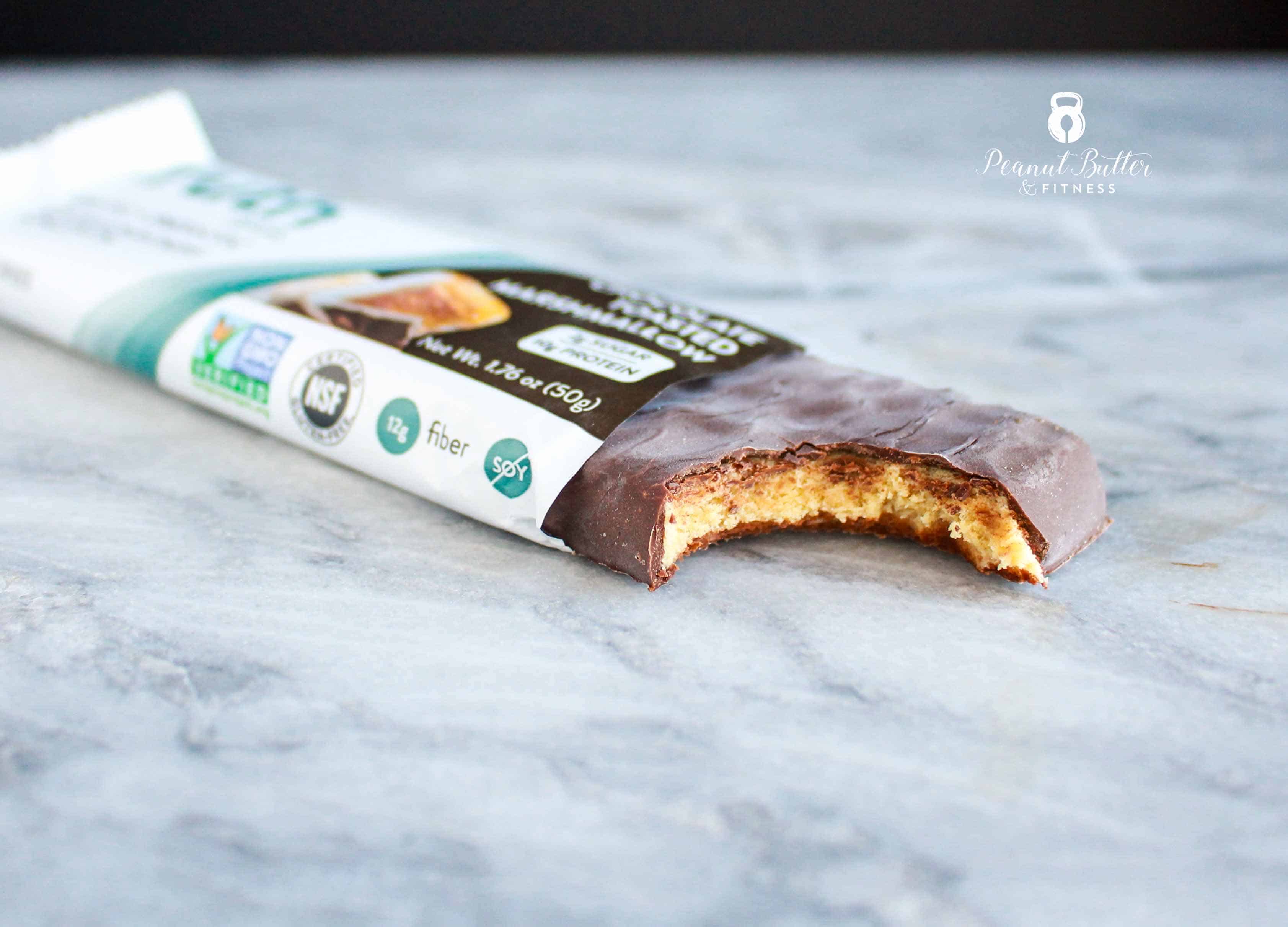 29. MuscleTech Mission1 Clean Protein Bar – Chocolate Brownie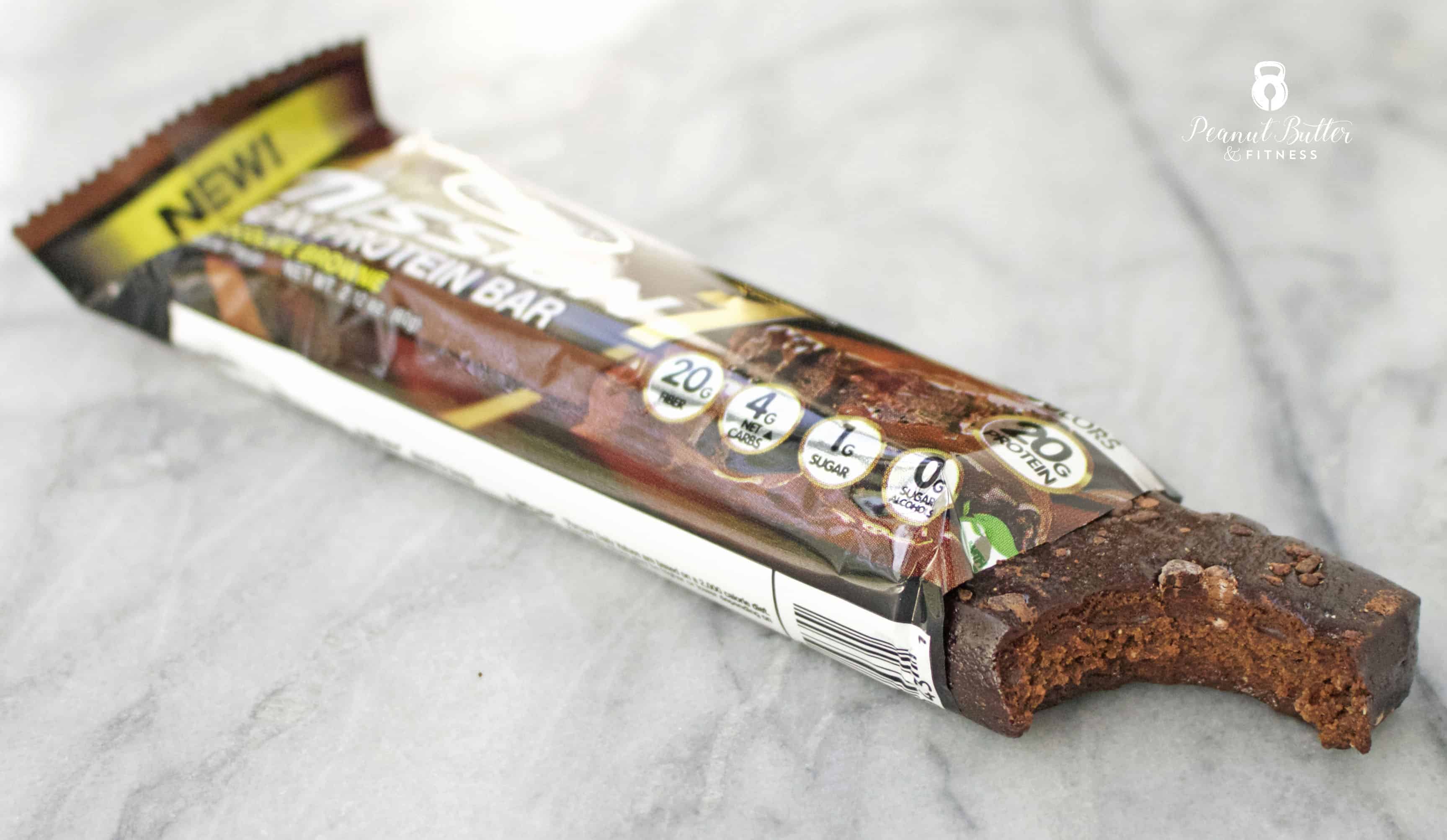 30. MusclePharm Crisp – Chocolate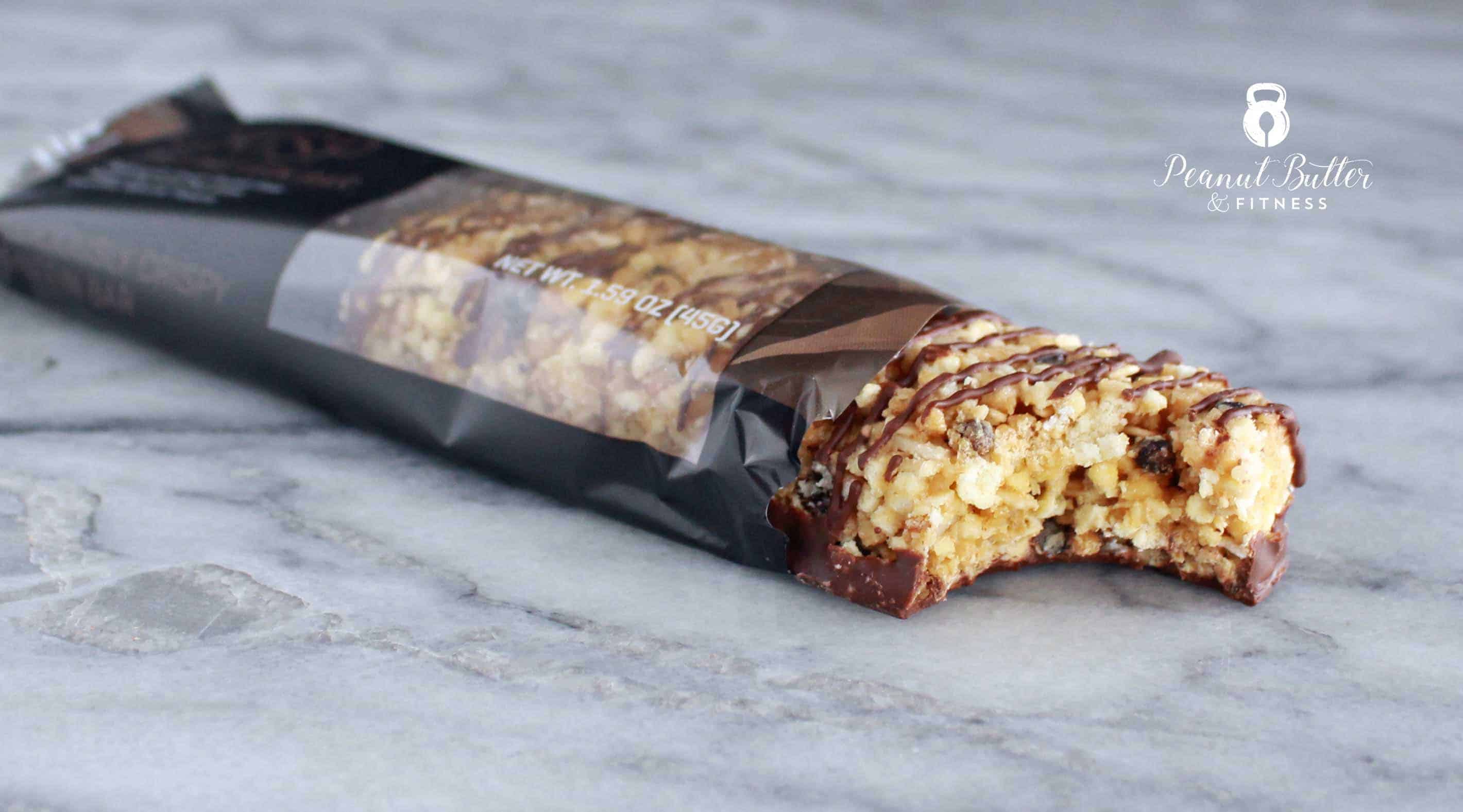 31. Built Bars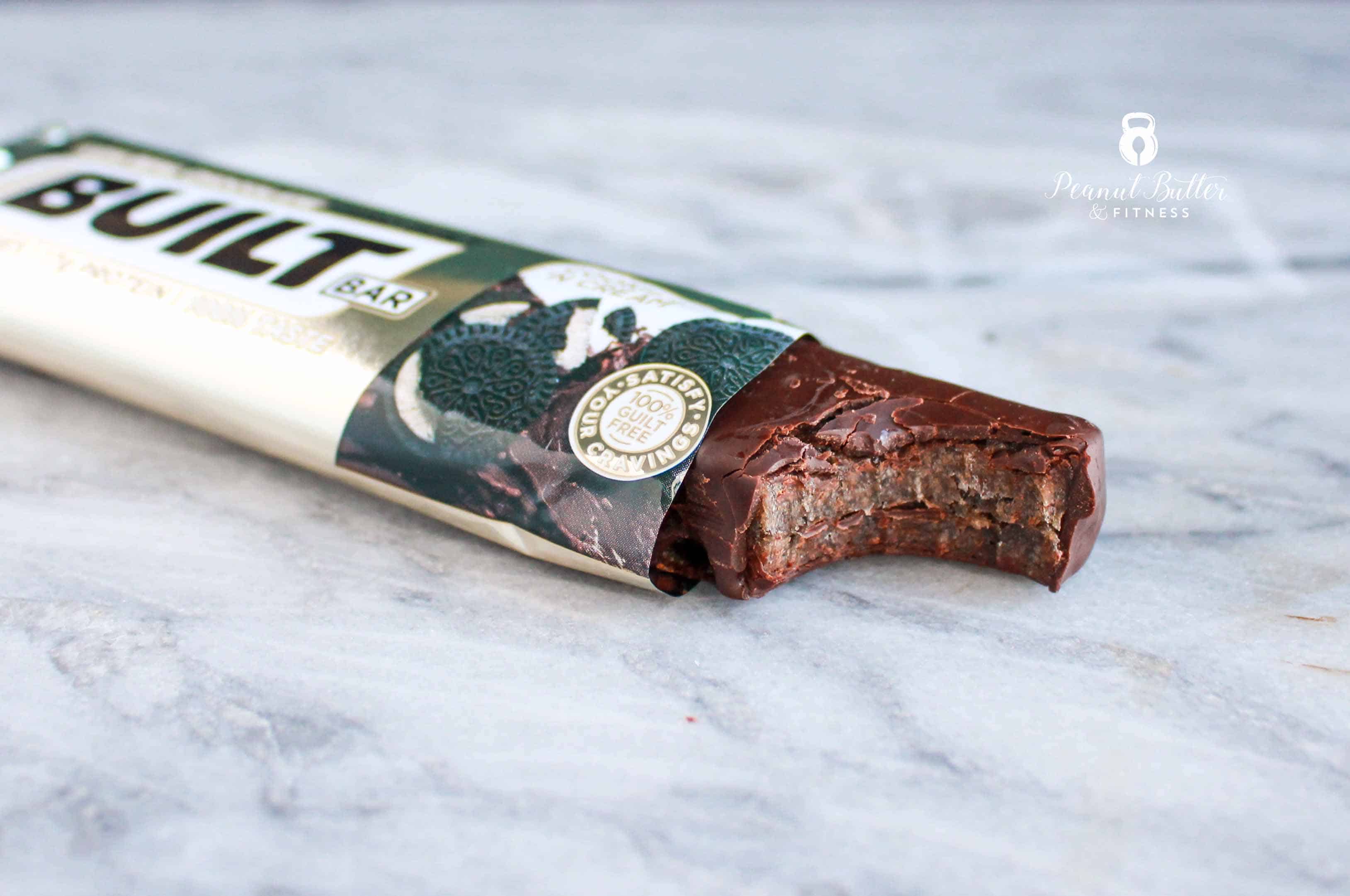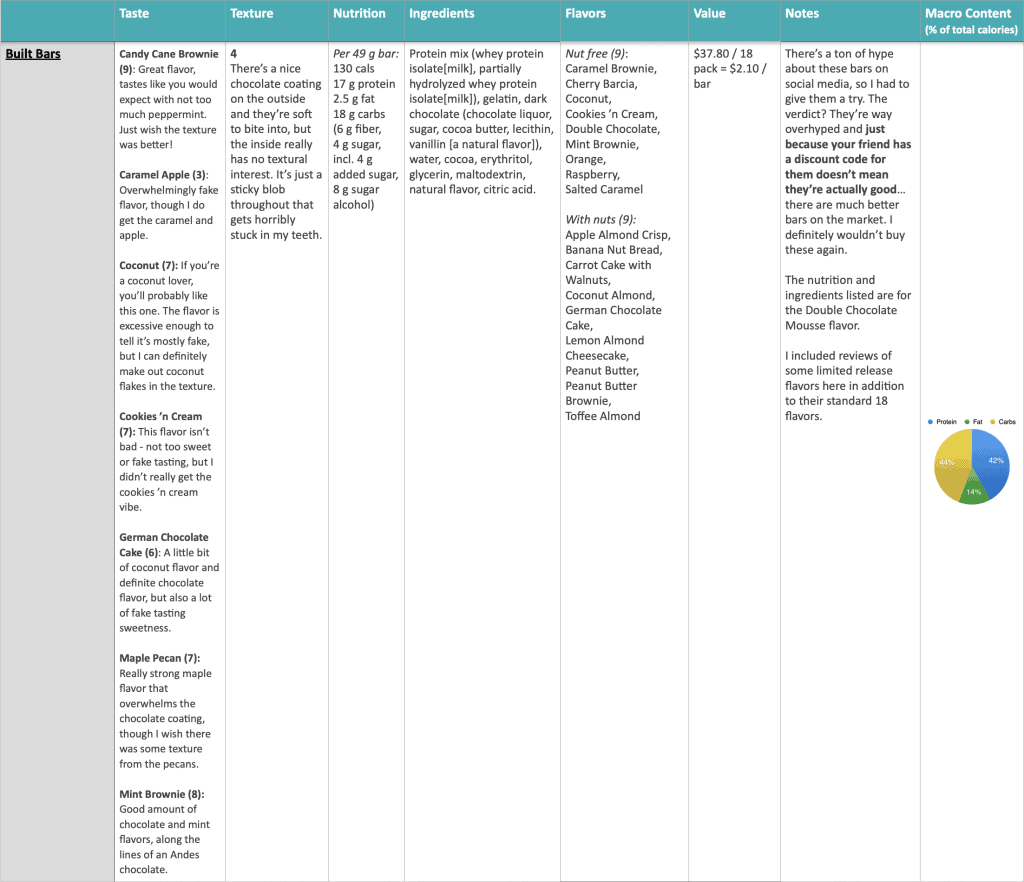 32. Dymatize Elite Protein Bar – Chocolate Chip Cookie Dough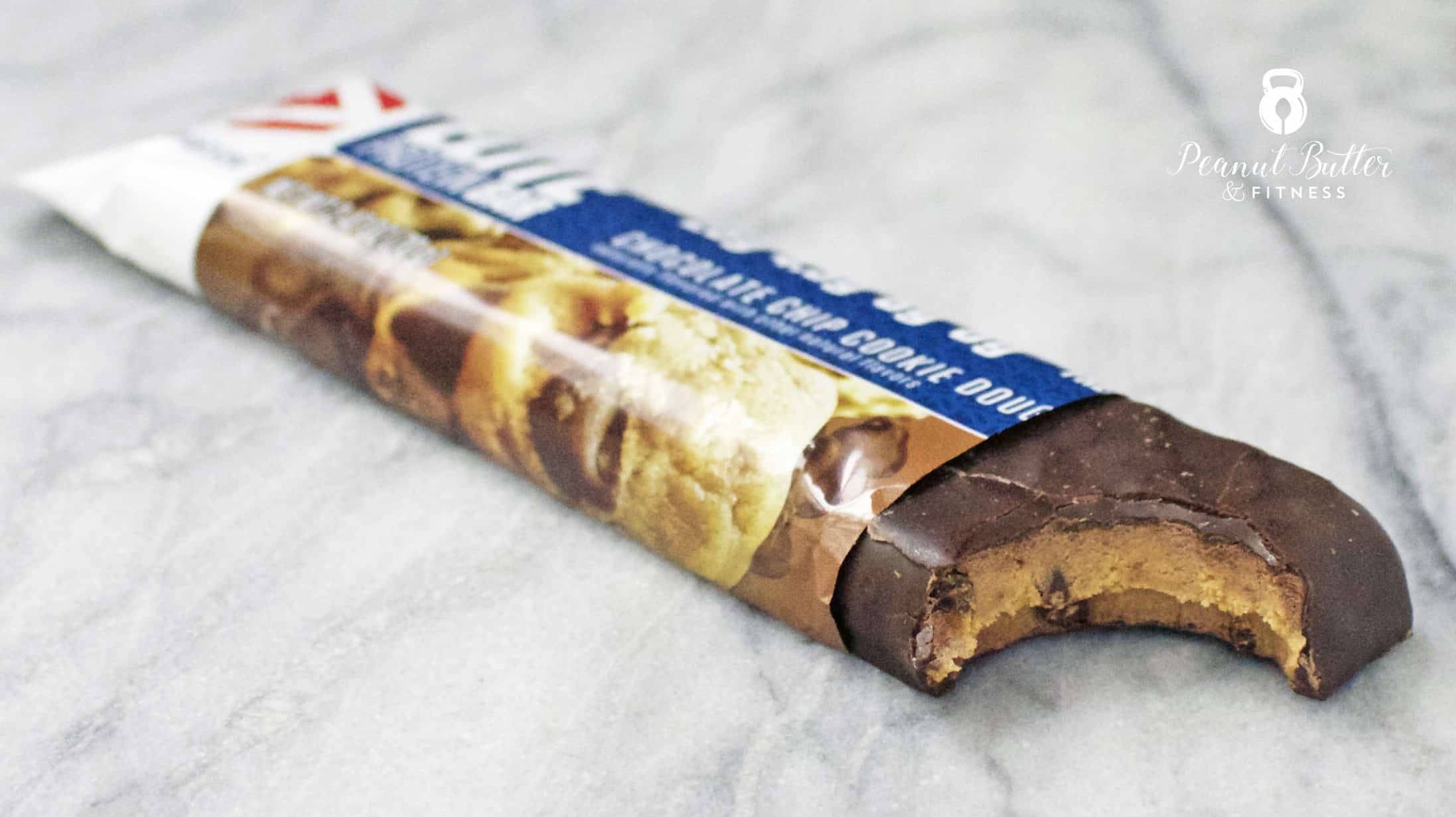 33. Her Whey Lean Protein Bar – Cookie Dough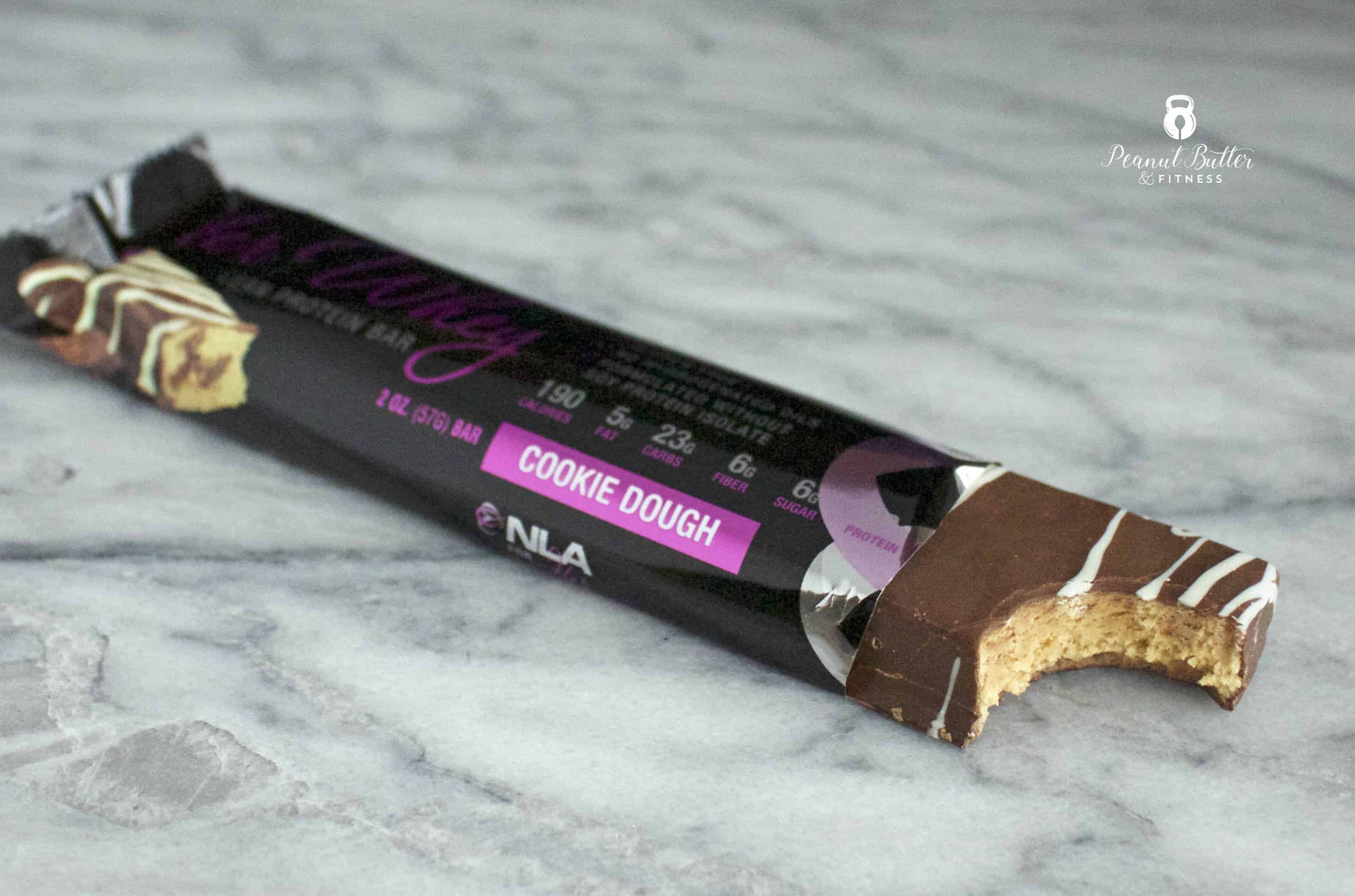 34. One Basix Protein Bar – Cookie Dough Chocolate Chunk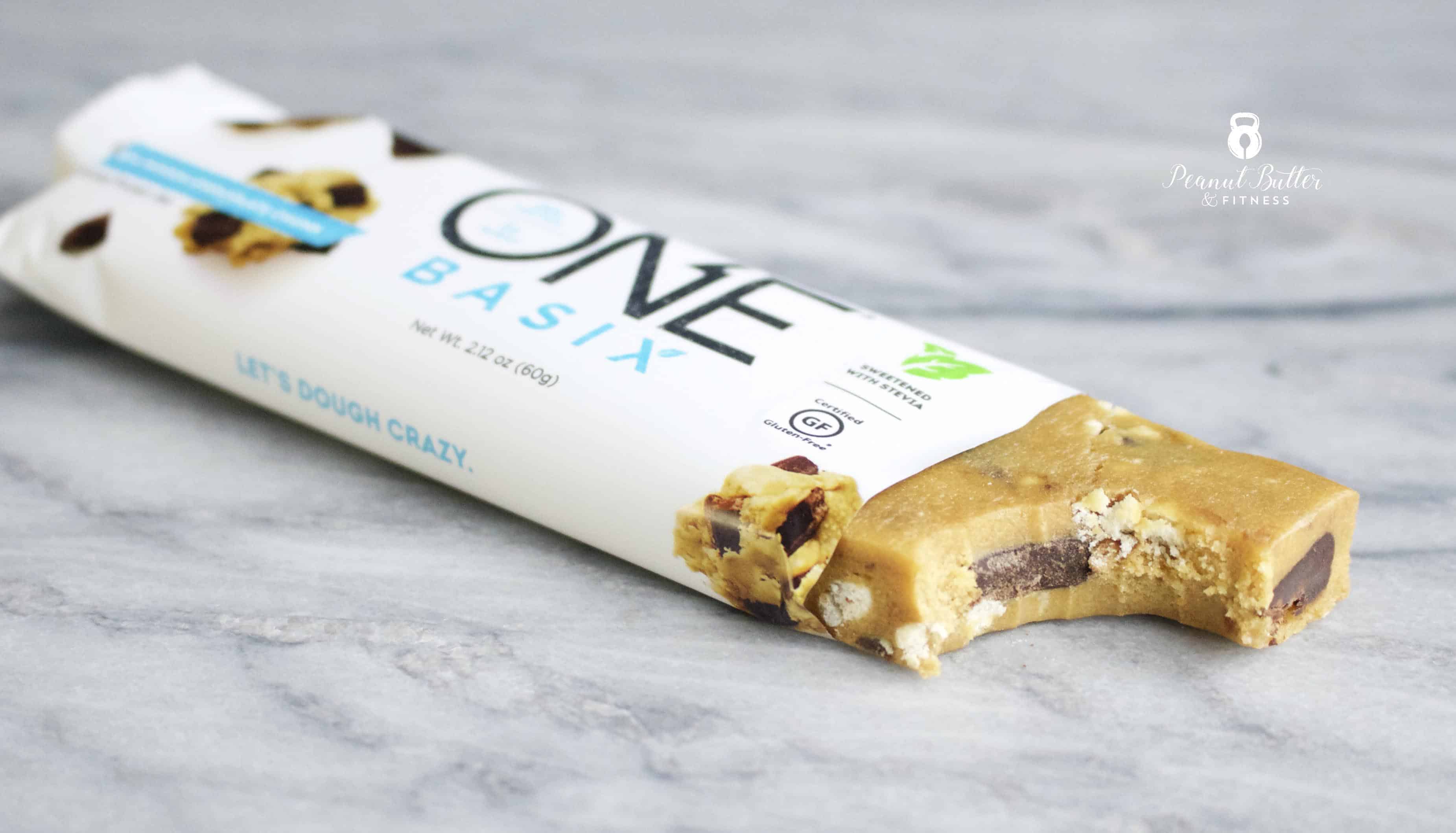 35. Pure Protein Bar – Chocolate Deluxe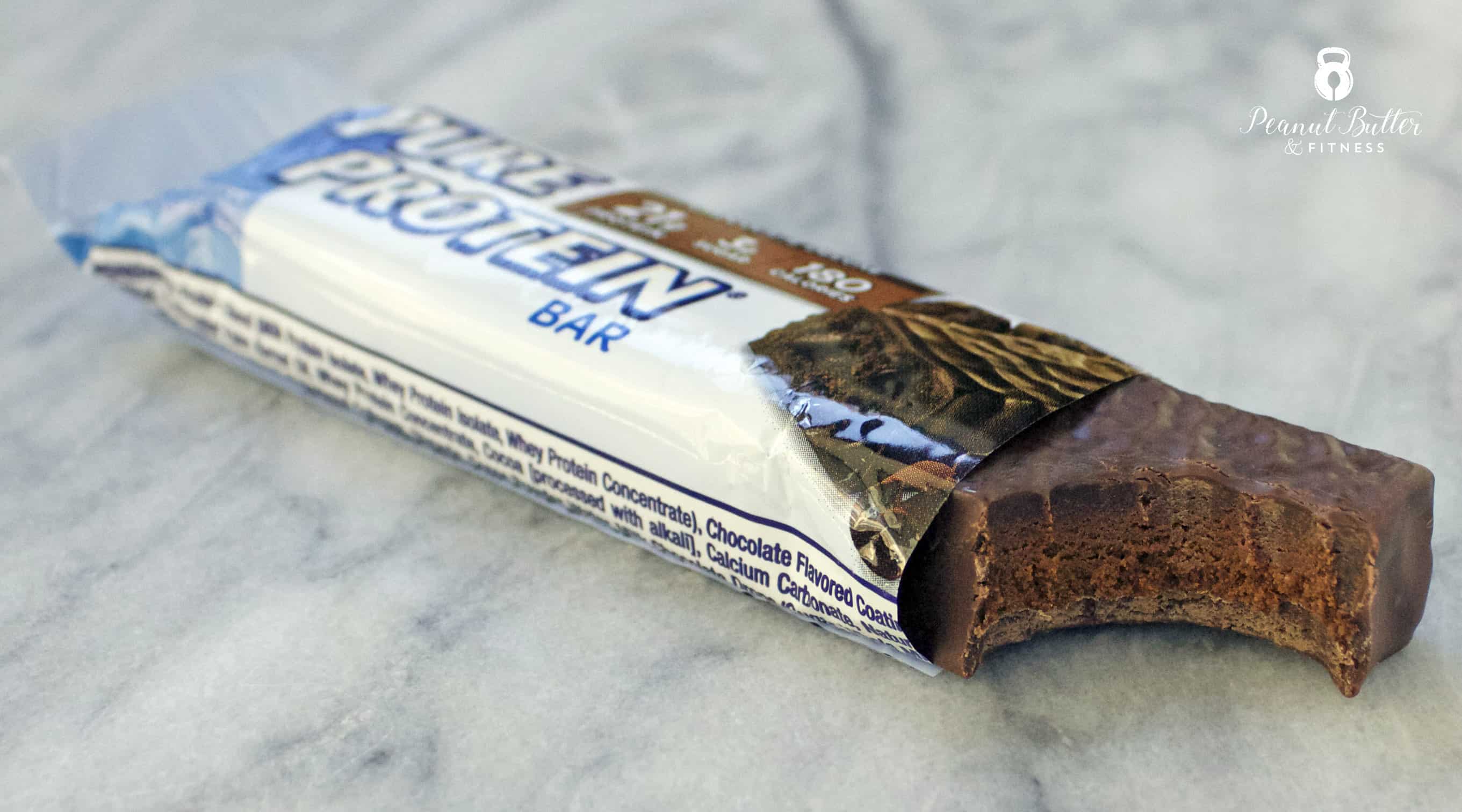 36. PE Science Select Protein Bar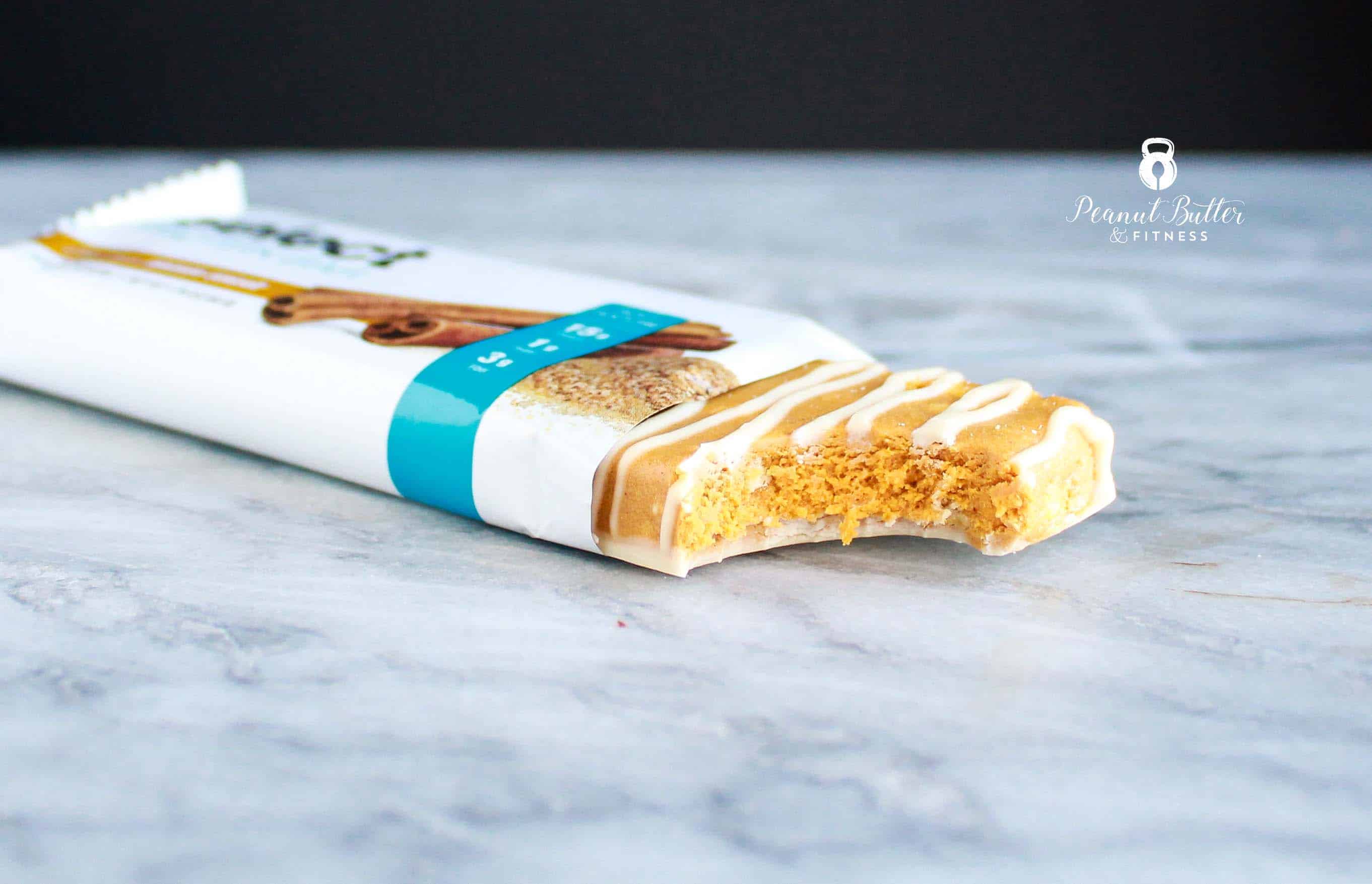 37. Dymatize ISO100 Protein Bar – Frosted Brownie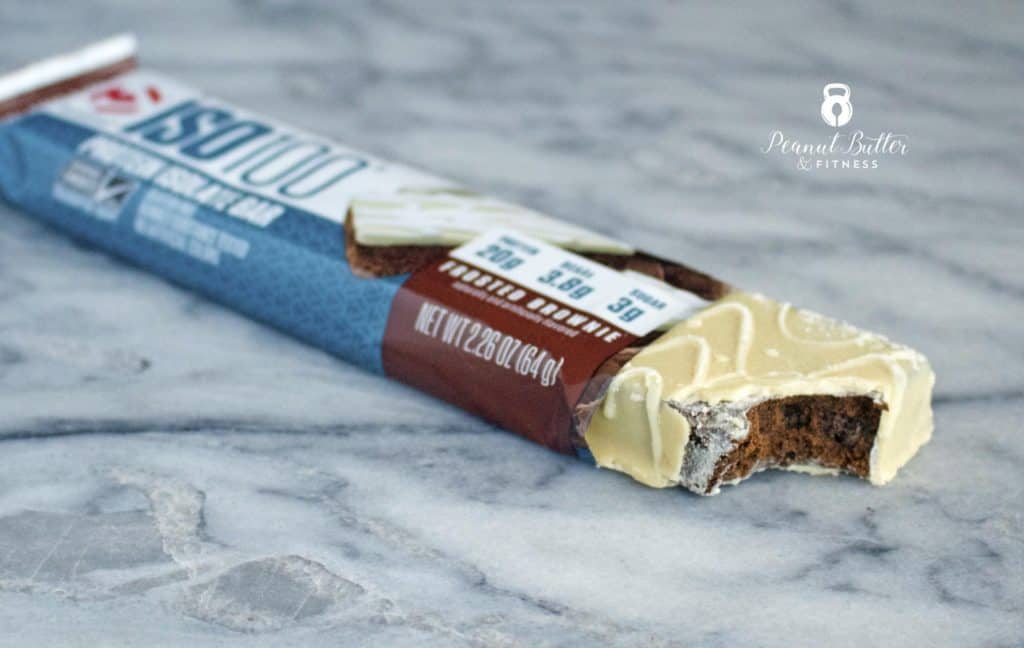 38. Optimum Nutrition Opti-Bar – Chocolate Chip Cookie Dough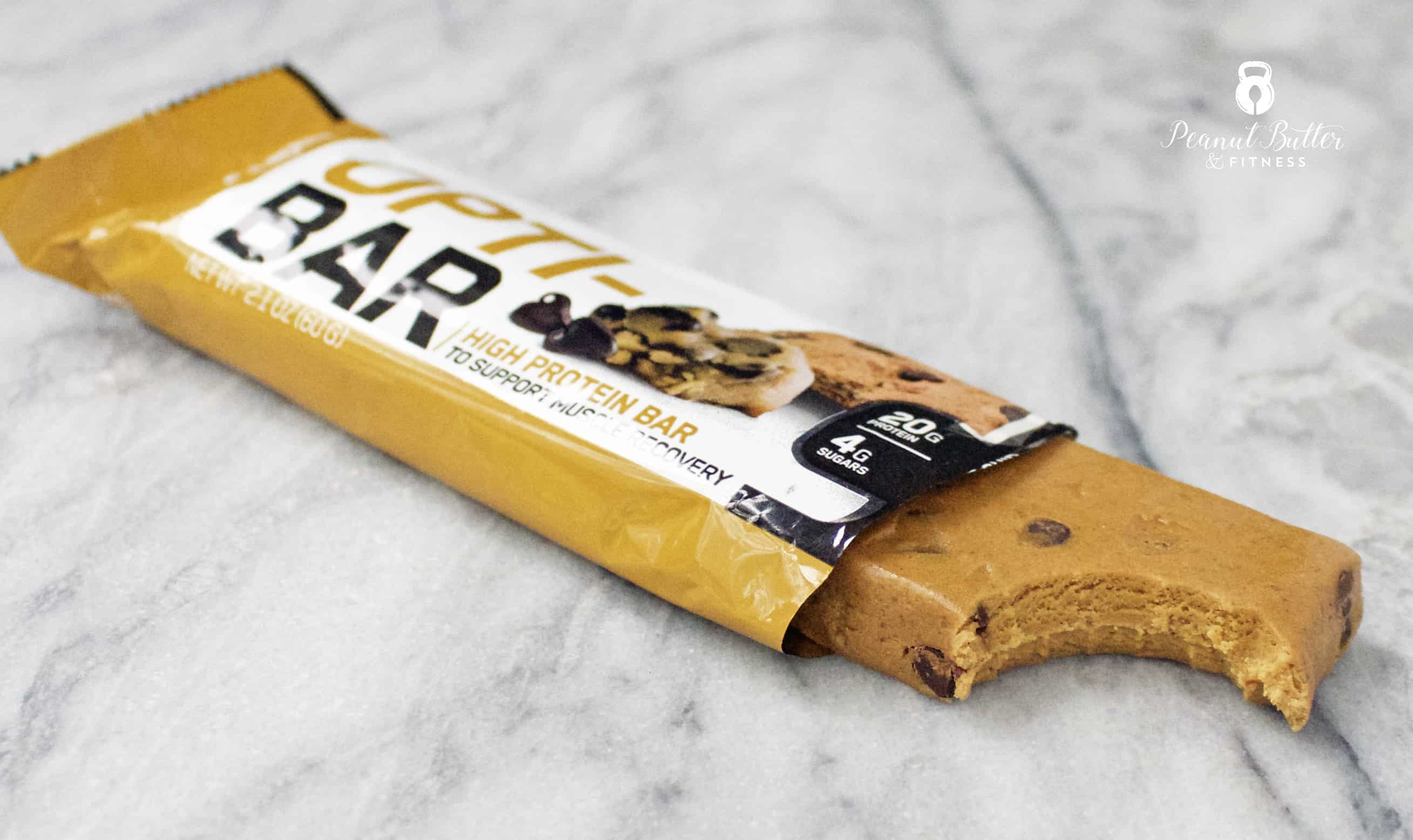 39. Yup Brands B-Up Bar – Chocolate Brownie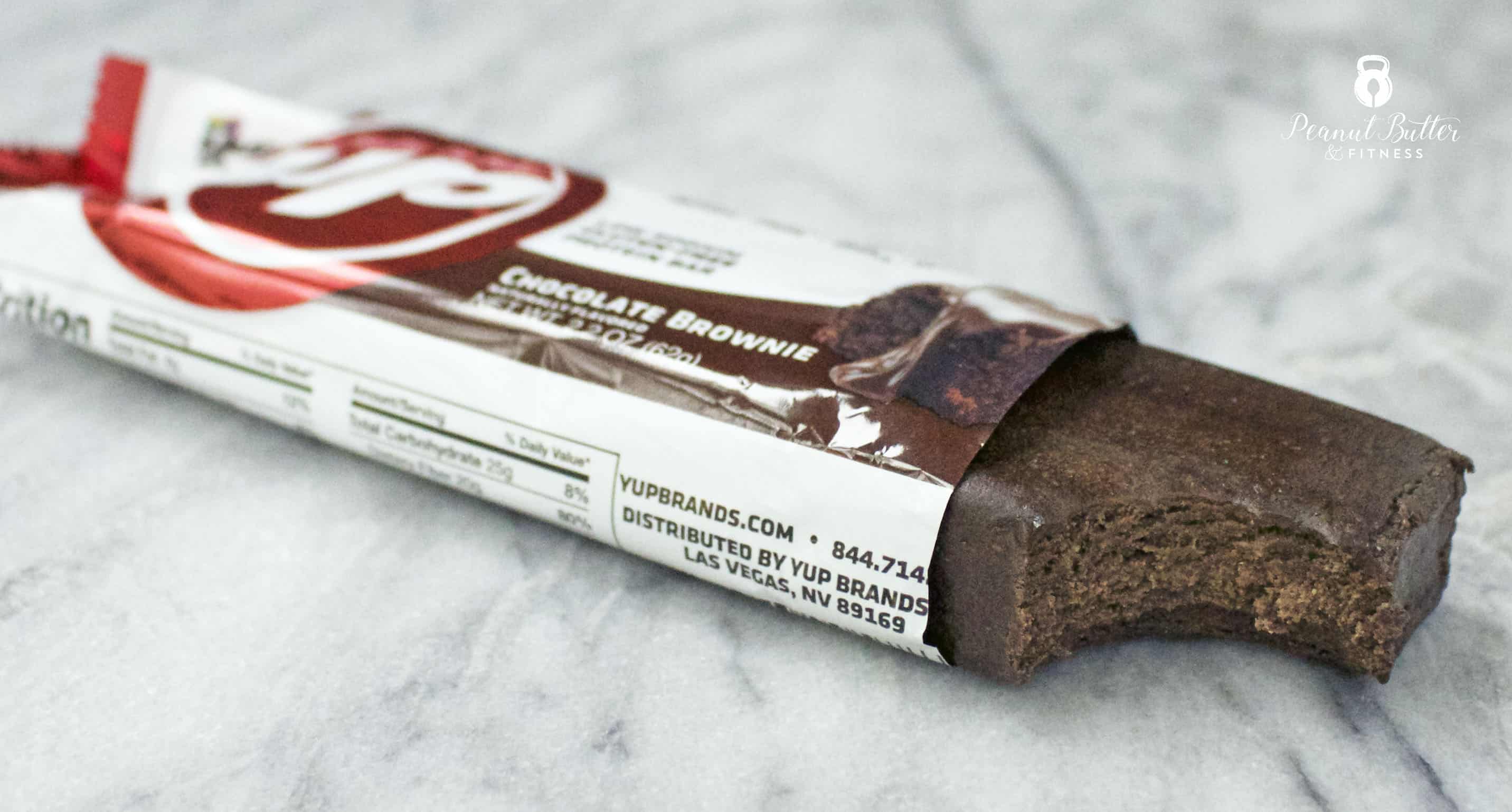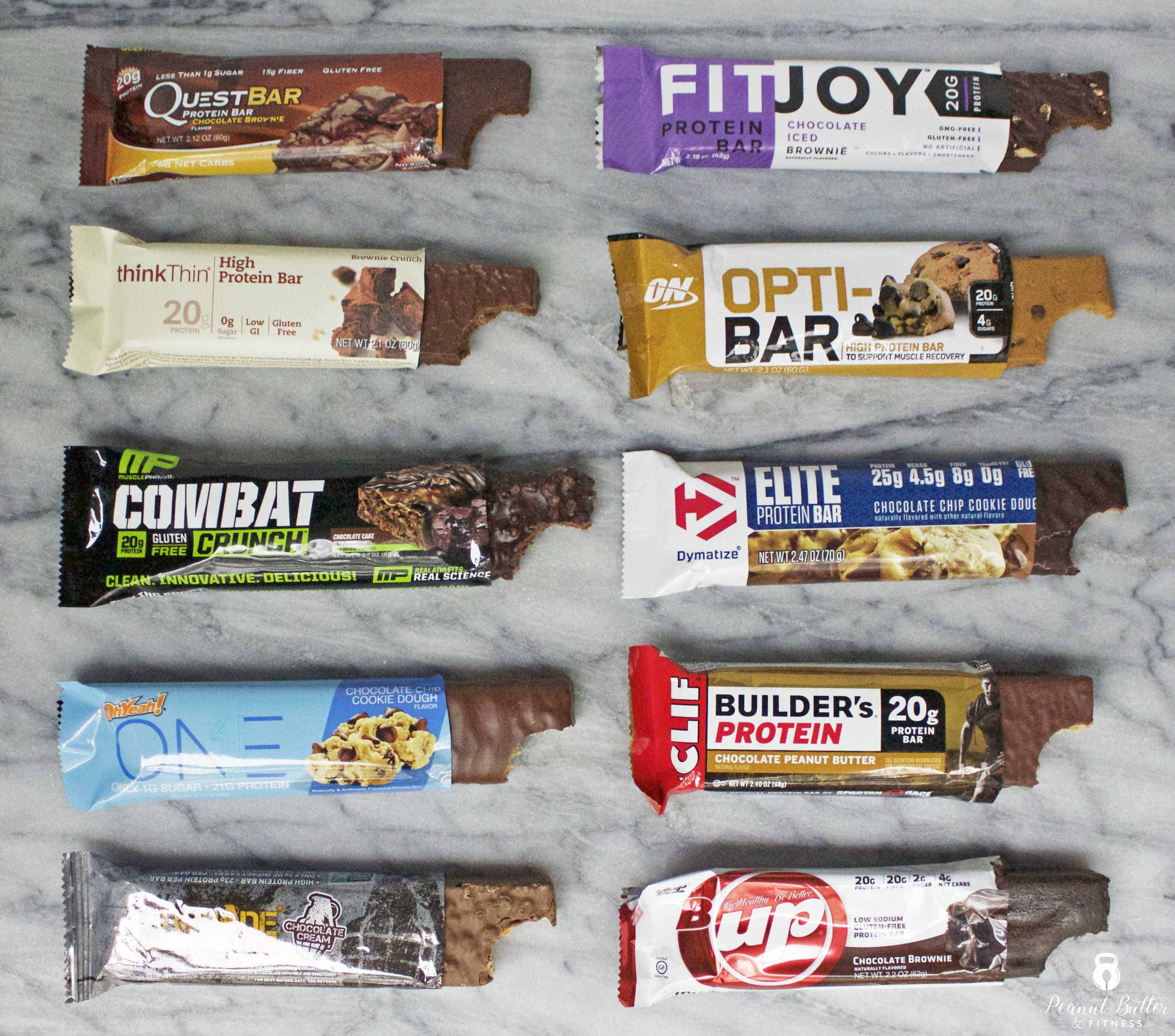 These are the original 10 bars I reviewed! The list has grown just a little bit.
Here's the link again to the full spreadsheet:
Note: I was not provided any compensation or samples to endorse these products. The views expressed here are my own. The Amazon links contained in this post are affiliate links, meaning that if you buy anything from Amazon after clicking through these links, I'll earn a small commission (usually just a few pennies) from your purchase. Your purchase price will be the same whether you use my affiliate links or navigate to Amazon independently.