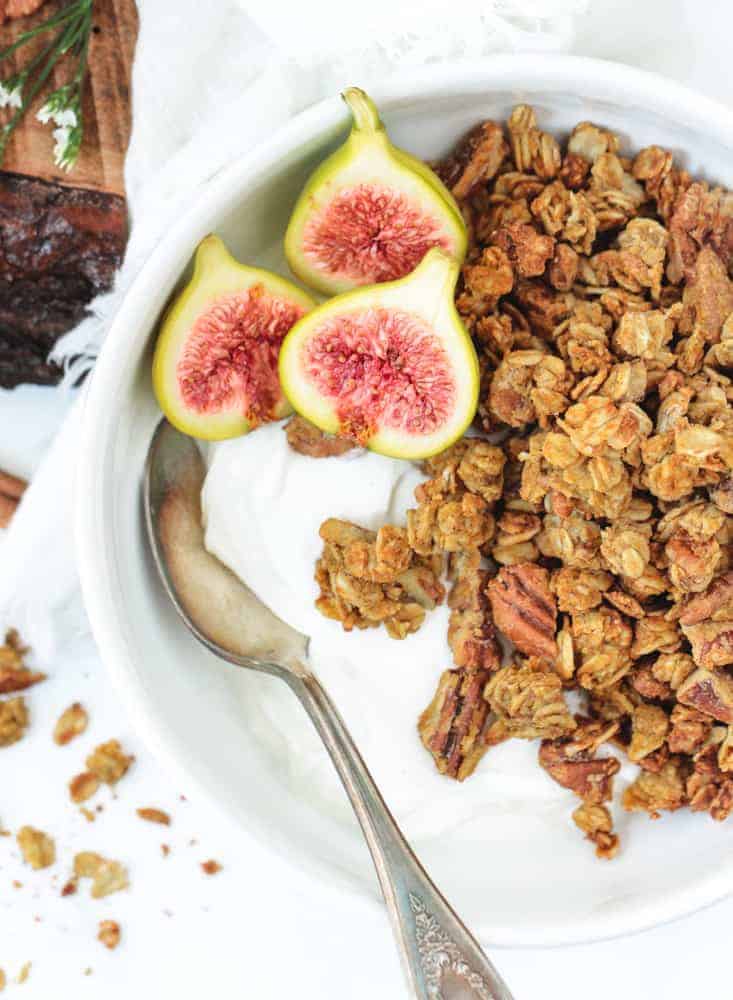 Jump to Recipe
Happy Sunday, friends! We're still hot and heavy in pumpkin spice season, and that means it's a perfect time to whip up a batch of this Pumpkin Spice Granola! BTW, it has a secret boost of protein thanks to good-for-you collagen peptides.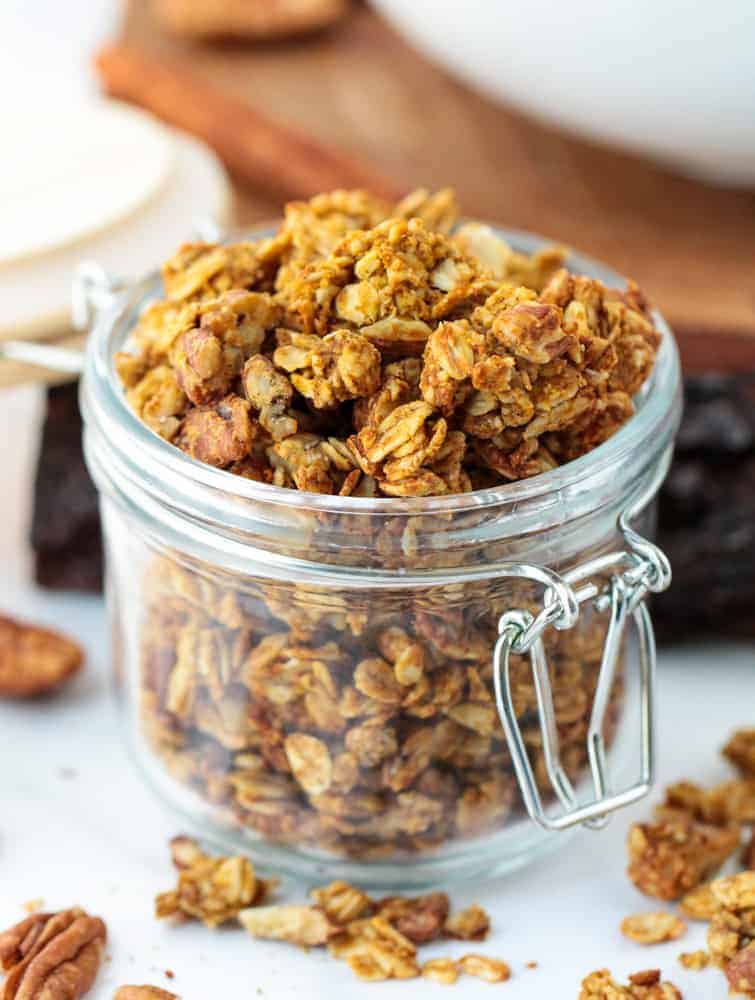 I actually experimented with using vegan protein powder in this recipe and things just got kind of weird…it messed with the pumpkin flavor, you could still see the powder in the finished product, and honestly it got a little scorched in the oven. But then it hit me: collagen would be perfect here! It easily dissolves in less liquid than a bulky protein powder, it's unflavored, and it's still dairy free. Plus it has a bunch of health benefits aside from just boosting your protein intake. Win/win.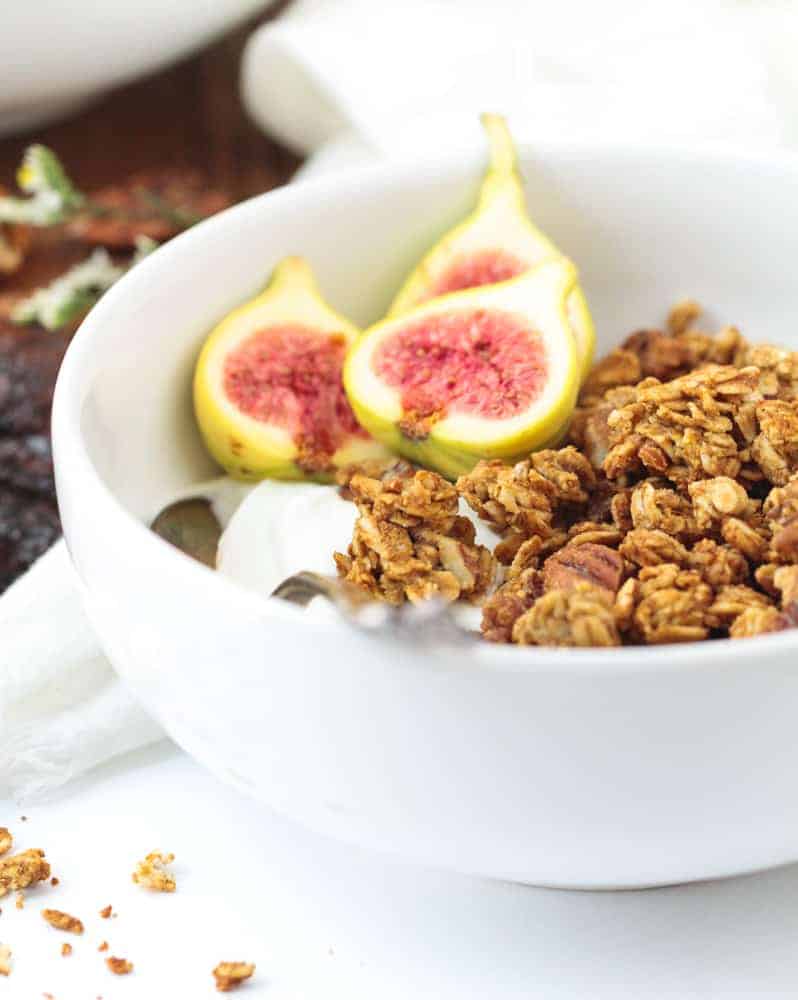 How gorgeous are those tiger stripe figs?! I always have to have some kind of fruit with my breakfast, and these figs are so cute and yummy for fall. I loved this granola on top of Greek yogurt – if you're using plain Greek yogurt like I did, a little maple syrup or honey drizzled over top will have you in heaven. I also love eating this by the handful or out of a bowl with some almond milk. Give it a try!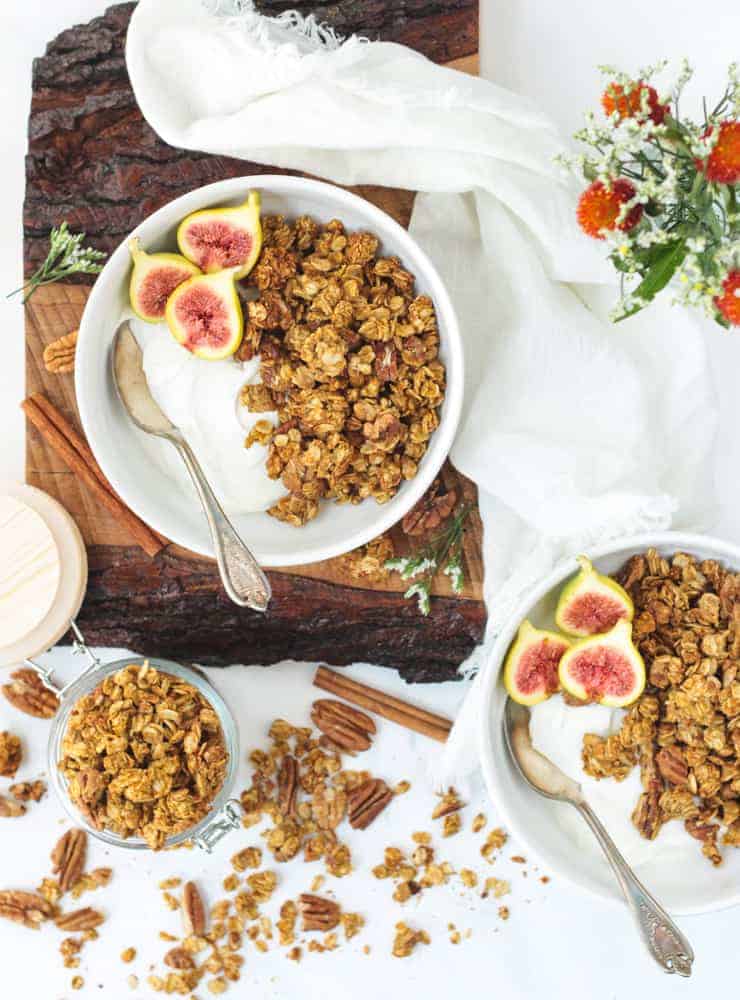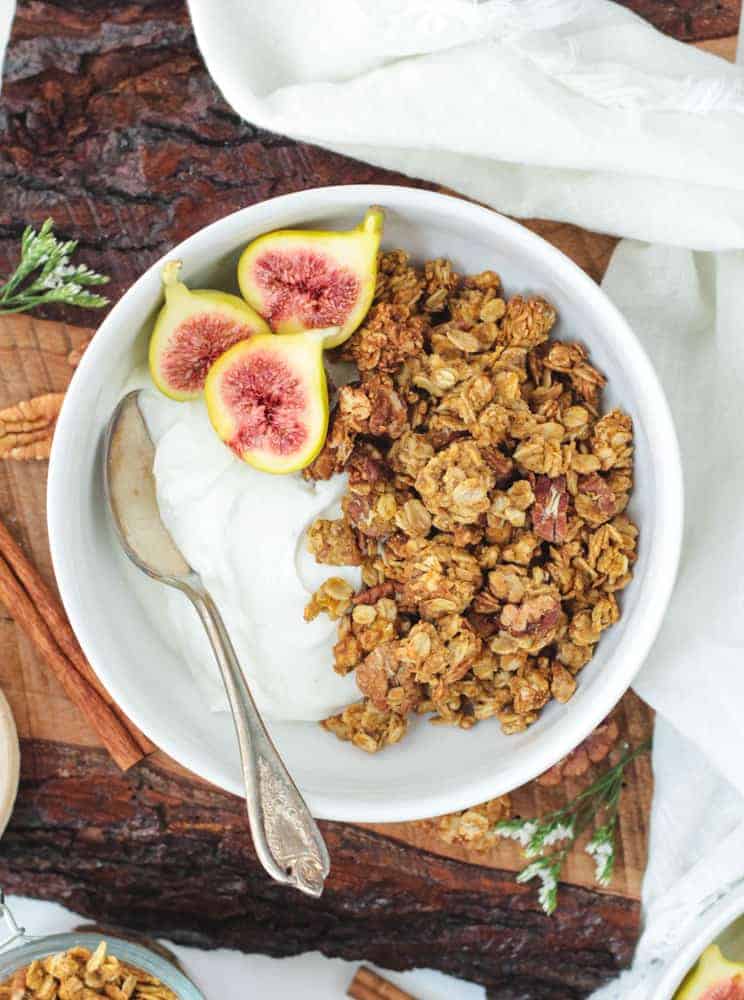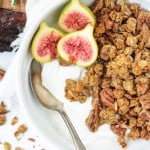 Pumpkin Spice Granola
Servings 11 servings (about 1/3 cup per serving)
Calories per serving 192 kcal
Ingredients
Dry Ingredients
2 1/2 cups rolled oats (200 grams)
3/4 cup pecans, roughly chopped (75 grams)
2 scoops Sports Research collagen peptides (22 grams)
1 1/2 tsp pumpkin pie spice
1/2 tsp cinnamon
1/8 tsp salt
Wet Ingredients
1/2 cup pumpkin puree (4 fl oz)
1/4 cup maple syrup (2 fl oz)
3 tbsp brown sugar, packed (41 grams)
3 tbsp coconut oil (41 grams)
1/2 tsp maple extract
Instructions
Pre-heat oven to 325 degrees. Line a baking sheet with SILPAT or parchment paper. Set aside.

In a large bowl, mix dry ingredients until combined. Set aside.

Add maple syrup, brown sugar, and coconut oil to a small bowl and microwave for 20-30 seconds or until coconut oil is melted. Whisk until smooth, then pour over dry ingredients and mix with a spatula until wet ingredients evenly coat dry ingredients. Avoid overmixing so that some larger chunks remain.

Spread granola mixture evenly onto lined baking sheet. Bake at 325 degrees for 20 minutes, then flip the granola with a spatula. Return to oven and bake for another 15 minutes.

The granola will not be crunchy as soon as you take it out of the oven. Allow it to cool in the hot baking sheet for at least 20 minutes before serving. (I actually let mine rest on top of the hot oven until it was completely cool.)
Recipe Notes
Click here to log this food in My Fitness Pal or scan the barcode below!
Nutrition Facts
Pumpkin Spice Granola
Amount Per Serving
Calories 192 Calories from Fat 90
% Daily Value*
Fat 10g15%
Sodium 12mg1%
Potassium 15mg0%
Carbohydrates 23g8%
Fiber 3g13%
Sugar 9g10%
Protein 5g10%
* Percent Daily Values are based on a 2000 calorie diet.