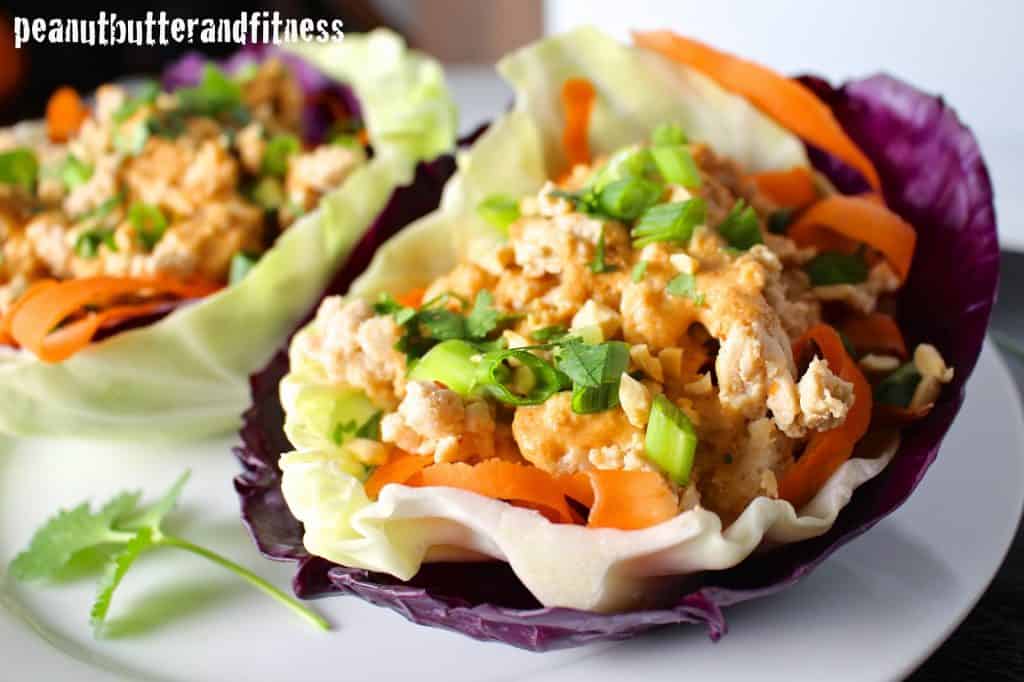 I'm back! It's been a while since I've had a chance to do something creative in the kitchen thanks to Fleet Week, but now it is officially over 🙂  This is a little strange, but I was thinking about those lettuce wrap appetizers that you get at P.F. Chang's…you know, the ones with the delicious ground mystery meat and some kind of magic sauce and green onions? Yeah, those.  I realize that those are supposed to be Chinese and we're here to talk Thai flavors, but hey, inspiration comes from the strangest things.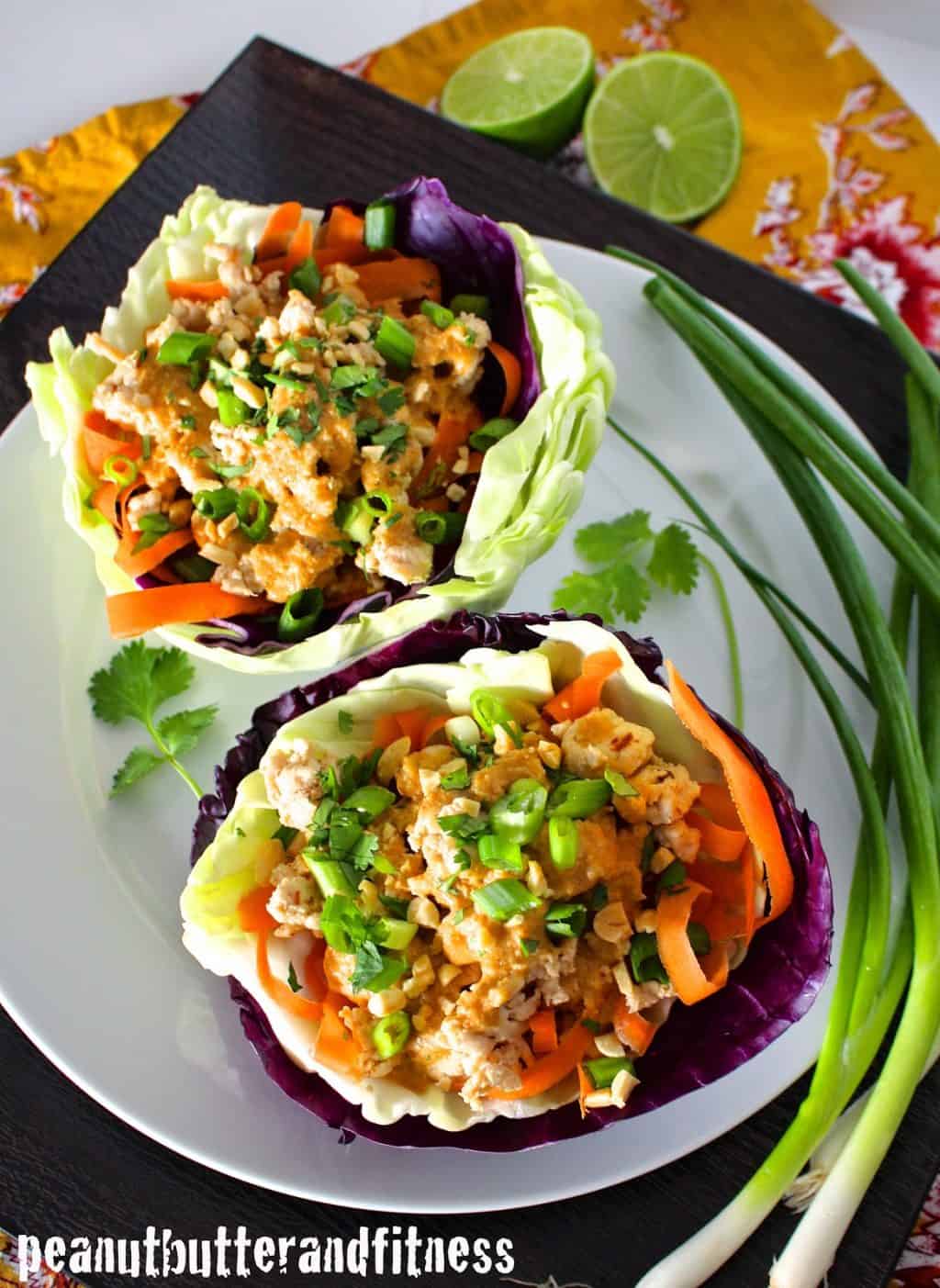 I originally wanted to use ground chicken for these but I could NOT find any in my usual grocery store.  And I'm just way too lazy to go in search of ground chicken for one dish…so here we are with turkey! (Still delicious, btw) When I was (re)calculating the nutrition for this recipe, I realized that the 99% lean ground turkey has way fewer calories than ground chicken.  Who would have thought so?  I guess the "lean ground chicken" has more fat than "extra lean" ground turkey.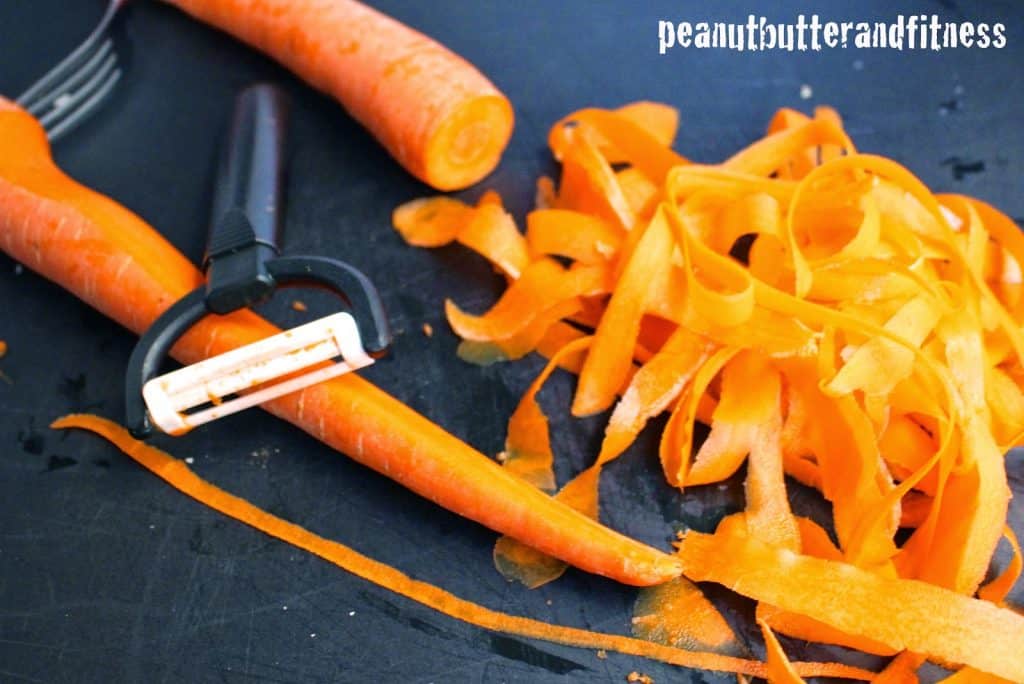 I thought about going with the standard shredded carrots that you get in a bag at the grocery store, but I really wanted them to be thinner and less crunchy here.  The cabbage leaves take care of the crunch, so I just shaved the carrots with this handy, dandy little tool that I have no name for except for food shaver.  I think maybe it's just a vegetable peeler, but I'll stick with food shaver.  It made the carrot strips almost paper thin which I thought was perfect for these wraps!
Anyways, I think the peanut sauce and green onions are totally what makes these wraps awesome! The peanut sauce just ties the whole thing together.  I used PB2 to cut down on the fat here – I personally think it tastes amazing and you can't tell that it's supposed to be healthy – but you can use regular peanut butter if you must.  Maybe cut the honey in half if you do that.  My favorite part about Thai flavors is the sweetness on the surface that's almost always followed up by spiciness. Yum.  I didn't go crazy with the spice here, but if you like it hot, add more red pepper flakes and sriracha sauce!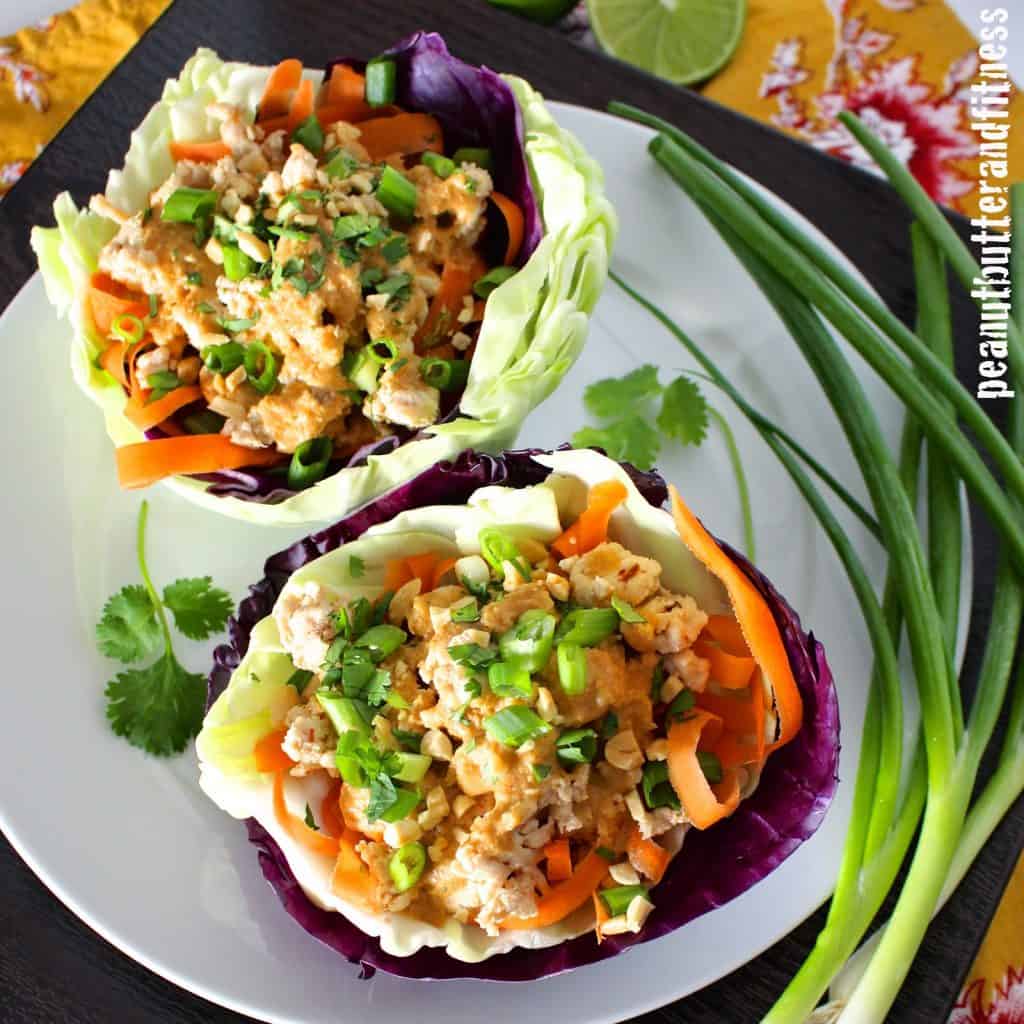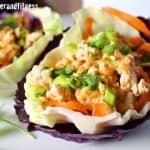 Protein Style Thai Turkey Wraps
Prep Time 20 minutes
Cook Time 10 minutes
Total Time 30 minutes
Servings 4 servings
Calories per serving 292 kcal
Ingredients
1 1/4 lb 99% lean ground turkey
1 small head cabbage
2 medium carrots shaved (or shredded)
3/4 cup red cabbage shredded
1/4 cup green onions chopped
3 cloves garlic minced
1/2 tsp crushed red pepper flakes
1/2 tsp fish sauce
1/2 tbsp olive oil
Optional: chopped cilantro and crushed peanuts for garnish
Peanut Sauce:
7 tbsp PB2 powdered peanut butter
1 tsp sriracha sauce
1 tbsp honey
1/2 tbsp fresh ground ginger
1/2 tsp fish sauce
1 lime juiced
2-3 tbsp water (until you like the consistency)
Instructions
Whisk peanut sauce ingredients together until smooth and set aside.

Heat olive oil in a large pan over medium-high heat.  Saute garlic and red pepper flakes until fragrant, then add ground turkey and 1/2 tsp fish sauce.  Cook turkey, continually breaking apart into small pieces with a spatula until cooked through.  Set aside.

Arrange cabbage leaves on a plate and divide carrots, red cabbage and green onions evenly among cabbage leaf "cups."  Top with cooked turkey evenly and spoon peanut sauce over the chicken.  Garnish with green onion, cilantro and crushed peanuts.
Nutrition Facts
Protein Style Thai Turkey Wraps
Amount Per Serving
Calories 292 Calories from Fat 45
% Daily Value*
Fat 5g8%
Cholesterol 69mg23%
Sodium 304mg13%
Carbohydrates 25g8%
Fiber 7g29%
Sugar 14g16%
Protein 40g80%
* Percent Daily Values are based on a 2000 calorie diet.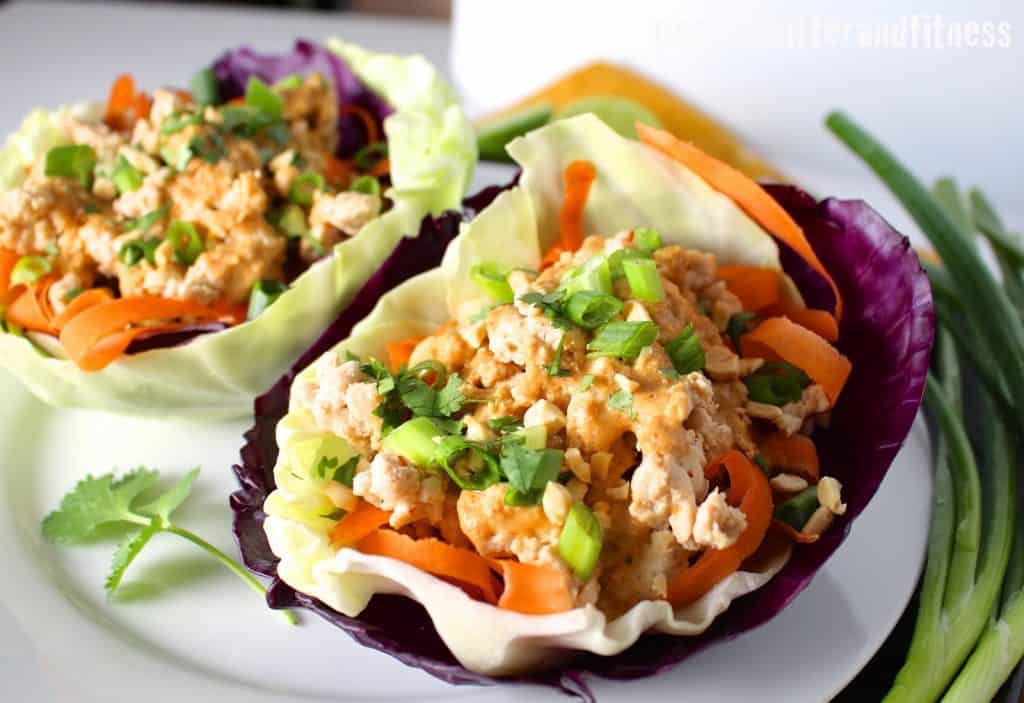 You may have noticed that I doubled up the cabbage leaves here – well if you didn't, that's what I did.  I don't recommend it! I just thought it was pretty for the picture but really it's just too much effort to take a bite of one of these through two layers of cabbage.  And too much cabbage.  But I do like the cabbage as an alternative to lettuce wraps…figured I'd try something new.  They are much studier than regular old romaine lettuce wraps and have more taste (and nutrition).  So if you're brave, give it a try! If not, just grab a head of romaine instead 🙂