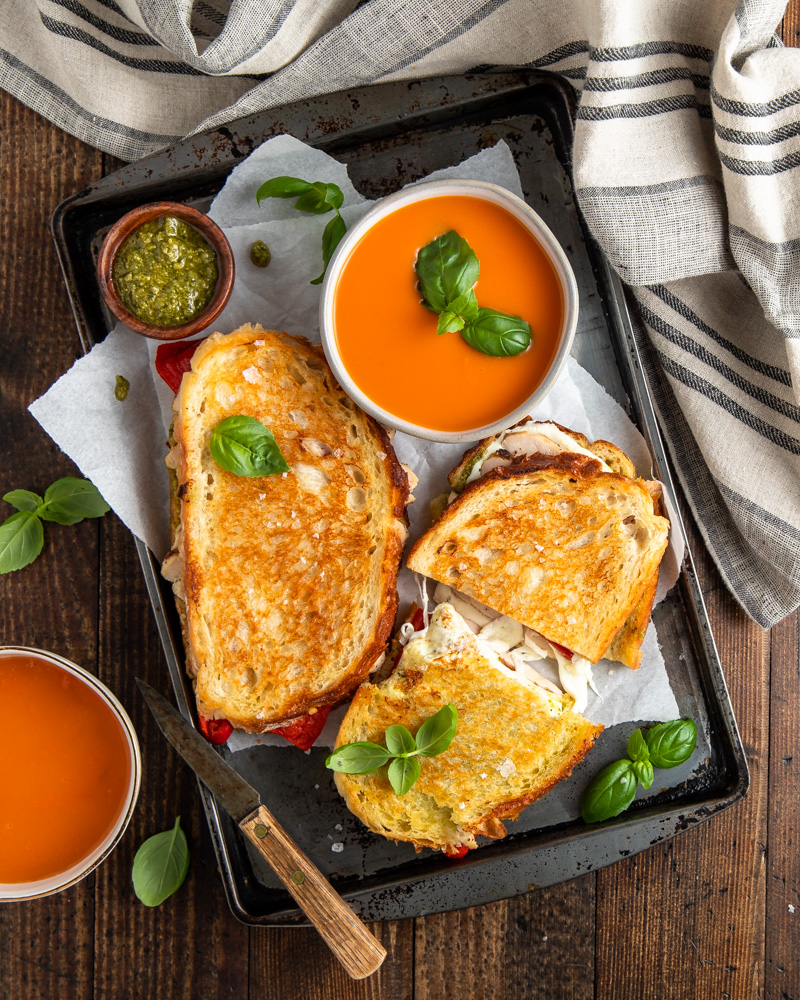 Happy New Year! I know a lot of people have New Year's Day food traditions, but for me it's all about that comfort food! This Pesto and Chicken Grilled Cheese is exactly what I want to eat for lunch today, especially after a couple cocktails last night. There's just something about melty cheese and golden brown bread dipped into tomato soup that makes me happy. And that something…it's grilled cheese. And we all love it. If you don't, I'm not judging, but…who even are you if you don't like grilled cheese?!?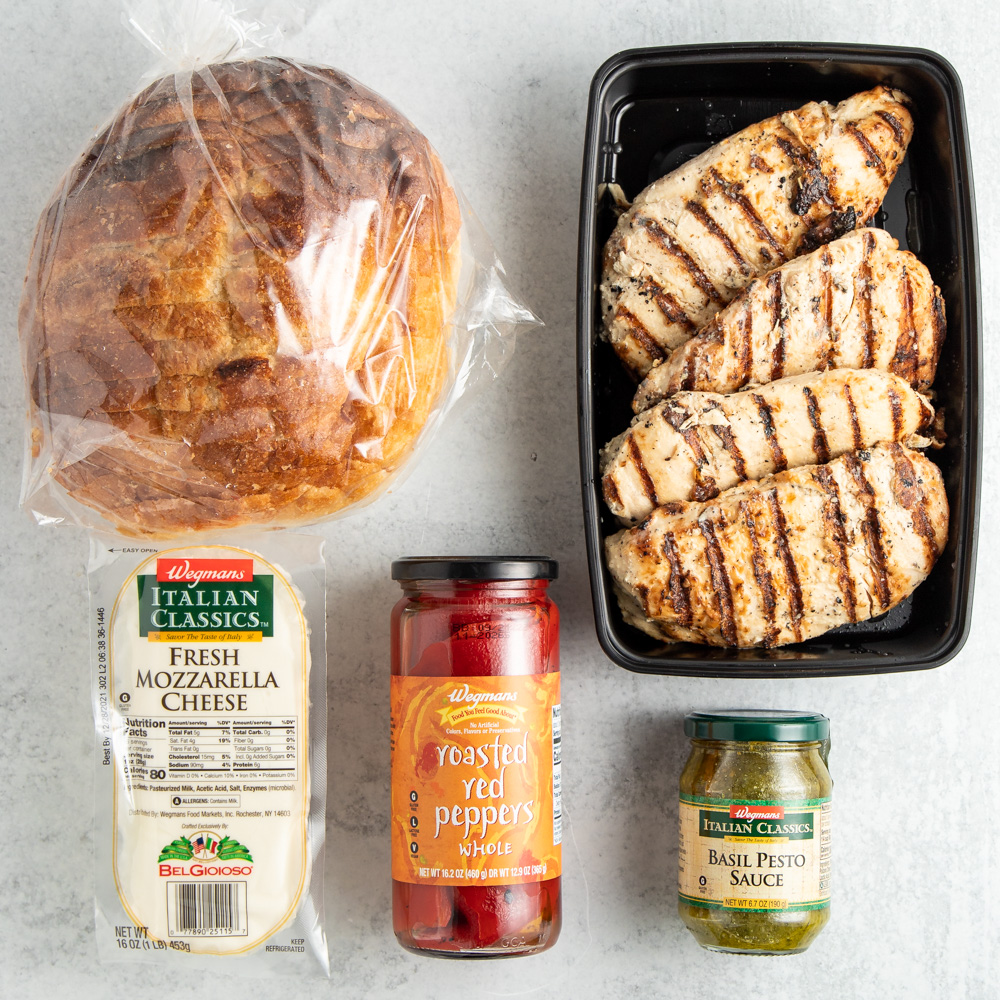 I know it might look like it, but this post is not sponsored by Wegmans. But hey Wegmans, you want to work together?? Wink wink, call me 😉 Their bakery and deli are amazing, so you can't go wrong with a loaf of their Garlic Tuscan Bread and some pre-grilled lemon garlic chicken breast. This chicken is actually one of my favorite meal prep shortcuts as of late! If I know I won't have time to brine my own chicken and grill it the way I like, I'll pick up some Wegmans chicken and just slice it up. Anything leftover beyond what I need for that week goes in the freezer and is perfect for on top of a salad kit whenever I want.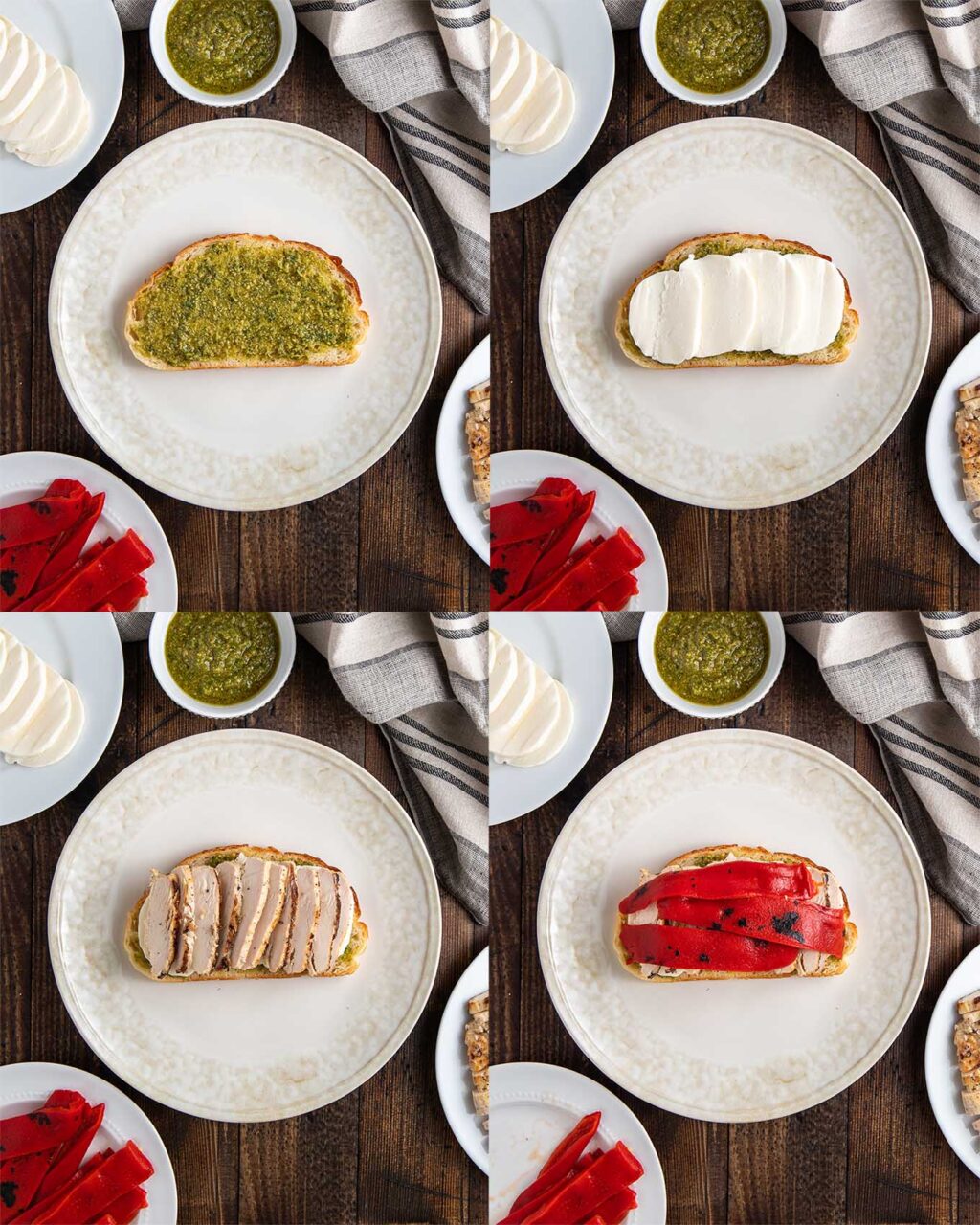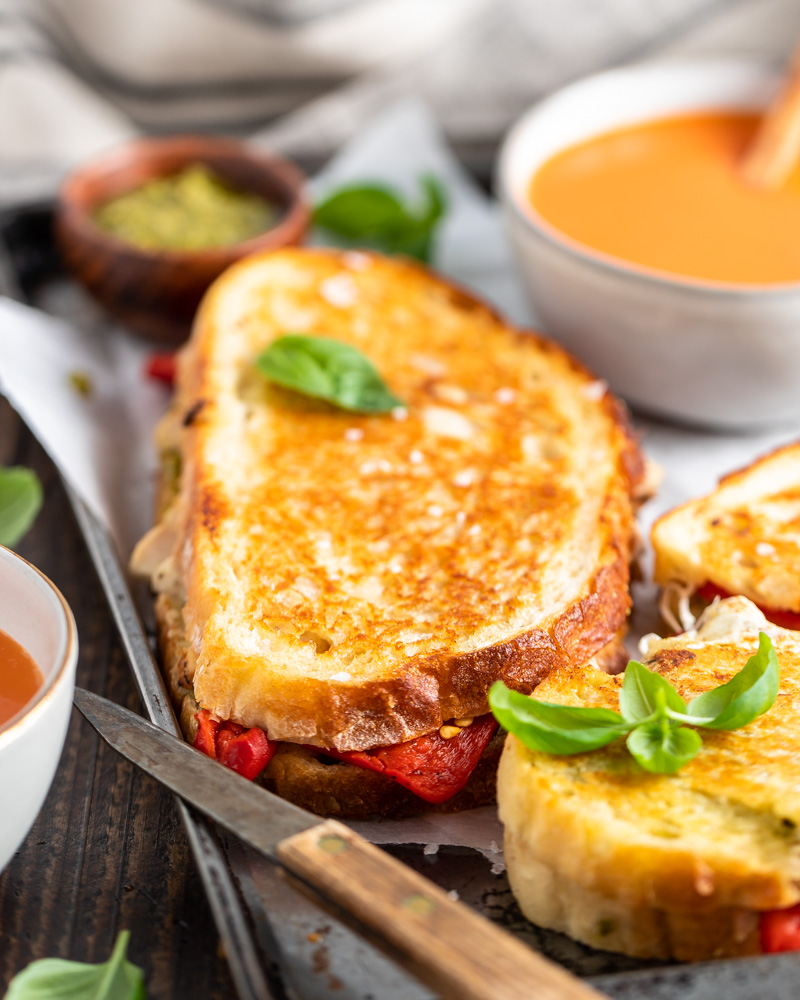 The first time I made this sandwich was actually on a camping trip with some friends. We knew it would be a little chilly at camp that night after hiking and we needed something warm and comforting, but also camp friendly. So the Pesto Chicken Grilled Cheese was born and served alongside piping hot tomato soup! We didn't have anything to press the sandwiches with, so we went down to the river by our campsite and found a relatively flat rock, washed it off, covered it in foil, and used it like a panini press. It worked great! I didn't think to get any pictures of it at the time, so here are a couple camping/hiking pictures from that trip instead. At home I use a cast iron skillet with aluminum foil wrapped around the bottom so I don't have to clean it after.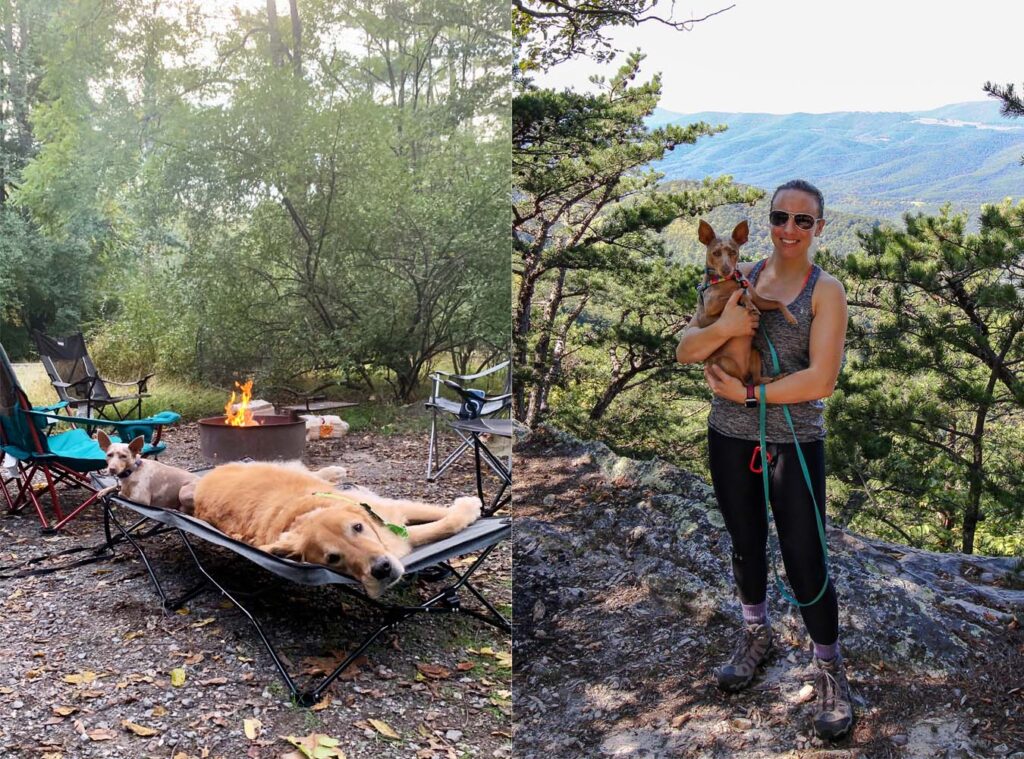 Recipe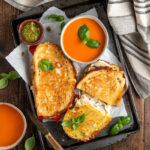 Pesto and Chicken Grilled Cheese
Prep Time 10 minutes
Cook Time 10 minutes
Total Time 20 minutes
Servings 4 servings (1/2 sandwich per serving)
Calories per serving 363 kcal
Ingredients
4 slices Wegmans Garlic Tuscan Bread (228 grams)
1 large Wegmans Grilled Lemon Garlic Chicken Breast, sliced thinly (161 grams)
1 Wegmans Whole Roasted Red Pepper, cut into strips and patted dry (60 grams)
4 oz sliced or shredded mozzarella cheese (112 grams)
2 tbsp Wegmans Basil Pesto (30 grams)
1 1/2 tbsp unsalted butter, melted (0.75 oz)
Instructions
Brush melted butter on one side of each slice of bread. Lay bread, buttered side down, on a large plate or cutting board. On two of the slices, spread pesto on the unbuttered side.

Next, layer cheese slices, chicken, and roasted red peppers onto other two slices of bread. Top with other slices of bread, buttered side out.

Heat a large non-stick skillet or griddle over medium heat. While the skillet heats, wrap the bottom of a large cast iron skillet in foil. (Note: If you have cast iron grill presses, you can skip wrapping a cast iron skillet and use those instead. You just need something weighted to help press and heat the sandwiches through.)

Add sandwiches to the heated skillet and gently lay the foiled cast iron skillet on top. Cook the sandwiches until golden brown on each side and heated through, about 3-4 minutes per side.

Slice sandwiches in half before serving and serve with tomato soup, if desired.
Recipe Notes
Click here or scan the barcode below to log this food in My Fitness Pal. Note, the nutrition info will vary if you use smaller slices of bread from the round loaf. This nutrition info was calculated with large, 57 gram slices.
Nutrition Facts
Pesto and Chicken Grilled Cheese
Amount Per Serving
Calories 363 Calories from Fat 180
% Daily Value*
Fat 20g31%
Cholesterol 38mg13%
Sodium 749mg33%
Potassium 1mg0%
Carbohydrates 25g8%
Fiber 2g8%
Sugar 2g2%
Protein 18g36%
* Percent Daily Values are based on a 2000 calorie diet.