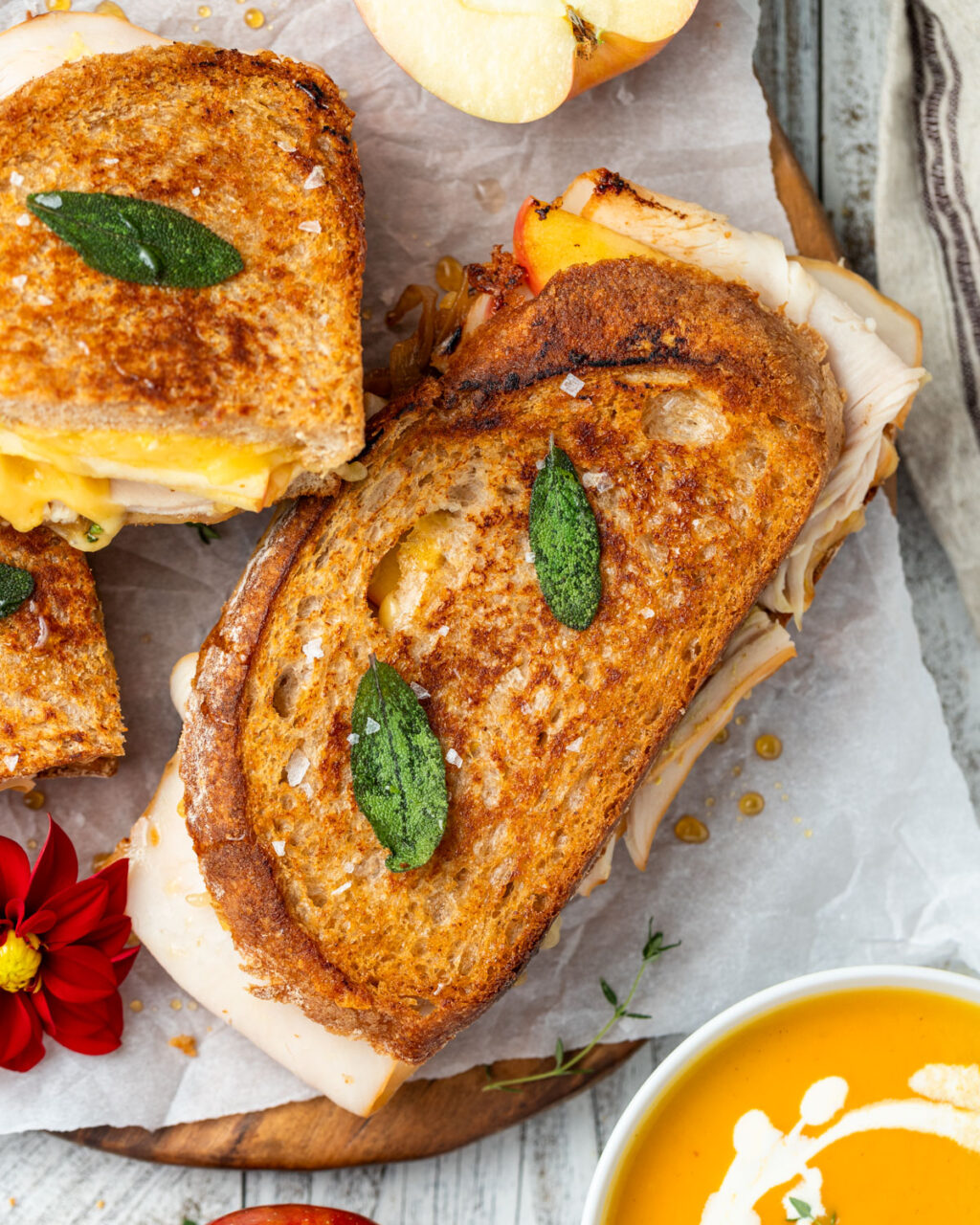 I don't know about where you live, but the season finally feels like it's changing to fall and there's no better way to embrace the essence of autumn than this Turkey Apple Grilled Cheese Sandwich. There's something magical about fall – the cool nights with open windows, cozy sweaters, the pumpkin spice everything, and of course, the incredible flavors that this time of year brings. This yummy sandwich is a symphony of fall flavors, bringing together the warmth of sourdough bread, the creaminess of Gouda and smoked cheddar cheese, and the sweet, crisp goodness of Honeycrisp apple slices. But we're taking it up a notch! Caramelized onions lend a deep, sweet umami, fresh sage and thyme add brightness and earthy aromas, and a zesty touch of Dijon mustard ties it all together.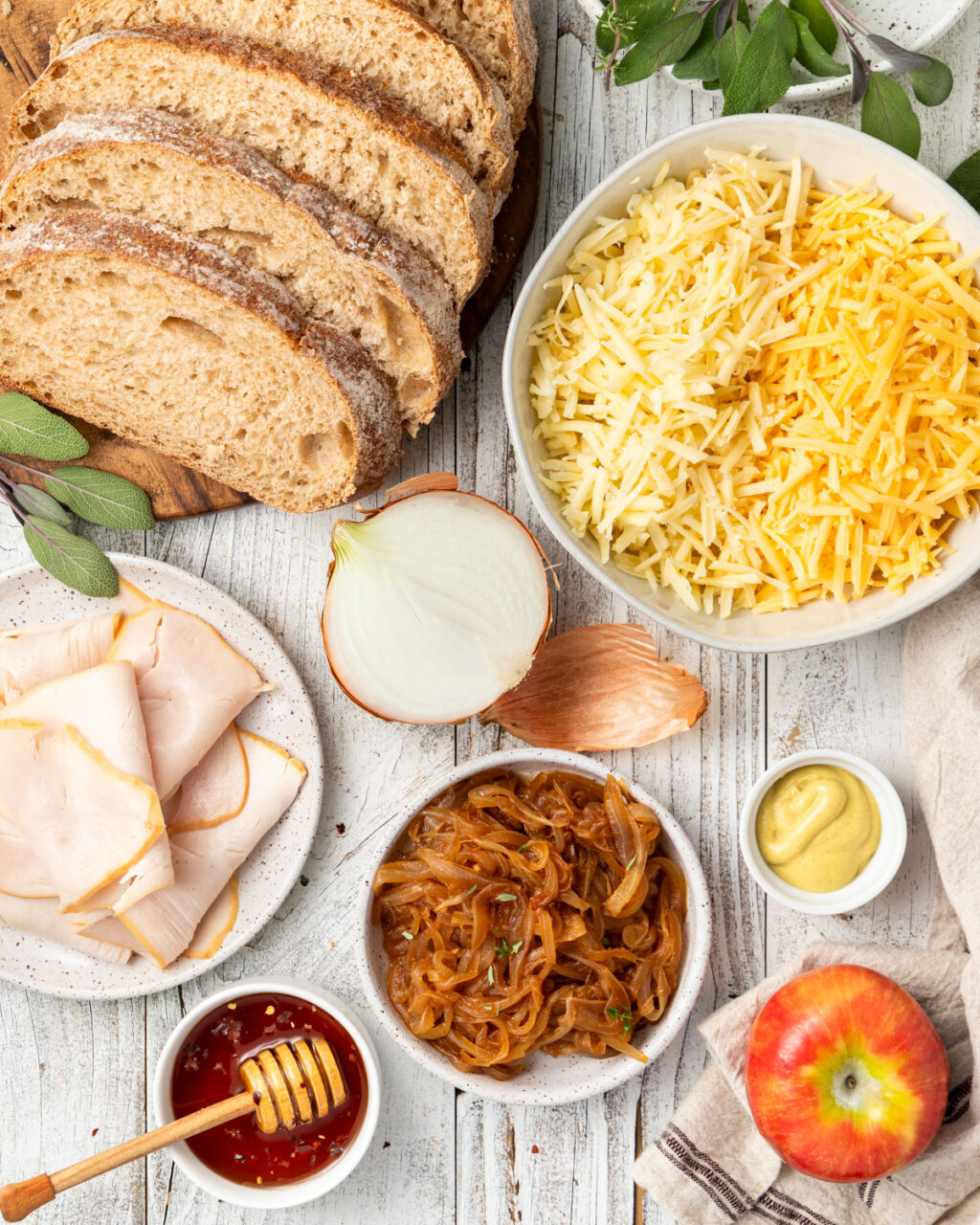 Ingredients and Substitutions
Here's what you'll need to make your own Turkey Apple Grilled Cheese Sandwiches:
Sourdough bread – I love the tangy, rich flavor of sourdough bread, but you can use whatever bread you like. I opted for the "miche" sourdough from Wegmans since it's denser than regular sourdough and I knew it would hold up to all the toppings and heat/butter in the skillet. Miche in general just meads "large round loaf" of bread that's generally more rustic and made with whole wheat flour instead of white flour.
Turkey – This is the perfect recipe for using up leftover Thanksgiving turkey when the time comes! Otherwise, you can just use regular deli-sliced turkey. I opted for a honey roasted turkey for mine. Leave it out to make this sandwich vegetarian.
Cheese – Quite literally the glue that holds this sandwich together, I opted for 2 different types of cheese that I grated myself for maximum meltiness. Smoked cheddar and mild gouda were a delicious pairing that brought out the deep flavors of the caramelized onions while highlighting the contrast against the bright and refreshing Honeycrisp apple slices. Definitely don't skip out on the smoked cheddar, but I think a sharp cheddar or fontina would be delicious subs for the gouda if you want to mix it up!
Honeycrisp apple – Look, I don't know if you've bitten into a Honeycrisp apple lately, but they are absolutely delicious. They were one of the first "designer" apples to hit the market in the '90s, having been bred for the perfect flavor and texture. They're juicy and have a crisp sweetness, which make them perfect on their own, but also when paired with the savory ingredients in this sandwich. I love them for this recipe because the flavor doesn't get lost in the sandwich even when sliced thinly.
Caramelized onions – Caramelized onions have a sweet and savory flavor profile, which is another perfect pairing for this fall sandwich. The slow cooking process breaks down the onion's natural sugars, transforming them into a rich, sweet, and slightly tangy taste with a hint of umami. The texture becomes soft and tender, while the color turns golden brown. There's really no substitute for them!
Fresh herbs – Fresh sage and thyme are added to the caramelized onions in the last few minutes of cooking to keep them fresh and bright. If you have to sub them out with dried herbs, be sure to cut the amount down to about 1/2 tsp each so the flavor isn't overpowering. If you're feeling crazy, throw in a touch of nutmeg too!
Dijon mustard – There are a lot of rich flavors going on in this sandwich, so you really need the zesty tang of dijon mustard to cut through things and make this sandwich a home run!
Hot honey – I drizzled just a little hot honey on top of the caramelized onions while layering this sandwich up. It's totally optional, but when you get a tiny kick of heat in a bite, it's bliss. I may just be obsessed with hot honey…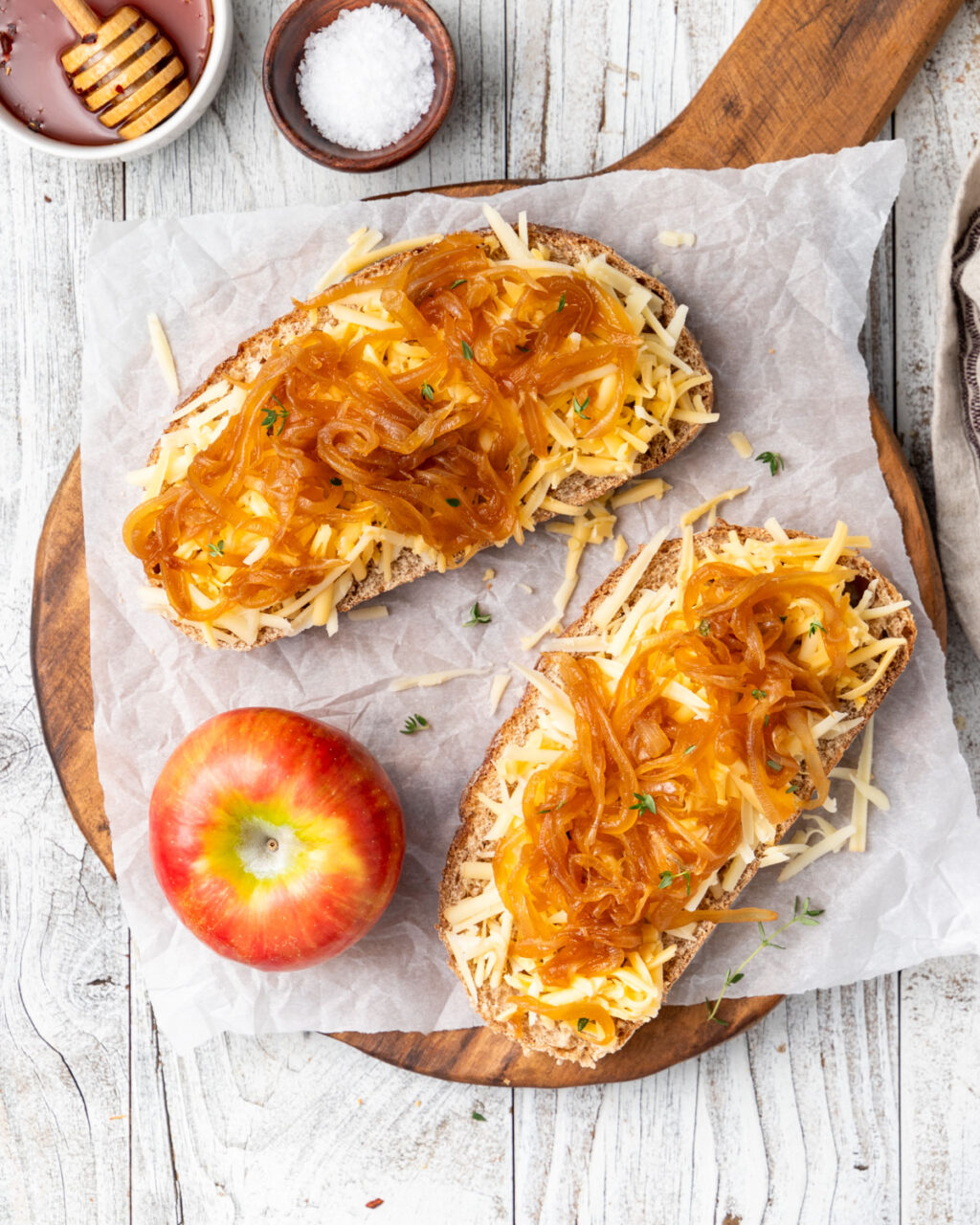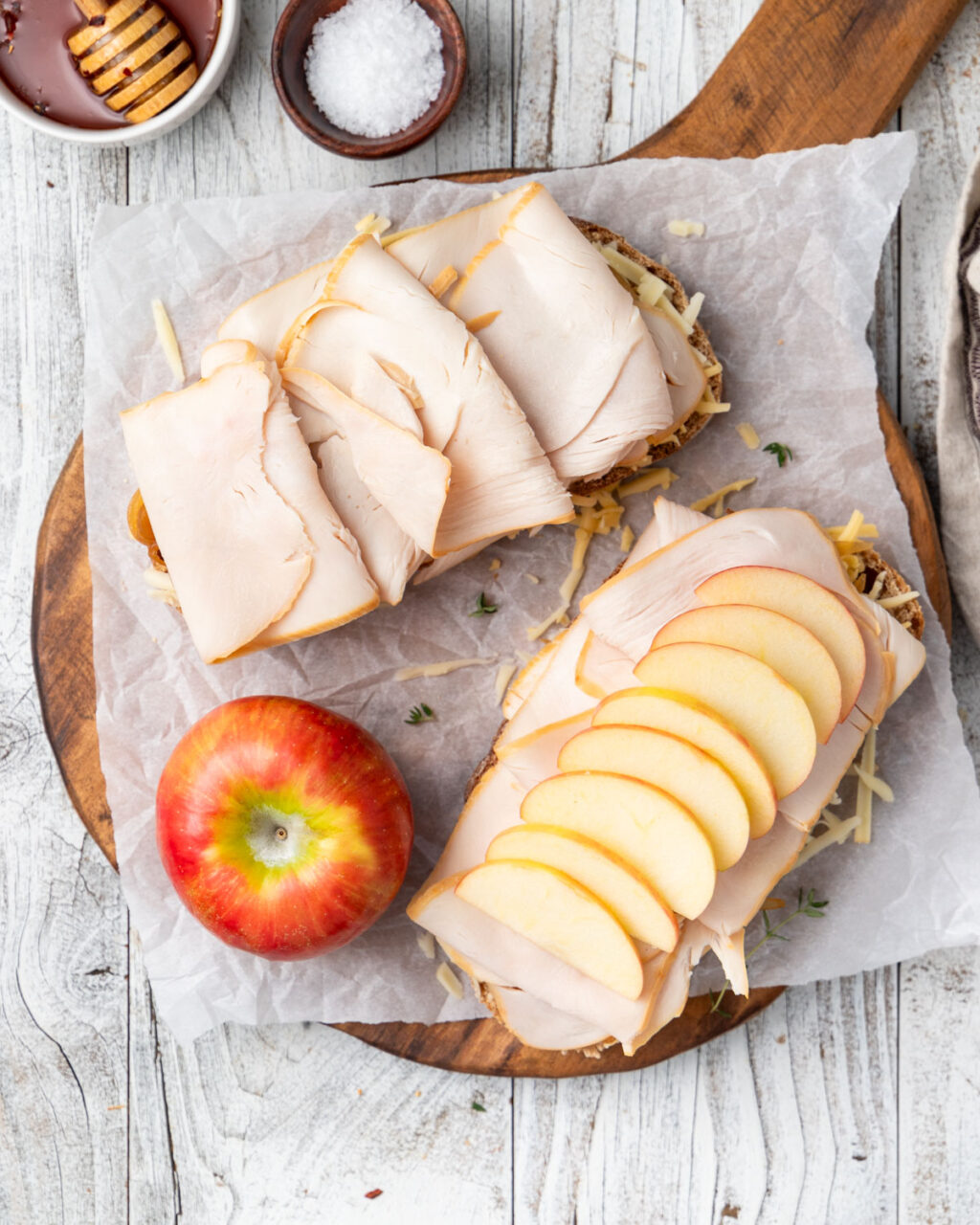 Shop for this Recipe
Here are some items I used to help make this recipe a success. Note: these are Amazon Affiliate links.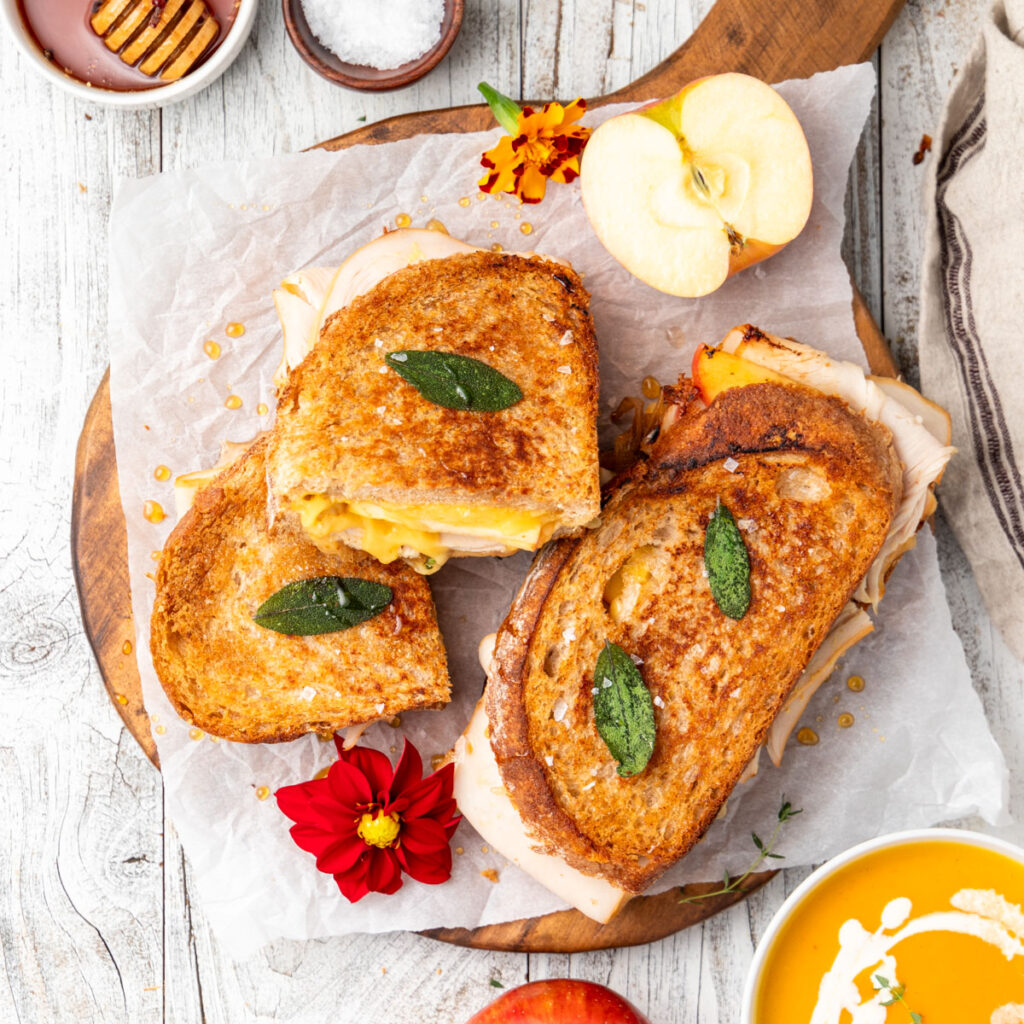 Turkey Apple Grilled Cheese Sandwich Recipe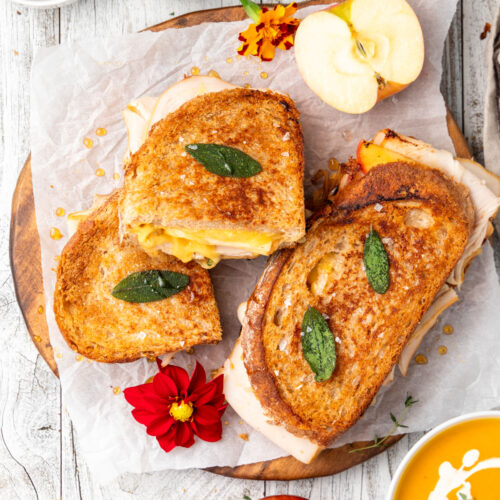 Turkey Apple Grilled Cheese
Servings:
servings (1/2 sandwich per serving)
Ingredients
4

slices

Wegmans Organic Sourdough Miche Bread

,

(228 grams)

8

oz

deli turkey breast

,

(228 grams)

3

oz

smoked cheddar cheese, shredded

,

(85 grams)

3

oz

mild gouda cheese, shredded

,

(85 grams)

1

medium Vidalia onion, sliced

,

(110 grams)

1

medium Honeycrisp apple, sliced thinly

,

(154 grams)

2 1/2

tbsp

dijon mustard

,

(1.25 fl oz)

1 1/2

tbsp

unsalted butter, melted

,

(0.75 oz)

1/2

tbsp

fresh sage, chopped

1/2

tbsp

fresh thyme, leaves removed from stem

Optional: hot honey
Instructions
Caramelize the onions. Add sliced onion and 1/4 cup water to a large skillet over high heat. Cover and cook until the water has mostly evaporated and onions start to sizzle. Uncover, reduce the heat to medium-high, and continue to cook the onions while stirring frequently until they are soft and browned, about 20 minutes. Stir in sage and thyme in last 5 minutes of cooking. (Note: add more water a tablespoon at a time throughout this process, if desired, to keep the onions from sticking.)

Assemble the sandwiches. Brush melted butter on one side of each slice of bread. Lay bread, buttered side down, on a large plate or cutting board. On two of the slices, layer about 3/4 of the shredded cheese.

Next, layer caramelized onions, turkey, and apple slices on top of the cheese. Top with remaining cheese.

Make it melty. Heat a large non-stick skillet or griddle over medium heat. While the skillet heats, wrap the bottom of a large cast iron skillet in foil. (Note: If you have cast iron grill presses, you can skip wrapping a cast iron skillet and use those instead. You just need something weighted to help press and heat the sandwiches through.)

Add sandwiches to the heated skillet and gently lay the foiled cast iron skillet on top. Cook the sandwiches until golden brown on each side and heated through, about 3-4 minutes per side.

Slice sandwiches in half before serving and serve with butternut squash soup, if desired.
Tips & Tricks
Click here or scan the barcode below to log this food in My Fitness Pal.
Nutrition Information
Calories:
424
kcal
(21%)
,
Carbohydrates:
37
g
(12%)
,
Protein:
27
g
(54%)
,
Fat:
19
g
(29%)
,
Cholesterol:
78
mg
(26%)
,
Sodium:
1006
mg
(44%)
,
Potassium:
41
mg
(1%)
,
Fiber:
4
g
(17%)
,
Sugar:
8
g
(9%)