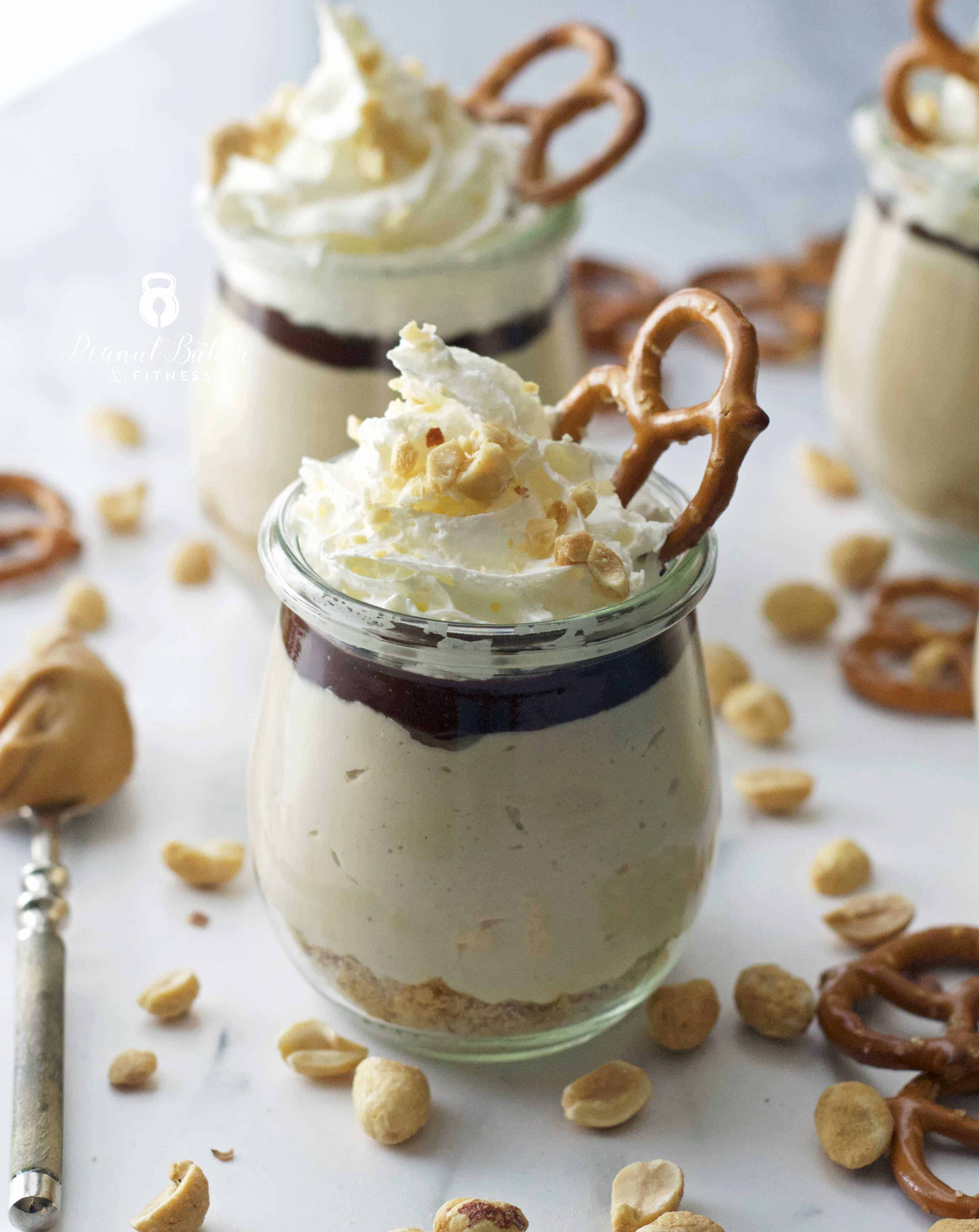 Happy National Peanut Butter Day! This is a day that's truly cause for celebration around here, so of course I've got a new recipe for you today. This one is a no-bake Peanut Butter Protein Cheesecake Cup with Pretzel Crust. I personally love getting a dessert that's individually packaged, so these little cups are perfect for me 😉 You can always divide them into more jars to make for a lighter treat too!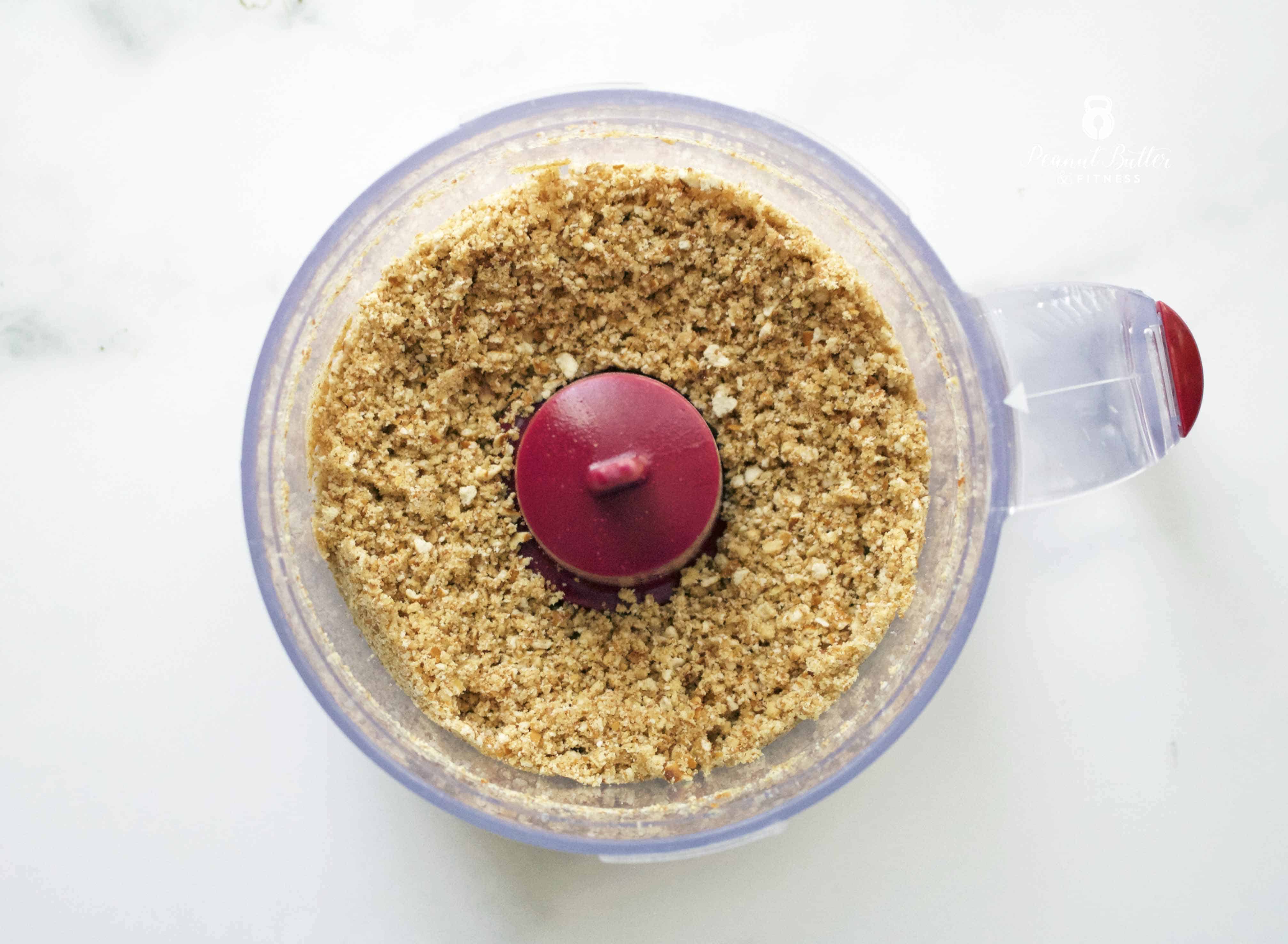 I bought a huge bag of pretzel twists a couple weeks ago when all I really needed was a little snack bag worth of pretzels for a recipe, so I've been coming up with some creative ways to use up those pretzels! See here…and there are more pretzel recipes to come! I love, love the combination of salty and sweet, so I figured I'd give it a go as a crust for this peanut buttery cheesecake. It turned out amazing! The pretzels not only lend that saltiness I was expecting, but they also add this other layer of flavor complexity that I wouldn't have gotten with a graham cracker or nut-based crust.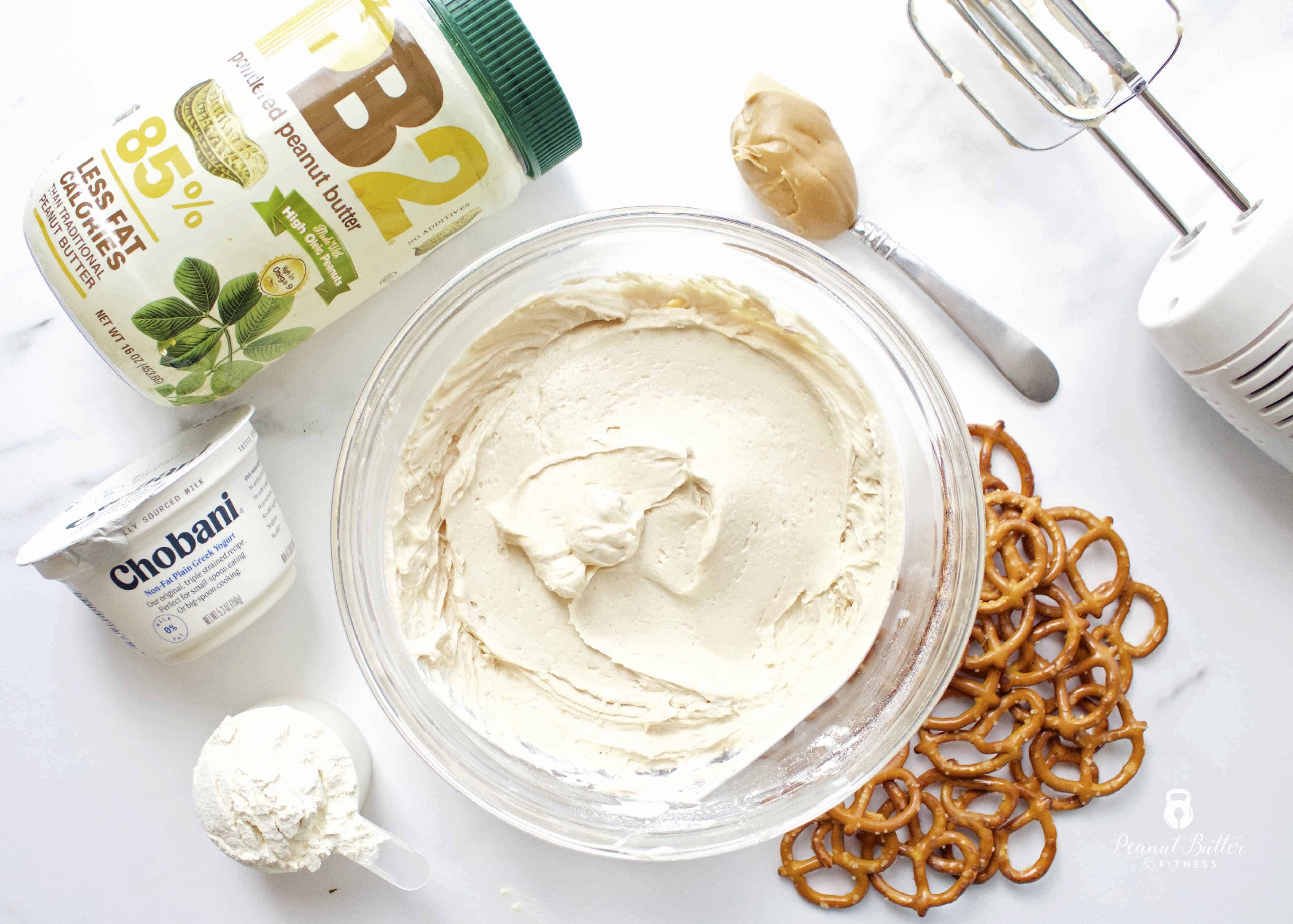 I highly recommend using PB2 powdered peanut butter in this recipe instead of some of the competing brands out there. I have found that some others tend to be kind of gritty, even when mixed in or dissolved into some liquid. As for the protein powder, I normally recommend using casein protein, especially in my no-bake cheesecakes because of how thick and creamy it makes the cheesecake. In this case though, I used whey since the PB2 and peanut butter really help thicken up the batter. For an even thicker and creamier cheesecake, sub out 1/2 scoop of whey with vanilla casein instead.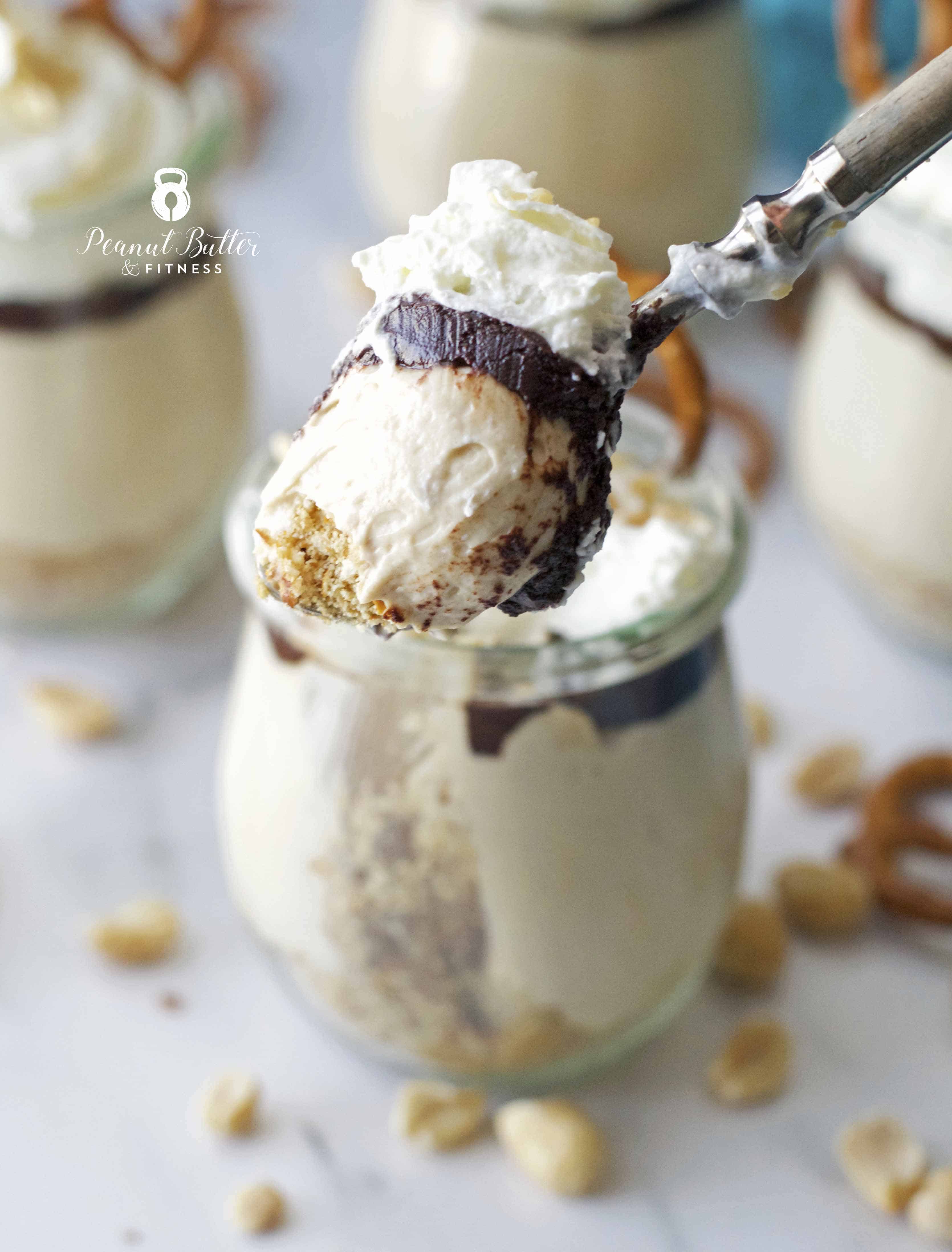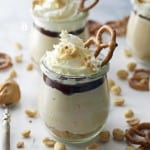 Peanut Butter Protein Cheesecake Cups with Pretzel Crust
Prep Time 25 minutes
Total Time 25 minutes
Servings 4 cups
Calories per serving 272 kcal
Ingredients
3/4 cup Dannon Light and Fit Vanilla Greek yogurt (6 oz)
1/2 cup Philadelphia 1/3 Less Fat Cream Cheese, room temperature (4 oz)
1/4 cup plain, non-fat Greek yogurt (2 oz)
1 scoop Cellucor Peanut Butter Marshmallow Whey Protein (33 grams)
2 tbsp PB2 powdered peanut butter (12 grams)
2 tbsp Skippy Natural Creamy Peanut Butter, melted (32 grams)
1 tsp vanilla extract
Pretzel Crust
1 cup pretzel twists (40 grams)
2 tbsp peanuts (17 grams)
1/2 tbsp unsalted butter, melted (0.25 oz)
Optional Toppings
dark chocolate ganache
whipped cream
crushed peanuts
Instructions
Add pretzel twists and peanuts to a food processor and pulse until the largest chunks are about 1/8″ wide. Add melted butter and pulse for another 3-5 seconds until butter is incorporated.

Spoon pretzel crust into the bottom of 4 serving jars and press into the bottom of the jar. Set aside.

Add yogurt, cream cheese, peanut butter, and vanilla extract to a mixing bowl, then add protein powder and PB2. Mix with a hand mixer until smooth, then scoop into a piping bag.

Pipe the cheesecake mixture into the serving cups on top of the pretzel crust. Top with optional toppings before serving, if desired.

Nutrition Facts
Peanut Butter Protein Cheesecake Cups with Pretzel Crust
Amount Per Serving
Calories 272 Calories from Fat 135
% Daily Value*
Fat 15g23%
Cholesterol 35mg12%
Sodium 404mg18%
Potassium 122mg3%
Carbohydrates 18g6%
Fiber 2g8%
Sugar 6g7%
Protein 18g36%
* Percent Daily Values are based on a 2000 calorie diet.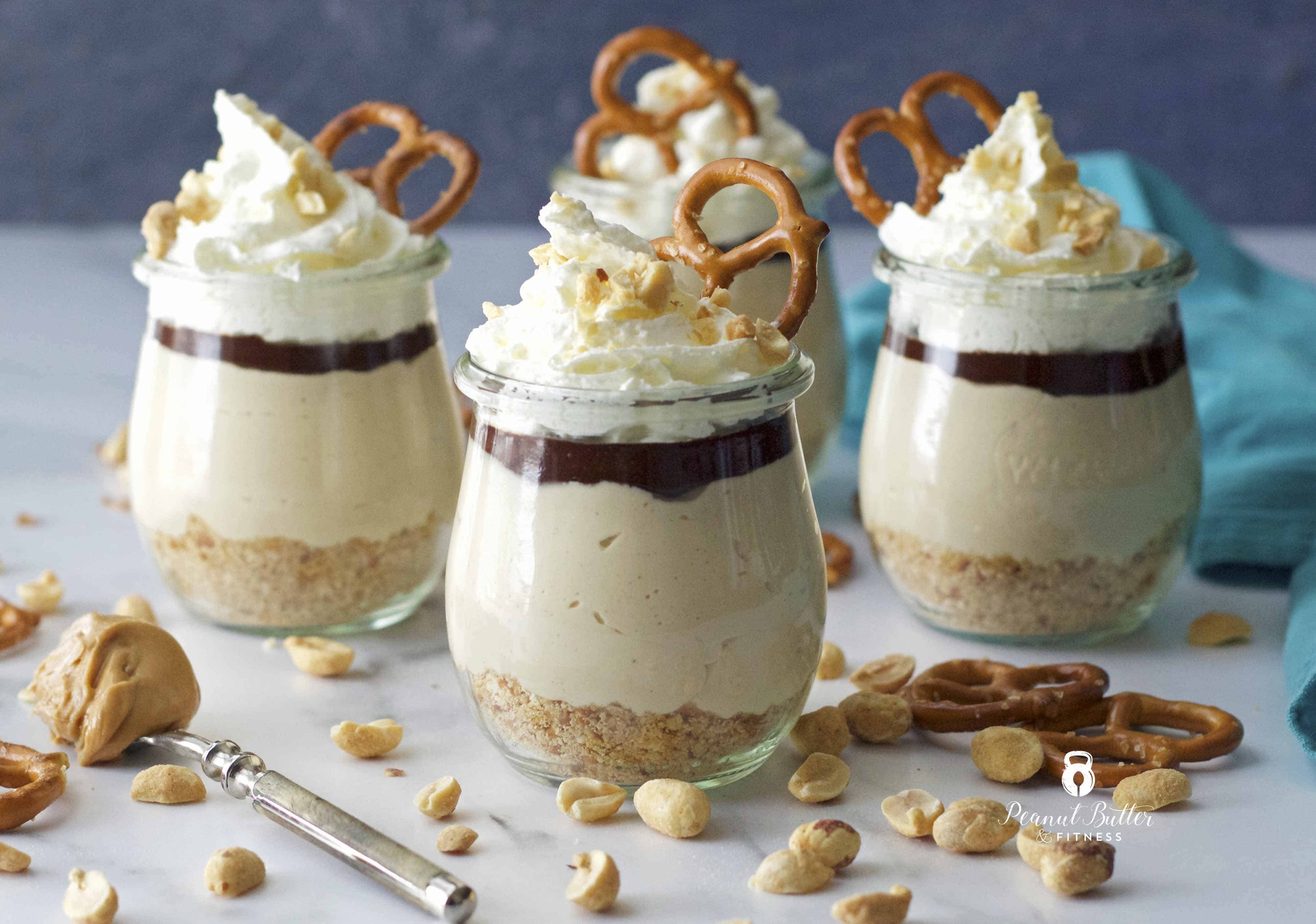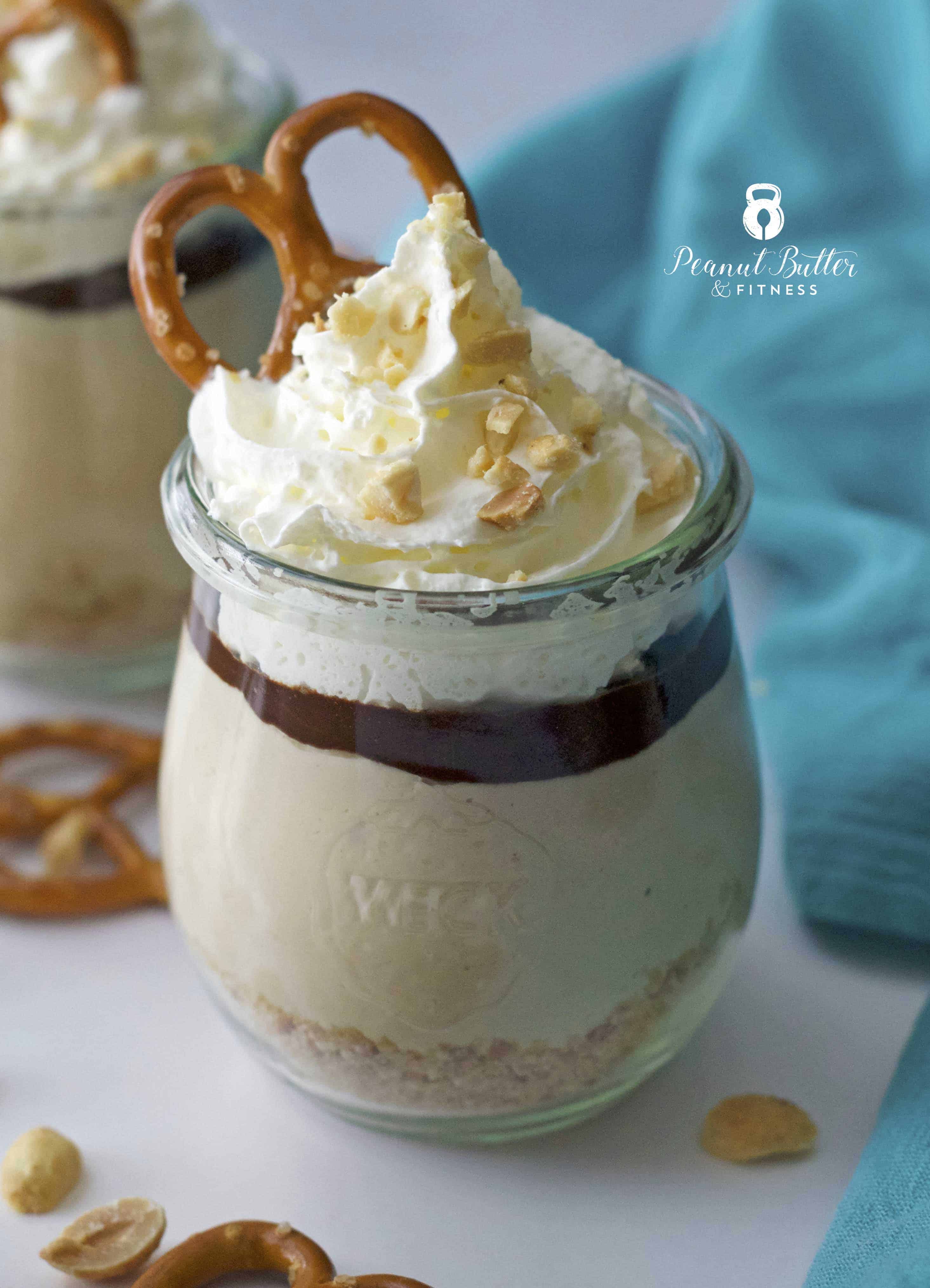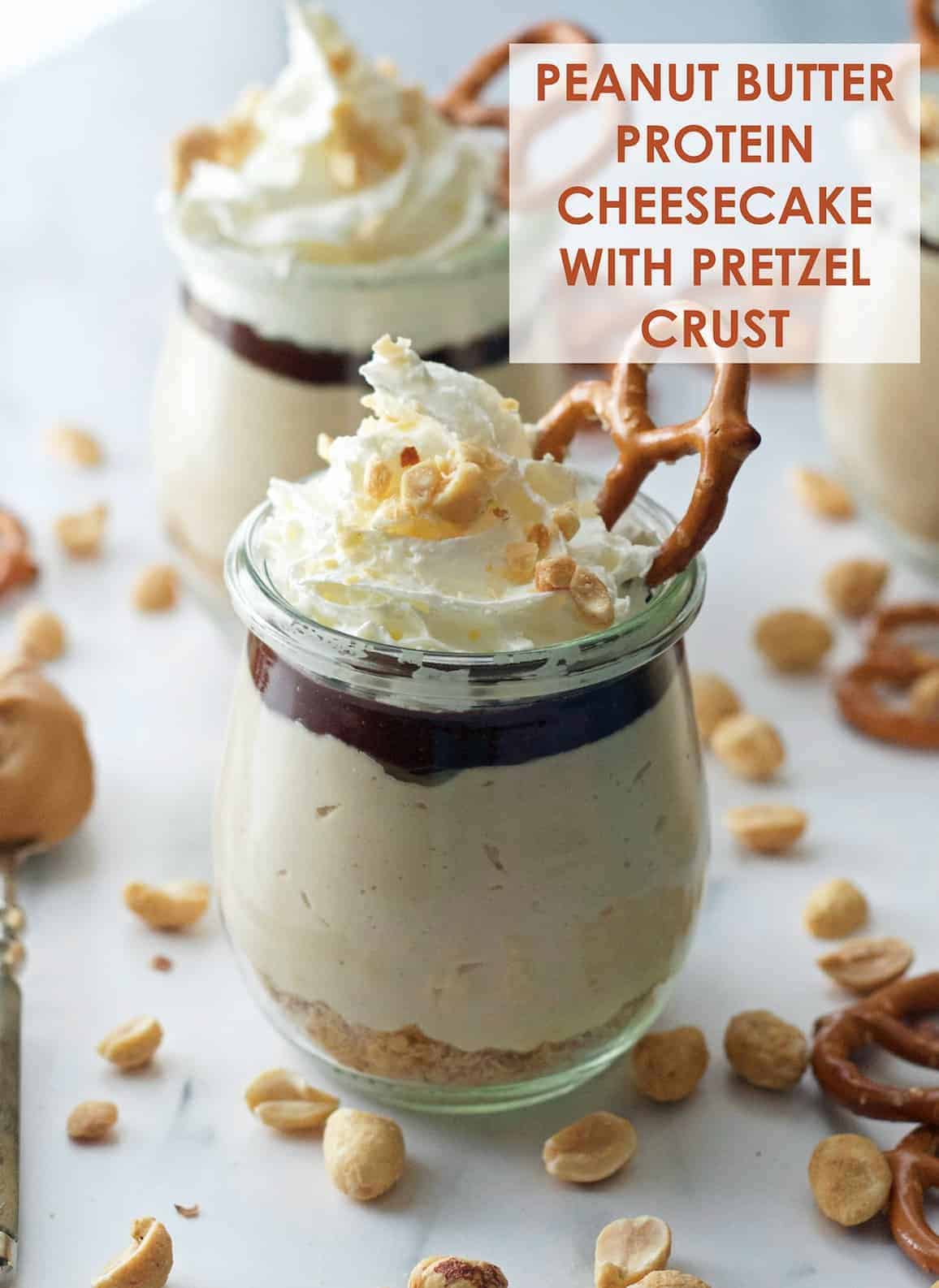 Note: This post contains affiliate links. If you purchase anything from Amazon after clicking through these links, I'll earn a small commission (usually just a few pennies) from your purchase. Your purchase price will be the same whether you use my affiliate links or navigate to Amazon independently.