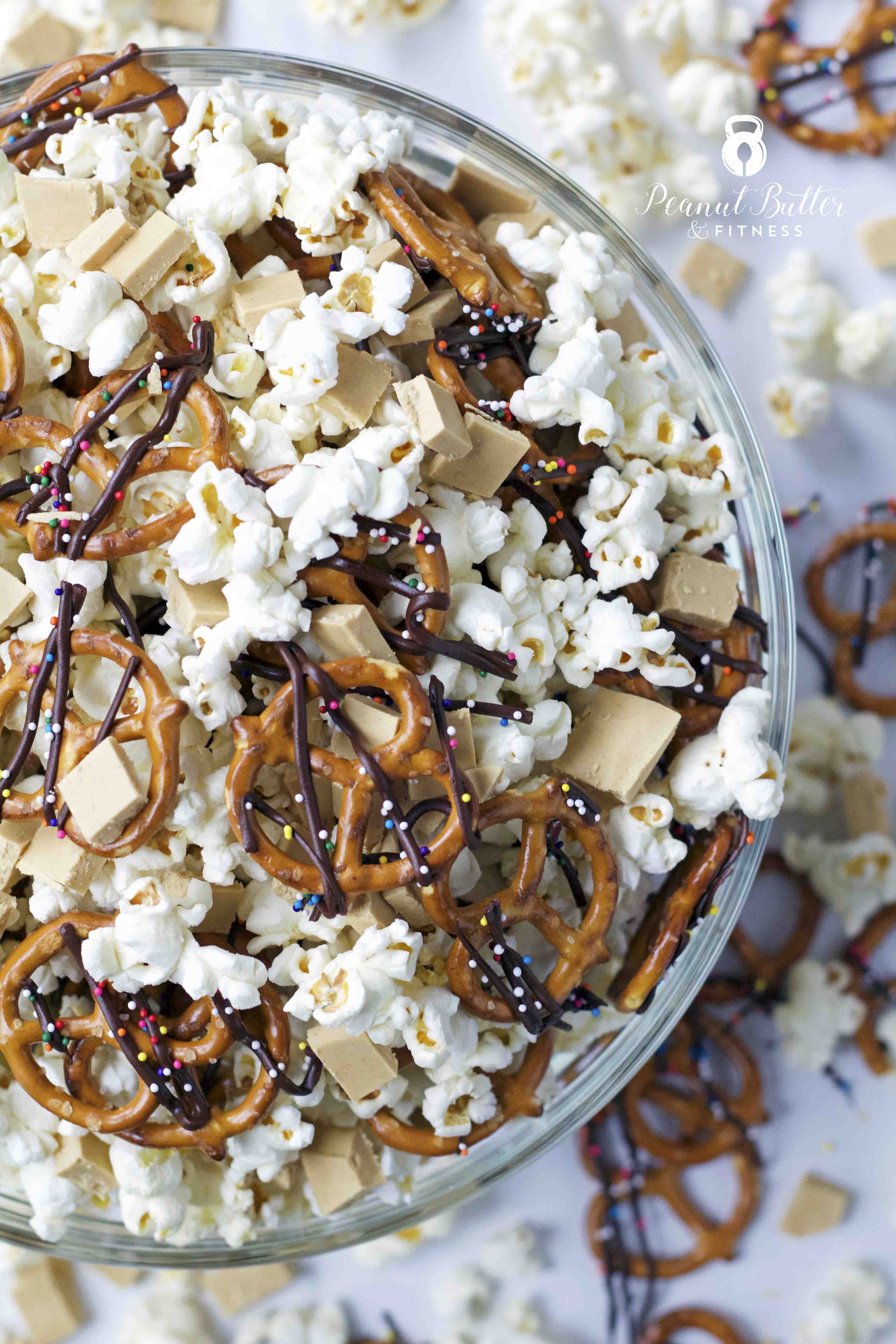 Happy National Popcorn Day! With the big games coming up this weekend, I wanted a sweet and salty snack to accompany all the meaty finger foods, so I put together this Popcorn Snack Mix with Peanut Butter Protein Chunks. I'm a big fan of popcorn, which made things really challenging for me when I used to work at a movie theater. Just picture it…free popcorn all day long just sitting there in my face! It says a lot that I still love popcorn to this day 😉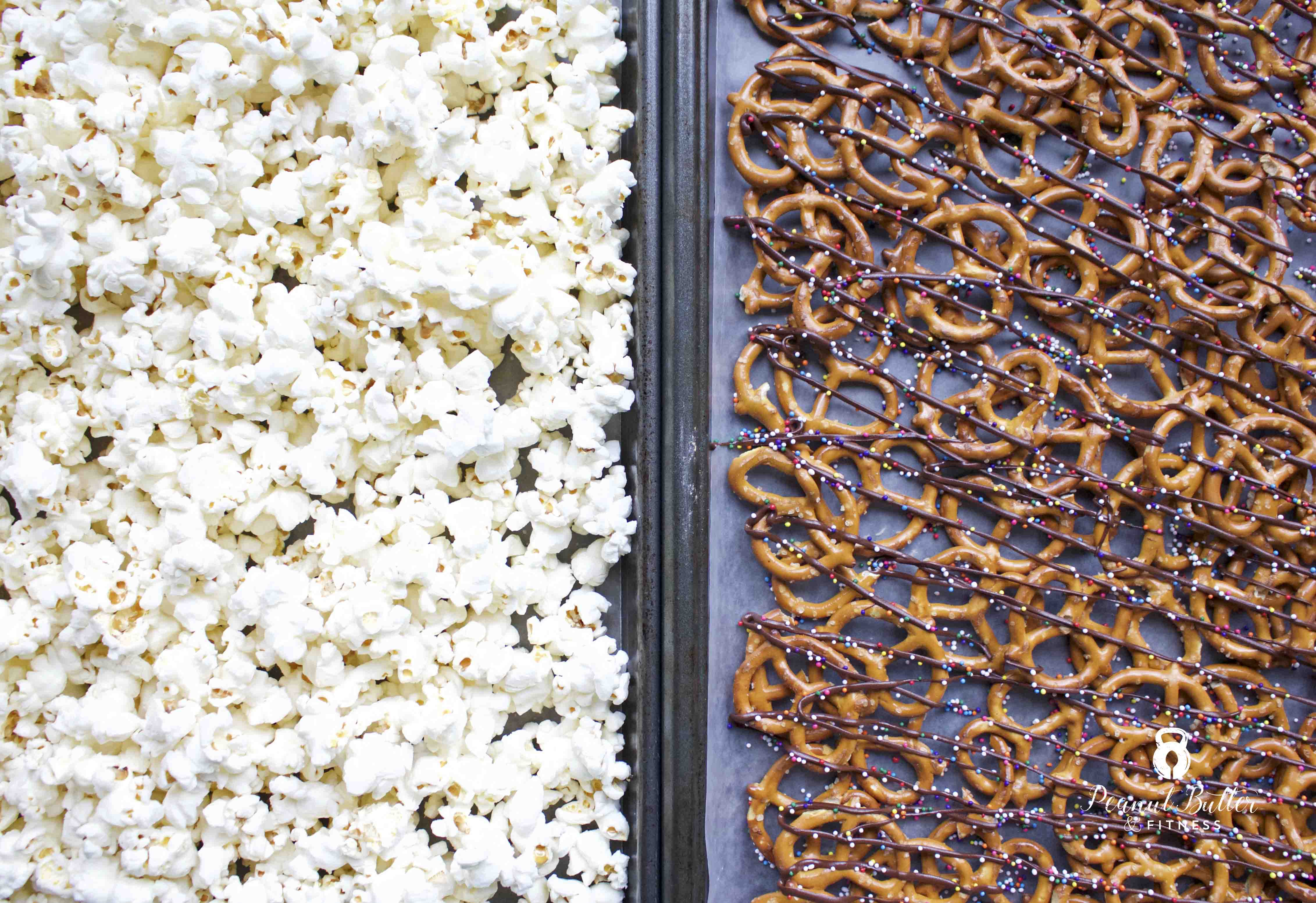 The peanut butter protein chunks are obviously my favorite part of this snack mix. I've been trying to create a protein popcorn that's as good as some of the store-bought brands, but I haven't had success with those yet – one of the big challenges is that I'm trying to avoid using corn syrup like those brands do. So instead, I decided to make some protein-ified peanut butter chunks to go with the popcorn! They are seriously delicious and really help bring the popcorn and pretzels together. You could also add some dried fruit in here if you want a little more variety.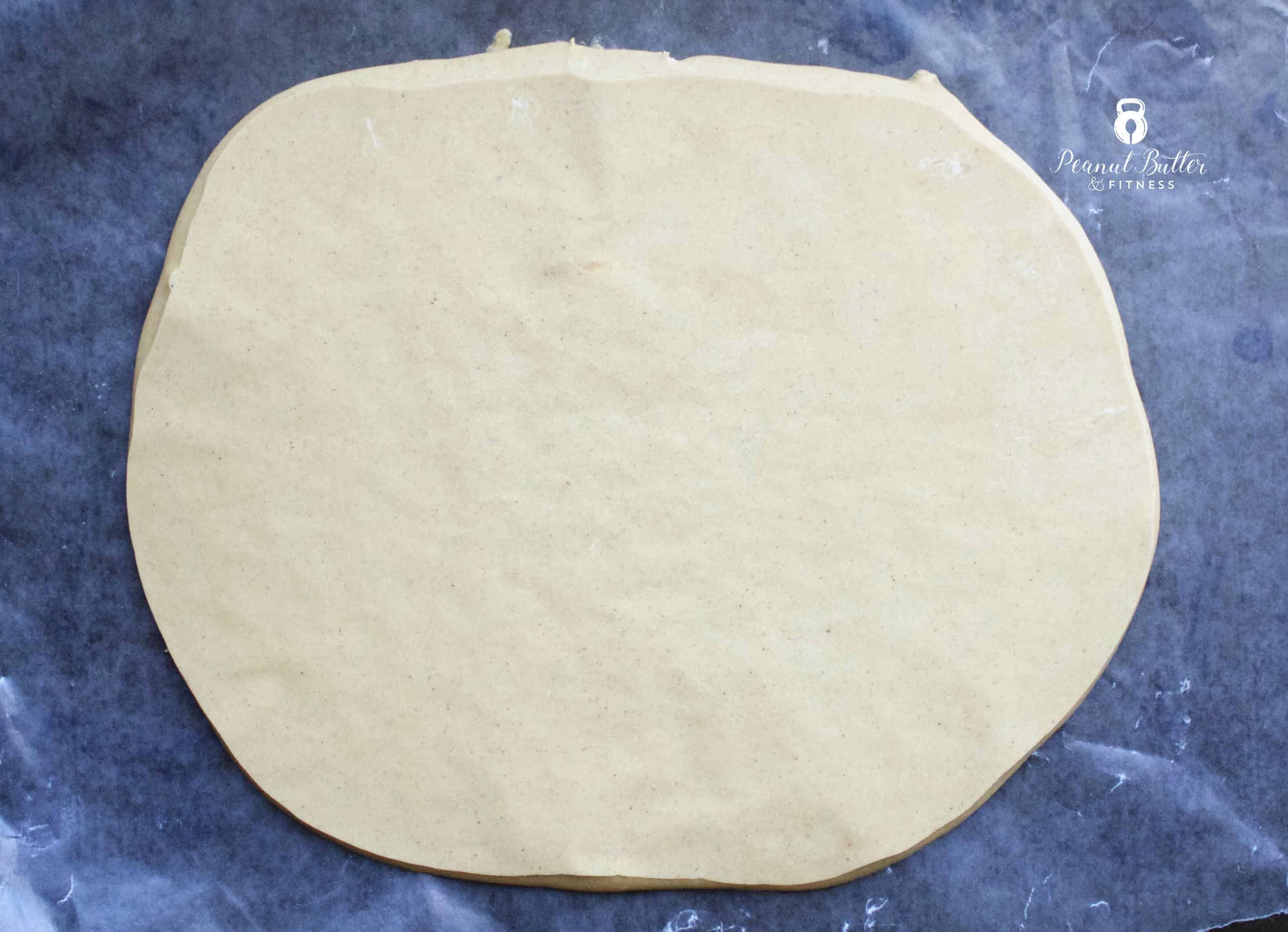 Here's how the peanut butter protein mixture looks after smoothing it out with wax paper and freezing it. And here's about how yours should look after cutting it into chunks…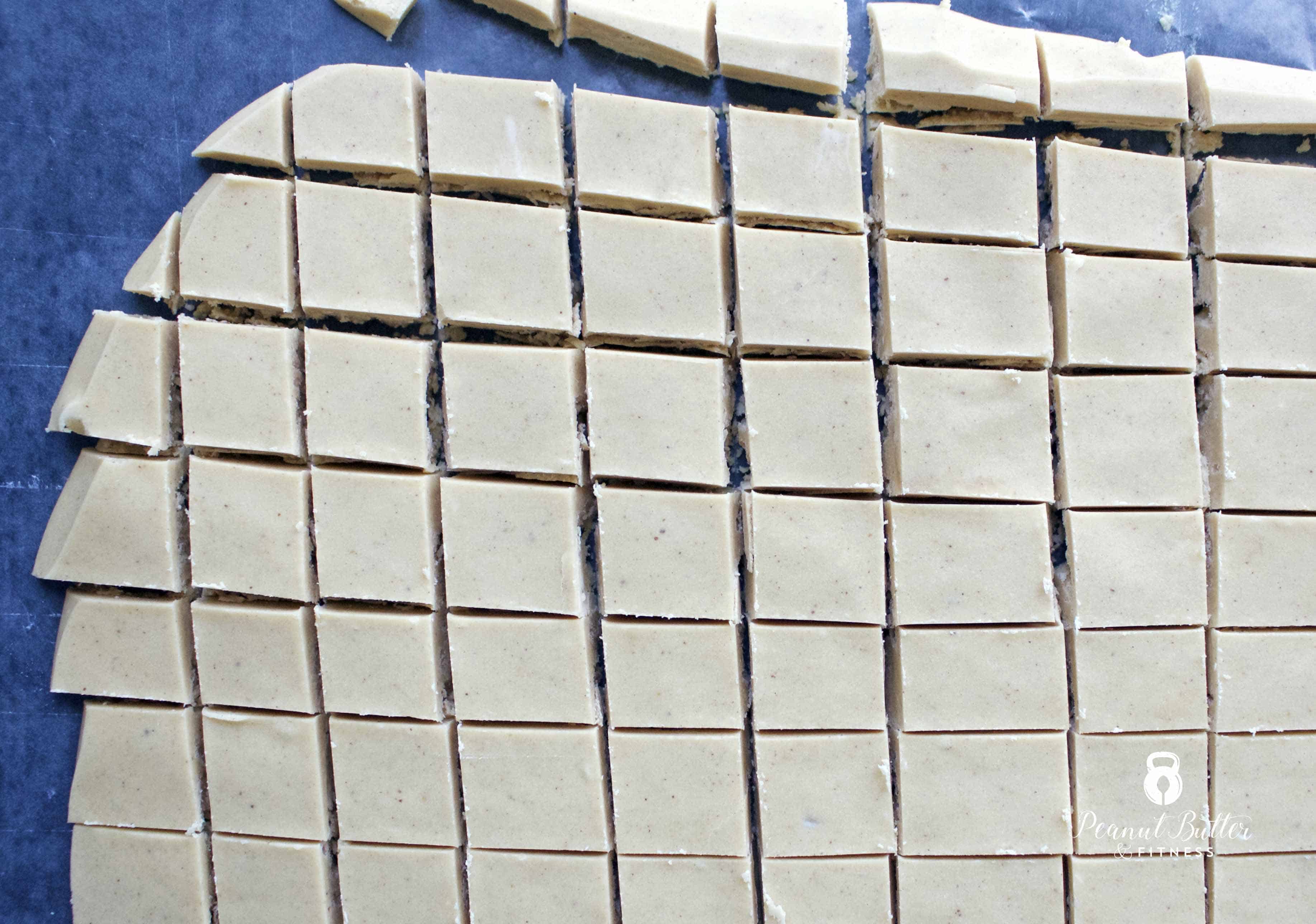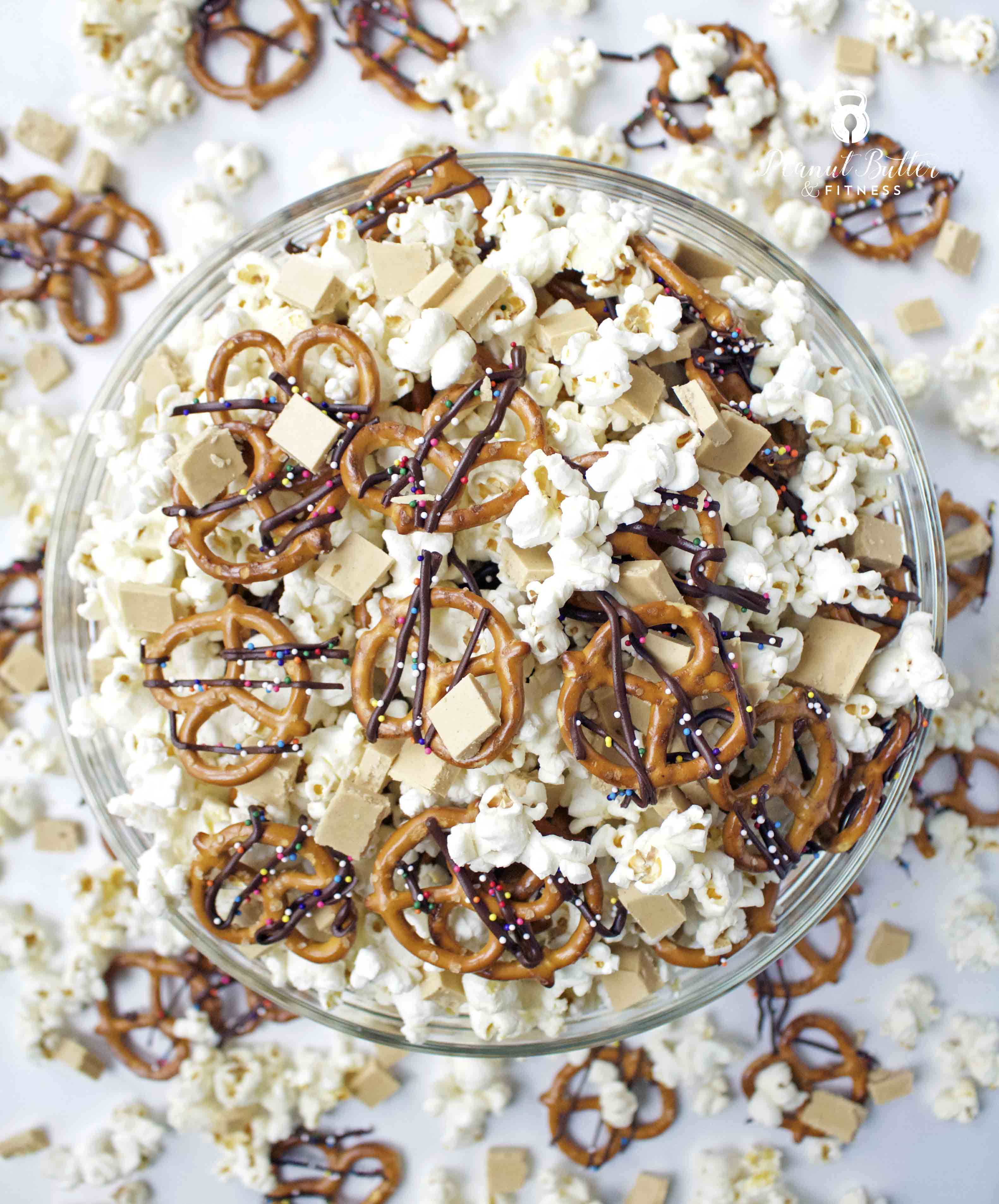 Got any bets on what teams will make it to the Super Bowl? I'll be chowing down on this popcorn mix while I root for the Chiefs and the Rams.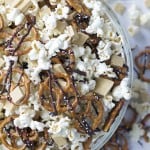 Popcorn Snack Mix with Peanut Butter Protein Chunks
Prep Time 22 minutes
Cook Time 8 minutes
Total Time 30 minutes
Servings 10 servings
Calories per serving 225 kcal
Ingredients
2 cups pretzel twists (80 grams)
1/2 cup popcorn kernels (132 grams)
3 tbsp coconut oil (1.5 oz)
1 scoop Cellucor Vanilla Casein (34 grams)
1/4 cup Skippy Natural Creamy Peanut Butter (64 grams)
1/4 cup white chocolate chips (60 grams)
1/4 cup dark chocolate chips (60 grams)
Optional: sprinkles
Instructions
Line a small baking sheet (9×13″) with wax paper. Set aside.

Add peanut butter and white chocolate chips to a small pot and heat over medium-low heat. As chocolate chips begin to melt, stir continuously with a spatula until smooth and completely melted.

Slowly add casein powder to melted peanut butter and chocolate, whisking continuously. Once you add all the powder, it will get very thick and hard to stir. At this point, scoop the peanut butter mixture onto lined baking sheet.

Smooth down the mixture into about 1/4″ thick rectangle. Lay another piece of wax paper on top of the mixture and smooth completely out. Place baking sheet into freezer for at least 30 minutes.

Line a larger baking sheet with wax paper. Arrange pretzels evenly on the baking sheet. Place dark chocolate chips in a microwave safe dish. Microwave for 30 seconds, then stir, then microwave for another 20 seconds and stir until melted and smooth.

Scoop chocolate into the corner of a plastic bag, then cut the very tip off the corner of the bag. Squeeze chocolate onto pretzels, then add sprinkles on top, if desired.

Add coconut oil to a 6-8 quart pot (one with a tight fitting lid) and melt over medium-high heat. Add a few popcorn kernels to the pot. Once they begin popping, add the rest of the popcorn kernels and cover the pot. As the popcorn begins popping, shake the pot to help keep the popcorn from burning. When popping slows (2-3 minutes), remove from heat and immediately pour popcorn onto a baking sheet and season with salt.

Remove peanut butter mixture from freezer and cut into chunks <1/2″ square. Toss peanut butter chunks, pretzels, and popcorn before serving.
Nutrition Facts
Popcorn Snack Mix with Peanut Butter Protein Chunks
Amount Per Serving
Calories 225 Calories from Fat 108
% Daily Value*
Fat 12g18%
Cholesterol 4mg1%
Sodium 177mg8%
Potassium 63mg2%
Carbohydrates 24g8%
Fiber 13g54%
Sugar 7g8%
Protein 7g14%
* Percent Daily Values are based on a 2000 calorie diet.