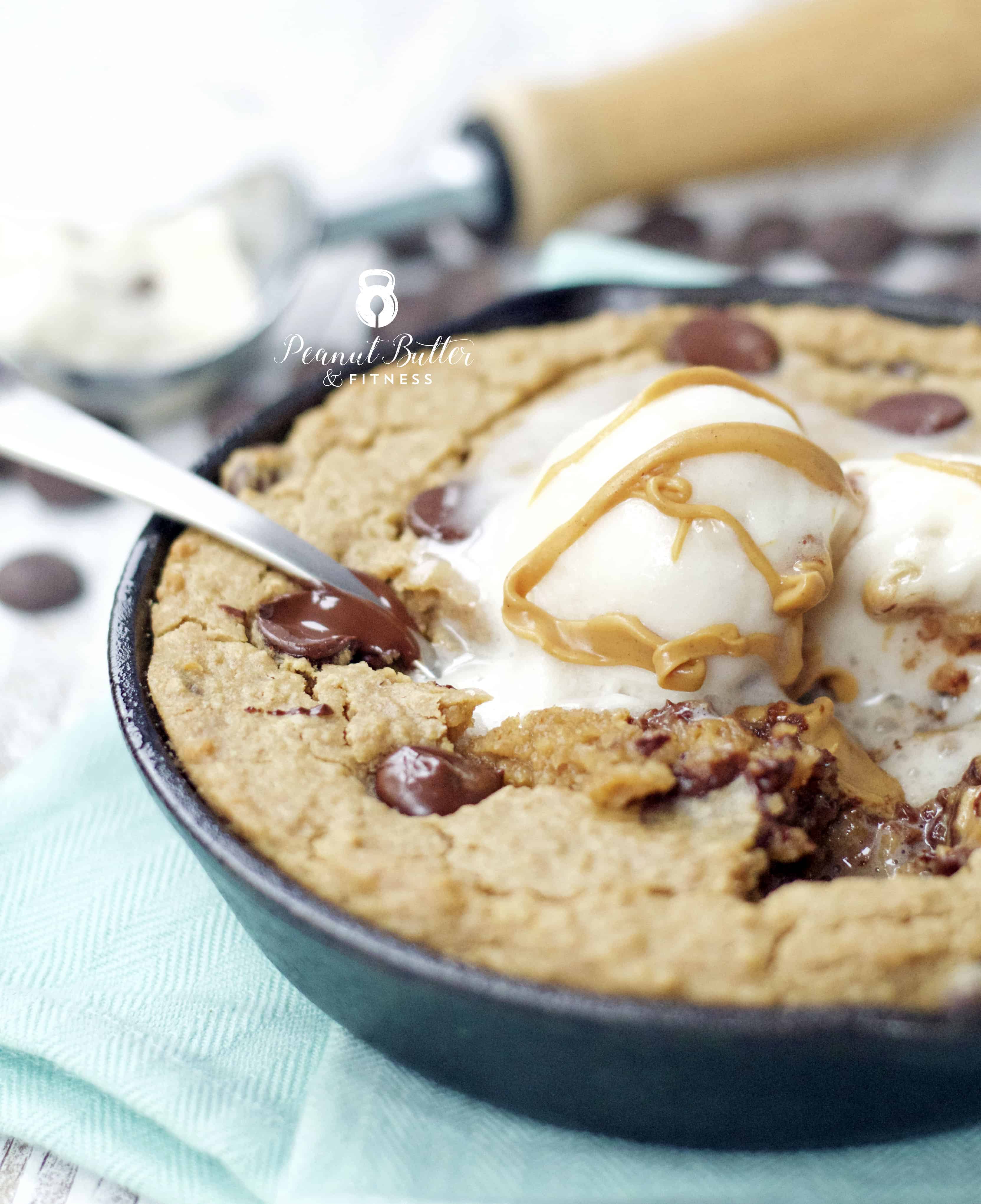 Happy National Peanut Butter Day! As you can imagine, this is truly a holiday when Peanut Butter and Fitness can rejoice. So this year, in honor of this great food fiesta, I've made the ultimate decadent peanut butter treat: a Peanut Butter Chocolate Chip Skillet Cookie! I made it with healthy ingredients of course. But that doesn't make it any less ooey, gooey and delicious.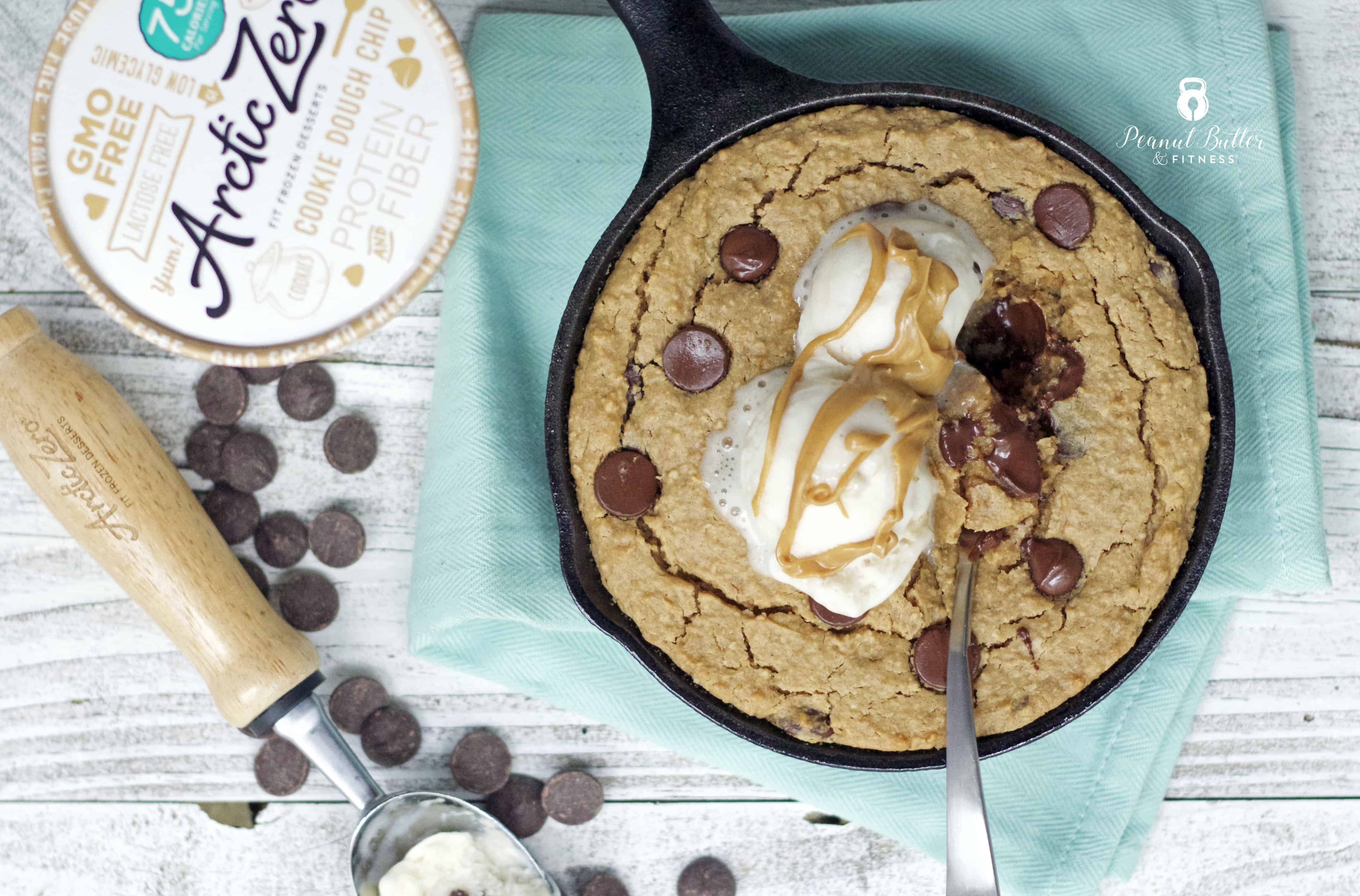 I even topped it off with some healthy Arctic Zero ice cream, because what's a skillet cookie without ice cream? Just an ooey, gooey, delicious, giant-ass cookie that you eat with a spoon. And who in the world would want something like that? *Insert sarcasm here*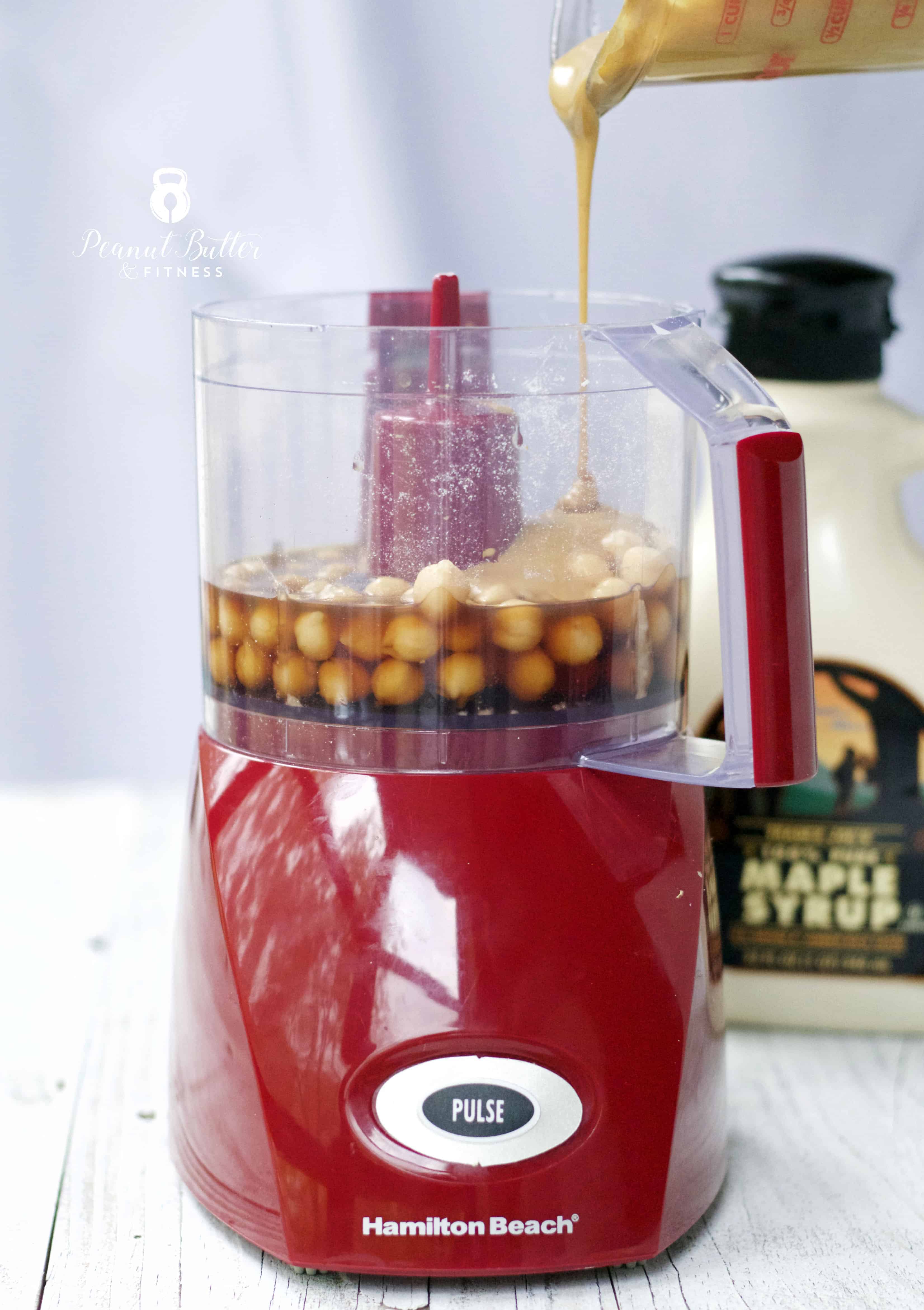 Here's the thing about this cookie…remember when I said I made it with healthy ingredients? Well, I wasn't kidding. Those are chickpeas in that food processor. Don't worry, you can't taste them! They are really good at taking peanut butter flavor, like they've done in the past for me with recipes like these peanut butter truffles and these cookie dough cups.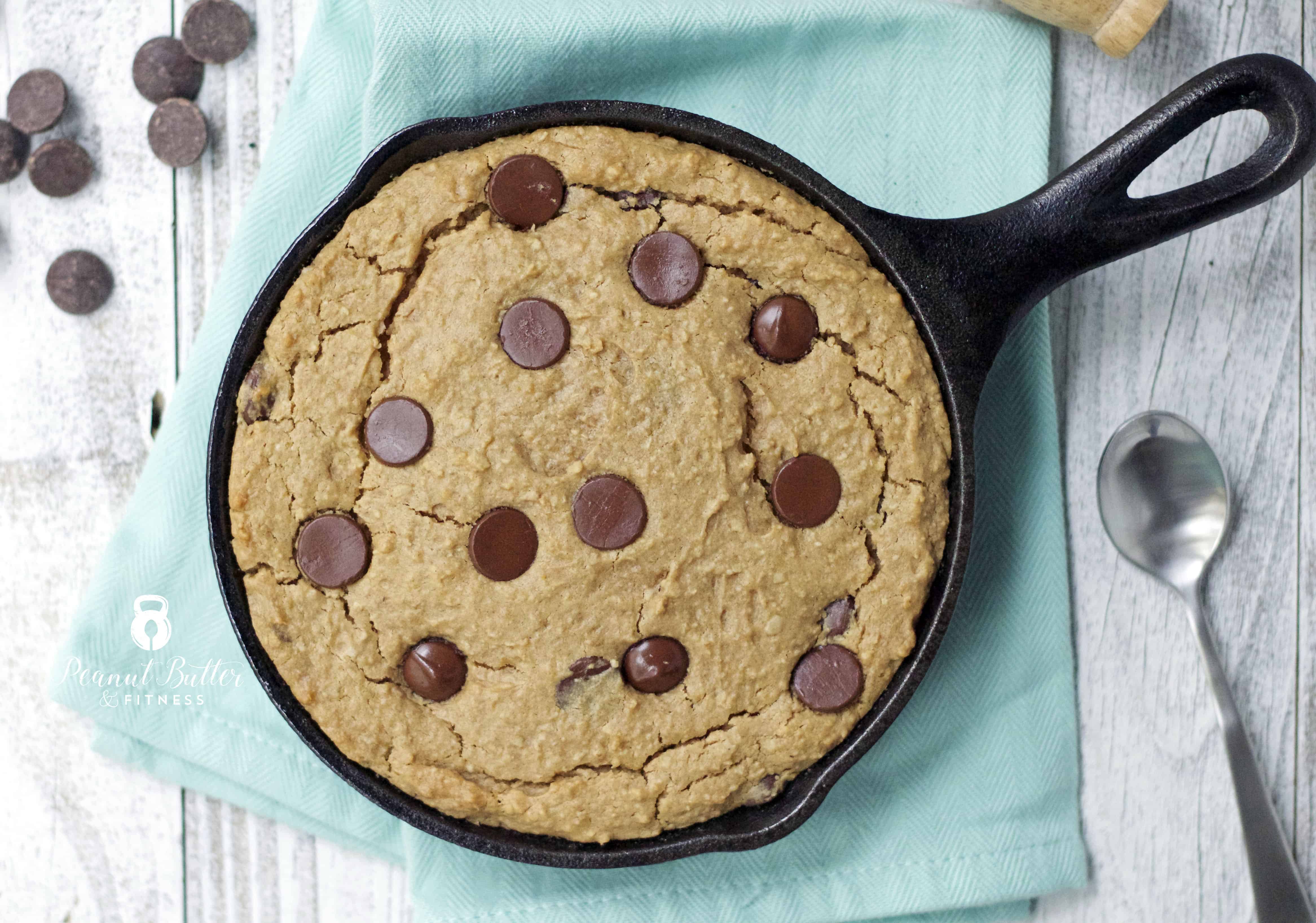 Oh and guys? Remember when I said that my New Years Resolution was to bring you more video content? Well…behold my first real recipe demo video! (It's actually my 2nd, but the 1st one was a flop so I protected you from that shiz.) Be gentle, I'm still learning. BTW, I even started a channel on YouTube, so head on over and subscribe if you want to be the first to know about my videos 🙂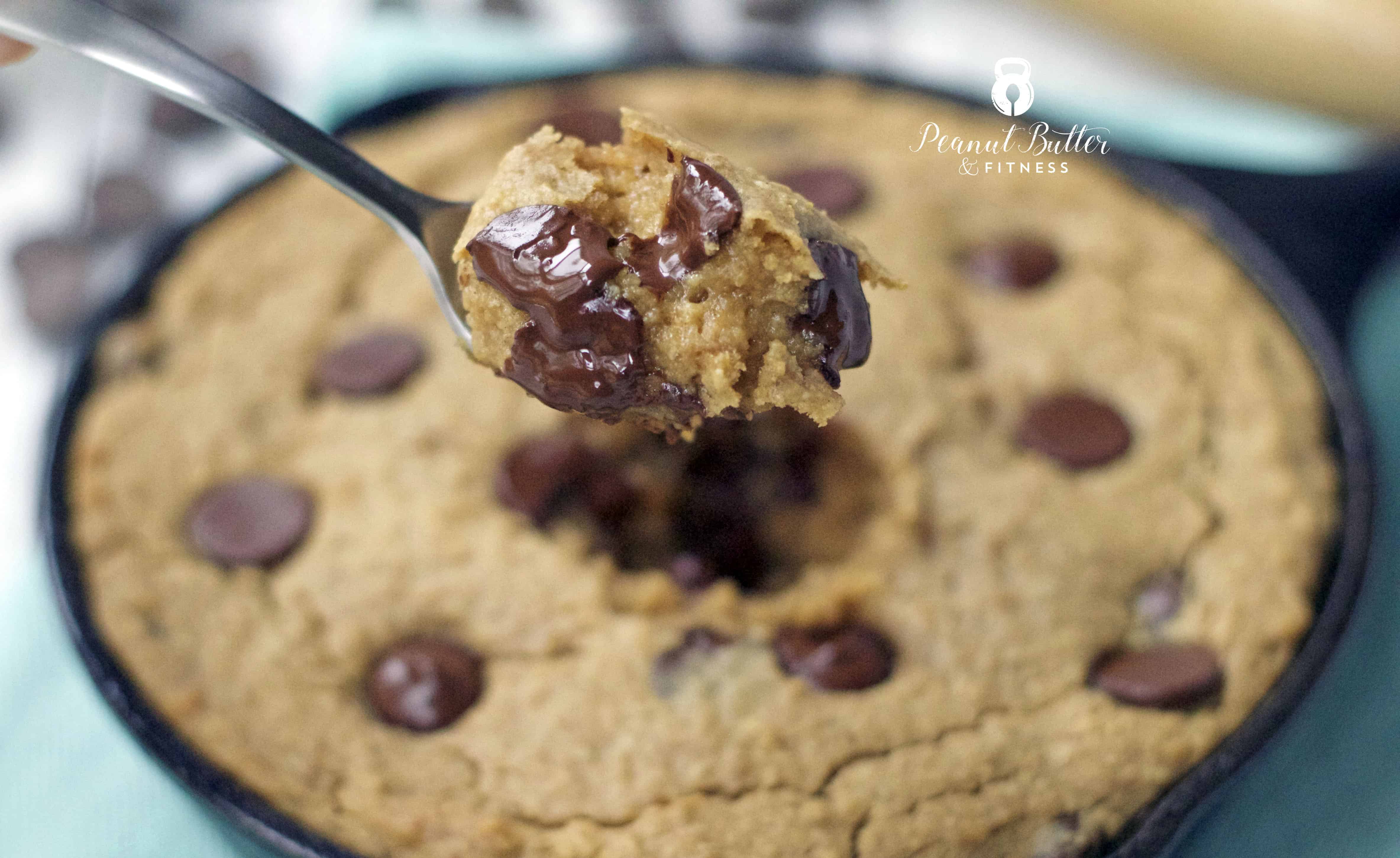 I baked my skillet cookie for less than 20 minutes, so it's extra gooey on the inside. Almost like a barely baked cookie dough…so freakin' yummy and melty. If you don't want cookie dough in the middle, just go for the full 20 minutes in the oven or even a little longer for a full bake.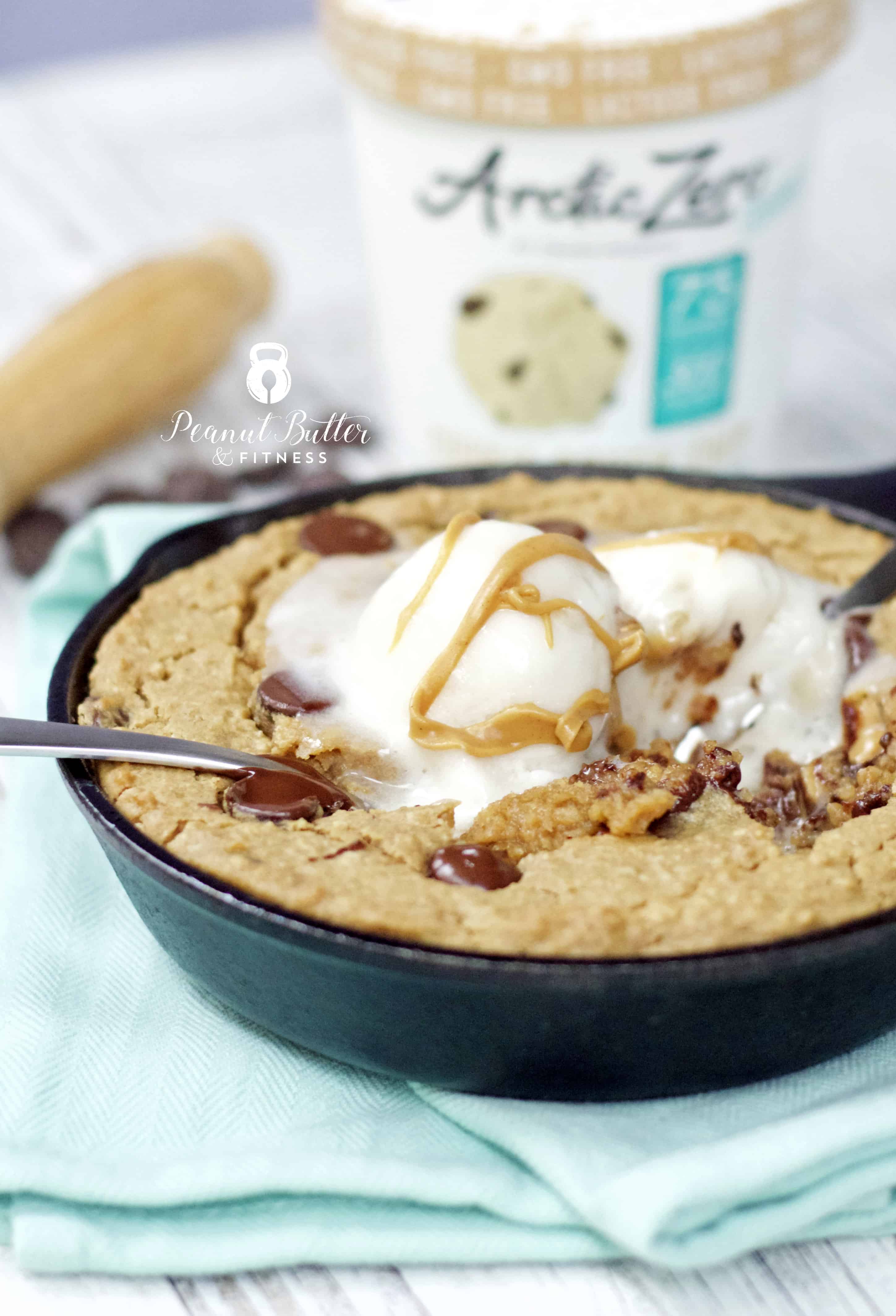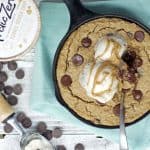 Peanut Butter Chocolate Chip Skillet Cookie
Prep Time 15 minutes
Cook Time 20 minutes
Total Time 35 minutes
Servings 4
Calories per serving 335 kcal
Ingredients
2/3 cup low sodium chickpeas drained and rinsed
1/3 cup oat flour
1/3 cup Skippy Natural peanut butter melted
1/4 cup pure maple syrup
3 tbsp Ghirardelli 60% Dark Chocolate Chips
2 tbsp unsweetened vanilla almond milk
1 tsp vanilla extract
1 tsp baking powder
1/2 tsp cinnamon
Pinch of salt
Instructions
Pre-heat oven to 350 degrees. Grease a 6.25" cast iron skillet with coconut oil and set aside.

In a food processor, combine chickpeas, peanut butter, maple syrup, almond milk, vanilla extract, baking powder, cinnamon and salt. Pusle until chickpeas are completely broken down and smooth.


Remove batter from food processor and fold in oat flour and dark chocolate chips until just mixed. Pour batter into greased skillet and spread evenly. Top with a few extra chocolate chips if desired and push down slightly into the top of the batter.


Bake at 350 degrees for about 20 minutes or to desired done-ness. (A couple minutes less will yield a cookie dough like center and a few more minutes will yield a less gooey cookie.)

Recipe Notes
Watch the recipe demo here!
Nutrition Facts
Peanut Butter Chocolate Chip Skillet Cookie
Amount Per Serving
Calories 335 Calories from Fat 162
% Daily Value*
Fat 18g28%
Sodium 201mg9%
Carbohydrates 38g13%
Fiber 5g21%
Sugar 20g22%
Protein 9g18%
* Percent Daily Values are based on a 2000 calorie diet.
I recommend using a 6.25″ cast iron skillet for this recipe.