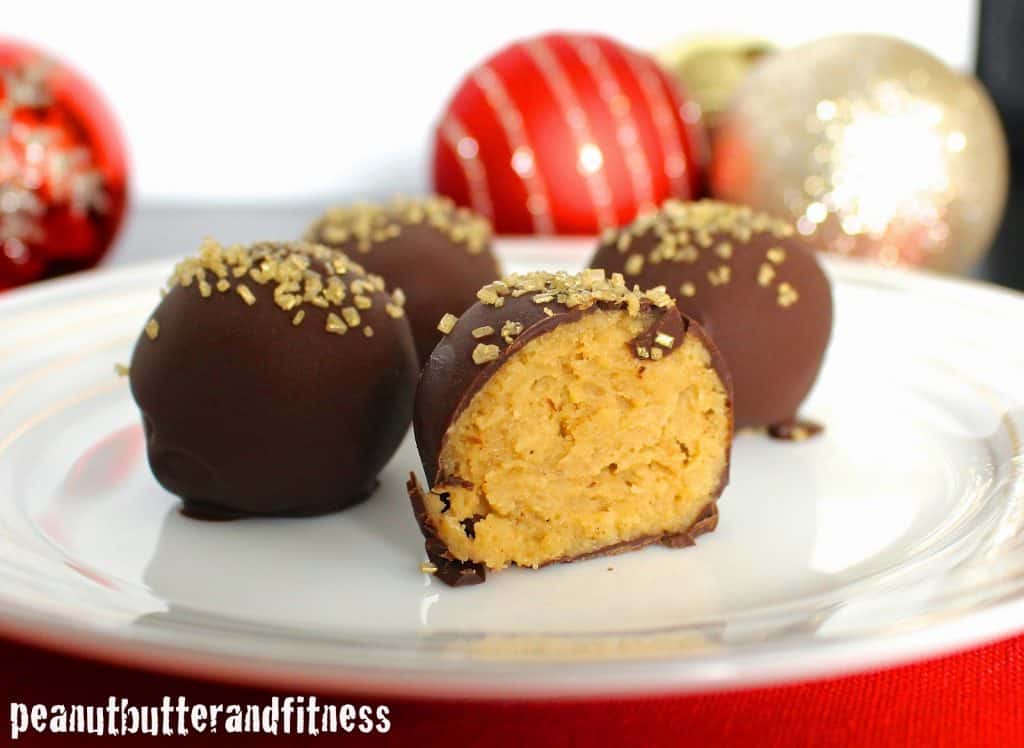 First off, I feel like I have to say I'm not ecstatic about how these pictures turned out.  These truffles really do look much prettier in person. But I guess when you're rushing to get them all done the night before your office ugly sweater and cookie competition, these things happen.  I'll definitely be remaking them, so maybe I'll take better pictures next time 🙂
Fast forward to the ugly sweater and cookie competition itself…let's just say I made a clean sweep! My sweater was beyond ugly and a true 90s gem.  And the truffles? Delicious and decadent just like you would expect, but with an unexpected healthy twist – chick peas!  Otherwise known as garbanzo beans, they're a great filler in peanut buttery concoctions.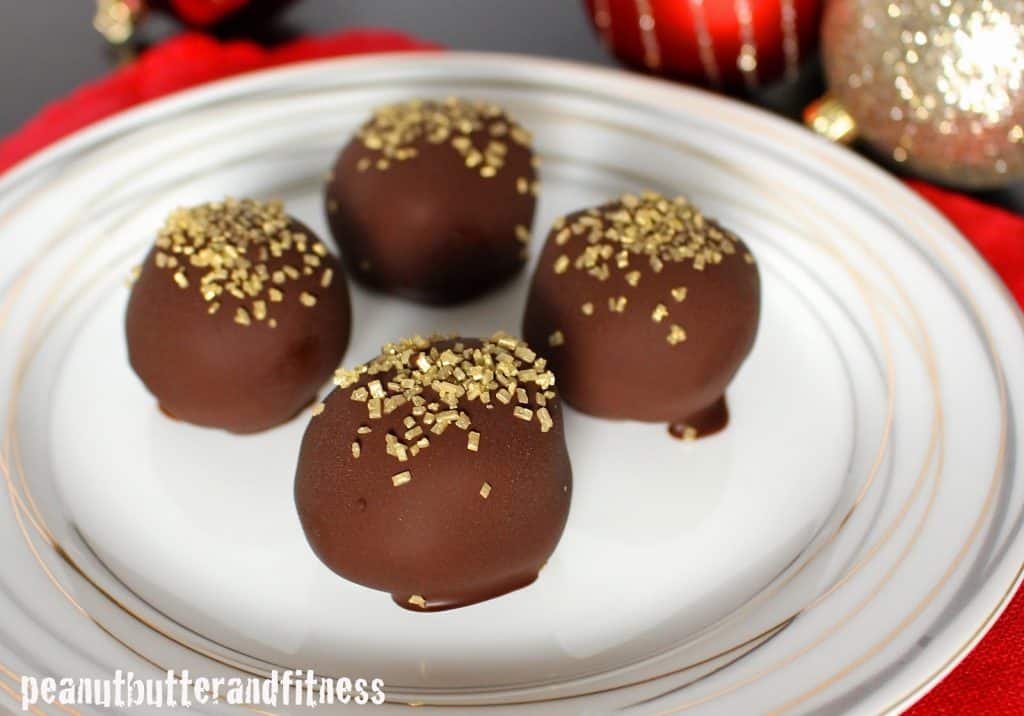 I think the fact that I took these right out of the refrigerator and started snapping pictures led to a little bit of condensation, which is not the prettiest thing in the world.  Don't worry, they still taste amazing and the condensation goes away quickly after you take them out of the refrigerator.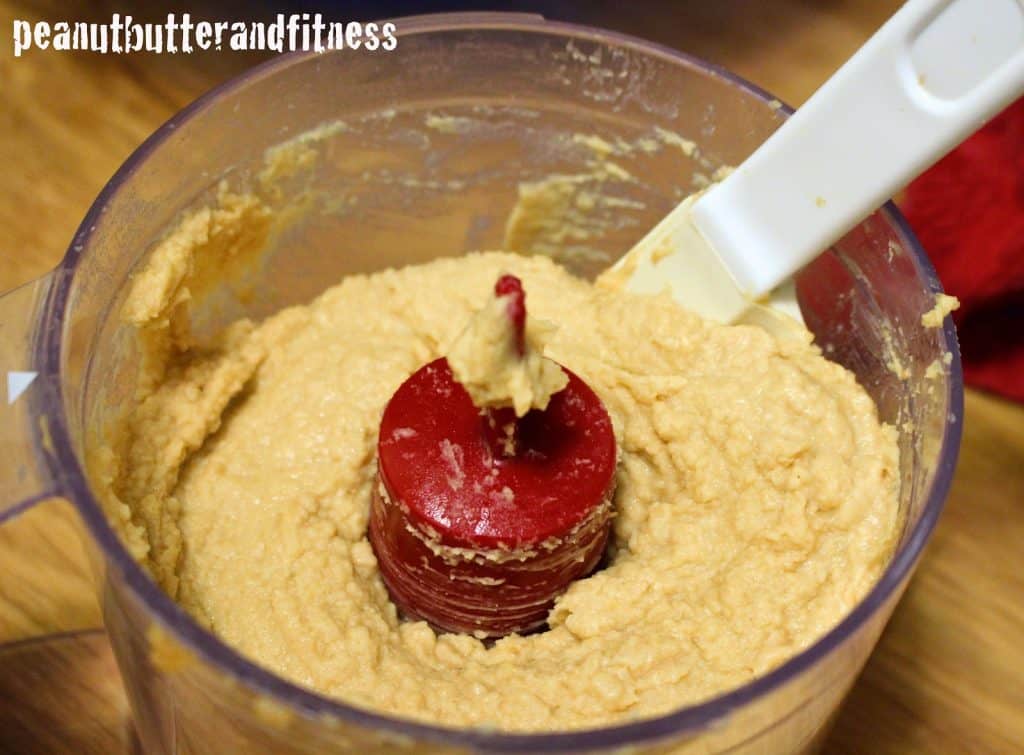 The key to these truffles being truly decadent and creamy and awesome is making sure you get the chickpeas totally smooth! I think I spent a solid 5 minutes processing and stirring to get mine smooth.  Add a tiny bit more almond milk if you need to.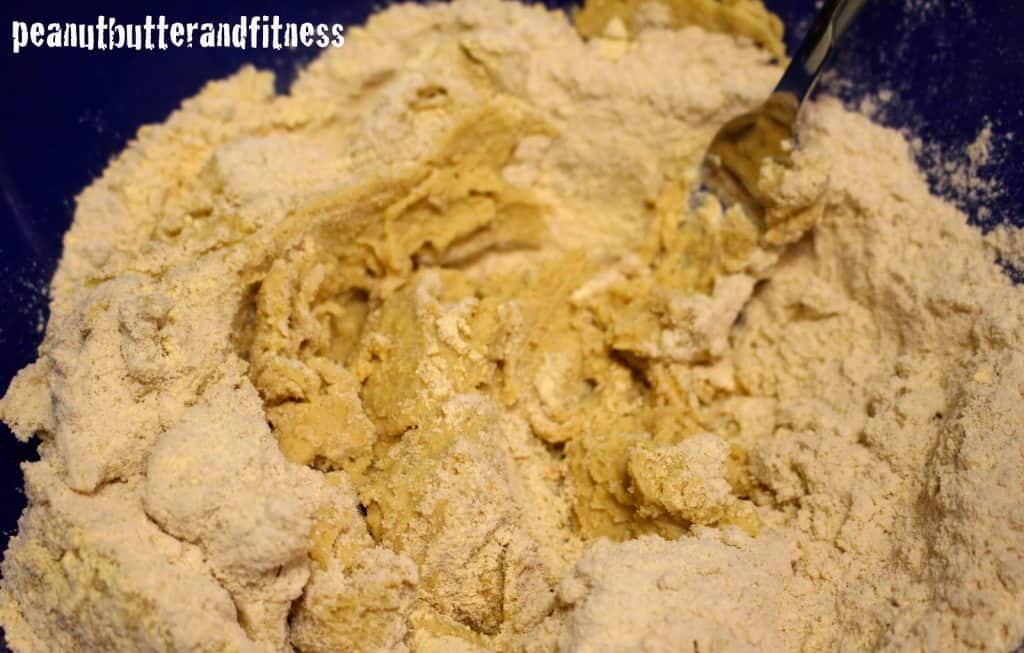 Once you get the chickpea mix into a bowl and add the protein powder, things start to get sticky…which is why you need to put the whole thing in the freezer before rolling it up into little truffle balls.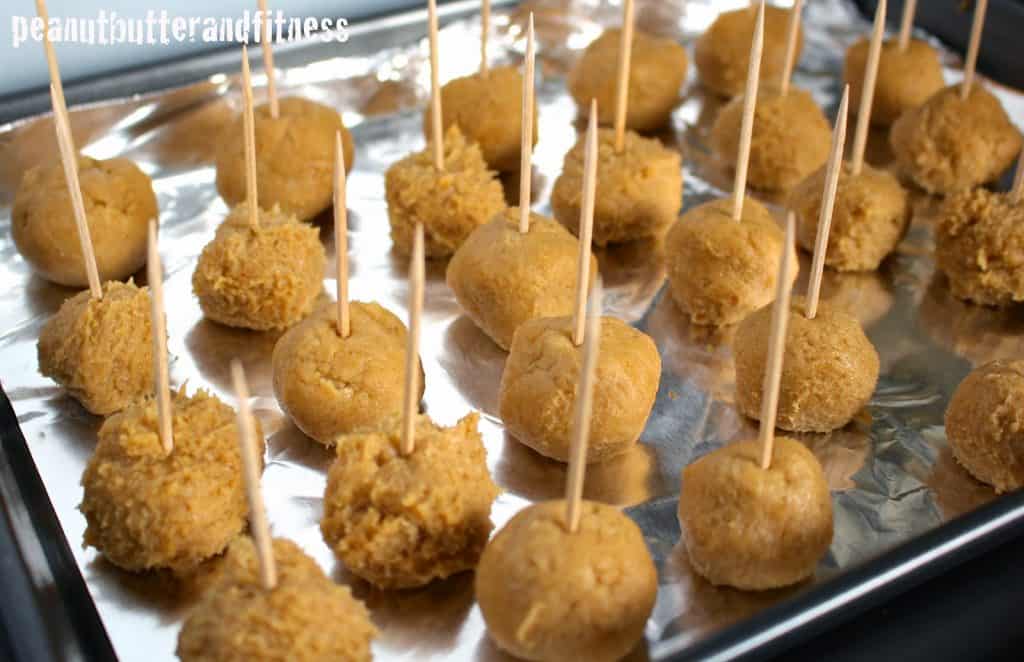 Even then you may need to roll a few, stick the mix back in the freezer, roll a few more and repeat.  It sounds worse than it is, I promise 🙂 You can see where they start to get sticky after a bit and then I put them back in the freezer before I continued.  Be careful not to stick the toothpicks in too far! Otherwise they will be a bit*h to get out after you freeze them and dip them in chocolate.    Here was my setup for dipping…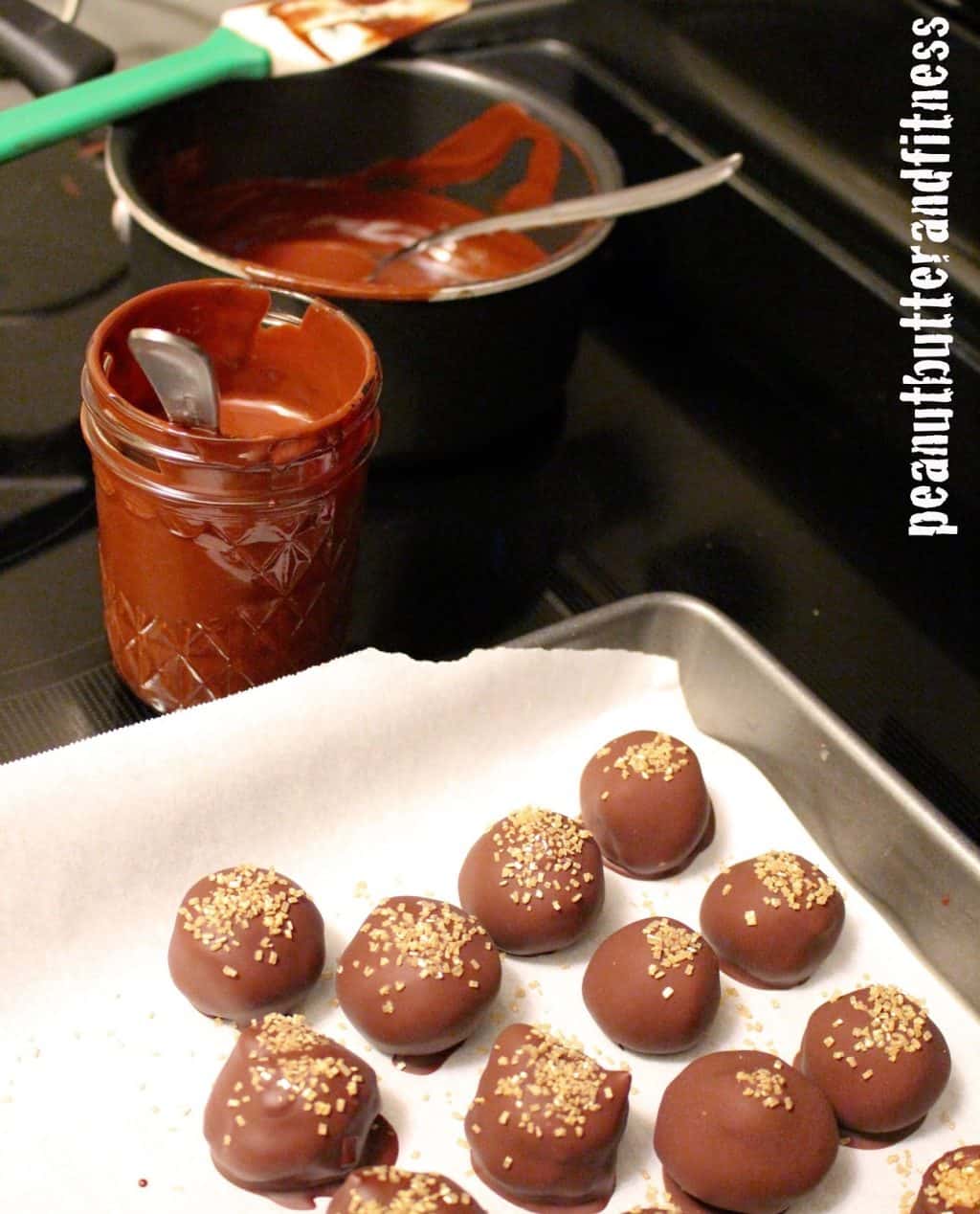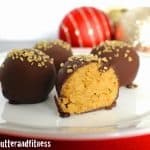 Peanut Butter Protein Truffles
Prep Time 45 minutes
Total Time 45 minutes
Servings 27 truffles (1 truffle per serving)
Calories per serving 84 kcal
Instructions
Add garbanzo beans, peanut butter, Truvia and almond milk to a food processor and process until smooth.

Combine garbanzo bean mixture, PB2 and protein powder in a large bowl.  Set aside in freezer for at least 30 minutes.

Line a small baking pan with foil and roll mixture into small balls, less than 1" diameter.  Place balls on pan and insert toothpick less than 1/4" into each ball.  Place tray in freezer for at least 30 minutes.

Melt chocolate in a small pot over medium-low heat.  Pour into a narrow glass cup suitable for dipping.

Remove truffle balls from the freezer one at a time and dip into the chocolate, removing excess chocolate with a spoon.  Place onto a lined baking tray, twisting toothpick to remove and add sprinkles immediately.  Repeat process with all truffle balls.

Store truffles in refrigerator until serving.
Nutrition Facts
Peanut Butter Protein Truffles
Amount Per Serving
Calories 84 Calories from Fat 45
% Daily Value*
Fat 5g8%
Cholesterol 2mg1%
Sodium 35mg2%
Carbohydrates 8.5g3%
Fiber 2g8%
Sugar 4g4%
Protein 3g6%
* Percent Daily Values are based on a 2000 calorie diet.