If you've seen my blog before, you know I'm a fan of Quest protein bars.  They taste awesome and are loaded with protein and fiber but have very little sugar in them.  Unlike most protein bars that are essentially sexier versions of candy bars.  Anyways…I've been wanting to make a "Quest creation" for a while now and I finally figured out what to make.  Something with chocolate and peanut butter…duh.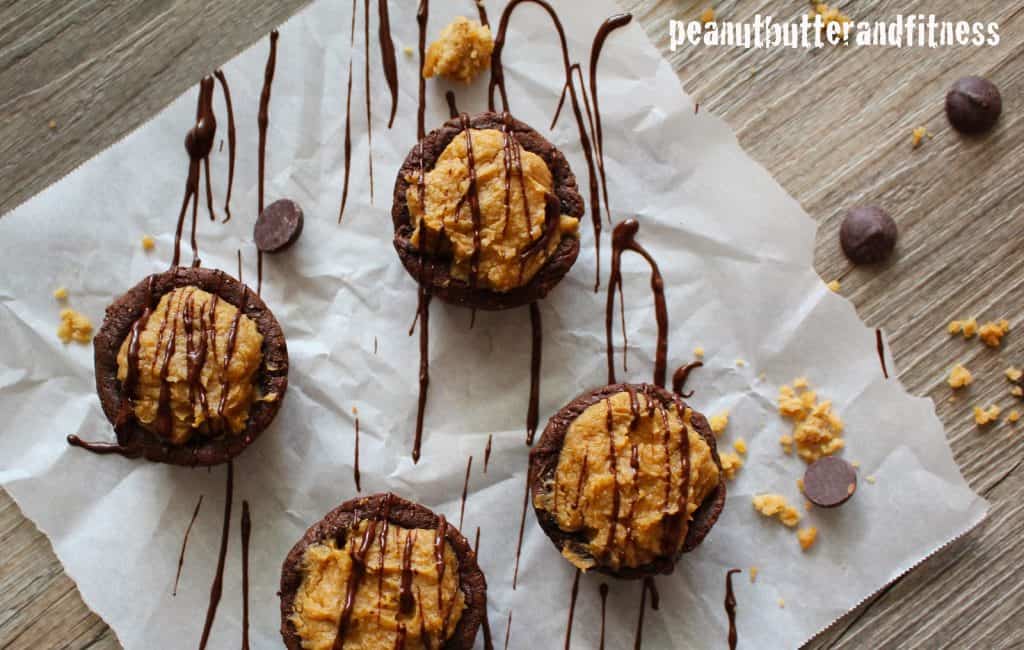 The great part about the cookie dough in these little cups? The main ingredient is chickpeas! (Or garbanzo beans, whatever you want to call it.)  For those of you who haven't seen any of the cookie recipes that incorporate chickpeas, they're actually really easy to work with.  They get really smooth in a food processor and with a few more ingredients you can turn them into a guilt-free sweet treat that has some extra protein and fiber.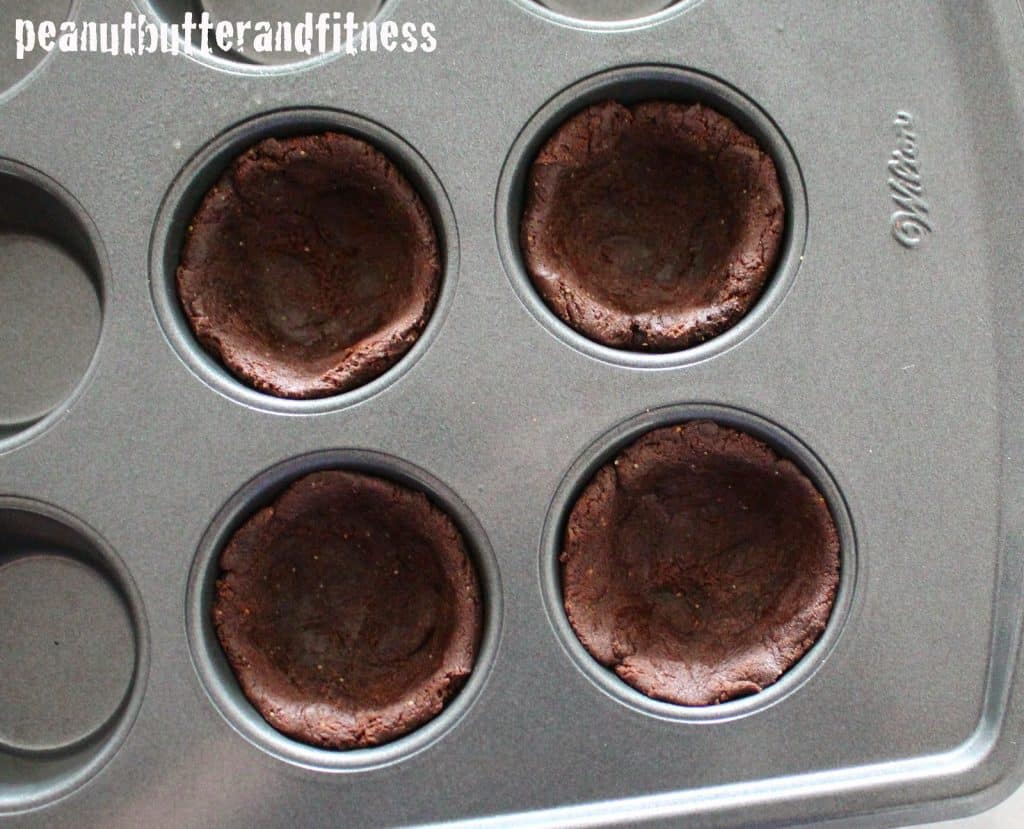 My cookie dough turned out moist but a little crumbly after 10 minutes in the oven.  I thought it was perfect, but if you want yours to be a little gooier, cut the baking time down to 7 or 8 minutes.  Toss in some mini-chocolate chips if you're feeling adventurous.
And if you don't want to open an entire can of chickpeas just for a few tablespoons, check out the end of this post for what you can do if you double or triple the filling mixture…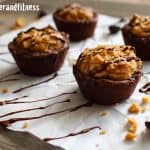 Quest Cookie Dough Cups
Prep Time 15 minutes
Cook Time 10 minutes
Total Time 25 minutes
Servings 4 servings (1 cup per serving)
Calories per serving 89 kcal
Ingredients
1 Quest Chocolate Brownie Bar
2 tbsp + 2 tsp chickpeas drained and rinsed
1 tbsp low sodium/low sugar peanut butter
1/2 tsp vanilla extract
1 1/2 tsp vanilla protein powder
1/2 tbsp unsweetened vanilla almond milk
1 packed Truvia
1 tsp dark chocolate chips
Instructions
Preheat oven to 350 degrees.  Spray a mini-cupcake tray with non-stick cooking spray.

Cut the Quest bar into 4 even pieces.  One by one, microwave pieces for 10 seconds to soften.  Press each piece into the mini-cupcake tray.  Set aside.

In a food processor (Nutribullet probably won't work for this), combine chickpeas, peanut butter, vanilla extract, protein powder, almond milk and Truvia until very smooth.  Divide chickpea mixture evenly into the 4 Quest cups.

Bake for 8-10 minutes at 350 degrees.  Allow to cool for a few minutes before removing from the cupcake tray.

In a small microwave safe dish (I used a small measuring cup), melt dark chocolate chips for about 30 seconds.  Drizzle on top of cookie cups.
Nutrition Facts
Quest Cookie Dough Cups
Amount Per Serving
Calories 89 Calories from Fat 36
% Daily Value*
Fat 4g6%
Cholesterol 1mg0%
Sodium 110mg5%
Carbohydrates 10g3%
Fiber 6g25%
Sugar 1g1%
Protein 7g14%
* Percent Daily Values are based on a 2000 calorie diet.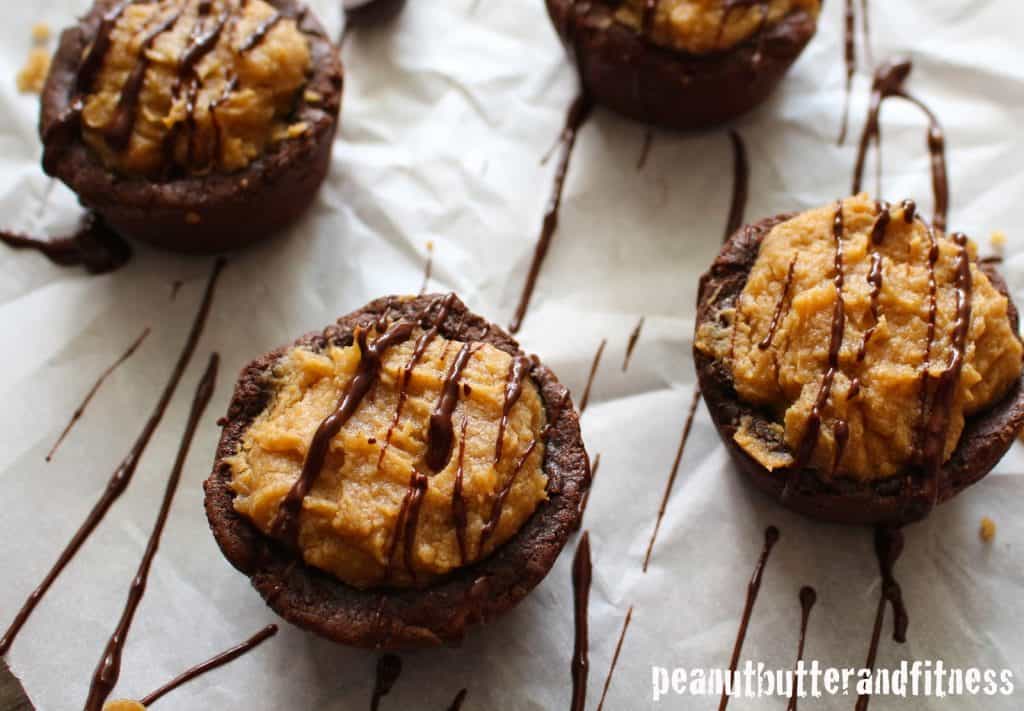 Oh peanut buttery cookie dough that's slightly crumbly when it comes out of the oven? Well I don't mind if I make have some peanut butter cookies.  Boom.  Two recipes in one.  You're welcome 🙂