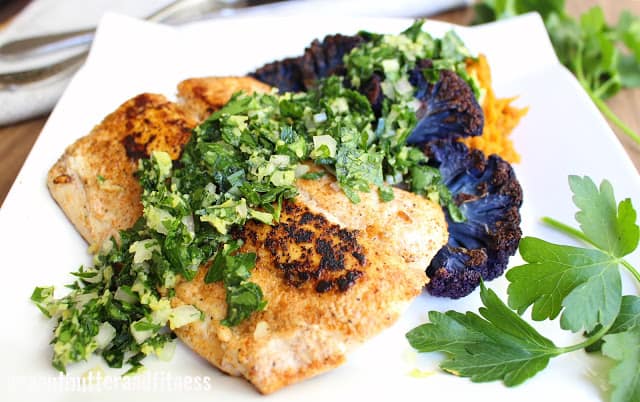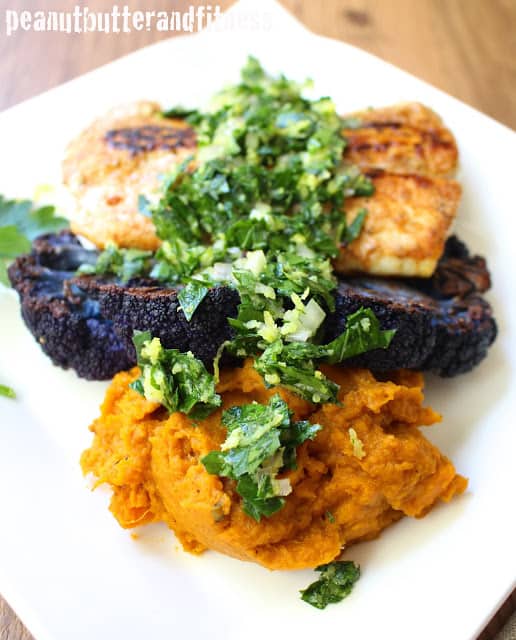 Hey guys, happy Sunday!  Sorry I've been MIA for a bit…took a little trip to Hawaii and subsequently got stuck there for a couple more days than planned because flights were so full!  Things could be much, much worse 😉  So, maybe I'll come up with a treat recipe sometime this week, but let's face it…I had enough Mai Tai's that I will not be needing any treats any time soon!  Instead I'm making this fun dish that features treats from the sea!  Is that a weird phrase?  Probably.
So I read an article a couple weeks ago that said that purple foods are in.  Which seems like a no brainer to me because I've always loved purple.  And why not eat it?  Anywho, purple cauliflower is interesting because it tastes exactly like white cauliflower.  But I felt like I needed some extra color on this dish rather than plain old white cauliflower.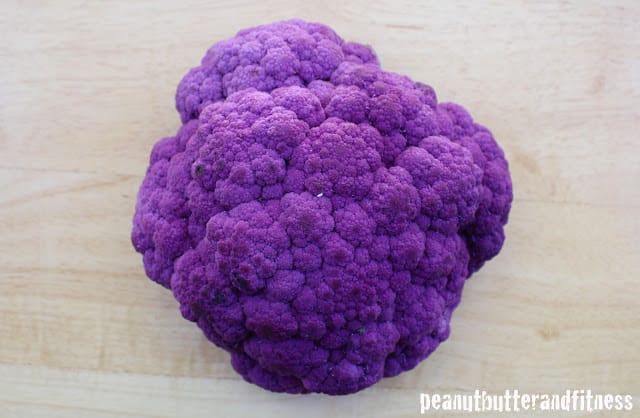 Look how pretty! This is a medium sized cauliflower and these were all the steaks that I could really make out of it – perfect if you're only serving 4.  But I will warn you that the size of the cauliflower vs how many steaks you get is a little deceiving.  So if in doubt, size up!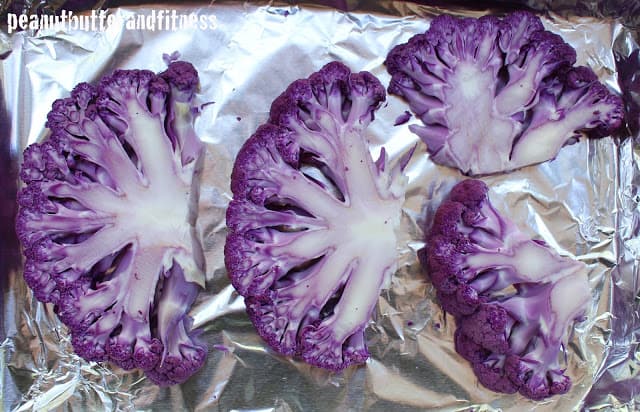 Roasted carrot mash is super delish and if you wanted to mix things up a bit, do half carrots and half butternut squash.  Just take a bath in that vitamin A!  Those little burned black specks are shallots that I attempted to roast with the carrots and almost immediately regretted…but never to fear.  I learned by mistake so you don't have to.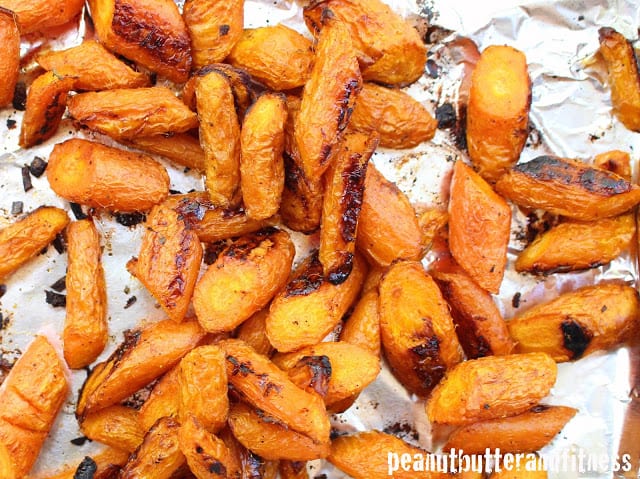 Okay so gremolata – it's this awesome, fresh, herb-y topping that pulls this whole dish together.  If you've never had it, you could maybe think of it as a cross between a pesto and a salsa..maybe?  I guess it's really it's own thing, but trust me when I say it's perfect on top of this dish.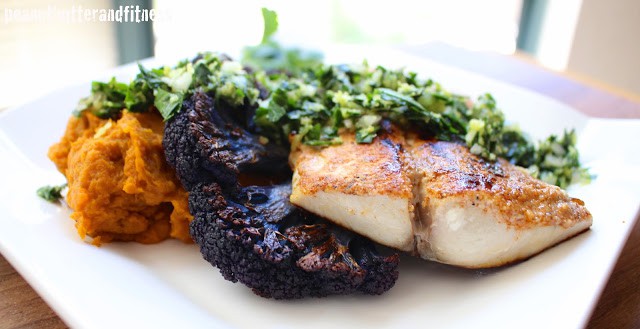 Pan Seared Mahi with Roasted Carrot Mash, Purple Cauliflower Steaks and Gremolata
Yield: 4 servings • Calories per serving: 316 calories • Fat: 6 g • Protein: 37 g • Carbs: 32 g • Fiber: 11 g • Sugar: 15 g • Sodium: 463 mg • Cholesterol: 120 mg
Ingredients:
Four 6 oz raw Mahi Mahi fillets
15 medium carrots
1 medium head purple cauliflower
1/2 cup Italian parsley, chopped and divided
1/4 cup unsweetened vanilla almond milk
2 1/2 tbsp shallot, diced and divided
2 tbsp lemon zest
1 tbsp olive oil, divided
1 tsp lemon juice
Salt to taste
Dry rub ingredients:
2 tsp garlic powder
1 tsp paprika
1/2 tsp black pepper
1/4 tsp sea salt
Directions:
Combine parsley with lemon zest, 1 1/2 tbsp diced shallot, 1 tsp olive oil and a pinch of salt.  Set aside.
Pre-heat oven to 425 degrees.
Cut carrots diagonally into 1-2″ pieces and toss in 2 tsp olive oil.  Line a baking sheet with foil or SILPAT and arrange carrots in a single layer.  Bake at 425 degrees for 30-35 minutes or until tender, ensuring edges do not burn.
While carrots are roasting, cut cauliflower into 3/4″ thick "steaks."  Lightly brush with olive oil and sprinkle with Flavor God seasoning.  Line a baking sheet with foil or SILPAT and arrange cauliflower in a single layer on the sheet.  Bake at 425 degrees for 15 minutes, then carefully flip the cauliflower and continue to bake for another 10-15 minutes.
Once carrots are roasted, remove from baking sheet and place in a bowl with 1 tbsp parsley and almond milk.  Mash until they have your desired consistency.  Divide carrot mash evenly among 4 plates.  Layer cauliflower steaks on top of carrot mash.
Pat mahi fillets dry with a paper towel, then rub both sides with spices from the dry rub.  Heat 2 tsp olive oil in a pan over medium high heat.  Place mahi fillets in the pan and sear for about 3 minutes per side or until cooked through and the fillet flakes easily with a fork.
Add mahi to the plates with cauliflower and carrot mash and top with gremolata.