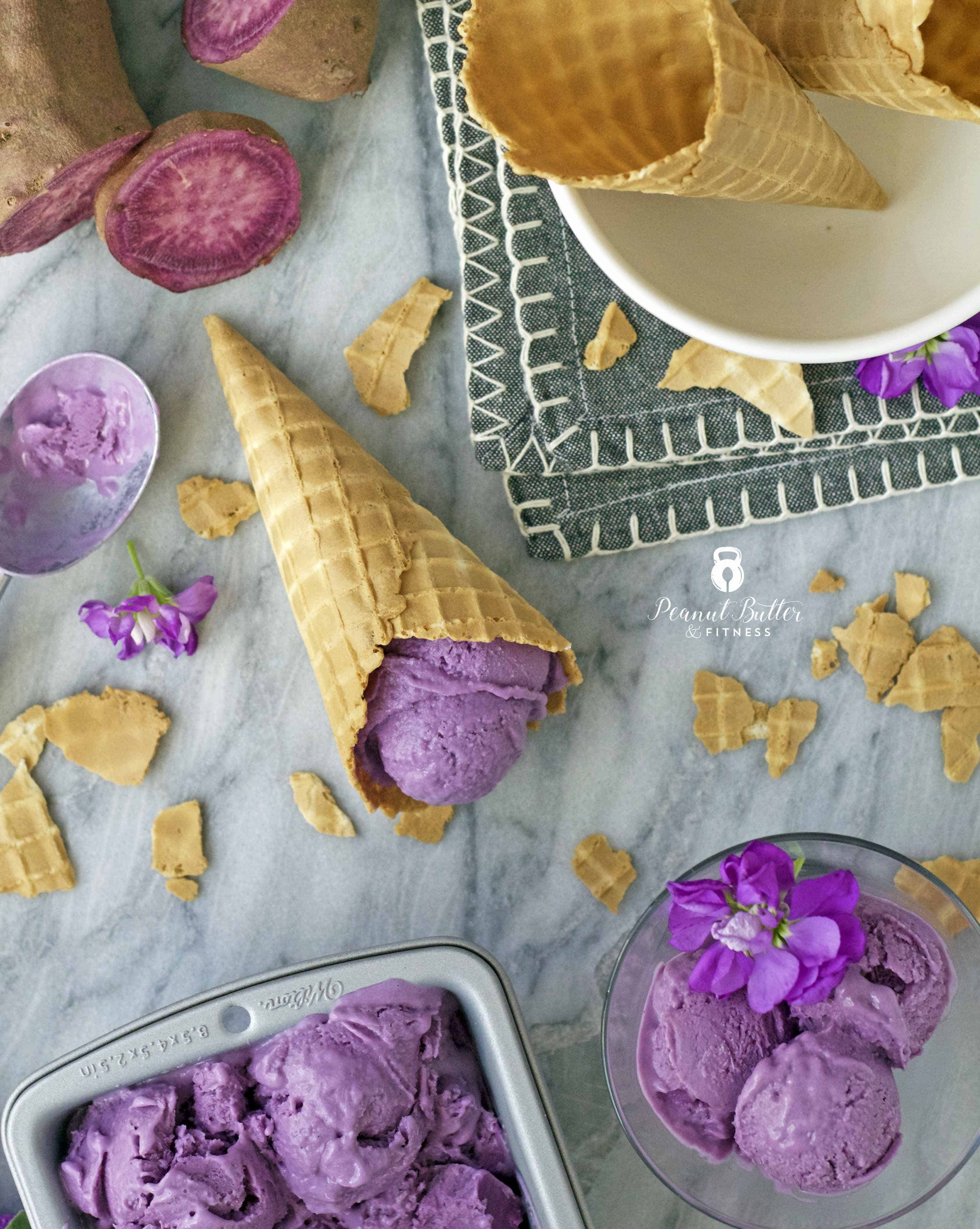 You may be asking yourself "potatoes…in ice cream…seriously?!"  Yes, seriously!  And it's seriously delicious so don't knock it 'til you try it.  Here's the thing about purple sweet potatoes (also called ube or Okinawan sweet potatoes) – they're gorgeous.  Plus they're filled with antioxidants and they make for an excellent ice cream base because they're slightly sweet and give a great creamy texture to the ice cream without waiting for hours for it to churn away.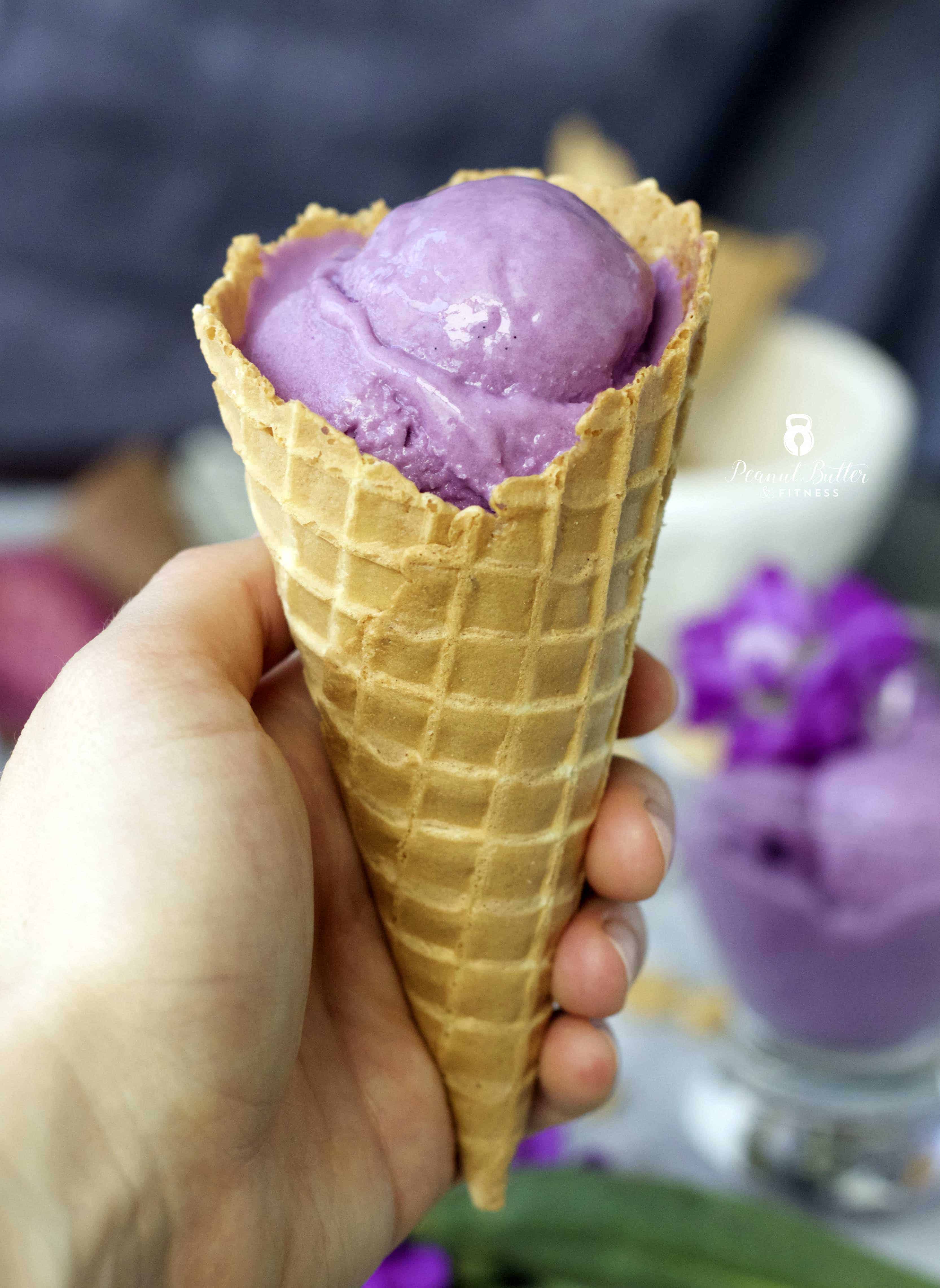 Those little black specks you see in the ice cream are, of course, real vanilla beans 🙂 I think they're a nice touch in any ice cream and give it that real authentic vanilla flavor that's hard to achieve with extract.  Sure, they're expensive but I think that ice cream is the place to put them if there ever was such a place!  I buy mine on Amazon because I usually get a lot more for my money there (and they're still nice, pliable bean pods).  Usually you pay about $10 in a grocery store for 2 bean pods, but these ones are $30 for 10 of them – if you like to use real vanilla beans it's a no brainer!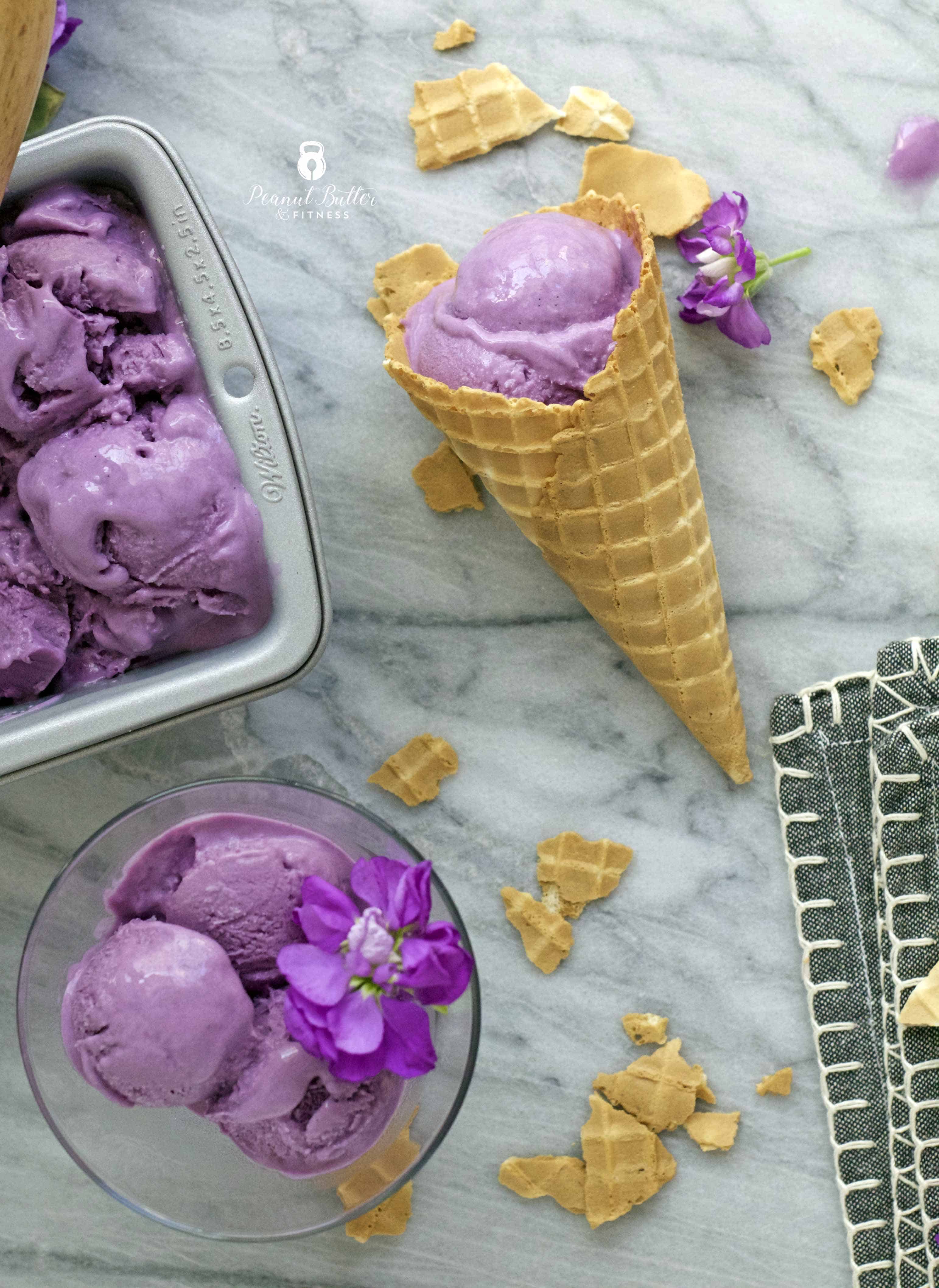 Anywho, back to the ice cream story.  Whenever you visit somewhere in Southeast Asia or islands in the Pacific, you'll probably see an abundance of purple desserts.  Purple happens to be my favorite color, so when I saw all the purple things I could eat in the Philippines, Japan and Hawaii, I knew I had to make something of my own!  Now, a lot of those purple desserts also come from taro root, but it's a little trickier to work with, so we'll stick to the ube here…
Oh yeah, btw, this ice cream is Paleo friendly, gluten free and doesn't leave my stomach feeling like a gurgling volcano like real, dairy laden ice cream.  It's not dairy free because of the protein powder, but you could easily substitute the whey with pea protein or some other vegan option to make this ice cream vegan as well!  And there are no artificial colors in there – it's all purple sweet potato giving it that bright purple color.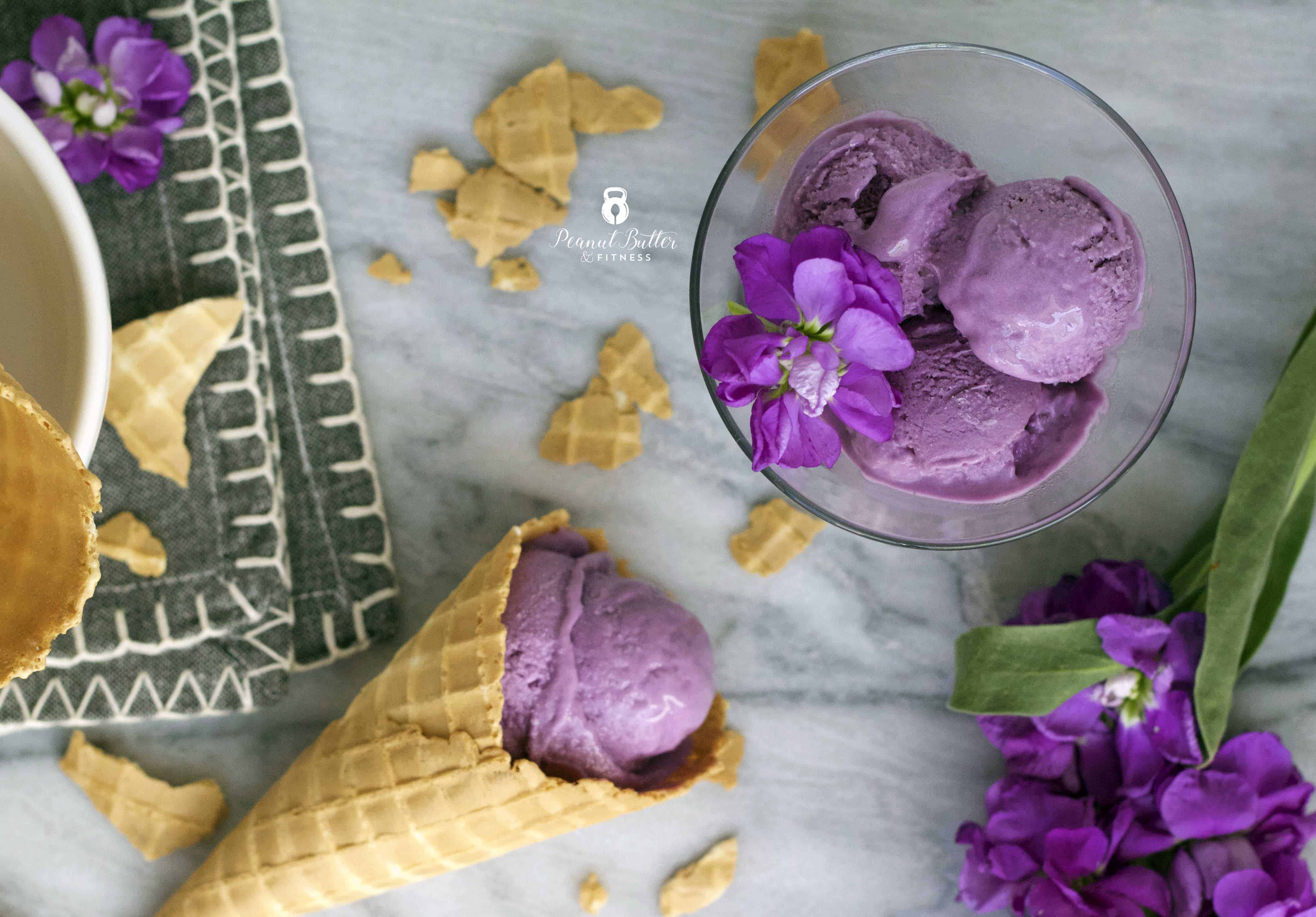 Using an Instant Pot makes quick work of getting your sweet potatoes mashed.  I highly recommend picking up one for yourself if you don't have one yet!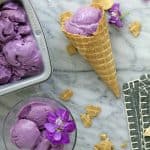 Paleo Purple Sweet Potato "Ice Cream"
Prep Time 10 minutes
Cook Time 20 minutes
Total Time 30 minutes
Servings 7 servings (1/2 cup per serving)
Calories per serving 177 kcal
Ingredients
15 oz can full fat coconut milk
1 medium purple sweet potato (1 cup mashed)
1 scoop grass fed vanilla whey protein
1/4 cup pure maple syrup
1 vanilla bean seeds scraped from pod
Optional: 1 1/2 tbsp whipped cream vodka (not Paleo, but helps keep ice cream from freezing solid)
Instructions
Add 1 cup of water to the bottom of an Instant Pot, then add the steamer rack and sweet potato on top. Turn Instant Pot to high pressure for 20 minutes and manually release the pressure.

Remove skin from sweet potato and mash.

Add 1 cup of sweet potato mash to a blender, along with all other ingredients. Blend for about 1 minute - you want the ice cream to be smooth and to incorporate some air into the mixture for extra creaminess.

Freeze for 4-6 hours before serving.
Nutrition Facts
Paleo Purple Sweet Potato "Ice Cream"
Amount Per Serving
Calories 177 Calories from Fat 90
% Daily Value*
Fat 10g15%
Sodium 50mg2%
Potassium 181mg5%
Carbohydrates 18g6%
Fiber 1g4%
Sugar 9g10%
Protein 5g10%
* Percent Daily Values are based on a 2000 calorie diet.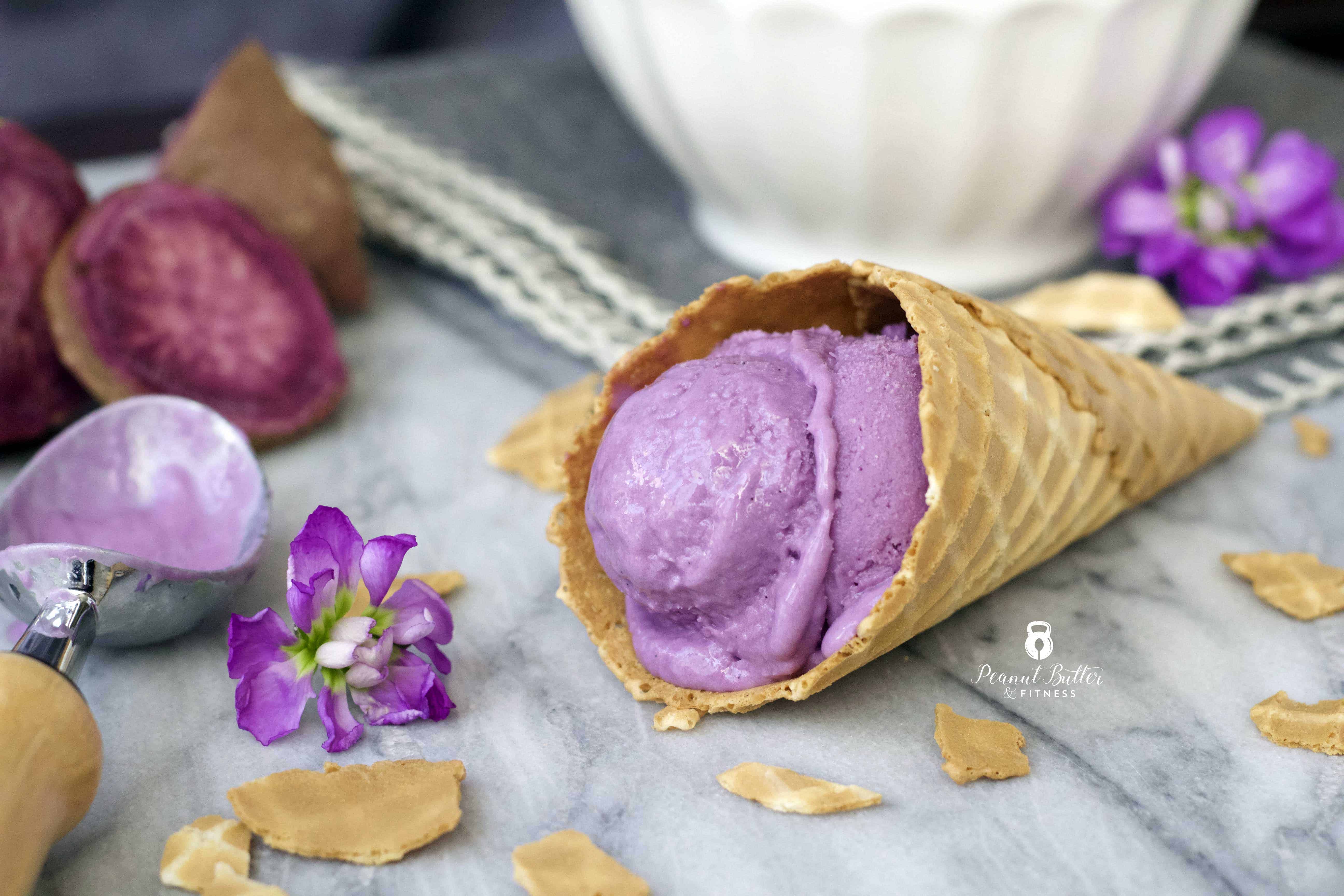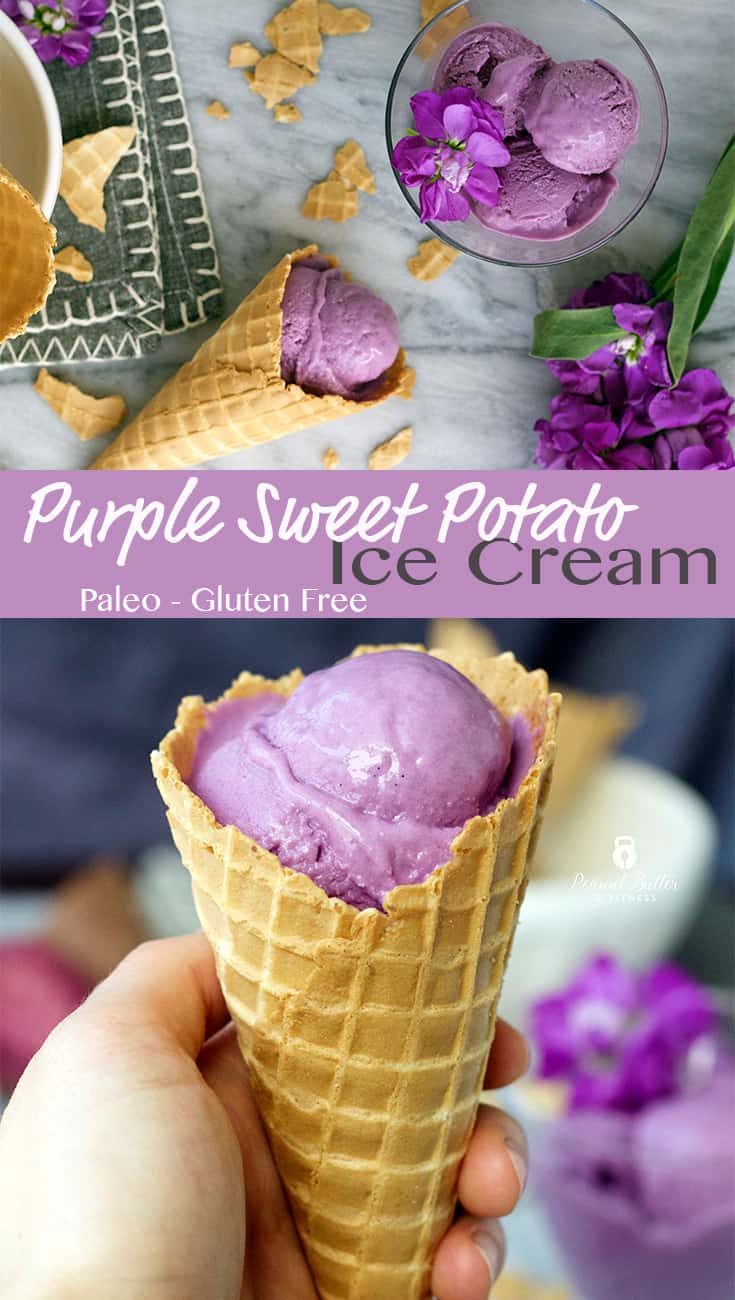 SaveSave
SaveSave
SaveSave
SaveSave
SaveSave
SaveSave