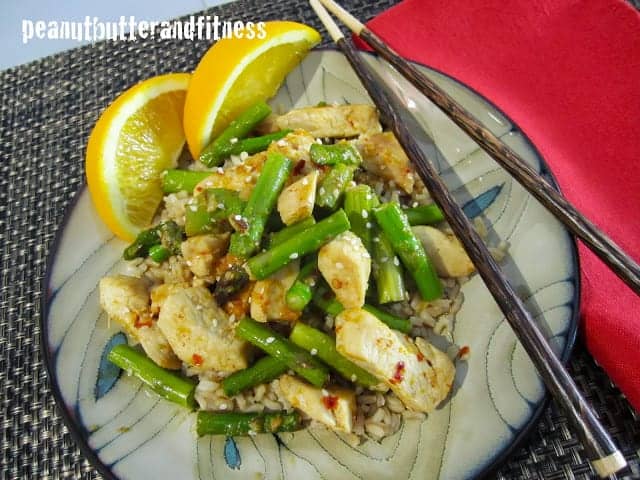 Here's a quick and easy recipe to use up some asparagus if it's hanging around your refrigerator with no place to go. I had some handy since I was using it for meal prep last week.
I found this recipe via Pinterest and then tracked it down onto the Fitness magazine website. It's listed as a "flat belly food." I'm not really sure what that's supposed to mean…have you ever seen those advertisements that say "oh, don't ever eat these foods to have a flat stomach!" I'm pretty sure they then link you onto a website that tells you never to eat bananas or something. Well, I can't eat bananas anyway so maybe a bad example 🙁 But seriously, shouldn't it say don't ever eat Big Macs or order take out Chinese?
Anywayyyys, I know this has chicken and veggies and not too much else, so I give it a thumbs up. When I heard orange chicken, I automatically thought sweet. This has a touch of sweetness from the orange but it's also got a surprise kick from some red pepper flakes. So be careful on how much you add, but if you like things really spicy, go for more red pepper flakes.
Orange Chicken with Asparagus
Makes about 3 servings
Ingredients:
2 medium chicken breasts, sliced into 1/2 inch strips
2 cups chopped asparagus
1 orange, juiced and zested
1 clove garlic, minced
1/4 tsp red pepper flakes
1 tbsp sesame oil
1 tsp reduced sodium soy sauce
1 tsp honey
1 tsp sesame seeds
Directions:
Heat sesame oil in large skillet over medium heat. Add chicken, garlic and red pepper flakes and saute for about 5 minutes.
Add asparagus and cook for 3 more minutes.
In a small bowl, whisk together soy sauce, honey, sesame seeds and the orange juice and zest. Add to skillet and cook for 1 minute.
Optional: Serve over brown rice.