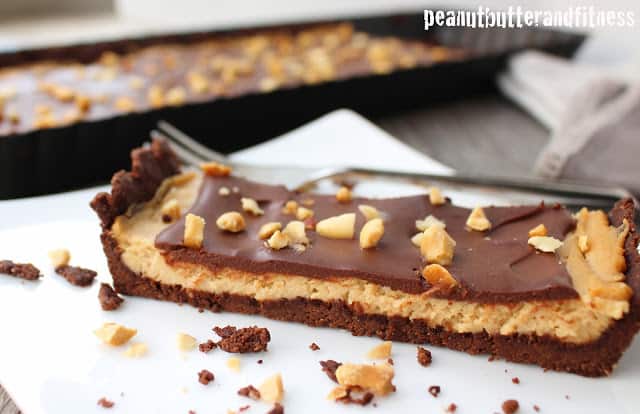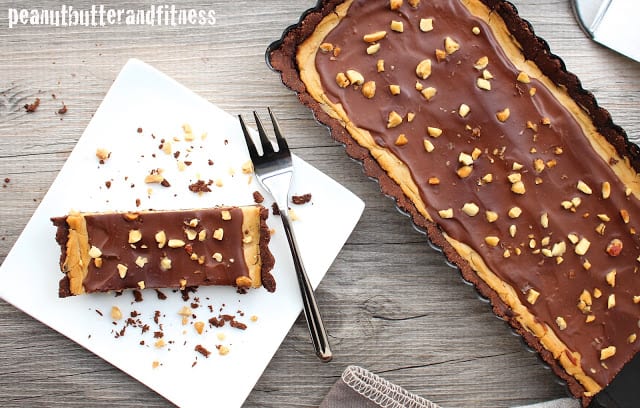 Happy National Peanut Butter Day!  In the Peanut Butter and Fitness household, it's a day of celebration, peanut butter treats, meal prepping and football 🙂  So much peanut butter to eat, so little time.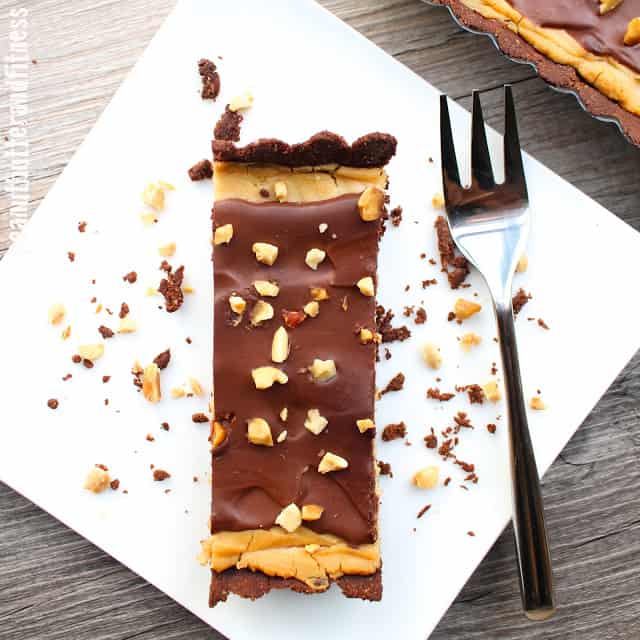 As far as tarts go, this one is uber easy.  Just mix up the crust, put it in the pan, mix up the filling, put it in the pan, and make an easy ganache that will have people think you're fancy!  No baking necessary.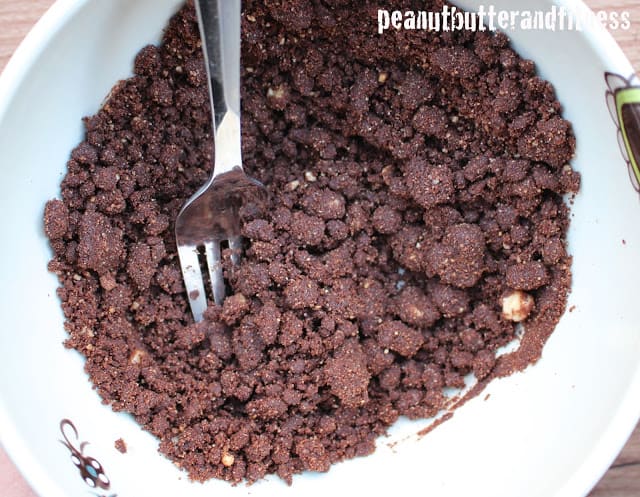 This is how the crust should look after you've taken it out of the NutriBullet and added the Earth Balance buttery spread and hazelnut extract.



No-Bake Peanut Butter Protein Tart
Yield: 10 slices • Serving Size: 1 slice • Calories per serving: 140 • Fat: 10 g • Protein: 8 g • Carbs: 9 g • Fiber: 3 g • Sugar: 4 g • Sodium: 40 mg • Cholesterol: 5 mg
Crust Ingredients:
1/2 cup roasted, unsalted peanuts
3 tbsp coconut flour
3 tbsp unsweetened cocoa powder
1/2 tbsp Earth Balance Buttery Spread with Olive Oil, melted
1 packet Truvia
1/2 tsp hazelnut extract
Filling Ingredients:
3/4 cup Dannon Light and Fit Vanilla Greek Yogurt
1/4 cup Simply Jif peanut butter, melted
1/2 tsp vanilla extract
Ganache ingredients:
3 tbsp Ghirardelli 60% dark chocolate chips
2 tbsp unsweetened vanilla almond milk
Directions:
In a food processor or NutriBullet, mill together peanuts, coconut flour, cocoa powder and Truvia until the mixture goes beyond crumbly and becomes lumpy.  Add Earth Balance spread and hazelnut extract and mix with a fork.
Lightly spray a rectangular tart pan (approx. 14″ x 4″) with coconut oil.  Add crust mixture and press evenly into the pan and up the sides to form the tart crust.  Set aside.
Whisk together yogurt, whey protein and vanilla extract until smooth.  Add melted peanut butter and mix until smooth (it will be sticky!).
Spread filling into the crust and even out with a spatula.  Set aside.
Place chocolate chips into a narrow bowl or small glass measuring cup.  In a separate container, microwave almond milk for about 20 seconds or until it just begins to bubble.  Pour hot almond milk over chocolate chips and stir with a fork until chocolate is completely melted and smooth.
Pour chocolate ganache over peanut butter tart and smooth out evenly.  Sprinkle with chopped peanuts for garnish, if desired.
Store in the refrigerator, covered.