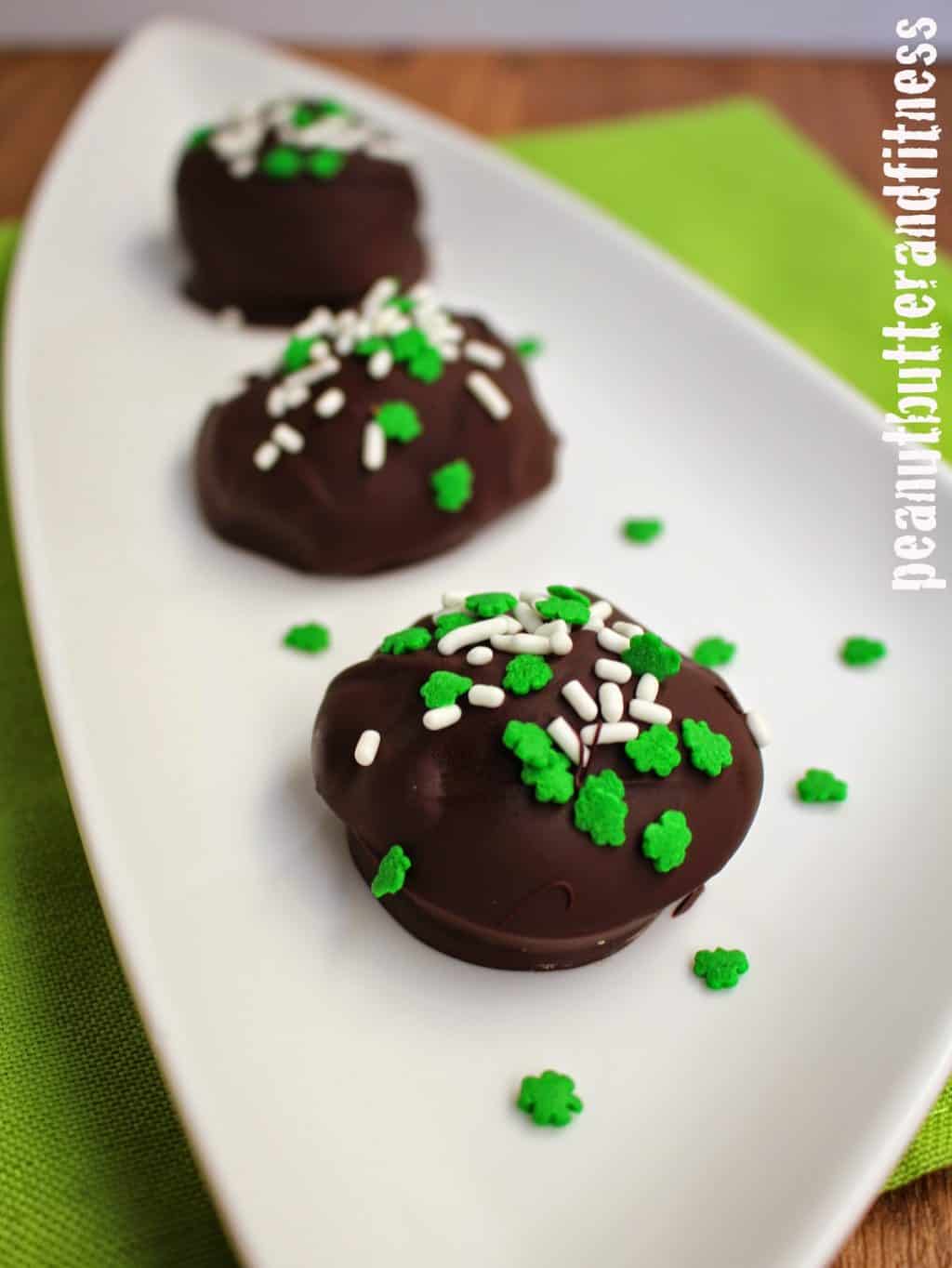 Happy St. Patrick's Day! Super quick post here so I can actually get it up in time for the holiday :/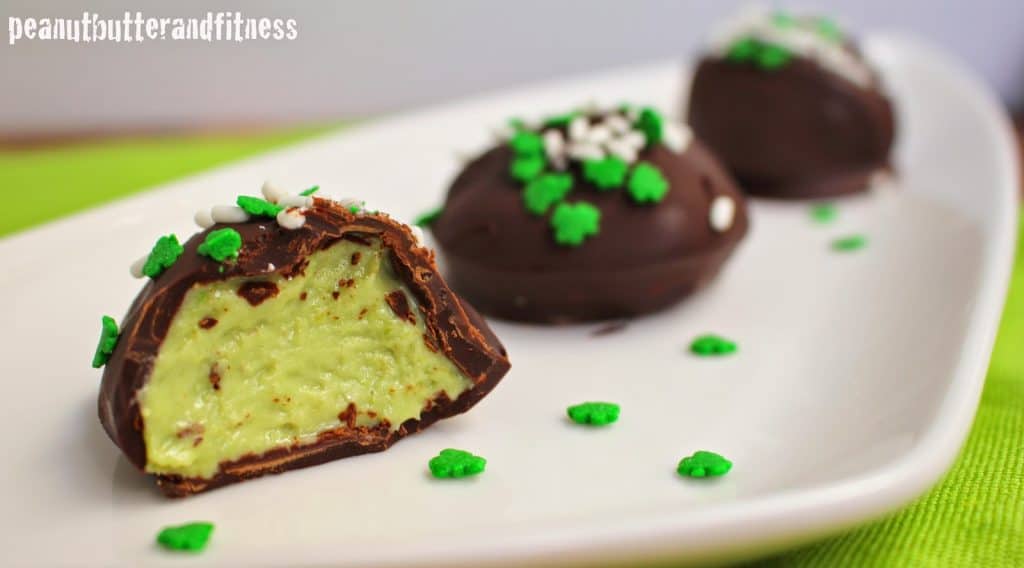 These are yummy, but the filling is not quite as creamy as my usual truffles.  Still freakin' delicious and you've gotta love that flavor combo of chocolate and mint!  You'd never think there were chickpeas in there.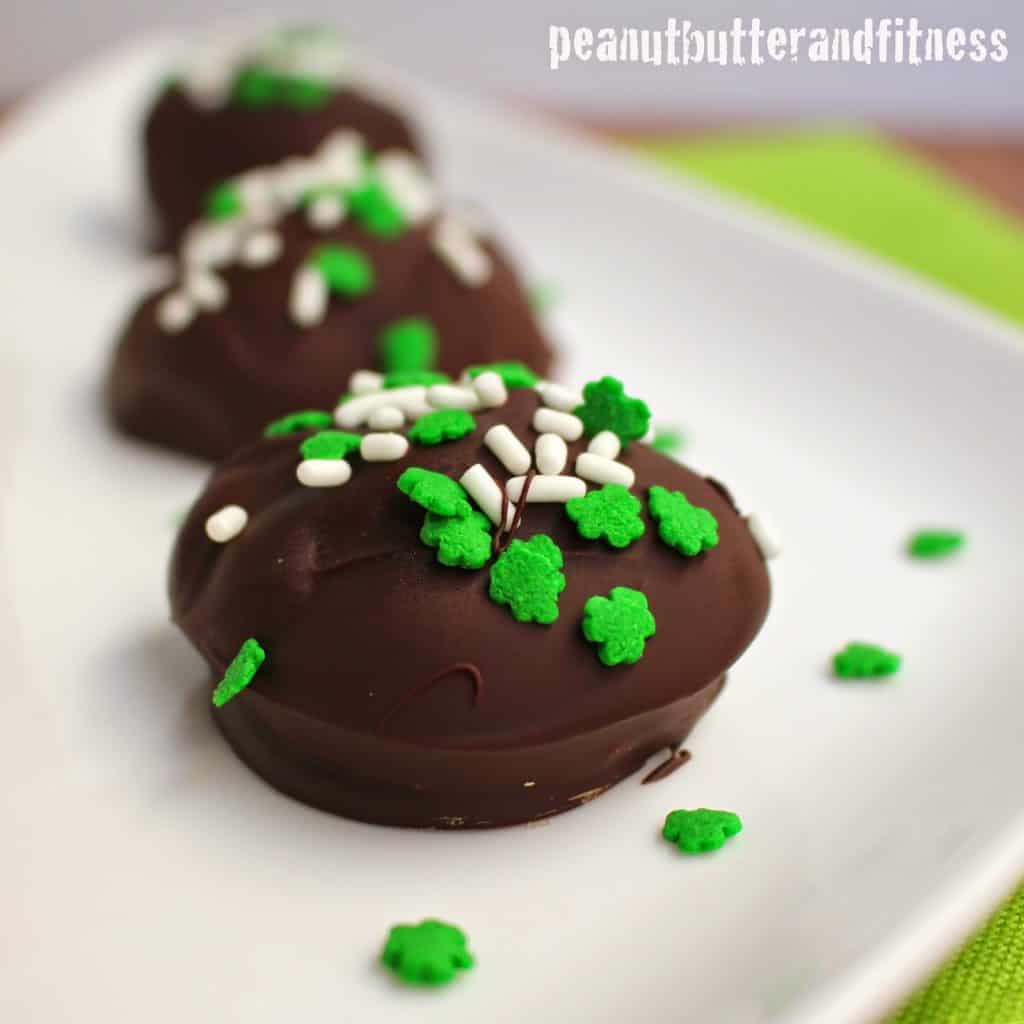 I added a little bit of food coloring because green food, for whatever reason, is just so much fun to work with! Plus it's St. Patrick's Day.  Also, I apologize for not taking any pictures of the process of making the truffles.  Like I said, I tried to get these whipped up in time to catch some daylight for their photo shoot and I completely forgot!  Reference my Brownie Batter Black Bean Truffles or Peanut Butter Protein Truffles for pictures, tips, and how-to's of the process.
Mint Chocolate Chip Protein Truffles
Servings: 22 • Calories: 78 • Fat: 4 g • Protein: 4 g • Carbs: 9 g • Fiber: 2 g • Sugar: 4 g • Sodium: 57 mg • Cholesterol: 3 mg
Ingredients:
15 oz can low sodium garbanzo beans, rinsed and drained
1/4 cup fat free cream cheese
2 tbsp unsweetened vanilla almond milk
4 packets Truvia
1/2 tsp peppermint extract
3-4 drops green food coloring
1 1/2 cups Guittard 63% Dark Chocolate Chips
Optional: St. Patrick's Day sprinkles
In a food processor, combine garbanzo beans, almond milk, Truvia and peppermint extract until very smooth (2-3 minutes).  Add cream cheese, protein and food coloring and continue to mix until smooth.
Add bean mixture to a large bowl – preferably with a flat bottom – and spread out on the bottom of the bowl.  Set aside in freezer for at least 30 minutes.
Line a small baking pan with foil and roll mixture into small balls, less than 1″ diameter.  Place balls on pan and insert toothpick less than 1/4″ into each ball.  Place tray in freezer for at least 30 minutes.
Melt chocolate in a small pot over medium-low heat.  Pour into a narrow glass cup suitable for dipping.
Remove truffle balls from the freezer one at a time and dip into the chocolate, removing excess chocolate with a spoon.  Place onto a lined baking tray, twisting toothpick to remove and add sprinkles immediately.  Repeat process with all truffle balls.
Store truffles in refrigerator until serving.