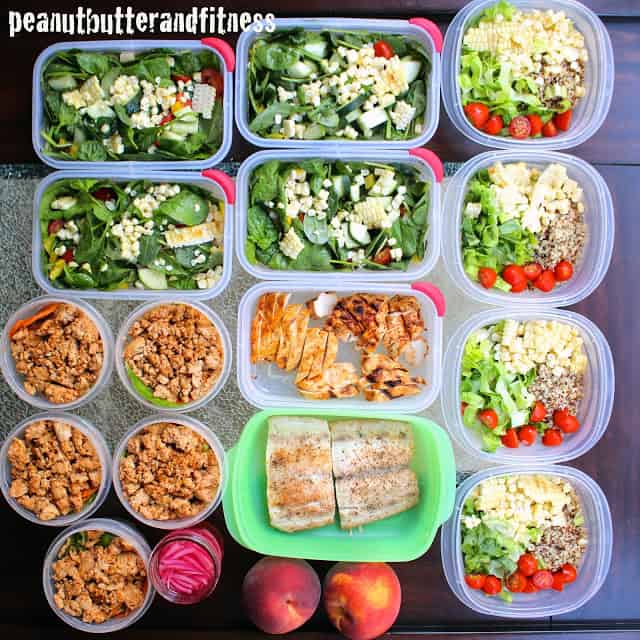 I know what you're thinking.  September 7th…that was a month ago! Yes. Yes it was. I am incredibly late in posting this meal prep since I did this while in the middle of studying for the GMAT.  I squeezed in enough time to be able to prep some good, healthy food but unfortunately just didn't have time to post my prep on here!  So here we are, a month later.
This is a pretty easy but really flavorful prep!  Cutting up all the veggies is the most time consuming part of this one.  BTW, those little pink things on the bottom left are picked red onion for the burrito bowls 🙂 So yummy.
Here's my meal plan:
Day 1:
Day 2:
Breakfast: Oatmeal with egg white scramble
Lunch: Baked Mahi salad with homemade lime vinaigrette
Dinner: Asian Ground Turkey with Veggies and Rice
Day 3:
Day 4:
Breakfast: PB&J overnight oats
Lunch: Asian Ground Turkey with Veggies and Rice
Dinner: Baked Mahi salad with homemade lime vinaigrette
Day 5:
Day 6:
Day 7:
Snacks (not pictured):
Lindberg Organic Rice Cakes – Cinnamon Toast
Fat-free cottage cheese with 1 tbsp sugar-free strawberry preserves
Peanut butter protein dip with apples
Fresh fruit
Hard boiled egg whites
Dannon Light and Fit Greek Yogurt
Trader Joe's dried mango (no added sugar!)
Lean Body for Her Chocolate Whey Protein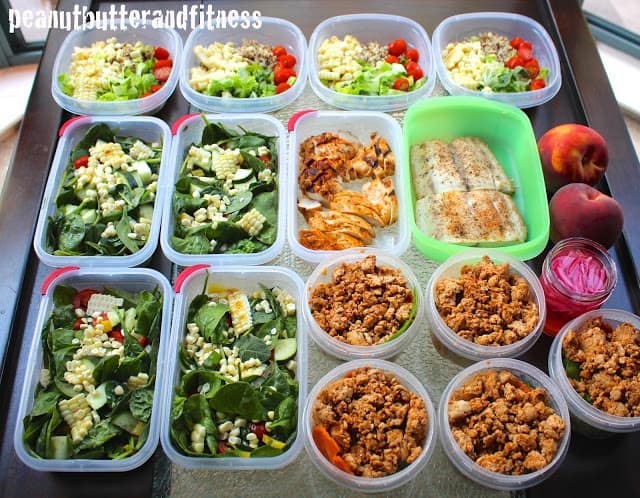 Normally I would eat this salad with chicken but I was fresh out of chicken and conveniently had some Mahi in my freezer to donate to the cause.  Salmon would probably be good too!
Baked Mahi Salad with Homemade Lime Vinaigrette
Servings: 4 • Calories: 291 • Fat: 7.6 g • Protein: 39 g • Carbs: 18 g • Fiber: 5 g • Sugar: 8 g • Sodium: 330 mg • Cholesterol: 87 mg
Four 4 oz frozen mahi mahi filets (cooked according to package directions)
6 cups baby spinach
1 medium cucumber, chopped
2 small ears corn, roasted and cut from husk
20 cherry tomatoes, halved
1 medium bell pepper, chopped
1 large lime, juiced
1 tbsp olive oil
1.5 tsp apple cider vinegar
Salt and pepper to taste
Directions: Whisk lime juice, olive oil, vinegar, salt and pepper; set aside.  Divide all other ingredients into 4 servings, top with vinaigrette and toss gently.  Serve with mahi mahi.
Asian Ground Turkey with Veggies and Rice
Servings: 5 • Calories per serving: 239 • Fat: 3 g • Protein: 30 g • Carbs: 24 g • Fiber: 4 g • Sugar: 3 g • Sodium: 324 mg • Cholesterol: 55 mg
20 oz extra lean ground turkey (99%)
5 cups stir fry veggie mix
1/2 cup Della 4 Grain Rice Blend
2 tbsp sriracha sauce
1 tbsp hoisin sauce
1 tbsp low sodium soy sauce
1 tsp sesame oil
3 cloves garlic, minced
1/3 cup chopped green onions
Directions
Make rice according to package directions.  Add some low-sodium chicken bouillon and Flavor God seasoning if desired.  Set aside.
Mix sriracha sauce, hoisin sauce, soy sauce, garlic and set aside.
Heat large pan over medium-high heat.  Add ground turkey, breaking it up as you add it.  Add Flavor God seasoning and continue cooking and breaking apart into small pieces.
When turkey is almost cooked through, add sauce and green onions and mix until cooked through.
Place veggie mix in large microwave-safe bowl.  Cover with a damp paper towel and microwave for 3 to 4 minutes or until tender-crisp.
Divide rice, veggies and ground turkey evenly among 5 plates.
Containers that you see here: