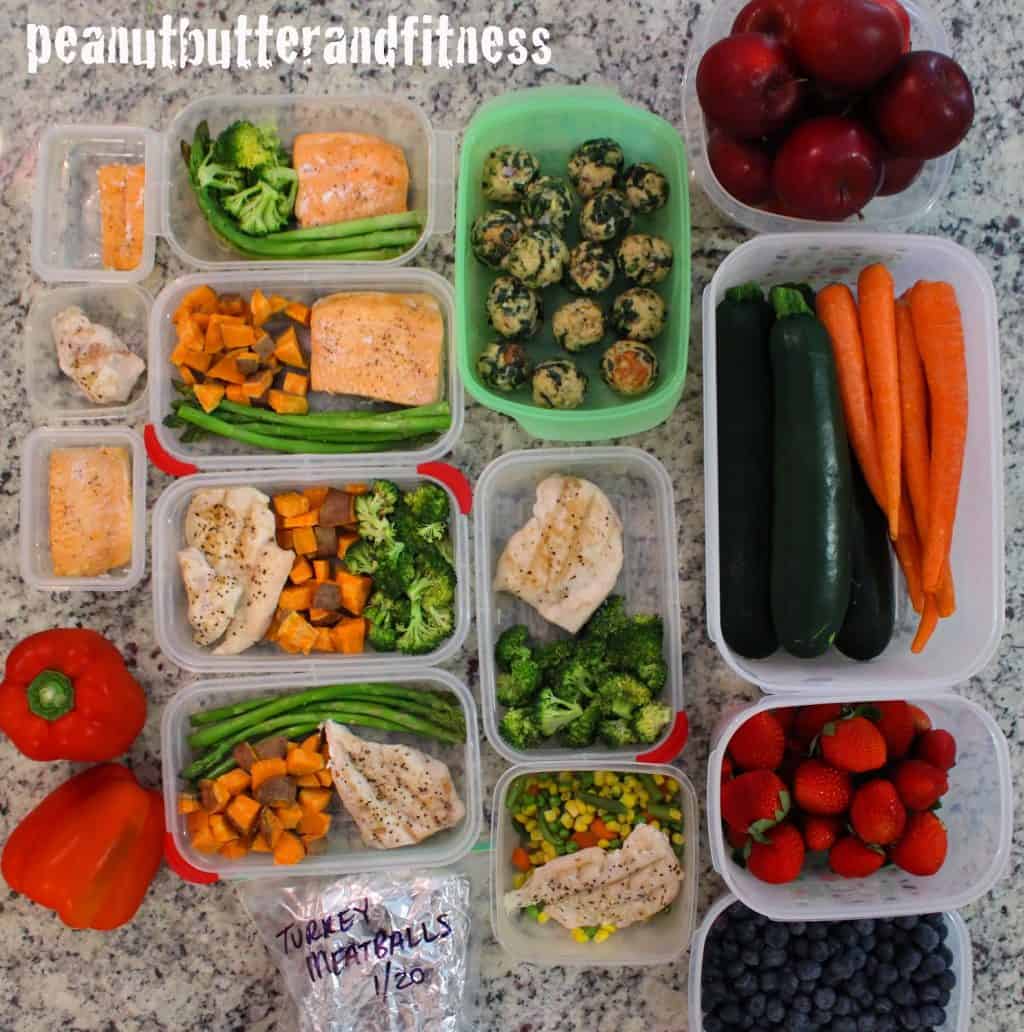 Let's talk about meal prep everybody.  
[Picture me jumping up onto my soap box] 
I hear people all the time saying "I don't have time to eat healthy" but I am here to tell you that it's not true!  I meal prep once or twice every week and I can tell you from personal experience that it saves a TON of time not having to cook your meals every day.  The meal prep you see here took me 2 hours from the time I got back from the grocery store to the time I had all my fruits and veggies washed, food cooked and divided into containers and ready to go.  Boom, done.  Easy peasy.
Here's my top 5 reasons that I love meal prepping:
It saves time when I don't have to cook every day.

I always have something healthy to eat rather than picking up or ordering something that costs way more $$$ and has way more calories.

I never stress out or wonder what I'm going to eat for lunch or dinner.  I already have it planned out.

I don't mindlessly snack to ward off hunger while I'm waiting for my food to cook.  I just pop it in the microwave and eat a meal!

Did I mention that it saves time and money?
How does one start meal prepping you ask? You plan! I incorporate a lot of things into my meal planning, like when I work/what shift I work, what kind of workouts I have planned for each day, when I know I'll be going out to eat and when I plan on getting groceries next.  I normally do my meal planning on a notepad but I'll spare you the chicken scratch to show you.  And don't worry about the days that I'm coming off of night watch and only have dinner listed, I usually only eat breakfast and dinner on those days since I get such a late start.  Plus I'll have already eaten "lunch" at work around 3 am…sounds weird but it's what works for me.  I prep snacks for days I work too, but I don't have those shown here.
Monday: [Groceries]

Dinner – Chicken and mixed veggies (not pictured, already ate it 🙂

Tuesday: [Night shift]

Lunch – Chicken and mixed veggies

Dinner – Salmon, asparagus, sweet potato and balsamic reduction

Wednesday:

Thursday: [Day work]

Lunch – Chicken and broccoli with balsamic reduction

Dinner – Turkey spinach meatballs with veggie noodles

Friday: [Night shift]

Lunch – Salmon and asparagus with balsamic reduction

Dinner – Chicken, broccoli and sweet potato

Saturday: [Night shift]

Lunch – Turkey spinach meatballs with veggie noodles

Dinner – Chicken, asparagus and sweet potato

Sunday: [Groceries]

Dinner – Turkey spinach meatballs with veggie noodles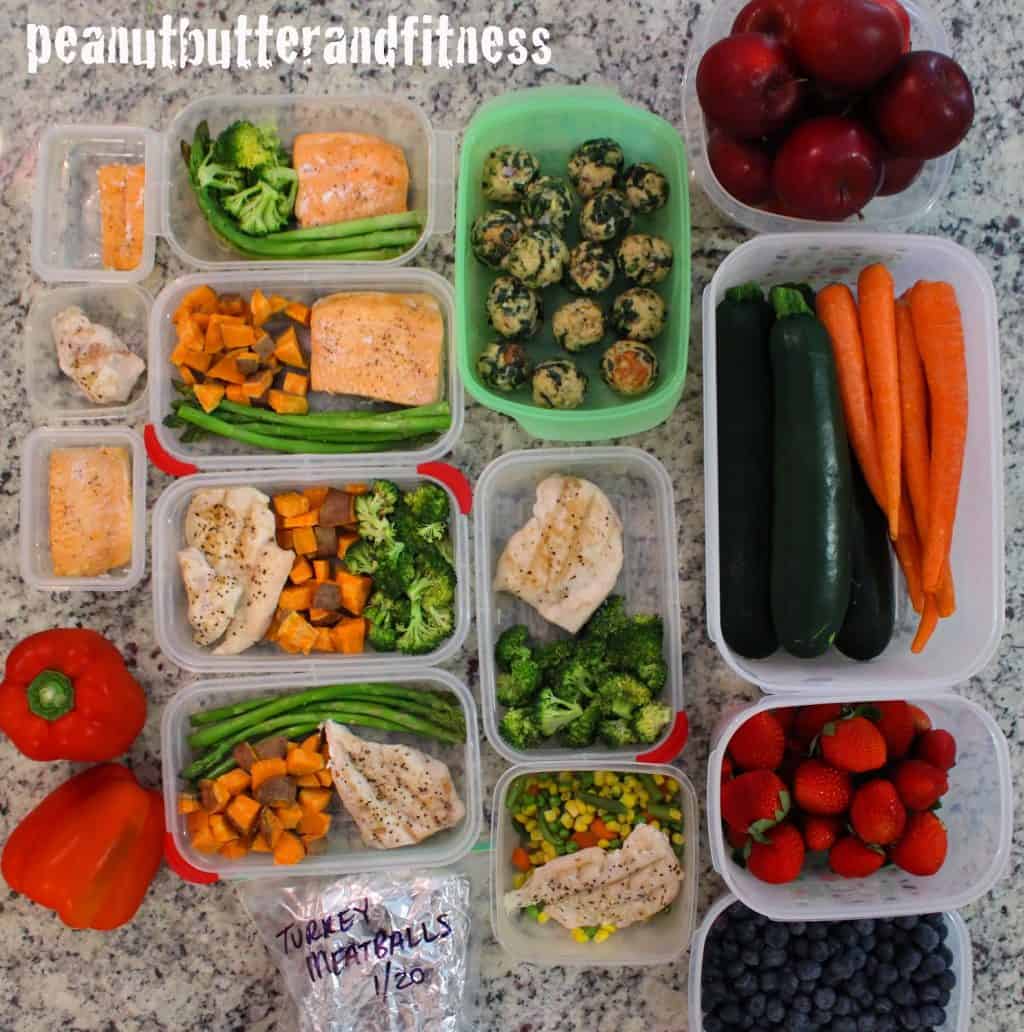 If you're wondering how I did all of this in two hours, I'll fill you in…
I wash all of my fruits and veggies before I even put them in the refrigerator after getting back from the grocery store.  I use Fit Fruit and Vegetable wash.

Once the fruits and veggies are washed, I put the ones that I'm not cooking with right away into Tupperware FridgeSmart containers (read more about them in the Meal Prep tab of my blog – they're amazing).

I picked up a bunch of frozen fish at the grocery store this time around (Mahi and salmon), so I took out the salmon I was planning on using and the frozen chopped spinach for the meatballs and stuck them in a bowl of water to thaw.  They were all in individual bags so it wasn't weird that I mixed them 🙂

Then I chopped up the veggies I was cooking with and got them ready to go.  The sweet potatoes and broccoli florets went on a cookie sheet and got sprinkled with garlic powder and onion powder.  The asparagus spears went into a foil packet with some Mrs. Dash seasoning and a little bit of lemon juice.

Next up I made the meatballs.  (You can get the recipe for them here.)  These went onto another cookie sheet with a silicone baking mat under them.
While the oven was preheating to 400 degrees, I weighed out my salmon and chicken.  I have a digital kitchen scale that I love and it makes it really easy to make sure I'm getting enough protein – I go for 4 oz servings every time. 

The salmon went into a Pyrex dish with a pinch of salt and pepper and the chicken got sprinkled with some Montreal steak seasoning.

Then everything but the chicken went into the oven! Sweet potatoes and broccoli on the bottom rack, meatballs on the middle rack and salmon and asparagus on the top rack.  Everything but the meatballs came out around 14 minutes.  Meatballs stayed in for about 22 minutes total.

While everything else was cooking in the oven, I fired up the George Foreman and cooked the chicken.  It only takes about 6 minutes on 400 degrees on the grill.

Finally, it all goes into containers! I had enough turkey meatballs left over to stick about 3 servings worth back into the freezer for later, plus a few snack size pieces of salmon and chicken that went into the refrigerator.  I also made a balsamic reduction to add some flavor, but that went into a little bottle that I can take to work and use it cold.  Recipe for that is on here.
A lot of people like to prep their breakfasts too, but I'm a cereal eater for breakfast.  I'm sure I could come up with some ideas for breakfast prepping, I just don't have any experience with it aside from measuring out cereal 🙂
If I still haven't convinced you that meal prepping is awesome and worthwhile, feel free to ask questions!
Containers that you saw here: